December, 22, 2014
Dec 22
8:00
AM ET
TAMPA, Fla. – It's the time of year when coaches get fired, which means it's fair to at least wonder about Lovie Smith.
In his first season as coach of the Buccaneers, Smith is 2-13. That kind of record in recent years has been enough to get Rob Chudzinski and Mike Mularkey fired after only one season.
Could the Bucs sack Smith after only one season?

Smith
Every indication I'm getting is that Smith is safe. He has a five-year contract. More importantly, ownership still believes Smith is the right man to turn around the franchise. And the thoughts of ownership are really all that matter.
The Glazer family, which owns the Bucs, isn't all that involved with day-to-day operations on the football side. But the three Glazer sons that run the team (Bryan, Joel and Ed) are more invested than people realize. They're paying close attention to everything involving the organization and they care deeply about winning.
They can't be pleased with Smith's first season, especially after opening the checkbook and being very aggressive in free agency. But the Glazer brothers are smart enough to realize continuity is a must if this team is going to turn the corner. They went through Raheem Morris and Greg Schiano in a very short time.
If they were to fire Smith, the Glazers would be starting over again. Despite the record, Smith's team has shown some progress, mostly on defense.
It's the offense that needs work. The Glazers know that and Smith should know that by now. The offense has gone through the season without a coordinator (after Jeff Tedford's health issues). Tedford has left for the Canadian Football League and Smith needs to bring in a coordinator with some imagination.
Smith also needs to bring in a quarterback, either through the draft or free agency. He needs to overhaul the offensive line and get more out of a talented group of running backs.
Smith doesn't appear to be on the way out. But he's going to have to make some changes on the offensive side of the ball to keep the Glazers happy.
December, 30, 2013
12/30/13
5:41
PM ET
TAMPA, Fla. -- His 11-21 record over two seasons got
Tampa Bay Buccaneers
coach Greg Schiano fired. But Schiano said Monday that he's proud of how he changed the culture of the franchise.
"This is what Buccaneer football is supposed to be," Schiano said. "That was one of my goals -- to return it to that kind of feel, that kind of culture. And I believe it is. I believe that's a big undertaking and one that has moved very, very well. But I can't impress this enough. My responsibility is to win football games in the National Football League, so we didn't win enough games."
Schiano took a beating for his coaching, but let's give the man some credit for changing a franchise for the better in some ways. When Schiano came in, the locker room predecessor Raheem Morris left behind was out of control. Schiano proceeded to get rid of
Kellen Winslow
,
LeGarrette Blount
and
Aqib Talib
. All three were talented, but all three were trouble.
Schiano also unloaded
Josh Freeman
, who once was regarded as a potential franchise quarterback. Freeman started the first three games of the season before being benched in favor of rookie
Mike Glennon
. Freeman, who was late to or missed several team events, eventually was cut.
"That whole situation is a very, very tough situation," Schiano said. "I don't think there was any good way that was going to work unless it went the way that we thought it might go. That's being very productive. When it didn't, that's a tough situation. We did make decisions collaboratively as a group, especially big decisions. Myself, Mark Dominik and our ownership. One part of the job I really enjoyed was the open conversation and discussions. But then once a decision is made, whether I agree, disagree or somewhere in between, once a decision is made as an organization, I'm going to execute that like it's my own decision."
Schiano said he thinks Glennon has a bright future in the NFL.
"I think we did get it right," Schiano said. "We just got it right late. I think this guy is going to be very good."
Schiano also said he thinks whoever takes over the Bucs will inherit a good situation.
"Did I think we had an opportunity to move this forward? I still do," Schiano said. "I think that whoever takes over in this job is taking over a good situation now, a real good situation. Had I been coming back next year, I'd be excited about the potential of this team and where we're headed. But I'm not."
Schiano's name has been included in speculation about a possible opening at Penn State. But Schiano, who had three years remaining on his contract, said he's not sure what his future holds.
"I know this, I'll lean on my wife and my kids, my family and on my faith and kind of figure out where the next stop is for us," Schiano said.
February, 2, 2011
2/02/11
12:30
PM ET
Are the Titans going to look outside the box in their search to replace coach Jeff Fisher?
[+] Enlarge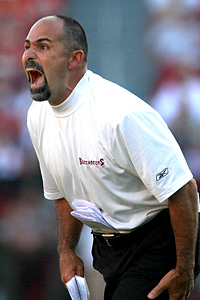 AP Photo/Reinhold MatayRich Bisaccia is the kind of unheralded NFL assistant who could turn into a great head coach.
Many seem to think they won't, and that the elevation of offensive line coach Mike Munchak is a mere formality. Nothing against Munchak at all, but I hope it's not so cut and dried. We don't know their intentions or timetable, though owner Bud Adams indicated it might be just five candidates (we know three of them would be in-house guys, one a Rooney Rule candidate) and a quick decision.
Go more than 16 seasons with one coach, it would be wise to take your time and poke around thoroughly in the search for his replacement.
On the front side, I'll say Rich Bisaccia is a guy first put in front of me by someone who is close with him and wants to see him succeed. I'm not certain he's the guy for the Titans' job. I don't know him.
I do feel certain he's the sort of guy who should get a look, and so ask that we might consider him an example of the kind of guys the Titans can talk to from a league where Raheem Morris and Mike Smith and John Harbaugh and Mike McCarthy have turned out to be great hires.
Bisaccia, who turns 50 on June 3, recently became special teams coach in San Diego, hired to clean up a mess. His contract was up in Tampa, and a change of scenery probably was best for career advancement now. Boost the special teams for a franchise with the NFL's top offense and defense in 2010, and perhaps there is a Super Bowl ring to be had as well.
Before joining the Chargers, he spent nine seasons with the Buccaneers under Jon Gruden and Morris, overseeing special teams, earning an associate head coach title in 2008 and coaching the running backs for a season, too.
It would be hard for him to get in front of the Titans with no connection, but there is one. Tennessee's vice president of personnel, Ruston Webster, is a trusted aide of general manager Mike Reinfeldt. Webster was an executive with Tampa Bay for four years while Bisaccia worked on Gruden's staff there.
Listen to what Gruden (who said he's not been contacted about the Titans' post and is working hard to get better at his ESPN gig) and
Derrick Brooks
, the All-Decade linebacker from the 2000s, have to say about Bisaccia and it's hard not to come away wondering, why not interview him?
"I coached a long time, he's one of the best coaches I've worked with and I'm not just trying to be his agent or publicity manager," Gruden said. "He's a tremendous football coach, great with players, smart, works his butt off. I'd hire him as a head coach. If I was in position to interview people and look for quality candidates and he's certainly one of the best I've been around."
"Special teams guys -- he's not an offensive coach or a defensive coach, he's kind of a wefence guy. He was my running backs coach, special teams coordinator, jack of all trades. He's very good at personnel; he's got a vast amount of experience. I hope he does get an opportunity to present himself. Sometimes that's all people need is a chance to get in front of the people that are making these decisions."
Baltimore broke into the special teams rank to hire John Harbaugh in 2008, finding a coach with special teams' expertise who has dealt with players from most positions. Like Harbaugh, I'm told, Bisaccia has that fiery special teams' personality -- something that sounds to me like a logical change when you're switching course from Jeff Fisher's California Calm.
"He's gotten the best out of everybody, and for me, being around him since 2002, I jumped at the opportunity to play for him on special teams despite being a starter on defense," said Brooks, now an ESPN and Sirius NFL analyst. "I wanted to be part of what he was doing with other guys, I was a little jealous. I even inserted myself in practice as a punt returner. I really did want to be a part of what he had going on with our core group of guys on special teams."
But Bisaccia's not solely a special teams' guy -- he played at Yankton College in South Dakota as a defensive back, and was on the USFL Philadelphia Stars in 1983 where his teammates included Sam Mills, Bart Oates, Irv Eatman and Sean Landeta.
In the college ranks -- at Wayne State, South Carolina, Clemson and Mississippi -- he coached quarterbacks, receivers, defensive ends, tight ends and running backs. What kind of messages would he bring and team would he field?
I didn't talk to him for this post, but there is no doubt that as he begins to line up things for his new job in San Diego he'd welcome the chance to interview for such a big promotion.
Gruden said Bisaccia is charismatic, creative and energetic and qualifies as a "fundamentals freak" who can develop players. (That, to me, should be the Titans' No. 1 objective in this turnover -- player development.)
"I know he has a program and I know he knows it works," Gruden said.
In Tampa Bay, Gruden arranged his team's own rookie symposium and made Bisaccia its "band director." He was charged with mentoring the first-year players, an important assignment from Gruden.
Brooks said Bisaccia's a quality teacher, a straight-shooter and a multi-tasker who would hold players accountable to his message. He'd let his coordinators coordinate and would preach ball-security above all else with one of his favorite messages: "You're carrying the hopes and dreams of the team in your hands."
So Biasaccia's endorsed by a coach who won a Super Bowl and is coveted himself. He's endorsed by one of the best defensive players of his era. I know the Titans could have hundreds of qualified candidates with similar references. I know Gruden and Brooks are speaking in support of a friend -- but you don't put your name on the line for a friend if you don't believe he can succeed.
All it would cost the Titans to talk with him -- or another guy fitting a similar mold -- is the price of a flight and a nice dinner along with a day of their time.
I'm certain Bisaccia will answer his phone. Why not ring him?
November, 12, 2009
11/12/09
1:49
PM ET
| | |
| --- | --- |
| | |
| | Getty Images |
| | Jim Caldwell may be a first-year head coach, but he was an assistant in nine Colts-Patriots matchups, so has experience preparing for Patriots coach Bill Belichick. |
Posted by ESPN.com's Paul Kuharsky
Jim Caldwell's not some newbie who has been dropped into a matchup against New England and is preparing for Bill Belichick's game-plan wrinkles for the first time.
As one of Tony Dungy 's former assistants, he was been part of nine Colts-Patriots games, including three in the postseason. Indy was 4-5 in those games.
According to Elias Sports Bureau, Belichick is 28-19 in his career against first-year coaches, 20-11 while with the Patriots. Belichick is 1-2 this year, with losses to Rex Ryan and Josh McDaniels, and a win against Raheem Morris.
"[Caldwell] is not like most first-year coaches. He's been there for seven years, he's seen it, he's dissected the matchups, he's supervised a lot of the game-planning especially offensively for however many games they've played," Dungy said on a conference call arranged by NBC, for whom he's now an analyst. "So it's not like a new guy coming in. He's very aware of everything that's taken place those last seven years. I really don't look at this like a first-year coach in a normal sense."
Caldwell's been excellent in his first eight games as Dungy's successor, maintaining the good thing he inherited.
He's been a bit more aggressive on offense with some bold fourth-down calls. He's installed a defensive coordinator, Larry Coyer, and allowed him to increase the frequency is which the team blitzes and plays man defense. His new special-teams coach, Ray Rychleski, hasn't solved the team's long-standing return game issues, but he does have the coverage teams playing much better.
Caldwell is tied with Potsy Clark, of the 1931 Portsmouth Spartans, for the second best winning streak to start a career. (You remember those Spartans, of course. They went 11-3 and finished second. Yes, it was the same year the Frankfurt Yellow Jackets went 1-6-1.)
With two more wins, Caldwell will catch Wally Lemm, who won his first 10 in 1961-62 with the Houston Oilers and St. Louis Cardinals.
"They are obviously playing well and he's got them hitting on all cylinders and playing with a lot of confidence, playing good football," Belichick said. "I respect the job that he's done as a head coach, as an assistant coach and the job he's doing now with the Colts."
Belichick is notorious for changing things up game to game, so the Colts are unlikely to see much that looks familiar from the Patriots' performances in recent weeks. The ability of Caldwell, his staff and quarterback
Peyton Manning
to adjust as they go will be a major storyline in Sunday night's game.
Former Patriots safety Rodney Harrison, also an NBC analyst, said Belichick would flip him to corner against the Colts, with
Ty Law
playing some safety.
"The thing that Bill gave us to do was create a lot of freedom by trying to disguise the coverage," Harrison said on a conference call this week. "… We wanted to create some level of confusion for Peyton Manning as well as jam and wear down
Marvin Harrison
."
Dungy said that was very unusual.
Other wrinkles the Patriots used against Dungy's Colts were more about what Belichick deployed when, not unveiling something brand new.
"Usually what happens is, it's not something you haven't seen, it's just something that you don't expect or they haven't done," Dungy said. "Usually you'll come into a game, New England's showing a lot of blitzes, five-man pressures, and in our game they decide to rush three and drop eight, or vice versa. There has been a lot of three-man rush before and now it's a different look or it's nickel and dime defense on first down or it's four-man line."
"That's the thing from the Colts' standpoint that we've always admired about the Patriots. They've been able to have a different game plan even for halves sometime -- first half there is a four-man line, second half there is a three-man line, first half is base defense, second half is nickel or dime. You have to be ready to adjust when you play New England."
Tom Brady
said Caldwell's Colts play a more straight-up defense, relying on the pass pressure of
Dwight Freeney
and
Robert Mathis
.
"They'll have some new wrinkles," Brady said. "They always find a way to mix up some of their tendencies. But in the end -- through eight games -- that's really what they do. All of that's on film now.
January, 25, 2009
1/25/09
8:24
PM ET
Posted by ESPN.com's Paul Kuharsky
Titans quarterbacks coach Craig Johnson is a candidate to be Raheem Morris' offensive coordinator with the Buccaneers, according to a report from Jim Wyatt.
Johnson has been in his current post since 2002, working with Steve McNair, Bill Volek, Neil O'Donnell, Vince Young and Kerry Collins under offensive coordinators Mike Heimerdinger and Norm Chow.
Also, Wyatt reports the Detroit Lions have asked for permission to talk to Titans defensive assistant/quality control coach Matt Burke. Burke has worked under Schwartz in Tennessee for the last five seasons.