October, 6, 2010
10/06/10
2:08
PM ET
Through four games, let's check in with our four teams on the health front. We'll go in order from the team in best shape to the team in worst shape …
1) Houston Texans
Rookie running back
Ben Tate
was lost for the year in the preseason. Andre Johnson's dealt with an ankle sprain that's meant he missed a game, and
Owen Daniels
doesn't seem to be back to himself after ACL surgery. He had a hamstring injury on top of that.
Jacoby Jones
now has a calf issue. Eugene Wilson's hamstring injury opened the door for
Troy Nolan
, who shined in Oakland. Overall, health hasn't been a huge issue for the division-leaders.
2) Tennessee Titans
The Titans have the depth to handle missed games by ends
William Hayes
and
Jacob Ford
, but a season-ending ACL injury for
Derrick Morgan
means they are down to four-deep at the spot. Cornerback
Alterraun Verner
will get at least a few more starts with
Jason McCourty
(arm) out. Receiver
Justin Gage
(hamstring) could be out a bit going forward, which could open a door for
Damian Williams
or
Lavelle Hawkins
. They can't complain at this point.
3) Jacksonville Jaguars
Second-round defensive tackle D'Anthony Smith was lost for the year in the preseason with an Achilles injury, and backup quarterback
Luke McCown
is out for the year after tearing an ACL in relief work. Receiver Jarret Dillard and kick returner
Scotty McGee
are also out for the year, while punt returner
Deji Karim
(thumb) has yet to play. Linebacker Justin Durant's been out of action the past two weeks with an ankle injury. Not ideal, but nothing killer.
4) Indianapolis Colts
Bob Sanders
(biceps) is out until at least November and
Melvin Bullitt
will soon have season-ending shoulder surgery. That puts a huge strain on the team at strong safety.
Anthony Gonzalez
hurt an ankle in Week 1 and hasn't been back, and Pierrre Garcon's got a hamstring injury that's cost him games. The Colts have been thinned out at receiver.
Clint Session
missed a couple games with a hamstring, and one backup,
Ramon Humber
, is done for the year, as is return man
Devin Moore
(brachial injury). Charlie Johnson's played with a bad foot and missed one game. Depth is being tested in a big way, again.
August, 20, 2010
8/20/10
7:56
AM ET
Sometimes geography and TV schedules make seeing a preseason game impossible. In New Orleans, I was unable to see the Indianapolis-Buffalo game. But from highlights, write-ups and statistical review, here are some bullet-point thoughts on the Colts'
34-21 loss
to Buffalo on Thursday night in Toronto.


Impressive:
Disappointing:
Dwight Freeney and Antoine Bethea were among the players who slipped off of C.J. Spiller during the rookie's 31-yard touchdown run.
The Colts stutter-started with early penalties against Ramon Humber and Tony Ugoh and a Manning tipped-ball interception that was returned for a touchdown.
Just one sack, from Eric Foster.
Three lost fumbles, including one from Ray Fisher who's trying to win a return job.
Not that they care, but ... this was Indy's 21st loss in its last 25 preseason games.
AFC East wizard Tim Graham was there to look at things from a Buffalo perspective. Here are
his notes
and
his column
on Spiller.
February, 10, 2010
2/10/10
9:59
AM ET
After re-watching most of Super Bowl XLIV, I was left wondering whether the goats and gaffes beyond
Peyton Manning
's late interception got off a bit easy. So let's revisit a couple:
[+] Enlarge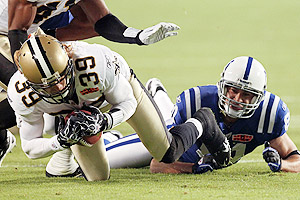 Ronald Martinez/Getty ImagesHank Baskett, right, was unable to come up with the onside kick that started the second half.
Hank Baskett mangled the onside kick.
He was wide to the side that
Thomas Morstead
sent the surprise second half kickoff to and took a giant step and a half back before realizing what was going on.
Cody Glenn
, who was beside him, and
Ramon Humber
, who was central, also reacted poorly. But Baskett's the hands guy of that trio. He recovered and got a clean look at the kick before any Saints player arrived, sprawling forward and letting the ball bounce off his face mask. A horrific effort.
Another special-teams error came from Chad Simpson.
The guy is not an explosive returner. If he's not positive he's getting to the 20 or beyond, he better take a touchback. So what is he doing at the end of the third quarter bringing out a kickoff from 4 yards deep when the best he could manage was the 11-yard line?
Reggie Wayne's effort on two big passes seemed questionable.
He and Manning can praise
Tracy Porter
endlessly, but Wayne seemed to give up on the route. He allowed Porter to gain position on a pattern analysts say he's got to be sure continues and crosses the corner who's in coverage. The move he made before he made his break didn't look like much and the cut wasn't very sharp. TV only showed it for a quick second, but Manning went to Wayne before walking off the field, head down, and said something to Wayne who kind of shook his head no and shrugged.
The Colts would have had to retrieve an onside kick and scored another touchdown, but Wayne also botched a TD catch near the end of the game. I asked him what happened there and he said he wasn't in the end zone and was trying to ensure he had proper depth as he made the catch to make sure it was a score.
Maybe he was slow playing it, but Wayne seemed almost disinterested in his crossing route from wide to the left to between the hashes, and as the ball went through his hands, I didn't think he was worrying about his depth, I thought he was worrying about
Scott Shanle
preparing to pop him.
Two other things of interest at this point in the game: On the first timeout, Manning signaled for it, then tried to change his mind. I was surprised by his indecision. And the third-down run call at 1:10 is just silly. The Colts couldn't afford the 21 seconds they lost when
Joseph Addai
was stuffed.
November, 4, 2009
11/04/09
7:51
PM ET
Posted by ESPN.com's Paul Kuharsky
Tyjuan Hagler
wasn't supposed to be in the Colts' defensive lineup this year.
But when he outplayed
Philip Wheeler
in the preseason, he regained a starting role.
Now he's finished for the year with a ruptured biceps, and Indianapolis gets yet another test of its depth. Wheeler, or possibly undrafted rookie free agent
Ramon Humber
, will take over on the strong side.
While the Colts have had a good share of injuries to plenty of key players --
Anthony Gonzalez
,
Bob Sanders
,
Kelvin Hayden
,
Marlin Jackson
and
Adam Vinatieri
among them -- Hagler is just the fourth player and first starter to land on IR.
He is tied for third on the team with 36 tackles.
One of the reasons Wheeler was in line to take over the spot in the offseason was because he's a bit bigger with about two extra inches and five extra pounds, according to the current official heights and weights. (Humber is smaller than Hagler.)
But the team's desire to gain some size didn't trump production.
Now it's left hoping it can get both.
September, 5, 2009
9/05/09
9:54
PM ET

Posted by ESPN.com's Paul Kuharsky

Biggest surprise:
Four undrafted rookies made it. Linebacker
Ramon Humber
, cornerback
Jacob Lacey
and interior offensive lineman
Kyle DeVan
have cause to celebrate and will surely be expected to make an impact on special teams if they make the game day 45. Kicker
Shane Andrus
could be insurance until
Adam Vinatieri
is fully fit after offseason hip surgery, or they could keep him as a kickoff guy. Fourth-round draft pick
Terrance Taylor
, expected to be part of the bulking up of the defensive line, was cut, as was second-year defensive end
Marcus Howard
. He was a fifth-round draft pick last year who appeared to have upside. But the team's push to get bigger along the defensive line could have cost him his spot.
Keyunta Dawson
was moved from tackle to end in the changes.
No-brainers:
The team spent a sixth-round pick on
Curtis Painter
and liked what it saw from him as he played more than anticipated in the preseason with
Jim Sorgi
hurt for much of the time. In a league starved for decent options as No. 2 quarterbacks it would have been difficult to have gotten him to the practice squad, so it kept him as a third quarterback on a team with as durable a starter as there is in
Peyton Manning
. Will injuries allow for such depth-long term?
What's next:
Left tackle remains the big concern.
Charlie Johnson
ranks ahead of
Tony Ugoh
on the depth chart but could win the job back. It would be uncharacteristic for the team to bring someone in and insert him into the starting lineup at this point, but they have to at least wish an upgrade candidate in their scheme would present himself. Ugoh and Dan Federkeil currently rank as the backup tackles.
September, 3, 2009
9/03/09
4:33
PM ET

Posted by ESPN.com's Paul Kuharsky
With three of our four teams playing Thursday night and the fourth preseason game meaning little or no time for starters in many instances, we reduce our previews.
Here's one thing from each game to be closely monitored.
Washington at Jacksonville
Right tackle
Eben Britton
and right guard
Tony Pashos
: Word is this is what the right side of the line will look like against the Redskins. Once the starters are out of this game, the Jags will have all the evidence they can get and have to decide on a starting line. Is Pashos at guard to test his versatility as a potential backup or is he a better option than
Maurice Williams
or
Uche Nwaneri
? Will they go with veteran
Tra Thomas
to start the season at left tackle, or conclude it makes sense to get top pick
Eugene Monroe
out there ASAP?
Indianapolis at Cincinnati
Lots of chances to look dumb here, talking about someone who doesn't wind up dressing as the Colts put no real value on starters getting work in their preseason finale. So the guys to watch are the undrafted rookies making a bid for roster spots. Big games for players like linebacker
Ramon Humber
or Mike Tauiliili, cornerback
Jacob Lacey
, defensive tackle
Adrian Grady
or receiver
Brett McDermott
could have a big bearing on their fates. Yes, it's hard to measure them against second or third stringers on the Bengals, but coaches and the front office make big dollars to translate such things and find their meaning.
Green Bay at Tennessee
Jeff Fisher talked this week like his plan for the game was a super secret. I think it's a secret until he knows what it is, at which point we will see it.
Mark Jones
is sure to get a lot of opportunity against the Packers, and the Titans will be hoping to force a bunch of punts and kickoffs. But they should be looking at
Javon Ringer
for kickoffs and saying prayers for the health of
Ryan Mouton
who seems a good punt return candidate but is recovering from a high ankle sprain. It would be good for Jones if he could make something out of chances at receiver too, if he gets them.
September, 2, 2009
9/02/09
10:59
AM ET

Posted by ESPN.com's Paul Kuharsky
In his list of
trades that should be made
, John Czarnecki says the Titans should trade for Anquan Boldin and the Jaguars need to acquire Tavaris Jackson.
As this might evoke responses from both Texas and Tennessee: Bud Adams was elected to the
Texas Sports Hall of Fame
, according to John McClain.

Houston Texans
Brian Cushing could return from his knee injury and play in the
preseason finale in Tampa Bay
, says John McClain.
The Texans
shouldn't push
Cushing too hard, writes Jerome Solomon.
Gary Kubiak listed Matt Schaub, Kevin Walter and Eugene Wilson as
day-to-day
as he looked ahead to the opener against the Jets, says McClain.
The Texans have
the right coach
in place, says Richard Justice.
A replay of
McClain's chat
.
Rex Grossman
will play
on Friday at Tampa Bay, says Alan Burge.

Run defense
from the secondary and Antonio Smith was poor against the Vikings, and it's fair to discuss Schaub's durability, says Lance Zierlein.

Indianapolis Colts
Mike Chappell
isn't expecting
to see Peyton Manning or most of the starting offense in Cincinnati.
Jim Sorgi is
ready to play
, John Oehser says in these notes on Tuesday developments.
Should the Colts keep
two quarterbacks or three
? Tom James looks at the question.
Oehser's second stab at
predicting the 53-man roster
includes linebacker Ramon Humber and defensive back Jacob Lacey.
Chappell thinks Adrian Grady
could make the roster
ahead of Terrance Taylor.
The Colts
cutting Michael Coe
gave Phillip B. Wilson pause to remember the guys he covers are human.

Jacksonville Jaguars
Jack Del Rio may be joining the team's
beard brigade
, says Michael C. Wright.
The Jaguars
aren't as young
as Del Rio is suggesting, says Terry O'Brien.

Tennessee Titans
Tuff Harris returns often to the
Crow Indian Reservation
in Montana to talk about the possibilities for those who explore outside its boundaries. John Glennon's story.
Jason Jones is back but
Mark Jones has issues
, says Gary Estwick.
Patrick Ramsey is working to make the Titans
keep three quarterbacks
, blogs Jim Wyatt.

An injury report
from Wyatt.
Nate Washington
feels better
, but didn't say much about his potential to return for the opener at Pittsburgh. Audio from titansradio.com.
August, 26, 2009
8/26/09
2:09
PM ET
Posted by ESPN.com's Paul Kuharsky


Houston Texans

Jerome Solomon finds Texans tickets available and ponders the possibility of blackouts in Houston.

The Texans are urging Dan Orlovsky to have a short-term memory.

The defensive line can't be as bad as it looked against the Saints, says Richard Justice.

Fantasy wide receiver ratings from Lance Zierlein.

Will the Texans see Sage Rosenfels on the field for the Vikings Monday night?

Indianapolis Colts

The Colts are an equal opportunity team when it comes to undrafted free agents, writes Mike Chappell.

Jim Caldwell is upbeat about Bob Sanders, who's visited Dr. James Andrews, says Chappell. Here's John Oehser's take on the same stuff.

A possible 53-man roster for the Colts, from Oehser.

Oehser thoroughly examines the state of the Colts right now, including the chances for three undrafted rookies: defensive tackle Adrian Grady, cornerback Jacob Lacey and linebacker Ramon Humber.

Starters will play into the third quarter in Detroit, writes Jeremiah Johnson.

Jacksonville Jaguars

The Jaguars will get the first look at Michael Vick Thursday night, says Vito Stellino.

Ernest Wilford is a Jaguar again, this time as a tight end, says Stellino.

Touchdowns count as first downs, Vic Ketchman points out.


Troy Williamson makes an appearance in Don Banks' list of winners and losers. Guess which one he is.


Williamson is a sleeper in the Sporting News' fantasy focus.


Tennessee Titans

Jovan Haye remembers struggling with dyslexia and stuttering, writes John Glennon.

Nate Washington (hamstring) isn't sure of his recovery timetable, say Gary Estwick and Jim Wyatt.


Kevin Mawae is back in action, says Wyatt.

An audio report from Titans Radio.

Javon Ringer looks a lot better than Chris Henry, says David Climer.

An updated stock report from The Tennessean.

Marvin Harrison is not going to be a Titan. If he wound up in Tennessee, it would make Jeff Fisher look both powerless and clueless, says Jim Wyatt.