AFC South:

Rashad Jenings
May, 21, 2012
5/21/12
8:24
AM ET
Some thoughts on things that unfolded while I spent some time away from the blog last week. We may circle back to a few.
Houston Texans

The Texans intend to use
James Casey
as both their fullback and tight end. They tout his versatility and his ability to play both as part of what makes him attractive. But his single best quality is his soft hands. The Texans have a lot of people to throw to, but wherever they are lining Casey up, to maximize him as a player, they need to target him.
Houston isn't interested in "Hard Knocks," and that shouldn't be a surprise. I can't imagine a camera tracking Gary Kubiak's private training camp moments.
Indianapolis Colts

The team claimed
Andre Smith
off waivers from the Bears and cut
Brody Eldridge
in the same week. Eldridge didn't seem to gain any traction with the new regime, which drafted two tight ends in the first three rounds. He was claimed by the Rams.
Meanwhile, former Colt
Dallas Clark
visited New England. It sure wouldn't seem there is much opportunity for him with the Patriots, who've already got
Rob Gronkowski
and
Aaron Hernandez
and signed veteran
Daniel Fells
earlier this offseason. It would be a surprise if Clark landed in New England unless he's available later and someone gets hurt. He's also visited Kansas City.
Jacksonville Jaguars

They are still the only known team that's interested in "Hard Knocks." There is an idea floating around that they aren't glamorous or compelling enough. But it's a mistake to think the show needs a glamour team. Getting a thorough behind the scenes look at any team makes for compelling television, and interesting storylines abound in any camp by the mere nature of what is playing out.
Rashad Jennings
is the team's top back with
Maurice Jones-Drew
not participating in OTAs. I can't see MJD getting the new deal he wants but I don't think he'll have a hard time learning the new offense once he arrives. Meanwhile, the capable Jennings will get valuable time after missing last season with an injury.
Tennessee Titans

There is a ton of talk about how different the Titans will be in 2012 after a full offseason for a coaching staff that worked with a quick turnaround in its first season. Receiver
Nate Washington
says the offense is going to sling it and defensive coordinator Jerry Gray is talking about installing his stuff rather than modifying the old stuff. We'll see how much both of those ideas come to fruition.
Eugene Amano
is rehabbing from knee surgery. But if the incumbent center, regarded as the line's weak link, loses his job, it will be to an in-house competition.
Kevin Matthews
is currently in the best position to make a bid for the spot. There is bound to be some awkwardness to the competition, considering Matthews' dad, Hall of Famer Bruce Matthews, coaches the offensive line.
August, 25, 2010
8/25/10
1:00
PM ET
A team-by-team look at the most indispensable players (non-quarterbacks) in the division.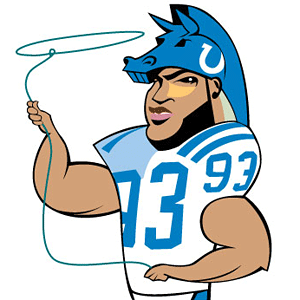 Chris Morris for ESPN.comDwight Freeney's presence makes the rest of the Colts' defense better.
Take that parenthetical out of the above statement, and the division owns the league's most indispensable player. No team could afford to lose its top dog less than the Colts with
Peyton Manning
.
But quarterbacks rank at the top of the list for a lot of other teams too, thus their exclusion here. Let's explore a division that's likely the only one in the league that includes a pair of indispensable running backs.
INDIANAPOLIS COLTS: DWIGHT FREENEY
I consider
Dwight Freeney
the team's second most important player behind Manning. Take Freeney away and an offense can concentrate on
Robert Mathis
. Remove the quarterback's fear of the speedy rusher and then he has more time. With more time there are more confident throws. I like the Colts' secondary, but every man in it will tell you how much he benefits from Freeney's work. Freeney affects the opposing offense's clock.
Colts president Bill Polian talks all the time about how the Colts won the Super Bowl the only season they had Freeney and Mathis together through the postseason. Mathis is a fantastic player, but certainly benefits from Freeney taking on the better pass-blocking tackle and drawing chips from tight ends and backs. The Colts actually have done well without Freeney in the lineup -- the Elias Sports Bureau says they are 9-2 without him and 90-27 with him. I still am less willing to sacrifice him than any other player on the roster except Manning.
JACKSONVILLE JAGUARS: MAURICE JONES-DREW
Maurice Jones-Drew
is an easy name to put in this slot for several reasons. He's an excellent and productive back, for sure, but plug in backup
Rashad Jennings
and the Jaguars might still be able to run the ball OK. But Jones-Drew does a lot to bring the Jaguars their personality -- he's a tough, no-excuses, no nonsense, workmanlike player. On a young team, having the singular star work that way is very important.
And he is a singular star on a team with a limited following. Without him, the volume on the national talk about ticket sales and a potential relocation would be even louder. Without him, the Jaguars would not have much of an identity. With him, there is a workhorse with a winning personality as the face of the franchise. That's a very valuable ingredient for a young squad trying to climb out of last place. And the guy is a rugged, productive back. He accounted for 31 percent of the offensive yards and 47 percent of the offensive touchdowns last season.
HOUSTON TEXANS: MARIO WILLIAMS
The Texans are working hard to get a good pass rush from linemen other than
Mario Williams
in order to take advantage of one-on-one matchups that his presence helps create. The team has survived without
Andre Johnson
before. Take Williams away and a lot of opponents could change their blocking approach. Quarterbacks would drop back with far less worry, and have far more time to pick on young cornerbacks.
Like Freeney, Williams draws extra attention from running backs and tight ends. If one fewer pass target is available to the quarterback or isn't available as soon, that can make a significant difference to an offense. Left tackles study extra hard to prepare for Williams. If they get beat badly on one play at the wrong time, it can be a complete game-changer. Williams had nine sacks last season with a shoulder injury and insufficient help. If he's healthy and has an improved supporting cast, he'll be a terror.
TENNESSEE TITANS: CHRIS JOHNSON
Javon Ringer
might be a solid NFL back. But the gap between Tennessee's No. 2 running back and
Chris Johnson
is a wide one. Coming off just the sixth 2,000-yard rushing season in NFL history, Johnson ranks as the NFL's most explosive player. His speed creates a fear factor that dictates defensive schemes for every play he's on the field.
His swagger -- a nicely measured combination of confidence and cockiness -- does a lot to give the Titans their personality. Running behind one of the best offensive lines in the league, Johnson is a home run threat on every play. Defenders know if he breaks into the open field, the perfect angle won't be enough to catch him because of his ability to pull away. And he's not only a threat out of the backfield, but a capable pass-catcher as well. Did you see how some teams panicked when he split out prior to a snap last year?