AFC South:

Rashard Mendenhall
November, 17, 2013
11/17/13
8:00
PM ET
JACKSONVILLE, Fla. -- Defensive tackle
Sen'Derrick Marks
has said for a while that it would be pretty simple to fix the Jaguars' porous rush defense.
Everyone just needed to do their job. Stay in their assigned gap. Quit freelancing. Just do what you're supposed to do on each play.
Turns out he was correct.
[+] Enlarge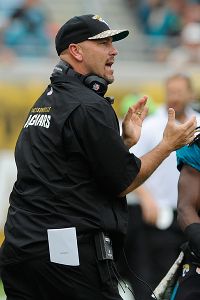 AP Photo/Stephen MortonGus Bradley and the Jaguars held the Cardinals to 14 rushing yards on Sunday, but were burned for several big plays through the air.
The Jaguars held Arizona to just 14 yards on the ground in a 27-14 loss at EverBank Field. That's the second-lowest single-game total in franchise history, behind only the 10 yards the Jaguars yielded to Kansas City in 2007.
It also is pretty much the only positive thing you can say about the defense on Sunday.
Carson Palmer
threw for 419 yards and two touchdowns, including a 91-yarder to
Michael Floyd
in which three players missed a tackle, and the Cardinals controlled the ball for nearly 36 minutes. But the defensive front -- which was without middle linebacker and leading tackler
Paul Posluszny
(concussion) -- showed up.
"Just like I've been saying the whole year, every time we've had runs get out on us, we have a guy out of a gap," Marks said. "Our thing was after the bye we had to hold everybody accountable. We've been doing it ever since we came off the bye week. We've got guys in the right gaps, and everybody is where they're supposed to be.
"Everybody's been accountable, and when you do that you tend to stop the run."
Rashard Mendenhall
gained 14 yards on 13 carries. One of which was a 5-yard touchdown run, which means he managed just nine yards on his other 12 carries.
Andre Ellington
, a speedy breakaway threat, managed just 3 yards on eight carries. The Jaguars entered the game giving up an average of 153.0 yards per game rushing.
"We were aware of the run game, and we did not want that to get going," head coach Gus Bradley said. "We did a good job attacking the run and controlling Ellington."
The defense certainly felt the loss of Posluszny, who is by far the team's best defensive player. He has two interceptions, eight pass breakups, two forced fumbles, and one fumble recovery. Posluszny didn't practice all week, and was finally ruled out on Saturday morning.
Russell Allen
, who normally starts at outside linebacker, filled in and made seven tackles, but failed to deliver a big play.
Actually, he made one but it didn't count. He stepped in front of Palmer's pass to
Larry Fitzgerald
inside the Jacksonville 20-yard line in the third quarter, but officials announced that the Cardinals had called timeout before the snap.
"I think you grow to appreciate Poz and what he's all about, but for Russell to step in and manage the defense like he did ... then he had the interception that would have helped out," Bradley said. "He did a nice job managing the defense. If he got more reps [during the week] we would see even better."
The Jaguars were certainly better against the run than in stopping Palmer, Fitzgerald, Floyd, and whichever tight end happened to be in the game at the time. Floyd caught six passes for 193 yards, including a 91-yard catch-and-run in which Allen, safety
Josh Evans
, and cornerback
Will Blackmon
missed tackles.
Fitzgerald caught a modest six passes for 61 yards and one touchdown, but tight ends
Jim Dray
,
Jake Ballard
and
Rob Housler
combined to catch nine passes for 117 yards -- continuing the trend of tight ends taking advantage of the Jaguars' rookie safeties (Evans and
Johnathan Cyprien
).
Things could have been even worse had cornerback
Alan Ball
not broken up four passes in the first half.
The
Tennessee Titans
had similar trouble on the ground (83 yards) and success through the air (288 yards, two TDs) last week. The biggest difference is the Jaguars forced the Titans into four turnovers. They didn't get any against the Cardinals.
"We feel good about how we played against the run, and we felt like it was something we were going to be able to do going in, but unfortunately we gave up too many big plays in the passing game," Allen said. "Any time we can give our offense a short field it's important, giving them an opportunity to put points on the board. Getting some breaks ... would have helped a lot."
November, 15, 2013
11/15/13
12:00
PM ET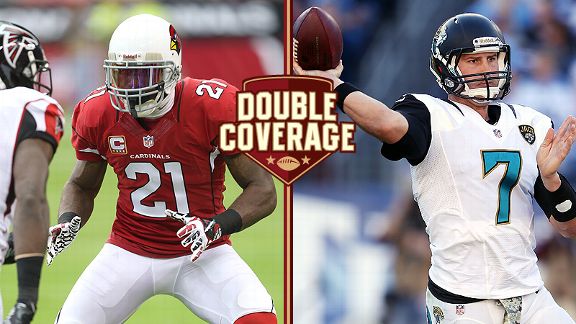 AP PhotoCornerback Patrick Peterson, left, and the Cardinals could make life hard for the Jags' Chad Henne.
JACKSONVILLE, Fla. -- The
Jacksonville Jaguars
finally took 0-16 off the table with their 29-27 upset of Tennessee in Nashville.
But that doesn't mean things are wonderful in Jacksonville. The team still ranks last in the NFL in total offense and rush defense and next-to-last in rushing offense.
To the Jaguars' credit, the players said those same things almost immediately after the game and have repeated them throughout the week. Finally getting that first victory doesn't change the fact that the team still has a long way to go.
The
Arizona Cardinals
have won back-to-back games for the second time this season and find themselves in the hunt for a playoff spot. The offense hasn't been especially productive, but the defensive front has been stellar, which is why the Cardinals are the NFL's third-best rush defense.
ESPN.com Jaguars reporter Michael DiRocco and Cardinals reporter Josh Weinfuss break down Sunday's matchup at EverBank Field:
DiRocco:
Josh, running back
Rashard Mendenhall
has really struggled this season. Rookie
Andre Ellington
has clearly outplayed him, yet coach Bruce Arians seems to be sticking with Mendenhall. What gives?
Weinfuss:
If I had the answer to that question, I would sell it to Arians, retire and be living on a beach. Nobody really knows. There are a few guesses as to why, but the most common one is that Arians is simply loyal to players he brings in. Mendenhall was Arians' handpicked running back, and the coach will go with him through thick and thin. There's also the fact that Arians doesn't consider Ellington an every-down back. Arians would rather give Mendenhall the brunt of the carries -- especially between the tackles -- while he uses Ellington out in space. That said, Arians won't shy away from using Ellington more than Mendenhall throughout the game if the rookie has the rhythm.
After getting their first win, are the Jags feeding off that momentum, or are they basking a little bit in not being a winless team?
DiRocco:
The Jaguars certainly enjoyed their first victory, but I would call it a tempered excitement. In the locker room after the game, players talked about fixing mistakes and staying humble. That message was reiterated Monday and Wednesday. The players remember what happened after the Denver game. They played relatively well against the Broncos, trailing 14-12 at halftime before eventually losing by 16 in a game in which they were 28-point underdogs. They figured the progress they showed would naturally continue, but they followed that performance by playing two of their worst games of the season, against San Diego and San Francisco. The players say they've learned their lesson and that won't happen again. We'll have to see Sunday if that's the case.
Like the Jaguars, the Cardinals are searching for a long-term answer at quarterback. But they're also in contention for a playoff berth, so they're not likely to be picking near the top of the draft. Louisville standout Teddy Bridgewater, Oregon's Marcus Mariota and Texas A&M's Johnny Manziel are probably out. So which quarterbacks to do you think they have their eyes on, and which would be the best fit?
Weinfuss:
I think this draft could be the long-term answer to the Cardinals' quarterback situation. If the Cardinals end up in the playoffs, they won't be picking near the top, which means they might get their hands on a college veteran. I've liked Aaron Murray from Georgia for a long time, and I think he's the type of player who can come in and have the talent to play right away. Another guy who could benefit the Cardinals is LSU senior Zach Mettenberger. They are both pocket passers who have big arms and are smart. Mettenberger might pick up an NFL offense quicker than Murray, because he's been running an NFL offense under offensive coordinator Cam Cameron. Arians' offense calls for a big arm, but I think Arians is seeing what life is like in the NFC West, facing mobile quarterbacks like Seattle's
Russell Wilson
and San Francisco's
Colin Kaepernick
, who can run and have big arms. Both Murray and Mettenberger could benefit from playing behind
Carson Palmer
for another season, if the Cardinals bring Palmer back. If a slinger like Clemson's Tajh Boyd is available, I wouldn't be shocked to see him drafted. At the same time, I also wouldn't be surprised if Arizona waits on a quarterback until the second or third round, hoping a gem like Wilson is available then.
Speaking of quarterbacks, is
Chad Henne
the short-term or long-term answer, and what will the Jags do with
Blaine Gabbert
?
DiRocco:
Right now, Henne gives the Jaguars a better chance to win than Gabbert, but Henne isn't the long-term answer for the franchise. The Jags' first pick in the 2014 draft -- whether it's No. 1 or not -- will almost certainly be a quarterback. That's a clear indication that the team is ready to move on without Gabbert, who was the No. 10 overall pick in 2011. I would be surprised if he's on the roster next season. Henne will be a free agent after the season and might opt to go somewhere else to compete for a starting spot. If he decides to come back to Jacksonville, it would likely be to serve as a mentor to whichever quarterback is drafted.
Cardinals cornerback
Patrick Peterson
has shadowed top receivers
Calvin Johnson
,
Steve Smith
and
Andre Johnson
and did a good job against them. I'm assuming he'll draw
Cecil Shorts
on Sunday. Is that the case, and where do you think Peterson ranks among the league's top corners?
Weinfuss:
If Shorts is the Jags' top receiver threat, then Peterson will most likely draw that assignment. Peterson prides himself on stopping the opponent's top receiver, as he has done in wins against Detroit and Houston -- despite two touchdowns by Andre Johnson that were barely inbounds. Peterson is no doubt one of the top two or three cornerbacks in the game, and depending on how you grade them, he could be the best. He's definitely the most athletic, but sometimes his fundamentals aren't as sound as they should be. He's shown that size doesn't matter as he takes on bigger players and makes them all but a nonfactor.
Is the Jacksonville defense better than people give it credit for, or is its 32nd ranking in stopping the run an accurate representation of the unit?
DiRocco:
It's pretty bad. The defensive line, outside of
Sen'Derrick Marks
, has played pretty poorly. It has been physically handled way too often, has poor gap control and has had trouble with missed tackles. Linebacker
Geno Hayes
has been inconsistent, and there are three rookies in the secondary. Middle linebacker
Paul Posluszny
has been terrific, but he might not play this week because of a concussion.
July, 28, 2012
7/28/12
1:02
PM ET
Ian Findlay from Miami writes:
You stated that the current contract for MJD was
a generous one
when he signed it. You should let us know what the terms of that contract are. I am having trouble finding that info. It is information, if you have it, that should certainly be included in the MJD article.
Paul Kuharsky:
Apologies.
It was a four-year extension that made it a five-year deal, worth $31 million with a $9 million signing bonus and $17 million guaranteed. He has base salaries of $4.45 million this season $4.95 million next year.
That's a nice, front-loaded deal they gave him before he had worked as the lead back. They made a leap of faith with him, giving him that deal and cutting
Fred Taylor
.
Maurice Jones-Drew
could have declined that deal and said, "Once I'm the lead guy, I will be worth more." He didn't. He took a front-loaded deal. You sign a deal like that, you get security and guaranteed money sooner, but also accept some risk that if you're really good it will fall below market in the later years.
I understand his frustrations. But he doesn't have a lot of leverage here. It's frequently been said and it's true, they could probably win five games and miss the playoffs by a mile -- as they did last year while he led the league in rushing -- just as easily this season without him.
---
Andrew from Indianapolis writes:
Will you stop using
Arian Foster
as an example of how teams don't need to draft running backs early? As an UFA Foster is the exception, not the rule. How many other UFA RBs have been Foster-quality backs? Foster is an outlier and is no way indicative of a trend suggesting teams relying on UFA RBs will be in great shape. Look at the other elite backs in the league- AP, Rice, McCoy, MJD, (arguably) CJ, all drafted in the first three rounds. Then look at all the UFA RBs that never work out. Every position has UFAs dominate but it's very rare, and RB is no exception.
Paul Kuharsky:
I get your point. Mine is that you don't have to take a guy in the first round.
Of the top 10 rushers in the league last season, four were first rounders, three were second rounders, one was a third-rounder and one was undrafted. So more than half of the league's most productive backs were not first-rounders. You can argue teams have a better chance of finding a guy who can produce outside of the first round as you do in it.
And while I know injuries and playing time factor in -- undrafted
Fred Jackson
, undrafted
LeGarrette Blount
and seventh-rounder
Ahmad Bradshaw
were not all that different from first-rounder
Rashard Mendenhall
or first-rounder
Donald Brown
.
I stick with my overriding premise: You can find running backs later and should use your best draft slots on other, harder-to-fill positions.
---
Ron in San Antonio writes:
What is your deal
trashing the AFC South
...maybe that's the way we love our division down here a little dirty a little gritty a little time consuming so what...the rest of the league is not any better. The game is as simple as you run it or you catch it either way somebody will win somebody will lose. The over analyzing of football or any other sport is beginning to suck and your leading the way my friend. Com'n Mr. Kuharsky you seem to be better than that so please let your writing reflect it sir.
Paul Kuharsky:
Though I should be used to it by now, I just don't understand why anything that's not cartwheels and rainbows and sprinkles on ice cream amounts to "trashing," "disrespecting" or "hating."
I can offer reasoned critical analysis without it being any of those things.
The rest of the league is not any better than the AFC South? Except that over the last two seasons, the AFC South is one of three divisions to not get a team to at least the conference championship game. Except that they account for one Super Bowl win in the 10 seasons since realignment created the division. Except that
Tom Brady
,
Ben Roethlisberger
,
Eli Manning
,
Aaron Rodgers
,
Drew Brees
don't play in it and
Peyton Manning
no longer does.
---
Rick from Gulf Coast, Miss., writes:
With camp opening based off the first preseason game, isn't that unfair to the 2 teams who play the Monday night game, and give an advantage to the teams playing the Thursday night game? Two of the teams playing the first Monday night game in regular season, also play the first day of the preseason schedule, effectively giving them more practice days than the other teams. In reverse, the teams in the preseason Monday game play on Sunday week one, effectively shorting them a day compared to the rest of the teams.
Paul Kuharsky:
If coaches and teams cared or thought they were being short-changed, they'd be complaining about it. They aren't, so I have no concerns. And who's to say extra practices are automatically good? Maybe they produce a more tired team or present extra days for a big injury. At least once I can remember, the Colts didn't open the first day they were allowed, but a few days later.
---
Charliy Nash in Nashville writes:
Okay Chief,
you wanted some feedback
: The biggest change I'd like to see is to sometimes (maybe monthly) schedule the chat at a different time - like on a Saturday. I'm sure I'm not the only one going "I'd love to participate, but I can't do that while I'm at work." Keep up the good work.
Paul Kuharsky:
Thanks. I appreciate the suggestion. I don't know if Saturdays are doable -- I think the bulk of the reader population likes to chat during work time, not free time. But I'll consider. Hey readers, would you come to a Saturday chat?
October, 16, 2011
10/16/11
4:04
PM ET
Thoughts on the Jaguars'
17-13 loss
to the Steelers at Heinz Field:
What it means:
There sure is a hopeless feeling around the Jaguars, who couldn't really do a thing against the Steelers early on, falling behind 17-0. They rallied only to fall short. They just aren't able to get a good 60-minute effort, and they now stand 1-5 with a five-game losing streak.


What I didn't like:
Rashean Mathis
wound up in a lot of tough situations and didn't fare well. The cornerback got beat by
Mike Wallace
on a well-placed touchdown pass. His failures weren't only in coverage, though. He couldn't angle to running back
Rashard Mendenhall
on a touchdown run and then got stiff-armed by the back in what seemed like a half-hearted effort to get to him during a career-best 68-yard run.
What I liked, at times:
Blaine Gabbert
rarely had time, but he stood in as he got hit and delivered an 18-yard touchdown pass to
Jason Hill
in the third quarter. It capped a long, time-consuming drive and closed the score to 17-10 despite how badly the Jaguars had been outplayed. He had a nifty scramble to convert one third-and-2. He wound up sacked five times and hurried and hit on plenty of other snaps. Hardly quality conditions for a rookie quarterback to succeed.
Significant stat:
The Steelers ran for 185 yards and 5.8 yards per carry.
What's next:
The Jaguars get the national spotlight when "Monday Night Football" rolls in to Jacksonville to see them host the
Baltimore Ravens
. Will people be compelled to look away?
September, 21, 2011
9/21/11
5:18
PM ET
Thanks to Adam Grigely of ESPN Stats and Info for pointing me to this surprising note on the Colts' rushing D: The Colts' rush defense has been suspect in recent years. But the numbers so far this season actually show improvement.
Opponents are averaging only 3.64 yards per carry in 2011, which is down from 4.35 in 2008-10. Indianapolis has been stronger up the middle, yielding up 2.7 yards per carry, down from 4.1 in 2008-11. And Steelers running back
Rashard Mendenhall
has been struggling rushing up the middle in 2011.
The Colts defense has allowed 64 rush yards up the middle, with five first downs and a touchdown. Mendenhall has gained 26 yards up the middle so far for a 1.7-yard average, with two first downs and a touchdown.
It's a positive sign in a sea of despair.
Of course it comes with a bad note attached. Two of the guys helping the defense in the middle, tackles
Fili Moala
(ankle) and
Eric Foster
(hamstring) were among the 11 players who sat our practice Wednesday because of injuries.
October, 14, 2010
10/14/10
9:00
AM ET
By
Scouts Inc.'s Matt Williamson
| ESPN.com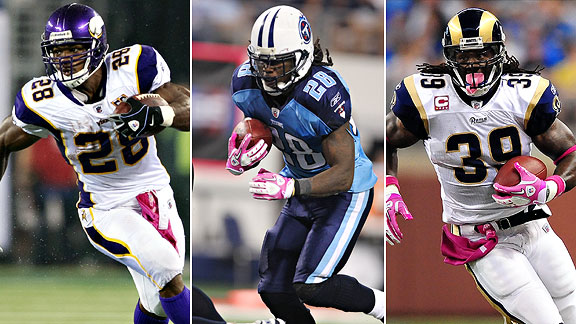 US PresswireAdrian Peterson, Chris Johnson and Steven Jackson lead a pack of talented running backs.
The majority of these decisions were clear-cut for me, including deciding between the top two. But after
Michael Turner
, this list became very difficult to compile.
I was torn between
Rashard Mendenhall
,
Jamaal Charles
and
LeSean McCoy
for the last two spots. For me, a true barometer when judging a running back's greatness is consistency over a long stretch of time -- though I realize that running backs' life spans are very short. And Mendenhall, Charles and McCoy have not demonstrated that consistency. I left Charles off the list because he isn't the clear lead dog on his team -- although he certainly should be.
Two other backs I'm very high on,
Jonathan Stewart
and
Beanie Wells
, obviously have no case for being on this list, but they do have the skill sets to be among the best in the league.
An all-time great who I thought was washed up,
LaDainian Tomlinson
, could very well convince me that he belongs back on this list if he continues to perform as well as he has for an extended stretch. What Tomlinson is doing is pretty remarkable, but I also think we need to keep it in perspective. He is in the ideal offense to succeed, with a hammer lead-blocking fullback, the best center in football, outstanding overall blocking, a quarterback who needs the safety blanket check-down receiver that Tomlinson provides and a playcaller dedicated to the run. Just look at how different
Thomas Jones
has been in Kansas City instead of New York. Still, Tomlinson has completely blown me away.
It's too early to include Houston's
Arian Foster
among the top 10 running backs, but what he has done in 2010 is very impressive. I must see more from him, however, to put Foster with the big boys. Foster, the leading rusher in the NFL with 564 yards, has durability concerns and looks to be nicked up. He isn't special enough to be the type of guy who can be counted on week to week, but his downhill, no-nonsense running style is exactly what Gary Kubiak wants in his zone-blocking scheme. (Check out
Jeffri Chadiha's Hot Read
on Foster.)
Here are my top 10 running backs.
1. Adrian Peterson, Vikings:
He is noticeably better than he was a year ago in all phases of his game. And he was the best back in the league last year. I said it then, and I will say it now. Peterson is an all-time great and clearly the best overall running back in football.
2. Chris Johnson, Titans:
Johnson has been up and down this year, but some of that has to do with his supporting cast. He did look like the 2009 version of himself in Week 5. There isn't a more dangerous player in the game.
[+] Enlarge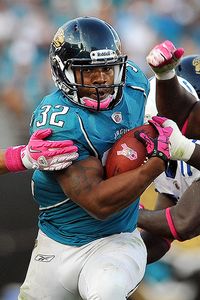 AP Photo/Stephen MortonMaurice Jones-Drew has only rushed for one touchdown this season after rushing for 13, 9, 12 and 15 in his first four seasons, respectively.
3. Steven Jackson, Rams:
Jackson recently eclipsed the 7,000 rushing yards mark. Just think how many he would have on another team. Jackson contributes in every way possible.
4. Maurice Jones-Drew, Jaguars:
I actually worry that MJD might, just might, be showing the very first signs of decline to his lofty game. I hope I am wrong about that, because he is a joy to watch and is remarkably consistent. Jones-Drew is a touchdown machine who can beat you as a runner or receiver.
5. Frank Gore, 49ers:
The only knock I have on Gore is durability, as he seems like a lock every year to miss a game or three with a lower-body injury. But he is a very special talent who can put a football team on his shoulders. It looks like he is going to have to for the 49ers to rebound.
6. Ray Rice, Ravens:
This past week, we finally saw the Rice of 2009. He really does everything well at the running back position. If anything, he should move up this list soon.
7. DeAngelo Williams, Panthers:
Wow, do I wish that we all could see Williams in Green Bay this year. Instead, he is in an absolutely dismal situation on one of the worst offenses in the league. Since Williams should be a free agent after this season, next year I might just get my wish. I bet he wouldn't complain either.
8. Michael Turner, Falcons:
Turner is a perfect fit for Atlanta's power running game and they tend to go as he goes. For a big back, he breaks a lot of long runs, but he offers little in the passing game.
9. LeSean McCoy, Eagles:
McCoy has come into his own. He is now stronger and understands the NFL game much better. Remember, last year he was one of the youngest players in the league. He's a dual threat with rare elusiveness. And he really fits the Eagles' offense. I am a believer.
10. Rashard Mendenhall, Steelers:
Mendenhall has not been spectacular during the first four games this season, but he has gotten a ton of attention from opposing defenses because the Steelers didn't have a quarterback to speak of. Prediction: The next 12 games will justify this ranking. He is quietly coming into his own and dripping with natural gifts.