December, 30, 2011
12/30/11
10:13
AM ET
Point 1) I fell in love with Raymond Berry when I read
this excerpt
from Mark Bowden's book on The Greatest Game Ever Played. It's the root of one of my football tenets: Do not slip.
[+] Enlarge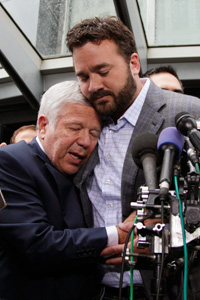 AP Photo/Carolyn KasterPatriots owner Robert Kraft owner, left, is hugged by Jeff Saturday of the Indianapolis Colts after the lockout ended.
Point 2) I argue constantly that a team and the league, not the fans and the press, get to decide if a team that's relocated retains its past. The only team that's ever left its history behind is the
Cleveland Browns
.
What do the two have to do with each other?
The NFL announced it will honor Berry as part of the Super Bowl in Indianapolis. He will carry the Lombardi Trophy to the presentation. The connection, of course, is that Berry played for the Colts.
The Baltimore Colts.
I understand the "link," but as part of a celebration of the host city, there is a complete disconnect. I'd never say Berry isn't due an honor, but this isn't the time.
Kudos to Scott McCauley,
whose tweet on the topic
spurred this post.
"Eric Dickerson should present the #SuperBowl trophy not Raymond Berry. Would Jim Brown present if game was in Baltimore?"
I don't know about Dickerson. He's a Ram to a lot of people.
The league is surely reluctant to use a current player.
But the perfect choice would be
Jeff Saturday
. He won a Super Bowl with the Colts, and he was an instrumental guy as a member of the NFLPA's executive committee who was a giant influence on getting the CBA in place and saving the season.
Without him, maybe there wouldn't even be a presentation.
June, 29, 2010
6/29/10
11:00
AM ET
[+] Enlarge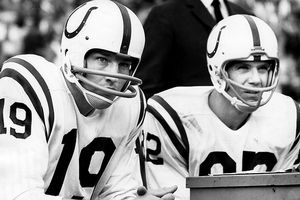 NFL/Getty ImagesJohn Unitas and Raymond Berry led the 1958 Colts to victory in "The Greatest Game Ever Played."
Notable players:
QB John Unitas, WR Raymond Berry, LT Jim Parker, HB Lenny Moore, RB Alan Ameche, DT Gene Lipscomb, DE Don Joyce, DE Gino Marchetti, DT Art Donovan.
Analysis:
It's very difficult to choose against the 1958 NFL champions, who took the crown with an overtime win in "The Greatest Game Ever Played." That win over the Giants at Yankee Stadium avenged a regular-season road loss to New York and did much to propel the NFL and football to prominence.
It's prompted books with subtitles like "The Birth of the Modern NFL" and "How the 1958 NFL Championship Changed Football Forever."
And Baltimore's lineup featured six players -- Berry, Donovan, Marchetti, Moore, Parker and Unitas -- who are in the Pro Football Hall of Fame, as is their coach, Weeb Ewbank.
These Colts were 6-0 at home and finished 10-3. Before the title tilt, they'd won by an average of 17 points and only once by a margin as small as seven. Their three losses were by 14 points. While Unitas threw 19 touchdowns against seven interceptions, the offense was really run-based with 24 rushing touchdowns and an average of 177.3 ground yards per game.
The defense posted even more impressive numbers, allowing only nine touchdown passes while intercepting 35 passes. Safeties Andy Nelson and Ray Brown had eight interceptions each.
And, before you fire off that e-mail: Sorry if Indy folks don't like it, but yes, Baltimore and Indianapolis are the same franchise. Check the nickname, check the record books, check with the league. We're following its lead. This is what happens with relocated teams, with only the Browns/Ravens exception.
Most impressive win:
Did we mention "The Greatest Game Ever Played?"
Research room:
The 1958 Colts were the first team in league history to win a game in overtime, regular season or postseason.
Honorable mentions:
1959:
These Baltimore Colts finished 9-3 and beat the Giants for the title again, with the same core of eventual Hall of Famers the 1958 team had.
1968
: The famous clip of Joe Namath running off the field, his raised index finger wagging, overshadows these Baltimore Colts. They outscored opponents 402-144 and won the NFL title but lost Super Bowl III to the
New York Jets
in another game crucial to the league's growth.
2006:
Peyton Manning
and the
Indianapolis Colts
went 16-4 and their four-game playoff run produced a Super Bowl title. Yes, 2005 may have been a better team, but this one gets the nod because it got the trophy.
1970:
In the last five seconds of Super Bowl V, rookie kicker Jim O'Brien's 32-yard field goal lifted the Baltimore Colts to victory over the Dallas Cowboys.
April, 13, 2010
4/13/10
3:29
PM ET
Sheldon Spencer, an NFL editor at ESPN.com HQ, has been digging through draft history for the past several weeks to assemble round-by-round all-star teams.
Here's a description
of the process -- AFL drafts aren't a piece of this until the NFL and AFL merged drafts in 1967. We're talking about players who performed well with the franchise who drafted them.
The AFC South's had a lot fewer picks than any other division in the NFL since the Jaguars and Texans have not been operating for long and the Titans only date back to that 1967 draft. The Colts have candidates dating back to 1953. Indianapolis and Tennessee are sure to have multiple entries in the series that take us back to Baltimore and Houston.
Here's the
seventh-round and beyond
team.
The Colts' Raymond Berry is the division's lone representative.
Three others earned mentions in the also considered category: Oilers quarterback Warren Moon, Colts defensive tackle Fred Miller, Oilers safety Ken Houston. Also of note in the also considered category is Earnest Byner, now running backs coach in Jacksonville.
Here's the
sixth-round
all-star club.
Oilers linebacker Al Smith, and Colts safety
Antoine Bethea
make the team.
Colts linebacker
Cato June
was considered, as were a couple of Bos from the Oilers: Bo Orlando and
Bo Scaife
.
Stay tuned for more division-specific details as other teams are unveiled. On Wednesday, we get the fifth and fourth rounds, Thursday the third and second and Friday the first.
December, 18, 2009
12/18/09
1:40
AM ET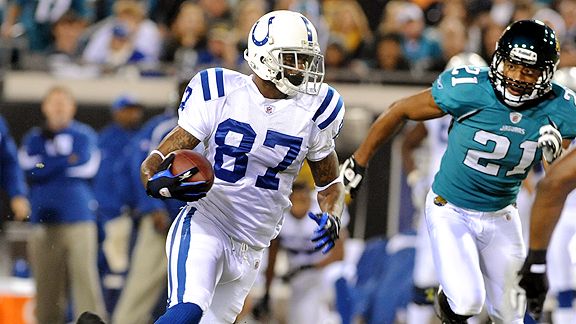 Al Messerschmidt/Getty Images
Reggie Wayne caught a 65-yard touchdown from Peyton Manning to give the Colts the lead.
JACKSONVILLE, Fla. -- For three games, he'd dissolved into the background, an unnatural place for a playmaker of his ability.
Reggie Wayne knew his presence still dictated coverages, that a slice of what Austin Collie and Pierre Garcon and even Dallas Clark were doing was on his account. Colts quarterback Peyton Manning repeatedly said so as Wayne didn't catch more than four balls, didn't break a play longer than 23 yards and didn't have more than 48 yards receiving in a game.

On Thursday night against the Jaguars, he knew something else too -- he could find room down the sideline.

"Throughout the game they were kind of playing off and looking inside, looking at the quarterback," Wayne said. "I just felt like there was a play somewhere in the game where I could just run by them if we could just control the safety with a route."

When it arrived, Wayne ran past Derek Cox, saw Reggie Nelson occupied for a second by Collie and ran under a perfectly placed Manning pass for a 65-yard touchdown that provided the winning points with 5 minutes and 23 seconds left in a 35-31 win. In the unbeaten Colts' 14th win of the season and 23rd in a row in the regular season, Wayne finished with five catches on seven balls aimed his direction for 132 yards and the score.

In front of their lone sellout of the season and in their first nationally televised game, the Jaguars (7-7) bucked an offensive trend with excellent red-zone production on offense. But the Jaguars needed to make sure they didn't get burned with big plays, and they'd used up their allotment of one when Chad Simpson returned a kickoff 93 yards for a touchdown in the second quarter.

Cox, the rookie who's a definite building block, and Nelson, the 2007 first-rounder who's become largely unreliable, combined to allow for Wayne's game-breaker. Cox didn't try to knock Wayne off his route or his rhythm and couldn't catch up to him as he ran by; Nelson's angle was too sharp and his pursuit was fruitless.

"Manning just went to his playmaker, and he was in position to make a play," Cox said. "We just didn't execute properly... We wanted to eliminate the big play, any explosives. If you make them drive the length of the field, maybe the defense will hold up, maybe we'll get an interception, cause a fumble."

Long appreciated as a No. 1-caliber receiver, Wayne was on the same team as an all-time great until Marvin Harrison and the Colts divorced during the offseason.

At Jacksonville Municipal Stadium, his yards put him past legendary Baltimore Colts receiver Raymond Berry into second place on the franchise's all-time receiving list with 9,339 yards.

It wins him the respect of his coach, his competition and his colleagues.

Jim Caldwell saluted him for passing Berry while Torry Holt, Manning and Collie also lavished praise.

"I have a tremendous amount of respect for Reggie Wayne and the way that he operates," said Holt, the veteran the Jaguars brought in to help lead a young group. "I like the way he remains patient. Tonight he remained patient, he stayed in his routes, and Peyton was able to hit him with that long one. It's just a tremendous amount of maturity on Reggie's part, understanding how the game develops. He and Peyton there, it was something they saw that enabled him to get open."

"His presence just dictates so much of what a defense is going to do, the way they defend us," said Manning, who passed for 308 yards and four TDs. "He wants to win. Like all great receivers, he wants the ball because he feels like that's going to help our chances of winning, and he's exactly right."

Said Collie: "You look at tape and you can tell they know who the guy is, who the playmaker is. He's done a great job of helping us out. …You've got to put your attention on that person, and between him and Dallas Clark, I think it does open up some stuff for me."

Take away the biggie and Wayne would have had four catches for 67 yards, numbers I am sure the Jaguars would have been thrilled with.

Instead, Cox and Nelson will be answering in a film session for how it unfolded. And the Jaguars will wonder how a team that had a grip on the AFC's final playoff berth goes about attempting to regain that hold.

The Colts are facing another, stronger round of questions about whether they will rest or play starters in their final two games against the Jets and Bills. If they pull key people early in those two, Wayne could be among the first to get the rest, again creating opportunity for Collie and Garcon. If that's the case, it'll hardly be like Week 14 in a home win over Denver, when he was barely a statistical factor in a game in which Brandon Marshall caught an NFL-record 21 passes.

Wayne joked after that he would have enjoyed just a couple of those receptions. Although there hadn't been huge production from Wayne recently, don't be fooled. He was being unselfish but still getting important results.

"It would be easy for him to be upset or pout, but he doesn't,"' Collie said. "And when a play is needed in crunch time, he's the one who makes it. He's done a wonderful job setting an example for us young guys as far as what a receiver should be."

December, 11, 2009

12/11/09

2:21

PM ET

Reggie Wayne

already ranks ahead of Raymond Berry in receptions, 659 to 631 and 100-yard games, 30 to 23.

In the not so distant future he'll pass the Hall of Famer in yards (his 9,164 is 111 short of Berry) and touchdowns (his 62 are six behind Berry).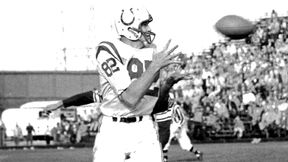 Photo by Vernon Biever/NFL/Getty ImagesRaymond Berry played for the Baltimore Colts from 1955 to 1967.
I'm not a huge NFL historian and am young enough that I knew Berry more as a so-so coach of the Patriots, not as a Hall of Fame receiver for Baltimore in the 50s and 60s.
In April 2008, years removed from playing or coaching, I developed a great deal of respect after I found
this excerpt
from Mark Bowden's book, "The Best Game Ever" in Sports Illustrated.
I think it should be mandatory reading for all incoming NFL players for the lessons it teaches about the intricacies of being prepared for everything and anything. Just the section on his cleat selection for the 1958 title game at Yankee Stadium, made me a giant Berry fan.
Wayne has an appreciation for Berry, and it's another reason to appreciate Wayne, who plays in an era when so many guys are not concerned with NFL history or their predecessors.
Here's what Wayne told Indy reporters this week when asked about Berry:
"I believe that he's helped paved the way. He's one of those guys that did it and did it the right way, and gave us young bucks the opportunity to go in and try to hunt him down a little bit. He's a great person. I've met him a few times. Whenever my name is mentioned in the same category with him, it is always an honor."
May, 20, 2009
5/20/09
12:10
PM ET
Posted by ESPN.com's Paul Kuharsky
Where does Peyton Manning-to-Marvin Harrison rank on the list of all-time great passing combinations?
How about Johnny Unitas-to-Raymond Berry?
Watch highlights of them and eight other tandems, see how NFL.com orders them, then rank them for SportsNation here.
March, 1, 2009
3/01/09
9:53
AM ET