March, 13, 2014
Mar 13
5:30
PM ET
JACKSONVILLE, Fla. -- There's going to be a lot more bling inside the Jaguars' locker room this season.
In the past three days, the Jaguars have signed three players who appeared in the Super Bowl in February: former Denver guard
Zane Beadles
and former Seattle defensive ends
Red Bryant
and
Chris Clemons
. While that wasn't by design, it's a circumstance that general manager David Caldwell hopes to exploit as he continues to reshape and build the Jaguars in his second season.
Nothing ensures credibility like success and that's something most of the players on the Jaguars' roster have experienced little of.
"It's not just the fact they played in the Super Bowl but all three came from winning organizations, which is important," Caldwell said. "They have been through playoff games and they know what it takes to get to where we want to be.
"They know what it takes to get better."
It wouldn't be strange to see one player from one of the league's top teams sign a free-agent contract with one of the league's worst teams. Two might not garner much attention, either. But three is a bit unusual. Granted, two of the players -- Clemons and Bryant -- played for Jaguars coach Gus Bradley when he was Seattle's defensive coordinator from 2009-12, so that played a part in pulling them to Jacksonville.
But all three players had offers from other teams, including some that made the playoffs in 2013, and somehow ended up together with a Jaguars organization that has won just seven games in the past three seasons and hasn't had a winning season since 2007.
The two former Seahawks are here now because they had made the decision to try and end up with the same team should they be released as part of Seattle's salary-cap management. Bryant was released on Feb. 28 and the Jaguars signed him March 8. The Seahawks released Clemons four days later and less than 24 hours after that he was signing a four-year deal with the Jaguars on Thursday.
"Once a lot of teams win the Super Bowl, some teams keep them together and some teams dismantle the whole team," Clemons said. "We are a group of guys that understand each other and know each other pretty well. That's our plan. Me and Red had talked about it already when our names first started coming up about the salary cap: 'Wherever you go, let me know so I can try and fit myself in because we know each other so well.'
"Once you have that camaraderie with somebody it's hard to actually go and find it somewhere else."
Beadles had wanted to stay in Denver -- which has geared itself up for a run at another Super Bowl in
Peyton Manning
's final seasons by signing
Aqib Talib
,
T.J. Ward
, and
DeMarcus Ware
-- but he and the Broncos were not close in negotiations. He was the Jaguars' top offensive line target and quickly agreed to a five-year, $30 million deal just hours after the free-agency period began.
Beadles goes from one of the league's top offenses to one of its worst.
"I think a lot of people would look at that and say, 'What's going on there?'" Beadles said. "But to me it's a good challenge. Like I said, I went from a team that was 4-12 my rookie year to being in the Super Bowl my fourth year."
That's a progression the Jaguars would like to make as well, and Caldwell is banking on the three Super Bowl participants playing a key role.
March, 10, 2014
Mar 10
6:32
PM ET
JACKSONVILLE, Fla. --
Red Bryant
is never going to forget what it felt like to win the Super Bowl earlier this year.
He also isn't going to forget the 2008 and 2009 seasons, either.
What he experienced then -- going 4-12 in '08 and 5-11 in '09 -- was just as much a part of Seattle's championship run as anything they did last season, he said.
[+] Enlarge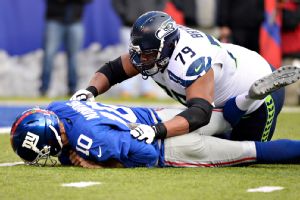 Robert Deutsch/USA TODAY SportsRed Bryant, who signed a four-year deal with the Jaguars, believes his new team has a similar level of commitment that his former team had.
"A lot of people talk about the great season we had this past season, being able to win the Super Bowl, but a lot of people forget the journey that led up to the Super Bowl," Bryant said Monday, two days after he signed
a four-year contract worth $17 million with the Jaguars
. "It was a lot of shortcomings, hard falls, and we persevered and I was there during that whole process."
One of the main reasons Bryant signed with Jacksonville is he believes the Jaguars are on a similar path under general manager
David Caldwell
and head coach Gus Bradley, who was the Seahawks' defensive coordinator from 2009-12. He sees the Jaguars at the same point the Seahawks were in his first two seasons and believes he can help as the franchise attempts to maneuver its way through the same building process.
"They've got a vision from the owner to the general manager to the head coach to everybody in the program," Bryant said. "They know what their vision it. They're going to be committed to it and they're not going to [deviate from it]. When you have that type of commitment to winning, commitment to excellence, only good things can happen.
"...I know what it takes. I know what type of commitment you have to have from the front office on down and that's the same commitment that I see the Jacksonville Jags have."
That's a pretty big leap of faith considering Caldwell and Bradley are only in their second year in Jacksonville and inherited a roster that was one of the worst in the NFL. The Jaguars lost their first eight games of 2013 by double digits and finished the season ranked 22nd or worse in the six major statistical categories (yards per game, rushing yards per game, and passing yards per game). They were 29th against the rush and 31st in total offense and rushing.
But there is optimism because early returns are solid on the duo's first draft class and they were able to add several free agents who turned into key players, such as defensive tackle
Sen'Derrick Marks
, cornerback
Alan Ball
, and linebacker
Geno Hayes
. Marks signed a four-year extension in December and is one of the players around which the defense will be built.
Bryant is another one of those players. He's a five-technique defensive end, meaning he lines up over the offensive tackle and is responsible for the gaps on either side. The 6-foot-4, 323-pound Bryant began his career as a tackle before moving to end in 2010 and he said he's willing to play inside and outside with the Jaguars.
"I'm pretty sure Gus will have a plan and the defensive coordinator will have a plan on how to use me," Bryant said. "I definitely feel like I can play inside if given the opportunity and I hope moving forward that's in the plan to utilize me inside as well."
Bryant, whom Seattle cut on Feb. 28, had planned on visiting Green Bay and Kansas City and said the
Washington Redskins
also expressed interest, but when he got to Jacksonville and spent time with Bradley, Caldwell and defensive line coach Todd Wash he felt the Jaguars were the perfect situation.
"I just think it's a great fit for me all the way around," he said. "I know where the vision starts from the top down and I believe Jacksonville is definitely moving in the right direction and I'm excited about being able to help their franchise turn it around."
March, 8, 2014
Mar 8
4:30
PM ET
JACKSONVILLE, Fla. -- The Jaguars' signing of defensive end
Red Bryant
is the team's first step toward fixing one of the NFL's worst run defenses.

Bryant
Jacksonville ranked 29th in the league in rush defense (131.8 yards per game) and gave up at least 150 yards rushing seven times in 2013. Six-foot-4, 323-pound Bryant, who began his career as a tackle before moving to end in 2010, will add some much-needed bulk up front and help on the edge of the defense.
The spot Bryant will play is opposite the leo, which is a hybrid end/linebacker whose main responsibility is rushing the passer. The opposite end's priority is to act as a run-stuffer while also providing some pass rush.
Tyson Alualu
held that spot last season and did a solid job, making 44 tackles and recording 1.5 sacks and eight quarterback pressures.
Then-
Seattle Seahawks
defensive coordinator Gus Bradley moved Bryant from tackle to end in 2010, and Bryant thrived in that role from 2011 to 2013, making 87 tackles and serving as an anchor of the defensive line, and Bradley is hoping he can do the same thing in Jacksonville.
Bryant is a better player than 6-3, 295-pound Alualu, who has never lived up to his status as the No. 10 pick in 2010 and likely will take over as the starter. Alualu has one more season remaining on his rookie contract with a cap hit of $4.164 million, but it seems unlikely the team would release him.
The Jaguars' rush defense was horrible in the first half of the season (161.8 yards per game). It did get better in the second half of the season, limiting opponents to less than 100 yards rushing in Weeks 10-14 before injuries along the defensive line and at linebacker limited the defense. The Jaguars gave up 461 yards on the ground in the final three weeks.
Addressing the offensive and defensive lines is the team's top priority in free agency. The signing of Bryant has given the Jaguars a head start.
October, 11, 2013
10/11/13
12:00
PM ET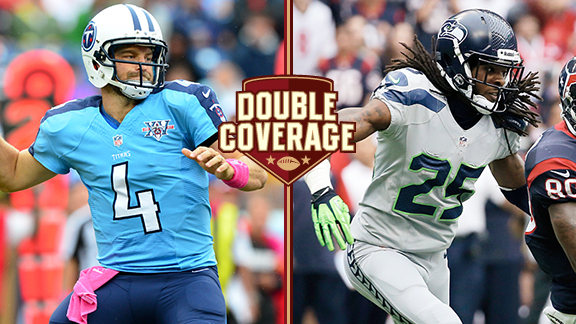 USA TODAY Sports, Getty ImagesBackup quarterback Ryan Fitzpatrick will have to face a stifling Seattle secondary and the league's best corner in Richard Sherman.
Sunday's game between the
Tennessee Titans
and
Seattle Seahawks
is a matchup between two winning teams coming off losses, and both are missing key players on offense.
Quarterback
Jake Locker
is out for the Titans. Both starting tackles --
Russell Okung
and
Breno Giacomini
-- are out for Seattle. Tight end
Zach Miller
could also sit.
The Seahawks have a 10-game home winning streak on the line, hoping to rebound after their first defeat of the season, 34-28 to the
Indianapolis Colts
.
The Titans hope to get a stagnant running game going and find some consistency with backup quarterback
Ryan Fitzpatrick
.
Paul, it looked like Fitzpatrick had a rough first outing for the Titans subbing for an injured Locker. Do you think Fitzpatrick will improve, and how difficult will it be for Tennessee to have success on offense while Locker is out?
Kuharsky:
Fitzpatrick is certainly capable of playing better than he did in the loss to Kansas City, when he had three very bad quarters and one good one. I'm not sure what the Titans can do to help him if they are unable to run the ball. If they can bring some balance with
Chris Johnson
(and maybe
Shonn Greene
, who's still trying to get back after knee surgery), it could be a lot less difficult. Fitzpatrick hardly has Locker's excellent speed, but he scrambled around pretty well against the Chiefs. With Locker in the first four games, the Titans didn't turn the ball over and overcame their deficiencies running the ball. Without him, they need Fitzpatrick to imitate the mistake-free youngster. But Fitzpatrick is more of a gunslinger than Locker and is streakier, and that's probably too much to ask.
Terry, the Titans pledged to be a great running team. It hasn't really panned out that way. Last time Johnson was in Seattle, he had a 2,000-yard season. What's the run defense going to be like?
Blount:
It's been all but impossible to run up the middle on the Seahawks. Defensive tackle
Brandon Mebane
is as strong a run stopper as there is the NFL, and it takes two blockers to handle 325-pound
Red Bryant
. If that fails, it's tough to get past middle linebacker
Bobby Wagner
. But Wagner probably won't play Sunday because of a high ankle sprain. Nevertheless, it's difficult to establish a running game on the Seahawks. Seattle is an aggressive outside pass-rushing team, so occasionally a back can get yardage outside, but not often.
Paul, Locker told us on the conference call Wednesday what a disappointment it is that he won't get to play this weekend in front of family, friends and University of Washington alumni who love him for all he did to help turn around the Huskies football program. He is a beloved guy here and a huge hero in this community. How is he viewed in Nashville?
Kuharsky:
Nothing close to that yet. People who have given him a chance know he's an eminently likable guy, a hard worker and a well-respected leader, but plenty of fans called talk radio over the offseason talking about why Fitzpatrick would be a better choice or how it should at least be a camp competition. Even after Week 2's overtime loss in Houston, when he overthrew a wide-open
Kenny Britt
on a crucial third-and-1 late in the game, there were calls for change. (It's a throw he's got to make.) The game-winning drive against San Diego showed people what he can do. Locker also had a fantastic two-plus quarters against the Jets, which seems to have done a lot to win more people over. In playing style and development arc, I think he is a lot like
Steve McNair
so far. If that holds true, impatient fans will wind up happy.
Terry, home field is viewed as such a giant advantage for the Seahawks. Can you give us a tangible feel for just how loud and crazy the atmosphere is there?
Blount:
In the San Francisco game, where the outdoor stadium decibel record was set at 131.9, it was so loud that it was difficult at times to even hear people talk in the enclosed press box. I know every team believes its stadium is one of the loudest, and I've been to most of them, but trust me, there is nothing like CenturyLink Field. It's deafening.
Paul, cornerback
Alterraun Verner
is off to an outstanding start this season with four interceptions and 11 passes defensed. Seattle cornerback
Richard Sherman
is viewed by some as the best corner in the NFL, but is Verner the most underrated?
Kuharsky:
He could have had another two picks last week on balls he didn't manage to haul in. Verner has been really good. The team wasn't sure what it had in him. The Titans knew they got a good football player out of UCLA three years ago. But as they revamped this offseason, with Gregg Williams joining the coaching staff and the Titans determined to get more aggressive, they figured a big increase in press-man coverage would move them away from Verner's strengths. They wanted
Tommie Campbell
, a faster and bigger guy to win the job. (Some wrote about how Campbell has some of what makes Sherman so good.) But Campbell didn't catch on and bombed in training camp, and Verner proved to be better. If
Coty Sensabaugh
hasn't recovered from his concussion for Sunday, Verner will start in base and move into the slot in nickel, with Campbell replacing him outside.
The Titans rush pretty well, and Verner is getting his hands on balls all over the field. Who has had the best success slowing
Russell Wilson
and how?
Blount:
Even though Seattle came back and won the game, the Texans had the most success because of their talented defensive front and all-everything defensive lineman
J.J. Watt
. Both Houston and Indianapolis took advantage of Seattle missing starters on the offensive line and teed off on Wilson on third down. Nevertheless, Wilson is the best I've ever seen making the most of a bad situation and finding the opening the defense gives him. Anticipating when Wilson will roll out and cutting off his running lanes is the key, but it is far easier said than done.
May, 17, 2013
5/17/13
9:30
AM ET
I asked Mike Rodak of ESPNBoston.com for an assessment of two defensive linemen the Jaguars recently claimed off waivers from New England:
Kyle Love
and
Brandon Deaderick
.
Deaderick
Love
Here are Rodak's insights:
"Both Love and Deaderick joined the Patriots in 2010, Deaderick as a seventh-round pick and Love as an undrafted free agent. With injuries creating opportunities for playing time, both players began to emerge as rookies within the Patriots' 3-4 system, Love as a nose tackle and Deaderick at defensive end.
"When the Patriots transitioned to a 4-3 system in 2011, Love eventually pushed Albert Haynesworth out of a starting job at tackle, while Deaderick spent the first half of the season on the PUP list. Both players started in Super Bowl XLVI, with Deaderick filling in at defensive end for
Andre Carter
following a season-ending injury.
Last season, the Patriots tweaked their defense again, moving
Rob Ninkovich
from linebacker to defensive end and shifting Deaderick back inside to tackle. Love began the season as a starter alongside
Vince Wilfork
, but saw his playing time cut after suffering a mid-season knee injury, opening the door for Deaderick to get more reps.
"While Love's release has been tied to his recent diagnosis of Type 2 diabetes, the circumstances surrounding Deaderick's termination remain unclear. As a rookie, he was briefly suspended prior to his first playoff game for reportedly missing a team meeting, but there were no known issues in his final two seasons in New England.
"With the Jaguars' defensive line in flux under first-year head coach Gus Bradley, both players project to have opportunities for playing time in Jacksonville. Given his versatility, Deaderick could compete with
Tyson Alualu
at defensive end (
Red Bryant
's position carried over from Bradley's defense in Seattle), or with offseason acquisitions
Roy Miller
and
Sen'Derrick Marks
on the inside. With his size (6-foot-1, 315 pounds), Love figures to have a role on first and second down as an interior run-stopper."
January, 3, 2010
1/03/10
3:03
PM ET
SEATTLE -- At a 20-yard line, above a CBS banner, a fan has a sign with a counter on it. It's set at 1,872.
Based on how well and how quickly the fan in control of it computes
Chris Johnson
's rushing yards, it could be a very handy tool helping CJ and the Titans and those of us in the press box track a potentially record day.
No surprises on the inactive list at Qwest Field, as beautiful a building as I expected in my first visit.
Here are the guys not suiting up:
Titans
Seahawks