January, 15, 2010
1/15/10
11:33
AM ET
Houston Texans
Andre Johnson's
an All-Pro
and Brian Cushing is second team, says John McClain.
Johnson's building quite
a trophy case
, says Alan Burge.
Analyzing the
receivers and tight ends
with Battle Red Blog.
Will Rick Dennison fix
the Texans' running game
? Stephanie Stradley likes that Dennison won't be learning on the job like his predecessors were.
Indianapolis Colts
Marv Levy, Rich Gannon and Tony Dungy tell Mike Chappell why Peyton Manning
is so good
.
There will be
no tricks
for the Ravens defensive backs against the Colts, says Jason Cole.
Tight ends like Dallas Clark are
a bigger receiving headache
for defenses than ever, says Judy Battista.
Seattle opened itself to
tampering charges
by going after Tony Dungy, says Phil Richards.
Ray Rice and Gary Brackett share
a Rutgers connection
, says Phillip B. Wilson.
Reggie Wayne's got a big project starting
back home
in Louisiana, says Chappell.
Why the Colts will
beat the Ravens
, from John Oehser.
Breaking down
Ravens-Colts
with Damon Hack.
Will
Ravens fans
fill up a lot of seats at Lucas Oil Stadium? Chappell takes questions.
Pierre Garcon had had
some contact
with family in Haiti.
Jacksonville Jaguars
Mike Sims-Walker is a finalist for an award for an NFL player who
exceeded expectations
, says the Times-Union.
The Jaguars won't play in London at least in part because "Wayne (Weaver) doesn't want to send any kind of message that might compromise that effort by giving fans any reason to believe the team isn't
totally committed
to Jacksonville. Ask Vic is here.
A Reggie Nelson review
from Jonathan Loesche.
No All-Pros
for the Jaguars, says Big Cat Country.
Tennessee Titans
Vince Young is The Sporting News
comeback player of the year
.
Chris Johnson has a lot to do with the league's
increase in long runs
, says Reed Albergotti. Hat tip to Music City Miracles and Randolph Winston for the link.
Titans rookies got
a big welcome
to the league, says Terry McCormick.
How crazy would it be if Floyd Reese
landed in Seattle
, where the Titans hired his replacement, Mike Reinfeldt? Jim Wyatt considers.
December, 2, 2009
12/02/09
3:59
PM ET
NASHVILLE, Tenn. --
Chris Johnson
isn't concerned with
Brett Favre
,
Peyton Manning
or
Drew Brees
.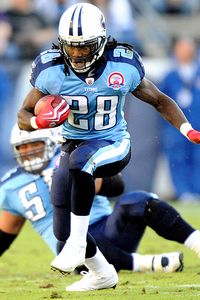 Don McPeak/US PresswireChris Johnson doesn't think team records should play into the MVP voting.
The Titans' second-year running back joked Wednesday after practice that he intends to launch an MVP campaign soon.
"Of course I should be in the conversation," he said. "And I'm about to start a campaign, an MVP campaign. Everything. When is the voting?"
And while he expects the Titans to fulfill the prophecy he offered after the Titans' first win that they would win 10 in a row and make the playoffs, he said it shouldn't have to come true for him to win the honor.
"I don't understand that," he said "MVP, that's an individual goal, that's not a team goal. Last year, my team, we had a first-round bye, went to the playoffs and all that and they still gave
Matt Ryan
[offensive] rookie of the year. So it shouldn't have to go on how good your team is doing."
He also said he's not sure a 2,000-yard season is a necessity, though he's currently on pace for 2,030 rushing yards. That number is too far away for him to think about much now, he said.
Johnson will be pleased to know he's moved up in Mike Sando's weekly "
MVP Watch
."
Voters who prefer one of the quarterbacks of a playoff team for MVP might look to Johnson for a different award -- offensive player of the year.
The MVP and offensive player of the year have been the same player for the four of the last five seasons. Last year Manning was MVP while Brees was offensive player of the year.
In the five seasons before that, a quarterback was MVP while a running back was offensive player of the year four times.
Marshall Faulk
was OPOY twice when
Kurt Warner
was MVP.
Priest Holmes
won the second award when
Rich Gannon
was MVP in 2002. The same scenario played out for
Jamal Lewis
when Peyton Manning and
Steve McNair
were co-MVPs a year later.
"That'd be good too," Johnson said of possibly being offensive player of the year. "But I want MVP."
November, 9, 2009
11/09/09
11:18
AM ET
Posted by ESPN.com's Paul Kuharsky
Our Monday feast of quality numbers from ESPN Stats & Information…
The Colts won their 17th straight regular-season game, which ties them for the third-longest such win streak in NFL history.
Most consecutive games won, regular season NFL history
Patriots, 21, 2006-08
Patriots, 18, 2003-04
Colts, 17, 2008-09
Bears, 17, 1933-34
Peyton Manning
threw for 318 yards -- his 54th career 300-yard game (second among active players) -- and a TD.
Most 300-yard passing games in team's first eight games, last 50 seasons
'09 Peyton Manning, IND, 7
'08 Drew Brees, NO, 6
'02 Rich Gannon, OAK, 6
'00 Kurt Warner, STL, 6
'98 Steve Young, SF, 6
Jim Caldwell is breathing down Wally Lemm's neck, but it'll take wins against New England and at Baltimore to catch him.
Most consecutive wins to start coaching career, NFL history
Wally Lemm, Houston Oilers/St. Louis Cardinals, 10, 1961-62
Jim Caldwell, Indianapolis Colts, 8, 2009
Potsy Clark, Portsmouth Spartans, 8, 1931
Barney Lepper, Buffalo All-Americans, 7, 1920
The Colts simply own the Texans. They've not lost to the team in Indianapolis since the franchise joined the league in 2002.
Best win percentage against one team, current NFL franchises
W-L
Win pct.
Next Game
Colts vs. Texans
14-1
.933
Nov. 29
Colts vs. Falcons
13-1
.929
2010
Steelers vs. Jets
15-3
.833
2010
49ers vs. Bucs
15-3
.833
2010
Browns vs. Falcons
10-2
.833
2010
>>Minimum 10 games
Dwight Freeney
had 1.5 sacks of
Matt Schaub
. He's had a sack in every game this season, as well as in his final game last season.
Most consecutive games with a sack, since 1982
Simon Fletcher (1992-93) 10
DeMarcus Ware (2007-08) 10
Dwight Freeney (2008-09) 9
Bruce Smith (1986-87) 9
Kevin Greene (1997-98) 9
NOTE: Sacks became official stat in 1982
Manning threw 40 attempts in the 1st half (10 in the second) to become the first quarterback since Gannon in 2002 (against the Steelers) to throw at least 40 passes in the first half.
August, 26, 2009
8/26/09
6:25
PM ET
Posted by ESPN.com's Paul Kuharsky


Matt Schaub visited "The SIRIUS Blitz" Wednesday on SIRIUS NFL Radio and talked about the idea of learning to stay healthy.

Host Adam Schein: "We talked to coach Kubiak at the combine and I thought he had something interesting to say about you. He said Matt needs to learn how to stay healthy. How does a QB learn how to stay healthy?"

Schaub: "I guess, you know, you kind of stumped me there. As far as learning how to stay healthy, I don't know, you just kind of, I guess, learn how to take hits better. You get in the training room more. I guess I'm still trying to learn that myself and I guess this is the year where I'm going to learn how to do that because I'm going to be out there for 16 weeks. It's been unfortunate to be nicked up the past couple of years but I was happy to get back out there the last month of last season to play those last four games and get back out there with my guys."

Later in the show, Rich Gannon, a 17 year veteran QB and the 2002 NFL MVP, gave his thoughts on Schaub's answer.
"He talked about taking hits better, getting in the training room more. I say, 'No, no, no.' I love this kid. I think he's got a good chance to be a good player but his answer is not the answer I was looking for. The way you stay healthy, first of all you have to look at the players who are staying healthy, guys like Brett Favre and Peyton Manning and Tom Brady [who] before last season was very durable. When you put the film on Monday morning very rarely do you ever see these guys take a hit to the back of the head where they don't see a corner blitz or a weak[side] safety coming clean. They have great vision, great experience, great anticipation, great understanding not only of what they're doing offensively in terms of the protection scheme, but how these defensive coordinators are trying to devise schemes to attack them and get hits on them…"
"So veteran quarterbacks, the ones who do a great job in terms of their preparation and their understanding, they see things early. They change protections. They get the ball out quick. They don't take any unnecessary hits. And that's the big thing for Matt Schaub, to avoid the unnecessary hits inside the pocket, outside the pocket on the perimeter when he's running with the ball. Throw it away, find an outlet receiver, but don't let somebody like Albert Haynesworth -- which I've seen happen way too many times to Matt Schaub -- put all 360 pounds of his body weight and pile drive you to the ground. Something's going to happen like a separated shoulder. And that's the thing he has to learn and if I was coaching him those are the points that I would want to drive home."

I'm with Gannon here. I'd have thought Schaub would have had a better answer.

I think the idea is miscast a bit though, by using a phrase like "staying healthy."

When I talked to them both in June, Kubiak talked about how players can "learn to stay on the field." That's what Schaub needs to do, and it's what I think he will be able to learn to do.

Though I'd feel more comfortable saying so if he had a better answer in this interview.