AFC South:

Richie Incognito
February, 28, 2014
Feb 28
7:00
AM ET
INDIANAPOLIS --
Jonathan Martin
's connection to the
Indianapolis Colts
will continue to draw attention as long as signs continue to point to Martin and the
Miami Dolphins
parting ways.
Martin
Martin was teammates with
Andrew Luck
,
Griff Whalen
,
Delano Howell
and
Coby Fleener
at Stanford. Colts offensive coordinator Pep Hamilton was also on staff at Stanford.
Fleener spoke out about Martin after the Ted Wells' report was released earlier this month. Then Luck told Pro Football Talk in an interview earlier this week that he would be in favor of the Colts adding Martin, who was bullied by
Richie Incognito
and two other teammates with the Dolphins.
"I'd say I love Jon, we had a great time at Stanford together, still stay in touch with him regularly and I think he's a great man," Luck said.
Miami is expected to trade or release Martin at some point during the offseason.
There's zero doubt that the Colts would welcome Martin inside the locker room. That's how they are and why they've been able to overcome different obstacles each of the past two seasons.
But trading for Martin is not an option. He is a tackle. Indianapolis is set at tackle with
Anthony Castonzo
and
Gosder Cherilus
. The Colts need help at guard and center.
The Colts could try to sign Martin to be a backup tackle if the Dolphins release him.
Still, chatter about Martin and the Colts will remain until he finds his next team.
February, 18, 2014
Feb 18
1:30
PM ET
INDIANAPOLIS -- At some point, offensive lineman
Jonathan Martin
and the
Miami Dolphins
will part ways from what's turned into a disastrous relationship.
Martin
And when that happens, whatever team acquires Martin next will be getting a hard-working player, according to one of his former teammates at Stanford.
"He's physical at the line of scrimmage, smart guy, understands the offense well,"
Indianapolis Colts
tight end
Coby Fleener
said. "I think he would be a great teammate for anybody to have."
Ted Wells' report last week determined that Dolphins offensive lineman
Richie Incognito
and two of his teammates bullied Martin.
Fleener stayed in touch with Martin via text message.
"I didn't really look at it as who was going to be wrong and who was going to be right, I just wanted the best for Jonathan regardless of who was wrong or right," Fleener said. "I didn't talk to him about the specifics or anything like that because I felt like it wasn't my place. If he wanted to talk about it that was fine. I really just wanted to make sure he was doing alright."
Martin has ties with a number of Colts.
He and Fleener, receiver
Griff Whalen
, quarterback
Andrew Luck
, safety
Delano Howell
and offensive coordinator Pep Hamilton were all together at Stanford.
The Colts are in need of help on the interior part of the offensive line. But Martin plays tackle and the Colts are set there with
Anthony Castonzo
and
Gosder Cherilus
.
"I don't really campaign for anybody," Fleener said. "I think that's up to our GM [
Ryan Grigson
] and coaching staff. They've done an awesome job putting together the team. If Coach [Chuck Pagano] or Mr. Grigson asked me, I would have nothing but support for Jonathan."
November, 8, 2013
11/08/13
10:37
AM ET
HOUSTON -- On Monday, a day after
Richie Incognito
was suspended indefinitely for conduct detrimental to the Dolphins, Texans defensive end
Antonio Smith
was asked if the allegations that Incognito bullied a teammate, threatened him and used a racial slur toward him surprised Smith.
"Definitely not," Smith replied.
Smith
Incognito
Why?
"You are what you are."
Smith and Incognito have a long history. It goes even further beyond the two games in which the two have sparred in the past two seasons. They both played in the Big 12 in college with Smith at Oklahoma State and Incognito at Nebraska. In the NFL, the players who were drafted one year apart wound up in the same division, facing each other twice a year.
Of course, Smith ripped off Incognito's helmet this year during the Texans' preseason game in Miami and the ensuing swing, which didn't make any contact, led to a fine and suspension of two preseason games and one regular-season game for the defensive end. He didn't say much about it, except to say that Incognito punched him in the face and grabbed his facemask before that. It's the second time in two seasons the league has fined Smith for an incident involving Incognito.
Today Smith was asked again about Incognito, bullying and the racial nature of some of the allegations.
What was clear was that he doesn't think what's happening in Miami is a cultural problem with the NFL. He thinks hazing, when done with the right intentions, can be harmless. Rather, Smith thinks what's happening in Miami is an Incognito problem.
And while the Dolphins locker room seems to be rejecting the notion that Incognito used racial slurs hatefully, it doesn't sound like Smith buys that. Smith's words:
"Hate is a big -- especially in this day and age -- it's a big factor. If some of the allegations are true of things that he said or left voice messages. I don't think that has any place anywhere. But other people believe differently.
"I don't think in my opinion a grown man should get bullied. I think that if you realistically get bullied, there's only one way my mom taught me and my dad taught me how to get rid of bullies as a child. I can't say what to do in this day and age, but when I was a kid they always used to say, you hit a bully in the mouth, it'll stop him from bullying. No matter what you hit him with."
On hazing in general:
"I don't know what's the particulars on it. I know that a lot of it is just football players doing what football players do. The rest of the world don't understand, they think it's outrageous and different things like that. In every walk of life you have your rite of passage and your traditions that you do. These are the traditions that have been passed down throughout the NFL for a long time. I think a lot of the things that (happen are) no problem, it's just in the hands of a person that you have in charge of doing it. Like having weapons or firearms. The person who's in charge of (the weapon) is the one you should fear, not the firearm itself.
"If you're hazing somebody and you're hazing them out of pure hate instead of love, then I don't think that has a place in (football). I've never been around it so I couldn't even comment on it. When we have our fun, we laugh we joke with each other, you know it's all in love. If (allegations about Incognito are) true from what I'm hearing, from what everybody's saying, that's not out of love. You're just outright stalking somebody or threatening to beat their you know what and all of that, that's totally different. That's not what we as football players in the NFL do for hazing or right of passage, for rookies in that league."
Does he feel vindicated?
"I don't feel vindicated at all. That situation was what it was. I closed the chapter on that situation whether it was that situation or any other, you're going to be the man that you are. He is the man that he is. That's just the bottom line. It don't reflect on me or anything, any of the situation."
On Incognito's use of a racial slur:
"When you're generating that type of hate toward somebody, I don't think that's called for especially for somebody that's supposed to be your teammate. You're spending most of your time with these guys in the locker room, more time than you spend with your family. You grow to love a lot of your teammates as brothers as friends. Racial slurs, any kind of slurs or hate generating, I don't think has any place in the locker room, a football locker room, a team, anywhere as a matter of fact. I don't want to just bottle it into us. Make it all about football. It don't have a place anywhere. But some people believe that way."
November, 6, 2013
11/06/13
4:35
PM ET
INDIANAPOLIS – Hazing inside locker rooms or baseball clubhouses isn't anything new. It's been around quite some time. Rookies often have to sing in front of their teammates during training, carry helmets and shoulder pads throughout the season or bring doughnuts in the morning.
But that's the extent of things inside the Indianapolis Colts' locker room. And it's not because of the accusations of what's being reported in Miami with guard
Richie Incognito
and teammate
Jonathan Martin
.
This goes back to when Tony Dungy started coaching the team in 2002.
"When he was here, he was all about there would be none of the rookie hazing type stuff and it's continued that way," veteran kicker
Adam Vinatieri
said. "We've got a group of older veteran guys that don't believe in dumb stuff and that's the way it is."
Having fun and cracking jokes in the locker room is expected amongst teammates. Players often joke about the type of music some of their teammates listen to or their clothing choices. But it's all in fun. Something you would do with your close friends. The Colts are around each other on almost a daily basis from the end of July until the season ends in January or February. You can even argue that they spend more time with each other than with their own families.
But it doesn't go overboard -- the way it's reportedly happened in Miami -- with the Colts.
"Guys in this locker room understand what hazing is," said cornerback
Vontae Davis
, who spent his first three seasons with the Dolphins. "When you can't distinguish taking advantage of somebody from just cracking jokes, you're not being reliable as a veteran. We know how to distinguish if we're taking advantage of somebody or not. We hold each other accountable. We're a big family."
Davis declined to comment about what's going on in Miami. Quarterback
Andrew Luck
, receiver
Griff Whalen
and tight end
Coby Fleener
were teammates with Martin at Stanford.
Fleener said he's exchanged text messages with Martin but declined to go into specifics on what they talked about. He did, however, stick up for his former teammate when a reporter said Martin has a reputation for not being tough.
"I think that's a stupid, stupid statement," Fleener said. "If somebody wants to dispute that, I'd be happy to talk to them. It's neither here nor there. It's not really something that we're focused on."
Dungy was on The Dan Patrick Show earlier this week and said they had warning flags about Icognito coming out of Nebraska in 2005. The Colts had him on the "DNDC" list, which means do not draft because of character issues.
The Colts have a brotherhood in the locker room. There's mutual respect from the veterans down to the rookies to the training and equipment staff. Veterans like
Robert Mathis
,
Cory Redding
and
Antoine Bethea
make sure they stay together and keep their focus on winning.
"If you see something that's not right, you take care of it," Vinatieri said. "That's just the way it is. It doesn't have to be an old guy to a rookie or a rookie to rookie. There's no disrespect allowed around here from coaches to players, from players to coaches, to other staff, to the cleaning crew. If anybody gets that way, it gets shot down pretty quickly."
November, 4, 2013
11/04/13
5:59
PM ET
JACKSONVILLE, Fla. --
Jacksonville Jaguars
linebacker
Paul Posluszny
says he never saw
Richie Incognito
bully or harass anyone while they were teammates in Buffalo in 2009, but they were only in the same locker room for a handful of games and he didn't know Incognito very well.
Posluszny
"All I know is he came to practice, he worked hard, and he did everything he could to be a professional," Posluszny said. "So this type of stuff, what I'm hearing ... I don't know him extremely well, but yeah, it's surprising."
Posluszny was in his third season with Buffalo in 2009 when Incognito joined the Bills in mid-December. Incognito, who had been waived by St. Louis following a verbal confrontation with then-coach Steve Spagnuolo, played in the final three games of the season. He was a free agent and did not re-sign with the Bills after the season.
Posluszny said the allegations of bullying and harassment and use of racial slurs by Incognito toward
Miami Dolphins
teammate
Jonathan Martin
were disturbing. A little hazing of rookies and young players is fine -- he had to purchase leather chairs for the linebackers meeting room when he was a Bills rookie in 2007, for example -- but what Martin alleges happened has no place in any locker room, he said.
"There's a fine line there that you cannot cross because at the end of the day they're your teammates, you're playing together on Sunday, and you want everyone to trust each other and be functioning at your best," Posluszny said. "As an older guy I never want a rookie to be able to say, 'Man, Paul was a pain-in-the-a-- veteran to deal with.' I never want that to be the case. I'd much rather them say, 'Man, he really helped me out. He taught me some things.'"
August, 30, 2013
8/30/13
9:57
PM ET
In the week after the
Houston Texans
played the
Miami Dolphins
in the preseason, while expressing support for his suspended teammate
Antonio Smith
, Texans left tackle
Duane Brown
gave a fellow offensive lineman's perspective on
Richie Incognito
.
Incognito
"It's tough to be in Antonio's shoes, when you have something that happened last year where he felt like he was done a little dirty, and that sticks in the back of your mind," Brown said of Smith,
who was disciplined
for ripping off Incognito's helmet and swinging it at the Dolphins guard Aug. 17. "I think Incognito's a good player and I was out there in the Pro Bowl with him. He's a nice guy. He plays hard. It's just unfortunate to have that kind of exchange when you're going against someone."
Brown noted that Incognito did "a little extra" but said he couldn't say if Incognito was dirty, not having played against him.
The personal side of Incognito he referenced isn't something we hear about often. Today, NFL Network's Jeff Darlington
examined it
.
Darlington starts with a scene in which Incognito asks Ricky Williams for help meditating. He takes us through Incognito's journey that involves anger, alcohol, drugs and depression.
He also takes us inside the meeting during which Dolphins coach Joe Philbin showed the play that resulted in Smith's suspension. Philbin used Incognito as a positive example:
On the Sunday morning after Miami's recent preseason game against the Houston Texans, Dolphins coach Joe Philbin pulled his players into the team's main auditorium and started a meeting by projecting a play onto the big screen in the front of the room.

The play has since drawn national headlines: Texans defensive end Antonio Smith, apparently antagonized by Incognito's relentless needling, ripped off Incognito's helmet and swung it at his head.

"This is how you respond to this situation," said Philbin, rewinding and replaying the moment over and over to show Incognito's passive reaction. "We have to keep our composure and not retaliate."

Multiple players say Philbin was fired up during that meeting, proud of Incognito and center Mike Pouncey for walking away from a provocative situation that later resulted in a three-game suspension for Smith.
August, 22, 2013
8/22/13
9:17
AM ET
Numbers can be tricky things, and they can't be viewed in a vacuum.
But to help add perspective to the overall discussion of
Antonio Smith
and
Richie Incognito
, I consulted ESPN Stats & Information for a broader look at some numbers on penalties incurred by NFL players.
Analyst John McTigue broke down the players with the most personal foul-penalties since 2005 -- the year Incognito entered the league.
The name at the top of the list is familiar to
Houston Texans
fans: cornerback
Cortland Finnegan
, famous for winding up in a fistfight with the mild-mannered
Andre Johnson
. Finnegan is joined at the head of the list by another former Titan,
Kyle Vanden Bosch
.
Smith and Incognito are tied over that span with 14.
It's pretty rare for offensive players to get personal-foul penalties. They are much more liberally meted out to defensive players, partially because of the nature of the call (an offensive player can't, for example, rough the passer). Even still, Incognito wound up among the top 11 players overall to be flagged for personal fouls. He is the only offensive representative.
During the past five seasons, Smith was whistled for 11 personal-foul penalties while Incognito had 10. Incognito's 10 is the highest number for any offensive player in the league during that time. (Oddly, fourth on the offensive list is Falcons receiver
Roddy White
, who has six personal fouls in the past five years.)
Smith ranks fourth among defensive players in the past five years. Finnegan (15) continued to lead the list, followed by safety
Bernard Pollard
(13), outside linebacker
Trent Cole
(12) and Smith, defensive tackle
Vince Wilfork
, outside linebacker
Cliff Avril
and defensive end
Jason Babin
all tied at 11.
August, 20, 2013
8/20/13
5:20
PM ET
Down in South Florida,
Richie Incognito
was asked today about his scuffle with Texans defensive end
Antonio Smith
.
Smith will be suspended
for one regular-season game and the remainder of the preseason after removing Incognito's helmet and swinging it at the Dolphins' guard, according to our Adam Schefter.
According to the South Florida Sun-Sentinel, Incognito had this to say today:
"Football is an intense game. It's played with a lot of passion, blood runs hot. I've been there. I'm no choirboy. People lost their cool and just thank God nobody got hurt."
Meanwhile, Smith's teammate spoke up in his defense. Running back
Ben Tate
took to Twitter:
Unfair treatment of Antonio..the League continues to let one of the known dirtiest players get away without even a slap on the wrist

— Ben Tate (@BenTateRB) August 20, 2013
September, 14, 2012
9/14/12
4:01
PM ET
The NFL could see on film what
Antonio Smith
did. He kicked Miami guard
Richie Incognito
.
What Incognito did was less clear, and without taking Smith's word for it, the league didn't find evidence that produced a fine for Incognito. Smith, meanwhile, got hit with a $21,000 penalty.
It's an example of how retaliating can get you in trouble while being the primary offender doesn't.
I wrote early this week about how it's
more complicated
than it appears.
But I admit I'm surprised Incognito got nothing.
Smith said he'd appeal his fine, and that review is heard by either Art Shell or Ted Cottrell, who were jointly appointed by and are jointly compensated by the NFL and NFLPA.
September, 13, 2012
9/13/12
9:15
AM ET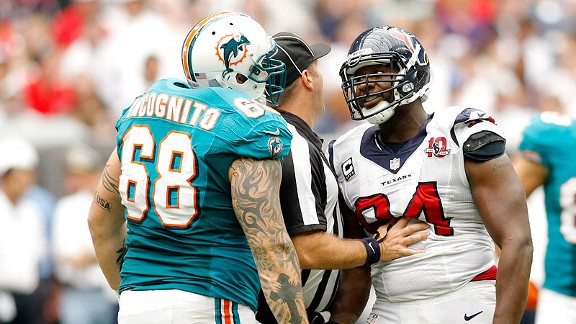 Brett Davis/US PresswireThe NFL will surely take a look at Sunday's incident between Richie Incognito and Antonio Smith.
Wednesday night, I sat down to write about
Richie Incognito
and
Antonio Smith
.
I'd repeatedly watched the late second-quarter play of the Miami-Houston game. I'd read one careful review of it, and I'd decided it warranted a severe penalty.
I pounded out a post, "NFL can prove safety priority here," that went like this:
If the NFL is truly concerned with player safety, if it really wants players to think twice about injuring an opponent intentionally, if it really wants to make those messages resonate, then it should pause on the next stage of the Saints bounty story.

The two men who head the league's football operations department, Ray Anderson and Merton Hanks, should be studying a play in the Houston-Miami game from opening weekend. And once they see Dolphins offensive lineman Richie Incognito purposefully wrench Texans defensive lineman Antonio Smith's ankle, the resulting discipline should serve as a loud example that a smaller play that intentionally injured -- presumably with no bounty involved -- also has no place in the sport.

Smith tried to lunge for a second-quarter fumble that was lost by running back Daniel Thomas and recovered by Houston safety Danieal Manning. Incognito held Smith back from getting near the ball, but did more than that. He latched onto and twisted Smith's ankle. It lasted long enough and was serious enough that Smith needed to kick Incognito in the head to get free.

We've heard from Smith on this -- he said Incognito was "a dirty player being let to play dirty." We've heard from Incognito on this -- he said he never apologized for his style of "physical, hard-nosed football from snap to whistle."

The league shouldn't allow Incognito to sell this play in that fashion.

Sure, some will say, it was dirty. But that's football. There is stuff like that happening all over the field all the time.

The days of explaining things away like that would seem to be over, and certainly Goodell wants them over.

Hanks, the NFL's VP of football operations, or Anderson, executive VP of football operations, mete out discipline for such in-game infractions, which don't have to have drawn a flag. This play did not. (Commissioner Roger Goodell is not involved in such discipline.)

Smith didn't practice Wednesday because of an ankle injury, presumably suffered on this play.

The league wants a safer game, and it's created rules that protect players better. Smith wasn't a defenseless receiver taking a hit over the middle. He was in a situation where he shouldn't expect to be injured. It wasn't an accident. He didn't get rolled up on or take an awkward step or get bent awkwardly. He was on the ground, and a player trying to hold him back and intentionally hurt him.

It's absolutely obvious, and if the league is serious about player safety, its eyes should be open on this just like they are on a too-high or too-low hit on a quarterback, a shot to a defenseless receiver or a hit that may have been partially inspired by a pay-to-injure program.
A bit later, though, I came across
this post from ProFootballTalk
. It strung together direct message tweets Incognito wrote to the site in his defense.
"Once the ball was fumbled I grabbed his legs to stop him from recovering the fumble. It's clear that I wrap my arms around both his legs. I was trying to keep him from scrambling to the ball.

"After the ball was recovered I felt him kicking me. I was trying to protect myself. Kind of like a turtle in a shell. At no time was I turning his ankle. My intent was to keep him from getting to the ball."

"... Obviously in a case like this I have no ground to stand on [because] of my reputation. There is no evidence of me trying to injure him. The reason I'm seen holding onto one of his legs [because] he started kicking me in the arm and neck the the other. I had both legs in my grasp. The fact of the matter is I'm laying on his leg. There is no twisting motion whatsoever. He is clearly kicking me in the neck. Talk about dirty?"
I put my post aside, deciding to sort through it in the morning.
And here's my conclusion after sleeping on it.
We'd like things to be cut and dried. The film of the play isn't focused on Smith and Incognito. They are in the periphery on TV and they are a small piece of the "All-22" coaches film.
While it's easy to dismiss Incognito's claims as spin based on his history of what can fairly be called dirty play, we can't automatically jump to conclusions on this play based on that. He says his reputation will affect how this is judged and it will to an extent, I am sure. But what he wrote doesn't seem outrageous to me.
Assessing this one with what we have is not so simple. Hanks or Anderson have a lot to sort through to make an absolute determination of what happened. They can't see or know for certain.
And so this one play from 16 games worth of plays can be representative of two things:
The sort of intent-to-injure play the league so anxiously wants to wash out of the game.

The complicated nature of sorting through a play that could be in that category.
It's not easily done. And I feel certain that out of 16 Week 1 games, there are a lot of other plays of a similarly complex nature.
We should know the league's stance on this one by Friday afternoon.
Sometimes a player is forthcoming about league discipline after he gets overnight mail with details earlier in the week.
But typically on a play like this where the media is asking about a fine, a decision comes to light late Friday afternoon.
In that original post, I wrote: "When the verdict comes down on this one, it should be a statement (in dollars) that comes with a statement (from the NFL about how it won't tolerate such things)."
Now hearing from Incognito, even knowing his comments could be crafted to cover his behind, I'm not so sure.
Are you? Will the league be? Should it be?
September, 12, 2012
9/12/12
9:43
AM ET
Reading the coverage…
Reviewing
offensive line play
around the league, with Phil Gaskin of The Pulling Linemen.
Houston Texans

As the Texans continue their ascension from pretender to contender, they have to negotiate
the speed bumps
designed to derail them. With what looks like a tough schedule, a game like Sunday's in Jacksonville is one they have to win, says John McClain of the Houston Chronicle.
Rookie receiver Justin Blackmon will likely be
a handful
for Johnathan Joseph and the Texans' defensive backfield, says Tania Ganguli of the Chronicle.
A replay
of McClain's chat.
A close look at Richie Incognito doing the sort of thing Antonio Smith was
complaining about
, from Battle Red Blog.
Indianapolis Colts

"[F]ootball is designed for hysteria -- that's why we love it -- and no issue makes the locals more hysterical than anything involving (Peyton) Manning, (Jim) Irsay and
The Decision (Indianapolis Edition)."
Bob Kravitz of the Indianapolis Star reacts to the overreaction of one week of Manning in Denver and Andrew Luck in Indy.
The debuts of Coby Fleener, Jerrell Freeman and Donnie Avery
were promising
.
Did Dwight Freeney's injury
sink the Colts' defense
in Chicago? Nate Dunlevy of Bleacher Report considers.
Jacksonville Jaguars

The Jaguars were great on third and long, but the down side of it was that something obviously went wrong on first and second down, says Ryan O'Halloran of the Florida Times-Union. The goal now is to make third down
more manageable
.
Things to watch
as the Jaguars start to prepare for a visit from the Texans, from O'Halloran.
The Vikings made
key adjustments
in the game's final moments, says Vito Stellino of the T-U.
Offensive
playing time
against Minnesota from O'Halloran.
Blaine Gabbert wasn't victimized by as many
drops
as some indicated, says Dunlevy in an edition of his Truth Detector.
Tennessee Titans

The Titans
released
defensive end Pannel Egboh and offensive lineman Troy Kropog, says John Glennon of The Tennessean.
Five questions
with cornerback Jason McCourty, via John Glennon.
Darius Reynaud
has freedom
in the return game, says Jim Wyatt of The Tennessean.
Breaking down
Chris Johnson's runs
against New England with Tom Gower of Total Titans.