December, 19, 2013
Dec 19
10:00
AM ET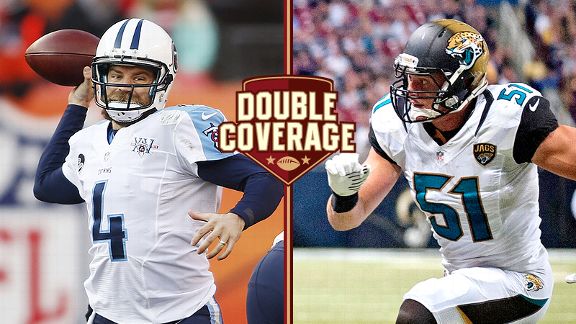 USA Today SportsPaul Posluszny and the Jags are aiming for a season sweep of Ryan Fitzpatrick and Tennessee.
JACKSONVILLE, Fla. -- Maybe
Delanie Walker
shouldn't feel so bad now.
The Titans tight end said he was embarrassed after the Jaguars won 29-27 in Nashville on Nov. 10 to pick up their first victory. Since then, the Jaguars are 3-2 with victories over Houston (twice) and Cleveland. The Titans are 1-4 with a victory over Oakland.
There seems to be much more stability in Jacksonville, too, because of the uncertain status surrounding Tennessee coach Mike Munchak.
Jaguars reporter Michael DiRocco and Titans reporter Paul Kuharsky break down Sunday's matchup at EverBank Field.
DiRocco
: Some Titans players were pretty vocal about being embarrassed due to becoming the first team to lose to the Jaguars. Is that something that still stings, and how have they rebounded from that loss?
Kuharsky
: It definitely left a mark. They are only 1-4 since then. It kind of set a bar for how bad they can be and re-established their propensity to lose to teams that are really struggling. The Jaguars are on an upswing since that game, and the Titans are on a downward spiral. If Tennessee losses to the Jaguars again, the Titans will be in line to finish in third place in an awful division, which is well short of their goals and expectations. The Titans are a better team than they were last year. But losing closer isn't a really big difference in the really big picture.
Let's turn that around. How has life changed for the Jaguars since that Nov. 10 breakthrough?
DiRocco
: I could go into a lot of stats that show how much better the Jaguars are playing, but that's not what's really important. The past six games have been more about the validation of the process, establishing the foundation of the franchise's rebuild, and confidence in the new regime. Coach Gus Bradley never wavered from the plan that he and general manager David Caldwell established. His message stayed the same throughout the eight-game losing streak to start the season: trust in the process, work hard, and focus on improving and not victories, and the victories will eventually come. Because that has happened, the players appear to have completely bought into what Bradley and Caldwell want to do, and there's a confidence in the locker room that the franchise is headed in the right direction.
We talked about
Jake Locker
the last time these teams met, but that was before he suffered a season-ending injury to his foot. How does that change the Titans' outlook on him and are they in the market for a quarterback in the offseason, too?
Kuharsky
: Locker is certain to be on the 2014 Titans. His fourth year isn't that costly and it's guaranteed. But they can't execute a spring option for his fifth year that would line him up for over $13 million. A lot of his fate depends on whether Munchak is back as the head coach. It's possible they go forward with Locker,
Ryan Fitzpatrick
and just-signed
Tyler Wilson
as their quarterbacks. It's also possible they'd draft a new guy, and depending on how high of a pick he could land in competition to start. I think it's less likely they chase a free agent like
Jay Cutler
if he comes free, but they have to assess all the possibilities. How can they completely commit to Locker based on his injury history?
One side effect of the Jaguars' surge is they aren't going to be in position to draft the first quarterback taken. What's your sense of what Bradley and Caldwell want in a quarterback and do you expect one to arrive in the first round?
DiRocco
: Offensive coordinator Jedd Fisch said something interesting last week. He said he wants his QB to scramble around, take off running to get yards and take some chances throwing the football. To me, that sounds like a pretty accurate description of Johnny Manziel. I'm not sure how that reconciles with the ideas of his bosses. Bradley comes from Seattle, which has the mobile
Russell Wilson
. Caldwell comes from Atlanta, which has the considerably less mobile
Matt Ryan
. My sense is that Bradley and Caldwell probably lean more toward the Wilson end of the spectrum. People think that eliminates Teddy Bridgewater, but that's not the case. He's not a runner but he can run if needed. If he's around, I'd expect them to take him. If not, then I would still expect them to go quarterback. It's their most glaring need.
You mentioned Munchak's job status. What's your take on whether he will be back next season -- and should he be?
Kuharsky
: He's shepherded improvement, but his team lacks an ability to finish. He's 0-4 in the worst division in football, 1-9 in the past two years. His teams have lost to the previously winless Jags in 2013 and the previously winless Colts in 2011. He's 4-18 against teams with winning records when the Titans played them and 2-19 against teams that finished the season with a winning record. To me, three years is a sufficient sample size to know what you've got and those numbers are the most telling thing on his resume. Keep him and they deal with all the limitations connected to a lame duck coach. I don't know what Tommy Smith, the head of the new ownership, will do. But the fan base overwhelmingly wants change, if that's worth anything. People still pay for tickets because they've got investments in personal seat licenses they do not want to throw away. But a lot of people are staying home on Sundays now.
Cecil Shorts
is done and
Maurice Jones-Drew
is uncertain. How can the Jaguars threaten on offense without their two best weapons?
DiRocco
: They were able to put up 20 points and post their second-highest yardage total of the season, including a season-high 159 rushing, in last Sunday's loss to Buffalo. Running back
Jordan Todman
stepped up big time and ran for 109 yards (Jones-Drew cracked 100 only once in the first 13 games) and tight end
Marcedes Lewis
was more involved in the passing game than in previous weeks (four catches for 54 yards and a touchdown). But I'm not sure that is sustainable. Teams will certainly concentrate on stopping Lewis and make quarterback
Chad Henne
move the ball with three receivers who have a combined 75 career catches. Todman doesn't scare anyone, either. The Jaguars will have to be creative on offense (they've run gadget plays the past three weeks) and capitalize on every opportunity they get.
October, 17, 2013
Oct 17
6:10
PM ET
Got questions about the Jaguars? I'll try to answer a representative selection of them every Thursday. Submit your questions each Thursday via Twitter to
@ESPNdirocco
.
.
October, 10, 2013
Oct 10
5:40
PM ET
September, 18, 2013
Sep 18
6:40
PM ET
SAN JOSE, Calif. --
Jacksonville Jaguars
quarterback
Blaine Gabbert
did some light throwing on the side Wednesday for the first time since he severely cut his hand in the season opener, but coach Gus Bradley reiterated that it's highly unlikely that Gabbert could play in Sunday's game against Seattle.
Gabbert
Chad Henne
and
Ricky Stanzi
continue to split reps with the first team, and Henne is on schedule to start.
"It'd be a stretch [for Gabbert to play]," Bradley said "We took out some of the stitches. He came out here and threw real light just to see. We're going to have him do some agility-type drills and maybe just throw on the side, but no competition-type things."
An updated injury report, and it's a pretty long list:
Running back
Maurice Jones-Drew
(ankle), tight end
Marcedes Lewis
(calf), receiver
Mike Brown
(back) and cornerback
Alan Ball
(groin) did not practice on Wednesday.
Guard
Uche Nwaneri
(knee), receiver
Stephen Burton
(hip), receiver
Ace Sanders
(ribs), linebacker
J.T. Thomas
(hamstring), defensive tackle
Roy Miller
(knee) and guard
Will Rackley
(knee) were limited.
Center
Brad Meester
and defensive end
Jason Babin
were given the day off.
Bradley said Lewis did some running on Tuesday, but he had his left calf wrapped when he walked to the practice field at San Jose State University. Lewis hasn't practiced since he aggravated a previous calf injury during practice on Sept. 5. Bradley said Lewis was going to participate in more aggressive drills on Wednesday.
"He worked out, and he still felt a little bit," Bradley said. "I think with Marcedes it's just a feel that he had it [a calf injury in the preseason], and then he came back and re-strained it and now it feels good again, so it's just developing confidence in it."
Lewis missed only three games in his previous seven seasons but has missed two already in 2013.
September, 6, 2013
Sep 6
1:00
PM ET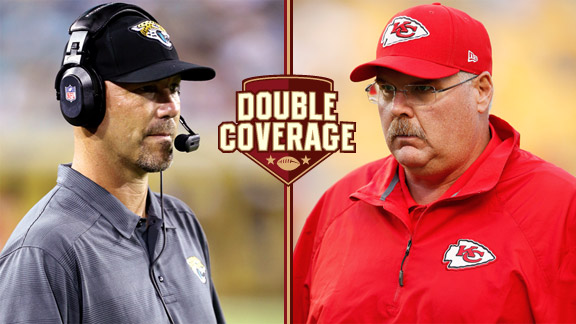 AP PhotoGus Bradley and Andy Reid are looking to get off to fast starts with their new teams.
JACKSONVILLE, Fla. -- Fans know a lot about their favorite teams, but they don't have the same depth of knowledge of the 31 other teams in the NFL. That's not going to be a problem any longer.
Each week the NFL Nation writers will team up Q&A style to help you get a handle on each team. Today, Kansas City Chiefs reporter Adam Teicher and Jacksonville Jaguars reporter Michael DiRocco help break down Sunday's matchup.
Michael DiRocco:
Is
Alex Smith
really an upgrade over
Matt Cassel
?
Adam Teicher:
He had better be or the Chiefs are in some trouble. Cassel and
Brady Quinn
turned over the ball far too many times last season. One thing we know about Smith is that he hasn't thrown many interceptions. He threw just 10 in his last 25 starts with the 49ers. So he's been a quarterback who protects the ball, and if he can just do that, he's already an upgrade over Cassel and Quinn. Another thing: Andy Reid's West Coast offense will succeed if the quarterback completes a high percentage of throws. Smith completed 70 percent last season. If he can get close to that number this season, he's even more of an upgrade.
Teicher:
How patient will the Jaguars be with
Blaine Gabbert
on Sunday and this season?
DiRocco:
This is a make-or-break season for Gabbert, who must prove he's capable of being a franchise quarterback. That's the team's No. 1 goal for the season, so there will be a certain amount of patience. It does no good to give him a half or one game and yank him because the team will essentially be where it was heading into the season. That being said, if Gabbert really struggles during the first two months of the season, then the team will have its answer and may turn to
Chad Henne
or the recently signed
Ricky Stanzi
for the remainder of the season.
DiRocco
: What's the biggest change Andy Reid has brought to Kansas City?
Teicher
: It's a change brought by Reid and John Dorsey, the new general manager. Everybody seems to be pulling in the same direction. The Chiefs went through plenty of infighting the past few years and it was dragging them down. People often had their own agendas or felt they had to align themselves with one person or another. Dorsey and Reid swept that out the door. Winning looks to be the only goal and it certainly appears everybody is on board with that. Of course, it's easy for a new administration to have everybody on board when it's undefeated. So it's an issue to keep an eye on once the Chiefs start losing some games.
Teicher:
What are the biggest changes Gus Bradley and Dave Caldwell have brought to the Jags?
DiRocco:
On the field, it's on defense, where Bradley is implementing a more aggressive attitude and trying to rebuild the secondary with bigger, more physical cornerbacks -- essentially what he did in Seattle. Off the field, Bradley and Caldwell have changed the culture in the locker room. There's a lot of energy and enthusiasm around the franchise even though everyone knows that the talent level needs a significant upgrade and the team likely isn't going to reach .500. It was a much-needed boost, because the atmosphere around the team the past few seasons under Jack Del Rio and Mike Mularkey had become somewhat stale.
DiRocco:
Some NFL experts have pegged the Chiefs as a playoff team just one season after finishing 2-14. What are a few things that have to happen for that to become a reality?
Teicher:
They have many good players, but from the GM to the coach to the coordinators to the offensive and defensive system to the quarterback to 29 other players who didn't play for the Chiefs last season, there's a lot new here. How quickly Reid and his staff can pull everything together will be a key. The Chiefs have a favorable schedule the first half of the season and they need to take advantage because it gets more difficult after that. On the field, the Chiefs have to fix a turnover differential that was minus-24 last season. Their defense and special teams have to do a better job of providing better field position for the offense. This offense won't make a lot of big plays, and if it has to go 80 yards on every possession, it will be a struggle.
Teicher:
What are realistic expectations for the Jags this season in terms of number of wins?
DiRocco:
I kind of let that slip in my earlier answer, but a six-win season would be the best-case scenario for the Jaguars. Four or five victories seems more likely, though, especially considering the team has back-to-back road games on the West Coast, plays San Francisco in London, and has to play at Denver, Indianapolis and Houston.
September, 4, 2013
Sep 4
5:30
PM ET
Jaguars quarterback
Blaine Gabbert
continues to progress in his return from a fractured right thumb, but head coach Gus Bradley said a decision on whether Gabbert will start in the season opener against Kansas City could drag into Sunday.
Gabbert was limited in practice on Wednesday, but did take some team reps. Bradley said the next step will be to see how Gabbert's thumb responds over the next few days before he would make a decision on whether he will play against the Chiefs.
"It very easily could [drag into Sunday]," Bradley said. "We've got some decisions to make. I know he feels better every day so I think we're going to have to get as much time as we can to evaluate this."
Gabbert suffered his injury in the second preseason game on Aug. 17 and returned to practice for the first time on Monday. Bradley said Gabbert was up-and-down on Wednesday.
"At times he looked good and at times he looked like he had an injury," Bradley said on a conference call with Kansas City media.
Gabbert said earlier Wednesday he felt like he was on track with his rehab but wasn't focusing on whether he'll be ready in time for Sunday.
"It feels better and better each day," he said. "It's just kind of a funny deal that we've got to stay on it, stay on top of it, manage it, but it's going to improve day by day."
If Gabbert doesn't improve enough then the Jaguars will start
Chad Henne
, who started the final six games of last season and threw for 1,990 yards and 11 touchdowns with 11 interceptions. That would make
Ricky Stanzi
, whom the Jaguars were awarded off waivers last week from Kansas City, the backup.
"Guys have to step up," Bradley said. "We'll got out there and watch him and based on how he's throwing -- we're not going to put the team in jeopardy just to say he's starting. Both of them are getting quite a few reps. Stanzi's getting some reps so we're preparing for all options."
The Jaguars wouldn't really lose much if Henne has to start instead of Gabbert. Gabbert started the first 10 games of the 2012 and suffered a forearm injury after throwing just two passes in the 10
th
game. In the other nine games the Jaguars averaged 263.6 yards per game, 185.3 passing yards per game, and 14.1 points per game.
Henne started the final six, during which the Jaguars averaged 326.3 yards per game, 233.3 passing yards per game, and 15.3 points per game.
September, 3, 2013
Sep 3
6:54
PM ET
JACKSONVILLE, Fla. -- This is a make or break season for Jaguars quarterback
Blaine Gabbert
.
Either he proves he can be a consistent starter who could develop into a franchise quarterback or the Jaguars will give up on the 6-foot-4, 235-pounder and look for a quarterback in the draft.
The Jaguars took Gabbert with the No. 10 overall pick in the 2011 draft, believing he would become a quarterback that could lead the franchise to a Super Bowl. He obviously hasn't developed the way the team had hoped, and entering his third season he has completed just 53.8 percent of his passes for 3,876 yards and 21 touchdowns with 17 interceptions.
His inconsistency -- in his 24 starts he has completed at least half of his passes 16 times (and also a 17th game in which was injured went 2-for-2) but has also had seven games in which he completed less than 50 percent of his passes -- looks even worse when compared to the other 11 quarterbacks who were drafted in 2011.
[+] Enlarge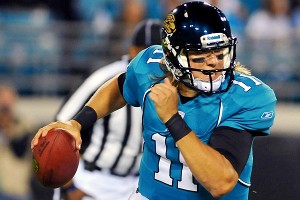 Al Messerschmidt/Getty ImagesBlaine Gabbert is just 5-19 as the starting quarterback for the Jacksonville Jaguars.
More importantly, his record as a starter is 5-19 (.208). That's the worst record among the 12 quarterbacks taken in the 2011 NFL draft. Six, including Gabbert, were taken in the first two rounds and those are the players against which he should be measured, so here's a breakdown:
Cam Newton (No. 1 overall by Carolina):
Newton had a fantastic first season, setting rookie records for passing yards (4,051) and rushing yards by a quarterback (706). Those numbers lasted only a season, though, as
Andrew Luck
and
Robert Griffin
III broke them last season. Newton is 13-19 as a starter after going 6-10 as a rookie and 7-9 last season. Career stats: 590-1,002-29, 7,920 yards, 40 TDs; 1,447 yards, 22 TDs rushing.
Jake Locker (No. 8 overall by Tennessee):
Locker played in five games as a rookie but won the starting job entering last season. He missed five games and parts of two others because of two shoulder separations and led the Titans to a 4-7 record in the 11 games which he started. He completed 56.4 percent of his passes for 2,176 yards and 10 touchdowns with 11 interceptions in 2012. Career stats: 211-380-11, 2,718, 14 TDs.
Christian Ponder (No. 12 overall by Minnesota):
He started the final 10 games of his rookie season (going 2-8) but helped lead the Vikings to a 10-6 record and a playoff berth last season, though, he missed the playoff game with a deep triceps bruise. This, too, is a make-or-break season for Ponder. Career stats: 458-774-25, 4,788 yards, 31 TDs.
Andy Dalton (second round, No. 35 overall by Cincinnati):
Dalton is by far the most successful quarterback of the group, having started every game the past two seasons and leading the Bengals to a 19-13 record and two playoff berths. Each season has ended with playoff losses to Houston, but it was the first time since 1981-82 the franchise has made back-to-back playoff appearances. Career stats: 629-1,044-29, 7,067 yards, 47 TDs.
Colin Kaepernick (second round, No. 36 overall by San Francisco):
Kaepernick was a relative unknown until he replaced
Alex Smith
(concussion) in Week 10. He led the 49ers to a 5-2 record to close the regular season and playoff victories over Green Bay and Atlanta to reach the Super Bowl. He threw for 798 yards and four TDs and rushed for 264 yards and three TDs in the postseason. Career stats: 139-223-3, 1,849 yards, 10 TDs.
Here's a look at the other six:
Ryan Mallett (third round, No. 74 overall by New England):
He has played in four games in two seasons in mop-up duty in relief of
Tom Brady
. He was the subject of trade rumors early in the preseason but remains with the Patriots. Career stats: 1-4-1, 17 yards.
Ricky Stanzi (fifth round, No. 135 overall):
Spent two seasons with the Chiefs until being cut last week. He is now with the Jaguars as the No. 3 quarterback behind Gabbert and
Chad Henne
. He has never appeared in a game.
T.J. Yates (fifth round, No. 152 overall by Houston):
He started the last five games of the regular season and two playoff games in 2011 when
Matt Schaub
was out with a Lisfranc injury. He led the Texans to a 3-4 record in those games, which included a 31-10 victory over Cincinnati in a wild-card game that was the first playoff victory in franchise history. Career stats: 86-144-4, 987 yards, 3 TDs.
Nathan Enderle (fifth round, No. 160 overall):
He spent the 2011 season with the Bears but was waived after the season. He went to training camp with the Jaguars and spent time with Tennessee in the offseason. He signed with San Diego on July 31 and was among the Chargers cut last week. He has never appeared in a game.
Tyrod Taylor (sixth round, No. 180 overall):
He has played in 10 games in relief of
Joe Flacco
. Career stats: 18-30-1, 197 yards.
Greg McElroy (seventh round, No. 208 overall):
The former Alabama standout started one game for the
New York Jets
last season, going 14-for-24 for 185 yards with one interception in a 27-17 loss to San Diego. He was released earlier this week. Career numbers: 19-31-1, 214 yards, 1 TD.
August, 29, 2013
Aug 29
1:15
PM ET
JACKSONVILLE, Fla. -- The Jaguars wrap up the preseason in Atlanta against the Falcons tonight (7:30 p.m. ET). Here are three things to watch:


The quarterbacks:
With starter
Blaine Gabbert
out with a hairline fracture of his right thumb,
Chad Henne
gets the start. But he and the rest of the team's starters will play only 10-15 snaps. That leaves
Mike Kafka
and
Matt Scott
to play the majority of the game.
The two are battling for the No. 3 quarterback spot. Neither has been particularly impressive in the preseason. Kafka has completed 7 of 14 passes for 27 yards and one interception while Scott has completed 12 of 28 passes for 103 yards. They've played in every game.
The team claimed former Kansas City QB
Ricky Stanzi
off waivers on Tuesday, but that move appears to be more about picking his brain about the Chiefs (whom the Jaguars play in the regular-season opener) than anything else.
So it's Scott versus Kafka for the third quarterback spot. It's a critical competition, at least for the early part of the season. There's some doubt that Gabbert will be ready to go in Week 1, in which case Henne would start and the Kafka/Scott winner would be the No. 2.
Jonathan Cyprien:
Coach Gus Bradley has said several times this week that he wants Cyprien to get more reps against the Falcons. The second-round draft pick missed the first two weeks of training camp because of a hamstring injury.
The 6-foot, 217-pound safety is a better option in the secondary than
Chris Prosinski
, who was picked on by Miami in the preseason opener, including a play in which he got turned around on a touchdown pass. Cyprien seemed to be unsure of himself at times in last Saturday's game against the Eagles and the extra playing time will certainly help.
Cyprien will be one of two rookie starters in the secondary (cornerback
Dwayne Gratz
is the other). They're going to make mistakes but the best way to limit those is to get as much time on the field as possible.
The battle at WR:
Justin Blackmon
,
Cecil Shorts
,
Ace Sanders
and
Mike Brown
are set, which leaves five players competing for two spots. The top two candidates are
Jordan Shipley
and
Tobais Palmer
, with
Jeremy Ebert
,
Toney Clemons
and
Charly Martin
likely on the outside.
The 5-11, 178-pound Palmer is intriguing because of his speed, but he has fumbled two punts in the preseason and that may be something he can't overcome. Shipley leads the bubble group of receivers with four catches for 48 yards. He also has value on special teams as a punt and kickoff returner, which may be enough to win him one of the final two spots.
August, 27, 2013
Aug 27
5:55
PM ET
JACKSONVILLE, Fla. -- The Jaguars have added a fifth quarterback to the roster after being awarded
Ricky Stanzi
off waivers from Kansas City.
The team also was awarded linebacker
Kyle Knox
from Seattle.
Starting quarterback
Blaine Gabbert
is out for the rest of the preseason with a hairline fracture of his right thumb. Backup
Chad Henne
is expected to play only 10-15 snaps in the Jaguars' preseason finale at Atlanta on Thursday, with
Mike Kafka
and
Matt Scott
expected to receive the bulk of the playing time.
Stanzi was cut by the Chiefs on Sunday after getting beat out for the No. 3 spot by undrafted rookie
Tyler Bray
. Kansas City drafted Stanzi in the fifth round of the 2011 draft. He has never played in a game.
Seattle waived Knox in the final cuts of the 2012 preseason and he spent the final two weeks of last season on the Seahawks' practice squad.
To make room on the roster for Stanzi and Knox, the Jaguars cut tight end
Isaiah Stanback
and running back
De'Leon Eskridge
.
The Jaguars have now made 27 roster moves since training camp began on July 26.
April, 22, 2011
4/22/11
11:33
AM ET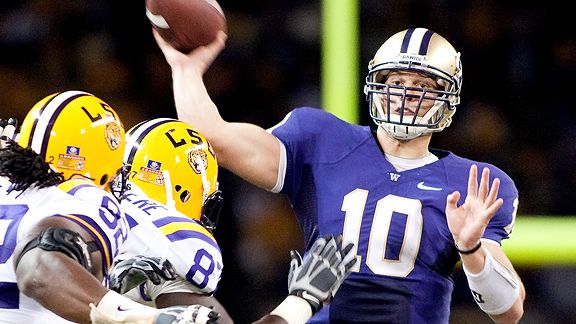 John Korduner/Icon SMIIs Washington quarterback Jake Locker worth the No. 8 pick in April's draft?
If the
Tennessee Titans
really like
Jake Locker
, like him in a way where they feel like he's the guy they have to have out of this draft, then they're going to have to take him at No. 8.
Picking someone else and hoping to move back up from the 39th overall pick for him is too risky. Trading down to a spot later in the first round leaves no guarantee either. The
Washington Redskins
may go another direction at No. 10, but the
Minnesota Vikings
might not at No. 12.
If the Titans love Locker and watch him become a Viking, they're left with regret, and that regret isn't something they should carry if they are going to look at
Ryan Mallett
,
Andy Dalton
,
Christian Ponder
,
Colin Kaepernick
or
Ricky Stanzi
early on and pine a bit for Locker.
If they love Locker, they have to stick their neck out for him. If they love Locker, they have to overspend. If they love Locker, they have to give more than a little on staying true to draft-board values.
"Half a round too early is better than a pick too late with quarterbacks in this draft," a person from a team not in search of a quarterback told me this week.
So do the Titans have Locker roughly 24th on their board, ahead of any other quarterbacks who would be around? I don't think the board is set yet. The later it is set, the less likely a crucial detail escapes the room.
A second person, a scout, said a move like Locker at No. 8 is a matter of conviction.
"If you look at Jake Locker and say, 'He is the guy, no question, clear-cut, this guy here is our franchise,' you have to,'" that scout said. "But that's going to be a hard one for them to justify if he doesn't turn out to be the one they think he's going to be. ... You better like him better than those other two guys that everybody loves right now."
That scout wouldn't go quarterback eighth if he was the Titans. He sees too many good defensive players who can step on the field in the fall and make a big impact for the Titans in that spot.
But it would be risky. Risky is uncharacteristic for Mike Reinfeldt, a measured and methodical general manager. I think to Reinfeldt, rounding up the value of a player a half a round is the same thing as reaching. And he doesn't want to reach.
If Reinfeldt takes Locker at eight, he's could be staking his career on him. If he takes a second-round quarterback or trades up and takes one late in the first round, it's not as daring. He'd be more insulated in the event of a failure by that choice.
Personally, I'd rather have a lower pick who faces lesser pressure. You can roll him out and say "We think he's got a chance in time." Take a guy eighth and you have to say, "He's the answer."
But if you are as quarterback needy as the Titans are right now, you don't necessarily get the luxury of choosing how you choose your next signal-caller.
At some point, for a certain guy, for the guy you think is the right guy, you have to jump out.
The guy will face a different kind of scrutiny because he didn't line up with majority opinion. But if he's
Jerod Mayo
or
Vernon Davis
or even
Tyson Alualu
, you reap dividends and look like individualistic thinkers. If he's
Tyson Jackson
,
Darrius Heyward-Bey
or even
Tim Tebow
, you stand to get crushed for him and look like a fool for straying from the pack's thinking.
If the Titans are planning on waiting until their second round choice, 39th overall, I count 13 picks by 10 teams that could be used on quarterbacks before then. They could be left in a situation where everyone else's orders determine their entrée and they aren't even handed a menu.
Locker's accuracy is the biggest question. Can good coaching make him more accurate? Can Mike Munchak's choice as offensive coordinator, Chris Palmer, make him more accurate?
(Side note: Interesting stuff on how
college accuracy correlates
to NFL accuracy in a different division.)
"Every really good quarterback can do one thing well: throw the football accurately from the pocket," draft analyst Mike Detillier said. "
Drew Brees
,
Philip Rivers
,
Aaron Rodgers
,
Tom Brady
,
Peyton Manning
,
Ben Roethlisberger
-- what breaks them away from the pack is they throw the football so well from the pocket, with accuracy. Jake doesn't do that right now.
"I think it can be fixed. Remember he was a Wing-T quarterback in high school. That first year at Washington, he was running for his life because they could not protect him. The last two years have been an adjustment. His offensive line was average at best and his receiving corps was not real good, they dropped a host of passes."
"I do think it's fixable and it can be managed better. He reminds me a little bit -- playing-wise, not personality-wise -- of
Jay Cutler
."
If the Titans could trade No. 8 for Cutler right now, I believe they would. Even with the questions about his personality, they'd be hard-pressed to turn the pick into a quarterback with better skills.
So do the Titans think they can help Locker be Cutler?
Is it time for them to stick their neck out?
March, 26, 2011
3/26/11
10:31
AM ET
William Grooms from Hilton Head Island, S.C., writes:
I am a Jaguars season ticket holder. And you're always fair to them. My question is, and I know we need a lot of help on defense. But if one of the top three QBS are available at 16, do you think we should use the pick on him, and take or chances in the rest of the draft on our other needs?
Paul Kuharsky:
Who's the third guy? It doesn't seem there is a consensus on that. My feeling at this time is if
Blaine Gabbert
and
Cam Newton
are gone, and I expect they will be,
Jake Locker
,
Ryan Mallett
or anyone else would be a force at 16.
As
I've written
, I'd be more comfortable tabbing
Christian Ponder
,
Colin Kaepernick
,
Andy Dalton
or
Ricky Stanzi
in the second or third or positioning to get the one you like best with a move up.
---
Mike from Victoria, Texas, writes:
Good running back list, but like all lists, there are always going to be questions. Why is it that you feel that
LeSean McCoy
is a top five back, but
Arian Foster
still needs to show more? They are both 2-year players and Arian had a far superior second year. In their rookie years, statistically speaking, Foster actually stacks up comparable to McCoy, despite playing only late in the season. McCoy only had more than 100 yards from scrimmage twice, the same as Foster. Foster has performed like a top-flight back ever since his number got called in Week 14 of 2009… Justify your pick.
Paul Kuharsky:
Reasonable request, which I won't fare well with. I saw Foster a lot and thought he was great, but when I looked at him with those other people, I felt like I wanted to see it for longer. I saw McCoy a couple times last year and was very impressed with his versatility -- he was a lot better than I was expecting.
So I probably overrated McCoy based on his newness to me and downgraded Foster based on his familiarity. Which doesn't amount to a good answer at all, but it's the one I've got.
These lists are somewhat brutal to put together, and ultimately each ballot is imperfect. Hopefully when eight are melded, we help smooth out one another's mistakes. And the fact there is no right answer is what's making for lively debate.
I appreciate the feedback.
---
Luke Hillis from Murfreesboro, Tenn., writes:
Do you think the Titans are desperate enough to offer next year's number one plus an early-round pick this year for
Kevin Kolb
? Do you think the Eagles are asking too much and should we be excited if we get him?
Paul Kuharsky:
I don't think they are desperate enough, no. And if the league isn't up and running by the time the draft arrives, they cannot do a deal for a player that involves at 2011 pick. They won't be able to deal for a veteran until there is a new CBA, and it would be with a 2012 pick or picks.
I think Kolb will be too expensive for Tennessee.
He's a guy groomed in a good system, and his team was ready to start him until
Michael Vick
landed in its lap. No guarantee. But way more ready than anyone they can draft.
---
Dan from Raleigh, N.C., writes:
I don't view it as Jack Del Rio questioning his player's intelligence and endurance so much as him questioning his coaching. He's already discussed that he has worked the team very hard, they lost what, two weeks of OTAs last year? And his defense being too complicated I'd chalk up to him wanting his players to play up to the schemes without really maximizing the talent level on the field. Does that sound reasonable?
Paul Kuharsky:
It does. But I think there is an element of pass-the-buck and campaign speech to
his comments here
and in the stuff he said at the combine about backing off.
---
Carl Follmer from Iowa City, Iowa
writes:
Just a quick note on the kickoff rule change as it pertains to the Colts: I imagine most people will think the new rule benefits the Colts because they may well not have to defend as many kicks (something they're notoriously shaky at). But another aspect that isn't as visible is that the rest of the pack may come back to the Colts' level as far as returns are concerned. I can count on one hand the number of times the Colts got a good kickoff return and began a possession at or past their own 40 last season.
Peyton Manning
is used to constructing 80-yard drives, so this won't have much impact on him, as opposed to teams like the Bears or Browns that have trouble scoring (to put it mildly) and rely on that extra yardage. The teams with effective offenses won't be impacted, and any offensive stagnation will only be magnified. In a world where most everyone begins at the same point on the field, I'll gladly take Manning.
Paul Kuharsky:
A good way to look at it, thanks.
And now for what's becoming a weekly section, our Friday speed Q&A via Twitter:
@damiansmith0812
I read a lot of message boards, I know bad idea, but would Tenn ever consider moving Finnegan to S? Played it in college.
PK
: I'm anti-position change. Waste a lot of work at corner and could wind up weaker there. Maybe even at two spots.
@coltsjunkie
Were the players (who voted the Top Ten passrushers) from the LFL? Where's @RobertMathis98?
PK
: You might want to
check my ballot
-- left
Julius Peppers
off, had
Dwight Freeney
first when
DeMarcus Ware
got all the other firsts. Has Mathis on there.
@naturalJay
is TCU's Dalton a good fit for the Jags at 16?
PK
: I think it's too high.
@chrisbrown44
what will be biggest difference for titans under munch?
PK
: I hope accountability and discipline, which has slipped. No way to know at this stage, though.
@Hodari11
Gene Smith hinted that the MLB is the QB of the D. He wants a guy to step right in. Paul posluszny is a free agent. thoughts?
PK
: Looks like a potentially great match.
March, 1, 2011
3/01/11
3:42
PM ET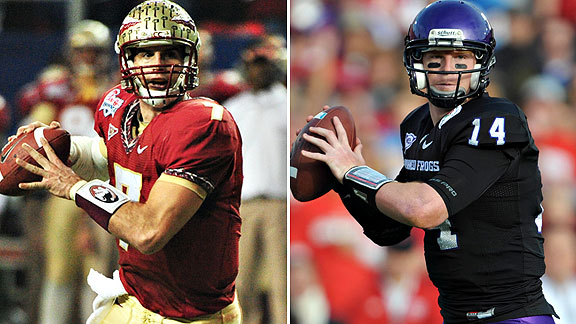 US PresswireFlorida State's Christian Ponder and TCU's Andy Dalton are part of a list of "second-tier" quarterbacks for the 2011 NFL draft.
Perhaps Missouri's
Blaine Gabbert
falls to No. 8 and the Titans are in love with him. Perhaps Washington's
Jake Locker
is attractive to the Jaguars at No. 16.
Or perhaps the two AFC South teams shopping for a quarterback believe the gap between those guys and signal-callers they can find later isn't so big and they decide to wait.
Coming out of the scouting combine and seeing all the players who look to be more of a sure thing than the top quarterbacks, right now I endorse the waiting plan.
Presumably, that takes Auburn's
Cam Newton
, Gabbert, Locker and Arkansas'
Ryan Mallett
out of the picture for Tennessee and Jacksonville.
Who does that leave?
"I think it's a good group, by numbers," Jaguars general manager Gene Smith said. "I think there are a number of guys who will develop into eventual starters. They certainly may not be Day 1, they may not go in the first round. But there are a number of guys that can develop because they do have NFL skills sets, they're just maybe not as ready-made right now.
"To me, no matter where you take the player, it's a developmental position. I mean, they've got to know what they've got to do, what the 10 other guys on offense around them have got to do and then they have to know what a defense is trying to do to them. Sometimes a guy's got to play by default.
Sam Bradford
was a great exception. But guys typically don't play that well coming in.
"Usually, no matter where you'd take a quarterback, you'd like the luxury of working him into it. If it's his first year, then it's his first year, but hopefully not early in his first year. Usually it's that second, third year when that player emerges. You've got to get him on the job for his on-the-job training."
So what might the Titans, who've currently only got a third-string quarterback in
Rusty Smith
, do with the 39th and 77th overall picks? And what if a developmental quarterback remains in play for Jacksonville, which has
David Garrard
and
Luke McCown
in place, at No. 49 and 80?
I spent time in Indianapolis trying to sort out the second tier of quarterbacks, which several people in the know indicate right now is comprised of another four-pack: Florida State's
Christian Ponder
, TCU's
Andy Dalton
, Nevada's
Colin Kaepernick
and Iowa's
Ricky Stanzi
.
Let's look at those four more closely and see if we can't begin to work toward some matchmaking.
Ponder

Ponder
Steve Muench of Scouts Inc
: "The best fit for Jacksonville is Ponder in my opinion. Kaepernick is interesting here and he'd be a good pick with Garrard still on the roster, but the reality is there could be a coaching change at the end of the year and that will set him back. Ponder is more NFL-ready and he has the mobility to be effective in that scheme."
Rob Rang of NFL Draft Scout
: "He doesn't have great arm strength, but he's very accurate short and intermediate so he's an ideal fit in a West Coast offense."
Ponder
: "I really think I'm the whole package at quarterback. I have great accuracy and can make all the throws. Intelligence is a huge advantage for me, being able to comprehend offenses and defenses. We ran a complex offense at Florida State and I think it will carry over well to the NFL. I'm athletic enough to move in the pocket and make plays with my feet."
Kaepernick

Kaepernick
Muench
: "The best fit for Tennessee depends on whether or not they can re-sign
Kerry Collins
[or, I'd interject, sign or trade for a veteran the Titans like better than Collins] and feel comfortable going with him for another year. If they can and are, Kaepernick is arguably the best pick. He is a hard worker with a great blend of size, mobility and arm strength, but he is raw. He needs to work on his footwork, release and progressions."
Rang
: "Kaepernick is the most physically gifted of the second-tier quarterbacks but he also has the longest way to go. He has great size, he has an absolute rocket for an arm, all of those types of things. But he has to make that transition from the pistol offense in college. He was a high school baseball player, and he still throws it like a pitcher. There is some real technical work you've got to do with him."
Kaepernick
: "I don't think our [Nevada] offense will directly translate, but I think we do a bunch of things as progressions, protections that are similar to [what] NFL teams do and we just call them something different. I think picking up on terminology will be a big thing for me, learning what those mean as opposed to what we call things."
Dalton

Dalton
Muench
: "If Collins [or a veteran] isn't an option, then the Titans need someone who is ready to step in earlier. Dalton makes the most sense in that scenario. He's a sound decision-maker and we're confident in his ability to transition to a pro style offense. I also think he's got enough arm strength and touch to find [Kenny] Britt downfield."
Rang
: "Dalton, like Ponder, is more of a West Coast offense guy, a guy who's going to beat you with his mind, with that short to medium range accuracy, with good mobility, things like that."
Dalton
: "It just depends on the situation and the team you go to and their QB situation. Some guys, it doesn't take long to step in and be the guy. Others, they have time to sit back and watch a little bit. You see what
Aaron Rodgers
did this year, he sat out for a while and sat behind
Brett Favre
and he's done an outstanding job once his time came. There are obviously different situations depending on the team and the QB situations."
Stanzi

Stanzi
Rang
: "I'm not quite as high on him as the other three, but I know some clubs that think he is a legitimate second- or third-round pick. He has a little bit of a stronger arm than Ponder. His best assets are size and an over-the-top release that can hit down the seams. If you support him with a strong running game, an I-formation kind of offense, then he can attack over the top that way."
Stanzi on Iowa's offense under Kirk Ferentz
: "The way he has his offense set up is very similar to how some other (NFL) teams do it. We're under center a lot. It's a lot of two-back sets, a tight end, a lot of traditional pro-style stuff that we do at Iowa. All that definitely gets you more familiar than a spread quarterback would be or someone who hasn't had that. It doesn't mean you're better at it. It just means you've had more experience at it."
Final words
ESPN's Todd McShay:
"I think Kaepernick would be a good fit for both those teams, a bigger quarterback who can deliver the ball down the field. I don't know that Christian Ponder or Ricky Stanzi would be great fits for either of those teams because I don't know if they have the arm strength to make the throws necessary in those systems. Dalton is a little bit better than Stanzi in terms of arm strength."
Rang
: "I think Kaepernick and Stanzi make a little bit more sense for Tennessee. Ponder and Dalton make a little bit more sense for the
Jacksonville Jaguars
."
Me:
Muench, McShay and Rang watch prospects for a living, I try to catch up during draft season. So my opinions will grow stronger in time. If there isn't a home run to be hit in the first round when the Titans and Jaguars are on the clock -- and the possibilities look more like stand-up doubles at this point -- then I'd wait and look to this foursome. I'll be interested to talk to scouts and hear pro day reviews of them in the coming weeks.
February, 26, 2011
2/26/11
3:31
PM ET
INDIANAPOLIS -- Many scouts and evaluators have indicated that Arkansas'
Ryan Mallett
is kind of a dividing line for the draft class of quarterbacks.
I've talked to some who clearly have him behind
Cam Newton
,
Blaine Gabbert
and
Jake Locker
, but ahead of the second tier that could include
Andy Dalton
,
Colin Kaepernick
,
Christian Ponder
and
Ricky Stanzi
.
Hazy reports of Mallett having big red flags have surfaced, and he was confidently defensive about them at a well-attended podium session that wrapped up a bit ago, deflecting repeated questions.
"If people talk about them, they keep circulating or whatever, that's nothing I can control," he said. "Obviously somebody did it for a reason before the combine and the draft. I talk about it with teams and everything is good."
Those conversations will go a long way toward influencing his draft-board standing with quarterback-needy teams, a list that includes the Titans and Jaguars.
He told people with questions about him to ask his coaches and people he worked with about him.
And to a question about scouts questioning his decision-making and accuracy, he kind of snapped: "Seven thousand-plus yards and 60-plus touchdowns in two seasons, that's how I respond to that."
After he'd dismissed multiple questions about the red-flag issues, one reporter took a final stab: You're going to be asked about them until you address them, so why not address them now?
"I don't want to," he said. "I'm not going to talk about it. I talk about it with the teams."
I don't know that "I don't want to" will suffice as an answer to tough questions from an offensive coordinator trying to coach Mallett once he's in the NFL. But I won't presume that coach will get the hard-line guy we just saw.