AFC South:

Ricky Williams
December, 6, 2013
12/06/13
6:00
PM ET
INDIANAPOLIS -- The
Indianapolis Colts
put on extra layers, shook off the frigid air and spent the week practicing outside to prepare for Sunday's game against the
Cincinnati Bengals
.
There's a chance Mother Nature won't be too kind to either team at Paul Brown Stadium. The forecast calls for temperatures to be in the 30's with a chance of snow on Sunday. The Colts haven't played a game in the snow since the 2009 season.
[+] Enlarge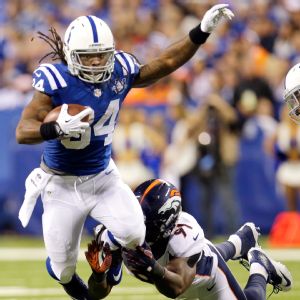 AP Photo/AJ MastTrent Richardson and the Colts' running backs might get a lot of work on Sunday in Cincinnati.
"You know what, the elements, it is what it is," Colts coach Chuck Pagano. "From a ball-security standpoint, that's what we stressed all week long. That's why we got outside all week long. If it's sleeting sideways and 30 degrees, 20 degrees, it really comes down to ball security, taking care of it. Makes throwing the ball a little bit difficult, too, so better pack a good run game."
Limiting quarterback
Andrew Luck
's throwing ability and relying on the run game could cause some uneasiness since Luck is the Colts' best offensive weapon, and the running game has been inconsistent this season.
But that's what it might take for the Colts to have a chance to beat the Bengals, who are 5-0 at home, and get a game lead on them for the No. 3 seed in the AFC playoff standings.
"I probably haven't played in snow since I was throwing a football around as a kid, so very excited about it," Luck said. "I love playing outside. I think there's something about it that's fun, so we're looking forward to it."
The Colts rushed for 104 yards -- only the second time in the past five games that they rushed for at least 100 yards -- against the
Tennessee Titans
last weekend.
"I can play in snow, as a kid," running back
Trent Richardson
said laughing. "But it's just something, you just got to go out there and fight it. You got to man up. This is what the big playmakers have done their whole life. You look at the Jim Browns, the Emmitt Smiths, the Fred Taylors, the Ricky Williams' and the Edgerrin James'. Look at those type of guys. Those guys fought through it, and they stuck it through the whole time in the snow. It didn't matter to them."
Indianapolis has to hope it can get something out of its running game, and with some Luck-being-Luck sprinkled in there, too, because the Bengals have the offensive weapons to put points on the board.
Cincinnati averages more than 363 yards a game and has won six of its past eight. Bengals receiver
A.J. Green
has 72 catches for 1,103 yards, which is only 71 yards less than what
T.Y. Hilton
,
Darrius Heyward-Bey
,
LaVon Brazill
and Da'Rick Rogers gave combined for this season.
Indianapolis' defense forced four turnovers against Tennessee last weekend, and the unit might get cornerback
Greg Toler
(groin) back in the lineup for the first time in five games.
"It's a talented team," Colts defensive coordinator Greg Manusky said. "They got good receivers, a good quarterback ... they got some players in the backfield with (Benjarvus Green-Ellis) and (
Giovani Bernard
). Talented guys that can see the hole and break long runs. We got to make sure we bottle them up as best we can."
January, 10, 2012
1/10/12
4:10
PM ET
Reputations last, and I don't think many people think of the defensive-minded
Baltimore Ravens
as a big-play offense.
[+] Enlarge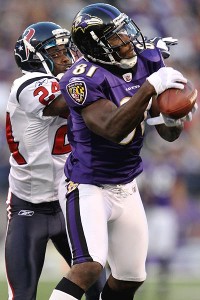 Mitch Stringer/US PresswireRavens receiver Anquan Boldin catches a third-quarter pass over the head of Texans cornerback Jonathan Joseph on Oct. 16, 2011.
The Texans did their part to change that in the regular-season loss in Baltimore on Oct. 16 —
Joe Flacco
threw a 51-yard pass to
Torrey Smith
and a 56-yard pass to
Anquan Boldin
and
Ray Rice
had a 27-yard run.
"You got to give them credit," Gary Kubiak said. "Flacco put up a lot of deep balls that they went up and got and made the play that we did not make. They have been a big-play offense. They're running the ball so well with Rice, and Vonta (Leach) is doing just a hell of a job, so it sets up for them to get the ball down the field when they do play action, those type of things. We got to stop the run first. You better stop the run against these guys first, or you're not going to get on the field. Stopping the big play with their receivers was an issue for us the first time, and hopefully we can correct it this time."
Have they really been a big-play offense? I thought it was Kubiak paying the typical over-the-top tribute to an opponent, but I asked Matthew Willis of ESPN Stats & Information for a run down.
The Ravens have had 13 20-yard rushes this season: Nine from Rice, three from
Ricky Williams
and one from Flacco. Here are the five longest.
Rice – 70, Week 17 at Bengals
Rice – 67, Week 13 at Browns
Rice – 59, Week 11 vs. Bengals
Rice – 53, Week 3 at Rams
Rice – 51, Week 17 at Bengals
Flacco's longest was 31 yards, Williams' was 28.
The Ravens had 17 30-yard completions, and 45 of 20-plus yards. Here are the five longest:
Flacco to Torrey Smith, 74, Week 3 at Rams
Flacco to Anquan Boldin, 56, Week 6 vs. Texans
Flacco to Ray Rice, 52, Week 4 vs. Jets
Flacco to Smith, 51, Week 6 vs. Texans
Flacco to Smith, 49, Week 11 vs. Bengals
Simple and obvious formula for the Texans: If they give up the sort of big plays that they put on that list, they can't win Sunday. If they don't, they'll have at least a chance.
October, 16, 2011
10/16/11
7:11
PM ET
BALTIMORE -- Thoughts on the
Houston Texans
'
29-14 loss
to the
Baltimore Ravens
at M&T Bank Stadium.


What it means:
The Texans lost their second game in a row, and the enthusiasm over their 3-1 record seems so, so long ago now that they're 3-3. They're out of first place in the AFC South because the 3-2 Titans had the week off.
What I didn't like:
Joe Flacco is hardly the best quarterback the Texans will see, but twice in the second half, the Texans allowed deep completions. Torrey Smith caught a 51-yard ball over
Kareem Jackson
and
Anquan Boldin
grabbed a 56-yard throw. On the first a defender was bearing down on Flacco, on the second he got hit by
Antonio Smith
. The Texans can ill afford to give up such plays, and they cause some flashbacks to last year.
What I liked:
Both of those big gainers didn't result in touchdowns. The Texans stopped Baltimore from getting in the end zone, forcing field goals that allowed them to stay within a score.
What else I didn't like:
After those big pass plays and field goals, the Ravens managed to get
Ray Rice
going. His 27-yard run set up a
Ricky Williams
touchdown that made it 26-14 with 4:01 left. A 12-point deficit with one timeout remaining against the Ravens on the road is a tall order. The offense failed to find the sort of big plays it needed to keep up when it needed them.
Andre Johnson
sure could have helped.
What's next:
The Texans head for Nashville and a big AFC South matchup with the division lead on the line. Tennessee is coming off a bye. Will Johnson return from the hamstring injury that has cost him two games?
June, 25, 2011
6/25/11
10:21
AM ET
Sam from parts unknown writes:
On teams where QBs are the clear issue, players will usually make reference to that fact, though they usually stop short of throwing a guy under the bus (See comments on Alex Smith or Jake Delhomme). As some people have been saying for a long time, [David] Garrard is not the problem in Jacksonville. I think the opinions of offensive players are more valuable than the opinions of sportswriters. Besides, Gene Smith and Del Rio support Garrard and have maintained that support for three years. They drafted a QB because he is getting old, he takes too much punishment every year, and they needed a guy who could become the face of the franchise down the road. Blaine Gabbert could be a great player. I remember it being a surprise to many prognosticators who had QB down on the list of needs and pegged a DE in the 16th spot. Why create controversy?
Paul Kuharsky:
You think (the defensive) Maurice Jones-Drew's defense/support of Garrard is related to them being long-time teammates and friends or is a true, detached assessment?
I say the latter.
I'm guessing you like Smith.
If he thinks that it's worth it to basically spend his first- and second-round picks on Gabbert, that means, unquestionably, than he doesn't see Garrard as the quarterback who's leading the Jaguars to where they hope to go.
Drafting a first-round quarterback speaks a lot louder than talking of "support" for the incumbent. Such "support" amounts to roster, personality and ego management.
The days of spending the 10th pick in the draft for someone who "could" be the face of the franchise "down the road" are pretty far behind us -- unless "down the road" is six games in when you've lost two straight.
Jim from Greenville, SC writes:
Let me preface this by saying I'm a huge Titans fan. I also trade in the stock market. I try my best to sell high and buy low. Regarding Chris Johnson and his upside, no one who has rushed for 2,000 yards before has ever done it again. Although he did it earlier than any other, you can only expect him to run until he is 30 years old. Let's say they appease him for one more year. Do you sign and trade him then? Do you pay him the real big bucks that he wants? Could you get a Ricky Williams-like trade for him?
Paul Kuharsky:
Yeah, this trade idea seems to be gathering a lot of steam. Trade him and see Britt suspended and you're like the Browns -- with no proven playmakers.
There have been no Ricky Williams trades since the Ricky Williams trade because it was a boneheaded move by Mike Ditka. No one is giving up the farm for even the league's best running back considering you can find Arian Foster undrafted. Running back is complicated that way.
Sign and trade is a NBA thing, not an NFL thing. In the NFL you might allow a trade partner to negotiate a new deal before you swap. But I just don't see a trade scenario. What he can do for the Titans is bigger than what he can get them in a deal.
Give him the ball. Run him as much as you can or you like.
Pay him
knowing that some of the guaranteed money is probably going to qualify more as repayment for being under market for the last couple years than for the fifth and sixth year of this deal.
Carl Follmer from Iowa City, IA writes:
It is no secret that teams with veteran offensive players and stable quarterback situations will have an advantage if the preseason is cut short, but how might that shape up in the first week's slate of games (assuming they actually occur)? As a Colt's fan, I worry about Peyton Manning facing a Wade Philips 3-4 defense in Houston in week 1 without the benefit of preseason tape to study. On the other hand, the Texans D would probably still be working out the kinks from the switch from 4-3 to 3-4. What do you think?
Paul Kuharsky:
I expect the Texans will show very little on tape in the preseason that would help Manning. Or that for everything they show that's important, they will show at least one thing that's not to offset it.
I think the lockout effect on it all will be a wash, though the Colts offense is far more likely to be near midseason form than the Texans defense is, as a result of the continuity versus newness.
Peter Nickel (@madhschemist)
asks if Nnamdi Asomugha could really help the Texans "when Manning can throw anywhere else?"
Paul Kuharsky:
Well the Texans split with the Colts last year without Asomugha. Given a choice between taking away one receiver or half the field with one cover guy or not, any team would prefer to do so. I do think they could get him if they offered enough, but will they stand toe-to-toe with teams we are hearing mentioned like the Eagles and Cowboys?
While they may pursue him, I don't expect the Texans to win. And while Manning and the Colts are the primary target, the Texans have to improve in a lot of ways in order to beat more than just the Colts.
They need safety and corner help in free agency. There will other options who are good players who can help Houston improve and won't cost as much as Asomugha will.
April, 21, 2011
4/21/11
9:42
AM ET
Be wary of big-time players out of the University of Texas.
That's the lesson I've taken from watching
Vince Young
and
Michael Griffin
at close range, and guys such as
Ricky Williams
,
Cedric Benson
and
Michael Huff
from afar. It seems they get babied in Austin, and that such star treatment don't help them get ready for the stresses of the NFL. (
Derrick Johnson
was slow to come around.
Brian Orakpo
has been an exception.)
I loved Huff as a Longhorn. He has not turned into the NFL player I expected him to be.
Still, in a league in which the safety position is generally weak and the draft offers little in the form of immediate impact solutions, news that Huff is going to be
on the open market
when there is an open market is significant. The Raiders may well have been finished with him anyway, but contract complications will set him free.
You might have heard in this space (a few dozen times) that the Texans and Jaguars are in dire need at safety. And even if Huff is not a target of wither team, an additional available veteran can only help them.
If we see four-year players without contracts become free agents, I think both teams should chase
Eric Weddle
from San Diego or
Melvin Bullitt
from Indianapolis. (Jacksonville will shop; we're not sure about Houston.)
Both teams should investigate Huff, too. He could be a cheaper option and a change of scenery might help him become the player some of us expected when he was drafted.
At the very least, the Jaguars and Texans should hope other teams hunting for a safety look at Huff and like the combination of price and potential, perhaps taking one of them out of contention for Weddle or Bullitt.
Heading into 2010, here's what Scouts Inc. said about Huff:
"Huff is an athletic safety with above average speed and good acceleration, but he has struggled to establish himself in the secondary. Huff has started and played at both safety positions but just can't seem to take either one and run with it. Huff can be a heavy hitter when lined up inside the box and he recognizes the play as it develops. Unfortunately, he also will look like he overanalyzes or freezes up at times and can be slow to pull the trigger. Huff needs a lot of work on route recognition and reading the quarterback's eyes when in off coverage."
Matt Williamson of Scouts said Huff helped himself in 2010.
"I like Huff quite a bit," he said. "He struggled early in his career, but really came into his own last year. He can do a lot of things well, but I think he is at his best away from the line of scrimmage in more of a deep patrol role. Huge upgrade for either Houston or Jacksonville."
January, 6, 2011
1/06/11
12:27
PM ET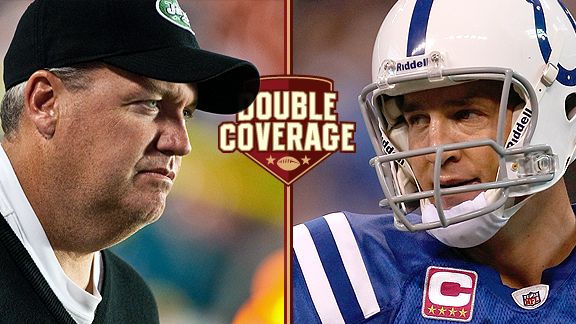 ESPN.com IllustrationWho has the advantage in the wild-card game between the Colts and the Jets this Saturday? Our bloggers debate.
In last season's AFC Championship Game, the upstart
New York Jets
were on their way to scoring their third straight road upset in the playoffs. They'd already knocked off a pair of division champions and led the
Indianapolis Colts
in the third quarter at Lucas Oil Stadium.
But the Colts outclassed the Jets in the second half and won easily to advance to the Super Bowl. The Jets had to regroup, knowing that to attain their Super Bowl dreams, they had to figure out a way to get past the Colts.
They won't need to look for them in the playoffs this year. The Jets and Colts will meet in the first round Saturday night, again in Indianapolis.
ESPN.com AFC South blogger Paul Kuharsky and AFC East blogger Tim Graham break down the rematch.
Tim Graham:
The first thought I have about the Colts is that
Peyton Manning
isn't going to win this game with his aura. Aside from past experience, the Jets don't have much reason to quake in their cleats Saturday night. They can beat this guy. Manning has proven to be a mortal without tight end
Dallas Clark
and receivers
Austin Collie
and
Anthony Gonzalez
to target. Seventeen interceptions? Almost knocked out of the playoffs by the
Jacksonville Jaguars
? These Colts are a shadow of what we've come to know.
Paul Kuharsky:
How about with his chakra, then? You've been spending too much time with
Ricky Williams
, dude. Has Manning been perfect? Hardly. But as Colts blogger Nate Dunlevy points out, and our ESPN Stats & Information confirms, Manning threw for 4,700 yards, tossed for more than 30 touchdowns, connected on 66 percent of his throws, had an interception rate of 2.5 percent and won 10 games. If that's a shadow of what you've known,
you must really know Tom Brady's 2007 season then
. Because that was the only other time it has happened.
[+] Enlarge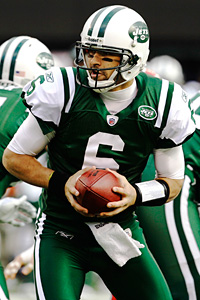 AP Photo/Kathy WillensJets quarterback Mark Sanchez reached 10 wins two games faster than former league MVP Peyton Manning.
TG:
Yeah, Manning won 10 games. So did
Eli Manning
and
Josh Freeman
. They didn't make the playoffs. The Colts' shadow doesn't have much to do with Peyton Manning slinging the ball all over the yard and racking up yardage. He's still great, but he's not a one-man show. If I were a Colts fan, my concern would be how they needed to close with four straight wins to avoid the embarrassment of being edged out of the playoffs by the Jaguars. The Jets, on the other hand, have shown to be a more complete team. That's how an erratic quarterback like
Mark Sanchez
can win one more game than Manning did and clinch a playoff berth weeks in advance.
PK:
Well, Manning's always been crushed for being great in the regular season and not good enough in the playoffs. Congrats on being the first to hammer him for winning "only" 10 games and the division while throwing to
Jacob Tamme
and
Blair White
.
TG:
That's what I mean. The Jets can contain those guys much easier than Clark and Collie. Plus, the Jets have been preparing for this matchup since last season's AFC Championship Game. They helplessly watched Manning carve the center of the field against them and realized immediately -- even though they had
Darrelle Revis
-- they needed more cornerbacks. Specifically with Manning in mind, the Jets traded for
Antonio Cromartie
and drafted
Kyle Wilson
in the first round. Previous starting cornerbacks
Dwight Lowery
and
Drew Coleman
gave them depth in nickel and dime packages. The Jets' biggest issue is at safety, where injuries have made them vulnerable.
PK:
Manning has a bit of experience against teams with poor safety situations. His numbers against Houston and Jacksonville? Just nine touchdowns, one pick and a 101.5 passer rating. On the other side is the unspectacular Sanchez. I doubt Sanchez will be able to attack
Aaron Francisco
, the Colts' fourth-string strong safety, in a similar fashion, but we'll see. The Sanchize was near perfect in the first half of last season's AFC Championship Game. But the Jets asked him to throw only seven passes. After intermission, Indy greatly reduced his potency. The Colts didn't sack him and were credited with only four hits that day. The Colts' big-play potential from their Pro Bowl defensive ends was neutralized, and they still rolled to a 30-17 win. Of course, it might have had something to do with Manning throwing two-second half touchdowns to Sanchez's zero (and one interception). What happens this time if
Dwight Freeney
and/or
Robert Mathis
are able to introduce themselves to him a few times?
TG:
Sanchez absolutely is the pivotal figure for the Jets on Saturday night. But, much like the personnel adjustments head coach Rex Ryan and general manager Mike Tannenbaum made on the defensive side to thwart Manning, they made changes on offense with the playoffs in mind. Sanchez might not have progressed much in his second season, but he didn't have a sophomore slump either. He has gained another 11 months and 16 games of NFL experience since the last time he faced the Colts. Plus, the Jets' offense has the ability to come from behind, something it couldn't do before. Last season's Jets were all ground-and-pound, and if an opponent took a two-score lead, the Jets' chances to win were slim. Sanchez showed several times this year he can strike in crunch time.
Santonio Holmes
and
LaDainian Tomlinson
out of the backfield give him much better weapons to go along with
Braylon Edwards
and tight end
Dustin Keller
.
PK:
The most dramatic on-the-field difference in the Colts this year as compared to last is how they finished up running the ball and defending the run. Indianapolis enters the playoffs coming off four games in which they ran for 4.5 yards a carry and held opponents to 3.5 yards. Last year in their final four meaningful regular-season games, they were getting 3.5 yards and allowing 4.1 yards.
TG:
Maybe the Colts will morph into the 1972
Miami Dolphins
before our eyes.
[+] Enlarge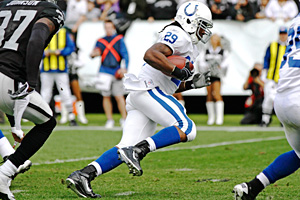 AP Photo/Marcio Jose SanchezColts running back Joseph Addai is averaging 4.3 yards per carry in an injury-plagued season.
PK:
A month ago the Colts defense recommitted to playing fast and having fun. It's funny how a team can get away from such simple themes, especially when a return to them produces such fine results.
Gary Brackett
's been great. Fellow linebackers
Pat Angerer
and
Kavell Conner
have been quite good, even as rookies. Veteran
Clint Session
could return to take time from Conner. Offensive coordinator Clyde Christensen's willing to send in whichever back is best suited for a situation or a matchup, so we could see any sort of mix of running backs Joe Addai,
Dominic Rhodes
and
Donald Brown
on Saturday night. They are running more than well enough to give the Colts a balance that makes Manning's play-action super effective.
TG:
Momentum on the ground has been a concern for the Jets since their bye in Week 7. Tomlinson went from MVP candidate to looking like the worn out player the
San Diego Chargers
thought they were bidding farewell. But
Shonn Greene
and Tomlinson found some traction in the closing weeks. Let's not even factor in what the Jets did against the
Buffalo Bills
in the regular-season finale, even though their backups trampled the Bills' first-stringers for 276 yards.
PK:
I'm always willing to toss out Buffalo. I don't even really like wings.
TG:
Yeah, but I know you still have a cache of Rick James 8-tracks. Anyway, the Jets ran the ball well against three of the NFL's best run defenses late in the year. They surpassed the
Pittsburgh Steelers
' league-leading average by 43 yards and the Chicago Bears' second-rated run defense by 34 yards. As for stopping the run, the Jets pride themselves on it and improved statistically this year. They ranked third this year at 90.9 yards a game and 3.6 yards a carry. But -- and this is a big one -- they allowed more than 100 yards in each of their games before the finale. The Steelers averaged 5.8 yards a carry. The Bears averaged 4.4 yards. That said, I would be willing to bet if the Colts wanted to try to run the Jets to death and not have Manning throw so much, then the Jets would be thrilled.
PK:
Give me a little impersonation of Rex Ryan thrilled after winning this game.
TG:
It probably would go a little something like this ... "Well, shoot, doesn't feel much better than that, to be honest with ya. We played like Jets today. It was a dogfight out there; I'll tell ya that much. Those Colts are sunthin' else. One thing I'll say about them: I saw
Joseph Addai
running like Lydell Mitchell out there and was, like, 'Whoa! Wait a second! We could be in for a long day here.' But our defense was flying around and eventually found a way to wrestle him down out there. I said earlier in the week this was personal with Peyton Manning, and they do a great job. He's great, and it's hard to get to him, but I just feel like we knew what to expect and were able to find a way to bear down and put all our chips in the center of the table and beat him. That guy's had my number and it feels good to know I can beat the guy when it counts. But I gotta give a ton of credit to our offense out there, too. Mark Sanchez played great and showed why we traded up to draft him. That right there's what we saw when we scouted him and just knew this guy was going to be a special player. Their crowd was tough with the way they were roaring at the opening kickoff I was, like, 'Whooo! Here we go!' It was full speed ahead. But one thing I should point out is that I broke out my lucky sweatshirt with the pizza stain this week." ... How would Jim Caldwell react to a Colts win Saturday night?
PK:
I can hear him, his voice just the same as if they'd have lost: "We're pleased to have beaten a good football team, a quality football team. It's gratifying that our work this week paid off. I shared with you some of the examples of the studiousness I encountered during the preparation week. You saw the rewards of that. We'll enjoy it, we should enjoy it, it was hard-fought and we're fortunate. We will have to do those same things to prepare for Pittsburgh. It's a tough place to play, an excellent football team. It's a new challenge. It will be fun to see them get out there and see what they can do."
TG:
In that case, I'm glad I'll be covering the Jets' locker room, win or lose. It'll be more interesting. I think the Jets have a better chance to win the game than a lot of prognosticators are giving them credit for. But even if they can't pull off the upset, they'll face a lot of questions as an organization. With all of the negative attention they've generated this season, a loss against the team they spent a year preparing for should lead to considerable introspection in Florham Park. Should we make picks?
PK:
Sure. I pick St. Elmo. Make a reservation.
June, 11, 2010
6/11/10
11:09
AM ET
Reading the coverage …
Quality reads
Don't miss Tim Graham
meditating
with Ricky Williams.
Houston Texans
I was very interested in what Matt Schaub had to say about
play-action working
for a team that didn't run well last year.
Fatherhood's keeping James Casey's mind off
his injury
, says Jordan Godwin.
Ryan Moats
was cut
to make room for Earl Mitchell, who signed, say John McClain and Godwin.
The offensive line is looking to
shed the finesse label
, says Daniel Gotera.
The Texans will add some
temporary suites
to Reliant Stadium, Alan Burge says.
Special teams and coaching
questions
from Battle Red Blog.
Indianapolis Colts
Ten questions
on the Colts, from John Oehser.
It's too early to put Pierre Garcon on a list of
underpaid players
, says Nate Dunlevy.
Peyton Manning
took questions
from high schoolers and Indy Sports Nation was there.
Jacksonville Jaguars
Daryl Smith excels at
being obscure
, says Vito Stellino.
Chris Steuber looks at
the top 10
young Jaguars.
Vic Ketchman wants to see
tackling drills
in training camp.
Tennessee Titans
The Titans
start up OTAs
again next week, says Jonathan Hutton.
A very
detailed look
at expectations for Chris Johnson, from Andrew Strickert.
December, 18, 2009
12/18/09
4:38
PM ET
»
NFC Final Word
:
East
|
West
|
North
|
South
»
AFC
:
East
|
West
|
North
|
South
Five nuggets of knowledge about Week 15: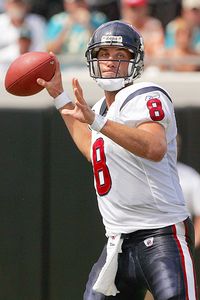 Sam Greenwood/Getty ImagesMatt Schaub has a 105.7 passer rating against NFC West teams this season.
This is the Texans' first visit to St. Louis
.
Matt Schaub
has lit up NFC West teams this year as Houston has gone 2-1 so far. He's averaging 333 passing yards with six touchdowns, two interceptions and a 105.7 passer rating. He'll surely be looking to pick up where he left off with
Andre Johnson
last week. Johnson leads the NFL with 1,237 receiving yards and is trying to become the first player since Jerry Rice to lead the league in receiving yards in consecutive seasons. It's a bit hard to believe no one has done that in so long.
Jeff Fisher has said he expects the game against Miami
to rank as one of the most physical for his team all season. In terms of philosophies and line play, these teams are similar. And they both like to run. The Titans are No. 2 in the league with a 165.3 rushing yards per game average behind
Chris Johnson
. The Dolphins, with
Ricky Williams
now leading the way, are third at 150.1. With
Ronnie Brown
out for the year injured, the Wildcat element is greatly reduced.
The Jaguars and Colts are off after their Thursday night thriller
. Jacksonville has a lot of rooting interests considering how many teams are fighting for wild-card spots. They'd love to see Baltimore, the Jets, Pittsburgh, Houston, Miami and Denver all lose. The Colts will be curious about what the Jets do since that's Indy's next game. I imagine they'll also take interest in Saturday night's Dallas-New Orleans game to see if the Saints can match them at 14-0.
Some other Texans numbers of note
: They've got five 400-yard games this season and are 4-1 in them. They've run 70 offensive plays five times. They've scored three or more touchdowns nine times. Johnson's not the only guy keying those efforts. ESPN Stats & Information says the Texans have the lowest on-target drop percentage in the NFL at 4.5 percent, ahead of the Saints at 5.0, the Colts at 5.2 and the Cardinals at 5.5.
It looks like Vince Young will play
. But if his hamstring prevents him from playing, keep this nugget in mind:
Kerry Collins
has beaten all but one team in his NFL career and, you guessed it, the one blank on his résumé is Miami. If Collins plays and beats the Dolphins, he'd be just the second quarterback to beat all 32 teams. Brett Favre did it with his first win over Green Bay Oct. 5.
December, 18, 2009
12/18/09
10:54
AM ET
Houston Texans
Gary Kubiak continues to
praise Matt Schaub
, says Dale Robertson.
Jerome Solomon
visited Andre Johnson
as he did some Christmas work.
The Rams took a day off because of
the threat of swine flu
, says John McClain.
Alan Burge is wondering about
the Texans' focus
.
Indianapolis Colts
That was the Colts'
seventh fourth-quarter comeback
, says Phil Richards.
It's imperative the Colts
take a shot
at going undefeated, writes Bob Kravitz.
The Colts defense gave up plays and points, but
delivered at the end
, says Phillip B. Wilson.
Much maligned returner Chad Simpson scored on
a big kickoff return
, writes Tom Brew.
It was
impressive and improbable
, says John Oehser.
If they are playing,
they aren't saying
, says Pete Prisco.
The Colts
decided to work
, says Karen Crouse.
What Vinnie Iyer
learned
.
Yet another come from behind win put the Colts in
unfamiliar territory
, says Sam Farmer.
The Colts should
keep up the chase
, says Jim Trotter.
Peyton Manning took a page from
Dan Marino's book
, says Jason Cole.
Demond Sanders
tracked the game
as it played out.
No change meant
similar results
, says Larry Hawley.
Stampede Blue polls you about who gets
the game ball
.
Jacksonville Jaguars
David Garrard
kept pace
with Manning, until the very end, says Vito Stellino.
Maurice Jones-Drew found
room and rhythm
, says Michael DiRocco.
Garrard blinked
in the shootout with the Colts, writes Gene Frenette.
Reggie Wayne
woke up
in time to sink the Jaguars again, says Garry Smits.
The Colts big kickoff return
really hurt
, says Stellino.
The man who shot Richard Collier got
a life sentence
.
Tennessee Titans
Jeff Fisher rated Vince Young's practice participation "
a huge step
," says Jim Wyatt.
Brian Orakpo
is threatening
Jevon Kearse's rookie record for sacks, say Wyatt and Estwick.
David Thornton has
an uncertain future
, says Jim Wyatt.
Ricky Williams is
powering the Dolphins
, says Gary Estwick.
A couple Titans
remember Chris Henry
, says Terry McCormick.
July, 17, 2009
7/17/09
12:00
PM ET
Posted by ESPN.com's Paul Kuharsky
The AFC South's overall success in 2008 came in good part to its interconference matchups. They were a collective 11-5 against the NFC North with no team worse than 2-2.
What awaits the division when it faces the NFC West this season?
Last year doesn't give us too much information, but at this point in time it's hard to say anything but the matchups look favorable. In 2008 the NFC West was a collective 20 games under .500 while the AFC South was 12 games over.
Here are seven interesting storylines or factors that will come into play in AFC South against NFC West this season.
1. Slowing top receivers: Teams in the AFC South are built on the thinking that they have to be able to matchup with some pretty good receivers. Yes, Marvin Harrison is gone, but Indianapolis still has Reggie Wayne, and Anthony Gonzalez could evolve into a tough matchup. And the Colts, Titans and Jaguars know they have to try to slow the excellent Andre Johnson twice a season. Now the division also has to contend with Torry Holt. How does such defensive construction translate against a division featuring Larry Fitzgerald, Anquan Boldin, T.J. Houshmandzadeh, Isaac Bruce and rookie Michael Crabtree?
2. Super rushers in big-time matchups: Preparing for the AFC South means preparing for a big-time edge rusher off the right side. Houston's Mario Williams, Indy's Dwight Freeney and Tennessee's Kyle Vanden Bosch are relentless in their quarterback pursuit. Their matchups with Seattle's Walter Jones and San Francisco's Joe Staley should be something to see, and the ability or inability of Arizona's Mike Gandy and St. Louis' Alex Barron to slow them will be critical storylines in those games. And are AFC South left tackles assigned to stop those big rushers in two games a year -- Michael Roos, Tra Thomas/Eugene Monroe, Tony Ugoh and Duane Brown -- also equipped to handle Justin Smith, Chris Long and Bertrand Berry?
| | |
| --- | --- |
| | |
| | Aaron Josefczyk/Icon SMI |
| | The Colts' Peyton Manning could have big days against the NFC West's pass coverages. |
3. Unfamiliar defenses vs. Peyton Manning: No, rank against the pass isn't a tell-all stat. But St. Louis ranked 19th against the pass last year, and that was tops among NFC West teams. The Rams, 49ers (20th), Cardinals (22nd) and Seahawks (32nd) are going to have to show they're much better and can be resourceful if they have a chance to minimize the damage inflicted by Manning. Otherwise, he may well pick them apart.
4. Getting to know Jim Mora: Mora is the new coach of the Seahawks. None of the AFC South teams played against the Mora-coached Atlanta Falcons teams in the regular season while he coached that franchise from 2004-06. But Jeff Fisher's 1999 Titans lost to a San Francisco team that had Mora as its defensive coordinator. The Jaguars beat the Niners that same year on opening day, but don't have a player or coach left from that team, so aren't likely to find any help in it. Indy will have a little organizational recall of Mora's defense from a loss to the 49ers in 2001. The AFC South doesn't have a lot to go on, either, as it prepares to face three other coaches who have not been with their teams long. Fisher does know Mike Singletary -- they were teammates on the Bears.
5. How will two teams from the Eastern
time zone and two from the Central travel West: Including the playoffs, AFC South teams are 5-16 in games at Seattle, Arizona, San Francisco, San Diego and Oakland since realignment in 2002. That includes 0-7 for the Titans, whose playoff fate could come down their first trip to Qwest Field, a Jan. 3 regular-season finale.
6. Will the Cardinals draw in North Florida: Things are not looking good for the Jaguars in the ticket sales department, and a visit by St. Louis combines with home games against Kansas City, Buffalo and Miami outside the division to make for a less-than-stellar slate to market. But the defending NFC Champion Cardinals are in Jacksonville on Sept. 20. If the combination of the Jaguars' home opener and Kurt Warner, Fitzgerald and Boldin coming to town doesn't produce a buzz and a sellout, it won't bode well for what's ahead.
7. Battle of the rookie running backs: Colts president Bill Polian once passed on Ricky Williams in favor of Edgerrin James, and came out looking very smart. In April, with Knowshon Moreno long gone, Polian tabbed Donald Brown ahead of Beanie Wells. This season the Colts head to Arizona Week 3 and will use Brown against a team that took the back Polian passed on in the first round. The Cardinals preferred Brown to Wells as well. Here we get close looks at both the backs from late in the first round in a game pitting the teams many rate as the favorites in these two divisions.
April, 25, 2009
4/25/09
7:15
PM ET
Posted by ESPN.com's Paul Kuharsky
Just watched ESPN's highlights of running back Donald Brown after the Colts made him their pick at No. 27, and more than one person in the room joined me at remarking on the same thing: Look at that stride.
When Brown gets into some open field, he's got a smooth, graceful and, quite frankly, very pretty rhythm to his running.
Joseph Addai was not very good last year, but he was banged up and running behind a banged up line. I did not think we would get a true assessment of his status until this draft. And my initial thinking is that while the Colts certainly can use Brown, his selection indicts Addai.
Friday, Polian was asked if the disappearance of veteran back Dominic Rhodes would have a bearing on his thinking at the position. Indications were the Colts liked the idea that Rhodes was still out there and could still be had, but Buffalo signed him last week.
"We have people on this squad that can contribute and play," Polian said. "I don't think it forces us to take a running back at all."
What I am sure Polian will say did force them to take a running back are the traits Brown will bring to an offense that needs to be better at getting a tough yard in a crucial spot.
Will people question the choice of Brown over Chris Wells? Polian gets the benfit of the doubt based on Edgerrin James over Ricky Williams in 1999.
September, 12, 2008
9/12/08
9:40
AM ET
Posted by ESPN.com's Tim Graham
DAVIE, Fla. -- While many pundits are yelling at troubled Tennessee Titans QB Vince Young to man up, there's another deep thinker from the University of Texas who advocates otherwise.
Miami Dolphins RB Ricky Williams, who starred for the Longhorns years before Young, is no stranger to introspection. Williams hopes Young remains a sensitive being, even though it has opened Young to national criticism over the past week.
"I think being thick-skinned is dangerous," Williams told Palm Beach Post columnist Greg Stoda on Thursday afternoon. "The ability to feel something keeps us safe."
Williams frequently has discussed the difficulty in rationalizing his passion for football with his contempt for being a football player. He loves to play, but he loathes the idolatry.
He wouldn't comment directly on Young's situation because he said he hadn't spoken to him this week. Speculation abounds that Young is battling depression.
"If you're not depressed after losing a football game, you're not healthy," Williams said.