AFC South:

Rob Chudzinski
March, 17, 2014
Mar 17
8:00
AM ET
The
Carolina Panthers
made an offer to
Hakeem Nicks
thinking they had a legitimate shot to sign the former
New York Giants
receiver.
That was until the
Indianapolis Colts
stepped in and not only offered Nicks a one-year contract worth up to $5.5 million, but also an opportunity to be on the receiving end of passes from quarterback
Andrew Luck
and be a part of a team that could be one of the best in the AFC next season.
ESPN.com Panthers reporter David Newton and Colts reporter
Mike Wells
talk about Nicks' decision to sign with Indianapolis
[+] Enlarge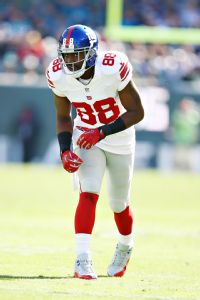 Al Bello/Getty ImagesHakeem Nicks chose the Indianapolis Colts over the Carolina Panthers.
Wells:
David, Carolina quarterback
Cam Newton
proved last season that he's one of the best young quarterbacks in the league. But Luck has proven in just two years -- with 22 victories -- that he has the complete package: arm, foot speed and mental toughness. So it seems Nicks made the right decision to sign with the Colts. What are your thoughts?
Newton:
Totally agree. When Nicks picked Indy over Carolina I mentioned one of the reasons may have been Luck was the more proven quarterback. It didn't sit well with Carolina fans. My argument was simple. Two trips to the playoffs to one. But the bigger reason is Nicks will be surrounded by proven receivers in Indy. Maybe that would have happened at Carolina, but at the time of the decision the Panthers didn't have a receiver on its roster with an NFL catch. When
Brandon LaFell
signed with New England on Saturday that guaranteed Newton won't have any of his top four wide receivers from last season. At Carolina, Nicks risked the possibility of being double-teamed because there wasn't anybody proven to take coverage away. He would have been the clear-cut No. 1, and I'm not sure he's a No. 1. Luck also has a more established offensive line. So when I said Luck was more proven there were other factors around that.
Having said that, if you were starting a team from scratch would you pick Luck or Newton?
Wells:
I like how Newton played last season, but I've still got to give Luck the edge over him and players such as Seattle's
Russell Wilson
and San Francisco's
Colin Kaepernick
. Luck's résumé speaks for itself. He led the Colts to an 11-5 record during a rookie season when his coach, Chuck Pagano, missed 12 games while battling cancer. He repeated that record last season while losing five offensive starters by Week 7. Luck has led the Colts on 11 fourth quarter or overtime game-winning drives in his young NFL career. Should I continue? It also helps that Luck's Colts have already beaten the Seahawks and 49ers. Maybe you and I can corner Rob Chudzinski somewhere after the season and ask him his thoughts because he obviously coached Newton in Carolina and he's about to coach Luck with the Colts next season.
It seems like the Panthers don't seem to know which direction they're headed with players like receiver
Steve Smith
being released. Am I wrong to think that could sway a free agent's decision?
Newton:
It would have to cast doubt. It certainly casts doubt in my mind. It'll all come down to how convincing general manager Dave Gettleman is on selling his plan. And yes, there's a plan.
Jerricho Cotchery
is coming in for a visit on Monday and
James Jones
says he'd like to play for Carolina. If the Panthers can get a couple of solid veterans -- even if they aren't bona fide No. 1s, and select a dynamic receiver with either their first- or second-round pick, the receiving corps potentially could be better than last season. Even Smith admitted he's not a No. 1 anymore. So for all the grief I've given Gettleman for making a mistake in dumping Smith, in the long run it could work out. I mean, the beef on LaFell last season was he wasn't a bona fide No. 2.
Ted Ginn
Jr. had a nice season, but he had only two catches the year before.
Domenik Hixon
had only one catch that impacted a game. So big picture, they didn't really lose a lot.
So how do you expect Nicks to fit in at Indianapolis? Can he help put Indy over the top?
Wells:
Colts fans are a little leery because there was high hope last year when
Darrius Heyward-Bey
, the No. 7 pick in the 2009 draft, signed a one-year contract the same way Nicks did. Heyward-Bey, to put it as nice as possible, was brutal last season. So brutal that he ended up being demoted to special teams where he actually did a great job downing punts inside the 20-yard line. I think Nicks will fit in nicely because he doesn't have the pressure of being the No. 1 receiver. He simply has to just fit in alongside of fellow receivers
Reggie Wayne
and
T.Y. Hilton
. Tight ends
Dwayne Allen
and
Coby Fleener
are also receiving options for Luck. The fact that Nicks had almost 900 yards receiving last season and that was considered a down year for him is a good thing for the Colts. Luck will find him as long as he can get open.
Newton needs somebody to throw the ball to. What are the Panthers going to do since Smith is gone and Nicks decided playing with the Colts was a better option?
Newton:
As I mentioned above, Cotchery is coming in for a visit and I still believe they'll get Jones. The plan is to find a few bargains and blend them in with a draft pick. Smith would have made a nice No. 2 receiver in this package in my opinion. But from everything I gather Newton won't be heartbroken to see his top receiver gone. Smith has gotten in Newton's face more than a few times the past few years. As much as that may have been needed, there is a belief on the team that Smith might have been a distraction to Newton as the central leader of the offense. It will be interesting to hear how Newton spins it when we finally hear from him.
Now that the Colts have Nicks, what's the rest of their free-agency plans?
Wells:
General manager
Ryan Grigson
has put an emphasis on defense so far. They still need to find a safety to replace
Antoine Bethea
, who signed with San Francisco last week. The interior part of the offensive line could use some help, too. They signed former Dallas center
Phil Costa
last week. The Colts haven't completely shut the door on Cleveland center
Alex Mack
even though it is a longshot that they'll be to get him because the Browns used the transition tag on him. Adding another guard wouldn't be a bad idea, either.
March, 6, 2014
Mar 6
3:45
PM ET
INDIANAPOLIS -- New
Indianapolis Colts
linebacker
D'Qwell Jackson
had options.
Tennessee. Denver. Miami.
But when it was all said and done, the familiarity with his former coach in Cleveland and the family-type atmosphere, the one that so many players talk about, won out over playing with
Peyton Manning
and the Broncos and the sandy beaches in South Florida.
"One thing that attracted me here was the fact that I feel like it's a family environment," Jackson said during a conference call Thursday afternoon. "Everyone is on the same page and everyone has the same goals in mind and that's whatever needs to be done to win the Super Bowl."
Jackson didn't have to call any of Indianapolis' players to do research on possible joining the team after the
Cleveland Browns
released him Feb. 26 following eight seasons. He called former Cleveland coach Rob Chudzinski. The Colts hired Chudzinski to be coach Chuck Pagano's special assistant last month. Jackson, who was upset when the Browns fired his coach at the end of last season, has respect for Chudzinski.
"He's a big part of me being here today," Jackson said. "I thought highly of him last year when he was my head coach in Cleveland. He hadn't been here for a long time, but I trusted his judgment. We had a great run in Cleveland. It's unfortunate it didn't work out, but all things happen for a reason and here we are today. I'm very excited about it and I'm excited to get going."
Jackson also came away with a strong feeling about the organization after a dinner with Pagano where they "barely talked football." That right there told Jackson that he wants to be "around people like that."
Jackson will join fellow linebackers
Jerrell Freeman
,
Robert Mathis
and
Erik Walden
on the starting line. The Browns ran a 3-4 defense in six of Jackson's eight seasons.
Jackson has 815 tackles in his career, and his best season was 2011 when he had 158.
"That was something that definitely weighed heavily on my mind, how I would fit into any team that was running any particular defense," Jackson said. "My time in Cleveland was a special time. I was fortunate enough to play in a 4-3 and 3-4, and last year was a 3-4. At the end of the day, to me, it's football. It comes down to guys willing to prepare as well as they do, and willing to go out and win a ton of games, and have one common goal in mind, and that's winning a championship."
February, 21, 2014
Feb 21
8:30
AM ET
INDIANAPOLIS --
Indianapolis Colts
general manager Ryan Grigson and coach Chuck Pagano will address the media at the scouting combine on Friday afternoon.
Here are some of the topics that will likely be discussed:
Cornerback Vontae Davis' free-agency status
What Rob Chudzinski's role as special assistant to Pagano will be.
How Chudzinski's hire will impact offensive coordinator Pep Hamilton.
Running back Trent Richardson's shoulder surgery.
Pagano's defense, especially after Seattle's defense dominated Peyton Manning & Co. in the Super Bowl.
Grigson's free-agency approach since the Colts will have about $37 million in salary-cap space but no first-round pick.
Combine schedule: Place-kickers and special-teamers will work out for NFL personnel. They will join offensive linemen and tight ends for the bench press, psychological testing and team interviews.
Quarterbacks, wide receivers and running backs are measured, take medical exams, participate in team interviews and meet the media.
Defensive linemen and linebackers arrive in town for a medical pre-exam and X-rays, plus an orientation and team interviews.
Texas A&M QB
Johnny Manziel
, potentially the No. 1 overall pick, will be the center of attention during the media session. Louisville's
Teddy Bridgewater
and UCF's
Blake Bortles
are the other top quarterbacks in the draft.
Sammy Watkins
from Clemson,
Marqise Lee
from USC and Manziel's teammate at Texas A&M,
Mike Evans
, are considered the top receivers.
February, 8, 2014
Feb 8
5:15
PM ET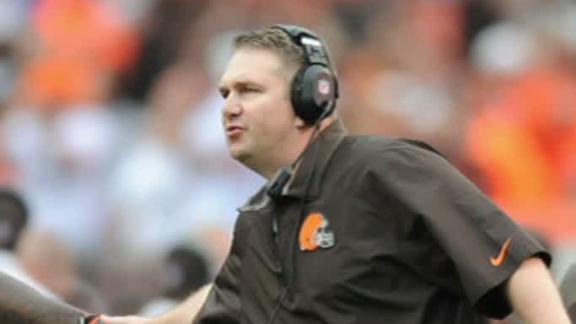 INDIANAPOLIS -- The
Indianapolis Colts
didn't have to search for a coach to add to their staff. All of coach Chuck Pagano's assistants are expected to be back after offensive coordinator Pep Hamilton pulled his name out of the running for a Vanderbilt job that was going to be offered to him last month.
What Pagano did, though, was add more coaching experience to a team that's in the position to take another step in an AFC when former
Cleveland Browns
coach Rob Chudzinski was
named special assistant
Saturday. Chudzinski's role with the Colts is uncertain right now.
It's as though the Colts were shopping at the Goodwill store and got a product that should be priced higher, but they managed to get it on the cheap. Chudzinski is still getting paid by the Browns, who fired him in December after a 4-12 season.
Some may look at adding Chudzinski as a way to put pressure on Hamilton, or because he has a brief history with running back
Trent Richardson
from their time together in Cleveland.
That is partially true.
But in the big picture of things, it's a matter of Pagano adding somebody he's familiar with to his staff, and based off what I've heard from others, Chudzinski is like Pagano in the fact that players enjoy playing for him. Richardson was a fan of his in Cleveland and was surprised that the Browns fired him after only one year.
Pagano and Chudzinski were together at the University of Miami from 1995-2000 and again with the Browns in 2004.
As far as Hamilton goes, hiring Chudzinski will help him, especially with Pagano being a defensive coach. What can't be forgotten is last season was the first time that Hamilton was an offensive coordinator in the NFL. It was an adjustment for Hamilton going from college to the NFL. Chudzinski spent two seasons as offensive coordinator of the
Carolina Panthers
and two seasons with the Browns.
This is a winning situation for the Colts.
January, 7, 2012
1/07/12
11:32
AM ET
Reading the coverage …
Houston Texans

Owner Bob McNair is
relishing the time
as his team prepares to face Cincinnati in a playoff game, says John McClain of the Houston Chronicle.
A win would do a lot for the Texans'
national profile
, says Steve Campbell of the Chronicle.
Patience has paid off for Gary Kubiak and Rick Smith and they
deserve to take a bow
, writes Jerome Solomon of the Chronicle.
Kubiak wants his team playing with
a lot of emotion
, says McClain.
Wade Phillips has made things
simple and effective
for the thriving Texans defense, says McClain.
Indianapolis Colts
Jim Irsay will have interviewed
seven general manager candidates
by the end of Monday according to his Twitter account, says this Star report. He revealed a dark horse: Jim Popp, general manager of the Montreal Alouettes of the Canadian Football League.
Jacksonville Jaguars
Tania Ganguli of the Florida Times-Union pieces together the latest in
the Jaguars' coaching search
as the team interviewed Brian Schottenheimer of the Jets and Rob Chudzinski of the Panthers.
Tennessee Titans
Chris Hope is heading for free agency, but the safety says he's going to
help some team
in 2012, writes Jim Wyatt of The Tennessean.
The Rams have
received permission
to talk to Ruston Webster and Lake Dawson about their open GM job, says Wyatt.
January, 3, 2012
1/03/12
11:22
AM ET
Reading the coverage…
Houston Texans

Bengals-Texans will the first time in NFL history in which rookie quarterbacks
square off as starters
, says John McClain of the Houston Chronicle. Provided T.J. Yates is healthy, he'll go against Andy Dalton.
Twelve reasons
the Texans will beat the Bengals, from Jerome Solomon of the Chronicle.
Indianapolis Colts

Peyton Manning was "
surprised, shocked, disappointed
" upon learning that Jim Irsay dismissed Bill Polian, says Mike Chappell of the Indianapolis Star.
Manning recalls enjoying
playing as a rookie
, which Chappell looks at from the perspective of the same possibility for Andrew Luck.
Jacksonville Jaguars

The Jaguars requested and received permission to interview
five NFL offensive coordinators
on Monday -- Atlanta's Mike Mularkey, the New York Jets' Brian Schottenheimer, Carolina's Rob Chudzinski, sources confirmed. ESPN also reported the Jaguars will interview Denver's Mike McCoy and New England's Bill O'Brien, says Tania Ganguli of the Florida Times-Union.
When can assistants on playoff teams
be interviewed
? Ganguli has the answer.
Tennessee Titans

Mike Munchak defended Chris Johnson's drop off, says Jim Wyatt of The Tennessean. Johnson may have lost a step as a result of wear and tear, but it's
not why the Titans ran poorly
, the coach said.
The Titans are hardly ready to declare
their quarterback for 2012
and Munchak said roles for Matt Hasselbeck and Jake Locker will sort itself out in time, writes Wyatt.
Big changes are ahead
for the Titans, who've got a load of free agents, says David Climer.
December, 18, 2011
12/18/11
6:11
PM ET
Thoughts on the Texans'
28-13 loss
to the Panthers at Reliant Stadium:


What it means:
The AFC South champs saw their winning streak end at seven and their record fall to 10-4. They await results from games involving New England, Baltimore and Pittsburgh to learn how it affects the seeds in the AFC. Houston was probably due for a letdown, and turnovers sparked this one, with
Arian Foster
losing an early fumble and
T.J. Yates
throwing two interceptions. The first two turnovers led to Carolina touchdowns and the third to the end of the game.
What I didn't like:
Third down went horribly on offense and defense. The Texans converted 2 of 9 chances while the Panthers converted nine times in 14 tries. The Panthers had too easy of a time jumping out to a 21-0 halftime lead as Carolina found the end zone three times in its first five possessions. Panthers linebacker
Jordan Senn
had a super-productive game with 14 tackles, an interception and a forced fumble.
Matt Turk
's two punts had a net average of 29.5 yards.
What I liked:
Connor Barwin
's pass-rush production continued, as he recorded one of the Texans' two sacks. He now has 10.5 on the year.
What I want to know:
Was it Carolina offensive coordinator Rob Chudzinski who drew up the fantastic trick play that produced
Richie Brockel
's 7-yard touchdown run?
What's next:
The Texans will have to forget this one quickly as they head for Lucas Oil Stadium for "Thursday Night Football" against the Colts, who are coming off their first win of the season.
November, 17, 2011
11/17/11
1:37
PM ET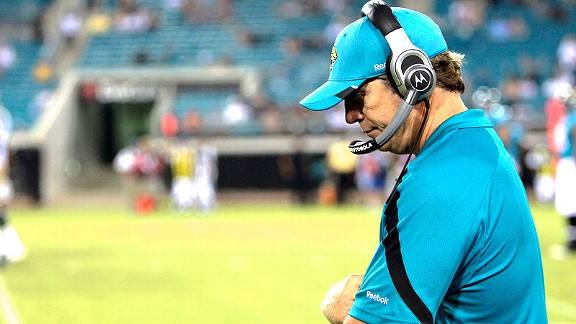 AP Photo/John RaouxIf the Jaguars replace Jack Del Rio, it makes sense to hire an offensive-minded head coach.
Ten weeks into most NFL seasons we have a good sense of head-coaching jobs coming open and the prime candidates for them.
This year feels different.
Jim Caldwell may coach a potential 0-16 team. But to hear Bill Polian talk, the Colts' coach may well survive. In Jacksonville, Jack Del Rio's got one year left on his contract and a lame-duck staff.
It's widely held that Jaguars owner Wayne Weaver will make a change if he judges the team to have shown insufficient improvement this season, and it's hard to envision a giant turnaround now for the 3-6 Jaguars based on how poorly the offense is producing.
As for prime head-coaching candidates, I sense no buzz about the hot, young offensive assistant who's the next big thing. In previous years -- no matter if they panned out or not -- we've seen guys like Josh McDaniels, Jason Garrett, Todd Haley and Ken Whisenhunt tabbed as up-and-comers who were ready.
Who are those guys now?
While Northern Florida might hold out hope that Weaver will want a name and would be able to lure one, I don't see Bill Cowher or even Jeff Fisher heading for EverBank Stadium.
The franchise should re-sign general manager Gene Smith, allow him to decide on Del Rio and make the recommendation on the next coach.
And if Smith's in the market, that next coach should be a young offensive mind who likes
Blaine Gabbert
and has the best shot at developing him. Smith needs to hit a home run finding the next Mike McCarthy, Sean Payton or, this year aside, Andy Reid.
I asked around this week, talking to a couple coaches and an executive about which NFL assistant qualifies as a QB guru who's ready to be a head coach.
Through those conversations, I present this list of possibilities:
Mike Mularkey, Atlanta offensive coordinator
-- Mularkey posted a 14-18 record as Buffalo's head coach in 2004-05. But he's got enough distance from that now that he could be worthy of a second act.
He took over as offensive coordinator in Atlanta in 2008, when quarterback
Matt Ryan
was a rookie. He has a bruiser of a running back in
Michael Turner
to go with Ryan. Ryan became just the second rookie quarterback in NFL history to throw for more than 3,000 yards, and the Falcons won 11 games.
There is a connection to Smith: Mularkey's son, Patrick, is a scouting assistant in Jacksonville's player personnel department.
Jay Gruden, Cincinnati offensive coordinator
-- Gruden's done fantastic work this season with rookie QB
Andy Dalton
. But is one good year enough to vault him to a head coaching job?
He worked on his brother Jon's staff in Tampa Bay from 2002-08, but as an offensive assistant he wasn't a year-round guy. He stacked the work on top of his duties quarterbacking and then coaching the Orlando Predators of the AFL.
Jay Gruden has head coaching experience in the AFL and the UFL, where he led the Florida Tuskers to the 2010 championship game as head coach and GM.
Word is he's different than his brother, calmer with a better presence with his players.
Rob Chudzinski, Carolina offensive coordinator
-- His first tour as an offensive coordinator came in Cleveland from 2007-08. The 2007 Browns won 10 games with
Derek Anderson
shining at quarterback.
Now Chudzinski's been lauded for his work with
Cam Newton
, revising and shaping the offense to feature what the rookie quarterback does best. He's got a strong background with tight ends, too, and is regarded as a rising star by many around the league.
He's also a quieter, unassuming type.
Tom Clements, Green Bay quarterbacks coach
-- Clements worked in the same post for New Orleans (1997-99), Kansas City (2000) and Pittsburgh (2001-03). During those stops he worked with
Tommy Maddox
during his comeback player of the year season in 2002 and with
Kordell Stewart
and
Elvis Grbac
during their best seasons.
He also worked as offensive coordinator in Buffalo in 2004 and 2005.
With Green Bay, Clements guided
Brett Favre
in his final Packers' years while helping prepare
Aaron Rodgers
. He's also had a hand in the progress of highly regarded backup
Matt Flynn
.
But does he have the qualities of a good head coach?
Pete Carmichael, New Orleans offensive coordinator
-- He's in his third year as Payton's top offensive lieutenant after three seasons as the Saints' quarterbacks coach.
Carmichael's been closely involved with an offense that has excelled with
Drew Brees
as quarterback, with a specific role in routes, protection schemes and quarterback responsibilities.
Like Clements in Green Bay, Carmichael works for a strong coach with an offensive background and so he doesn't function as the play-caller. While very smart, he comes across as bland and that could be a big issue for a guy expected to be the face and the personality of a franchise.