AFC South:

Roc Carmichael
September, 2, 2013
9/02/13
11:42
AM ET
The Texans filled their practice squad with five rookies and three young veterans who cleared waivers Sunday. All of the players were in training camp with the Texans.
Defensive end Keith Browner and cornerback
Roc Carmichael
returned to the Texans. Carmichael spent last season on the Texans' 53-man roster, but was usually not active for games.
Rookie fullback Zach Boren, receiver Andy Cruse, running back Ray Graham, guard/center Alex Kupper and receiver EZ Nwachukwu returned to the Texans' practice squad after being released. The Texans also added inside linebacker
Mike Mohamed
, a second-year player out of California.
Three Texans who were cut were claimed off waivers on Sunday -- fullback
Tyler Clutts
(to Miami), nose tackle Chris Jones (to Tampa Bay), and running back
Dennis Johnson
(to Cleveland).
It's a nod to a team's talent when it loses more than it gains off the waiver system. By contrast, the
Jacksonville Jaguars
and
Kansas City Chiefs
(the first two teams in the waiver order) were awarded seven players each. The
Cleveland Browns
landed six.
July, 11, 2013
7/11/13
4:33
PM ET
We pick up our series in which ESPN.com's resident scout, Matt Williamson, ranks the AFC South position-by-position.
Today, we examine defensive backs.
Williamson's AFC South defensive backs rankings:
1) Texans (Johnathan Joseph, Danieal Manning, Ed Reed, Kareem Jackson, Brice McCain, D.J. Swearinger, Brandon Harris, Roc Carmichael)
2) Titans (Jason McCourty, Bernard Pollard, Michael Griffin, Alterraun Verner, George Wilson, Tommie Campbell, Coty Sensabaugh)
3) Colts (Vontae Davis, LaRon Landry, Antoine Bethea, Greg Toler, Darius Butler, John Boyett, Cassius Vaughn)
4) Jaguars (Dwayne Gratz, Johnathan Cyprien, Dwight Lowery, Alan Ball, Josh Evans, Mike Harris, Marcus Trufant, Jeremy Harris, Demetrius McCray)
I think this order is virtually impossible to debate, and you should be clicking the top entry in the poll to the right.

My questions for Williamson based off of his list:
Your overall assessment please:
"Overall thoughts are I really like Houston's secondary and really dislike Jacksonville's. The other two? I would say are pretty much the definition of middle of the road."
What's the gap between Texans and Titans?
"The gap between Houston and Tennessee is substantial. That isn't to say that the Titans have a poor secondary -- and I would say they did improve it at both corner and safety."
What's Ed Reed have left and what can he do for the Texans?
"Reed's best days are long behind him, but I love the addition to the Texans for one huge reason: He is a winner from a great organization and what he brings behind the scenes could pay off HUGE. The Texans really are not that far from being an expansion team and most of their best players are all home grown players-that have never won the big one. Reed, a future Hall of Famer coming off a SB win brings instant credibility to the locker room and even if he doesn't play at a real high level, is a great addition-and something Houston should have done long ago."
If you were just ranking CBs what order would you have them in? If you were just ranking safeties?
"Just CBs: I think I would keep it exactly the same. Just safeties? Tough to really gauge Jacksonville, but they still have to be last and again, I think I would keep the order the same. More so than some of the other position groups in the division, this order is pretty clear to me."
What rookies do you expect to have the biggest impact?
"The rookie defensive back that I expect to make the biggest impact is definitely Cyprien. I think he will be a star in this league, was a great value where Jacksonville took him and will been all around impact player, even early in his career."
The Titans view McCourty as a solid No. 1 and the Colts feel the same about Davis. Can you compare and contrast them?
"I think both are good cornerbacks, but neither is truly a No. 1. To me, Davis is more talented and more equipped to play coverage against the opponent's No. 1 receiver, but also is more inconsistent overall."
Can you rate the nickel situations?
"Butler has played well at times for the Colts, but I would say they are a little deficient when they go to sub packages, where Tennessee should be in better shape with their top three corners, as I think Wreh-Wilson should do a fine job (despite some rookie struggles) on the outside in nickel, but this makes the Titans' slot situation very good."
As for me…
Jackson really blossomed last season when Joseph dealt with a bunch of injuries. If a healthy Joseph returns to form, they could be one of the best cornerback duos in the league. I've written about Reed's swagger and like Williamson, I expect he'll have a great effect even if he isn't always playing or isn't playing quite up to his standards.
Pollard has been outspoken and brings an attitude the Titans have been lacking on defense. He's an upgrade for certain on early downs. But George Wilson may be the better overall player. I know the Titans will find snaps for all three of their guys and not just in a three-safety nickel or dime package.
The Colts secondary improvement is likely to hinge on health. Can Toller stay on the field after dealing with elbow, back, foot, hip and hamstring injuries in his first four seasons? Landry has a repaired Achilles but recovered for a complete season last year with the Jets. Without either of them, depth would quickly be tested with guys like Cassius Vaughn or
Joe Lefeged
potentially in nickel and dime packages.
A lot of people are going to have terrible expectations of the Jaguars. But kids can play well quickly in the secondary, and from what I saw at minicamp, Cyprien is my pick for defensive breakout player in the division. Gratz looked good too. Lowery is solid as the other safety. They need cornerbacks to emerge but could surpass expectations.
December, 3, 2012
12/03/12
3:59
PM ET
I wrote just a bit ago about how the Texans really need
Johnathan Joseph
and
Brice McCain
back in action to have a reasonable chance of slowing down
Tom Brady
in New England.
So much for the McCain part of that equation.
Tania Ganguli of the Houston Chronicle
just tweeted
:
#Texans CB Brice McCain had surgery this morning to repair his broken foot. He'll be out about 6 weeks, per a person familiar w/injury.

— Tania Ganguli (@taniaganguli) December 3, 2012
McCain suffered the injury midway through the Texans' win in Nashville on Sunday.
If Joseph returns, the Texans will move on with their two starting corners (Joseph and
Kareem Jackson
) and
Brandon Harris
replacing McCain as the nickel.
If Joseph cannot return, the Texans will be in position to play
Roc Carmichael
or
Alan Ball
, who was out in Nashville with a foot injury, opposite Jackson with Harris as the nickelback.
Joseph played a couple of games earlier this season while dealing with a groin injury and struggled. Even if he's not at full strength coming off a hamstring issue this time, he should be better than the alternatives.
No matter who's available in the secondary, the pass rush will need an effort like it got against Tennessee despite facing better protection and a far better quarterback.
December, 2, 2012
12/02/12
8:36
PM ET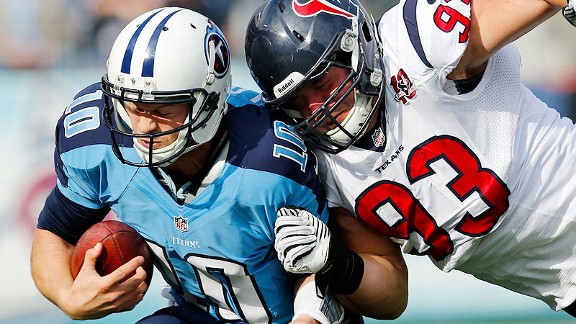 AP Photo/Joe HowellJared Crick and Houston's defense knocked Jake Locker around on their way to a playoff berth.
NASHVILLE, Tenn. -- No champagne. No confetti. No cartwheels.
The
Houston Texans
left Tennessee happy, for sure. They weren't about to pretend that clinching a playoff berth didn't mean something.
But after a 24-10 victory over the
Tennessee Titans
, the Texans talked about it as a first step.
A year ago they were a breakthrough team, earning a surprising division title thanks to the combination of solid play and the
Indianapolis Colts
' collapse as
Peyton Manning
missed the season.
This year, the Texans were big favorites to win the division and make some noise in the playoffs a year after making the franchise's first appearance and winning its postseason first game.
"We expected it," said defensive lineman
J.J. Watt
, the first player in league history to record 15 sacks and 15 pass break-ups. "We're happy about it. But we're not satisfied by it by any means."
Qualifying for the postseason is a big deal, and doing it in Week 13 is especially good.
"We know we're a good team, it wasn't just a fluke year and we can make a run at the whole thing, I think," defensive tackle
Shaun Cody
said. "Our next goal is clinch [the division], then to get home field. We'll knock down one at a time."
A few developments of note for both teams out of the Texans' semi-suffocating win:
Depth remains a primary feature:
Outside linebacker
Brooks Reed
missed the first of what's likely to be at least three games with a groin injury, which prompted a shuffle that put rookie
Whitney Mercilus
at weakside linebacker in the base defense.
He accounted for two of Houston's six sacks. That pass pressure was a necessity considering the Texans started off without starting corner
Johnathan Joseph
and backup corner
Alan Ball
. They also lost
Brice McCain
, the guy who started on the right side, to a foot injury.
With
Brandon Harris
and
Roc Carmichael
seeing the first significant and meaningful playing time of their careers, the coverage was softer in the second half. That disruptive front batted four of
Jake Locker
's passes, two of which turned into interceptions.
Linebackers and defensive backs stayed tight on receivers and tight ends when the game was in any doubt, and came away with an additional 12 passes defensed -- including two by Harris and one by Carmichael.
"Everybody's in the same room, same meetings and we raise them a certain way," safety
Glover Quin
said of the ability of young guys to step in. "That's just what we do."
Rookie receiver
DeVier Posey
is not in that meeting room, and coach Gary Kubiak said he would have been next in line to play as a corner if the team needed someone extra.
A turn for the Texans' defense:
In overtime wins in Week 11 and 12, the Texans were very reliant on the offense. A versatile team that's capable of winning in multiple ways didn't have a problem with that. But the defense was anxious to return to the form it has shown earlier in the year.
Houston took the ball away six times, thanks to three interceptions and three fumbles. Following two of those turnovers, the offense had to move all of 7 yards to collect 10 points. A fumble recovery by
Antonio Smith
was ridiculously blown dead or there would have been another 7, as he wasn't going to have much trouble with a big return for a score. A 45-yard punt return set up a 20-yard touchdown drive.
"The defense played great," Watt said. "It's what we've been looking for the last couple weeks and obviously we had some struggles. But today is what we're used to, the way we're used to playing: turnovers, momentum swings, big plays. That was our defense."
Said Kubiak: "You come in here missing some key defensive players and you think you have got to play really well offensively. And we turn around and may have played as good a defensive game as we have played this year."
Locker was rattled:
It's great that Titans second-year quarterback Locker shows great resolve and toughness and that he doesn't give up. And I completely understand why the Titans tout those qualities in a player who still deserves plenty of time to grow and mature as well as more help in terms of protection and guys making catches for him.
But he wouldn't need as much resolve if he threw more accurately, ran more freely and did more well early on. Yes, there will be ups and downs in every game and you want your guy to survive the downs. You also need fewer downs.
Titans coach
Mike Munchak
said Locker was rattled early.
Locker was just 8-for-22 in the first half for 96 yards, with the two tipped-ball picks and a passer rating of 12.7.
"I think he was pressing," said Dowell Loggains, who took over as offensive coordinator early in the week. "I think he wanted to play perfect. I think this game meant a lot to him, he was really invested in what we were doing and he tried to play too perfect."
Killer mistakes:
Tennessee obviously made far too many mistakes to have a chance to win this one. All week the Titans talked about how they couldn't afford to let the Texans march to a touchdown right out of the gate, and head off to build a lead.
But on the sixth play, Titans safety
Michael Griffin
did what he does so often -- took a bad angle and tried to do more than he needed to. He could have shoved
Lestar Jean
out of bounds after a middling gain. Instead, he flew by and Jean raced 54 yards for a touchdown to give the Texans that game-opening score Tennessee wanted so much to avoid.
Other mistakes that weren't turnovers or sacks allowed killed drives, too, such as substitute offensive guard
Kevin Matthews
' penalty for holding Smith with 7:26 remaining in the game. Locker made a great run for a 28-yard gain that had the potential to rally his offense. But the penalty moved the Texans from the Houston 49-yard line back to the Tennessee 13.
"We'd gotten back into a rhythm and I think we all believed at that point we were going to win the game, get back into this thing, make it a seven-point game," Loggains said. "He makes a heck of a run and it gets called back because of a penalty. That's frustrating."
Foster's pace is fine:
Remember early in the year when there was much hand-wringing about Arian Foster's workload? He was going to wind up with 400 carries and that was going to prove catastrophic.
I suggested there would be days when the Texans didn't need to rely on him so much, like this one. He had 14 carries, and so did
Justin Forsett
. Foster is now on pace for a reasonable 348 carries -- just 21 more than he had last season.
And odds are at least one game at the end of the regular season isn't going to mean anything, which means he could get zero carries in that game and really reduce the total.
"We talked about kind of rotating a little more toward the end of the season," Foster said. "But when they need me to carry the load, I'll be ready to go.
"You always want the ball. I'm a competitor, I want to play. But I understand the big picture."
November, 11, 2012
11/11/12
7:24
PM ET
CHICAGO -- Weather's going to be a big issue tonight at Soldier Field.
The rain outside the press box window is moving sideways and the flags on top of the stadium and a top the goal posts are screaming "It's swirling." Every time I look at them they are going different directions, and one end of the stadium is different than the other.
The Texans will be working without one of their top weapons, tight end
Owen Daniels
, who's sidelined with a back injury.
Garrett Graham
is a capable replacement, but hardly as dynamic. Fullback
James Casey
, who's really an H-back, has the best hands on the team and will likely be a factor in the passing game too.
Quarterback
Matt Schaub
, kicker
Shayne Graham
and punter
Donnie Jones
will all have issues with the wind, as will their Bear's counterparts
The full list of inactives:
Texans
Bears
October, 21, 2012
10/21/12
11:44
AM ET
HOUSTON -- The question is the same today as it was during the week.
Texans cornerback
Johnathan Joseph
will play, but how well? His groin injury hurt his performance in Houston's last two games, a win at the Jets and a loss to the Packers.
He didn't do much this week as the team looked for rest to help him get back to form. Before the injury, he ranked as one of the most effective corners in the league.
How much he's able to contribute to preventing big plays from
Torrey Smith
and
Anquan Boldin
is likely to be a giant storyline as the Texans and Ravens vie for AFC supremacy.
Outside linebacker
Terrell Suggs
is active for the Ravens but will not start. How much he contributes after his quick return from a torn Achilles is another big story in this very big game.
The inactives:
Texans
Ravens
October, 8, 2012
10/08/12
7:42
PM ET
EAST RUTHERFORD, N.J. -- It's 52 degrees and expected to rain at MetLife Stadium during the Texans-Jets game tonight.
Such weather might hurt the Texans pass game, but the Texans run the ball more than anyone else in the league. So Houston won't have a problem adjusting the play-calling if the elements dictate it.
But Ben Tate won't be available to ease the workload of
Arian Foster
. Tate is out with a toe injury, meaning
Justin Forsett
is the No. 2 running back.
The Jets are far more banged up, with cornerback
Darrelle Revis
and receiver
Santonio Holmes
out for the year and four other starters out tonight. Rookie receiver
Stephen Hill
, tight end
Dustin Keller
, fullback John Connor and defensive tackle Sione Po'uha are all out.
A New Jersey native, this is my first time at the new Stadium.
Giants Stadium was still pretty new when my family arrived here, so I feel pretty old. It's a nice building. That feels like a tighter, more vertical version of Giants Stadium. Of newer stadiums, it's most in the style of Baltimore.
Here are the complete lists of inactives:
Texans
Jets
September, 30, 2012
9/30/12
11:43
AM ET
HOUSTON --
Kendall Wright
and
Damian Williams
will see increased time as targets for
Jake Locker
today as the Titans visit the Texans.
Kenny Britt
is out with an ankle injury, putting a dent into Tennessee's pass game, which will likely have to play well in order for the Titans to pull an upset.
The Texans remain healthy, and the only inactive of note is receiver
Lestar Jean
. His absence means
DeVier Posey
could get some chances, especially if they are ahead big.
The complete list of inactives:
Titans
Texans
August, 25, 2012
8/25/12
11:18
PM ET
There isn't a coach in the league who's OK with fumbling. There may not be a coach in the league who's less OK with it than Gary Kubiak.


So while
Keshawn Martin
is assuredly part of the Texans, the rookie receiver might have hurt his chances to be on the field early in the season with two lost fumbles over the course of the Houston's
34-27 loss
in New Orleans on Saturday night.
Return man
Trindon Holliday
was having a great preseason. But he comes out of Week 3 of the preseason as no sure thing after losing one fumble that was scooped for a touchdown return and dropping another return chance which he managed to recover as he went out of bounds. Those will be measured against an electric 64-yard kickoff return later in the game.
A few other notes out of the game:
May, 12, 2012
5/12/12
10:08
AM ET
Marcus from Houston writes:
I just wanted to mention that the Texans NEED a better CB. I was so angry with them for not getting
Carlos Rogers
, or
Asante Samuel
.
Michael Jenkins
is available for trade, we need to get SOMEBODY.
Kareem Jackson
is awful, he is the reason we lost to the Saints last year,
Lance Moore
was such an easy target for Brees. Jackson gives everyone SO much space. I don't care how good your pass rush is, if Kareem Jackson is your second best CB, then good luck beating guys like
Peyton Manning
,
Matt Hasselbeck
,
Tom Brady
, etc. Jackson is AWFUL. My main focuses were getting rid of Jones (which we finally did),getting a better WR to back up Andre (which we did), getting a corner (got rid of one), aiding the pass rush (which we did), and signing Keenum after the draft (which we did). No one I know is saying we need a CB, I just want to know that I'm not the only guy in this city that realizes this.
Paul Kuharsky:
So you had a five-item wish list. Your team gave you four of the five things you wanted (including a third- or fourth-string QB unlikely to be relevant any time soon) and you're upset?
The Texans think Jackson is a starter. Certainly they can upgrade, but it's time to come to terms with the fact they aren't seeking a new starting corner. I'd change your focus to hoping
Brandon Harris
or
Roc Carmichael
can become the sort of safety blanket
Jason Allen
was or that someone else can emerge in that role.
Jackson can still get better. And the Texans aren't going to brand him a mistake in his third year.
---
David from Ponte Vedra Beach, Fla., writes:
I know it's hard but I'd appreciate it if you would continuously research information about each team so you don't have to repeat the same information in each of your blog posts.(Anger and O-line needs) I know the Titans are your exception, but as for the Jaguars no OT would have filled a need except to be a jar on a shelf.(although they did get Brewster from Ohio State) Please take the "jaguars always are an easy target" out of your head because of one mid round draft pick who is going to start next year. If the Jaguars want respect i know it starts with winning but blowing up non important stories based on your own perspective only serves to be a laser pointer to direct others towards your self serving prophecy/laughathon. I like your hard working analysis but would appreciate it if your changed your attitude, so it can change your behavior for the equal balance of all teams in this division blog.
Paul Kuharsky:
Themes emerge for teams and get revisited.
Blaine Gabbert
needs to be better for the Jaguars in 2012 for them to get any better. It's hard not to hit on that regularly.
Similarly, the choice of a punter such as
Bryan Anger
in the third round remains a conversation topic. I field questions about it. It comes up in draft review.
I disagree that a third-round offensive lineman would be a jar on a shelf. If
Eben Britton
gets hurt again -- and he's been hurt a lot -- you're looking at
Guy Whimper
playing again. If you don't think they could have made a significant upgrade on Whimper with a third-round pick, you and I have a fundamental disagreement.
I think you're doing what you accuse me of doing and not researching your information if you think I default to the Jaguars being an easy target.
I think you'd be hard-pressed to find someone regional or national who regularly defends the team as I do -- on Gabbert (too soon to call him a bust), on the tarps (EverBank is still bigger than Soldier Field), on the team's stability (beating down the lazy Jags-to-L.A. talk), on the quality of the defense (which I think can be excellent), etc.
As for the blog being heavy on my perspective ... my own perspective is what is offered here. That's why my name and picture are on the page, right?
---
Josh in Houston writes:
I keep hearing a lot of people say that
Rashad Butler
will be better suited for RT than he was as LT filling in for
Duane Brown
in 2010. I also keep hearing a lot of people say that he may be an upgrade in pass protection, but a downgrade in run blocking compared to
Eric Winston
. Do you know what the reasoning is behind these suggestions? Thanks!
Paul Kuharsky:
The left tackle is usually the more technically sound tackle. He might be a bit smaller and a bit more finesse than power. The right tackle tends to be more of a physical guy.
Winston fit with that. The hope is that Butler does, too. I am not so sure.
---
Gerald Ball from parts unknown writes:
Your "the NFC North is better than the NFC East ... look at the QBs" comment was ridiculous.
Eli Manning
with 2 Super Bowl wins versus
Aaron Rodgers
with 1. Advantage: NFC East.
Michael Vick
's 4 Pro Bowls and 2 playoff wins versus
Jay Cutler
's 1 of each. Advantage: NFC East.
Tony Romo
's 3 Pro Bowls and 3 playoff appearances versus 0 and 1 for Matt Stafford. Advantage: NFC East. (Romo wins head to head over Jay Cutler also.) And as for
Christian Ponder
, he'd lose a head to head competition for a starting QB job to
Rex Grossman
AND for draft position to
Robert Griffin
III. Granted, the NFC North QBs are generally younger so there is more potential down the line for that group, but the NFC North has a better, more accomplished group of QBs TODAY.
Paul Kuharsky:
I'll take Aaron Rodgers,
Matthew Stafford
and Jay Cutler as my divisional quarterback trio over Eli Manning, Michael Vick and Tony Romo or Robert Griffin. Overall they are younger, have more upside and are tougher to defend. (Manning's excellent, obviously.)
But I'll take the NFC North over the NFC East. The Giants went on a fantastic run last year and deserve full credit. But the Packers are a better team as we start 2011. Detroit, and probably Chicago, look better to me now than Philadelphia or Dallas.
I can't help how I feel.
---
Rick Grayson from Spring Branch, Texas, writes:
How do you keep your job? I just told ESPN to hire bloggers for each individual team instead of biased cue balls like you. Titans this and Titans that.... blah, blah, blah.
Paul Kuharsky:
I'll try to be better.
Particularly appreciate how you brought specifics for me to consider.
Thanks, to you and everyone, for reading and taking the time to write.