AFC South:

Rolando McClain
April, 7, 2011
4/07/11
1:10
PM ET
»
NFC Draft Watch
:
East
|
West
|
North
|
South
»
AFC
:
East
|
West
|
North
|
South
Each Thursday leading up to the NFL draft (April 28-30), the ESPN.com NFL blog network will take a division-by-division look at key aspects of the draft. Today's topic: History in the spot.
Houston Texans

2010: OT
Anthony Davis
(49ers)
2009: LB
Aaron Maybin
(Bills)
2008: DB
Leodis McKelvin
(Bills)
2007: LB
Patrick Willis
(49ers)
2006: QB
Jay Cutler
(Broncos)
2005: LB
DeMarcus Ware
(Cowboys)
2004: QB
Ben Roethlisberger
(Steelers)
Last year at No. 11, the 49ers got Rutgers offensive tackle Davis, who started every game on the right side. Maybin, taken in the spot in 2009, is on the hot seat in Buffalo, where he's not come close to expectations. In 2007, the 49ers got the excellent middle linebacker Willis 11th, when the Texans took defensive tackle
Amobi Okoye
the spot before. The verdict on Cutler is still to be determined, while Ware is a superstar and Ben Roethlisberger has won two Super Bowls. Other hits since the NFL-AFL merger include
Michael Irvin
,
Dwight Freeney
and
Leon Searcy
. Other misses:
Ron Dayne
,
Michael Booker
.
Indianapolis Colts

2010: WR
Demaryius Thomas
(Broncos)
2009: WR
Percy Harvin
(Vikings)
2008: RB
Felix Jones
(Cowboys)
2007: QB
Brady Quinn
(Browns)
2006: LB
Manny Lawson
(49ers)
2005: WR
Mark Clayton
(Ravens)
2004: QB
J.P. Losman
(Bills)
Last year's 22nd pick, Denver receiver Thomas, caught 22 passes and scored two touchdowns. Minnesota grabbed receiver Harvin in the spot in 2009 and he's one of the game's most dynamic players already. Quinn didn't cut it in Cleveland and ranks third now in Denver, and Losman didn't solve Buffalo's quarterback issues. The last time the Colts were in this spot, they took receiver
Andre Rison
in 1989. He played only one season for the franchise, but in 12 years he amassed more than 10,000 receiving yards and caught 84 touchdowns.
Jacksonville Jaguars

2010: DE
Derrick Morgan
(Titans)
2009: LB
Larry English
(Chargers)
2008: CB
Dominique Rodgers-Cromartie
(Cardinals)
2007: DT
Justin Harrell
(Packers)
2006: CB
Jason Allen
(Dolphins)
2005: DT
Travis Johnson
(Texans)
2004: OT
Shawn Andrews
(Eagles)
Morgan went 16th to Tennessee last year, but suffered a season-ending knee injury early on. Rodgers-Cromartie had a big rookie season in 2008 as the Cardinals went to the Super Bowl. Pittsburgh safety
Troy Polamalu
was a huge find at the spot in 2003 and
Jevon Kearse
set a rookie record for sacks and led Tennessee to the Super Bowl in 1999. But others in the recent past like Allen, Houston's Johnson and Cleveland running back
William Green
hardly lived up to expectations.
Dan McGwire
, a big quarterback bust for Seattle, also went in the spot in 1991. But anyone thinking the Jaguars can't hit a home run should know that a guy rated by many as the greatest player of all time,
Jerry Rice
, was selected 16th in 1985.
Tennessee Titans

2010: LB
Rolando McClain
(Raiders)
2009: OT
Eugene Monroe
(Jaguars)
2008: DE
Derrick Harvey
(Jaguars)
2007: DE
Jamaal Anderson
(Falcons)
2006: S
Donte Whitner
(Bills)
2005: S
Antrel Rolle
(Cardinals)
2004: CB
DeAngelo Hall
(Falcons)
McClain went to Oakland eighth last season and was second on the Raiders in tackles his rookie year. Jacksonville had the spot the two years before that. The Jaguars think they got a long-term left tackle in Monroe, but Harvey might be done already.
Jordan Gross
is a topflight tackle for Carolina and receiver
Plaxico Burress
was a Super Bowl hero for the Giants. But receiver David Terrell busted for the Bears, receiver
David Boston
didn't fare much better in Arizona and running back
Tim Biakabutuka
was a dud for the Panthers. Sam Adams' long career clogging up the middle as a defensive tackle started in Seattle. The last time the Titans had this pick, they landed Hall of Fame guard
Mike Munchak
, who's now the team's coach.
April, 23, 2010
4/23/10
12:24
AM ET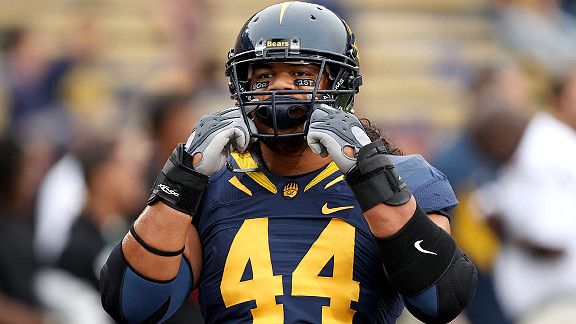 Ezra Shaw/Getty ImagesThe reaction to Jacksonville's selection of Tyson Alualu could change from shock to awe over time.
Set your board. Stick to your board. Build with a foundation first. Trust what you see.
With the first pick of his second draft, Jaguars general manager Gene Smith looks to have stuck to his tenets, outside opinion be damned.
Picking for a team that's struggled to sell tickets and generate excitement, Smith wasn't necessarily expected to take anyone flashy.
But Jacksonville wasn't expected to take Cal defensive tackle
Tyson Alualu
either.
And that's kind of the point here.
Owner Wayne Weaver wasn't looking for pizzazz when he installed the low-key Smith, a scout who'd been with the team since it started in 1994, as GM last year. He was looking for solid football acumen and a steady hand.
The rushed judgments will say the Jaguars reached for Alualu. When Jacksonville is on the clock, Smith is obligated to factor in how a favored player is valued by the rest of the league. Count me among those who believed they liked
C.J. Spiller
and
Rolando McClain
. If, with those two gone, Alualu was the best player on the Jaguars' board and they stayed true to their months of homework, well despite our inclination to snicker, we have to wait and see just what they got.
"I don't mind defending players that I feel very strongly about because I understand where you're coming from, I do," Smith told Jacksonville reporters. "There will be questions on this guy. He wasn't certainly in everybody's mock draft at the top end of the first round but he was certainly on our draft board.
"And again we're going to allow the body of our work drive our decision-making and with all due respect, I feel very confident that this guy will come in and be what we want to help our team to get to where we want to go."
Said coach
Jack Del Rio
when asked about selling Alualu to Jaguars fans: "I think we have to trust our work, and then people have to trust the people doing the work."
Smith is the son of a construction man, and talks over and over about building a foundation. His first draft featured a first- and second-round one-two punch of offensive tackles
Eugene Monroe
and
Eben Britton
.
Jacksonville is now at least four-deep on the interior defensive line. A fading, 31-year old
John Henderson
may now be available via trade. Last year's third-round choice
Terrance Knighton
is a solid run stuffer and journeyman Attiyah Ellison earned a new contract with his showing last year.
Alualu, who is of Samoan decent and grew up in Hawaii, is married with two kids and not far from a degree in ethnic studies from Cal. He said the Titans and the Patriots rated as the two other teams that showed the most interest in him.
He's never been to Florida. But one day not too far in the future he'll be in the Sunshine State to sign a deal that includes a signing bonus well beyond what would have come where he was projected -- in the late-first or early-second round.
The two long-time lead dogs in the AFC, New England and Indianapolis, don't typically draft in line with outside opinion and it's worked out fine for them.
Don't get me wrong: Smith doesn't have the skins on the wall of Bill Belichick or Bill Polian.
But if you want to try to find certain qualities to build around and not fall victim to what one AFC South Blog reader and great debater, Nathan Cherolis, recently called "a common mind set among the decision makers that blinds them in areas."
So what if it's Smith and his scouting department that saw this clearly, and it's all the teams that valued Alualu less that were blinded to an accurate value? Then we won't be talking about a reach when the fair time frame for evaluating arrives. We'll be talking about Smith's courage and praising him for how bold he was.
"I'm not trying to win a popularity contest," Smith said. "I'm trying to win a Super Bowl and I feel like he's someone that can help us do that… "He'll bring a lot of energy. He's a type of player on the defensive side that inspires others…
"He's got a lot of the things that you look in a defensive lineman at this level, a guy that can be a force inside. Maybe for a scout it's probably a little easier to understand because we have a little bit more knowledge of him throughout his career. I certainly embrace the questions and trying to get more knowledge about Tyson because I'm excited to have him, again, a part of this team."
Everyone's looking for outside-the-box thinkers, people who don't fall easily in line with conventional wisdom, who can make the case for something original. But when we see someone who might be trying to set such a course, we are appalled and offended by his straying from the pack.
Remember the horror when the Titans picked
Chris Johnson
? What about the outcry over
Mario Williams
?
When I texted a scout about how early he felt 10th overall was for Alualu, his first reply was one word, a reaction much the same as mine: "Wow." He later said his team expected Alualu to be drafted in Friday's second round. Another AFC insider said he loved Alualu as a player, but also figured he'd be a Friday guy.
I don't picture Smith flinching at such reactions or caring much about them.
He's got a window -- three or four or five years -- to build a small-market team into an efficient one that can contend with mighty Indianapolis, budding Houston and steady Tennessee in the AFC South.
To do so, Smith's clearly going to stick his neck out.
If it gets chopped off, so be it. But let's not swing the axe just yet. Please, not yet.
April, 22, 2010
4/22/10
8:52
PM ET
The Jacksonville Jaguar's first-round selection of defensive lineman Tyson Alualu, 10th overall, set off gasps in New York, North Florida and around the country, ranking as the first major surprise of the 2010 draft.
[+] Enlarge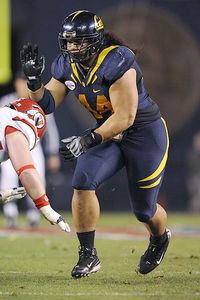 Matt A. Brown/Icon SMIThe Jaguars select Cal defensive lineman Tyson Alualu with the No. 10 pick.
Mel Kiper -- who I know is not the end-all or be-all -- said it qualified as a reach by half a round, or roughly 16 picks.
Alualu is a versatile defensive lineman out of Cal who's projected as a
Darnell Dockett
type of player. He can stuff the run and rush off the edge.
Jacksonville may have liked running back C.J. Spiller and I feel sure they liked Rolando McClain. With them both off the board, the players available at the No. 10 included ends Derrick Morgan and Jason Pierre-Paul or safety Earl Thomas.
Instead the Jags, who were sure to be trying to trade down, went with Alualu.
GM Gene Smith was not afraid to stray from convention last year, though he waited until the second and third rounds, where he did well in selecting
Eben Britton
,
Terrance Knighton
and
Derek Cox
. All those guys are on track to be long-term contributors.
Write-ups make Alualu sound like a quality leader with the sort of personality Smith likes.
He may need to be just that to match or surpass the expectations the Jaguars just created for him.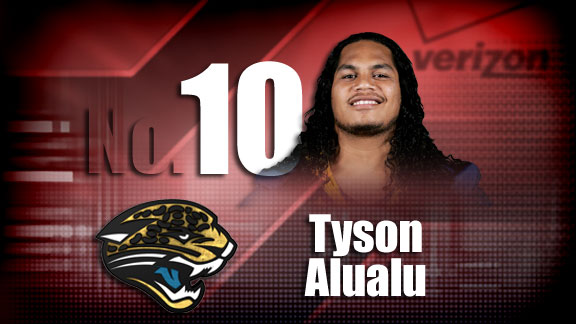 April, 22, 2010
4/22/10
3:43
PM ET
A lot of you send me notes asking for dirt on the other bloggers. I remain true to our code: Rip Tim Graham, protect all others.
These guys are very handy when I need someone to have a beer with the night before an NFL event, or if I want to poach an idea for a post.
So I have pilfered
this one
from NFC South ace Pat Yasinskas.
Here are four guys and one group of guys from the AFC South who should probably be a little nervous about what unfolds in the draft, though I am sure they are all saying bring it on.
Shaun Cody.
The Texans need interior push, and they didn't get enough of it with Cody starting alongside
Amobi Okoye
. The rush ends,
Mario Williams
,
Antonio Smith
and
Connor Barwin
-- need the help. While Smith kicks inside some, the Texans will be looking for an inside presence who can get in the backfield. (And if Okoye isn't better alongside that guy, the clock on him starts ticking faster and louder.)
David Thornton.
I believe the Titans believe he has reached his breaking point. Literally. His body can't hold up any longer. I expect they will go with
Will Witherspoon
,
Stephen Tulloch
and
Gerald McRath
as their starting trio. Draft a good linebacker who can provide athleticism and Thornton could become more expendable. (No, I don't see them re-signing
Keith Bulluck
.)
Clint Ingram.
Daryl Smith
is an up-and-comer and
Justin Durant
can play. But the Jaguars appear primed to add another linebacker to complete the starting group. I can see them pouncing on
Rolando McClain
if he's available at No. 10. Which wouldn't bode well for Ingram, a restricted free agent who's not yet signed his tender but is working out with the team.
Charlie Johnson.
He's signed his tender and is going to remain a versatile offensive lineman who has the coaches' confidence. But the team could well grab a left tackle type who's a better run-blocker than Johnson early in the draft. That could kick Johnson inside or it could mean he's back to the top sub.
Texans' interior offensive linemen.
They ended the season with
Kasey Studdard
at left guard,
Chris Myers
at center and
Chris White
at right guard.
Mike Brisiel
will be back from injury, they've signed
Wade Smith
as a free agent and
Antoine Caldwell
should be better in his second season. Another interior guy in the draft will set off a full-fledged competition with some incumbents on the roster bubble.
April, 21, 2010
4/21/10
1:00
PM ET
»
NFC dream/Plan B
:
East
|
West
|
North
|
South
»
AFC
:
East
|
West
|
North
|
South
»
Draft Watch
:
Biggest needs
(2/17) |
Busts/gems
(2/24) |
Schemes, themes
(3/3) |
Recent history
(3/10) |
Needs revisited
(3/17) |
Under-the-radar needs
(3/26) |
History in that spot
(3/31) |
Draft approach
(4/7) |
Decision-makers
(4/14) |
Dream scenario/Plan B
(4/21)
Each week leading up to the NFL draft (April 22-24), the ESPN.com blog network will take a division-by-division look at key aspects of the draft. Today's topic: Dream scenario/Plan B.

Houston Texans
(Overboard) Dream scenario
: Running back
C.J. Spiller
falls to them, but I cannot see that happening and I don't see safety
Earl Thomas
lasting either. Next best is that they are in position to choose running back
Ryan Mathews
. He could work every down if needed and will be able to earn the tough yard and hold on to the ball in a way no one could last season, when the offense was very good despite its running woes.
Plan B
: Mathews is gone and they get a cornerback like
Devin McCourty
or
Kyle Wilson
. My inkling is that McCourty could be the guy in this situation.

Indianapolis Colts
(Overboard) Dream scenario
: Center
Maurkice Pouncey
somehow lasts, giving the Colts a big interior presence who could help at guard and eventually succeed
Jeff Saturday
. Next best is that they find another lineman who's especially well suited to what the Colts do, but brings a bit more size. That could be
Rodger Saffold
, who seems to project as a very good left tackle for them.
Plan B
: A speedy defensive end in the mold of
Dwight Freeney
and
Robert Mathis
. TCU's
Jerry Hughes
fits the bill.

Jacksonville Jaguars
Dream scenario
: Someone wants the Jaguars' No. 10 pick and offers a deal that drops them down in the first round and gets them a second-rounder, which they currently lack. They'd be happy to dip down and still find a defensive end, defensive back or interior offensive lineman.
Plan B
: If they stay put, linebacker
Rolando McClain
could be too good to resist 10th overall. He can be a consistent playmaker and a face-of-the-defense guy for a team that's still looking to develop its personality.

Tennessee Titans
Dream scenario
: Get a trade offer, move back to regain a second-round pick and still be able to add a defensive end (
Sergio Kindle
?) or cornerback (McCourty?) early on. If they stay at 16, they'd love to see a run at offensive tackle ahead of them and
Jimmy Clausen
go off the board by the time their turn comes. I think they'd be happy with
Jason Pierre-Paul
or
Brandon Graham
.
Plan B
: Wilson, who'd have a chance to earn a spot as a starter opposite
Cortland Finnegan
.
April, 20, 2010
4/20/10
12:09
PM ET
In recent days, I asked two AFC scouts and two guys with scouting backgrounds who are now in the media the same 12 questions.
As we count down to Thursday, here's the second of four posts with their answers, which are largely a lesson in how many different views there can be on the same subjects. (Check out part one
here
.)
Segment two focused on matchmaking.
The perfect fit for the Jaguars that you expect to be available at No. 10 is?
Scout A:
Rolando McClain
or
Jason Pierre-Paul
Scout B:
Pierre-Paul
Matt Williamson, Scouts Inc.:
Honestly, I really don't think that there is such a thing. The Jags are in no-man's land. But if I had to pick one, I would take
Earl Thomas
.
Daniel Jeremiah, movethetticks.com:
Pierre-Paul
The perfect fit for the Titans that you expect to be available at No. 16 is?
Scout A:
Derrick Morgan
or
Brandon Graham
Scout B:
Sergio Kindle
Williamson:
Graham
Jeremiah:
Graham
The perfect fit for the Texans that you expect to be available at No. 20 is?
Scout A:
C.J. Spiller
or Thomas
Scout B:
Kyle Wilson
Williamson:
This is a tough one and they should be very happy with
Dan Williams
, Thomas, Wilson or
Ryan Mathews
. But if I only get one, I will also go with Thomas, but I don't love his chances of still being on the board.
Jeremiah:
Kareem Jackson
The perfect fit for the Colts that you expect to be available at No. 31 is?
Scout A:
Maurkice Pouncey
or
Jared Odrick
Scout B:
Rodger Saffold
Williamson:
Saffold
Jeremiah:
Pouncey
April, 16, 2010
4/16/10
12:06
PM ET
The fine folks at ESPN Stats & Information provided predraft reminders of some sore spot issues. Here's my take on their info, with what these numbers could prompt each team to do to address them in the first round:
Jaguars, No. 10 overall

Problem:
The Jaguars sacked the quarterback just seven times when sending four or fewer rushers in 2009, the fewest in the without an extra rusher.
Potential solution:
End
Derrick Morgan
would be a nice piece to go with
Aaron Kampman
and
Derrick Harvey
as the Jaguars look to be more threatening.
Problem:
The Jags allowed one sack for every 11.9 pass attempts against four or fewer rushers in 2009, the third worst rate in the league.
Potential solutions:
Guard
Mike Iupati
might be a bit high here and would come a year after the Jaguars spent their first and second picks on offensive tackles. Center
Maurkice Pouncey
could be had a bit later in a trade down and would be an upgrade over
Brad Meester
.
Titans, No. 16 overall

Problem:
Tennessee allowed 4.5 yards per rush on attempts in the middle of the field, the second-highest average in the league.
Potential solution:
Linebacker
Rolando McClain
. But I see them counting on better play from interior linemen and the continued growth of middle linebacker
Stephen Tulloch
.
Problem:
The Titans allowed opponents to complete 31 of their 64 attempts of 21 or more yards downfield in 2009 -- the most completions allowed on attempts over 20 yards in the NFL.
Potential solutions:
Cornerbacks
Kyle Wilson
or
Patrick Robinson
could start at some point in 2010 opposite
Cortland Finnegan
.
Texans, 20th overall

Problem:
Houston recorded just 12 sacks with four or fewer rushers in 2009, tied for the second fewest in the NFL. When sending four or fewer defenders after the quarterback, the Texans recorded one sack for every 32.3 pass attempts.
Potential solutions:
They are thinking pass rushing tackle, not an end. But 20 may be too high for
Jared Odrick
or
Brian Price
considering other needs and possibilities. They drafted defensive linemen first in 2005, 2006 and 2007, so this problem is especially frustrating.
Problem:
With eight or more defenders in the box last season,
Steve Slaton
averaged just 1.86 yards per attempt -- the fourth lowest average in the league.
Potential solution:
Running back
C.J. Spiller
won't last, but
Ryan Mathews
sure looks like a guy that can get some yards even against a stacked line.
Colts, No. 31

Problem:
Indy gained an average of 3.9 yards per rush against seven or fewer defenders in the box last season, worst in the NFL.
Potential solutions:
They are looking to work on the blocking, not the backs. Which points to Pouncey or maybe
Rodger Saffold
Problem:
Nearly 14 percent of the touchdowns the Colts' defense allowed last season were against four-wide sets, the highest percentage in the league.
Potential solutions:
Add a healthy
Bob Sanders
and
Kelvin Hayden
to the secondary and put
Melvin Bullitt
and
Jacob Lacey
in nickel and dime situations and things should be a lot better. Though if they like a corner at the end of the first, I don't think they'd hesitate to take him.
AFC SOUTH SCOREBOARD
Sunday, 10/19
Monday, 10/20