March, 7, 2012
3/07/12
6:43
PM ET
What kind of scheme will fit
Peyton Manning
best?
One that's a lot like what he ran while he was with Indianapolis.
We can do a lot of speculating about what's most important to Manning going forward. My belief is a guy who is a creature of habit and loves routine and repetition will be most inclined to go somewhere where he gains a good measure of control. Where the coach and offensive coordinator will be willing to bend things to him. Where he can continue to do the things he's been honing for years.
That's why I don't see Washington as a good fit at all.
[+] Enlarge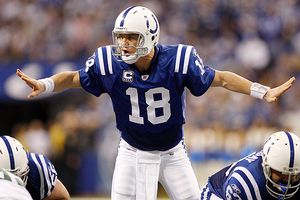 Jerry Lai/US PresswirePeyton Manning would likely do best in an offense that's similar to the one he ran in Indianapolis.
Mike Shanahan is a control freak and his son and offensive coordinator, Kyle, is a chip off the old block. Toss Manning into that mix and there isn't enough control to go around.
Ken Whisenhunt in Arizona has shown a willingness to fit a scheme to a signal-caller. Joe Philbin in Miami is just starting out and would surely be willing to tilt things. Pete Carroll in Seattle seems to be a flexible guy when dealing with big personalities and stars. Romeo Crennel in Kansas City is a defensive guy.
John Fox is intense, but he and John Elway wouldn't jump in unless they would mold things for Manning. And we certainly know they are willing to move away from the offense
Tim Tebow
was running.
"In the end, the chances are that whichever team Manning lands with will incorporate its present offensive system intertwined with what Manning did with the Colts,"
writes Matt Williamson of Scouts Inc

. "Manning's offense in Indy included a zone run-blocking scheme that featured athletic, movement-based linemen, limited personnel groupings and formations, a ton of pre-snap reads, and a timing-based passing attack that thrived after hours and hours of practice time."
I can't give away the store of the Insider piece, so I won't share the order Williamson lists the matches in. We'll go alphabetical as we share some snippets. As a bonus, my blog network brethren have chimed in with a flexibility rating for the coach/staff/scheme. A "10" means the team would hand over the keys to Manning and a "1" means he'd be expected to run precisely what the coaching staff wanted.

Arizona
Williamson:
"This is the offense I would expect to change the most for Manning. Ken Whisenhunt is a very good offensive mind, but his philosophies have changed dramatically in his tenure as head coach, depending on the quarterback he's had at his disposal."
Flexibility index from Mike Sando:
7

Denver
Not on Williamson's list.
Flexibility index from Bill Williamson:
10

Kansas City
Williamson:
"Adding Manning should make the team the clear favorite to win the AFC West, if not more. But, without a quarterback of the future on the roster, if Kansas City swings and misses on this acquisition, it could cost it dearly. Cassel is mediocre, and probably always will be, which could make the Chiefs too complacent in terms of finding a replacement or successor. It's time for them to be aggressive."
Flexibility index from Bill Williamson:
10

Miami
Williamson:
"With Joe Philbin taking over in Miami, the team will be installing an offense very similar to the one in Green Bay, which would fit Manning with all the pre-snap reads it requires. Also, limiting some of the injury risk of signing Manning and putting all the eggs in that basket is that Miami has
Matt Moore
returning. Although Moore is far from elite, you could do much worse as backups go."
Flexibility index from James Walker:
7

New York Jets
Williamson:
"I don't think Manning would put New York over the top because it has problems at right tackle, No. 2 wide receiver and possibly at running back on offense. On defense, the Jets have a hole at safety, at outside pass-rusher and with an inside linebacker who excels in coverage."
Flexibility index from Walker:
10

San Francisco
Williamson:
"Manning wouldn't have to put the entire team on his shoulders in San Francisco. The wide receiver position certainly needs upgrading, but Manning could have a reduced role from his time in Indianapolis -- which might be best for him now -- and consistently get his team into strong play choices at the line of scrimmage."
Flexibility index from Sando:
3.5

Seattle
Williamson:
"With a power ground game, an improving offensive line and some young receiving weapons to work with, Manning might be able to accomplish quite a bit with this offense. If Seattle signs Manning, it definitely could make a run."
Flexibility index from Sando:
8

Washington
Williamson:
I also have some concerns about how well Mike Shanahan would be able to -- and how willing he would be to -- alter his offense, which stresses a move-oriented quarterback, to fit Manning's cerebral skill set.
Flexibility index from Dan Graziano:
3
February, 27, 2012
2/27/12
10:26
AM ET
The tampering rules and the general lack of enforcement of them get some analysts all stirred up.

Crennel
I'm not one of them. Everyone understands how things work, and there is a tacit understanding that preliminary contact takes place between team executives and agents of free-agents-to-be before free agency officially opens.
If the league is going to pick situations to use as examples where penalties are handed out, it should investigate some blatant agent-team contact, not the transcripts of coaches and general managers from the podiums at the NFL scouting combine.
Yes, Chiefs coach Romeo Crennel spoke of
Peyton Manning
. But he prefaced it with an acknowledgement that Manning was off limits and he merely stated the obvious: if a four-time MVP comes available, Crennel and the Chiefs would be crazy not to consider him.
If that
loses the Chiefs a draft pick
, then sign me up with those petitioning for an alteration of the tampering rules.
The comment is not going to have any bearing on what Manning or the Colts do or don't do.
On an issue where there is little enforcement, that should be the standard.
If the rules are going to hit someone for stating the obvious, then they need to be reframed.
February, 26, 2012
2/26/12
11:26
AM ET
INDIANAPOLIS -- Sometimes, stating the obvious becomes news.
And we spend a lot of time here commenting on news, so I thought I'd spend a moment on a couple headlines.
1. Kansas City coach Romeo Crennel said he'd
be crazy
not to consider
Peyton Manning
if the quarterback comes available. Such a comment stirred up the expected mentions of tampering. (Technically, it probably qualifies; practically, it's hardly an outlandish thing for him to have said.)
To me, it'd be a far bigger headline if Crennel said he wouldn't consider Manning. The Chiefs could actually be a good destination for Manning. I think he'd be best going to a team that had a satisfactory situation at QB -- and
Matt Cassel
is satisfactory. Then if Manning's arm rebounds, you get a giant upgrade. But if his nerve regeneration issues linger and his arm strength is an issue, it's not like Kansas City has nothing at the spot.
2. Indianapolis mayor Greg Ballard said his city would
like to host
another Super Bowl.
Again, news that Indy didn't want to host the big game again would have qualified as a far bigger headline.
Of course the city wants the game again and hopes to be part of the regular rotation. It's be difficult to get so fortunate with relatively mild weather again. But otherwise Naptown showed itself to be a superb host with great logistics and hospitality. Add me to the chorus of press saying the city should be a regular in the Super Bowl rotation.
October, 11, 2010
10/11/10
8:19
AM ET
Reading the coverage …
Houston Texans
The Giants
dominated
the lackluster Texans, says John McClain.
It's not just that the Texans lost to the New York Giants 34-10 on Sunday afternoon at Reliant Stadium.
It's how they lost
, says Richard Justice.
The
offense sputtered
all game, says Jeffrey Martin.
Brian Cushing made little difference and
the secondary sputtered
, says Dale Robertson.
Mike Brisiel's injury is
the most serious
new issue for the Texans, says Jenny Dial.
McClain's
report card
.
A lot of people will be
mad about this
, says Justice.
Analysis
as the game unfolded
from Mark Viera.
This creates doubt.
Grave doubt
, says Lance Zierlein.
Where was
the offense
, asks Battle Red Blog.
Indianapolis Colts
The Colts did
just enough
, says Phil Richards.
We still
don't know anything
about this team, says Bob Kravitz.
This was a
Romeo Crennel-induced grind
, says Mike Chappell.
Mike Hart finished
an up-and-down week
well, says Chappell.
Ryan Lilja's return to Indianapolis was
bittersweet
with the Chiefs' loss, says Phillip B. Wilson.
Peyton Manning is still talking about
finding an identity
, writes John Oehser.
Kravitz's
report card
.
Even with
a sluggish offense
, the Colts turned away the Chiefs, says Alex Marvez.
Gregg Doyel examines Manning
appearing human
.
Against the Chiefs, the Colts
couldn't force things
the way they often do, says Jason Cole.
Some
schedule notes
from Nate Dunlevy.
Jacksonville Jaguars
The Jaguars
recovered
from early miscues and won in Buffalo, says Vito Stellino.
Marcedes Lewis
broke free again
, says Tania Ganguli.
Deji Karim made
a positive first impression
, says Ganguli.
Mike Thomas
bounced back
from an early fumble, says Stellino.
Derek Cox got
back in action
when David Jones struggled, says Ganguli.
Gene Frenette and Ganguli discuss the Jaguars' win. (
Video
.)
Gene Smith's guys
led the charge
in Buffalo, says Vic Ketchman.
Tennessee Titans
The Titans' offense had
one of its better days
, says David Climer.
A thrilling win could give the Titans
a momentum boost
, says Jim Wyatt.
Marc Mariani's
big kickoff return
could be a turnaround point, says Climer.
Tennessee got
the big stops
when it needed them, says Wyatt.
Gerald McRath
made an impact
in his first game back from suspension, says Wyatt.
Chuck Cecil
laughed at himself
before kickoff, says Climer.
After the winning score, Chris Johnson sought out
the Cowboys' star
, says Climer.
October, 10, 2010
10/10/10
8:43
PM ET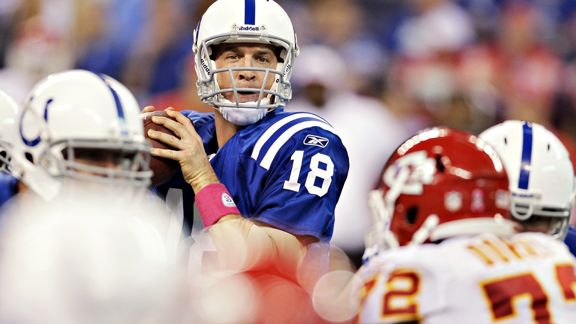 AP Photo/Darron CummingsPeyton Manning had one of his worst games since 2008, but the Colts found a way to beat the Chiefs.
INDIANAPOLIS -- After lots of wins, the Colts and their perfectionist quarterback talk about all the room for improvement.
After Indianapolis'
19-9
win against previously undefeated Kansas City on Sunday at Lucas Oil Stadium, it was more believable than usual.
With a third-string strong safety starting the game and a third-string running back finishing it, a field goal battle felt like it would ultimately hinge on which quarterback would make the bigger play.
It rates as no surprise that
Peyton Manning
outpointed
Matt Cassel
in that regard, but it was hardly a sharp afternoon for the four-time MVP.
As defensive coordinator of the
New England Patriots
from 2001-04, Romeo Crennel helped devise some quality game plans against Manning. In the same capacity for the Chiefs, he revisited some of those successful plans, tweaking them to his personnel and faring pretty well.
En route to 244 passing yards, Manning connected on only 59 percent of his passes with an interception and a sack. He didn't connect on anything longer than 24 yards and wound up with a 65.0 passer rating. That's a touch lower than the rating he put up in that throw-away regular-season finale in Buffalo last season. It was his worst in a game the Colts played to win since Nov. 30, 2008, in an ugly 10-6 win at Cleveland against a team coached by… Crennel.
Manning said it was all set up to test the offense's patience.
Three places Manning usually thrives were cut down by Crennel and K.C., according to ESPN Stats & Information. Manning came into the game with a 112.3 rating out of the shotgun, 116.5 against five defensive backs or more and 113.9 on play-action. Against the Chiefs, those numbers were 59.4, 66.4 and 27.8, respectively.
"We've got some guys that can get open, that can get the job done even when Peyton is off," receiver
Reggie Wayne
said, kind of repeating my premise about Manning being less than his usual self, not offering it himself. "I felt like he did pretty good with what they were giving us. He hung in there and did what he was supposed to do."
The Chiefs loaded up people in coverage, daring the Colts to run effectively.
Joseph Addai
got the ball a lot early on, but wound up with just 50 yards on 17 carries. When Addai suffered a shoulder injury that ended his day,
Mike Hart
took over and got 50 yards of his own on 11 carries.
A 3.1-yard ground average didn't scare Kansas City and won't frighten anyone else. Defenses will be thrilled to take it as a trade-off for limiting Manning if they can.
[+] Enlarge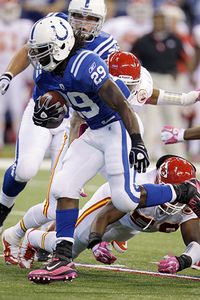 AP Photo/Darron CummingsThe Colts' Joseph Addai struggled for 50 yards on 17 carries before a shoulder injury ended his day.
"I think we're going to have to be patient from here on out until we get our running game going the way it's supposed to," said Wayne, who caught six passes for 75 yards. "Everybody is going to be keying on the pass, forcing us to run. We just have to find a way from here on out. It's going to be tough."
Ultimately, however, the Colts pulled ahead 12-9 in the field goal battle. In the fourth quarter, the Colts drove 12 plays and 71 yards to the game's lone touchdown, on an 11-yard run by Hart with 4 minutes, 2 seconds remaining.
Afterward, the guys on offense were thankful for the defensive effort and efficiency.
Wayne said he didn't think defenders liked an Indianapolis Star story this week. In the print version it was headlined: "What's wrong with these guys?"
"They should have taken offense to it," Wayne said. "It was tough. But they did a great job today. We laid it on them a little bit and the touchdown at the end was something that we really needed."
That defense held the Chiefs to two conversions in 12 third- and fourth-down attempts and kept them out of the end zone.
"The offense had some situations there they couldn't get things totally taken care of this week," linebacker
Clint Session
said. "And we had their back. We took it personal, the way we were talked about."
A few other things I think are worth contemplating:
Next man up:
It's a cliché that the Colts put into action as well as anyone in the league.
Against the Chiefs it was next man up
after that
, with
Aaron Francisco
at strong safety replacing
Melvin Bullitt
, who replaced
Bob Sanders
. The same thing happened at running back, with Hart replacing Addai when he was hurt with
Donald Brown
already out injured.
Francisco was with the Colts last season, but spent camp with Carolina, hadn't played a game this year and was re-signed by Indianapolis on Tuesday.
"I kind of got myself to forget this defense after I went to Carolina and learned the system down there, but I guess after the first practice everything started coming back to me," he said. "It's not really a hard defense to learn. I feel like I did good. I know there will be a lot of things I've got to correct. I think I did enough to help us win, though."
Hart is the smallest of the team's top three backs. Addai was happy for him.
"Mike got a chance to do what he can do," Addai said. "You always trust what he can do because he's a solid player."
Skidding sideways:
Kansas City kicker
Ryan Succop
's game-opening onside kick took a strong left turn and didn't travel 10 yards, resulting in a flag and a Colts' possession starting at the Chiefs' 37-yard line.
I asked several Colts about it. While the answers varied, none said what hundreds of guys on other teams would have taken from it: "They were afraid they wouldn't be able to hang with us and needed a jump-start right at the beginning."
The resulting Colts' drive stalled at the Chiefs' 2, and
Adam Vinatieri
converted the first of his four successful field goals to provide a 3-0 lead.
It was the first onside kick the Colts have faced since the infamous
Garrett Hartley
kick that started the second half of Super Bowl XLIV and swung momentum heavily in favor of New Orleans.
"I was anticipating someone would do it," Colts head coach Jim Caldwell said. "… If you show a weakness at any point in time, at some point and time it's going to come back up. So you better work on it. So that was something we anticipated possibly seeing."
A free three:
As good as the Colts were defensively, they easily could have been 3 points better.
When Addai failed to convert a fourth-and-2 from the K.C. 39, the Chiefs got the ball back with 18 seconds left in the first half.
Kelvin Hayden
hit
Chris Chambers
out of bounds after a 13-yard gain, giving away 15 yards with the unnecessary roughness and helping set up the first of Succop's three field goals.
It's an uncharacteristic sort of play for the Colts, who don't generally give things up so easily.
Had things gone the other way, it would have been near the top of this column instead of at the bottom.
October, 8, 2010
10/08/10
4:00
PM ET
»
NFC Final Word
:
East
|
West
|
North
|
South
»
AFC
:
East
|
West
|
North
|
South
Five nuggets of knowledge about Week 5:
Ninety minutes early:
Sunday at 11:30 a.m., we'll find out just who's OK to play and who's not among the Colts. Crucial guys who could miss action include
Austin Collie
,
Antoine Bethea
and
Jacob Lacey
. Bethea, who has a bad hamstring, almost has to play because the Colts will be digging deep to announce a starter at the other safety spot, where
Brandon King
or
DaJuan Morgan
look to be the primary possibilities. Whoever lines up at strong safety, look for the Chiefs to try to target him in any way possible.
Watch the tight ends:
Aaron Schatz of Football Outsiders says the Giants have the league's best defense against tight ends so far this year while the Texans have the league's
worst defense against tight ends
. Houston's not looked to
Owen Daniels
much, though
Joel Dreessen
's been effective, averaging 17 yards a catch.
Brian Cushing
's return should help the Texans' defensive deficiency against
Kevin Boss
, who has 110 yards on just five catches.
[+] Enlarge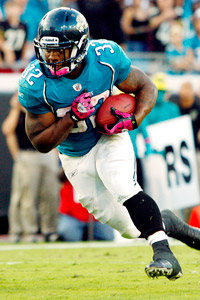 Kim Klement/US PresswireFacing Buffalo's struggling run defense may be just what Maurice Jones-Drew and the Jaguars need.
Packed in Bills:
The Jaguars seem to have accepted that they need to keep the passing game focused on short stuff to give
David Garrard
his best chance to succeed. But by doing so, they might not take defenders deep too often. And by not taking them deep, the run game becomes more difficult for
Maurice Jones-Drew
and blockers who have to deal with more people. Buffalo's dead last in run defense, so it may not be much of a factor at Ralph Wilson Stadium
Get creative:
Outside of some option plays, it doesn't seem like the Titans have been very creative with
Vince Young
this season. Even if he lost the coaches' faith for his poor preparation during Pittsburgh week, it's time to see if they can't find some things to get and keep him in a rhythm. If Young gets off to a hot start, the Cowboys might feel he warrants more attention. If that happens,
Chris Johnson
might break something big.
Not so unfamiliar:
Teams who haven't faced
Peyton Manning
often overestimate what they will be able to do against him. But Chiefs head coach Todd Haley has a defensive coordinator in Romeo Crennel who has gone against the four-time MVP before and I'd expect him to have a reasonable approach. On the other side, the Chiefs have a pair of backs in
Thomas Jones
and
Jamaal Charles
who might be able to pound away at a defense that's had trouble slowing
Arian Foster
and Jones-Drew.
December, 30, 2008
12/30/08
1:18
PM ET
Posted by ESPN.com's Paul Kuharsky
The Texans just announced that three defensive coaches have been dismissed: Coordinator Richard Smith, defensive backs coach Jon Hoke and defensive line coach Jethro Franklin.
Smith was under fire for most of the season, though, his unit played better late in the season when the Texans played less conservatively.
Coach Gary Kubiak once wanted Frank Bush, a senior defensive assistant for the Texans, to be his coordinator. But there will be a great pool to choose from as several former head coaches are available or believed to be on their way to being available.
Rod Marinelli, Eric Mangini, Mike Nolan, Romeo Crennel are already out of work and Gregg Williams worked under a one-year deal as coordinator in Jacksonville. Jim Haslett and Herm Edwards could also become part of the available coordinator pool.
Kubiak is scheduled to talk to the Houston press at 2:30 p.m. and we'll check back once we see what he says.
December, 14, 2008
12/14/08
2:31
PM ET
Posted by ESPN.com's Paul Kuharsky
It comes as no surprise that Gregg Williams isn't going to be back as Jacksonville's defensive coordinator, according to ESPN's Chris Mortensen.
He and Jack Del Rio, both strong-willed coaching personalities, never seemed a good fit for each other. Del Rio is safe because of his big contract, and he's never hesitated to make changes on his staff.
In a normal year, Williams might have hit the market and found a better situation.
But with Mike Nolan already available and other head coaches who could be fired likely to be available as defensive coordinators, it could be a tough market. That list could include names like Rod Marinelli, Romeo Crennel, Jim Haslett as well as less likely possibilities like Herm Edwards, Marvin Lewis and Mike Singletary.
Many will automatically presume Williams will land back in Tennessee, where he worked his way up under Jeff Fisher before leaving to become head coach of the Buffalo Bills after the 2000 season.
Fisher could have an opening if Jim Schwartz gets his first head coaching job. But with such a vacancy, Fisher would also look at strong in-house candidates Dave McGinnis and Chuck Cecil.