December, 19, 2013
Dec 19
10:00
AM ET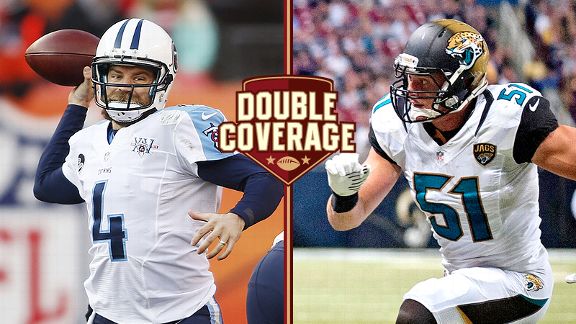 USA Today SportsPaul Posluszny and the Jags are aiming for a season sweep of Ryan Fitzpatrick and Tennessee.
JACKSONVILLE, Fla. -- Maybe
Delanie Walker
shouldn't feel so bad now.
The Titans tight end said he was embarrassed after the Jaguars won 29-27 in Nashville on Nov. 10 to pick up their first victory. Since then, the Jaguars are 3-2 with victories over Houston (twice) and Cleveland. The Titans are 1-4 with a victory over Oakland.
There seems to be much more stability in Jacksonville, too, because of the uncertain status surrounding Tennessee coach Mike Munchak.
Jaguars reporter Michael DiRocco and Titans reporter Paul Kuharsky break down Sunday's matchup at EverBank Field.
DiRocco
: Some Titans players were pretty vocal about being embarrassed due to becoming the first team to lose to the Jaguars. Is that something that still stings, and how have they rebounded from that loss?
Kuharsky
: It definitely left a mark. They are only 1-4 since then. It kind of set a bar for how bad they can be and re-established their propensity to lose to teams that are really struggling. The Jaguars are on an upswing since that game, and the Titans are on a downward spiral. If Tennessee losses to the Jaguars again, the Titans will be in line to finish in third place in an awful division, which is well short of their goals and expectations. The Titans are a better team than they were last year. But losing closer isn't a really big difference in the really big picture.
Let's turn that around. How has life changed for the Jaguars since that Nov. 10 breakthrough?
DiRocco
: I could go into a lot of stats that show how much better the Jaguars are playing, but that's not what's really important. The past six games have been more about the validation of the process, establishing the foundation of the franchise's rebuild, and confidence in the new regime. Coach Gus Bradley never wavered from the plan that he and general manager David Caldwell established. His message stayed the same throughout the eight-game losing streak to start the season: trust in the process, work hard, and focus on improving and not victories, and the victories will eventually come. Because that has happened, the players appear to have completely bought into what Bradley and Caldwell want to do, and there's a confidence in the locker room that the franchise is headed in the right direction.
We talked about
Jake Locker
the last time these teams met, but that was before he suffered a season-ending injury to his foot. How does that change the Titans' outlook on him and are they in the market for a quarterback in the offseason, too?
Kuharsky
: Locker is certain to be on the 2014 Titans. His fourth year isn't that costly and it's guaranteed. But they can't execute a spring option for his fifth year that would line him up for over $13 million. A lot of his fate depends on whether Munchak is back as the head coach. It's possible they go forward with Locker,
Ryan Fitzpatrick
and just-signed
Tyler Wilson
as their quarterbacks. It's also possible they'd draft a new guy, and depending on how high of a pick he could land in competition to start. I think it's less likely they chase a free agent like
Jay Cutler
if he comes free, but they have to assess all the possibilities. How can they completely commit to Locker based on his injury history?
One side effect of the Jaguars' surge is they aren't going to be in position to draft the first quarterback taken. What's your sense of what Bradley and Caldwell want in a quarterback and do you expect one to arrive in the first round?
DiRocco
: Offensive coordinator Jedd Fisch said something interesting last week. He said he wants his QB to scramble around, take off running to get yards and take some chances throwing the football. To me, that sounds like a pretty accurate description of Johnny Manziel. I'm not sure how that reconciles with the ideas of his bosses. Bradley comes from Seattle, which has the mobile
Russell Wilson
. Caldwell comes from Atlanta, which has the considerably less mobile
Matt Ryan
. My sense is that Bradley and Caldwell probably lean more toward the Wilson end of the spectrum. People think that eliminates Teddy Bridgewater, but that's not the case. He's not a runner but he can run if needed. If he's around, I'd expect them to take him. If not, then I would still expect them to go quarterback. It's their most glaring need.
You mentioned Munchak's job status. What's your take on whether he will be back next season -- and should he be?
Kuharsky
: He's shepherded improvement, but his team lacks an ability to finish. He's 0-4 in the worst division in football, 1-9 in the past two years. His teams have lost to the previously winless Jags in 2013 and the previously winless Colts in 2011. He's 4-18 against teams with winning records when the Titans played them and 2-19 against teams that finished the season with a winning record. To me, three years is a sufficient sample size to know what you've got and those numbers are the most telling thing on his resume. Keep him and they deal with all the limitations connected to a lame duck coach. I don't know what Tommy Smith, the head of the new ownership, will do. But the fan base overwhelmingly wants change, if that's worth anything. People still pay for tickets because they've got investments in personal seat licenses they do not want to throw away. But a lot of people are staying home on Sundays now.
Cecil Shorts
is done and
Maurice Jones-Drew
is uncertain. How can the Jaguars threaten on offense without their two best weapons?
DiRocco
: They were able to put up 20 points and post their second-highest yardage total of the season, including a season-high 159 rushing, in last Sunday's loss to Buffalo. Running back
Jordan Todman
stepped up big time and ran for 109 yards (Jones-Drew cracked 100 only once in the first 13 games) and tight end
Marcedes Lewis
was more involved in the passing game than in previous weeks (four catches for 54 yards and a touchdown). But I'm not sure that is sustainable. Teams will certainly concentrate on stopping Lewis and make quarterback
Chad Henne
move the ball with three receivers who have a combined 75 career catches. Todman doesn't scare anyone, either. The Jaguars will have to be creative on offense (they've run gadget plays the past three weeks) and capitalize on every opportunity they get.
April, 7, 2011
4/07/11
1:10
PM ET
»
NFC Draft Watch
:
East
|
West
|
North
|
South
»
AFC
:
East
|
West
|
North
|
South
Each Thursday leading up to the NFL draft (April 28-30), the ESPN.com NFL blog network will take a division-by-division look at key aspects of the draft. Today's topic: History in the spot.
Houston Texans

2010: OT
Anthony Davis
(49ers)
2009: LB
Aaron Maybin
(Bills)
2008: DB
Leodis McKelvin
(Bills)
2007: LB
Patrick Willis
(49ers)
2006: QB
Jay Cutler
(Broncos)
2005: LB
DeMarcus Ware
(Cowboys)
2004: QB
Ben Roethlisberger
(Steelers)
Last year at No. 11, the 49ers got Rutgers offensive tackle Davis, who started every game on the right side. Maybin, taken in the spot in 2009, is on the hot seat in Buffalo, where he's not come close to expectations. In 2007, the 49ers got the excellent middle linebacker Willis 11th, when the Texans took defensive tackle
Amobi Okoye
the spot before. The verdict on Cutler is still to be determined, while Ware is a superstar and Ben Roethlisberger has won two Super Bowls. Other hits since the NFL-AFL merger include
Michael Irvin
,
Dwight Freeney
and
Leon Searcy
. Other misses:
Ron Dayne
,
Michael Booker
.
Indianapolis Colts

2010: WR
Demaryius Thomas
(Broncos)
2009: WR
Percy Harvin
(Vikings)
2008: RB
Felix Jones
(Cowboys)
2007: QB
Brady Quinn
(Browns)
2006: LB
Manny Lawson
(49ers)
2005: WR
Mark Clayton
(Ravens)
2004: QB
J.P. Losman
(Bills)
Last year's 22nd pick, Denver receiver Thomas, caught 22 passes and scored two touchdowns. Minnesota grabbed receiver Harvin in the spot in 2009 and he's one of the game's most dynamic players already. Quinn didn't cut it in Cleveland and ranks third now in Denver, and Losman didn't solve Buffalo's quarterback issues. The last time the Colts were in this spot, they took receiver
Andre Rison
in 1989. He played only one season for the franchise, but in 12 years he amassed more than 10,000 receiving yards and caught 84 touchdowns.
Jacksonville Jaguars

2010: DE
Derrick Morgan
(Titans)
2009: LB
Larry English
(Chargers)
2008: CB
Dominique Rodgers-Cromartie
(Cardinals)
2007: DT
Justin Harrell
(Packers)
2006: CB
Jason Allen
(Dolphins)
2005: DT
Travis Johnson
(Texans)
2004: OT
Shawn Andrews
(Eagles)
Morgan went 16th to Tennessee last year, but suffered a season-ending knee injury early on. Rodgers-Cromartie had a big rookie season in 2008 as the Cardinals went to the Super Bowl. Pittsburgh safety
Troy Polamalu
was a huge find at the spot in 2003 and
Jevon Kearse
set a rookie record for sacks and led Tennessee to the Super Bowl in 1999. But others in the recent past like Allen, Houston's Johnson and Cleveland running back
William Green
hardly lived up to expectations.
Dan McGwire
, a big quarterback bust for Seattle, also went in the spot in 1991. But anyone thinking the Jaguars can't hit a home run should know that a guy rated by many as the greatest player of all time,
Jerry Rice
, was selected 16th in 1985.
Tennessee Titans

2010: LB
Rolando McClain
(Raiders)
2009: OT
Eugene Monroe
(Jaguars)
2008: DE
Derrick Harvey
(Jaguars)
2007: DE
Jamaal Anderson
(Falcons)
2006: S
Donte Whitner
(Bills)
2005: S
Antrel Rolle
(Cardinals)
2004: CB
DeAngelo Hall
(Falcons)
McClain went to Oakland eighth last season and was second on the Raiders in tackles his rookie year. Jacksonville had the spot the two years before that. The Jaguars think they got a long-term left tackle in Monroe, but Harvey might be done already.
Jordan Gross
is a topflight tackle for Carolina and receiver
Plaxico Burress
was a Super Bowl hero for the Giants. But receiver David Terrell busted for the Bears, receiver
David Boston
didn't fare much better in Arizona and running back
Tim Biakabutuka
was a dud for the Panthers. Sam Adams' long career clogging up the middle as a defensive tackle started in Seattle. The last time the Titans had this pick, they landed Hall of Fame guard
Mike Munchak
, who's now the team's coach.
March, 30, 2011
3/30/11
11:48
AM ET
Our periodic look at the best and worst draft pick by position for each team begins with running back. We'll look at draft results since realignment in 2002, since that's when the Texans came into existence and gives us the most level comparison.

Houston Texans
Best:
Arian Foster
is the best guy they've had, but he was undrafted so he doesn't qualify. It's not a great list, but the best of the lot was Domanick Davis, who became
Domanick Williams
, a fourth-rounder in 2003. (I initially had those names flipped, sorry.) In three seasons, he averaged 4.1 yards a carry and scored 28 touchdowns. That's pretty solid production for a back during a three-year stretch when his team was 14-34.
Worst:
Lots of options here. I remember thinking that 2002 fourth-rounder
Jonathan Wells
was simply not an NFL back.
Vernand Morency
(2005, third),
Wali Lundy
(2006, sixth) and
Tony Hollings
(2003, second in the supplemental draft) were also not good. The Texans got just one season plus one game out of Morency, who couldn't get ahead of
Ron Dayne
, Lundy or
Samkon Gado
. But the least value came from Hollings, who earned just 49 carries in three seasons. Pro Football Reference says his weighted career average ranks him 10,562nd since 1950.

Indianapolis Colts
Best:
He takes a lot of grief because he's not necessarily a big producer for fantasy leagues, but
Joseph Addai
(2006, first) is very effective at doing what's asked when he's healthy. He's got a darting style that's suited for the team, he's a great pass-catcher and he's very reliable in protecting
Peyton Manning
.
Worst:
The team spent late picks on backs in 2002 (
Brian Allen
), 2005 (
Anthony Davis
) and 2006 (
T.J. Rushing
) and none of them did much. Hard to grade hard on such low picks, but it's too early to talk
Donald Brown
(2009 first-rounder) here. Allen had one kick return in 2003 and Davis didn't make the team. We'll declare it a tie, acknowledging a hit with either would have qualified as a nice surprise.

Jacksonville Jaguars
Best:
Maurice Jones-Drew
is the centerpiece of the team and was a steal in the second round (60th overall) of the 2006 draft. The Jaguars passed on him at No. 28 in the first round, when they took tight end
Marcedes Lewis
. MJD qualifies as the face of the franchise.
Worst:
LaBrandon Toefield
and
Alvin Pearman
made contributions on a team that was in pretty good shape at the position with
Fred Taylor
and then Jones-Drew. So while it's unfair to hit them for a seventh-rounder from 2008, it also means they've done pretty well. Three years into his career,
Chauncey Washington
finished 2010 on the practice squad of the
St. Louis Rams
.

Tennessee Titans
Best:
You'd expect the 24th overall pick to be here and
Chris Johnson
certainly is the selection. He's coming off a 1,364-yard, 12-TD season that was largely regarded as a failure because he'd set the bar so high with his 2,006-yard rushing season in 2009. He's as fast as or faster than any running back in the league.
Worst:
The Titans fell in love with
Chris Henry
at the combine and let his measurable outweigh his unspectacular performance at Arizona. The second-round pick the team spent on Henry in 2007 amounted to a waste. The Titans kept him for three seasons to try to justify spending the 50th overall pick on him, which was longer than the needed to know he was a strikeout. He played in just 10 games.
August, 29, 2008
8/29/08
1:50
PM ET
| | |
| --- | --- |
| | |
| | Brian bahr/Getty Images |
| | Ron Dayne rushed for 773 yards last season with Houston, but he's still looking for work this year. |
Posted by ESPN.com's Paul Kuharsky
Ron Dayne didn't figure he'd be available for this weekend's festivities connected to the 10th anniversary of Wisconsin's 1998 Big Ten championship and Rose Bowl win. He figured he'd be playing.
He ran for 4 yards a carry last season and 773 yards total in Houston, missing a couple of games.
Now he's waiting for a call and hoping for another chance to carry the ball. He's got two things working against him: He is 30 and was last listed at 245.
Old backs are not a hot commodity. And big backs are less popular than they used to be, as fewer teams want the rugged type who needs a lot of carries to be most effective. Instead, more teams pair an average-sized back with an elusive, change-of-pace back that is more a big-play threat. In the AFC South, the Jaguars and Titans do it that way, while the Colts use two smaller backs.
Houston is still sorting out its backfield after starter Ahman Green (218), but the three other AFC South teams have their tandems established:
In Indianapolis it's Joseph Addai (214) and Dominic Rhodes (203).
In Jacksonville it's Fred Taylor (228) and Maurice Jones-Drew (208)
In Tennessee it's LenDale White (235) and Chris Johnson (200).
As NFL teams prepar to cut their rosters down to 53, the 1999 Heisman Trophy winner is still floating around, hoping to find work. He said Tennessee and New Orleans check in on him.
"I'm still getting phone calls from teams," Dayne told the Badger Beat of the Wisconsin State Journal. "And I'm waiting until the final cuts to see if anyone will bring me in ..."
"There are not many big backs left in the league anymore. A lot of teams are getting away from them."
As Dayne waits, he said he's disappointed in Houston and can't figure out what he did wrong. The divorce was partly getting out from under his contract, partly a shift in philosophy and partly a desire to upgrade.
The Texans are definitely going smaller. A bruiser like Dayne isn't a good fit for the one-cut-and-go scheme they are working under new assistant coach Alex Gibbs. After Green, odds are they'll be looking for touches for Steve Slaton (203) and Chris Taylor (222).
Tennessee likely wants Dayne as a potential backup plan for their big back, White, if he should go down.
Dayne said he understands the label sometimes pinned to him, but disagrees with it.
"On paper, you could say I was a first-round pick who should have done better," said the 11th overall pick of the New York Giants in the 2000 draft. "I don't think I was a bust. I don't feel like I ever got a chance to establish myself."
I expect he'll find another job, though it could take an injury. But he'll be cast as a role player again, and need to make the most of it.