August, 22, 2010
8/22/10
9:26
AM ET
Some bullet-point thoughts on the
Jaguars' 27-26 home loss
to Miami on Saturday night.
Impressive:
In their first action as Jaguars, Tyson Alualu and Aaron Kampman combined to sack Chad Henne on the Dolphins' first play from scrimmage. The Jaguars had five sacks.
Rashad Jennings blocked a punt in the end zone for a safety at the start of the game. Jennings has gotten raves as a secondary running back (he turned three carries into 26 yards) and a big special-teams role only enhances his value.
The Jaguars pieced together a 10-play, 78-yard touchdown drive in the first quarter, when David Garrard fared well.
Jacksonville was three-for-three in the red zone and three-for-three on goal-to-go snaps.
Disappointing:
December, 18, 2009
12/18/09
4:38
PM ET
»
NFC Final Word
:
East
|
West
|
North
|
South
»
AFC
:
East
|
West
|
North
|
South
Five nuggets of knowledge about Week 15: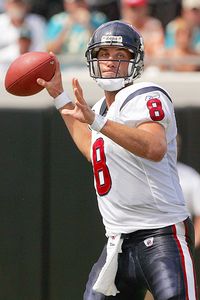 Sam Greenwood/Getty ImagesMatt Schaub has a 105.7 passer rating against NFC West teams this season.
This is the Texans' first visit to St. Louis
.
Matt Schaub
has lit up NFC West teams this year as Houston has gone 2-1 so far. He's averaging 333 passing yards with six touchdowns, two interceptions and a 105.7 passer rating. He'll surely be looking to pick up where he left off with
Andre Johnson
last week. Johnson leads the NFL with 1,237 receiving yards and is trying to become the first player since Jerry Rice to lead the league in receiving yards in consecutive seasons. It's a bit hard to believe no one has done that in so long.
Jeff Fisher has said he expects the game against Miami
to rank as one of the most physical for his team all season. In terms of philosophies and line play, these teams are similar. And they both like to run. The Titans are No. 2 in the league with a 165.3 rushing yards per game average behind
Chris Johnson
. The Dolphins, with
Ricky Williams
now leading the way, are third at 150.1. With
Ronnie Brown
out for the year injured, the Wildcat element is greatly reduced.
The Jaguars and Colts are off after their Thursday night thriller
. Jacksonville has a lot of rooting interests considering how many teams are fighting for wild-card spots. They'd love to see Baltimore, the Jets, Pittsburgh, Houston, Miami and Denver all lose. The Colts will be curious about what the Jets do since that's Indy's next game. I imagine they'll also take interest in Saturday night's Dallas-New Orleans game to see if the Saints can match them at 14-0.
Some other Texans numbers of note
: They've got five 400-yard games this season and are 4-1 in them. They've run 70 offensive plays five times. They've scored three or more touchdowns nine times. Johnson's not the only guy keying those efforts. ESPN Stats & Information says the Texans have the lowest on-target drop percentage in the NFL at 4.5 percent, ahead of the Saints at 5.0, the Colts at 5.2 and the Cardinals at 5.5.
It looks like Vince Young will play
. But if his hamstring prevents him from playing, keep this nugget in mind:
Kerry Collins
has beaten all but one team in his NFL career and, you guessed it, the one blank on his résumé is Miami. If Collins plays and beats the Dolphins, he'd be just the second quarterback to beat all 32 teams. Brett Favre did it with his first win over Green Bay Oct. 5.
July, 30, 2009
7/30/09
4:10
PM ET
Posted by ESPN.com's Paul Kuharsky
Back during minicamp when I had a chance to talk with DeMeco Ryans, I asked Houston's middle linebacker whom he rated as the toughest running back to tackle.
"It's between Ronnie Brown and Maurice Jones-Drew," he said. "Jones-Drew is such a small guy, but he has so much power. He had big legs. He gets behind offensive linemen and I really can't see him most of the time until it's time for the impact and he's bringing a little bit more than a lot of people think. He's definitely a hard guy to tackle, he already has the leverage on you, so there is no getting lower than him, no technique there, you just have to try to get him down.
"Ronnie Brown, his size and the shiftiness that he has. He's so subtle with the shift and I've always commended him on his play. College to NFL, he's one of the top guys I've seen."
Ryans gets three chances against those two backs this season. The Texans host Jacksonville on Sept. 27, play at Jacksonville on Dec. 6 and travel to Miami Dec. 27.
July, 28, 2009
7/28/09
2:02
PM ET
| | |
| --- | --- |
| | |
| | US Presswire |
| | Running backs Chris Johnson and Steve Slaton combined to rush for 2,510 yards in their rookie seasons. |
Posted by ESPN.com's Paul Kuharsky
Many of those looking to punch holes in the Titans' 2009 possibilities are pointing to a prediction that mystifies me: a sophomore slump for Chris Johnson.
Let's look at Steve Slaton in the same way here, too, as he'll probably need to match or surpass what he did in 2008 for the Texans to make a playoff push in 2009.
Sophomore slumps are a foreign concept to me as they pertain to the NFL. People are going to "figure out" young, fast running backs and slow them in ways they could not the year before?
I wanted to make sure I was not out on a limb here, so I threw this idea to National Football Post's Michael Lombardi, the former Oakland, Cleveland and San Francisco executive.
"I've never heard that," he said. "I've never seen a back make a mark and fall apart, barring injury. The top guys have a four to six year lifespan. I think Johnson will have a great year. I think they will both have good years. They'll know the systems even better."
As for the idea that the two backs will get figured out, Lombardi said if it could have been done, it would have been done already.
"It's like with a basketball player, if he can't go to his left hand, it doesn't take six years to figure it out," he said. "When there is enough tape, you know what to do to handle the guy, and they didn't handle the guy. Chris Johnson was on his way to controlling the [playoff] game. If he doesn't get hurt, Baltimore's not in the championship game and that's at the end of the year and Rex Ryan is a pretty good coach."
Coaches regularly talk about the biggest jump for players coming between their first and second seasons. That's the expectation for linemen, linebackers, skill position guys, everyone. And it's the course the majority of successful players in the league follow.
Johnson's been a bit noisy this offseason with his talk of breaking off from "Smash and Dash," nicknaming himself "Every Coach's Dream" and his regular tweets. Slaton's been a lot quieter.
All indications are both players have had no physical issues, which is the one thing that can throw the typical process off. Johnson recovered from the ankle injury he suffered in the Titans' playoff loss on a standard timetable.
One or both could have bad second seasons, but they won't be part of any big trend of backs slumping in their sophomore years.
Chris Fallica of ESPN Stats & Information put together this chart for me, combining rushing and receiving numbers where he thought appropriate.
Going back to 2003, at least as many notable backs made gains in production in Year 2 as suffered big drop-offs.
That doesn't guarantee anything for Johnson or Slaton, good or bad. Maybe one or both follows the course of Maurice Jones-Drew, a great back whose numbers dipped some in his second season, instead of Joseph Addai, who made a slight gain in yards and a big gain in scoring in his second year.
Do you have a gut feeling that Johnson or Slaton will not match his rookie performance? Dandy.
Let's just not pretend we've watched prominent backs in large numbers get "figured out" and suffer production plummets their second time around.
One last note connected to my chat with Lombardi: Be wary of labeling Johnson and Slaton as strictly speedsters.
What people tend not to realize, Lombardi reminded, "is you gener
ate power from your speed."
December, 17, 2008
12/17/08
11:20
AM ET
Posted by ESPN.com's Paul Kuharsky

Slaton
I've heard from a number of Texans fans wondering how I left Steve Slaton out of my "Snub discussion" for Houston in my AFC Pro Bowl analysis.
I thought his absence might have been justified by a limited role early in the season and the fact that Gary Kubiak Basically sat Slaton out of the Baltimore game, talking of how he was tired.
But upon further consideration, I hereby apologize for the major oversight.
Chris Johnson and Thomas Jones are definitely worthy. The popular question is, how did Miami's Ronnie Brown get the third running back slot?
Blame it on the Wildcat.
Fans and commentators across the country have been fascinated with the trendy direct-snap-to-a-running-back twist that the Dolphins introduced first. It's spread like the flu and a good share of the league's teams have tried some variation.
And the centerpiece of Miami's Wildcat is Brown, who's been an effective runner and passer when getting the ball at the snap.
Nevertheless, Slaton has 37 more carries, 297 more yards and two more 100-yard games. Brown has a slight edge in rushing touchdowns, 10 to eight. Brown's thrown a TD and Slaton's caught one.
But here's the clincher for Slaton, who's the first alternate at running back: He leads the AFC in yards from scrimmage with 1,429.
So, Steve, sorry I left you out of Tuesday's post. Hope one of your own helps make up for it. If you don't get the call as a sub, take heart. You're going to get many more chances.