November, 11, 2010
11/11/10
4:54
PM ET
Cornerback
Cortland Finnegan
got a couple of fines and a warning. He's wrestled with the local media. And he has not played as well as he expects.
The biggest factor? Probably the adjustment to playing on the right side, where the cornerback more frequently matches up with the opposition's top receiver. This year that's meant the likes of
Hines Ward
,
Darrius Heyward-Bey
, Roy Williams and
Mike Sims-Walker
.

Finnegan
"It's a huge thing," Finnegan said. "I'm taking it in stride and I think I am learning on the go. It's nothing I can't handle. I welcomed it with open arms and I realized there were going to be some growing pains. But I'll accept them. That poses why things have been the way they are."
He's covered top receivers some in the past, but rarely for an entire game.
Sunday in Miami, the list starts to get tougher with
Brandon Marshall
.
"He's elite," Finnegan said. "I don't know if you can really say one, two, three. But he's in that elite category with
Andre Johnson
,
Randy Moss
, those guys. He's a strong, physical guy. He can stretch the field. He can go up and get the football. There isn't a lot he can't do."
Finnegan said he expects Marshall to try to get under his skin. He promised he will do the same. "Fireworks are going to happen early," Finnegan said.
He's still working, it seems to me, on balancing that feisty edge with going too far for officials. To get where they want to go, Finnegan needs to play to the level of free safety
Michael Griffin
and rookie corner
Alterraun Verner
.
The Titans need Finnegan to handle Marshall, and they'll help him. A good game would bode well as there are other tough matchups to come.
Finnegan still gets two tough matchups with Andre Johnson and
Reggie Wayne
and probably a close look at
Dwayne Bowe
.
September, 27, 2010
9/27/10
6:54
PM ET
Bravo to Gary Kubiak for what he had at his Monday press conference about a couple of Dallas touchdown passes plays a day earlier in Houston's first loss of the season.
Far too often, coaches pussyfoot around in the postgame conversation and on Mondays after watching films, refusing to name names as if players will get their feelings hurt. Coaches also fear they'll appear to be passing the buck, but there is a way to convey a message of personal responsibilities without throwing a guy under the bus. I think Kubiak knows how and should teach some seminars.
Mistakes have been thoroughly dissected in film review by the time a coach comments. And while a player like safety
Bernard Pollard
talked a bunch Saturday about accountability "to each other," a similar accountability with the media and the fans does two things: It wins good faith and it assures the wrong guy isn't fingered as a culprit.
Kubiak said rookie corner
Kareem Jackson
was not expecting safety help when
Tony Romo
altered a run play and threw a quick, short pass that
Roy Williams
took 63 yards for a score.
"It was just an adjustment on their part and Kareem has got to make that play," Kubiak said. "He's in bump-man. No, he's not getting any help. He's just got to lock him down and they've got a bad play [for Houston]. He gets out of whack. Roy is a big kid and threw him, got his body out of whack and it ends up being a home run. But no, he was not expecting any help."
Even thought
Eugene Wilson
might have had no responsibilities there, once Jackson fell down and Williams was behind him, Wilson seemed gimpy or half-hearted or both in his pursuit of Williams.
On Williams' earlier 15-yard TD catch, nickel corner
Brice McCain
was beat but turned with palms up toward Wilson after the play as if he had expected something different.
"McCain is in man coverage there also, sitting on his outside shoulder" Kubiak said. "There's help in the middle of the field, but there's not help vertical. So he's got to squeeze that route and make that play."
As for the defensive failures so far for the Texans, Kubiak said his team hasn't lived up to the offseason emphasis on 60-minute efforts.
"I thought we played very good defense for 40 plays," Kubiak said. "We had us in a 10-3 game, had kept them in check and gave us many opportunities offensively to be in the ball game. We thought we'd be in a game like that. We had a span, from the 41st play to the 54th or 55th play, 14- or 15-play span, where we gave up 182 yards and two touchdowns. Big plays have been our Achilles' heel on defense up to this point in this young season. It's something that has to get fixed. There's no reason for somebody to walk in our stadium and for us to give up 385 yards of offense. I don't care who we're playing. We've got to get it fixed, whether we're young on the back end or not. None of that matters. We've got to get it fixed…"
"I keep seeing spurts of us playing very good defense. First off, you go to the Colts game and up until the point where GQ [
Glover Quin
] may get that pick in the fourth quarter, we're fixing to hold Indy to 10 points. That's unbelievable to do that. But yet, we didn't. We got bad at the end of the game. Washington, we played very poorly for three quarters, and in the fourth quarter we hold them to 20-something yards and come back and win the game. Then yesterday, we played 38 minutes of great, great defensive football. So there are signs that we are capable of doing that and the fact that we get bad in certain periods of the game, for whatever reason, is causing us to give up way too many yards and too many points and too many big plays. It's just about consistency, and the only way to get it is to go do it. This would be a good week to start."
September, 26, 2010
9/26/10
7:32
PM ET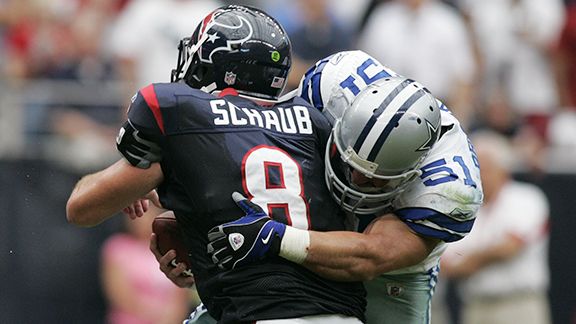 Brett Davis/US PresswireMatt Schaub and the Houston offense struggled to put points on the board against Dallas.
HOUSTON -- When the
Houston Texans
move the ball, their offensive rhythm can rival anybody's.
Sunday's herky-jerky performance hardly suggested as much, and a team with a wonderful story of a 2-0 start leveled off in an
ugly 27-13 loss
to the
Dallas Cowboys
.
Just one of nine Texans' offensive drives did not include a sack or a penalty or end with a turnover, and that drive was the only one that produced a touchdown. It came far too late, after it was clear the Reliant Stadium guests would win for the first time this season.
An offense of the Texans' caliber can't go more than 58 minutes without a touchdown, particularly when
Arian Foster
is able to rush 106 yards on just 17 carries. And the defense is not equipped to keep the team in such a game.
"If we're going to do what we want to do this year, we can't go 58 minutes without a touchdown and settle for six points,"
Matt Schaub
said. "We've got too many playmakers. We were moving the football but wound up hurting ourselves."
Schaub is a smooth and efficient quarterback. When the offense is clicking his work can be something to behold. In an impressive comeback from a 17-point deficit to win in overtime in Washington last week, he threw for a remarkable 497 yards.
This day was far different. I thought on all three of Dallas' four sacks that Schaub was the primary culprit, simply wanting so badly to make a play that he held the ball for too long on drive killers. He couldn't find a play bigger than 26 yards. Schaub couldn't string together the longer chain of singles needed for points where there aren't any home runs.
In the pocket presence/pocket awareness category, he was outplayed in a big way by
Tony Romo
. The Cowboys quarterback wasn't sacked and outscored Schaub on the passer rating card, 127.6 to 77.7.
While Dallas collected 14 points in two red zone visits, Houston twice settled for field goals in goal-to-go situations.
"We've just got to play more physical," said Houston's
Rashad Butler
, who played his first game at left tackle for the suspended
Duane Brown
. "They were just more physical than us. I hate to say it, but that's what it comes down to in the red zone especially when you run the ball down there.
"It comes down to the trenches and they won the battle in the red zone. It definitely hurts me to say it. I know the five guys we've got are a lot tougher than those guys. But today they proved us wrong."
Said
Owen Daniels
: "Being good in this league is about being good on the red zone. Those are some things we've been trying to clean up since the offseason."
Against Romo, the Texans finally suffered the consequences of an ineffective defense. With no sacks and no takeaways, the Texans didn't have to give up a third consecutive 400-yard passing day to lose.
The locker room talk was of how it's in the Texans' power to fix things, but that's an ingrained, automatic reaction. Rarely in the NFL does anyone proclaim ownership of an unfixable problem. If you just work harder, play smarter and execute assignments, everything is cured.
The coping mechanism is too neat an explanation, of course, and it doesn't include enough credit for the other side except for the obligatory "Not to take anything away from them" that comes before the "but ..."
"We can't spot teams 27 points and expect to win," linebacker
DeMeco Ryans
said, acknowledging that the Week 2 comeback over Washington is a rarity. "Let's be real about that."
The Texans' pass defense allowed Roy Williams 117 receiving yards, his best yardage in 39 regular season games dating back to Sept. 23, 2007 when he was with Detroit.
Safety
Bernard Pollard
emphasized that the run defense was bad early last season, got fixed and became quite effective. But part of what fixed it was his arrival as a late free-agent addition. There is no personnel addition the Texans will bring in for this one. They've decided to go young at corner. They will have to endure growing pains from
Kareem Jackson
,
Glover Quin
and
Brice McCain
and errors like a dropped chance at a pick-6 by veteran safety
Eugene Wilson
.
Pollard was involved in a mix-up that sprang Williams on a 63-yard TD pass that put the game out of reach with just under 10 minutes left on the game clock. Pollard said everything is about Houston's "MAs" -- missed assignments.
"We have to get sound as a defensive unit," he said. "You've got to put pride aside, sometimes you get embarrassed because you don't want that on film. There are going to be some lessons tomorrow, we're going to have to man up, understand that we've got to take coaching, that we've got to be accountable to every other guy on this team."
Just like we couldn't put too much stock into Week 1 and Week 2 success stories, we can't put too much into a Week 3 failure.
I think the Texans are a good team with a good chance at a big season.
I think they are the sort of team that should go to Oakland in Week 4 and make it quickly clear that they are more talented than the Raiders.
It was a tough game to take for the Texans. But quick perspective is something good teams need, too.
"There's a lot worse places to be after three games than 2-1," Schaub said.
April, 23, 2009
4/23/09
8:45
AM ET
Posted by ESPN.com's Paul Kuharsky
Concluding our periodic look at the history of the relevant first-round draft slots, we examine No. 8 before Jacksonville drafts there for the second year in a row.
Here are the previous entries on Tennessee at No. 30, Indianapolis at No. 27 and Houston at No. 15.
The No. 8 Pick Since 1999
Year
Pos.
School
Player
Team
Comment
2008
DE
Florida
Derrick Harvey
Jacksonville
Contract dispute killed
chance at a big start
2007
DE
Arkansas
Jamaal Anderson
Atlanta
Has missed only one game;
just two sacks
2006
S
Ohio State
Donte Whitner
Buffalo
Has started 42 of 48 games
2005
CB
Miami
Antrel Rolle
Arizona
Has moved to safety
as some projected
2004
CB
Virginia Tech
DeAngelo Hall
Atlanta
Is he worth big contract
from Skins?
2003
OT
Utah
Jordan Gross
Carolina
Pro Bowler is a key cog
for Panthers
2002
DB
Oklahoma
Roy Williams
Dallas
Weak in coverage, now a
free agent
2001
WR
Michigan
David Terrell
Chicago
Five-year career,
128 catches
2000
WR
Michigan State
Plaxico Burress
Pittsburgh
Troubled but very productive
1999
WR
Ohio State
David Boston
Arizona
Nine years, four teams,
315 catches, 25 TDs
October, 2, 2008
10/02/08
1:54
PM ET
Posted by ESPN.com's Paul Kuharsky
Maybe Detroit will try to move Roy Williams, maybe it won't.
Titans fans have flooded the mailbag with questions about whether Tennessee could get him, and my case for why they won't -- the price will be too steep, things are going very well and they don't want to shake them up, they aren't as convinced they need him as you are -- hasn't quashed all the desirous speculation.
So I searched out general manager Mike Reinfeldt and coach Jeff Fisher on the possibility of trading for a receiver. Here is my dialogue with each of them.
Reinfeldt:
PK: Perception is that one or two receivers in the final year of their deals with bad teams are being shopped. Would you consider a blockbuster to get one?

MR: The trade deadline is after the sixth game. I think you always have to look at different scenarios, at least consider different scenarios. At this point in time, there is nothing that we're contemplating.

PK: Say you made a major move. How hard would it be to weave a new guy in considering the team success right now?

MR: Yeah, it's a complicated ordeal. You're bringing somebody in, shoot, six games into the season. You've also missed the whole preseason, so you've actually missed almost half the season. Plus there are the salary constraints, you've got to be able to absorb his salary. It's a complicated issue.

PK: Plus a big-time player would cost you a big-time pick. Fair to say you're not anxious to give up a No. 1 pick?

MR: First-rounders are important. Obviously with Chris [Johnson] and Michael [Griffin] you can see that we've got guys that can impact you for a long time. So when you do it [deal a first-round pick], you better do it carefully.

PK: So you wouldn't easily give one up?

MR: [Laughing] We wouldn't easily give it away, yes.
Fisher:
PK: Lots of people are thinking you're on the verge of a blockbuster trade for a receiver that will throw you over the top. Anything to it?

JF: No. We've had no trade discussions with anybody as far as I know.

PK: If you brought one in, how hard would it be to get instant production?

JF: First off, someone's got to be willing to deal a good player. I mean you're not going to give up a pick at this point in the season for somebody that you don't think is going to have a significant impact. If there is a player out there, if you've got a seller-and-a-buyer situation that works for each other, then I could see it happening. But it's rare nowadays that teams would give up players.

PK: So you don't anticipate being a buyer?

JF: We're no different than anybody else. Everybody is interested in good players. Finding the seller is the hard part.

PK: I don't imagine you're real interested in giving up a first, either?

JF: Yeah, that's a little extreme.
September, 26, 2008
9/26/08
3:00
PM ET
Posted by ESPN.com's Paul Kuharsky

If you're a fan of Houston, Indianapolis or Jacksonville, you can fairly claim this is too Tennessee-heavy.
The change begins with you.
Be part of the next mailbag, because you never know when I may start awarding prizes for the best questions. If you give a name and location, it helps. And without an email address, I can't write you back.
Jeremy from Minneapolis writes: Hey Paul, thanks for all the quality AFC South info. As a Tennessee native stuck up here in NFC North country, I pretty much lived off your blog all the way through training camp and preseason this year. Even though you gave us a whole VY mailbag today, I hope you might be able to provide some insight on another possible scenario for Vince and the Titans. During Jeff Fisher's discussion of Young in his Monday press conference, he mentioned that once Vince returns from his injury the Titans will work on getting him "back involved in the offense." Fisher has indicated that he thinks Vince will benefit from watching a veteran quarterback like Collins handle things for a little while, and I think that is what the team would have initially preferred to do with Young. It was only the fact that the newly signed Collins and the rest of the offense struggled so badly at the start of the '06 season that forced Vince onto the field early. I seem to also remember hearing talk around the beginning of that season of using Young not necessarily as a starter right away, but finding spots during the course of the game where he could be most effective, create difficult matchups, and use his unique skills to exploit defenses. Do you think there is a possibility we will see the Titans use VY in that way as the season progresses, or are we past that point now that he has been the starter for the better part of two years? It seems to me that this approach would be ideal on a couple fronts: First, it requires the opposing defense to prepare for a Titans offense that can come at them with two very different quarterbacks who create different matchup problems. Second, it takes the pressure of being "th...
Paul Kuharsky: I think it's a good idea and would be a good way to ease him back in - narrow packages used here and there with him as the QB. If you missed it, Albert Haynesworth suggested an all-out two quarterback attack. The narrow packages are what they did early his rookie year. Only downside is, it could create more possibility for controversy. We'll see. I think it's going to be a good while before we see him on the field again, and maybe not this year if things go well and Kerry Collins stays healthy.
Keath in Tampa, FL writes: Paul, You really are a homer, aren't you? You need to go back to Sports Journalism and learn to distance yourself - you followed the Oilers/Titans for 12 years. Good for you. Now you work for ESPN. Distinguish the two, my friend. Quit saying, "We...", because YOU didn't do anything, nor did you use this (pretend-like) for the other franchises. Stick to objective journalism for the future. We readers see right through this...
Paul Kuharsky: Actually, in a Monday entry called "What I think they're thinking," I absolutely used "we," for all four teams, talking as if I was in each team's head. Why don't you take another look?

After you cool down, if you'd like to show me how I failed to be objective, I'd love the feedback.
spietan from Washington writes: Neither the Jags offense nor the defense looks capable of carrying the team into the playoffs. Which coordinator (Dirk Koetter or Gregg Williams) is doing the best job with the players available?
Paul Kuharsky: I think they've both been handcuffed some. Koetter hasn't had Jerry Porter yet and with a patchwork interior offensive line, he's been a bit limited in what he can try to do. Williams was brought in to help find ways to get to the passer, but in crucial situations the Jaguars have failed to do so. Derrick Harvey's long preseason absence during his contract dispute slowed his development, so he's not the key ingredient they were hoping for yet. Both coordinators came up one score or one stop short in the two losses.
Jams from parts unknown writes: Mr. Kuharsky, you do a lot of nice work, but it's "feel bad," not "feel badly." Do you "feel happily" about things, too, or "feel happy"? "Feel angrily," or "feel angry" when people clutter your inbox with grammar crap? It's a subject complement (hence the adjective), modifying "I," not an adverb modifying "feel." You would feel badly, though, if you were to suffer nerve damage in your hands, but I wouldn't wish that fate on you. Sorry to be pedantic, but you know me; I'm a good guy. I point out annoying minutiae for the kids.
Paul Kuharsky: Point taken, thanks. I'll work to make sure you don't see it again.
John E. Lee from parts unknown writes: Paul, congrats on joining ESPN.com! Now maybe the AFC south will have a real voice! Here's my prediction: If Vince Young stays away, and Kerry Collins stays healthy, and Jeff Fisher stops his conservative/predictable play-calling, (will you fianlly hold him accountable this season?) the Titans will win the AFC and make it back to the Super Bowl! Have a great season and thanks for your presence in Music City!!!
Paul Kuharsky: Thanks. A displaced Yankee as the voice of the 'South,' imagine that!
As for Fisher -- Yeah, I've never ever held him accountable, except for every time I've said he's a good coach who tends to be too conservative and loyal, which is usually only a few times a week.

What should I be raking him over the coals for right now at 3-0?
Rob in Fort Myers, FL writes: Paul, Why do you think the Colts are looking so sluggish this season thus far? Is this something that you feel they will work out with more time, or is this the decline we have all been expecting to occur with all their success recently? Do they have it worked out by their Monday Night battle with Tennessee on October 27th?
Paul Kuharsky: Peyton Manning's missed time and the O-line injury troubles have certainly been factors.
Quinn Pitcock retiring, Ed Johnson getting himself cut and Bob Sanders getting hurt all messed up the defense.

But it's too early to know if they are slowing overall. I still think they are incredibly dangerous.
Unknown from Bowling Green writes: Why don't the Titans get more press. Both the Monday night and Sunday night half time shows haven't mentioned the Titans in the last 3 weeks. Your from Nashville, can't you pull some strings. You said yourself you need some TV practice.
Paul Kuharsky: You have to admit their highlights don't often feature the sort of diving catches or the sort of explosive plays that rule the reels. Remember Chris Johnson's huge run in the preseason? I saw that everywhere.
Titans fans shouldn't need some media blessing in order to feel good about their team.

I just saw someone on SportsCenter call the Titans the best team in the AFC. SI.com wrote about the Titans this week and NFL.com did too. Seems like great press to me.

I'm covering Vikings-Titans over Texans-Jaguars on Sunday and I give Tennessee a ton of press, too much according to many other readers.
Unknown from Pittsboro, IN writes: You said that the final interference call against the colts Keiaho was "obvious"
but what was obvious was that Williams was running an illegal "pick" play. He ran right at Keiaho, crossed his arm like a skinny kid setting a pick in basketball, then he actually jumped a little when his QB panicked and threw the ball to Williams. The colts read their illegal play, the CB jumped the out route and the refs bailed them out. To me this is obvious, but to you, apparently it was a "good call?"
Paul Kuharsky: I didn't have a huge problem with the call, you are correct. When the ball is in the air, the defender is not allowed to touch the intended receiver. I suspect if that was a Colts receiver and a Jags DB you and a lot of people wearing a horseshoe logo would feel differently.
It's unbecoming when fans pin losses on refs -- outside of an absolute mess up like in the Denver-SD game. The Colts had plenty of chances to finish the Jags off.
Steve in Las Vegas writes: I don't understand it; what do the Titans have to do to earn some respect? Even after starting the season 3-0 people still question why. The Titans are a good team. Yes, they have had their share of drama with VY, but as shown last year, when VY had a bum quad, Collins stepped up and took the team for a while. Their defense is in the top 5, and they have a great duo in the back field, CJ compliments LW perfectly. The only thing that I think they should change is, take VY out of the QB line-up and try him as a TE or short field wide out. He has proved that when he is healthy, he can gain yardage on the ground. He just isn't too confident as a NFL passer. Just my thoughts.

Paul Kuharsky: See my response to the question from Bowling Green above.
What's the respect you'd like for your team that it's not getting? I've seen the Titans rated as the best team in the AFC by a lot of people. They are doing very well in power polls like ours, where they currently sit fourth. That's disrespect?

Two of their wins have come against terrible teams, but they look great so far. I have missed the big questions about why they are 3-0. I expect them to be 5-1 at worst heading into their big Monday night matchup with Indianapolis on Oct. 27.

There is no way Vince Young is going to be playing a position other than quarterback.
Jenny from Brentwood writes: PK - is it feasible that the Tulloch/Fowler switch is part of the greater plan to foil gameplanning for our opponents? Meaning, there's a lot of tape on Fowler, and not as much on Tulloch. With the Vikings run game, it's pretty imperative to manipulate the MLB. Plus - we gave up 140+ yards to Steve Slaton last week. Also - isn't Tulloch a little bit faster than Fowler? With Adrian Peterson coming to town, I can sort of agree with the change to Tulloch. Props to Fowler, though. What a class act. I hope he gets back on the field somehow.
Paul Kuharsky: There is more than enough tape on Tulloch for Minnesota to have a good enough feel for what they are getting. And a switch on defense isn't the same as a new QB or RB or something like that. Teams don't have to reshape a plan based on a new middle linebacker, which is a situational job in the Titans defense. Tulloch is faster than Fowler and more of a play-maker, but he's less experienced and more likely to make a mistake. I think he will do well. I'm disappointed for Fowler, a hard-worker and a stand-up guy. I'm excited for Tulloch, also a super-likeable guy, who has more upside. But this is an uncharacteristic move, and I am surprised to see the Titans make it while things have been going so well.
Rob in Fort Myers writes (again): Paul, In light of the fact that the Titans are on a roll and the Lions are tumbling out of control, what do you think the chances are of the Titans offering a 2nd or 3rd round pick to the Lions to take Roy Williams off their hands? I know what you always say...that the Titans just don't do business that way, and they don't value the WR position that highly...but you have to think a dominant force at WR could be the difference in this team going to a Super Bowl with the AFC climate the way it is right now. The injuries to Brady and Manning really give you reason to think that a team like Tennessee with a dominant, championship level defense and a great running game could really get there this year. Roy Williams may be the player to get that offense over the top, and it would also give the team an inside track on signing Roy Williams long term and giving VY the WR he will need in the future. What are your thoughts in light of the developments that have already occured thus far this season? Remember how impactful Chris Chambers was for San Diego last year? Williams could be that guy for Tennessee.
Paul Kuharsky: I just don't see it happening. Chambers was a rare instance and he is an older guy nowhere near the caliber player Williams is. NFL teams don't usually dump guys just before their contracts are up in order to get something for him. That's baseball. And what would the Lions say to their fans - 'Of all those first-round receivers, we hit on one and now we're shipping his butt out of here?'

Also, as a friend in the Titans press room often points out: If you're a big-time WR, why do you want to come to Nashville? To be de-emphasized? To be thrown to by a young QB who's basically gotten himself pulled and hasn't shown he can consistently get the ball to people? You're not going to come here and put up huge numbers, as it's not what they look to do. One man isn't going to arrive and change a lifetime philosophy of a coach who wants to play defense and run it.
That said, the Tulloch-for-Fowler move was uncharacteristic. So perhaps they are working on a blockbuster.