January, 21, 2014
Jan 21
2:15
PM ET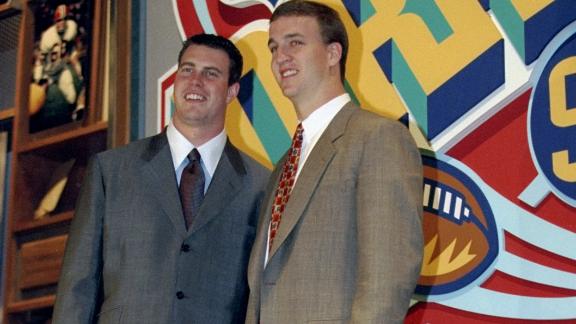 INDIANAPOLIS – No
Peyton Manning
. No winning at least 12 games for seven straight seasons. No two Super Bowl appearances. No Lucas Oil Stadium. Possibly no
Andrew Luck
, either.
That's what would have happened if the
Indianapolis Colts
had decided to select Ryan Leaf over Manning back in 1998.
Agent Leigh Steinberg wrote in his book, "The Agent: My 40-Year Career Making Deals and Changing the Game," that Leaf skipped a meeting with the Colts prior to the 1998 draft so that they would not draft him at No. 1 overall, allowing him to drop to the
San Diego Chargers
at No. 2.
Life wouldn't be so glamorous in Indianapolis if the Colts had taken Leaf. There probably would have been a lot of babysitting by the Colts with Leaf.
He had four poor seasons in the NFL and he's currently serving a five-year prison term from burglary and drug possession charges and probation violations from charges in Texas.
Manning surpassed Reggie Miller as the primary sports figure in Indianapolis and he'll play in his third Super Bowl in less than two weeks with the Denver Broncos.
Former Colts general manager Bill Polian said on "Mike & Mike" on Tuesday that after doing their due diligence researching the two quarterbacks it was an easy decision to select Manning.
"What we heard on the football side that we would have been better off with Peyton," Polian said on the show. "There was a lot of information that led us toward Ryan was nowhere mature enough to handle the job."
Steinberg said that former Chargers general manager Bobby Beathard went along with the idea that Leaf skip out on meeting with the Colts. Beathard was also on "Mike & Mike" where he denied that because they "absolutely wanted to draft Peyton."
Polian told a story where he crossed paths with Beathard at one of Leaf's workouts and the former Chargers general manager walked by Polian, slapped him on the arm and said, "you're going to really love this kid," trying to trick him into selecting the former Washington State University quarterback so Manning could slide to No. 2.
"Ryan was the talented guy with the tremendous upside, but there were red flags we were concerned about," Billy Devaney, who was in San Diego's front office in 1998, said on "Mike & Mike." "Peyton didn't have any holes in him."
It didn't take long for everybody, especially the Colts, to realize that.
February, 2, 2012
2/02/12
3:25
PM ET
INDIANAPOLIS --
Peyton Manning
and Ryan Leaf will forever be intertwined.
Leaf toured Radio Row on Thursday, promoting his autobiography, "596 Switch."
He said he and Manning became friends when
Peyton was drafted first
and Leaf second in 1998 (by Indianapolis and San Diego, respectively).
"Peyton was always going to succeed because he knew exactly what he wanted and was kind of groomed to do things in the right way," Leaf said. "I do believe even if Peyton could have lost through the first three years rather than just the one, and thrown 28 interceptions a year for three years, it still wouldn't have mattered. He still would have had the career he's having. He could overcome dealing with failure in a positive way.
"To see this city right now kind of crumbling after what he's done to build it, it's sad. Because the only way I want to watch No. 18 play is in a blue uniform with a horseshoe on the helmet, that's for sure. And if he can't do it, he can do it for another team.
"I do believe he can find a way to do it, and I do believe if they have the opportunity to have Peyton play next year,
Andrew Luck
can sit for a year behind, possibly, the greatest quarterback ever. It's going to benefit not only him but the entire organization."
October, 27, 2011
10/27/11
12:05
PM ET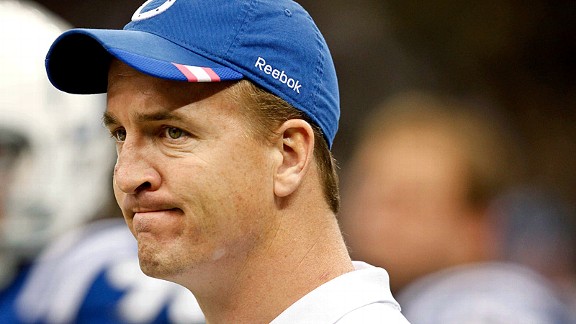 Derick E. Hingle/US PresswireThe Colts were clearly ill-prepared for life without star quarterback Peyton Manning.
It's ugly in Indianapolis.
At 0-7, the Colts are talking about sticking together, improving and giving themselves a chance to win.
But as they prepare for a trip to Nashville for a Sunday meeting with the Titans at LP Field, they are a severely broken team. Where they
would be
with
Peyton Manning
is an interesting hypothetical question, but we're dealing with realities. And those realities are the sort that will test the franchise's stitching -- seamwork that might not hold together when this is all over.
Who's at fault? Everyone's got a hand in it, but let's look at the Colts from a couple of angles.
A big cover-up:
It's not a secret that Manning has helped cover up a lot of flaws and allowed the franchise to under-address certain areas.
The Colts during the Manning era have never been much concerned with size, always valuing speed and instincts more. They've never worried about stocking special teams with any veteran backups, in part because they spend their money on stars or adding a high-quality return man. They've settled for being below average running the ball. And they've won despite a general inability to stop the run.
Without their four-time MVP running the offense, all those things are magnified in ways they've never been before.
It shouldn't be a surprise. They're built to have Manning at the controls, and he's been there all the time from the very beginning in 1998 until opening day this season.
There are maybe two teams and markets in the league that would not trade for what the Colts have done since 1999. Twelve consecutive playoff seasons followed by one complete dud? Where do I sign up for that?
[+] Enlarge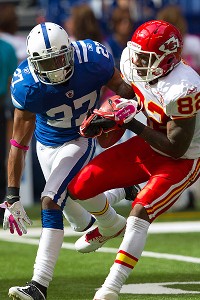 Michael Hickey/US PresswirePersonnel decisions by the Colts put cornerback Jacob Lacey, 27, in a prominent role in a secondary that has struggled this season.
Construct questions:
That said, regardless of a serious neck surgery to the star quarterback, what exactly was the plan in the secondary? Is an evaluation that leaves
Jacob Lacey
,
Terrence Johnson
,
Kevin Thomas
and
Chris Rucker
as cornerbacks Nos. 2 through 5 good enough? Absolutely not.
The Colts get credit for adding a couple of outside veterans this season -- linebacker
Ernie Sims
, and defensive ends
Jamaal Anderson
and
Tyler Brayton
. But the drafting has dropped off.
Set aside the most recent class, as it's too early to judge.
The Colts drafted 41 players from 2005 through 2010. I count one star, safety
Antoine Bethea
, and two guys who can become stars, linebacker
Pat Angerer
and receiver
Austin Collie
(if he's working with Manning). Running back
Joseph Addai
is a good fit who does more than people think. And receiver
Pierre Garcon
and cornerback
Jerraud Powers
have been pretty solid starters.
Sure, the Colts drafted higher in the five years before. Still, those classes produced five guys who rank among the best players of their generation at their positions: tight end
Dallas Clark
, defensive ends
Dwight Freeney
and
Robert Mathis
, safety
Bob Sanders
, and receiver
Reggie Wayne
. The next tier provided steady starters on the offensive line (
Jake Scott
,
Ryan Diem
) and at linebacker (
David Thornton
).
That list is more than a third of a starting team, a big-time core. As those guys age or disappear, I'm not seeing a core in waiting.
Colts president-turned-vice chairman Bill Polian said recently on his radio show that they needed to have done better recently, particularly at defensive tackle and cornerback.
And there is a domino effect to the problem. Find Tarik Glenn's ultimate replacement at left tackle in 2007, and you don't need to use your top pick in 2011 on
Anthony Castonzo
. Hit on
Donald Brown
in the first round in 2009, and
Delone Carter
might not be necessary in the fourth round in 2011.
The Polians:
Bill Polian has been pulling back and yielding responsibility to his son, GM Chris Polian. (Chris politely declined to be interviewed for this story.)
We don't yet have much tape on Chris Polian, so to speak. Bill Polian is a good talent evaluator who has had success in three NFL stops and has done well to build a team with which Manning has won. But Bill Polian also has overseen those recent draft drop-offs.
His strong-willed personality is part of what has made him good at his job, and his big-picture assessment of important league issues is as intelligent as anyone's. He's got clout and influence that extend beyond Indianapolis.
Stylistically, he's a stubborn and demanding boss. There are indications from within that, without the steady stream of personnel hits he provided earlier in his tenure, some inside the building are tiring of the way things are run.
Bill Polian recently talked about how
Curtis Painter
's play vindicates the team for having faith in him, but failed to mention that faith was so strong that the team signed
Kerry Collins
to a $4 million contract shortly before the season started and handed him the starting job.
I suspect Bill Polian has the backing of owner Jim Irsay for as long as he wants it. That would ensure safety for Chris Polian, too.
Bill Polian made the Manning-over-Ryan Leaf call in 1998. Because of the way Leaf busted, people forget that was a coin flip at the time, that Leaf was regarded as a big-time prospect just as much as Manning was. Polian called it correctly, built a team that's been to two Super Bowls and won one, got a new stadium built, and greatly enhanced the value of Irsay's franchise.
Cryptic messages:
Further complicating things is Irsay, who clearly gets a kick out of being the center of NFL attention in the Twitter-verse but has undermined some of his people with it.
He announced
the team added Collins while coach Jim Caldwell was conducting his daily news conference. It did Caldwell no favors, as he appeared completely out of the loop.
Most recently, following the 62-7 loss in New Orleans on Sunday night, Irsay provided this gem:
"Titanic collapse, apologies 2 all ColtsNation...problems identifiable;solutions in progress but complex in nature/ better days will rise again"
A day later, he added:
"Just because you perceive problems on the horizon,and you possess solutions..doesn't mean they are avoidable and implementation is instant"
Solutions in progress, but complex in nature. That sounds to me like what would be written in big silver letters on the lobby wall of a consulting company on a TV show. Or a clever, but far-too-long name for a band.
It also sounds like change is going to come.

Caldwell
Coaching questions:
While Bill Polian recently said that adding Jim Tressel to the staff as a replay consultant was
Caldwell's idea
, it's a weird-looking move that's made some of us wonder whether a bigger role awaits the former Ohio State coach.
Caldwell does a nice job managing personalities, looking at things philosophically and staying on message. I believe he's a good teacher, and his patient, quiet style is generally healthy for a team with a good share of veteran stars.
But he has blind spots, too, and is hardly a strategy master. There are bound to be significant changes at the conclusion of what's sure to be a dreadful season, and he'll be at the front of the line.
If he does the best job we can remember at holding a terrible, ineffective team together, is that enough? I'd guess not.
Injuries:
This team gets hurt too much. There is a huge element of bad luck to it, of course. But is there something bigger at work as well?
Last season as quality players went down, Manning helped some role players such as tight end
Jacob Tamme
and receiver
Blair White
emerge. This season, guys such as linebacker
Gary Brackett
and safety
Melvin Bullitt
were lost for the season early, and there's been a revolving door on the offensive line because of injuries.
The Colts are constantly testing their depth and shuffling the back end of their roster. There is only so much shuffling a depth chart can handle.
I believe they need to attempt some change that might have a positive effect on their overall health -- whether it be adopting new training philosophies, altering how they evaluate prospects or changing personnel philosophies.
It's easy to ask them to figure out why they tend to suffer so many injuries, and it's hard to find an answer. But some sort of shift is due, even as we know it comes with no guarantee of better health.
When the current approach is failing, it's OK to try something else. It's not admitting some sort of failure; it's merely part of a necessary process of evaluating and revising operations.
Suck for Luck:
Given a chance to draft Stanford quarterback Andrew Luck, I think the Colts would. Bill Polian can give Chris Polian the guy expected to be the NFL's next great quarterback, and Chris Polian's legacy would be built on a fantastic cornerstone.
But there is no losing on purpose to get in position for Luck. You think Wayne or Mathis is interested in such a master plan?
Said veteran center and team tone-setter
Jeff Saturday
: "I'll steal a Robert Mathis quote: 'I ain't sucking for anybody.'"
May, 11, 2011
5/11/11
1:01
PM ET
What key event significantly changed the fortunes of the Colts -- for better or worse? Give us your take and we'll give you our definitive moment on May 20.
The Colts, of course, had a long and storied history as Baltimoreans. It's often easy for the purposes of this blog to trim them into just the 1984-and-after
Indianapolis Colts
. It helps their scope fit more neatly with the reinvented Titans and expansion Jaguars and Texans.
But for something like this it's too neat. So we weighed things to Indianapolis, but put perhaps the franchise's biggest moment -- which came well before the move -- on our list and invite you to suggest others if you feel they are worthy.
"The Greatest Game Ever Played" -- the Colts' 23-17 overtime win over the New York Giants in the 1958 NFL Championship Game -- changed the fortunes of the NFL. Did it do as much for the team that won it?
The team's move from Baltimore in the dark of night is certainly a flash point worth considering, as is the draft selection of
John Elway
the year before. He so didn't want to play for the mismanaged Baltimore Colts that he forced the team to trade him.
The most modern entry often seems, in great hindsight, to have been a no-brainer. But the Colts and team president Bill Polian were torn between
Peyton Manning
and
Ryan Leaf
in 1998. Who knows what would have happened if they went the other way?
You're invited to do better than I've done here.
If you vote Other, give us your suggestion in the comments area below.
April, 19, 2011
4/19/11
6:05
PM ET
The
Indianapolis Colts
might take a quarterback in the draft, but I've explained why
I don't see it
.
Whether they do or don't they've been doing their homework.
I read somewhere recently that while the famous
Peyton Manning
-over-
Ryan Leaf
decision in 1998 seems so clear cut to us now, we should remember that it was a serious debate then. When I asked Bill Polian a couple summers ago about the biggest surprise he ever had in how a prospect panned out, he pointed to Leaf. He thought he was going to be great.
In this piece on
the difficulty of deciding
about drafting a quarterback, Peter King got a great quote from Polian about what Indianapolis looks for as is evaluates quarterbacks.
Not every team is looking for the same thing, of course. But this struck me as the kind of thing a lot of decision-makers looking for quarterbacks, including
Tennessee Titans
' Mike Reinfeldt and
Jacksonville Jaguars
' Gene Smith, might print and clip on their shaving mirror.
"We look for what we've always looked for. Fast eyes, first and foremost. By that I mean, see the receiver, read the coverage, get the ball out quickly. Quick feet are an absolute must. Then accuracy. I asked our staff recently, 'Does anyone here think you can teach accuracy?' The answer was no. Then it's handling the pressure in the NFL, pressure that comes from everywhere -- the fans, the media, internally. And then it's the ability to process information week after week and stay on top of it. One week you might face the Tampa 2, the next week Rex Ryan's pressure. Calling the protections -- which quarterbacks didn't used to do -- and identifying blitzes, those are hard things. And now we place a lot more emphasis on the intangibles."
Do any of the quarterbacks in this draft have a check mark next to vision, feet, accuracy, handling pressure and processing information? It's easy to say no.
The guys with the final call in draft rooms make big dollars to project which of these quarterbacks ultimately will.
November, 18, 2010
11/18/10
12:12
PM ET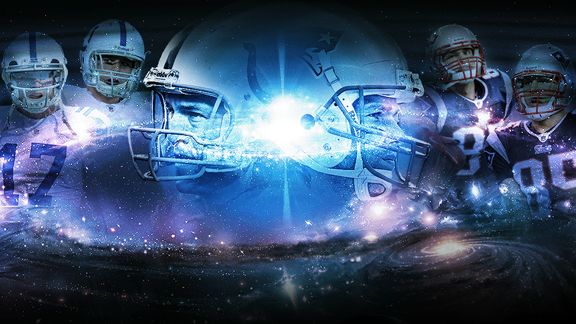 ESPN.com IllustrationPeyton Manning and Tom Brady have been at the center of arguably the best rivalry of the past decade. Who will carry it on when they step away from the game?
The annual AFC showdown is upon us, and with it come the recurring storylines.
That's right, the
Indianapolis Colts
will meet the
New England Patriots
on Sunday for an eighth straight season. The NFL's greatest ongoing interdivisional rivalry showcases two of the great organizations of this generation and renews the discussion about
Peyton Manning
's stats versus
Tom Brady
's championships.
We've decided to rekindle the debate, but before you throw your head back and groan in anticipation of the clichés, hold your horseshoes.
The purpose of this debate is to eliminate Manning and Brady and look into the future.
Which team has the better long-range outlook once Manning and Brady move on?
For the purpose of this discussion, we've set the target for 2015 -- one year beyond the length of Brady's latest contract extension -- to examine which team has the better infrastructure to cope with life minus its iconic quarterback.
Tim Graham:
Time to get after it, Paul. But no weapons this time, please. I've just recently completed the physical therapy from our last debate.
Paul Kuharsky:
Well, this back-and-forth will be less physically taxing, and since there is so much forecasting, you may actually be able to put your Jedi training to use.
Graham:
Get this debate started we shall, hmmm?
Kuharsky:
So what do the Colts and Patriots have now that's going to be a big factor for them in five years?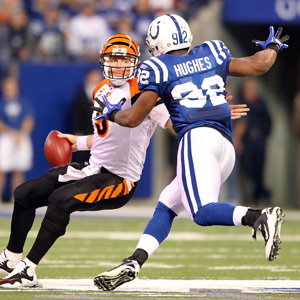 Andy Lyons/Getty ImagesWill 2010 first-round pick Jerry Hughes develop into a cornerstone on the Colts' defense?
I count eight guys who are in their first, second or third year with the franchise who I expect will still be prime contributors in 2015. But only three of the eight fit into the framework of the four most important positions on the field -- quarterback, left tackle, defensive end and cornerback. Those players would be corners
Jerraud Powers
and
Jacob Lacey
and defensive end
Jerry Hughes
.
Hughes is still unproven, but it's early and Colts president Bill Polian saw the potential for him to ultimately replace a
Dwight Freeney
or a
Robert Mathis
.
Others who may still be staples when Manning is gone: receiver
Austin Collie
, linebacker
Pat Angerer
, tight end
Jacob Tamme
, tight end
Brody Eldridge
and punter
Pat McAfee
. Can that group be the core of a team that continues to win? I wish I could offer a solid yes or no instead of a tepid maybe.
Beyond that, we've got five drafts to consider, right? And Polian regularly finds undrafted gems. I don't doubt the Colts will have talent. But they'll need new Freeney-,
Dallas Clark
- and
Reggie Wayne
-caliber stars, plus the replacement quarterback.
Graham:
Patriots overlord Bill Belichick has drawn deserved criticism for his draft failures. He has swung and missed at his share of Terrence Wheatleys and Kevin O'Connells and Chad Jacksons in the early rounds.
But when you accumulate as many picks as the Patriots have and have elite football minds evaluating the talent, those bad decisions are going to even out eventually. The Patriots appear to be warming up when it comes to successful drafting.
[+] Enlarge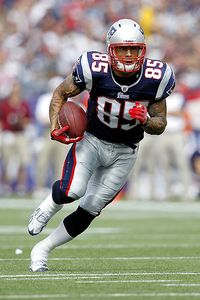 AP Photo/Paul Spinelli Rookie tight end Aaron Hernandez ranks second on the Patriots in catches and receiving yards.
The Patriots went into Heinz Field and manhandled the
Pittsburgh Steelers
with four rookies in their starting defensive lineup (defensive end
Brandon Deaderick
, outside linebacker
Jermaine Cunningham
, inside linebacker
Brandon Spikes
and left cornerback
Devin McCourty
) and a rookie tight end (
Rob Gronkowski
), who caught three touchdowns. Another rookie tight end (
Aaron Hernandez
) ranks second on the team in catches and receiving yards. Their punter is a rookie.
They don't have as many second- and third-year contributors, but inside linebacker
Jerod Mayo
was defensive rookie of the year in 2008. Among the sophomores are starting right tackle
Sebastian Vollmer
and receivers
Brandon Tate
and
Julian Edelman
, who also handle return duties.
Without question, there will be a drop-off at quarterback when Brady retires, but the Patriots are loaded with core youth.
Kuharsky:
The Colts may draft better, but they also draft less. Polian's not the draft pick wheeler-and-dealer Belichick is. Are those the guys who will be lining up the Manning and Brady successors?
It's a quarterback-driven league, and teams minus Manning and Brady will have major voids. We've got to talk about the replacements for the iconic quarterbacks, but it's hard to offer much conjecture on what kind of guy that will be without talking about who will be finding him.
Polian is 67 years old, and the last time I asked him about any sort of plan for retirement he gave me a head tilt and an uncomfortable expression.
Graham:
I've noticed a lot of people do that around you.
Kuharsky:
If things are neat and tidy, the suspicion is he and Manning -- the guy he hit the jackpot with when he picked him over
Ryan Leaf
-- will exit together. The next generation is waiting in the wings. Chris Polian is Indianapolis' vice president and general manager.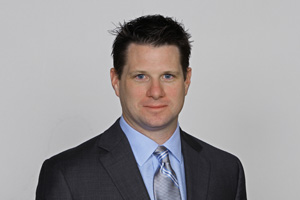 AP PhotoCurrent Colts VP Chris Polian is likely play a key role in finding Peyton Manning's successor.
I'd expect Bill Polian will have a strong hand in selecting the Colts' quarterback of the future. But it will ultimately be Chris Polian who's connected to that signal-caller the way Bill Polian is connected to Manning. The younger Polian has a good reputation and good football genes, but it's hard to know how much of his father's personnel judgment he's inherited and how much he's learned. And having to replace a guy many will argue is the greatest quarterback of all time will be an awfully difficult assignment.
Graham:
I don't know how long Belichick plans to coach, but even if he were to get tired of the week-to-week grind of getting his boys ready to play, it's fathomable he'll stick around to run the operation, handpicking his successor and overseeing football operations.
It would be silly to give Belichick more than a smidgen of credit for drafting Brady in the sixth round a decade ago. If Belichick truly knew what Brady was capable of, the Patriots wouldn't have passed on him until the 199th pick. So it's not like Belichick will simply wait until Brady's on the verge of retirement and automatically snag a replacement.
Kuharsky:
True. But they knew more than everybody else when they finally did take him.
Graham:
Belichick trusted his scout, and they unearthed a gem.
I believe Belichick's support staff is stronger than Polian's. Senior adviser Floyd Reese oversaw the Houston Oilers and
Tennessee Titans
' drafts when they picked
Steve McNair
and
Vince Young
. Player personnel director Nick Caserio, like a lot of Belichick's sidekicks over the years, will develop the tools to run his own show someday.
Kuharsky:
I don't know that Belichick's got better support. It's just more well known and visible support.
Graham:
And a high-profile owner who is willing to trust his front office, will spend money and doesn't dare meddle. That's another key component to New England's success over the past decade.
Kuharsky:
Moving onto the replacement quarterback himself,
Curtis Painter
is Manning's current backup. But based on his work in a couple of regular-season games the team didn't care about winning at the end of last season and some preseason work, most people aren't forecasting anything special from him. And that would amount to quite a lengthy apprenticeship anyway.
Graham:
You wouldn't think the Patriots have Brady's successor on the roster either.
Brian Hoyer
is an undrafted sophomore with virtually no experience so far. But you never can tell how these guys will develop while working alongside Brady for a few years. This is the team that identified
Matt Cassel
, a seventh-round draft choice who hadn't started a game since high school, as its top backup for 2008. He ended up going 11-5 when Brady blew out his knee.
Kuharsky:
The Colts will need a guy for a super-tough replacement job. It would be awfully difficult for them to land in a
Aaron Rodgers
for
Brett Favre
or
Michael Vick
for
Donovan McNabb
replacement situation.
After hitting a grand slam with the No. 1 pick in 1998, odds would suggest that it will be tough for them to line up with the right guy at the right pick at the right time. The way they build, odds are Manning's heir will be a guy who plays a full college career. So he's a college freshman or a high-school senior right now, depending on their plan for easing him in.
Graham:
The Colts and Patriots finish too high in the standings every year and don't get to pick until the 20s. That will make it nearly impossible to snag some golden-armed top prospect in their assigned draft positions. But the Patriots frequently go into drafts with other teams' picks -- and an abundance of them. They often have copious draft assets to move up if they want to. Or maybe the Patriots will obtain that big-ticket pick waaaaay in advance. A year ago, Belichick traded
Richard Seymour
to the
Oakland Raiders
for their 2011 first-round selection. That's the kind of creative investing that could pay off with a high-quality quarterback prospect down the road.
Kuharsky:
It will definitely be more difficult for the Colts to get to the top of a draft to get a premier guy. And there may need to be a post-Manning down-cycle for the team to get up there and find the guy. Scribes in Indianapolis often wonder aloud what happens to the Colts' crazed support if they turn into a 5-11 rebuilding project. The rest of the AFC South certainly hopes that's how it works, and that the division is a lot more wide open once Manning's not in it.
And while we're forecasting five years out, I have two questions: Will Manning still be a deadpanning TV commercial superstar? And will Brady have had a haircut?
Graham:
There's one unwavering prediction I can make about hair, Paul, but it's not about Brady's.
April, 1, 2009
4/01/09
12:00
PM ET
Posted by ESPN.com's Paul Kuharsky and Mike Sando
Is more better?
NFL commissioner Roger Goodell is confident the answer is yes. At the recent owners' meeting, he talked about expanding the regular season from 16 to 17 or 18 game, while cutting back the preseason, which he acknowledged doesn't meet the league's standards for its product with its fans.
Owners could vote on the issue this year, but such a change would then have to be bargained for as part of a new agreement between the league and the NFL Players Association (NFLPA).
| | |
| --- | --- |
| | |
| | Matthew Emmons/US Presswire |
| | Commissioner Roger Goodell is in favor of expanding the NFL's regular season. |
Would it be the right move? AFC South blogger Paul Kuharsky backs the bigger regular season, while NFC West blogger Mike Sando is against it.
They do their best to hash it out in this week's edition of Double Coverage.
Kuharsky: The NFL will never trim the preseason without converting some of it to real games, and the preseason is unquestionably the biggest rip off for ticket buyers in sports. Goodell clearly realizes that fans are fed up with meaningless exhibition games decided by fourth stringers that cost full price and are a mandatory purchase for season-ticket holders. Yes, a lot of things will have to be adjusted to accommodate an 18-game NFL regular season -- pay, the size of rosters, TV deals, etc. But more professional football that counts is a good thing, and taking the schedule further into February, the worst month on the sports calendar, is fine with me. I think it needs to be 18 -- not 17 -- games in order to keep balanced home and road schedules. If it's 17 and you talk about neutral sites, we're talking about leaving all these palaces built for football unused for actual games.
Sando: We can all agree there's a problem. Look, I know what it's like to fork over full price for preseason tickets, all while watching a horrible product on the field. That was my fate as a Raiders season-ticket holder years ago. I could barely afford my upper-level seats for the regular-season games and it was maddening to pay for games that didn't count. But I also think the NFL needs to think hard before further diluting its product. We already have too many teams. The league clearly doesn't have enough quarterbacks to make it through the current 256-game schedule. Adding two games per team would add 64 starts for quarterbacks.
Kuharsky: Funny, I never pictured you wearing a silver-and-black dog collar, Mike. As for 64 more quarterback starts, I'm fine with that too. The team that picks Peyton Manning over Ryan Leaf and the team smart enough to have Byron Leftwich as its backup instead of Ryan Fitzpatrick should reap the benefits of choosing correctly as often as it can. A team like the Bears that constantly fails to address the position effectively should suffer the consequences. If it's a side effect to a longer season that the teams that scout and groom quarterbacks the best have an advantage in a longer season, so be it. It's the most important position in the game. If the resources you have for finding and developing a player or players are insufficient or ineffective, here are a few more games where the people who are good at it get a chance to show you why you should be better at it.
Sando: Quarterback injuries are the real problem here. We can talk about the league putting skirts on quarterbacks and legislating contact out of the game, but quarterbacks will keep getting hurt. It's the nature of the position. Fifty-three quarterbacks started games in 2008. The number was 64 in 2007 and 50 in 2006. The Browns had four starters last season. The Chiefs, Lions and Seahawks each had three.
| | |
| --- | --- |
| | |
| | AP Photo/Michael Conroy |
| | An expanded regular season schedule would force teams to groom a backup QB, like the Colts' Jim Sorgi, in case injuries occur. |
The more games the NFL adds, the harder time quarterbacks will have staying healthy. Don't know about you, Paul, but I'd rather watch the third-stringer play in August than January. Think about it. If you're a Colts fan, would you rather endure a couple of meaningless games in August or would you rather endure Jim Sorgi starting a playoff game after Manning's body finally gives out in Week 19?
I don't think people understand what a 16-game schedule does to these players' bodies. The NFLPA understands, and that's why I think the 18-game schedule could be a tough sell.
Now that we've settled that issue, what about the record books? The jump from 14 to 16 games three decades ago already diminished the 1,000-yard season. If the league goes to 18 games, players would have to average only 55.6 yards per game to reach 1,000 yards. I realize the AFC South had only two 1,000-yard receivers last season -- the Cardinals had three, by the way -- but that seems ridiculous.
Kuharsky: A tough sell until players negotiate themselves two or three more in-season paychecks. And you want more quarterback development? There it is -- teams better get or groom themselves a quality backup because he will play. Wear and tear is definitely the biggest issue, and to make this schedule boost happen the league will have to give in on pay as well as on issues of jobs, service time connected to pensions and benefits. I would be in favor of a second bye week as well, which would help with recovery times and work just fine if the regular season started earlier because of a shortened preseason and ended later with a Valentine's Day Super Bowl.
I completely disagree with the record-book argument as a factor. A 1,000-yard rushing season hasn't meant much for a running back since the league went from 14- to 16-game regular seasons in 1978. A recalibration there is long overdue already. Fans and media can handle it if the benchmarks don't come in nice round numbers. That's hardly a reason not to play more.
This isn't baseball, where we know the numbers automatically, where 56 and 2,632 evoke images of Joe DiMaggio and Cal Ripken. What's the all-time rushing mark? I admit I've got to run to pro-football-reference.com to get Emmitt Smith's 18,355 yards. In 2008, Drew Brees was in range of Dan Marino's season record for pass
ing yardage (5,084), but it's not like a high percentage of fans or media know Marino's mark by heart. When Brees or someone else breaks it with two extra games, we'll understand the framework of it.
| | |
| --- | --- |
| | |
| | Luc Leclerc/US Presswire |
| | Brady Quinn (10) was one of four Browns quarterbacks to start a game in 2008. |
There is nothing that can happen in an 18-game season that I can't count on you to put in context, and a spreadsheet, to help me comprehend. You and I and all our colleagues can evaluate production in an 18-game season in the context of league history and the old 16-game paradigm.
Sando: Any discussion of extending the season should indeed pull baseball and basketball into the fold. Both sports play more games than most busy people are willing to follow. The NFL enjoys a tremendous advantage by playing fewer games than those other sports.
If not for the physical demands of football, short-sighted owners would trade the long-term good of the game for profits associated with seasons running 82 or 162 games. Jumping to 18 games isn't going to kill the NFL, but it's certainly going to dilute the regular season while putting more players at risk for injuries. Is that progress?
Kuharsky: It is to me if the primary argument against it is that it dilutes the regular season.
Eighteen games is still a reasonably small season, every game is still going to have a big bearing on the final standings and, again, we're talking about trimming half the pitiful preseason sham. I don't feel like it will put the NFL in the neighborhood of baseball, basketball or hockey in terms of over-saturating the sports landscape. A lot of taxpayer money went into building these stadiums. Let's put them to meaningful use more often.
ESPN Radio's Colin Cowherd always talks about the NFL's willingness to evolve. I think an expanded regular season qualifies as just that.
April, 1, 2009
4/01/09
10:00
AM ET
Posted by ESPN.com's Paul Kuharsky
Two notes before we get started on headlines.
Big night for LP Field in Nashville, which trades football for futbol as the U.S. men's national soccer team takes on Trinidad and Tobago in a World Cup qualifier. Will be my first time ever in the crowd at the venue with a full rooting interest.
Thursday's AFC South chat could run two hours. Stay tuned for an update.
Houston Texans
Unhappy with their contracts, Dunta Robinson and DeMeco Ryans will not be part of voluntary workouts when they start Monday, reports John McClain.
A transcript of McClain's Tuesday chat.
Indianapolis Colts
Jacksonville Jaguars
Nothing Wednesday morning.
Tennessee Titans
Bo Scaife is sitting out the offseason workout program while wearing the franchise tag, reports Jim Wyatt.
Season-ticket renewals are on a typical pace despite the bad economy, says Gary Estwick.
Vince Young is now an afterthought in Tennessee, says Matt Bowen.