January, 4, 2014
Jan 4
8:01
PM ET
INDIANAPOLIS -- A few thoughts on the
Kansas City Chiefs
' 45-44
loss
to the
Indianapolis Colts
:
What it means:
The 2013 Chiefs are among history's most infamous playoff teams. The Chiefs led 38-10 early in Saturday's third quarter before an epic collapse. The blown lead of 28 points is the second-biggest in NFL playoff history, behind the 32-point margin coughed up by the Houston Oilers against the
Buffalo Bills
in 1993. The Chiefs lost their eighth consecutive playoff game in a streak dating back 20 years.

Stock watch:
Quarterback
Alex Smith
set a franchise record for touchdown passes with four. The touchdowns went to four different receivers.
Joe Montana
held the old record of three, in Kansas City's most recent playoff victory, in January 1994 against the Oilers. But Smith lost a fumble in the third quarter with the Chiefs ahead 38-17, and it led to an Indianapolis touchdown. Wide receiver
Donnie Avery
left the game late in the first half with a concussion and caught only one pass, a 79-yard touchdown in the second quarter that gave the Chiefs a 17-7 lead, their first double-digit advantage of the game. They never led by fewer than 10 points until the fourth quarter. Outside linebacker
Justin Houston
had a sack and a fumble recovery in his first game since suffering a dislocated elbow Nov. 24 against San Diego. Nickel safety
Husain Abdullah
had two interceptions. After missing the potential game-winning field goal attempt in the final seconds of Sunday's game in San Diego,
Ryan Succop
made all three of his tries.
Concussion for Charles:
The Chiefs lost running back
Jamaal Charles
on their first possession with a concussion; they still scored a franchise record for points in a playoff game without him. His backup, rookie
Knile Davis
, scored on a 4-yard run in the second quarter and a 10-yard catch in the third quarter. Davis left the game with a knee injury in the fourth quarter, leaving
Cyrus Gray
and
Dexter McCluster
to finish the game at running back. The Chiefs also lost starting cornerback
Brandon Flowers
to a concussion. Houston injured his leg late in the game and did not return.
What's next:
The Chiefs lost five of their final seven regular-season games before collapsing against the Colts.
October, 10, 2010
10/10/10
8:43
PM ET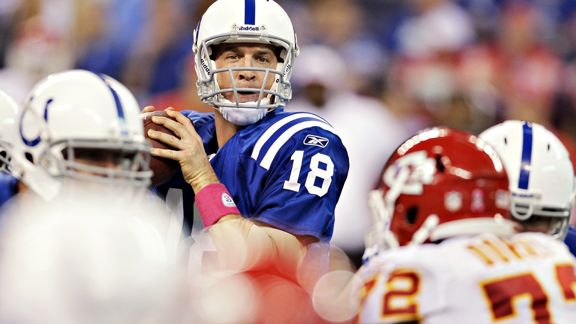 AP Photo/Darron CummingsPeyton Manning had one of his worst games since 2008, but the Colts found a way to beat the Chiefs.
INDIANAPOLIS -- After lots of wins, the Colts and their perfectionist quarterback talk about all the room for improvement.
After Indianapolis'
19-9
win against previously undefeated Kansas City on Sunday at Lucas Oil Stadium, it was more believable than usual.
With a third-string strong safety starting the game and a third-string running back finishing it, a field goal battle felt like it would ultimately hinge on which quarterback would make the bigger play.
It rates as no surprise that
Peyton Manning
outpointed
Matt Cassel
in that regard, but it was hardly a sharp afternoon for the four-time MVP.
As defensive coordinator of the
New England Patriots
from 2001-04, Romeo Crennel helped devise some quality game plans against Manning. In the same capacity for the Chiefs, he revisited some of those successful plans, tweaking them to his personnel and faring pretty well.
En route to 244 passing yards, Manning connected on only 59 percent of his passes with an interception and a sack. He didn't connect on anything longer than 24 yards and wound up with a 65.0 passer rating. That's a touch lower than the rating he put up in that throw-away regular-season finale in Buffalo last season. It was his worst in a game the Colts played to win since Nov. 30, 2008, in an ugly 10-6 win at Cleveland against a team coached by… Crennel.
Manning said it was all set up to test the offense's patience.
Three places Manning usually thrives were cut down by Crennel and K.C., according to ESPN Stats & Information. Manning came into the game with a 112.3 rating out of the shotgun, 116.5 against five defensive backs or more and 113.9 on play-action. Against the Chiefs, those numbers were 59.4, 66.4 and 27.8, respectively.
"We've got some guys that can get open, that can get the job done even when Peyton is off," receiver
Reggie Wayne
said, kind of repeating my premise about Manning being less than his usual self, not offering it himself. "I felt like he did pretty good with what they were giving us. He hung in there and did what he was supposed to do."
The Chiefs loaded up people in coverage, daring the Colts to run effectively.
Joseph Addai
got the ball a lot early on, but wound up with just 50 yards on 17 carries. When Addai suffered a shoulder injury that ended his day,
Mike Hart
took over and got 50 yards of his own on 11 carries.
A 3.1-yard ground average didn't scare Kansas City and won't frighten anyone else. Defenses will be thrilled to take it as a trade-off for limiting Manning if they can.
[+] Enlarge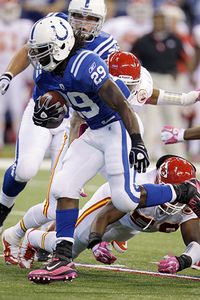 AP Photo/Darron CummingsThe Colts' Joseph Addai struggled for 50 yards on 17 carries before a shoulder injury ended his day.
"I think we're going to have to be patient from here on out until we get our running game going the way it's supposed to," said Wayne, who caught six passes for 75 yards. "Everybody is going to be keying on the pass, forcing us to run. We just have to find a way from here on out. It's going to be tough."
Ultimately, however, the Colts pulled ahead 12-9 in the field goal battle. In the fourth quarter, the Colts drove 12 plays and 71 yards to the game's lone touchdown, on an 11-yard run by Hart with 4 minutes, 2 seconds remaining.
Afterward, the guys on offense were thankful for the defensive effort and efficiency.
Wayne said he didn't think defenders liked an Indianapolis Star story this week. In the print version it was headlined: "What's wrong with these guys?"
"They should have taken offense to it," Wayne said. "It was tough. But they did a great job today. We laid it on them a little bit and the touchdown at the end was something that we really needed."
That defense held the Chiefs to two conversions in 12 third- and fourth-down attempts and kept them out of the end zone.
"The offense had some situations there they couldn't get things totally taken care of this week," linebacker
Clint Session
said. "And we had their back. We took it personal, the way we were talked about."
A few other things I think are worth contemplating:
Next man up:
It's a cliché that the Colts put into action as well as anyone in the league.
Against the Chiefs it was next man up
after that
, with
Aaron Francisco
at strong safety replacing
Melvin Bullitt
, who replaced
Bob Sanders
. The same thing happened at running back, with Hart replacing Addai when he was hurt with
Donald Brown
already out injured.
Francisco was with the Colts last season, but spent camp with Carolina, hadn't played a game this year and was re-signed by Indianapolis on Tuesday.
"I kind of got myself to forget this defense after I went to Carolina and learned the system down there, but I guess after the first practice everything started coming back to me," he said. "It's not really a hard defense to learn. I feel like I did good. I know there will be a lot of things I've got to correct. I think I did enough to help us win, though."
Hart is the smallest of the team's top three backs. Addai was happy for him.
"Mike got a chance to do what he can do," Addai said. "You always trust what he can do because he's a solid player."
Skidding sideways:
Kansas City kicker
Ryan Succop
's game-opening onside kick took a strong left turn and didn't travel 10 yards, resulting in a flag and a Colts' possession starting at the Chiefs' 37-yard line.
I asked several Colts about it. While the answers varied, none said what hundreds of guys on other teams would have taken from it: "They were afraid they wouldn't be able to hang with us and needed a jump-start right at the beginning."
The resulting Colts' drive stalled at the Chiefs' 2, and
Adam Vinatieri
converted the first of his four successful field goals to provide a 3-0 lead.
It was the first onside kick the Colts have faced since the infamous
Garrett Hartley
kick that started the second half of Super Bowl XLIV and swung momentum heavily in favor of New Orleans.
"I was anticipating someone would do it," Colts head coach Jim Caldwell said. "… If you show a weakness at any point in time, at some point and time it's going to come back up. So you better work on it. So that was something we anticipated possibly seeing."
A free three:
As good as the Colts were defensively, they easily could have been 3 points better.
When Addai failed to convert a fourth-and-2 from the K.C. 39, the Chiefs got the ball back with 18 seconds left in the first half.
Kelvin Hayden
hit
Chris Chambers
out of bounds after a 13-yard gain, giving away 15 yards with the unnecessary roughness and helping set up the first of Succop's three field goals.
It's an uncharacteristic sort of play for the Colts, who don't generally give things up so easily.
Had things gone the other way, it would have been near the top of this column instead of at the bottom.