November, 7, 2013
11/07/13
10:00
AM ET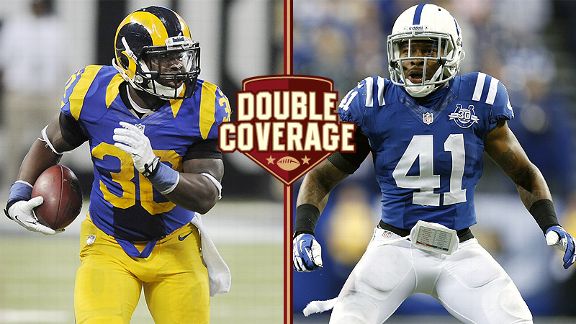 AP Photo/L.G. PattersonZac Stacy and the Rams have run well of late. That will be vital against Antoine Bethea and the Colts.
.
Indianapolis Colts
quarterback
Andrew Luck
and
St. Louis Rams
quarterback
Sam Bradford
were supposed to be the key players when their teams meet at Lucas Oil Stadium on Sunday afternoon. Luck will be on the field taking snaps, but Bradford is stuck being a spectator after tearing his ACL earlier this season.
The Rams have been hit hard by the loss of Bradford: They have lost three in a row and don't appear close to turning things around. Meanwhile, Luck is an MVP candidate despite not putting up off-the-charts statistics. He's simply overcome the loss of five key offensive players to lead the Colts to first place in the AFC South.
ESPN.com Colts reporter Mike Wells and Rams reporter Nick Wagoner break down the matchup.
Wells:
Nick, I'm sure most fans thought St. Louis would make progress off its seven wins last season. That doesn't look like it's going to happen. How much has Bradford's season-ending injury affected the Rams? Or do you think they were going to struggle even with him leading the way?
Wagoner:
It's been a strange season in which it's really hard to predict what you're going to get from the Rams from week to week. There's no question the team was better with Bradford at quarterback. If he'd been healthy the last two weeks (and making the big assumption that everything else stayed the same), the Rams likely would be sitting at 5-4 right now. The Rams already had a really small margin for error, and it got even smaller when Bradford went down. They have had way too many self-inflicted mistakes to overcome, and they have a knack for not being able to get out of their own way.
We can talk about Luck in a minute, but I wanted to get to a big-picture Colts issue first. The Rams and Colts both began 2012 in something of a rebuilding mode. The Colts were able to do it really quickly, whereas the Rams are still sifting through the process. Aside from Luck, what do you think has been the biggest key to the Colts' turnaround?
Wells:
The defense. It took the unit a season to get used to the 3-4 scheme employed by coach Chuck Pagano and defensive coordinator Greg Manusky. They also acquired players comfortable in the system. Linebacker
Robert Mathis
is a legitimate Defensive Player of the Year candidate with 11.5 sacks. The unit itself isn't highly ranked – 22nd overall – but it seems to find a way to make plays at the right time. It deserves just as much credit as Luck for the victory over Denver on Oct. 20. The defense must continue to make plays to help out the offense, which is without receiver
Reggie Wayne
for the rest of the season.
I have to say, Nick, there are not a lot of recognizable names on the Rams' roster. Is there any reason to believe they can go into Lucas Oil Stadium and upset the Colts?
Wagoner:
Honestly, I don't see how the Rams can win this one. Credit to the Rams, they've really shown some fight the past two weeks without Bradford. But they were unable to pull off a couple of winnable games because they keep making mistakes they can't surmount. The Rams' best hope in this one is to continue to run the ball well -- which, considering the Colts have the 27th-ranked rush defense, seems possible -- and to get some turnovers on defense.
One area that continues to plague the Rams is defending the run. Tennessee's woeful rushing attack got healthy on the Rams last week. I wonder if the Colts and
Trent Richardson
can do the same. It seems the return on investment hasn't been there for Indy on the Richardson deal. What's been the struggle, and do you think the Colts can get him and their running game going?
Wells:
It seems that every week the talk is about Richardson getting closer to having a big game. But everybody is still waiting. First it was a matter of Richardson getting comfortable with the system the first few weeks after he was acquired from Cleveland. Then offensive coordinator Pep Hamilton came out last week and said he has to do a better job of finding ways to get Richardson out in space. The Colts' running game was put into some perspective when they ran the ball only four times in the second half last weekend against Houston -- and three of those runs came on their final offensive series when they were killing some clock. Titans running back
Chris Johnson
had his best game of the season – 150 yards – against the Rams last week. Maybe Richardson will do the same. Finally.
The Colts are pretty familiar with Jeff Fisher from his days with their AFC South rival Titans. Is there any danger of the Rams' coach losing his job at the end of the season?
Wagoner:
Short of some wild scandal breaking out, I'd say the chances of that happening are pretty much zero. He's in only his second season, and the Rams knew they had a long road to climb to get back to being a contender. They exceeded expectations in his first season, and that may have sped up the way people view the rebuilding project. But the Rams have always viewed 2014 as the year they hoped to really take a major step forward. This season will likely go down as a disappointment, but if Bradford returns healthy and the Rams have a good offseason, they'll believe they can be back in the mix. The biggest disappointment this season has been the lack of progress by many of the team's young players. That's not to say nobody has made that move; it's just not as many as the Rams would have liked, at least not yet. That said, I do think it's possible Fisher could take a look at some of the guys on his staff. He's a loyal guy and many of his assistants have been with him for a while, but that doesn't mean everyone is exempt.
I do want to ask about Luck, but I wanted to take a different approach than the old "Why is Andrew Luck so awesome?" question you probably get every week. Each of these teams has a No. 1 overall pick at quarterback, but they have very different salaries. How much of a difference has it made for the Colts that they not only got a franchise-changing quarterback but one they don't have to pay like an NFL megastar for a while?
Wells:
I'm going to take it beyond the fact that the Colts don't have to pay Luck megastar money for a while. The Colts will likely have their choice of free agents to choose from because many will want to play with Luck. As one player recently told me, "You want a chance to win a couple of rings? Come to Indianapolis because 12 is going to be here for a long time and he's going to win this organization some Super Bowls." The best part from an organizational standpoint is that Luck is in just his second season and his desire to win and get better on a daily basis is something a lot of players in this league wish they had.
.
October, 31, 2013
10/31/13
12:00
PM ET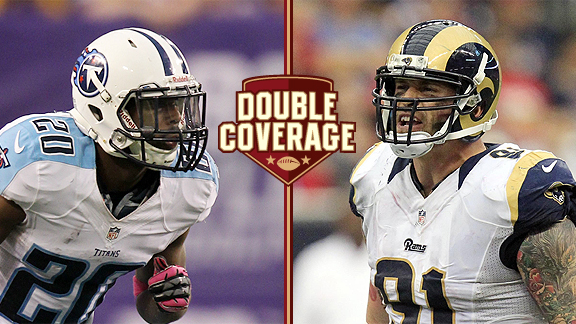 USA TODAY SportsTitans CB Alterraun Verner and Rams DE Chris Long are two of the league's best at their positions.
.
Any time the
St. Louis Rams
and
Tennessee Titans
meet, memories of Super Bowl XXXIV are sure to come to the fore. In one of the greatest Super Bowl finishes of all time, the Rams emerged with their lone championship during their time in St. Louis.
A lot has changed since, but neither team has managed to get back to the promised land and it seems like a long shot either will this season. This week, the Rams and Titans renew acquaintances at the Edward Jones Dome in St. Louis. ESPN.com Rams reporter Nick Wagoner and Titans reporter Paul Kuharsky discuss some things worth watching, including an interesting role reversal for one of the key figures in that Super Bowl.
Wagoner:
Well, it's pretty obvious what the big story is going to be this week. Jeff Fisher is facing his former team for the first time since taking over as the coach in St. Louis. As is to be expected, Fisher is downplaying that whole angle, but you were around him a lot in his years in Nashville. Do you expect Fisher to have a little something extra for his old team this week?
Kuharsky:
It would be so much better if it were in Nashville. Then we'd have the crowd reaction as a part of it, too. Still, it's intriguing. He will definitely have something (or some things) drawn up that he feels will uniquely exploit the schemes and styles of his former underlings Mike Munchak, Jerry Gray and Gregg Williams. If those things work, I'd expect Fisher will then talk about how one of his assistants who was once in Tennessee -- Chuck Cecil, Dave McGinnis or even Ray Sherman -- was instrumental in the design. Fisher didn't leave with hard feelings, and I believe he wishes the organization well. Still, any proud former employee in this sort of circumstance wants to outperform the former employer. He's talked about it meaning more for the guys on the roster who were once Titans.
Jared Cook
had a monster opening day but has been quiet since.
Cortland Finnegan
missed some time hurt. What's the status of those guys?
Wagoner:
Cook has really struggled dealing with teams giving him more attention and, more specifically, being physical with him at the line of scrimmage and downfield. He stopped on a route last week against Seattle, and it resulted in an interception. The Rams have gone back to more of a power running scheme that has also limited his snaps because he doesn't bring much to the table as a blocker. Finnegan won't say it, but I believe he was banged up at the beginning of the season; his first four games were downright brutal. He returned last week against Seattle, and for now he's working exclusively in the nickel as the team's third corner rather than just bumping inside in those situations. Given that he's only a little more than a year into a monster contract, it's hard to categorize him as anything but a disappointment for the price.
A lot will be made of the Fisher-Tennessee connection, but I'm more intrigued by the Gregg Williams situation. The way things went down with him and the Rams, and between Williams' son Blake and the Rams, had to have created some tension on all sides. What has Williams' impact been down there in Tennessee, and what exactly is his role?
Kuharsky:
By title, he's senior assistant/defense. In practice, he's not-quite defensive coordinator. Gray is still calling the plays, but Williams' influence is undeniable. This defense had no personality or attitude last season. Now it's the backbone of the team. It mixes it up and disguises its looks up front, it blitzes more often and it plays far more man-to-man.
Bernard Pollard
has been a great fit who has talked with swagger and backed it up. Some guys most people have never heard of -- defensive end
Ropati Pitoitua
and middle linebacker
Moise Fokou
-- have been very good additions. Williams certainly had a say in bringing those guys in. He has stayed in the background and seems comfortable there. I would imagine he and Gray are excited to put together a plan to make
Kellen Clemens
uncomfortable.
How do you think Clemens will respond in his second start since
Sam Bradford
went down?
Wagoner:
To paraphrase one of the great philosophers of our time, Mr. Dennis Green, Clemens proved last week against Seattle that he is what we thought he was. He's a tough, gritty, consummate professional who can occasionally extend plays with his legs and make something happen. He's also consistently inaccurate, a bit indecisive and has a knack for costly turnovers (though his two interceptions Monday night weren't completely his fault). Another week to work with the starters should help, but he was a bit sore after Monday night's game against Seattle. The Rams don't need him to throw for 300 yards and five touchdowns, but they do need him to convert in the red zone and not turn the ball over.
There are something like 16 players from the Fisher era remaining in Tennessee, one of whom is running back
Chris Johnson
. The Rams have been better defending the run the past two weeks, but they need to prove they can keep doing it. It appears Johnson has struggled after the team made efforts to help him in the offseason. What's going on with Johnson, and is he (and the Titans' offensive line) capable of taking advantage of the Rams' run defense?
Kuharsky:
The Titans are built on a philosophy of throwing it when they want to, not when they have to. That's a mistake because the revamped line and Johnson are not equipped to run it they way they think they can. Jets fans get a kick out of this, but to a large degree the Titans' hope things will get better comes from
Shonn Greene
. The bigger back was brought in as a compliment to CJ, but he got hurt in the opener and made it back only the week before the bye; he has hardly played. They need him to emerge and contribute. Based on current numbers, the Rams are the third-softest run defense the Titans will have seen this season. If they can't run Sunday, it will really speak to their issues.
Chris Long
and
Robert Quinn
looked really good against Seattle. Have they been giving everyone problems like that?
Wagoner:
Quinn certainly has. Through the first half of the season, he's really starting to realize his immense potential. I believe he's the Rams' best player right now, and have felt that way since the beginning of the season. He's an athletic freak who gives slower tackles problems. He feasts on inferior players, but he can get it done against good tackles as well. Long was banged up earlier in the season but has battled through it and is starting to find his stride. Given the situation on offense right now, the Rams need this duo to take over games on a regular basis and set the tone for a defense that, before last week, had largely disappointed this season.
.
October, 27, 2013
10/27/13
6:15
PM ET
INDIANAPOLIS -- The
Indianapolis Colts
will return to the practice Monday afternoon after coach Chuck Pagano gave his players the entire week off following their victory over the
Denver Broncos
on Oct. 20.
The Colts won't have receiver
Reggie Wayne
(knee) the rest of the season, but they're still in a good position to win the AFC South for the first time since 2010.
The Colts (5-2) have a two-game lead over the
Tennessee Titans
(3-4). They also have a favorable schedule the rest of the season. It puts them in the perfect spot to match their 11-5 record from last season as long as they can overcome losing Wayne and avoid playing to the level of their competition when they face struggling teams.
The road to their 5-2 record hasn't been easy for the Colts. They've beaten the Broncos, Seattle and San Francisco. And they did it while having to overcome season-ending injuries to Wayne,
Dwayne Allen
,
Vick Ballard
,
Donald Thomas
and
Ahmad Bradshaw
. Starting safety
LaRon Landry
also missed four games with a high-ankle sprain. That's what makes Indianapolis' start even more impressive.
The Colts' remaining nine opponents went into Sunday with a combined record of 23-26.
Here's a breakdown of the Colts' schedule:
Nov. 3 at Houston:
The Texans were possible Super Bowl contenders in the AFC when the season began. Instead they've been one of the biggest disappointments. You wouldn't have thought the Texans would have a quarterback issue with
Matt Schaub
, but he's thrown nine interceptions and isn't a fan favorite in Houston.
Nov. 10 versus St. Louis:
You know things are bad when a team calls 44-year-old
Brett Favre
to see if he's interested in coming out of retirement to play quarterback. Starting quarterback
Sam Bradford
is out for the rest of the season with a torn ACL.
Nov. 14 at Tennessee:
This is toss-up game for the Colts. The Titans have dropped three in a row, but they lost against Kansas City, Seattle and San Francisco and they were without quarterback
Jake Locker
in two of those games.
Nov. 23 at Arizona:
The Bruce Arians reunion game. The Cardinals have
Carson Palmer
at quarterback – 8 touchdowns, 13 interceptions and sacked 20 times. Enough said.
Dec. 1 versus Titans:
The Colts are 9-1 against the Titans in the last 10 games played in Indianapolis.
Dec. 8 at Cincinnati:
The Bengals get the edge in this one because they're at home and unlike Colts quarterback
Andrew Luck
, Cincinnati quarterback
Andy Dalton
has one of the best receivers in the league,
A.J. Green
. The Bengals also have a top-10 defense.
Dec. 15 versus Texans:
The Texans have never beaten the Colts in Indianapolis (0-11). The losing streak will remain.
Dec. 22 at Kansas City:
Coach Andy Reid deserves a lot of credit for the job he's done in turning the undefeated Chiefs around. They have a top-five defense.
Dec. 29 versus Jacksonville:
History could be made at Lucas Oil Stadium on this day. I wouldn't be surprised if the Jaguars entered the game 0-15.
October, 4, 2013
10/04/13
4:15
PM ET
JACKSONVILLE, Fla. -- Looking for some help with your fantasy football lineup? Every Friday I'll give you my opinions on which
Jacksonville Jaguars
players to play and sit, as well as which of the opposing players might be a good play against the Jags. For more fantasy football advice, check out ESPN.com's
fantasy football page
.
Jaguars
Quarterback Blaine Gabbert:
He has been sacked 10 times and has thrown five interceptions in his two starts. He is getting his top target back, but he's got a rookie left tackle going up against Rams defensive end
Robert Quinn
, who already has 5.0 sacks.
Verdict
: Sit him.
Running back Maurice Jones-Drew:
This matchup should be a good chance for the Jaguars' struggling run game (49.0 yards per game) to finally get going. The Rams give up 133.5 yards per game on the ground. But what kind of impact will the move of
Luke Joeckel
to left tackle and the insertion of
Austin Pasztor
at right tackle have?
Verdict
: If you're willing to gamble, play Jones-Drew. If there's a week in the first half of the season for him to get going it's this one.
Wide receiver Justin Blackmon:
He's back after his four-game suspension and all reports are that he has looked great in practice. He's gained eight pounds coach Gus Bradley said and his conditioning is great. He's going to get a lot of targets, too.
Verdict
: Start him as your No. 2 or 3 receiver. He should have an immediate impact on the offense.
Wide receiver Cecil Shorts:
He has been battling a groin injury this week but is expected to play. He'll be the biggest beneficiary of Blackmon's return because defenses will not be focused solely on stopping him.
Verdict
: The groin injury is a concern, so only play him if you need a flex.
Tight end Marcedes Lewis:
He's out (again).
Kicker Josh Scobee:
He's still perfect this season and last week kicked a 53-yarder. It's hard to play him, though, because the offense is still struggling so much.
Verdict
: Sit him.
Defense/special teams
: Blackmon's return means
Ace Sanders
won't have to play as many snaps at receiver so he'll be fresher to handle punt returns. The Rams are the only team in the NFL running the ball worse than the Jaguars, but
Sam Bradford
is averaging more than 250 yards per game passing and he's thrown for seven touchdowns in four games. The Jaguars have given up nine touchdown passes this season.
Verdict
: Sit them.
Rams
Quarterback Sam Bradford:
He has to be excited about facing a secondary with two rookie safeties, especially with the matchup issues that tight end
Jared Cook
creates. Could be a big game for Bradford.
Verdict
: Start him.
Running back Daryl Richardson:
He tweeted earlier this week that he wasn't starting. Coach Jeff Fisher said that hadn't been determined yet. It doesn't really matter if Richardson,
Isaiah Pead
or
Benny Cunningham
starts. The Rams are averaging an NFL-worst 47.3 rushing yards per game. But the Jaguars are last in the NFL in rush defense (165.0 yards per game) and have given up a league-high nine runs of 20-plus yards.
Verdict
: With the uncertainty of which back will get the most work, it's best to sit all of them.
Wide receiver Tavon Austin:
He's the Rams' leading receiver (20 catches) but he's averaging only 6.2 yards per catch. He should be more of a big-play receiver.
Verdict
: If you need a flex, play him. He's just not putting up good enough numbers to warrant being a top three receiver.
Wide receiver Austin Pettis:
He has 18 catches and is averaging 9.6 yards per catch -- better than Austin but still nothing spectacular.
Verdict
: See above.
Tight end Jared Cook:
The Jaguars have had some issues with covering tight ends and he's a matchup nightmare, especially for linebackers. He's averaging 14.1 yards per game and has two touchdown receptions. He should have a solid game.
Verdict
: Start him.
Kicker Greg Zuerlein:
He is 6-for-6 on field goal attempts. Always like a kicker who plays home games on turf.
Verdict
: Play him.
Defense/special teams:
The Rams must be excited about the thought of Quinn going up against a rookie tackle and an offensive line that has given up 18 sacks in four games. St. Louis is a big banged up in the secondary but Jaguars quarterbacks have thrown seven interceptions in four games.
Verdict
: Play them.
August, 1, 2013
8/01/13
4:55
PM ET
The sophomore slump concept baffles me.
Sure, we see it at times. But it's as if just because there is a sing-songy and alliterative name for a second-year dip, it's a fact that any good rookie endures a sophomore slump.
I just had a pretty good view of
J.J. Watt
's second year. It was no slump.
[+] Enlarge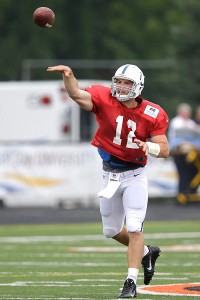 AP Photo/Michael ConroyColts quarterback Andrew Luck seems an unlikely candidate for a sophomore slump.
Coaches regularly say the biggest jump for players is between Year 1 and Year 2.
When it comes to
Andrew Luck
, I'm not predicting anything close to a sophomore slump.
Lee Singer of ESPN Stats & Information was kind enough to sort though numbers on quarterbacks over the past 10 years who played substantially in their first and second years.
There are 15 quarterback in the past 10 seasons who have qualified for the passer rating title in each of their first two seasons. That requires 14 pass attempts per game.
Here's the list of those 15:
Cam Newton
, CAR
Sam Bradford
, STL
Matt Ryan
, ATL
Andy Dalton
, CIN
Joe Flacco
, BAL
Byron Leftwich
, JAC
Ben Roethlisberger
, PIT
Mark Sanchez
, NYJ
Blaine Gabbert
, JAC
Vince Young
, TEN
Josh Freeman
, TB
Christian Ponder
, MIN
Trent Edwards
, BUF
Colt McCoy
, CLE
Kyle Boller
, BAL
Nuggets from Singer on those 15 regarding the idea of a sophomore slump:
Ten of them increased their completion percentage in their second year. Young had the biggest increase (51.5 to 62.3) while Bradford had the biggest drop (60.0 to 53.5).

Nine of the 15 increased or saw their yards per attempt remain consistent. Edwards had the biggest increase (6.1 to 7.2) while Ryan had the biggest drop (7.9 to 6.5).

Thirteen of the 15 saw their touchdown-to-interception ratio increase. Freeman had by far the biggest increase (.56 to 4.2, going from 10 TDs and 18 INTs to 25 TDs and six INTs) while Young had the biggest drop (.92 to .53, 12 TDs and 13 INTs to nine TDs and 17 INTs).

Thirteen of the 15 saw their NFL passer rating remain steady or improve. Freeman had the biggest increase (59.8 to 95.9) while Matt Ryan had the biggest drop (87.7 to 80.9).

There are 10 quarterbacks in the QBR era (since 2008) who have qualified for the passer rating title in each of their first two seasons. Seven of those QBs saw their QBR remain steady or increase. Freeman had the biggest increase (25.9 to 64.6) while Ryan had the biggest drop (74.1 to 56.6).
Improvement or decline in Year 2 hardly establishes a permanent arrow -- Freeman is much less of a sure thing now than he seemed after his second season; Ryan has become a much more known and desirable commodity since his second season.
But let's get past this default setting that a rookie quarterback who has a decent, good or very good first year is automatically going to suffer a second-year dip.
I'd bet on Luck being far better in completion percentage (where he was at 54.1 percent in 2012 and is in a system featuring shorter passing now). I also expect he will throw fewer than 18 interceptions, throw more than 23 touchdowns, absorb fewer than 41 sacks and post a rating higher than 76.5.
The trade off for improvements in those areas is likely to come in air yards. Luck's 10.1 air yards per pass last season, per NFL Stats & Information, was the highest number in the NFL.
December, 3, 2012
12/03/12
11:16
AM ET
The statistical rundown of
Andrew Luck
's down-and-up day in the Colts' 35-33 win in Detroit, from ESPN Stats & Info:
His eighth win sets the NFL record for wins by a rookie starting QB drafted No. 1 overall in the common draft era. Sam Bradford won seven for St. Louis in 2010, Cam Newton won six in 2011 and Jim Plunkett won six in 1971.
He produced his fifth game-winning drive of the season. Only Atlanta's Matt Ryan (six) has more. The five ties the record mark for a rookie. In 2006, Vince Young of the Titans led five game-winning drives in the fourth quarter or overtime and Ben Roethlisberger had five for the Steelers in 2004.
Luck threw a 14-yard touchdown pass to Donnie Avery on the final play from scrimmage to give the Colts the win at Ford Field. Luck also threw a game-winner to Reggie Wayne with 35 seconds remaining against the Packers in October. He is the first NFL rookie to throw two game-winning TD passes inside the two-minute warning of the fourth quarter. (From Elias.)
Luck had a Total QBR of 31.4 in Sunday's game. The number was 96.7 in the final five minutes of the game after it was just 11.3 in the first 55 minutes of the game.
If Luck averages just 114 passing yards per game in the Colts' final four games, he will break Newton's 2011 rookie record of 4,051 passing yards. With 143 yards against the Titans Sunday, he'll catch Peyton Manning (3,739) for second on that list.
November, 23, 2012
11/23/12
1:30
PM ET
»
NFC Final Word
:
East
|
West
|
North
|
South
»
AFC
:
East
|
West
|
North
|
South
Five nuggets of knowledge about Week 12:
On track:
Tennessee Titans running back
Chris Johnson
said this week he's not worried about his future with the team, which has to guarantee him an additional $9 million in March in order to keep him for 2013. He averaged just 2.9 yards per carry in his first five games this season, with no touchdowns and just seven runs of 10 yards or more. In his next five games, his average is 6.7 yards, he has four touchdowns and 16 runs of 10 yards or more. He has topped 100 yards in two consecutive games.
[+] Enlarge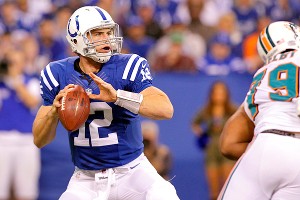 AP Photo/AJ MastQuarterback Andrew Luck has played better this season at home.
Luck data:
Indianapolis Colts rookie quarterback
Andrew Luck
has a .569 completion percentage, 303.6 passing yards per game, eight touchdowns and two interceptions in five home games this season, and the team is 4-1 in those games. He has thrown an interception once every 104.5 attempts when at home but once every 20.3 attempts on the road, per ESPN Stats & Information. Nine of his interceptions have come on throws of more than 10 yards downfield. The Bills have interceptions on five such throws this season, but also have allowed 10 touchdowns. The Colts' passing yards per game is up from 30th last season to eighth currently and total yards per game is up from 30th last season to fourth currently. Luck's average pass has traveled 10.3 yards downfield this season, the highest rate in the NFL. Buffalo's
Ryan Fitzpatrick
has an average throw distance of 6.9 yards downfield, the second-shortest rate this season.
First start:
Chad Henne
makes his first start as the Jacksonville Jaguars' quarterback and first in the NFL since Oct. 2, 2011, when he was with the Miami Dolphins. He is one of three active quarterbacks who've lost their past seven starts. The other two are also tied to Jacksonville.
Blaine Gabbert
is the quarterback Henne is replacing and
Byron Leftwich
, now of the Pittsburgh Steelers, saw his streak start when he quarterbacked the Jaguars. Henne has not won a game he started since Dec. 12, 2010, for Miami at the Jets.
Also:
The Buffalo Bills have given up a touchdown to their opponents on 30.2 percent of their drives this season, the highest rate in the league. The Colts are third at 26.1 percent. … The Bills have been outscored by 72 points in the second half and overtime this season and have given up 48 points off turnovers. … A Colts win would mean Luck ties
Sam Bradford
(seven in 2010) for most wins by a rookie quarterback selected first overall in the common draft era.… Indianapolis has given up 102 second-quarter points, most in the NFL. … In the Titans' first three road games of the season, they were outscored by an average of 35.3-10.3 and went 0-3. In their past two road games, they have won by an average score of 36.0-18.5 and are 2-0. … The Titans and Jaguars have two of the worst defenses in the NFL. The Titans are the second-worst scoring defense, allowing 31.1 points per game. The Jaguars are allowing 28.9 points per game, fourth worst.
Rooting interests:
The Houston Texans won in overtime Thursday in Detroit and have a 10-1 record. There are two scenarios Sunday in which they can clinch a playoff spot: (1) A Titans loss or tie, a Dolphins loss or tie, a Bengals loss and a Chargers loss or tie or (2) a Titans loss or tie, a Dolphins loss or tie, a Bengals loss or tie and a Steelers loss.
November, 5, 2012
11/05/12
11:16
AM ET
We've discussed
Andrew Luck
vs.
Robert Griffin III
in this space
.
Luck
Sunday's excellent performance by Luck requires no mention of RG3.
Luck passed for 433 yards, breaking the NFL single-game record for pass yards by a rookie, set a year ago by
Cam Newton
.
Per ESPN Stats and Info, two more Colts wins will help Luck match
Sam Bradford
's record for wins by a rookie quarterback drafted No. 1 overall (seven in 2010) and could become the first QB drafted No. 1 overall to have a winning record in his rookie season.
Luck now has four 300-yard passing games this season, tying
Peyton Manning
's rookie record.
Some notable things about what Luck did against Miami:
1) Luck took advantage of a Dolphins defense that sent four or fewer pass-rushers on more than 60 percent of his dropbacks on Sunday. Despite struggling against such a pass rush in his first seven games, Luck rebounded to complete nearly 70 percent of his attempts including a go-ahead touchdown pass to T.Y. Hilton late in the third quarter.

Most notable was the difference in completion percentage. Against four or fewer rushers before Sunday, he was connecting on 56.7 percent of his passes. Against the Dolphins it was 69 percent.

2) Luck completed eight of 11 (72.5 percent) passes using play-action, including a 36-yard go-ahead touchdown pass to T.Y. Hilton. Entering Sunday, Luck had only one touchdown and completed 59.1 percent of his passes on play-action.

3) He continues to throw the ball down the field. His average completion was thrown 9.8 yards downfield against Miami, his highest in a game this season and more than a yard better than his league-high average entering Week 9 (8.4).

4) When he's shifting around or on the move, he's deadly. Luck completed all six of his passes on throws outside the pocket, and has completed 11 of 12 such passes over his past two games, averaging 14 yards per attempt. Entering Sunday, the league average completion percentage on throws outside the pocket was 51.9 percent.

5) He's got the highest QBR (76.1) for a rookie through nine weeks since 2008.
He gets better and better. Now we'll see Luck and the Colts prepare on a short week. They make their one national TV appearance Thursday night in Jacksonville, where they will look to beat a team that beat them in Indianapolis back on Sept. 23.
August, 12, 2012
8/12/12
11:03
AM ET
Three things to look at this afternoon as the Colts host the Rams in their preseason opener:


The offensive line:
It's tough to gauge a new group at this position in camp, so it's a big day for a patchwork, beefed up line. Right guard
Mike McGlynn
and right tackle
Winston Justice
will be of particular interest. Does this group provide some push and allow the Colts to start to get a god handle on just how well they'll be able to run it with
Donald Brown
,
Mewelde Moore
,
Vick Ballard
or
Delone Carter
? Most importantly, does this line provide good enough protection for
Andrew Luck
to stay upright and pick out his targets?
Luck:
Expectations are probably unrealistic. I presume he'll get the team in and out of the huddle and into the right plays. From there it's about the level of execution. This offense is based on a lot of timing. Is he on rhythm, and are the people he's throwing to on the same clock? Watch his tight ends,
Coby Fleener
and
Dwayne Allen
, who figure to be huge pieces of Bruce Arians' offense. What indications do we see about Luck's chemistry with
Reggie Wayne
,
Austin Collie
and a kid like
T.Y. Hilton
?
The pass rush:
Here's our first look at any variation of Chuck Pagano's 3-4 defensive hybrid. I don't know that we'll be seeing just how exotic this defense will be, but we will see
Dwight Freeney
and
Robert Mathis
moving around. This defense wants to make things complicated for a quarterback and an offense to sort through. So does
Sam Bradford
have trouble diagnosing what's going on across the line of scrimmage? If the Rams look at all uncomfortable, if they need to call a timeout at the line, that will be a good sign about what's unfolding on D for Indy.
August, 20, 2011
8/20/11
11:45
PM ET
A few quick thoughts from the
Tennessee Titans
' 17-16
loss
at the Edward Jones Dome against the
St. Louis Rams
Saturday night:


The veteran quarterback:
Matt Hasselbeck
was very good again, with seven completions in nine attempts for 74 yards. He's done well to find a rhythm with his new team and the Titans should have gotten more than 13 points while he was in game. Still, three scoring drives in the first three possessions with him at quarterback is a nice development. He left the game after getting the wind knocked out of him when his neck was bent awkwardly as he went to the ground on a hit. But indications are that he is fine.
The rookie quarterback:
Jake Locker
did not do well when he took over for Hasselbeck. His first throw, however, was a perfectly placed pass up the right side on a roll out to
Jared Cook
, who made a great stretching catch. Locker finished, however, 8-for-18 for 82 yards and an overthrow interception. A week after he posted a passer rating of 130.8 his number was 35.0. Undrafted receiver
James Kirkendoll
should have held on to a touchdown throw that would have helped things a great deal.
Bad start:
The first play from scrimmage brought back memories of last season when the secondary struggled.
Cortland Finnegan
let
Brandon Gibson
go, thinking he was passing him to a safety. But there was a mix up and
Michael Griffin
wasn't close. So
Sam Bradford
hit Gibson for an 83-yard touchdown. Finnegan looked great in the slot as a rusher, with multiple impact blitzes that caused the Rams problems.
Also:
Rookie corner
Tommie Campbell
actually looked to be in good position on a
Donnie Avery
19-yard touchdown catch from
A.J. Feeley
but didn't find the ball. … The Titans are running and defending screens far better than they did in the 2010 season. ... Rookie linebacker
Colin McCarthy
had a sack and was among the team's most active defenders in the second half. … Kicker
Rob Bironas
looked to get on track with field goals of 46, 25 and 23 yards.