AFC South:

San Diego Chargers
September, 22, 2013
9/22/13
10:00
AM ET
By
ESPN.com staff
| ESPN.com
Join our ESPN.com NFL experts as they break down the San Diego Chargers' visit to the Tennessee Titans. Contribute your thoughts and questions beginning at 1 p.m. ET. And, be sure to visit our
NFL Nation Blitz page
for commentary from every game, as well as fan photos and the latest buzz from Twitter. See you there.
September, 6, 2013
9/06/13
12:01
PM ET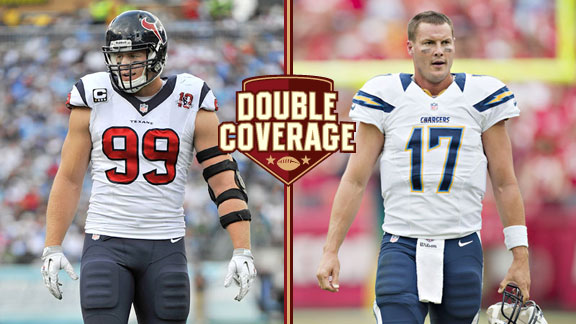 Getty ImagesJ.J. Watt and the Texans could make it hard on Philip Rivers if San Diego's offensive line does not hold up.
In the second half of the opening Monday night doubleheader, Houston is traveling to San Diego to put an end to NFL Week 1. The Chargers are in rebuild mode, while the Texans are looking to take the next step this season and become true Super Bowl contenders. While the Chargers' fan base should be revved up for this prime-time contest, getting
J.J. Watt
blocked could be a very futile effort for San Diego's offensive line. ESPN.com's Matt Williamson and Houston Texans reporter Tania Ganguli bring you their Double Coverage preview.
Tania Ganguli
: How has the atmosphere in the organization changed with GM Tom Telesco and coach Mike McCoy taking over?
Matt Williamson
: A change in San Diego was certainly needed. The environment had become stale and the once wide-open window under former coach Norv Turner and a roster stocked with great players has closed. A rebuild is needed, and a new general manager and head coach are what is needed to potentially get this team back where it once was -- or maybe beyond. Has the right side of the Texans' once-great offensive line been fixed?
Ganguli
: It's certainly on its way. The Texans are rightfully very high on right guard
Brandon Brooks
, and right tackle
Derek Newton
is healthy. They didn't mind rotation in those spots last year, but stability will definitely help.
Can McCoy turn
Philip Rivers
(back?) into an elite quarterback?
Williamson
: I feel as though we have seen the best of Rivers' impressive career, unfortunately. That being said, the scheme change, which stresses getting the ball out of Rivers' hands quicker, could be an advantageous move to boost Rivers. He does have a quick release and makes quick reads, making him a good fit for what McCoy is looking to accomplish.
What is the status of
Arian Foster
, and might
Ben Tate
have an expanded role for the season and to open the year?
Ganguli
: Tate will have an expanded role, especially early in the year. The Texans won't ride Arian Foster too much given he missed all of the preseason, training camp and most of organized team activities (OTAs). He was working, but they're intent on being smart with his return to make sure they have him at full strength late in the season.
What are the biggest problems with the Chargers' offensive line?
Williamson
: Once again, the scheme switch to a short passing game should help the protection of this line -- a line that is better-equipped to run block than protect. Still, the true problem with this line is they simply lack good players up front. They added a few free agents, but no one that is even a league-average starter, and they used their first-round pick on
D.J. Fluker
to play right tackle. However, I have my doubts that Fluker is quick or light enough on his feet for edge protection. Instead, I think Fluker could be a Pro Bowler at guard.
What impact does first-round pick
DeAndre Hopkins
have on the Texans' offense?
Ganguli
: It's difficult for rookie receivers to put up big numbers, but Hopkins will have a major impact on the Texans' offense. He'll take pressure off
Andre Johnson
, on whom the Texans were overdependent last season in their passing game. He is very skilled on contested catches and will help Houston's red zone efficiency.
What impact does
Dwight Freeney
have in San Diego?
Williamson
: Can he still be productive at 33? Of course it would be ideal to have
Melvin Ingram
in the fold as well as Freeney, who could be the perfect mentor, but Freeney has looked quite spry through the preseason and should have plenty left in the tank. The concern for me is that San Diego will be forced to play the 33-year-old too many snaps, which could lead to less effective play late in games and especially late in the season.
How big a boost to this team -- tacitly and emotionally -- is it to get
Brian Cushing
back on the field?
Ganguli
: Cushing makes a difference in both ways. He creates mismatches in the pass rush that free up the outside linebackers. His presence in the middle makes things easier on the Texans' defensive backs, too. Emotionally, Cushing provides an edge for the Texans' defense. His maniacal intensity is contagious and the Texans feed off it.
How will
Danny Woodhead
and
Ryan Mathews
impact each other?
Williamson
: While Mathews is a decent pass-catcher, Woodhead is an exceptional all-around contributor in the passing game. Their roles should be very distinctive, with Mathews -- who has looked excellent this preseason -- as the early-down workhorse (if he can hold up) and Woodhead being the specialty movement player that is equal parts running back and slot receiver.
Watt is a rare interior pass-rusher, but does Houston have enough pressure coming from their 3-4 outside linebackers?
Ganguli
: That remains to be seen. It's definitely been a focus for the Texans' outside linebacker group.
Whitney Mercilus
, now in his second year, has taken over as a starter opposite
Brooks Reed
after the departure of
Connor Barwin
. Mercilus set a franchise record for rookies with six sacks last season, but he missed most of training camp and the preseason. Reed is healthier than he was at the end of last season when he returned from a groin injury. He had an offseason surgery to repair it fully.
December, 5, 2011
12/05/11
11:35
PM ET
JACKSONVILLE, Fla. -- Thoughts on the Jaguars'
38-14 loss to the Chargers
at EverBank Field:


What it means:
The changes the Jaguars made in the past week weren't enough to overcome a passing attack able to take advantage of inexperienced corners forced into action because of injuries. All the complaints about San Diego quarterback
Philip Rivers
went away for a night as he threw for big yardage and three touchdowns, ending a six-game losing streak for the Chargers. Jacksonville fell to 3-9, losing Mel Tucker's first game as a head coach in the NFL.
What I didn't like:
Short throw after short throw. I understand the Jaguars aren't built or equipped to air it out regularly, but how about trying something?
Blaine Gabbert
's long pass was a 48-yarder to
Maurice Jones-Drew
-- and it was actually a very short shovel pass that MJD ran a mile with. And while the rookie quarterback looked good on an early scoring drive, the moments that leave the biggest impression are the ones like where he dropped the ball on a scramble and was penalized for batting it out of bounds.
More injuries:
Pass-rushing defensive end
John Chick
left the game with what looked like a serious knee injury and safety
Dwight Lowery
suffered a shoulder injury that meant rookie
Chris Prosinski
had to play.
What I'd like to see going forward:
There are few spots where the Jaguars can make a change with an eye on the future. But how about right tackle? Bench
Guy Whimper
and insert
Cameron Bradfield
, an undrafted rookie out of Grand Valley State the team thinks has great promise.
What's next:
The Jaguars play a third consecutive home game Sunday, this time against Tampa Bay in a battle of underachieving Florida teams.
May, 6, 2009
5/06/09
12:00
PM ET
| | |
| --- | --- |
| | |
| | ESPN.com Illustration |
| | London has reportedly launched a bid to host the Super Bowl some time in the next decade. Should the NFL export its marquee event? |
Posted by ESPN.com's Pat Yasinskas and Paul Kuharsky
The Super Bowl, America's greatest sporting event, could be played outside the United States as early as 2014.
At least that's what some reports are suggesting. London, which already has hosted two regular-season games and is scheduled to hold a third this year, seems to be at the top of the list for the first overseas Super Bowl.
Is it possible and is it practical to put American football's spectacle in the land of soccer? Pat Yasinskas and Paul Kuharsky debate the merits, logistics and chances of a London Super Bowl.
Would a Super Bowl outside of the States be un-American?
Paul Kuharsky: Pat, I know you were in London for a game last year and have a better sense of how this would play over there than I do. And I'm no xenophobe; I don't want to call it un-American. But I do think proselytizing our football to this degree runs counter to present-day American interests. A Super Bowl funnels a lot of money into the host city, and any qualified city in America could use it -- no matter the state of the American and world economies in 2014.

Sure, a load of NFL fans are priced out of their team's biggest moment when the game is played in the lower 48. How many more won't be able to even consider it when they'd need an overseas flight and a London hotel room? A lot of hardcore football fans would not take this well at all. Is it worth alienating people who buy jerseys and tickets and paint their faces in an attempt to soften up foreign populations you may have no chance of winning over?
Pat Yasinskas: I'm going to say something I thought I'd never say before I traveled to London for last year's regular-season game between the Saints and Chargers. I'm all for a London Super Bowl.
| | |
| --- | --- |
| | |
| | Matthew Lewis/Getty Images |
| | Wembley Stadium in London has been host to two NFL regular-season games and could be a venue for an overseas Super Bowl. |
The atmosphere in London for that game was simply amazing and I think it would be 100 times bigger for a Super Bowl. Sure, I'm a little hesitant about taking the economic impact out of the United States. But you've got to think big picture here. The economics are going to grow throughout Europe and throughout the NFL by placing the game in London. Really, can the Super Bowl get any bigger than it already is in the United States?
London, all of Europe and the rest of the world still are largely untapped and it's time to tap them. I still think there will be huge economic benefits to the U.S. in terms of sponsorship, television and the sale of merchandise. People are still going to watch the game on television, and isn't that really what the Super Bowl is all about? Think about it, how many people do you know who actually have been to a Super Bowl? The common person watches it at home. The people who actually go to the game are the corporate types, and they're going to go no matter where it is (a lot of Saints and Chargers fans came to London last year and made it a vacation). In fact, I think you'll have a much easier time selling outrageously priced tickets in London than you would in recent venues like Detroit and Jacksonville. It's time to truly open the Super Bowl to the world.
Wouldn't the logistics create some nightmares?
Pat Yasinskas: Yes, there's no doubt that a Super Bowl in London would present some major challenges. Start with the time difference. London is five hours ahead of the East Coast and eight ahead of the West Coast. That's the biggest issue of all because it impacts television, which is the driving force behind the Super Bowl. Do you play the game in the same evening time slot it's been in and start the Super Bowl late at night in London? Or do you cater to the audience in the stadium and start the game in the middle of the afternoon back in the States? That's a huge issue for the NFL to work out, but I'm thinking a compromise like starting at 3:30 p.m. ET time could work. People still are going to watch the Super Bowl on television, no matter when it's played.
The time factor also is something coaches and players aren't going to like. But they'll deal with it if they have to. The Saints and Chargers spent the whole week there last season and that gave everyone plenty of time to adjust their body clocks.
Paul Kuharsky: I'm picturing Bill Belichick muttering to himself while mapping out an itinerary with an overseas flight and an odd kickoff time. The owners may back it, but players and coaches aren't going to be fired up. (What player was it last year who asked what language they speak over there?)

I'm also wondering about the weather. According to weather.com, average February weather in London is a high of 47, a low of 36 and the month has an average rainfall of 1.34 inches. If I'm Nashville or Charlotte -- or even New York, Washington, Philadelphia or Baltimore -- I'm asking why the league's willing to play in that weather outdoors across the pond, but not at home. And I am beginning to clamor for a Super Bowl in my stadium, which was paid for, built and is regularly filled by Americans who buy the tickets and merchandise and provide the TV ratings.
Professional soccer hasn't exactly been a big hit in the United States. Can American football fly in London?
Paul Kuharsky: I don't get the sense that Europe is especially interested in American football on any sort of grand scale. While I understand the league's desire to globalize, I also know one of the reasons the NFL is our most popular league and so immensely successful is its ability to maintain an accurate and sensible sense of itself. The idea of a Super Bowl in London makes me think of soccer's failures in the U.S. Most Americans who are not soccer fans concede it's big everywhere else, but have a long list of reasons why it just doesn't work here.
Flip that list inside-out and Europe's got a handy cheat sheet for a conversation of why American football doesn't work over there. (Bring Manchester United to Giants Stadium and you'll have a sellout, sure, but it doesn't say anything big about American interest in soccer -- the same way a Super Bowl in London wouldn't speak broadly to European interest in football.) The NFL should consider that example when it tries to market an inherently American game to Europe and the rest of the world. If American football would work in Eur
ope, wouldn't NFL Europe have done at least well enough to survive?
Pat Yasinskas: Paul, I understand your argument. Heck, I shared the same view until my trip to London, but that experience made me see things much differently. Londoners are ready to embrace something like this. NFL Europe didn't work because it was a minor league. One thing I learned last year is that people in London are fascinated with America and want desperately to be a part of it. I was there a few weeks before the presidential election and the British were paying far more attention to that than I was. They're different from us.
I wouldn't go to a soccer game if you paid me and, to date, have successfully avoided watching my niece and nephew play a sport that bores me -- although I've been to dozens of their baseball and softball games. But the people in London have this raging curiosity about all things American. True, they may not understand the intricacies of a 3-4 defense, but they're going to come out for a show. And when it comes right down to it, isn't the Super Bowl just one big show?
Will we really see a Super Bowl in London?
Pat Yasinskas: Yes. I know some of the reports have said it's possible as early as 2014. I don't see it happening that quickly because there are too many logistical issues to be worked out. But I do think the game will be played in London sometime around 2020. Commissioner Roger Goodell has been trying to figure out the European market since he took the job. The regular-season games have gone over well and shown there's room for growth. The NFL's not going to ignore that opportunity. At some point, there will be a Super Bowl on foreign soil and London is the logical choice.

Paul Kuharsky: It's probably inevitable, Pat, but I agree that 2014 is a little ambitious. Let's see the league master the regular-season overseas games and let's give the game more time to percolate over there. And most important -- and this is what the league is already doing by sparking conversations just like this one -- let's get American football fans used to, and more accepting of, the idea that the Super Bowl's going to be an export.

In the meantime, with the Rolling Stones and Paul McCartney already having done it, let's ponder who's in line for a halftime show.
January, 4, 2009
1/04/09
2:18
AM ET
| | |
| --- | --- |
| | |
| | Harry How/Getty Images |
| | Colts quarterback Peyton Manning threw for 310 yards and a touchdown but could not get the Colts past San Diego. |
Posted by ESPN.com's Paul Kuharsky
SAN DIEGO -- Their faces blank, their steps a shuffle, the Indianapolis Colts trudged to their buses Saturday night. They were still digesting another too-early exit from the playoffs. They still were coming to terms with how a 23-17 overtime loss to the host San Diego Chargers meant another round of questions about why they aren't going where they believe they belong.
"I've played 10 years man, it's only ended good once," center Jeff Saturday said, referring to Super Bowl XLI at the end of the 2006 season. "It's awful. What are you going to say? How do you make that finish good? You come out with full expectations to beat this team and play bad. That sums it up."
The Colts of president Bill Polian and quarterback Peyton Manning will always have that one Lombardi Trophy, but they now own a 7-8 record in the playoffs. Tony Dungy, who joined the Colts a bit later, is 7-6 in the postseason with a horseshoe on his hat.
Polian bristled at a question about the overall body of playoff work.
"I'm not interested in bodies of work or underachieving or any of that," he said. "That's your guys' stuff, that has nothing to do with me. I'm not even going to deal with that.
"You've got to be pretty good to get here, and it's about matchups. And this is a tough team to matchup against so we have some work to do in that regard. We know what we have to do. Nobody underachieved on this team this year, I can assure you of that. Absolutely no one."
Individually, perhaps not. Collectively on this day, however, it certainly seems fair to suggest that the only team in the history of the league to win 12 or more games in six consecutive seasons, the only coach to go to the playoffs for 10 consecutive years and a club that carried a league best nine-game winning streak into this postseason should have been able to do more.
"We were a confident team, we figured we were going to pull it out," safety Antoine Bethea said. "We had a lot of close games, we pulled them out. We figured we were going to do the same this game."
The play the Colts pointed to as their undoing wasn't a drive-extending defensive holding against cornerback Tim Jennings in overtime or the 22-yard game-winning touchdown run by Darren Sproles three plays later. It was a failed third down by the offense.
Pinned deep in their own end by a perfect Mike Scifres punt, the Colts had a three-point lead and the ball on the final play before the two-minute warning of regulation, facing a third-and-2 from their own 9-yard line.
Get those two yards and a first down, and the Colts keep possession. Get that first down and the Chargers are out of timeouts and the Colts are milking away the final seconds of a win. Get that first down and the Colts are wondering if Sunday's wild-card playoff results would send them to Nashville or Pittsburgh for a divisional round game next weekend.
Instead linebacker Tim Dobbins burst through the line and smothered Manning for an eight-yard sack and forced the Colts to punt.
"When we've got the ball and we've got to make a first down to ice the game, we weren't able to do it," Dungy said. "We were trying to make a first down. We know if we make one first down, the game is over. We had a quick pass and we didn't get it off."
"I'm not going to get into the specific plays," Manning said. "Just the Chargers made a good play on that and obviously it was disappointing that we weren't able to convert that third down."
The Chargers drove to a game-tying 26-yard field goal. They quashed any chance the Colts had at driving to a field goal with only 24 seconds to work with. The Chargers won the overtime coin toss and moved 75 yards to the touchdown that rocked Qualcomm Stadium more than the pregame military flyover.
While Sproles was fantastic on offense, the running back and return man was outdone on special teams by Scifres, who averaged a net of 51.7 yards on six punts that placed the Colts, in order, at their 10, 19, 3, 7, 9 and 1 to start on offense.
"Their punter, that guy is unbelievable," Saturday said. "He gets five game balls. They put us inside the 10 at least three or four times, inside the five once or twice. That's a long way to tote it against any defense."
Polian called it a "Hall of Fame game" for Scifres.
The best NFL teams make the most of sudden change plays, a turnover that flips field position, a call that goes in their favor.
But the sudden change the Colts were coming to terms with is the sort they have no interest in getting good at, the kind where, in a flash, the season shifts to offseason.
"It's a new season now, so you lose, you go home and we lost," Bethea said. "The nine-game win streak, it was good the way we ended the [regular] season. But you lose and you go home."
Minutes later, Bethea fell in line with some of his teammates, starting that journey home with a walk down a dim, narrow hallway, where wheels on equipment carts rattled on a dimpled floor, creating white noise into which a season of promise could fade.
January, 3, 2009
1/03/09
11:18
PM ET
Posted by ESPN.com's Paul Kuharsky
SAN DIEGO -- There was no end of regulation magic for the Colts in Qualcomm Stadium this time.
To top the Chargers again and advance to the divisional round of the AFC playoffs, the Colts are going to have to get it done in overtime.
Peyton Manning had 24 seconds with two timeouts and the ball at the Colts' 19-yard line. Expectations are that if he's got the ball at the end he'll find a way, but with those time and yardage constraints and the Chargers defense playing well, it was too much too ask.
So we'll have a coin flip and sudden death in a game that's delivering all the drama the NFL can ask for and more than fans of the Colts and Chargers may be able to stand.
Remember, all replay reviews are initiated from the booth in extra time.
January, 3, 2009
1/03/09
11:12
PM ET
Posted by ESPN.com's Paul Kuharsky
SAN DIEGO -- Can Peyton Manning do it again?
The game is tied with 24 seconds remaining, the Colts have two timeouts and the ball at their own 19. A divisional round trip to Nashville or Pittsburgh on the line.
The Colts have a chance to get Adam Vinatieri in range for the win but at worst, they're going to get overtime.
January, 3, 2009
1/03/09
8:25
PM ET
Posted by ESPN.com's Paul Kuharsky
SAN DIEGO -- Referee Ron Winter and his crew called more penalties than any other crew this season, according to the NBC broadcast of the game.
The San Diego Chargers have been called for more pass interference penalties in the league this season with 13.
Put those two together and you get an advantage for the pass-happy Colts.
They already got a 30-yard pass interference penalty against Quentin Jammer, though the drive fizzled, ending with a punt.
Keep an eye on the frequency of flags and the Chargers defensive backs.
January, 3, 2009
1/03/09
7:07
PM ET
January, 3, 2009
1/03/09
3:47
PM ET
December, 29, 2008
12/29/08
12:00
AM ET
| | |
| --- | --- |
| | |
| | Brian Spurlock/US Presswire |
| | Indianapolis quarterback Peyton Manning has put the Colts on his back and willed his team into the playoffs this year. |
Posted by ESPN.com's Paul Kuharsky
INDIANAPOLIS -- The seeds say they are the AFC's fifth-best team and dictate that they hit the road.
Plenty of NFL experts, however, will be surprised if the 12-4 Colts don't go to 8-8 San Diego Saturday, dispatch the Chargers while winning their 10th consecutive game and storm into a divisional round trip to Nashville or Pittsburgh.
The Colts lost a divisional round game at the RCA Dome last January to the Chargers, but won 23-20 at San Diego on Nov. 23.
"We've played them a couple times the past couple years and they gave us some fits," said Indianapolis offensive lineman Charlie Johnson. "We got them earlier in the year, but their offense and Philip Rivers are playing unbelievably right now and their defensive is good, that's just the bottom line, they've been good and even without [Shawne] Merriman they're still trying to bring the pressure."
"It's going to be a tough game. We're going to have to go out there and do what we do, just play our game. I wouldn't say we owe them one, but it's in the back of our minds. We want to go out there and beat them. We've got a nice little streak going and we'd like to keep it going and end their year just like they did us."
Said cornerback Kelvin Hayden: "It's a big challenge. They always play us well. I think we'll respond well."
Are the Colts ready?
They'd certainly rather be enjoying a bye week, but they knew long ago that wasn't going to happen because the Titans had rushed out to such a big lead in the AFC South. Middle linebacker Gary Brackett might still be a week away, but they may be in relatively good health otherwise.
Safety Bob Sanders, a huge difference-maker, didn't play in the game in San Diego earlier this season but will be rested and ready this time.
A good showing by the backups in Sunday's 23-0 win over Tennessee at Lucas Oil Stadium gives the Colts a good feeling heading into their preparations for wild card weekend.
"It was good to see the backups go in there and play productive football," Hayden said. "That says a lot. We said all week we wanted to go into the playoffs with a win, don't have a loss hanging over us going into the playoffs. It was a good deal, and I think we're ready."
Said rookie offensive lineman Jamey Richard: "It showed today that no matter who's out there, we can play as a unit and get it done."
The Colts got a combined 91 rushing yards from Joseph Addai and Dominic Rhodes in the win at San Diego. Rushing offense has been an issue, and while Peyton Manning has been able to will his team to some wins with minimal rushing offense, balance is usually the preferred and necessary method in the postseason.
Are they ready?
"We have no choice," Manning said. "We need to have a good week of practice. I think the biggest key during our win streak is we have had that good preparation. So the main focus now is having a good week of practice."
The Chargers out gained the Colts 394 yards to 341 in the regular-season meeting. Nate Kaeding's 47-yard field goal with 1:35 remaining pulled San Diego even. But the Chargers couldn't get to overtime, allowing Manning to move the Colts 37 yards in 1:30 to a 51-yard Adam Vinatieri field goal that won it with two seconds left.
Odds are third-down defense will be a theme for both teams as they prepare for a rematch with significantly higher stakes. The Chargers converted half their third downs and were outdone by the Colts, who stayed on the field 58 percent of the time.
"We expect to win," Johnson said. "That's what we're going out to try to do. It doesn't matter if we're favored. It doesn't matter if we're underdogs. We've been favored some this year and we lost. We've been underdogs and we've won. We'll go out there and just play."
Win it and the Colts earn another rematch -- either in Pittsburgh, where they beat the Steelers on Nov.9, or in Nashville, where they suffered their last loss way back on Oct. 27.
November, 21, 2008
11/21/08
11:55
PM ET
Breaking down the the key matchups in the Colts-Chargers game.