July, 12, 2013
7/12/13
12:00
PM ET
»
NFC Eight in the Box:
East
|
West
|
North
|
South
»
AFC:
East
|
West
|
North
|
South
A look at the one offseason move each team in the AFC South needed to make but didn't.

Houston Texans:
They still have time to extend
Brian Cushing
and
Antonio Smith
, so I can't say they regret not having done so yet. I think they will be OK at linebacker. They aren't going to be eight-deep the way owner Bob McNair naively suggested they should have been last year when injuries thinned the group. They are counting on two college defensive ends converting to outside linebackers (
Sam Montgomery
and
Trevardo Williams
). A veteran addition like
Daryl Smith
or
Karlos Dansby
could have offered assurances, but such a player could have overstuffed the group.

Indianapolis Colts:
Sean Smith
got roughly $2 million more over three years in Kansas City than the Colts gave to
Greg Toler
. Ryan Grigson and Chuck Pagano have made largely solid personnel choices, so they get the benefit of the doubt on Toler at the start. But Smith is roughly 3 inches taller and 20 pounds heavier, and he has been more durable than Toler. I'll be comparing the two going forward. If not that move, how about
Brent Grimes
over
Darius Butler
? Grimes would have been more expensive but could have been a second or third cornerback if he fully recovers from his Achilles injury. I fear they could regret not doing more at cornerback.

Jacksonville Jaguars
: For a team that moved on from
Derek Cox
,
Rashean Mathis
and
Aaron Ross
, the Jaguars had a lot of work to do to restock at cornerback.
Alan Ball
and
Marcus Trufant
are not good enough veteran answers to surround and supplement three draft picks. Sean Smith is the sort of bigger corner the Jags like and could have upgraded the position. And he's just 26, so he would have fit the team's desire to be young. He got a three-year, $16.5 million deal, which is probably a bit rich, and the Jags would have had to go further. But they've got a ton of money and could have spent more while still being very fiscally responsible.

Tennessee Titans
: The Titans will rush the passer better with some new people and the influence of Gregg Williams. But defensive end
Michael Bennett
could have been had at a reasonable price and, as a bigger defensive end, he would have been a better addition than
Ropati Pitoitua
. Bennett went to Seattle for a one-year, $4.8 million deal. The Titans wouldn't have been as attractive a destination as Seattle, but they could have gotten Bennett with a multiyear deal. Are Pitoitua and fifth-rounder
Lavar Edwards
enough to boost the pass-rush production and fortify the run-stopping at end?
September, 9, 2011
9/09/11
11:15
AM ET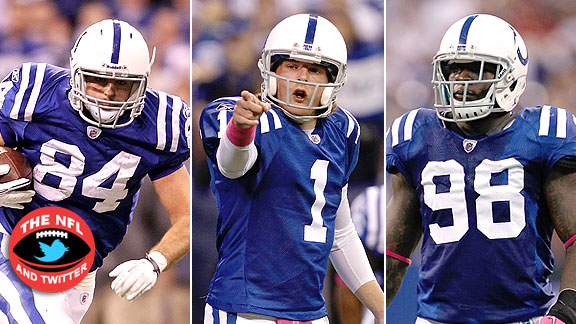 Getty ImagesThese three Colts take the top spot this week: Jacob Tamme, Pat McAfee and Robert Mathis.
Call me indecisive. Call me a homer.
During a week when
Peyton Manning
and the Colts have dominated the blog, I don't like that three Indianapolis guys happened to be among the best tweeters and had to go atop the new edition of the NFL Twindex, believe me.
I can't worry as much about indecision or perceived homerism as I need to stay true to the game here: sorting through a week's worth of NFL tweets and rating the best. A chance to judge!
So the Colts have extreme representation here. Next week it may be your team. Next week it may be you.
Please point out any tweet of note. We're following 1,066 accounts, it's hard to see everything. Find me at
@ESPN_AFCSouth
and
@PaulKuharsky
.
June, 24, 2011
6/24/11
10:31
AM ET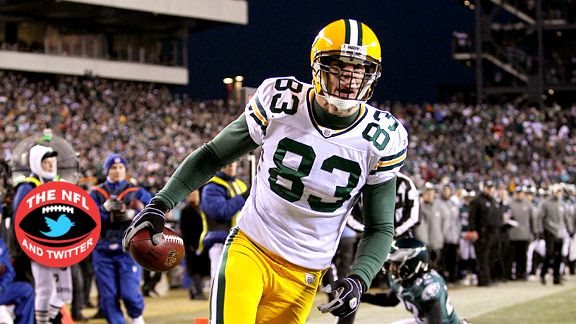 Michael Heiman/Getty ImagesCreative tweeting earns Packers tight end Tom Crabtree the top spot on the latest Twindex.
Want to rise and grind? Want to know how long a flight is delayed out of Atlanta? Want motivational quotes and bible passages?
Me neither.
That's not what I am looking for on Twitter. But I am curious what NFL players are saying and I have made a commitment to sort through it all to give you the highlights from NFL players since the last edition of the NFL Twindex.
Comedy is key during the lockout, but once things are settled we expect far more football talk to be involved here.
It's not all about laughs on Twitter, and Amy Nelson illustrated so well in
this piece
about Brandon Phillips of the Cincinnati Reds.
Check out
tweets I made favorites
. That's the list I then worked with to craft our new poll.
Seeing quality tweets you want to make sure are considered? Point me to them. I'm
@ESPN_AFCSouth
and
@Paul Kuharsky
.
May, 26, 2011
5/26/11
11:01
AM ET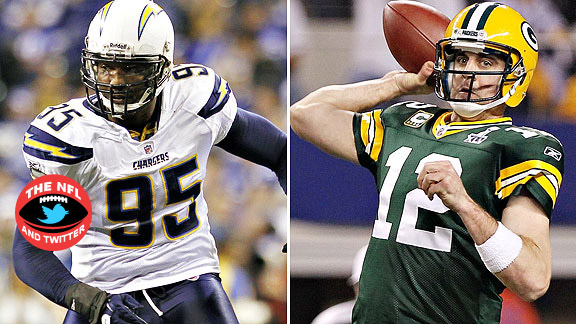 Getty ImagesShaun Phillips, left, and Aaron Rodgers hold the top two spots in the debut of our NFL Twindex.
Welcome to the ESPN.com NFL Twindex. Or Twitterdex. Or Twitter Index. (Shall we vote?) No, we're going Twindex.
This is our periodic look -- I'm thinking twice a month for now, weekly once we're in a season -- at what players and others who work for NFL teams are saying via Twitter. Because I love being subjective and we all love lists, it's a subjective list.
I'm following everyone I can find -- 328 people and growing -- and I hope they'll follow me back. It's difficult to read every tweet every day, so if you see a great one, forward it to me. I'm
@ESPN_AFCSouth
and
@PaulKuharsky
. The Twindex will be built from the best sampling I am able to do while still also fulfilling the obligations of a full-time job.
Each guy who makes the list each week will get a tweet notifying him of his status. We're fluid. If a guy is interesting this week, he may find himself in the top five. Be boring next week and he may disappear, depending on what his competition is doing. Former players, coaches, owners, equipment guys and mascots are eligible, too. Bring it.
What gets you here? Tweets beyond the ordinary.
You're scored down for morning greetings (sorry
@MikeSimsWalker
), birthday wishes, constant song lyrics (sorry
@JimIrsay
), weather updates and dinner reviews (unless, maybe, you are
@PotRoast96
).
You are rewarded for witty observations, clever lines and exchanges, smart life advice, amusing family stories, a great re-tweet or picture and, certainly, high-quality football information or commentary. A good week of tweeting can get you a spot. One outstanding tweet can, too.
As I am a positive guy, this is a positive list. Generally, we want to be a place players want to be. Like in our MVP Watch or the best restaurant in town or in unrestricted free agency after a great season. It's an evolving concept, and whether you're a candidate or a reader, I welcome your input.
Titans cornerback Jason McCourty and his twin brother, Patriots Pro Bowl cornerback Devin McCourty, combined Twitter accounts and have made a big push to let fans see them.
When I told him about this during their recent ESPN car wash, Jason wasn't ashamed to say he wanted
@McCourtyTwins
to get a spot on the initial Index.
"I think guys are so competitive, anything like that with a list and a top spot, guys will get some enjoyment out of it," he said. "Somebody may post, 'Hey, check out so-and-so, he's No. 1 this week on the Twitter poll.' I think it'll probably be a cool idea. I'll check it out.
"Hopefully that gets us to No. 1."
Maybe next week, Jason.
Here's the debut list.
Need to point me to a tweet? Have ideas for the NFL Twindex? Find me
@ESPN_AFCSouth
and
@PaulKuharsky
.
September, 18, 2009
9/18/09
11:27
AM ET

Posted by ESPN.com's Paul Kuharsky
In their opener,
Peyton Manning
got to throw against rookie cornerback
Derek Cox
, who spent most of the game line up against
Reggie Wayne
.
The Colts quarterback will have another chance Monday night in Miami to test first-year defensive backs.
Sean Smith
, a second-rounder, and
Vontae Davis
, a first rounder, are splitting time on the right opposite veteran
Will Allen
and are likely to get a lot of time with Wayne.
"Kind of like the first game against Jacksonville, there is not a lot of film to study on these guys," Manning said. "You have two rookie corners that rotate on one side, both first-and second-round draft choices, and you can see why. They are very talented, very athletic guys. They have Will Allen, the veteran, on the other side, so I know those guys are learning from him.
"It's nice when you have young corners, and a 10-year veteran on the other side that they can learn from. There is still sort of some unknown when you play a game in Week 2 that has new players on defense. You have to prepare for what you think you might get, and be prepared to adjust. They are a talented, athletic defense that has a lot of speed."
At 6-3, Smith is the sort of tall corner that intrigued a lot of teams.
He and Davis are surely spending a lot of time learning what they can from what Cox did, and the Dolphins will surely look to give them help in a tough matchup.
I'd expect it's one that will wind up being favorable for the Colts.
February, 5, 2009
2/05/09
10:30
AM ET
Posted by ESPN.com's Paul Kuharsky
I asked Rob Rang, NFLDraftScout.com's senior analyst, to share his thoughts on the Tennessee Titans in the first round given these parameters -- their primary needs are wide receiver, cornerback and defensive tackle or outside linebacker.
Here's what Rang had to say in our e-mail exchange:
WR: Remains an area of need for this team, though they have refused to spend a 1st round pick on this area since Kevin Dyson... Florida's Percy Harvin makes the most sense due to his speed and agility. North Carolina's Hakeem Nicks has the body control and sneaky speed to make big plays in an offense that forces the safeties to come up against the run. Even Maryland's Darrius Heyward-Bey, who remains a bit of a track star in shoulder pads, could be a Bernard Berrian-like big-play threat on the outside.

CB: At this point it looks like the top three CBs -- Malcolm Jenkins, Vontae Davis, D.J. Moore -- will be long gone. The others have speed or size questions. Utah's Sean Smith could move up with a strong workout, as could two other western corners flying up the board -- Oregon's Darius Byrd and San Jose State's Coye Francies -- each offer a presence in tight man coverage that make them a nice fit in Tennessee.

DT: Evander "Ziggy" Hood is big and athletic enough to make some sense for the Titans at this point in the draft, but certainly wouldn't come close to matching the production lost if Big Albert [Haynesworth] left.

OLB: Good value late in the first round at outside linebacker... The Titans are willing to gamble on small school and intangible guys more than other teams, meaning that Northern Illinois' Larry English and USC's Clay Matthews, Jr. make some sense.