AFC South:

Seattle Seahawks
October, 6, 2013
10/06/13
10:00
AM ET
By
ESPN.com staff
| ESPN.com
Join our ESPN.com NFL experts as they break down the Seattle Seahawks' visit to the Indianapolis Colts. Contribute your thoughts and questions beginning at 1 p.m. ET. And, be sure to visit our
NFL Nation Blitz page
for commentary from every game, as well as fan photos and the latest buzz from Twitter. See you there.
October, 4, 2013
10/04/13
12:01
PM ET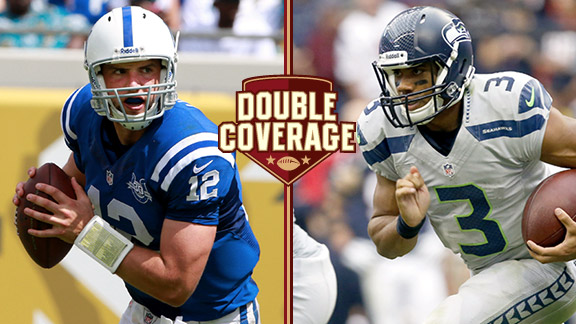 Getty ImagesAndrew Luck and Russell Wilson, two of the best young quarterbacks in the NFL, face off in Week 5.
Two of the NFL's best young quarterbacks --
Andrew Luck
and
Russell Wilson
-- will be center stage when the
Indianapolis Colts
(3-1) take on the
Seattle Seahawks
(4-0) in the most anticipated game of the weekend. The résumé for both players already includes the ability to pull off fourth-quarter comebacks.
But this game will likely come down to which defense can continue its strong play. The Seahawks are holding opponents to fewer than 12 points and have seven interceptions. The Colts aren't too far off. Their defensive unit is giving up fewer than 13 points a game, including a combined 10 points in the past two games.
Colts reporter Mike Wells and Seahawks reporter Terry Blount take a look at the Week 5 matchup.
Blount:
Mike, I doubt anyone has to tell Luck how good Seahawks cornerback
Richard Sherman
is since they were teammates at Stanford. Whenever anyone has challenged Sherman, he's made them pay, like the pick-six that tied the game last week in the fourth quarter against Houston. Can Luck get the best of him or will he try to stay away from Sherman most of the game?
Wells:
Luck will go at Sherman, especially if he's matched up against
Reggie Wayne
. Wayne, a future Hall of Famer, enjoys going up against the top cornerbacks in the league. You can expect offensive coordinator Pep Hamilton to move Wayne around the field. He'll line up out wide and in the slot, making sure Sherman has to work to try to slow him down. Wilson is averaging nearly 20 yards fewer a game through the air this season. Not that it's a bad thing because the Seahawks are 4-0 and
second in this week's Power Rankings
, but is there a reason behind the drop in yards?
Blount:
Mike, the biggest reason is an offensive line that has played poorly in all four games, even when all the starters were healthy. It's truly amazing Wilson has found a way to get the job done and lead the team on crucial scoring drives when he's under constant pressure. His elusiveness in the pocket and ability to extend plays, then make a key throw on the run, or keep it for big yards, is remarkable. Mike, Luck and Wilson are obviously two of the best young quarterbacks in the NFL, but each is different physically, and different in how they play the position. In your opinion, what does Luck do better than Wilson?
Wells:
Luck doesn't have any flaws. You want him to tuck the ball and run? He'll take off like he's a running back. You want him to throw an out pattern or a bomb downfield? He's proven he can do that, too. And he's already shown he knows how to win when he led the Colts to an 11-5 record and the playoffs last season. The biggest difference between Luck and Wilson is their size, and that Luck isn't a read-option quarterback. Terry, What is it about Pete Carroll that makes him a good coach? His transition from the college game to the NFL has gone pretty smoothly.
Blount:
Mike, it's his positive reinforcement that resonates with his players. Carroll is not an old-school guy who yells at his players. That's not how he operates. He corrects players, but never publicly humiliates them in front of others. And he doesn't scream at them when they make a mistake. He makes it a teaching moment, as do all his assistants. Carroll is consistently upbeat, regardless of the situation. Consequently, these players would run through a brick wall for him. Speaking of running,
Trent Richardson
now has a couple of games under his belt in a Colts uniform. How much do you see him contributing and can he make a difference for Indianapolis?
Wells:
Richardson and Luck are the future of the Colts. It's not often that a team gets two of the top three picks from the same draft. But Richardson's transition from Cleveland has gotten off to a slow start. He had 20 carries against Jacksonville last week, but he only managed to rush for 60 yards. Everybody's waiting for Richardson to have that long run where he bulldozes over a couple of defenders and then uses his speed to outrun everybody else. He'll continue to get better as the season progresses. Speaking of running backs, the Colts talk about Wilson being deadly with his feet, but shouldn't they be more worried about running back
Marshawn Lynch
?
Blount:
That's sort of the point that makes it all work. As soon as Wilson has the defense keying on Lynch, he will bootleg off a fake handoff to Lynch and get free for a 20-yard gain on a scramble, or complete a 30-yard pass downfield to an open receiver. But you're right, everything the Seahawks do on offense revolves around getting Lynch going in the power running game. Mike, the issue for the Seahawks is their patchwork offensive line. Down three starters last weekend, it was a hot mess against the Texans' defense, allowing five sacks and never giving Wilson a chance to catch his breath. Seattle may get center
Max Unger
back Sunday, but still will start backups in both tackle spots. Do you see the Colts taking advantage of the situation?
Wells:
Expect the Colts to be in attack mode with linebacker
Robert Mathis
leading the way. Mathis, who has 7.5 sacks this season, is one sack away from getting the 100th of his career. The Colts have 13 sacks as a team. They're prepared to face a quarterback such as Wilson after already going against Oakland's
Terrelle Pryor
and San Francisco's
Colin Kaepernick
this season. The Seahawks are obviously undefeated on the road this year, but they struggled away from home last season. Why are they a completely different team away from home?
Blount:
I think that's starting to become a bit of a misnomer.
The Seahawks now have won five of their past six roads games, dating back to the end of last season and the playoffs. The only one they lost came on a field goal at the end of the Atlanta playoff game. Historically, they have struggled in games that start at 10 a.m. PT, but they are 2-0 in those games this year and have a chance to go 3-0 on Sunday. However, it's true that CenturyLink is a huge home-field advantage, so playing well enough on the road to earn home field in the playoffs is important to the players. I'm sure the Colts have a similar goal, Mike. I know it was emotional for the Colts last December when coach Chuck Pagano returned. How much has it meant this season to have him back healthy again and running the show there?
Wells:
The Colts played last season for Pagano. Now he's leading the way for them. Pagano is a very upbeat coach. We're talking about a person who purchased mousetraps and had them placed in the players' lockers as a reminder for them to avoid falling into the trap against the Jaguars. There aren't many NFL coaches who would do that. Sounds like that's something Carroll would do, too. It appears to be to a two-team race in the NFC between the Seahawks and New Orleans. Who do you give the edge to in the conference?
Blount:
What a difference it is for the Saints to have Sean Payton back as head coach. And Rob Ryan really has helped the defense. But I have to go with Seattle over New Orleans because the Seahawks' defense is miles ahead of the Saints'. It's an interesting matchup because Wilson idolizes
Drew Brees
and they've become friends. And the Saints play at Seattle in a Monday night game on Dec. 2.
.
September, 29, 2013
9/29/13
12:40
PM ET
By
ESPN.com staff
| ESPN.com
Join our ESPN.com NFL experts as they break down the Seattle Seahawks' visit to the Houston Texans. Contribute your thoughts and questions beginning at 1 p.m. ET. And, be sure to visit our
NFL Nation Blitz page
for commentary from every game, as well as fan photos and the latest buzz from Twitter. See you there.
September, 27, 2013
9/27/13
12:00
PM ET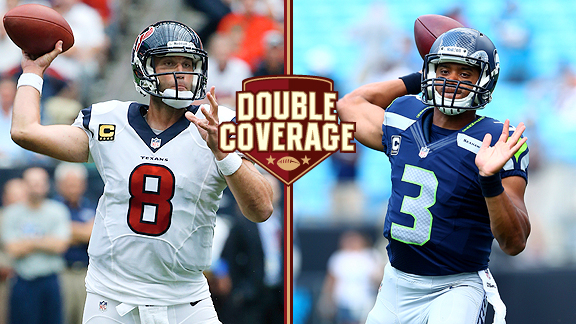 Getty ImagesMatt Schaub and Russell Wilson have combined to throw 12 touchdowns through Week 3.
When they saw each other at the Pro Bowl earlier this year,
Houston Texans
defensive end
J.J. Watt
told
Seattle Seahawks
quarterback
Russell Wilson
that if Watt had just stayed another year at Wisconsin, they might have won a national championship together.
"I wish I knew he was coming," said Watt on Wednesday, who left Wisconsin after his junior year, just as Wilson arrived.
Sunday at Reliant Stadium, they might see a lot of each other. The matchup between the Texans and Seahawks will pit the league's two best defenses against each other. But Wilson won't be easy to contain for a Texans' defense that gave up only 236 yards in last week's loss to the
Baltimore Ravens
. The Seahawks, meanwhile, are coming off such a dominating win over the
Jacksonville Jaguars
that Wilson didn't need to finish the game.
Texans reporter Tania Ganguli and Seahawks reporter Terry Blount take a look at the matchup.
Ganguli:
So Terry, what makes Seahawks cornerback
Richard Sherman
special?
Blount:
Preparation, enormous athleticism and confidence are what makes him special. I know many people outside of Seattle just see Sherman as a arrogant guy with a big mouth. That's a big mistake. Sherman is an extremely hard worker who spends hours studying film of every receiver he faces. Consequently, he rarely gets fooled on a play, and the few times when he does, he has the athletic ability to react quickly, overcome it and get back to the ball.
Tania, how do you think
Andre Johnson
will do against the talented Seattle secondary, and especially a head-to-head matchup with Sherman?
Ganguli:
The Texans are considering Johnson day-to-day right now. He didn't look right when he tried to play Sunday after suffering a shin bruise in Baltimore and ultimately recognized that it was better for him to leave and heal than play hindered by the injury. If they don't have him, the Texans will look to rookie receiver
DeAndre Hopkins
, a budding star who has shown talent from the moment he arrived in Houston, but also improved steadily as a rookie.
And speaking of young players, how has quarterback Wilson changed in his second year?
Blount:
Wilson is willing to take a lot more chances on difficult throws now because he understands what his receivers are going to do and where they will be. In the Jacksonville game, he made what appeared to be a dangerous throw in the middle of the end zone when
Sidney Rice
had three defenders near him. But Rice had signaled Wilson to toss it up high and Rice would get it, which he did. Wilson knows the offense now and has complete confidence to make plays at clutch moments, and his teammates believe in him.
Wilson is at his best when he scrambles and improvises, often resulting in big plays downfield. Can the Texans defense contain him?
Ganguli:
The most mobile quarterback they faced so far this season was Titans quarterback
Jake Locker
, who threw two touchdown passes but had a QBR of 44.3 against the Texans. They haven't faced a quarterback who is such an accurate passer while having the ability to use his legs and improvise. Wilson's numbers have been among the best in the league this season. That will be a challenge for a defense that wants to be the best in the league.
You wrote that the loss of left tackle
Russell Okung
didn't hurt much against the Jaguars, but how do you see it impacting the Seahawks going forward?
Blount:
Tania, this has to be Seattle's biggest concern entering the Texans game. The Seahawks may be the deepest team in the league, but the offensive line, and particular the tackle spots, is a thin area. They are no match for
J.J. Watt
.
Paul McQuistan
moved from guard to left tackle to replace Okung, but the team is weaker without Okung on the field. Right tackle
Breno Giacomini
probably won't play because of a knee injury. That means rookie
Michael Bowie
, a seventh-round draft choice, will have to go head-to-head with Watt. Bailey is talented, but he has a lot to learn. Throwing him out there this week against Watt is truly scary for the Seahawks.
I know the Seahawks have major concerns about trying to stop Watt and keeping him off Wilson. Do you see Watt having a big game Sunday?
Ganguli:
Watt has a keen ability to exploit weaknesses in inexperienced players. And if he doesn't know it right from the start, he figures it out eventually. He's a player with work ethic to match his talent, which isn't always the case with athletes of his caliber. Watt has been the third most effective player at disrupting opponents' passes since he entered the NFL. He ranks behind San Francisco's
Aldon Smith
and Minnesota's
Jared Allen
. Watt has played very well this season and he's determined to have a better year than he did last year when he led the league with 20.5 sacks and 16 batted passes.
The Seahawks secondary gets the most attention, but how has their defensive front played and what are their strengths and weaknesses?
Blount:
This was an area of needed improvement at the end of last season, so the staff made a major effort to bring in veterans who could help with the pass rush. It worked. Defensive linemen
Michael Bennett
, a free agent Seattle signed after he spent four years in Tampa Bay, has been a force up front.
Cliff Avril
, the biggest offseason acquisition, was hurt all preseason, but is back now and just starting to contribute. Defensive end
Chris Clemons
, the team's top pass-rusher last season, returned last week after offseason ACL surgery. And
O'Brien Schofield
, who was released at Arizona, has been strong at linebacker and defensive end. This is a much stronger, deeper and quicker group than it was a year ago, and it still doesn't have
Bruce Irvin
. He returns next week after a four-game suspension for PEDs.
Tania, these teams have two of the best running backs in the NFL in
Arian Foster
in Houston and
Marshawn Lynch
at Seattle. Which running back do you think will have the upper hand on Sunday?
Ganguli:
The running back situation has been interesting in Houston this season. The Texans eased Foster into the season after he missed the entire preseason and in the meantime backup
Ben Tate
has played very well. Tate is in a contract year and if he keeps up the way he's started, he'll be making some money after the season. His yards per carry have been strong and even better have been his yards after contact, 4.5 yards, the best in the NFL. If we're talking fantasy numbers, Lynch will definitely have the upper hand on Sunday. Foster will be sharing his load with Tate.
Last question from me: What is one name Texans fans might not know that they will after Sunday's game?
Blount:
Great question. I'll pick a couple. First might be middle linebacker
Bobby Wagner
, a second-year player who is growing into one of the best linebackers in the league. Another is slot receiver
Doug Baldwin
, an exceptional possession-type receiver who has a knack for making the big catch on third down.
And finally, everyone talks about how the Seahawks have the best home-field advantage in the NFL, but I'm a Houston native who has seen some pretty rabid fans down there, as well. How much of a factor can the crowd be Sunday at Reliant Stadium?
Ganguli:
They are a rabid bunch and have the added benefit of a perpetually closed roof that keeps their rabidity trapped like a greenhouse gas. They've been frustrated recently, but if their team plays well on Sunday, it will be loud.
.
November, 15, 2012
11/15/12
4:00
PM ET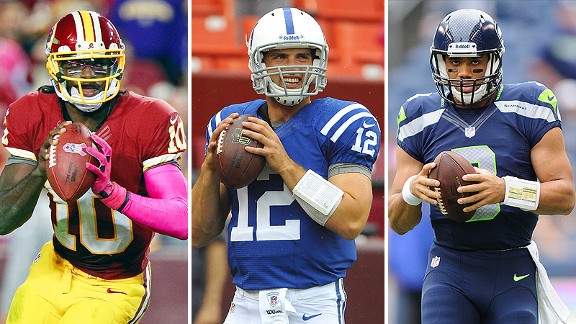 US PresswireHow does the QB class of 2012 stack up against 1983 and 2004?
Several
Seattle Seahawks
fans sent me a link to
Kerry Byrne's piece
promoting
Russell Wilson
as the NFL's best rookie quarterback this season.
"The biggest story in football is that a charismatic but undersized 5-foot-11, 205-pound, third-round draft pick who makes chump change by NFL standards is in the midst of perhaps the greatest streak of rookie performances in NFL history," Byrne writes.
In addition to promoting Wilson, the piece cites one sentence from AFC South blogger Paul Kuharsky as evidence ESPN and others are slighting the Seattle rookie by crediting the
Indianapolis Colts
'
Andrew Luck
for stellar play despite a mediocre NFL passer rating.
This was my favorite part of the piece -- a chance to rile up Paul, who never shies away from a good scrum. But instead of baiting Paul into an argument, the subject generated a discussion we wanted to share. Paul and I looped in NFC East blogger Dan Graziano, who covers
Robert Griffin
III, to broaden the discussion.
Here we go.
SANDO:
Wilson has gotten less attention as he's played better, it seems to me. There was quite a bit of buzz around him heading into the season simply because people following along from afar expected
Matt Flynn
to win the job. The idea that a head coach would willingly go with a 5-foot-10 rookie third-round draft choice over a $19 million free agent made waves. Wilson didn't play all that well early in the season, however. Part of that was because Pete Carroll pulled back the reins on the offense in an attempt to bring along Wilson slowly. That wasn't really anticipated given how effusive Carroll had been in his praise for Wilson's readiness to perform right now, not just in the future. Meanwhile, RG3 was sensational out of the gates. The Wilson buzz went away. I think that's going to change as Seattle continues to make a playoff push and Wilson continues to become a bigger part of the reason why.
KUHARSKY:
Critics who want to say Luck is over-hyped are, in my opinion, off their rocker. You look at his completion percentage, you look at his passer rating. I'll watch him play. He's remarkable for a rookie. Heck, he's remarkable for a third-year guy. He's got characteristics of both
Peyton Manning
(anticipation, smarts, understanding) and
Ben Roethlisberger
(ability to extend plays or to stand in and make throws while getting hit) as well as enough speed to be a constant threat to pull it down and run for a first down. I understand RG3 is more explosive. But I'm a pocket passer guy. And if I am choosing a young pocket passer to build a team around, I have no question about who it would be right now. It would be Luck. His team isn't very good, and he's got it positioned as a front-runner for a playoff berth. Don't just look at his stats, look at his play. He's worthy of all the talk/ hype/ praise/ applause/ etc.
GRAZIANO:
Nobody got attention like Griffin got it in September, when he was being talked about as an MVP candidate and not just Rookie of the Year. In truth, he's been dazzling, and has handled every situation, in-game and off-field, as well as you could ask a rookie to handle it. But if the bloom is coming off, it's understandable. The Redskins have lost three games in a row, and Griffin's two most recent games are the only ones this year in which his completion percentage has been under 60. I think the problem is more about the group around him than it is about the league figuring him out. The Redskins' offense simply may have reached the limit of what it can do in this particular season, given the injuries to top passing-game playmakers
Pierre Garcon
and
Fred Davis
. The plan for Griffin is not to run college-style option stuff his whole career, but at this point the Redskins' offense is reaching a point from which it can't evolve much further until it has its top receiving threats back. In the meantime, Griffin is stuck throwing to secondary receivers who drop too many passes, or scrambling so much that it puts his health at risk. We may have seen the best of Griffin for 2012, but things are likely to get better in 2013 and beyond once they improve the team around him.
KUHARSKY:
They are all great stories. And heck,
Ryan Tannehill
and even
Brandon Weeden
have done some good things, too. If we're not entering an era of quick impact quarterbacking from newcomers, then a lot of teams with high draft picks in the near future are going to be disappointed. I know Cold, Hard, Football Facts took me apart for my praise of Luck. But nowhere in that have I suggested anyone else unworthy of his fair share of respect. Luck's in a unique situation. The Colts were horrific last year, it's a new regime that cut a bunch of people and is eating a lot of dead money. It's a thin roster. It found a purpose in rallying to win for Chuck Pagano after his leukemia diagnosis, and while the Seahawks are a maybe and the Redskins are a no, the Colts are very much a probably for the playoffs. I'm far more interested in that than nitpicking completion percentage for a guy who hardly ever throws a checkdown pass.
GRAZIANO:
That's the thing, Paul. Are we analyzing what these guys are right now, as compared to the top QBs in the league? Or are we talking about what they've shown in terms of what they can be? All of these rookies have obvious areas in which they can improve, but at least in the case of the guys who were picked 1 and 2 in the draft, I think we're talking about rare talents with incredibly high ceilings. Whether Griffin has been asked/required to throw downfield as much this year as he'd eventually like to seems immaterial to me, especially with the Redskins not yet ready to contend. He's shown presence in the huddle. He's shown an ability to lead a game-winning drive. He's made good decisions. Much of what he's accomplished is tied to his remarkable all-around athleticism and speed, sure, but he hasn't relied exclusively on that the way, say, a young
Michael Vick
or
Jeff George
might have. Griffin's shown a desire and an ability to treat the quarterback position as a craft to be honed, and a willingness to work on the minuscule detail aspects of it. That speaks to where he's headed as much as anything he's done on the field does.
SANDO:
I'm with Paul in looking beyond passer rating with Luck in particular. He ranks among the NFL leaders in attempted passes. He's carrying that offense. The Colts are also asking him to make more difficult throws. His passes travel 10.3 yards past the line of scrimmage on average. That leads the league and it's not even close. We're not talking about a team dinking and dunking to protect its rookie passer. Luck is doing so much more than that. I think this is a perfect test case for our Total QBR metric. It's got Luck trailing only Peyton Manning,
Tom Brady
and
Matt Ryan
when it comes to doing the things quarterbacks must do to help their teams win. Those five rushing touchdowns he has aren't showing up in the passer rating stat, to cite just one example. It's why I've listed Luck in the last couple MVP Watch items. The Seahawks did not ask Wilson to do nearly as much early in the season. They've asked him to do more in recent weeks and Wilson has responded. He's improving quickly and ranks among the NFL's top seven in QBR and top five in passer rating since Week 6. Wilson has a real chance to finish this season as the best rookie quarterback in the league.
KUHARSKY:
And there we have the crux of the question, I believe -- what would make him the best? Passer rating? QBR? Team success? I love Wilson and his story. I hope he opens doors for others who don't look the part. But Luck looks the part and fits it too, and I'm not downgrading him for it. For what's left of this season, of the rookie quarterbacks, he's the one I'd take, without question. For what's left of their careers, he's the one I'd take, without question. And my picking him is all about what he has, not about anything the other guys don't. And he should be the choice. He was the top pick for a reason.
GRAZIANO:
I think you're right, Paul. I spoke with Mike Shanahan last week, and as much as he raves about his guy, he still insists he'd have been thrilled with Luck and that the whole point this year was to get one of the first two picks because you were looking at two transcendent talents. Stats? RG3 is ninth in passer rating, 10th in QBR, sixth in Pro Football Focus' rankings (eighth as a passer and second, behind only Luck, as a running QB). There's not a rating system that doesn't love him, and again, he's done this without the wide receiver they signed to be his top target and big-play guy. If Griffin has to "draft" Luck his whole career and be a close No. 2, I imagine he could do worse. But it appears he's got the stuff he needs to keep it a good debate for years to come. And while it may be a matter of taste, when this year ends, you're going to be able to make the case for Griffin as the top rookie quarterback.
SANDO:
Most never expected Wilson to be part of this discussion. Even the Seahawks weren't sure how much his lack of height would limit him. Wilson has demonstrated an ability to find and create throwing lanes.
Jared Allen
alluded to this before his
Minnesota Vikings
watched Wilson toss three first-half touchdown passes against them. If the height isn't going to be a negative, then Wilson can absolutely become an elite quarterback. He has the arm and the professional baseball pedigree to prove it. He has big hands, not just for his size, but overall (10 1/4 inches, fourth-biggest at the 2012 combine and bigger than Luck's or Griffin's hands). His work ethic led Carroll to joke about how Wilson decided to take some time off -- maybe three hours, he said -- during the bye week. The results have certainly been positive on the field. From everything I've seen, Wilson will be part of this conversation in the future.
April, 21, 2010
4/21/10
9:00
AM ET
»
NFC Draft Tale
:
East
|
West
|
North
|
South
»
AFC
:
East
|
West
|
North
|
South
Mike Reinfeldt's cautionary war room tale is the same as many executives who were involved with picks anywhere in close proximity to Minnesota at No. 7 in 2003.
"I have one good story of chaos," said Reinfeldt, who classifies most draft rooms he's been in as
relatively serene
. "The year that
Kevin Williams
got taken by Minnesota, they didn't get their card in."
The Vikings insisted they drafted at No. 9 the same player they would have taken seventh if draft talks didn't bog them down and allow both the Jaguars to draft quarterback
Byron Leftwich
and the Panthers to take offensive tackle
Jordan Gross
before they got their card in for Williams, a defensive tackle.
Reinfeldt was an executive in Seattle, which had the 11th pick.
"It's Ted Thompson and Mike Holmgren and Bob Whitsett and everybody kind of froze, nobody really knew what to do," said Reinfeldt, now GM of the Titans. "And Ted Thomson was great, because he said 'Write Marcus Trufant's name down right now and be ready to turn it in.'
"Those moments never really happen but all of a sudden this moment did happen and Ted knew exactly what he wanted to do. As it turned out, they got their pick in and we still got Trufant, he was the guy that we wanted, we felt we would have taken him at sixth if we had sixth."
It was a Boy Scout moment in terms of always be prepared.
"You've got to be ready for the unexpected," he said.
July, 17, 2009
7/17/09
12:00
PM ET
Posted by ESPN.com's Paul Kuharsky
The AFC South's overall success in 2008 came in good part to its interconference matchups. They were a collective 11-5 against the NFC North with no team worse than 2-2.
What awaits the division when it faces the NFC West this season?
Last year doesn't give us too much information, but at this point in time it's hard to say anything but the matchups look favorable. In 2008 the NFC West was a collective 20 games under .500 while the AFC South was 12 games over.
Here are seven interesting storylines or factors that will come into play in AFC South against NFC West this season.
1. Slowing top receivers: Teams in the AFC South are built on the thinking that they have to be able to matchup with some pretty good receivers. Yes, Marvin Harrison is gone, but Indianapolis still has Reggie Wayne, and Anthony Gonzalez could evolve into a tough matchup. And the Colts, Titans and Jaguars know they have to try to slow the excellent Andre Johnson twice a season. Now the division also has to contend with Torry Holt. How does such defensive construction translate against a division featuring Larry Fitzgerald, Anquan Boldin, T.J. Houshmandzadeh, Isaac Bruce and rookie Michael Crabtree?
2. Super rushers in big-time matchups: Preparing for the AFC South means preparing for a big-time edge rusher off the right side. Houston's Mario Williams, Indy's Dwight Freeney and Tennessee's Kyle Vanden Bosch are relentless in their quarterback pursuit. Their matchups with Seattle's Walter Jones and San Francisco's Joe Staley should be something to see, and the ability or inability of Arizona's Mike Gandy and St. Louis' Alex Barron to slow them will be critical storylines in those games. And are AFC South left tackles assigned to stop those big rushers in two games a year -- Michael Roos, Tra Thomas/Eugene Monroe, Tony Ugoh and Duane Brown -- also equipped to handle Justin Smith, Chris Long and Bertrand Berry?
| | |
| --- | --- |
| | |
| | Aaron Josefczyk/Icon SMI |
| | The Colts' Peyton Manning could have big days against the NFC West's pass coverages. |
3. Unfamiliar defenses vs. Peyton Manning: No, rank against the pass isn't a tell-all stat. But St. Louis ranked 19th against the pass last year, and that was tops among NFC West teams. The Rams, 49ers (20th), Cardinals (22nd) and Seahawks (32nd) are going to have to show they're much better and can be resourceful if they have a chance to minimize the damage inflicted by Manning. Otherwise, he may well pick them apart.
4. Getting to know Jim Mora: Mora is the new coach of the Seahawks. None of the AFC South teams played against the Mora-coached Atlanta Falcons teams in the regular season while he coached that franchise from 2004-06. But Jeff Fisher's 1999 Titans lost to a San Francisco team that had Mora as its defensive coordinator. The Jaguars beat the Niners that same year on opening day, but don't have a player or coach left from that team, so aren't likely to find any help in it. Indy will have a little organizational recall of Mora's defense from a loss to the 49ers in 2001. The AFC South doesn't have a lot to go on, either, as it prepares to face three other coaches who have not been with their teams long. Fisher does know Mike Singletary -- they were teammates on the Bears.
5. How will two teams from the Eastern
time zone and two from the Central travel West: Including the playoffs, AFC South teams are 5-16 in games at Seattle, Arizona, San Francisco, San Diego and Oakland since realignment in 2002. That includes 0-7 for the Titans, whose playoff fate could come down their first trip to Qwest Field, a Jan. 3 regular-season finale.
6. Will the Cardinals draw in North Florida: Things are not looking good for the Jaguars in the ticket sales department, and a visit by St. Louis combines with home games against Kansas City, Buffalo and Miami outside the division to make for a less-than-stellar slate to market. But the defending NFC Champion Cardinals are in Jacksonville on Sept. 20. If the combination of the Jaguars' home opener and Kurt Warner, Fitzgerald and Boldin coming to town doesn't produce a buzz and a sellout, it won't bode well for what's ahead.
7. Battle of the rookie running backs: Colts president Bill Polian once passed on Ricky Williams in favor of Edgerrin James, and came out looking very smart. In April, with Knowshon Moreno long gone, Polian tabbed Donald Brown ahead of Beanie Wells. This season the Colts head to Arizona Week 3 and will use Brown against a team that took the back Polian passed on in the first round. The Cardinals preferred Brown to Wells as well. Here we get close looks at both the backs from late in the first round in a game pitting the teams many rate as the favorites in these two divisions.