AFC South:

Shaun Alexander
November, 2, 2012
11/02/12
11:17
AM ET
Good teams play well at home.
In their existence, the
Houston Texans
have been dead-even at Reliant Stadium, 42-42.
Last season, when they broke through to the playoffs, they were 5-3 at home. This season, when they current rate as the best team in the AFC, they're 3-1. In 2009 and 2010, when they were struggling to get good, they were 4-4.
One thing that has helped their home record since the start of 2011 is the production of one of their best players.
One thing the
Buffalo Bills
, a team with a bad run defense, can expect Sunday at Reliant Stadium: A touchdown from
Arian Foster
. He leads the NFL with nine rushing touchdowns this season, and seven of them have come in the Texans' four home games.
Dating back to last season, Foster actually owns a streak of eight consecutive home games with a touchdown. It's the fourth-longest streak in the past 10 seasons, and he's closing in on the best marks of that period. (See chart.)
After he scores, Foster bows, hands together, to the crowd. My understanding of Namaste is it says, the soul in one acknowledges the soul in you.
The Texans hope to see the celebration Sunday.
January, 31, 2012
1/31/12
6:20
PM ET
INDIANAPOLIS --
Peyton Manning
's interview with ESPN's Trey Wingo swerved into NFC West territory about five minutes into the clip below.
The
San Francisco 49ers
and their fans will appreciate what Manning said when Wingo asked how tough it is for Manning to watch the Super Bowl come to his town.
"I've always said it's probably harder for the playoff teams not to be here," Manning said. "When you get really close, like San Francisco, like Baltimore. We've known we weren't coming to the Super Bowl for quite some time."
Since November, actually.
A quick look at the five most painful NFC West playoff exits, pre-Super Bowl, since divisional realignment in 2002:
2011 49ers: Their 20-17 defeat to the Giants was crushing for the way it happened, with a turnover during a punt return in overtime -- and at home, which always hurts more. Missed opportunities abounded.
2003 Rams: Losing in the second overtime is worse than losing in the first one. Jake Delhomme's 69-yard touchdown pass to Steve Smith in St. Louis stunned the 12-4 Rams in the divisional round. This one would have ranked first if a Super Bowl trip had been on the line.
2003 Seahawks: Seattle was looking for its first playoff victory since the 1980s. Shaun Alexander's fourth-quarter scoring run had forced overtime at Lambeau Field. Microphones memorably picked up quarterback Matt Hasselbeck saying the Seahawks would take the ball -- and score -- after winning the overtime coin toss. Al Harris' interception return for a touchdown spoiled those plans.
2006 Seahawks: A 27-24 overtime defeat at Chicago in the divisional round brought a sudden end to the Seahawks' NFC title defense. Alexander rushed for 108 yards and two touchdowns, but it wasn't enough.
2004 Seahawks: First-round defeats in back-to-back seasons extended the Seahawks' drought without a playoff victory. The Seahawks lost this one at home, 27-20, after the Rams scored the final 10 points.
Arizona's defeat at New Orleans following the 2009 season just missed the cut. The game lacked the drama generally required to inflict deep emotional wounds. It was significant, however, because
Kurt Warner
suffered a concussion and opted for retirement.
October, 30, 2011
10/30/11
9:15
PM ET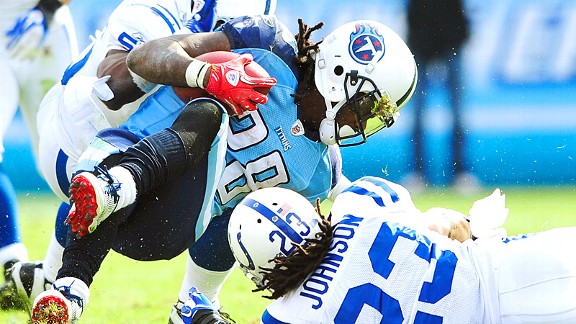 Grant Halverson/Getty ImagesChris Johnson's yards per carry for the season is now two yards fewer than his career average.
NASHVILLE, Tenn. -- With apologies to
Chris Johnson
, I've grown tired of all the apologies for Chris Johnson.
The
Tennessee Titans
got to celebrate a win at LP Field on Sunday, a
27-10 handling
of the winless
Indianapolis Colts
.
But Johnson was completely ineffective again: Against the league's second-worst run defense, he turned 14 carries into 34 yards. The effort dropped his yards-per-carry average for the season from 2.9 to 2.8.
The consensus remains that everyone involved shares in the blame, and certainly they do. But I simply didn't see the sort of determination you expect from an NFL lead back, better yet one of the six who's topped 2,000 yards in a season and one who entered the season with a 5.0 career average.
In the other locker room, it was no surprise that the Colts said Johnson is the same guy he's always been. It makes them look good to say it, because they just stopped him. And they aren't about to give him any fodder to get going for the rematch on Dec. 18 at Lucas Oil Stadium.
But a bit of what came from Johnson's teammates bordered on excuse making.
"Honestly, a lot of times it's not his fault why runs don't happen for him," said the team's second running back,
Javon Ringer
." ... Of course fans are going to see just Chris Johnson, the name. They're not seeing how things develop for him to be able to have those big runs. The most important part of our offense is our offensive line."
"I guess everybody would feel different if they came in and watched film with us and literally saw why things happen."
Great, I accept on behalf of the AFC South blog readers. What time should I be at the facility? Will we actually name names on each play? When I see Johnson get hit early and stop trying, will I suddenly see how that's not on him?
Ringer tiptoed like Johnson on a stretch play when asked how he fared better turning his 14 carries into 60 yards, 26 more than Johnson managed with the same workload. Ringer too doesn't want to offend.
A defense lets down when Ringer is in the game because he's not earned the respect Johnson has, he explained.
Maybe the Titans will be trendsetters. Maybe soon we'll see offensive strategy shift across the league: Dynamic playmakers will head for the bench so defenses will relax in order for second-stringers with less talent, shorter résumés and smaller contracts to take advantage.
Also in the Titans' locker room I heard that Johnson split carries in his 2,006-yard season with
LenDale White
(when Johnson actually had 294 more). I heard that it's still relatively early (yes, we're only 43.8 percent into the Titans' season). I heard about the strain of expectations and even about the benefits of a reduced workload.
"I know for me you can try to do too much when people get on you," quarterback
Matt Hasselbeck
said. "When things aren't going well, you can try to do a little too much … I know that's gotten me, but I didn't see that."
When guard
Jake Scott
was told coach Mike Munchak intends to split the carries 50-50 going forward -- which was not actually what Munchak said -- Scott suggested that could help Johnson.
So a guy who just got a $53 million contract with $30 million guaranteed by selling himself as a playmaker would do well to be reduced to a part-time player, I asked?
"If he can be better doing that, that's fine," Scott said. "If that works out better, it might be better for him ... We have two good backs, we actually have three good backs. There is no reason to put the whole load on one person."
How the standards have fallen. I don't propose Johnson take every handoff, but he's supposed to be a singular back. He should be expected to be a singular back. He got the contract of a singular back. And a singular back gets the lion's share of the work.
Hasselbeck and Munchak ultimately had better reasons to explain Johnson's recent decline.
Hasselbeck played with
Shaun Alexander
in Seattle, a running back whose career dropped precipitously after he got a big contract.
"When you're so successful and you produce in such a major way with fantasy football and all of that stuff, people are just expecting it just to happen," Hasselbeck said. "There's a lot that goes into it. It's hard to be that elite all the time, so people got on him real quick, real easy. He probably got a little too much credit when things were good and definitely got too much blame when things were bad."
Scott said Sunday's win featured the Titans' best run effort of the season.
It was the best day in terms of carries (31) and apologies made on Johnson's behalf. It was the second-best in terms of yards (96). But only twice have the Titans fared worse per carry than the 3.1 average.
As for the effort question, Munchak offered the best explanation of the day and said he's got no complaints in that department.
"To me, he's running like he's done here, like the type of runner he is," Munchak said. "He's never been known to be a guy who's going to break two or three tackles at the line of scrimmage. That's not his type of thing.
"... I don't think people are apologizing for him."
The coach said everyone is taking accountability for it: the back, the line, the fullback, the playcallers, the coaches.
"No one's protecting him," Munchak said. "… It's just hard for our team. I coached the offensive line for 14 years, we've never been last in rushing. When you are all of a sudden, in something that you've prided yourself on, obviously it gets a lot of attention."
We're here to serve.
August, 23, 2011
8/23/11
10:23
AM ET
Three backs who've run for 1,000 yards on the same team sounds like a rarity.
But after writing about the Texans and Arian Foster, Derrick Ward, and Steve Slaton Monday I asked Stats & Info how often it's happened and they took it to Elias. Apparently, it's not so uncommon, especially when Michael Bennett (who ran for 1,296 yards for Minnesota in 2002) is involved.
There have been three instances of a team having three 1,000-yard rushers in just the last five years.
2008 Tampa Bay Buccaneers -- Michael Bennett, Warrick Dunn and Cadillac Williams
2008 Washington Redskins -- Shaun Alexander, Ladell Betts and Clinton Portis
2007 Kansas City Chiefs -- Michael Bennett, Priest Holmes and Larry Johnson
Foster and Ward are definite for the Texans. If Slaton sticks, they'll be added to this list. He has to rank fourth at best right now, behind Ben Tate.