AFC South:

Shaun Phillips
August, 6, 2014
Aug 6
11:00
AM ET
NASHVILLE, Tenn. -- Every team in every training camp talks optimistically. Every team with a new coaching staff talks about how things are different for the better.
The
Tennessee Titans
are lowly regarded by plenty of fans and media nationally. But they have a lot going on that they feel those people have not paid attention to.
With Ken Whisenhunt and his staff at the helm, new schemes on both sides of the ball, a schedule that doesn't include some of the powers they faced a year ago and a division with two other rebuilding franchises, they might have a chance to surprise.
.
"You say each and every year, 'Feels different, feels different, feels different,'" safety
Michael Griffin
said. "Just, you can see every day, people out there talking, we always have guys picking people up. Each and every day there is competition. There are little side bets here and there -- who's going to win this period and things of that nature. The whole time we're all trying to get each other better.
"Again, it just feels so much different in this locker room, and everybody has the same goals in mind, and that's a positive around here."
THREE REASONS FOR OPTIMISM
[+] Enlarge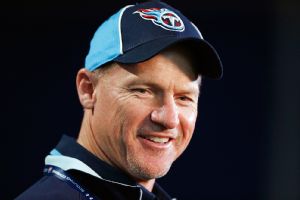 Brian Spurlock/USA TODAY SportsNew coach Ken Whisenhunt brings a solid résumé and a strong coaching staff to the Titans.
1.
Whisenhunt isn't Vince Lombardi or Don Shula, but the Titans' new coach is a significant upgrade from Mike Munchak, who was unsteady in his first three years as an NFL head coach. Whisenhunt had success in the role during his six seasons in Arizona, and he is a well-regarded offensive mind who will do more with what the Titans have than his predecessors.
Whisenhunt had the connections and the interviewing skills to hire a staff that appears to be filled with strong teachers, including a few quality holdovers. Defensive coordinator Ray Horton is turning the Titans into a less predictable 3-4 and comfortably works his way into different sections of practice when position work is unfolding. I've watched these coaches teach and I've seen them connect with players.
Whisenhunt may field a complex offense that's hard to defend, but he's good at keeping things simple. I don't see any changes in how the Titans function that aren't for the better at this point.
2.
The Titans don't have players the fans are going to pick to captain their fantasy squads, but Tennessee should have a good array of quality weapons on offense.
Kendall Wright
topped 1,000 yards in his second season, and now the team's best receiver will be sent on a wider variety of routes, not just inside slot stuff. He's been excellent so far in camp.
Justin Hunter
is doing better getting his legs under him and is catching the ball more comfortably. He got behind Atlanta's defense a few times in the recent joint practice and should be a constant deep threat.
Nate Washington
is showing he remains a versatile, productive guy.
Beyond the receivers, tight end
Delanie Walker
and running backs
Dexter McCluster
and
Bishop Sankey
will be good pass-catching options. When the Falcons gave the Titans a lot of room underneath,
Jake Locker
hit McCluster with a pass over the middle, and he had a ton of space to take. The Titans have invested a great deal in their offensive line over the past two seasons. They have one more tackle than they need after signing
Michael Oher
and drafting
Taylor Lewan
. There should be better protection for the quarterback and better holes for the running backs.
3.
The 4-3 defense in recent years lacked a star pass-rusher on the edge who an offense had to fear every snap. The Titans still don't seem to have that guy. They have to find him, but even if he doesn't emerge from this group, the overall production out of the pass rush should be better. Who is rushing and who is dropping into coverage? In the 4-3, opponents pretty much knew. In this 3-4, it won't be nearly as clear on a regular basis.
Jurrell Casey
, who notched 10.5 sacks as a tackle last season, will work as an end now. He's worked on speed rushes off the edge as well as his bread-and-butter quick power stuff in camp.
Sure, some good quarterbacks can diagnose who is rushing and who isn't, no matter the front. But outside of
Ben Roethlisberger
and
Andrew Luck
(twice), the Titans don't face any A-list quarterbacks coming off big 2013 seasons this time around. They don't see Seattle and San Francisco this season either.
THREE REASONS FOR PESSIMISM
1.
Locker is a really likable guy who works hard, says the right things and desperately wants to prove he is the long-term answer for the Titans at quarterback. But in two seasons as the starter, he's missed 14 games while dealing with shoulder, hip, knee and foot injuries. He's practiced pretty well, but there are plays splashed in that can be killers on a Sunday afternoon.
Getting 16 games out of him is hardly a certainty for the Titans. Even if they do and he fits well with what Whisenhunt is asking him to do, he has not been accurate or poised enough when he has played. He sometimes tries to do too much and isn't poised under pressure. Though he moves well and is very fast, putting him on the move puts him at more risk of another injury. Behind him are more question marks.
Charlie Whitehurst
has had no real success in just 13 games in eight seasons and often fails to step into his throws. Rookie
Zach Mettenberger
has a great arm but slipped to the sixth round for several reasons and is rotating with
Tyler Wilson
as the third-team QB. (Update: Wilson was released Wednesday.)
2.
The offensive weaponry looks good, but for those five pass-catchers to give the Titans the nice smorgasbord of options, they need to stay healthy. Also, guys like Hunter (second year), Sankey (a rookie) and McCluster (first year with the Titans and Whisenhunt) need to show that their potential and practice play translate into NFL Sundays in a Tennessee uniform. Wright was the best player on offense last season and should grow more. Can the others become known quantities?
Who is the star of the defense? DT-turned-DE Casey is a strong, quick rusher who was healthy and productive in 2013. He is going to land a big-money contract -- either soon from Tennessee or on the market next spring. There are some nice pieces around him, but the Titans need veterans to have their best seasons and youngsters to emerge, all simultaneously. In Georgia, no defender stood out and regularly gave the Falcons more than they could handle.
3.
Forty-seven percent of the current 90-man roster has been in the league for two years or less. Youth is generally good, but it needs to be quality youth and it needs to be surrounded by quality veterans. The Titans lack experience in a lot of spots. There aren't kids in camp who weren't high picks but have forced their way up the depth chart to this point.
Maybe it's a great mix of players and a good share of the inexperienced people can blossom together. But with new coaches and new schemes, it could be asking a lot for all that to happen in the first season.
OBSERVATION DECK
[+] Enlarge

Don McPeak/USA TODAY SportsJake Locker needs a healthy season if he hopes to become the long-term answer at QB for the Titans.

Locker said he feels more comfortable speaking up and being vocal, and he has shown himself to be more confident in how he carries himself. After one throw that looked to be too long for an undrafted rookie, Locker pointed to tell Julian Horton where he should have gone. He still has bad moments in practice, but the preseason has not started, and he is progressing.

The Titans have moved running back Jackie Battle to fullback, where he can offer some needed versatility. He appears to have a sizable lead on incumbent Collin Mooney, who has had, at most, a handful of first-team snaps.

Among long-shot late additions, veteran receiver Derek Hagan has been consistently good and Brian Robiskie is also gaining notice. He's competing for the fourth and fifth wide receiver spots with Marc Mariani and Michael Preston. Maybe they'll keep six.

Sankey is learning quickly how to be a pro, and he has shown a bit of everything the Titans said they expected when they made him the first running back selected in the draft. His first day in pads he looked like an experienced NFL-caliber pass protector. He has good vision and makes good decisions on when to go and when to cut. He also catches the ball well, can run inside and outside.

Weakside outside linebacker Shaun Phillips has not worked at all with the first team when Kamerion Wimbley has been practicing.

Tommie Campbell was politely mentioned with Coty Sensabaugh and Blidi Wreh-Wilson as a contender for the starting right cornerback spot that opened when Alterraun Verner signed with Tampa Bay. But it's a two-man competition, and Campbell has struggled horribly.
July, 17, 2014
Jul 17
10:00
AM ET
»
NFC Preview:
East
|
West
|
North
|
South
»
AFC:
East
|
West
|
North
|
South
NFL Nation's Paul Kuharsky examines the three biggest issues facing the
Tennessee Titans
heading into training camp.
Jake Locker:
It's now or never for the Titans' quarterback, at least in Tennessee. The fourth-year quarterback started last season well, then he got hurt, didn't shine when he came back and ultimately suffered another season-ending injury. Now he's got his third offensive coordinator in Jason Michael and a new playcaller and head coach in Ken Whisenhunt.
The Titans would love to see him blossom into the player they thought he could be when they tabbed him eighth overall in 2011. But they began to line up a contingency plan for beyond 2014 when they drafted LSU's
Zach Mettenberger
in the sixth round.
The team declined to execute Locker's option for 2015, and he'll be a free agent after this season. He needs to prove himself worthy of a new contract or the Titans will be prepared to go a different direction next season -- or maybe even sooner.
Things are set up for him to succeed with an upgraded coaching staff, a running game that should be better with a committee instead of
Chris Johnson
's deteriorating vision, a reshaped defense and what should be a far easier schedule. But plenty of league insiders and outside critics have little faith Locker can be an effective long-term starter on a winning team.
The new 3-4 defense:
Defensive coordinator Ray Horton will bring people from different spots and has some rushers who can play as deeper outside linebackers or line up in a three-point stance as if they are defensive ends. We don't know if they added enough, but out of
Kamerion Wimbley
,
Shaun Phillips
, converted end
Derrick Morgan
and
Akeem Ayers
, there could be ample edge rush.
The team's best defensive player, DT
Jurrell Casey
, will now be playing a lot on a three-man line. But the Titans promise his duties will not change much and say he actually will get more one-on-ones -- because offenses won't be able to help on him before getting to a linebacker who will be at the line of scrimmage a lot sooner.
Horton quickly won the respect of the team based on his fine résumé and calm but purposeful no-nonsense demeanor. He said small guys who can hit and big guys who can run will have a major say in whether the Titans are successful.
Houston and Indianapolis made the playoffs in their first seasons following recent transitions to a 3-4. The Titans know the scheme change doesn't buy them patience.
Whisenhunt's weapons:
The Titans signed pint-size
Dexter McCluster
to be a weapon in Whisenhunt's offense. McCluster played receiver and running back in Kansas City, but the Titans will look to him as part of the backfield committee, where he figures to catch a lot of passes coming out of the backfield.
Bishop Sankey
was the first running back taken in the draft and should be a more direct, decisive back than Johnson, though he certainly doesn't bring CJ's speed.
Shonn Greene
will have short-yardage chances. Are those three enough to take heat off the passing game?
The Titans are counting on a big jump from blazing outside receiver
Justin Hunter
.
Kendall Wright
was the best player on offense. And while
Nate Washington
is aging, he has been dependable and productive. Along with tight end
Delanie Walker
there are options for Whisenhunt to be inventive with, but we don't know what will work.
March, 27, 2014
Mar 27
4:23
PM ET
Shaun Phillips
looks to be the one, best remaining option for the
Tennessee Titans
in free agency in terms of finding a pass-rush boost.
Phillips
The free-agent defensive end from Denver recorded 10 sacks for the Broncos out of their 4-3 last season. But for the vast majority of nine seasons before that he was an outside linebacker in a 3-4 in San Diego, and that's where he'd line up for the Titans, who are transitioning to that front.
He has 79.5 career sacks since being drafted by the Chargers, who selected him out of Purdue in the fourth round in 2004.
Here's a scouting report from ESPN's Bill Polian:
Phillips wound up being the only legitimate edge rusher for Denver's defense in 2013, and even though age may be a factor (he'll be 33 this offseason) it's hard to imagine that the Broncos would let him leave. He is decent versus the run with good effort and chase but his game is all about getting to the QB. Phillips takes good angles to the ball, closes well and is a finisher who makes a lot of plays.
If the contract is short enough and the price is reasonable enough, he'd be a great addition and he would lessen the pressure on the Titans to land an impact edge-rusher early in the draft.
UPDATE, 5:29 p.m.:
Mike Garafolo and Jim Wyatt both report a deal is done. Two years and a max value of $6 million with $2.5 million guaranteed fit the parameters I just mentioned. Good get, I think.
March, 11, 2014
Mar 11
8:00
PM ET
NASHVILLE, Tenn. –- Pass-rushers have moved quickly at the start of NFL free agency.
Greg Hardy
(tagged in Carolina) and
Michael Bennett
(re-signed by Seattle) never made it to market.
Lamarr Houston
jumped from Oakland to Chicago, and
Michael Johnson
went from Cincinnati to Tampa Bay.
That's four of the top five guys on ESPN's resident GM Bill Polian's
list of ends

.
But all four of those guys are coming out of 4-3 situations.
[+] Enlarge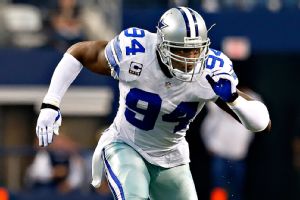 AP Photo/Kevin TerrellDeMarcus Ware would be expensive, but could give Tennessee's pass rush a boost.
So is Denver's
Shaun Phillips
, though he's played end in a 3-4 front, too. He's 32, but had 10 sacks last season.
At the very least the
Tennessee Titans
will be a hybrid front, and I think they ultimately will want to be predominantly a 3-4.
Washington's
Brian Orakpo
is the kind of player the Titans need. The Redskins franchised him.
The list of available linebackers doesn't include any absolute certainties in terms of sacks.
Polian gave
29 linebackers

grades of C or better. Eight have signed or been tagged.
Of the remaining 21, outside linebackers with 3-4 experience coming off productive pass-rushing seasons are rare.
Lamar Woodley had 5 sacks for Pittsburgh,
Parys Haralson
had 3.5 for New Orleans,
Matt Shaughnessy
had 3 for Arizona, and
Reggie Walker
had 3 for San Diego.
Hardly a bumper crop.
That brings us to
DeMarcus Ware
. The former Dallas Cowboy, released Tuesday, is 31 and is going to cost a great deal. He was a 4-3 end last season and had 6 sacks. But in 2012 he was a 3-4 outside backer and 11.5.
The scouting report from Polian and the guys who helped build his free agent board:
Ware is an excellent veteran pass-rusher who brings a combination of length, first-step quickness, explosiveness and the flexibility to bend the edge. He can hold up as an edge-setter against the run and has the versatility to play in both a 4-3 and 3-4. A very good athlete with questions only stemming from durability and age (31). Will generate significant interest from teams all over the league.
Ware turns 32 on July 31.
Julius Peppers
, a 4-3 end, just came free, too, and he's 34.
Jared Allen
has played his whole career in a 4-3 and is 31.
Tuesday we discussed how the Titans didn't appear to be
afraid of age
in free agency.
I'm not sure if that will apply to a costly, aging pass-rusher.
Maybe the Titans jump out and spend big on Ware. Maybe they add a Woodley or a versatile Shaughnessy and blend them in with
Akeem Ayers
and maybe
Kamerion Wimbley
and
Zach Brown
, if Brown turns out to be an outside rather than inside backer in the new scheme.
Just about every player the Titans could look at for rush help from this free-agent class has a wart -- be it age, production or scheme fit/versatility.
I wonder if the likelihood is already up that the Titans spend their first- or second-round pick on and end or outside linebacker with pass-rush skills they think will translate to the NFL.
And if they'll concentrate on bigger defensive linemen, inside linebacker and/or offensive tackle in the meantime.
April, 27, 2012
4/27/12
1:11
AM ET
Take a college defensive end and shift him to outside linebacker in a 3-4, as Houston and Wade Phillips will do with
Whitney Mercilus
, and the player tends to look a lot stronger.

"Anytime you look at those guys, and they play defensive end in college, they're going against huge offensive tackles," Phillips, the Texans defensive coordinator, told the team's press. "He's 260 pounds, so they're not going to look as strong against them with their three-point stance, but they look a lot stronger when they're rushing the passer on third down in those situations.
"When you play them at outside backer, which we project him as, now he's playing against tight ends and backs and so forth. You just got to determine there (are) sometimes those guys in college. I had
Shaun Phillips
who was the same way. They said he was too small because he played against offensive tackles, but he also rushed the passer against those same offensive tackles that are all being drafted, and he beat a lot of them this past year."
Phillips and the Texans rate Mercilus as a natural pass-rusher, who comes into the league with more experience and skill using his hands than second-round outside linebacker
Brooks Reed
brought into the NFL a year ago.
Houston's not concerned that Mercilus only had one year with big production at Illinois.
"But if he did the same thing again for another year, he'd been a top-10 pick (in 2013) without a doubt," Phillips said. "A lot of people are saying, 'Yeah, it's only one year.' But to me, when a guy shows he can do all those things, I don't think he's going to lose that."
July, 8, 2011
7/08/11
10:56
AM ET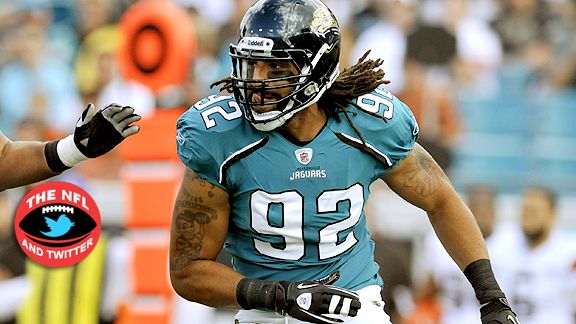 AP Photo/Stephen MortonAusten Lane has now been in the top-10 rankings of all four of the NFL Twindexes so far.
Show, don't tell. We're making it an NFL Twindex commandment.
"I usually hate when athletes tweet about how good their workout was," Matt Hasselbeck (
@Hasselbeck
) tweeted Thursday in a good start, "but we had a great one today!"
Bad finish.
Plenty of NFL fans starved for morsels and insight into football and beyond would love to know what made it good.
J.J. Watt (
@JJWatt
) did very well with show-don't-tell when he tweeted
this picture
. Yowza.
Alas, Hasselbeck and Watt are snapshot examples for us here at Twindex HQ, where we'd like to host Cleveland receiver Carlton Mitchell and Green Bay tight end Tom Crabtree. They hold the top two spots in our new poll, flip-flopping their standing from two weeks ago.
We could have a 10-event competition for the two including feats of strength and intellect and concluding with a tweet-off or a tweet-up or a tweet-meet.
They were neck and neck, and it came down to my gut feeling -- Mitchell was more consistently amusing.
Scroll through
my favorites
to see what was considered as we made the final cuts -- we are now trying to track 493 guys.
And hit me at
@ESPN_AFCSouth
and
@PaulKuharsky
with tweets I need to see and people I need to follow.
June, 10, 2011
6/10/11
10:52
AM ET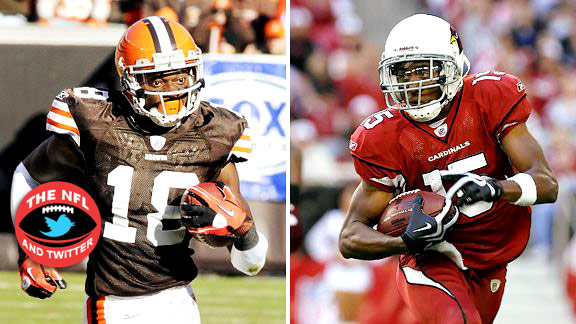 Getty ImagesCarlton Mitchell and Steve Breaston were the cream of the NFL tweeting crop in the latest Twindex.
My eyes glazed over as would-be analysts offered little worthy of attention on Twitter regarding the NBA Finals, starting with too many of these: "Who ya got tonight, Mavs or Heat?"
Yawn-inducing, akin to, "What up [insert city here]?"
Over the last two weeks, we heard who came close to missing a flight and who was delayed and what they thought of the airports they were delayed in.
But even in such a desolate landscape, wonderful things popped up.
Little-known
Carlton Mitchell
, a second-year Browns wide receiver, was consistently hilarious and emerged from nowhere to take the top spot -- not by a nose, but in a landslide.
Laughs are aplenty among the rest of the field in the second edition of the NFL Twindex, one man's subjective rankings of the best NFL tweeters out there over the last two weeks.
Big names who did well in the feature's debut disappeared, with only three players retaining a spot in the top 10.
Without further ado, the new list:
Have a tweet I need to see? A Tweeter who needs more consideration? Find me at
@ESPN_AFCSouth
and
@PaulKuharsky
.
September, 20, 2010
9/20/10
7:33
PM ET
David Garrard
said he wished he could erase the loss in San Diego from his mind. No quarterback wants a four-interception game on his résumé.
I just had a chance to look at each of the four passes closely. Not good.