AFC South:

Shawne Merriman
March, 28, 2014
3/28/14
3:35
PM ET
JACKSONVILLE, Fla. -- Though Jaguars general manager David Caldwell never quite closed the door on
Maurice Jones-Drew
re-signing with the team and finishing his career in Jacksonville, it's now apparent that it was only open a crack.
Jones-Drew said at the end of the 2013 season that he wanted to finish his career in Jacksonville but that the decision would come down to money. He also said he had a number in mind but would not elaborate. The Jaguars were leaning toward a two-year contract, but Jones-Drew privately told people he wanted at least a three-year deal.
Caldwell had very little discussion with Jones-Drew's agent, Adisa Bakari, once the 2013 season ended and said the Jaguars never made a contract offer. He also said the two sides hadn't spoken since the Senior Bowl in late January. The Jaguars' signing of
Toby Gerhart
in the first few days of free agency is another sign that Jones-Drew wasn't a high priority for the Jaguars.
[+] Enlarge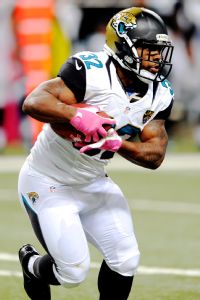 AP Photo/L.G. PattersonMaurice Jones-Drew ends his Jaguars career as the franchise's second-leading career rusher.
They would have gladly re-signed him under the right terms. The
three-year deal Jones-Drew got
from the
Oakland Raiders
on Friday was clearly out of the Jaguars' parameters of length of contract and what they were willing to spend.
So Jones-Drew's time in Jacksonville ends with him being the second-leading rusher in franchise history (8,071 yards) and the record-holder in touchdowns scored (81) and rushing touchdowns (68). He led the NFL in rushing in 2011 (1,606 yards) and made three Pro Bowls. His legacy, though, is more than that. He became the face of the franchise and the team's best player for the past five seasons.
But as much success as he had individually, Jones-Drew was not able to carry the Jaguars to the playoffs. Since
Fred Taylor
was cut after the 2008 season and Jones-Drew became the team's primary ball carrier, the Jaguars went 26-54 and never had a winning season.
His final season with the Jaguars was disappointing. Though he ran for 803 yards and five touchdowns, his average of 3.4 yards per carry was the worst of his career.
Still, Jones-Drew's time in Jacksonville will be remembered fondly, even with his protracted holdout in 2012 that lasted all of training camp and the preseason. When his career ends he should be the next player inducted into the Pride of the Jaguars.
Here are five memorable moments in Jones-Drew's career:
Colts killer:
Jones-Drew ran for more yards (1,451) against Indianapolis than any other opponent. The first two 100-yard games of his career came against the Colts (103 and 166 yards in 2006). The second meeting with the Colts that year was a 44-17 victory and the Jaguars ran for 375 yards against the NFL's worst rush defense. Jones-Drew ran for 166 yards and Fred Taylor ran for 131.
Take a knee:
Jones-Drew, acting on orders from coach Jack Del Rio,
took a knee at the 1-yard line
late in a 2009 game against the
New York Jets
. The touchdown would have put the Jaguars ahead 28-22 with 1:48 to play, but Del Rio was worried that left too much time for the Jets to answer. So he told Jones-Drew to get as close to the goal line as possible and take a knee. The Jaguars ran the clock down and
Josh Scobee
kicked a 21-yard field goal as time expired to give the Jaguars a 24-22 victory. "Sorry to my fantasy owners," Jones-Drew said after the game. "They told me to get as close as I can and take a knee."
Atop the NFL:
Jones-Drew led the league in rushing with 1,606 yards in 2011. When you consider what he had to overcome to do that, it's an even more impressive feat. Not only did he battle a knee issue throughout the season, he had to fight through eight-man fronts every week. The Jaguars had cut starting quarterback
David Garrard
just days before the season began and rookie
Blaine Gabbert
was forced into action before he was ready to play. Defenses ganged up to stop the run but still couldn't stop Jones-Drew, who averaged 4.7 yards per carry.
Having fun:
Jones-Drew clearly enjoyed himself on the football field, especially when he scored. He came up with creative celebrations, such as mimicking taking money out of an ATM after scoring against Kansas City in 2007 (which earned him a $7,500 fine) and imitating LeBron James' pre-game powder toss after a touchdown against Cleveland in 2011.
Blasted:
Jones-Drew has earned the reputation as one of the league's best backs at picking up the blitz. It began during his rookie season when he destroyed former
San Diego Chargers
defensive end
Shawne Merriman
. The 5-foot-7, 210-pound Jones-Drew
pancaked
the 6-foot-5, 272-pound Merriman on a play near the goal line during the Jaguars' 24-17 victory in 2007. Jones-Drew's block allowed Garrard to complete an easy touchdown pass to tight end
Marcedes Lewis
.
January, 14, 2011
1/14/11
11:40
AM ET
A life-sized
Vince Young
to stick on your wall isn't what it used to be. But, the Internet says, neither is a life-sized
Maurice Jones-Drew
. (He's smaller than Young, for sure, but not changing teams anytime soon.)
Inspired by a tweet I saw about a discounted MJD Fathead, I hit the web like I was a 13-year-old AFC South fanatic looking to decorate a large bedroom.
A Young Fathead, initially $89.99, is
now $17.99
.
A Jones-Drew Fathead, initially $89.99, is also
now $17.99
. Perhaps an older uniform has a bearing here; I'm not sure.
I'd be insulted if I was either Young or MJD considering
Shawne Merriman
as a Charger is only down from $119.99 to
$99.99
and one site is still asking
$69.99
(down from $99.99) for a Steelers'
Willie Parker
. Heck,
Joseph Addai
in an LSU uniform is listed at
$99.99
.
But hey, the biggest complaint should be from
Brian Urlacher
, whose Bears host the Seahawks this weekend for a slot in the NFC Championship Game. You can buy him now on eBay for just
$29.74
.
I'd love to do some semi-regular entry on memorabilia, so if you come across anything weird or oddly priced, please
send me word
.
October, 16, 2010
10/16/10
11:51
AM ET
Will in Nashville writes
to ask about
Jerry Hughes
, citing a recent Bill Polian quote about bringing the first-round defensive end slowly. "When have the Colts' ends ever had to defend the run?" he writes. "If they just started teaching it then
Dwight Freeney
is horrible at it -- look at the Kansas City tape and every other tape the last seven years. What's going on here, Paul? Polian afraid that he missed with this guy?"
Paul Kuharsky:
It's way too early to decide anything more than what they say is going on is going on. If they want to go slow with him, they can go slow with him. I would think if he's lighting it up during the week, they'd get him out there, so I presume he's not. That doesn't mean he won't.
Tayler Super writes via Facebook:
Joseph Addai
is a FA next year and Bill Polian didn't re-sign a much better Edge when he was a FA a few years back.
Donald Brown
was picked in the first round by us two years ago and hasn't showed us any reason why we shouldn't re-sign Addai. If I'm Polian, what do I do? Re-sign Addai, or take a chance on Brown or ANOTHER RB in this year's draft?
Paul Kuharsky:
Veteran running backs aren't hot commodities in free agency. I suspect the Colts will be able to get Addai, who's more valuable to them than he would be to anyone else, back at an affordable price. But Brown has plenty of time still this year to show them if he can be the guy should Addai depart or if they need more than a backup.
Jess Smith in McAllen, Texas, writes:
I was wondering why the Texans don't consider using
Antwaun Molden
in place of
Kareem Jackson
. Antwaun is a third-year pro who by most accounts has been good when healthy. Even if he plays poorly, it doesn't seem he could play much worse than Kareem has. Nothing against Kareem, I just don't think he's there yet.
Paul Kuharsky:
If you're going to let a kid take his lumps, then it should be the kid you envision as a long-range starter. Jackson is way more that guy than Molden, who always seems hurt. In fact, he's so not memorable that I forgot to mention him in
this piece
.
Jeremy Lambert in Winston-Salem, N.C., writes:
I know it's still early, and I'm an irrational fan. But I'm more and more skeptical of Jim Caldwell every day. First was last year at the Super Bowl, when as Bob Kravitz put it, he was just "playing not to lose." (Come to think of it, strike one was the sacrificed undefeated record, but that wound up not mattering anyway.) Then this year the inexplicably poor defense. But if it's not one thing, it's another. That late hit by Hayden? Come on! There has been stuff like that every game, and that didn't happen a few years ago. There is a long way to go and maybe I'm just looking to place blame somewhere, but something about Jim Caldwell just rubs me the wrong way.
Paul Kuharsky:
For starters, I blame
Kelvin Hayden
for what Hayden did against Kansas City, not Caldwell. Let's begin with personal accountability. You think Caldwell is coaching guys that a play like that is OK?
Bill Polian, not Jim Caldwell, decided undefeated was not important.
I understand Caldwell hasn't looked as good since the Super Bowl. But you know Polian's not going to be quick to alter course. Caldwell's the guy. He has plenty of time to rub you the right way, or, I guess, to lose you completely.
I think he's good, not great, right now. He has the confidence of two crucial people in Polian and Manning, which is no small thing.
Chris from Idaho wrote
in a panic after the Titans'
Chris Johnson
missed Thursday's practice with thigh soreness. He wants to know if it meant
Javon Ringer
should get more work and if the injury is an indication that Johnson's smaller size is catching up to him.
Paul Kuharsky:
It was one day off! On the first day of the practice week! Let's not go crazy.
He ran well against Dallas and is ahead of his pace from last year now. They are still figuring things out, but it's not the time for a big boost in Ringer carries or to decide CJ's not holding up after missing one practice for soreness.
Jim in Greenville, S.C., writes:
Do you see
Shawne Merriman
landing with an AFC South team? The Titans' D Line is limping. They don't go after outspoken players commonly, but could they make an exception?
Paul Kuharsky:
He's a 3-4 linebacker and he's limping. The Titans were nine deep on the line, they lost
Derrick Morgan
with a torn ACL and now they are eight deep. I don't think they are limping. There is no reason to even suggest it for Tennessee.
Indy, no. Jacksonville, no. Houston, I say no. But by the time he's healthy, the Texans could be needy at defensive end if they don't see something soon from
Adewale Ogunleye
or
Mark Anderson
. They might try something bold, but I don't expect they will.
December, 26, 2009
12/26/09
1:26
AM ET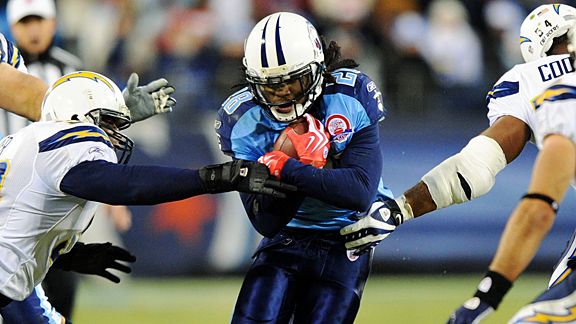 Don McPeak/US PresswireWhile Tennessee's playoff hopes were crushed in convincing fashion Friday night, the Titans are pushing hard to get running back Chris Johnson past the 2,000-yard rushing mark this season.
NASHVILLE, Tenn. -- For weeks, the individual and team goals neatly synchronized. For the
Tennessee Titans
to give themselves a shot at the playoffs, they needed to ride
Chris Johnson
. Riding Johnson maximized his chances at reaching 2,000 rushing yards.
After the
Titans suffered a 42-17 Christmas night rout
at the hands of the
San Diego Chargers
, the team dream is dead. The 2009 Titans will not be part of the AFC playoff field, and the best they can manage is an 8-8 record.
Talk as they might about the comeback from an 0-6 start, the Titans can take little solace in a .500 season. It won't soothe the fact they dropped so far after recording a 13-3 mark -- the NFL's best -- in 2008. This year's team lost to good teams like San Diego and beat bad teams like St. Louis. It deserves to be called average.
The Titans had done well to focus forward since their bye fell after the 0-6 nightmare start. Even after a Dec. 6 loss at Indianapolis, they managed to keep faint playoff hopes alive. Now pull back and look broadly at what they've done, and you have to see the 0-6 start as the story of the season.
"Yeah, it is, that is very fair," tight end
Alge Crumpler
said. "…We had a run that hadn't been done before (after 0-6). We had gotten out of that catch-up mode. We were scrapping, we were fighting, our backs were in a corner, we were getting out of the situation and I didn't see this coming. I just felt very good going into this ballgame. For it to happen like this is pissing me off."
"You've got to finish, and we didn't finish," fullback
Ahmard Hall
said.
It was Vince Young's worst game since he took over as the starter on Nov. 1. He threw two picks, lost a fumble and hit on just eight of his 21 passes for 89 yards. His 11.9 passer rating was 18.3 points worse than his previous low.
"Every time we did get in a rhythm, I turned the ball over," he said.
The game featured hallmarks of a lot of other Tennessee losses: Big plays yielded by the secondary, poor red zone defense, too many penalties.
One of them, sadly, came after
William Hayes
was flagged 15 yards for roughing
Philip Rivers
. Defensive coordinator
Chuck Cecil
was so livid over the call, he doubled the Chargers' reward by drawing a flag for unsportsmanlike conduct. Jeff Fisher pledged he'll "get to the bottom of it," as if dissecting it afterward will be effective. Why is this allowed to happen in the first place?
Well before the season started in a much calmer moment, Cecil told me about how in studying a college prospect on defense he'd seen then-East Carolina star Johnson play. He chimed in to team brass, certainly already intrigued, that the running back could help the Titans more than anyone on the other side of the ball.
Considering how often the Titans were behind this year, Johnson's bid for two grand is all the more remarkable -- though Chargers linebacker
Shawne Merriman
said not all of Johnson's 142 rushing yards were hard-earned.
"The game got out of hand and whatever the case is and they want to give him his yards, then that was all right with us," Merriman said.
When the Titans play in Seattle on Jan. 3, just 128 rushing yards can make Johnson the sixth player in history to reach the mark in a single season. He's averaged 124.8 a game so far.
"That was one of my goals that I set before this year started and a lot of people didn't even think I would get close or whatever," Johnson said. "To get that record would mean a lot to me."
A new all-time single-season rushing record is 234 yards away (the old Los Angeles Rams'
Eric Dickerson
, 2, 105 yards in 1984). Still, Johnson needs just 75 yards from scrimmage to shoot past
Marshall Faulk
(who gained 2,429 from scrimmage for the
St. Louis Rams
in 1999) for the record in that department.
While Johnson's name goes on the individual records, it's very much a team goal. Even Titans defenders talked about how much they want it.
Early in the season, Johnson said his offensive linemen were in line for cars if he got 2,000 rushing yards. He backed off that pretty quickly, probably after someone drew him into a discussion about the financial math, saying the storyline grew from the linemen's plea for such a reward.
Friday night he said he'd already gotten the linemen and Crumpler gifts, but couldn't reveal what they are.
Told that, Crumpler said: "I don't want [expletive] unless we get 2,000."
Earlier I talked with the veteran tight end about the improbability of Johnson even being in range.
"You tell me how you start out 0-6, you have to throw the football and you have 2,000 yards in your sights," Crumpler said. "That shouldn't be a part of the equation. I want to make sure when I walk off that field next Sunday that I gave it all I had to help him accomplish a goal that he set.
"I don't take any yard for granted. But it's attainable. And I know that coach over there [the Seahawks head coach Jim Mora Jr., who worked with Crumpler when they were
Atlanta Falcons
] real well and he is going to do every damn thing he can to keep him from getting it."
December, 24, 2009
12/24/09
3:55
PM ET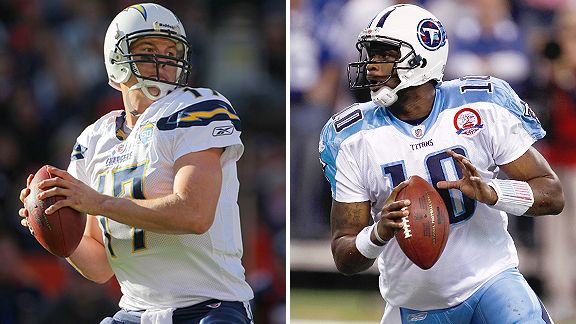 Getty ImagesThere's no love lost between Philip Rivers' San Diego Chargers and Vince Young's Tennessee Titans.
NASHVILLE, Tenn. -- Most teams have a historical trouble spot, and for the Titans' entire life in Tennessee it's been receiver.
They've struck out with high draft picks. They've failed to develop mid- and low- round guys they've selected in droves. They've missed on free agents. They've been unlucky with injuries.
In 2005 they liked
Vincent Jackson
, but watched him go late in the second round to San Diego, where he's developed into a consistent threat. Eight picks later they took
Courtney Roby
in their third round. He's now returning kicks in New Orleans while the Titans will have to defend Jackson Christmas night in a crucial game at LP Field.
ESPN Stats & Information says Jackson has been the targeted on more throws that have been in the air for at least 15 yards than any other receiver in the NFL. On those 52 chances, he had 27 catches for 715 yards, a 26.5 average and four scores.
The Titans try to spread it out and veteran
Justin Gage
has missed time with a back injury. Still, they don't have a pass-catcher close to Jackson in terms of long-pass situational production, let alone overall output (63 catches, 1,097 yards, 9 touchdowns). Rookie receiver
Kenny Britt
leads the Titans wideouts in both receptions (40) and receiving yards (674).
The hit rate's been low, but Tennessee has produced some receivers,
Derrick Mason
most notable among them. And Mike Heimerdinger thinks a trio of Mason,
Kevin Dyson
and
Drew Bennett
at their peak together might have been his best group in his two terms as the Titans coordinator.
His trio now is productive with upside and seems to have a bright future with quarterback
Vince Young
, who replaced
Kerry Collins
as starter eight games ago.
Britt appears to be worth every bit of the first-round pick they spent on him; the inconsistent Gage has made more plays since the quarterback switch but has only caught 45 percent of the passes thrown his way according to ESPN Stats & Information; and though drops are a significant issue as well for free-agent addition
Nate Washington
, he has produced a team-best six touchdown catches. (Gage and Britt are tied for second on the team with three touchdown receptions each.)
In the eight games with Young as the starter, the Titans have the second-most prolific offense in the NFL. Their 398 yards-per-game average trails only the Saints (413.9). Tennessee's 29.5 points-per-game average is tied with Philadelphia for second behind New Orleans (30.6).
When those receivers have made plays for Young, it's opened things up for the team's featured player,
Chris Johnson
. That's the goal No. 1 for the Titans, who are 7-7 and need to win out and get help to keep their AFC wild-card playoff hopes alive.
San Diego's starting corners
Antonio Cromartie
and
Quentin Jammer
have three picks apiece for the league's 13th-rated pass defense. They're both 6-feet tall, but the Titans' three primary wideouts are bigger. Britt and Gage are certainly capable of going up over them to get passes.
A nationally televised game is a good place for Britt, Gage and Washington to perform if they want a broad audience to believe the Titans are figuring things out at the position.
Four other things I'll be watching or wondering about Christmas night as Chargers-Titans unfolds:
Bad blood
:
Shawne Merriman
is still, um, annoyed about a play in a 2007 game where he felt
Kevin Mawae
and
David Stewart
teamed up
to try to hurt him
. Two physical fronts here hardly have a love affair from their two games that season, Chargers wins in the regular season and the first round of the playoffs.
Mawae doesn't mind when opponents are worrying about him, and he will use it to try to use psychology as an aid on at least a couple plays.
Controlling Gates:
Chargers tight end
Antonio Gates
causes a matchup problem for everyone. He can run over DBs and past linebackers. The Titans best coverage linebacker,
Keith Bulluck
, is out for the season. The Titans would be nuts to ask
Gerald McRath
or
Colin Allred
to handle him much. Nickel back Vincent Fuller's physical, tough and responsible, but he gives up 70 pounds and three inches to Gates. I expect he will spend a lot of time on Gates, doing what he can to hold him up. Help better arrive quickly for gang tackling.
Making it hard for Rivers:
Philip Rivers
is gaining traction as the quarterback who should be talked about right after
Peyton Manning
and
Drew Brees
. How might the Titans have their best chance to limit the league's third-rated passer who carries a league-high 8.76 average gain into the game?
Get him out of situations where he's excelled.
Rivers is gettable -- the Chargers have given up 24 sacks, which puts them in the bottom half of the league. The Titans need to rush well with their front four, because with the two kid backers on the field they can't afford to bring any help.
Other pieces of the recipe for potential success against a good quarterback are hardly unpredictable: Get Rivers in third and long, because he's got a 91.9 rating on third down. And don't allow him to work with a lead in the fourth quarter. His passer rating in the fourth period is 98.8.
Punting contest:
Brett Kern's been a wonderful find for Tennessee, and his punts have helped out a great deal with field position. His 37.8 yard net isn't among the league's best numbers, but he's been timely. His counterpart,
Mike Scifres
, is capable of controlling a game, as he did in the Chargers' win over the Colts in the playoffs last season. The Titans' return game has been an abomination this year, so don't expect it to handle Scifres' boomers very well. Remember, every fair catch amounts to a play that wasn't a turnover. Chargers punt returner
Darren Sproles
, meanwhile, can be a major threat.
February, 17, 2009
2/17/09
6:11
PM ET
Posted by ESPN.com's Paul Kuharsky
There are performance enhancing drugs in football.
The league does a good job of policing them -- certainly a far better than baseball, which suffered another embarrassing episode Tuesday as Alex Rodriguez tried to explain himself.
But the NFL shouldn't rest on being the best and assume that nothing is going on. It should take a day like this, when the "SportsCenter" lead will be highlights and discussion of Rodriguez, as a warning shot. As if it's happening to football.
The collective bargaining agreement between the NFL and its players needs to be renegotiated by the spring of 2010 to avoid an uncapped year. There are a lot of financial issues to sort out, but it should be taken, too, as an occasion to refortify the league's policies against performance enhancers.
Surely both sides are looking at baseball, thankful it's not them and hopeful that it won't be in the future. Surely many players know teammates who are skirting the policies or using human growth hormone (HGH), which is difficult to detect. I like to believe that at least the smart players think that while it's nice to be far cleaner than baseball, it would be nicer to be cleaner still.
It's not enough that suspensions for Shawne Merriman and Rodney Harrison hardly registered on our collective radar because they were caught and penalized.
Whatever it takes to be as thorough and discouraging as possible, that's what the NFL and the NFL Players Association should do to help guard against the possibility of ending up with the constant and unshakable questions that are tied to baseball.
Baseball now has a policy; Rodriguez said he stopped using anything once that policy was in place. Even if it's a weak policy, it pulls the sport a bit closer to football and reduces the gap some. It's now time for the NFL to be progressive and set the new standard.
If it means blood tests instead of urine tests, if it means more frequent tests, if it means everybody is tested year-round, hammer out an agreement. The powers who will sit at those negotiating tables are aware of A-Rod.
I hope Rodriguez's situation has made the NFL think about how it can improve its safeguards and make sure the league don't end up anywhere near there.