January, 17, 2013
1/17/13
11:50
AM ET
By
ESPN.com staff
| ESPN.com
Houston Texans
Battle Red Blog
ranks the team's 11 franchise players
it can build around.
The Texans are too soft
to compete with the Patriots, Joe Fortenbaugh of the National Football Post said in a radio interview (skip ahead to 3:00 mark for segment on Texans). Fortenbaugh points to the Texans' inability to capitalize with a touchdown on the big return to open the game as a wasted opportunity to send a message to the Patriots.
Indianapolis Colts
Offensive coordinator Bruce Arians
interviewed for the head-coaching job with the Cardinals
Wednesday night and will continue meeting with them Thursday.
Owner Jim Irsay, Andrew Luck and Reggie Wayne will have
cameo appearances on NBC's "Parks and Recreation."
Here's a
preview of the episode
, which airs Thursday, Jan. 17.
Jacksonville Jaguars
Gus Bradley was a surprise pick
to replace Mike Mularkey as head coach, according to the Florida Times-Union's Gene Frenette.
A look at
Bradley's background
and
some numbers on Bradley's defenses
from Ryan O'Halloran of the Times-Union.
Tennessee Titans
The Titans will have
$19.4 million to spend under the cap
once free agency begins in March, writes The Tennessean's John Glennon.
Police sought to question Kenny Britt about a pair of violent incidents last weekend, but
the wide receiver is not a suspect
according to his attorney, writes Jim Wyatt of The Tennessean.
The Titans were interested in adding Seahawks running backs coach Sherman Smith to Mike Munchak's staff, but
it appears Smith is staying in Seattle
, writes Wyatt.
January, 14, 2013
1/14/13
8:19
AM ET
Reading the coverage…
Houston Texans

"The Texans were eliminated in the divisional round because they
didn't make enough plays
when they needed them, made too many mistakes at the worst time, failed to take advantage of opportunities, and consistently failed on third down," says John McClain of the Houston Chronicle.
The way Matt Schaub played in December and January
will not get it done
, says Jerome Solomon of the Chronicle.
Given the limited choices of Super Bowl or
bust
, the Texans wound up with B, says Randy Harvey of the Chronicle.
The
lack of third-quarter execution
stopped the Texans from completing a momentum shift, says Dale Robertson of the Chronicle.
Even without Rob Gronkowski again, the Patriots offense
steamrolled
the Texans, says Don Banks of SI.com.
The Patriots reminded the Texans
who the boss is
in the AFC, says Mike Freeman of CBSSports.com.
The gap between the Patriots and Texans
only widened
, says Nancy Gay of Fox Sports.
The Chronicle's notebook
: Danieal Manning did well returning kicks, Rick Dennison thought his meeting with the Bears went well, inconsistency plagued the Texans offense and other notes from the Chronicle.
Owner Bob McNair thinks the Texans need
more depth
to take the next step, says Tania Ganguli of the Chronicle.
Receiver DeVier Posey's got a
torn Achilles
, says Ganguli.
J.J. Watt explains his pregame spitting "
controversy
," from Ganguli.
Wes Welker let his play
speak for him
, says Seth Lakso for the Chronicle.
Indianapolis Colts
Jim Irsay's decisions to change things
proved awfully smart
, says Michael Marot of the Associated Press.
Jacksonville Jaguars
The Jaguars will
have to wait
on the 49ers playoff run to talk to offensive coordinator Greg Roman about their head coaching job, says Ryan O'Halloran of the Florida Times-Union.
CFL quarterback Mike Reilly recently
worked out
for the Jaguars, says O'Halloran.
Tennessee Titans
New Jersey police
want to talk
to Kenny Britt about an incident in which a close friend was stabbed, says Jim Wyatt of The Tennessean.
Wyatt says Mike Munchak wants to lure Sherman Smith
back to Tennessee
to coach running backs.
Alan Lowry may have lost his job as special teams coach because of a perception that players had begun
tuning him out
, says Wyatt.
January, 3, 2012
1/03/12
3:53
PM ET
We know Jeff Fisher is in play for Miami and St. Louis. Indianapolis Star columnist Bob Kravitz
told PFT
he believes Fisher is in the mix in Indianapolis too.
[+] Enlarge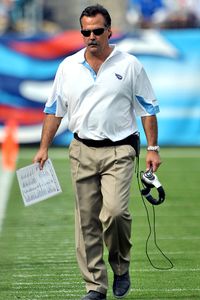 Jim Brown/US PresswireJeff Fisher is a candidate for the head coaching job in Miami and St. Louis, but could also be in play in Indianapolis.
Indications are Fisher will listen to everyone. But coaching code says you don't talk about a job that's not vacant, so I don't think he'd go beyond backchannel communication while Jim Caldwell remains in place.
At any rate, Fisher is the hot veteran coaching candidate and until he's coach somewhere, he still qualifies foremost as the Titans former head coach and falls under our purview. He said last week in an interview on Nashville's 104.5 The Zone that a GM and a quarterback were the two biggest factors for him as he explores job opportunities.
So some thoughts on his eventual re-emergence in the coaching ranks.
Power:
There can be a misperception he'd want general manager powers. He won't. He wants to work with a GM he gets along with and can build consensus with. Fisher will want control of his 53-man roster. And he won't want a situation where a GM is forcing free agents or draft picks on him that he and his staff don't want. But wanting a voice is a lot different from wanting to be a de facto GM. He believes in the value of a traditional coach-GM split and has no desire to work the scouting end of things as a fulltime GM.
General manager friends
: Fisher's got strong relationships with Rich McKay of the Falcons and Bill Polian, just let go by the Colts, as he served with both on the NFL's competition committee. McKay's in an administrative capacity now, but could he want back into football? He wouldn't come cheaply. Polian is probably too strong a personality. I have no feel for the relationship between Fisher and Chris Polian, who was also let go.
When the Titans replaced Floyd Reese in 2007 it was largely because Fisher and Reese's relationship had frayed. Among the replacement candidates Fisher helped interview before the Titans hired Mike Reinfeldt were: Ruston Webster (now with Reinfeldt in Tennessee), Reggie McKenzie (Green Bay's director of football administration), Ron Hill (NFL VP of football operations), Mike Ackerley (now a Texans scout) and Charles Bailey (former Jaguars pesonnel executive). The Titans wanted to talk to Randy Mueller, then with Miami, but didn't get permission. He's now with San Diego as "senior executive."
Maybe Fisher hit it off with one of those guys and would like to work with them. At years of league meetings and functions, he's likely formed friendships we don't know about with other, future-GM types.
If Fisher lands in a situation where he comes in hand in hand with a GM or in advance of a GM, he'll have a guy or two to put forward and be open to forming a new relationship if he hits it off with an existing GM or an owner's candidate.
Assistants:
His primary assistant coaches may be hard to predict.
His top defensive lieutenants from Tennessee are booked up. Gregg Williams is the coordinator in New Orleans and may be a head coaching candidate himself. If he was free, Fisher could pounce. Jim Schwartz is head coach in Detroit. (Brandon Fisher works on Schwartz's staff.) Chuck Cecil may be radioactive as he was a central figure in things coming apart for Fisher with the Titans. He could return to the league as a defensive backs coach, but Fisher would have to answer for a lot if he wanted to make Cecil coordinator. He'd certainly take recommendations from Williams and Schwartz about up-and-comers from the defensive staffs with their teams. Detroit linebacker coach Matt Burke was a young assistant on Fisher's staff who went with Schwartz for a promotion.
Fisher's top offensive friend and long-time coordinator, Mike Heimerdinger, died recently after a battle with cancer. Fisher could look to his former running backs coach Sherman Smith, who's now in the post with Seattle. But Smith's lone stint as an offensive coordinator didn't include play-calling duties under Jim Zorn in Washington. Titans quarterback coach Dowell Loggains is a bright young mind, but like Burke he may not be ready yet.
While Fisher spent time away from the game in a year off, he certainly has lists of coaches he would pursue and could get. But he'd be going with people he's not worked with before at a lot of spots -- like on the offensive line, where his former position coach, Mike Munchak, and his best line player, Bruce Matthews, are not available.
Markets:
He can be a star behind those shades. But don't think he'll take the bright lights of Miami over more low-key St. Louis or Indianapolis if he's choosing.
Fisher enjoyed the ability to be anonymous at times in Nashville and the willingness of the population to allow him a large degree of privacy. He's a Southern California guy who loves spending time at his Montana cabin.
He's not desperate for a beach, or television lights.
April, 15, 2010
4/15/10
1:12
PM ET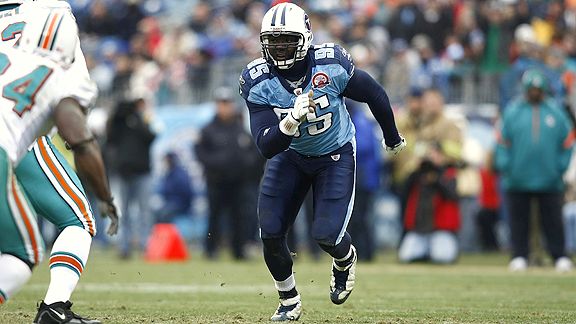 Joe Robbins/Getty ImagesTitans defensive end William Hayes was drafted in 2008 in part because defensive line coach Jim Washburn wanted him.
When players want to steer clear of trouble with the bosses, they are fond of saying "players play, coaches coach."
As the draft approaches, I wonder how often scouts mumble the variation: "Scouts scout, coaches coach."
Not long ago, the
Tennessee Titans
had a somewhat distinct division of power along those lines.
Former GM Floyd Reese respected Jeff Fisher's staff. But Reese believed it was his job to assess the talent and to provide it to be coached up.
There were exceptions, of course. Offensive line coach Mike Munchak was the primary force behind the selection of left tackle
Michael Roos
in 2005, for example.
The scouts I know respect the opinion of a position coach like Munchak.
How could they not appreciate the track record of a Hall of Fame player in developing quality linemen? Still, in a general scout-assistant matchup where the credentials are more even, scouts should hold the trump card, don't you agree?
One scout I spoke to this week pointed to nine months of work including all those live visits against four to six weeks of study done primarily with tape.
If a GM needs to lean one way or the other, this scout said he should lean with the scout. And on his team, he said that's usually the way it goes.
Most often, Reese was making the call with the support of his scouting staff. Position coach input was a relatively small ingredient.
And so, when some of Reese's players didn't match expectations, a semi-traditional tug of war commenced: Position coaches might gripe about the talent they were -- or were not -- given; the personnel department could grumble about how coaches were not bringing out a player's best.
Now the man who replaced Reese in 2007, Mike Reinfeldt, strives for harmony and consent and has drafted several players in part because of large endorsements from assistant coaches with mixed degrees of success.
Reinfeldt's counterparts in the AFC South seek to be consensus builders too, though Colts president Bill Polian and Jaguars general manager Gene Smith are more powerful than Reinfeldt and Texans GM Rick Smith when it comes to final decisions.
[+] Enlarge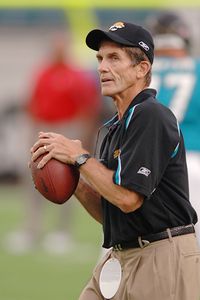 Jacksonville Jaguars for ESPN.comSteve Walters said he has coached on teams where assistants played a role in scouting.
Retired coach Steve Walters, who worked in New England and New Orleans before wrapping up his career with stops in Tennessee and Jacksonville overseeing receivers, said he agreed with that. Under Reese he rarely did much hands-on work with prospects. Assistants just weren't used that way much. Under James "Shack" Harris with the Jaguars, dumped after the 2008 season, Walters said he and the assistants played a bigger role in scouting.
I can see some value in a more old-school approach to how things should work. It was often unhealthy to have "Reese guys" and "Fisher guys" on the Oilers and Titans. But a position coach didn't have any more stake in Player A than he did in Player B and it felt like a system of checks and balances was in place.
Washburn helped turn late-round picks by Reese like
Robaire Smith
(sixth round, 2000) and
Carlos Hall
(seventh, 2002) into productive players. More recently, he's given his blessing to the team's choice of Jones and Hayes under Reinfeldt .
Might the hard-nosed Washburn, even subconsciously, be inclined to give Jones and Hayes a bit more leeway than a guy previously forced on him despite his protests? Might he, even subconsciously, be rooting for them a bit more, because he stuck his neck out for them?
My initial answer to those questions was that I expected he would, and that such things be detrimental. But in hashing it out with a scout and a former coach, I am no longer as staunch in my opinion.
I do still think it's an interesting question to consider.
My scout told me the additional accountability that comes with a position coach endorsement is a good thing. Maybe a coach would want to stick with such a player a snap, a series, a game or a season too long, but the cross-checking and co-sign from a GM and his scouts provides the necessary context and cover for such scenarios.
You can take the accountability idea in many different directions, though.
If there is a scouting-coaching split, it's easier to trace an evaluation mistake back to where it happened. On the consensus side, the saying goes that it's amazing how much can be accomplished if no one cares about who gets the credit. What about the blame?
Ultimately, an owner should want to know who is nailing assessments and who is botching them.
Walters said when an assistant feels he got what he asked for, he is conscious of having endorsed a guy.
"If you stand on the table for a guy and say, 'I really think this is the guy and these are the reasons why' and you can build a case for the guy, your opinion may push it over the top for a guy that you want," he said. "And if you get that guy you're certainly a little bit on the line for him because they're going to remember what you said.
"If they just say 'Here are your guys, like them or not,' whether you had any input into them or not…"
His voice trailed off and he left that one hanging.
I'd be inclined to finish it: "Well that's a different deal."
August, 3, 2008
8/03/08
2:01
PM ET
Posted by ESPN.com's Paul Kuharsky
CLEVELAND -- Got my first dose of Chris Cooley this morning, and I would say he's worth a high spot on any list of the NFL's most entertaining talkers.
I asked him about the Redskins new offensive coordinator Sherman Smith, who joined his old teammate Jim Zorn after 12 seasons as the Oilers/Titans running backs coach. While Smith is the offensive coordinator, he won't call plays. Cooley said Joe Bugel installs the run game while Zorn handles the passing game.
"I think it's more of a behind-the-scenes kind of role (for Smith)," Cooley said. "I know he has a large role in scripting the offense, choosing what plays we're going to run, evaluating players. We'll break up in an offensive meeting and Sherman will be the first guy to speak. And he has outstanding football quotes, I have a notebook here of about 100 Sherman Smith quotes. I write everything down.
"But it's an interesting role. He'll kind of sit up there and it's kind of a daily motivational deal that he does with the offense. He really doesn't install any plays with us, but you can tell the knowledge is there. You can tell he knows what he's doing. And like I said I think it's kind of a coaching office, behind-the-scenes role."
Clinton Portis also gave Smith a thumbs up, saying he liked a former running back holding that spot on the staff.
Before Cooley finished his visit with us at the Ritz Carlton, he thumbed through his notebook and offered these notes from Smith's talks:
"If there is one thing we've learned from history, it's that we've haven't learned from history. We need to learn from our mistakes."
"Something is measured not by how much it costs, but by how much is means."
"The definition of insanity is doing the same thing the same way and expecting a different outcome."
"We must respect the football. I never did a fumble drill in practice. I felt like it was saying, 'I'm going to try to break into your house right now,' and then you're saying, 'OK, I've got a nine-millimeter, how close to you want to get?'"