March, 2, 2014
3/02/14
5:05
PM ET
The
Houston Texans
don't have much salary cap room and aren't expected to be very active in free agency, but a move the team should at least consider is adding recently-released receiver
Sidney Rice
. It won't cost much and it would be a steal if Rice manages to put his recent rash of injuries behind him.
[+] Enlarge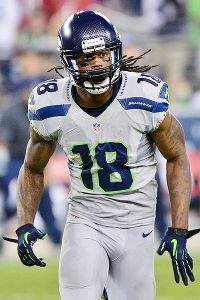 Matt Kartozian/USA TODAY SportsSidney Rice, when healthy, is a dangerous wide receiver. The Texans might be a good fit for Rice in 2014.
The Texans took Clemson's
DeAndre Hopkins
with the 27th pick of the first round last season. It turned out to be one of the best in the last half of the draft's first round. Despite the Texans' jumbled mess at quarterback, Hopkins caught 52 passes for 802 yards, numbers that ranked second among all rookie receivers last season.
Hopkins should only be better in 2014, and with the seemingly ageless Johnson continuing to produce -- 109 catches for 1,407 yards -- the Texans should have a pretty good one-two punch on the outside in 2014.
Adding Rice would make them even better, and it shouldn't be a move that will hurt the Texans financially. They are estimated to only have about $11 million in cap room, which certainly isn't much, but Rice won't command a big contract because teams are leery of his injury history. He has missed 15 games in the three seasons in which played in Seattle, including the final eight of the 2013 season because of a knee injury.
When healthy, the 6-foot-4, 202-pound Rice can be one of the league's most productive receivers. He caught 83 passes for 1,312 yards and eight touchdowns in 2009 but has played in more than nine games in a season just once since then. That was 2012, when he caught 50 passes for 748 yards. His size makes him a factor in the red zone, and pairing him with the 6-3, 230-pound Johnson would make the Texans a dangerous team near the goal line.
Despite being in the league for seven years already, Rice is only 27 years old. That's young enough to have four or five more productive seasons, provided he can stay healthy. Since that has been an issue, he's going to be able to be had for a minimum contract with playing-time incentives. It's a low-risk move for the Texans, or any team that signs Rice.
The Texans are expected to draft a quarterback with the No. 1 overall pick and they best way to ensure that a young quarterback thrives is by surrounding him with weapons. Adding Rice to a group that includes Hopkins, the team's star of the future, and Johnson, who continues to produce even though he's turning 34 in July, would be the biggest help the Texans could give the new quarterback.
October, 13, 2013
10/13/13
10:42
PM ET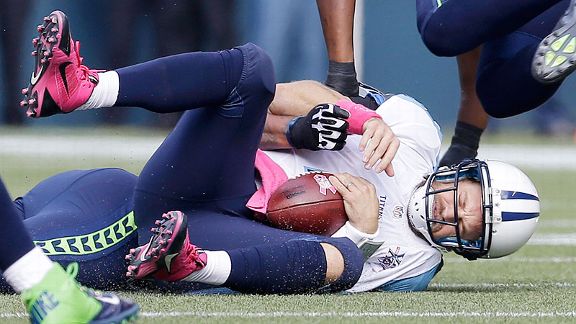 AP Photo/Elaine ThompsonQuarterback Ryan Fitzpatrick couldn't get the Titans into the end zone against the Seahawks.
SEATTLE -- The
Tennessee Titans
were feeling great about themselves halfway through their Sept. 29 win over the Jets.
When quarterback
Jake Locker
got hurt in the third quarter, knocked out with hip and knee injuries, they knew things were going to change.
They gave the standard offerings about their confidence in backup
Ryan Fitzpatrick
.
Sunday at CenturyLink Field, he gave his second consecutive showing that suggested they've overvalued their backup quarterback. Fitzpatrick led the Titans to two field goals and threw two interceptions in a 20-13 loss to the Seahawks.
"We couldn't get into a rhythm on offense and a lot of that is me," he said. "I didn't play well today. Really for the last two weeks I've played poorly and we haven't won games. ... I feel like momentum has kind of ground to a halt with the last two games and the way that we played on offense.
"The defense is still playing great and making plays out there. I'm not doing enough right now to consistently move the ball for the offense."
Mike Munchak said the 3-3 Titans rate as average, and many players agreed with the obvious assessment that can be difficult to come to terms with.
The Titans got away with the first of Fitzpatrick's interceptions. He overthrew
Nate Washington
in the middle of the field in the first quarter and safety
Earl Thomas
bobbled the ball before collecting it. The Seahawks didn't turn it into points.
Tennessee wasn't as fortunate the second time.
Seattle had just moved ahead 13-10 and Fitzpatrick gave the Seahawks the ball back on the first play from scrimmage. On first-and-10 from the Titans' 20, he threw a play-action pass up the right side intended for Washington. The Titans receiver briefly had a step on cornerback
Richard Sherman
.
Had the ball been to the sideline perhaps Washington could have made a play or it would have fallen harmlessly incomplete. But the ball was a bit inside and Sherman had no problem going up to make the catch in front of Washington.
Energized and feeling they could put the game away, the home team drove for a touchdown.
Russell Wilson
's 24-yard rollout pass to
Sidney Rice
, who gracefully got his toes in as he fell out of bounds cradling the ball. That set up
Marshawn Lynch
's second touchdown run of the game.
"Our defense had just given up a drive and we needed to make some plays," Munchak said. "We can't throw an interception on the first play of the series and put the defense back out there like we did. Because eventually an offense is going to wear you down, which happened. They started to make some plays the next time they got the ball. We're just not playing good enough to win on that side of the ball.
The Titans need better quarterbacking, and they aren't saying otherwise.
In two games as the starter, Fitzpatrick has completed 54 percent of his passes with one touchdown, four interceptions, a 53.2 passer rating and six sacks. He's also fumbled three times, losing none of them.
Still, when offensive coordinator Dowell Loggains talked about what needs to change, he pointed first to the other piece of the offense.
"I think once you get the run game going it helps everything," he said. "I think that's where improvement needs to happen the fastest. We're going to examine it and look and see what's going on there."
[+] Enlarge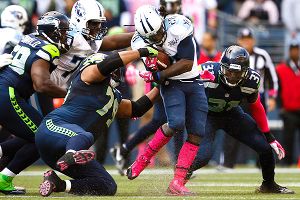 Joe Nicholson/USA TODAY SportsChris Johnson couldn't find much room to run against the Seattle defense, averaging just 2.8 yards per carry.
In losses to the Chiefs and at the Seahawks,
Chris Johnson
has turned 22 carries into 50 yards. That's a 2.3-yard average, and it's hardly what the Titans were selling they would be doing with three new interior offensive lineman who were brought in to help the Titans revert to an old identity as a physical running team able to get a tough yard at any time, against anyone.
Johnson had the wind knocked out of him on his best series, and with
Shonn Greene
(knee) out and
Jackie Battle
(neck) hurt, the Titans turned to their fourth running back, return man
Darius Reynaud
on a crucial third-and-1 in the third quarter
He got stuffed.
"Yeah, we didn't get it," Munchak said. "So we should have run something else."
The run game is far from fixed.
"At the end of the day it just comes down to one factor and that's running the football," Johnson said. "We can't continue to go out there and not at least average 4 yards when we hand the ball off. That enables Dowell to call another run. When we get a 1-yard gain or a negative (play), we've got to throw the ball.
"The formula for this team is, I think, we've got to help our defense out. We can't be going three-and-out, we can't turn the ball over and we can't continue to not run the ball. We have too many good players up front, out wide and in the backfield not to be able to out-will people. We did all preseason, we did the first couple games of the season. We just went out there and ran the ball. Even though they knew we were going to run the ball, we still ran it. These last three weeks, it's just not working."
Nothing suggests this is going to be a team dominant up front where it will always be able to count on the run.
When it can't, and when Locker's not there, trouble awaits.
I suspect next week's opponent, San Francisco, is excited.
September, 22, 2013
9/22/13
7:39
PM ET
SEATTLE -- A few thoughts on the
Jacksonville Jaguars
' 45-17
loss
to the
Seattle Seahawks
:

What it means:
This was another dismal offensive performance for the Jaguars. Granted, it came against the league's best defense, but the Jaguars never gave themselves a chance. They turned it over three times -- including once when
Chad Henne
's pass bounced off center
Brad Meester
's helmet -- and managed just 52 yards and four first downs in the first half. The offensive line continues to be pushed around, and the receivers, other than
Cecil Shorts
, are not able to get separation. It is probably a little unfair to pile on the lack of production in the passing game considering Henne is throwing to guys named
Allen Reisner
,
Clay Harbor
,
Ace Sanders
and
Stephen Burton
. That's not exactly a formidable list. Things should get a little better in the next few weeks because
Marcedes Lewis
(calf) should return next Sunday and
Justin Blackmon
will finish his four-game suspension and return in two weeks.
Stock watch:
By the middle of the first quarter, the Jaguars secondary was comprised of three rookies -- safety
Johnathan Cyprien
, cornerback
Demetrius McCray
and safety
Josh Evans
-- after safety
Dwight Lowery
left the game with a head injury and did not return. That was a huge blow because he was the most experienced player in the secondary. The Seahawks took advantage by picking on McCray, a seventh-round pick forced to start because of
Alan Ball
's groin injury.
Golden Tate
and
Sidney Rice
combined to catch 10 passes for 187 yards, and
Russell Wilson
and
Tarvaris Jackson
combined to throw five touchdown passes. Evans got burned on one because he stood waiting for the ball instead of going to get it and Rice slid in front of him to make the catch. Cyprien did force a fumble for the second consecutive week.
Unloaded weapon:
The Jaguars had hoped to get
Denard Robinson
more involved on offense today. He carried once for minus-2 yards and also fumbled when he tried to pull the ball out of Sanders' stomach on a read-option play. That is an inexcusable turnover, especially since Robinson ran the read-option countless times in his career at Michigan.
What's next:
The Jaguars play host to Indianapolis and the Seahawks play at Houston next Sunday.
September, 20, 2013
9/20/13
2:30
PM ET
Looking for some help with your fantasy football lineup? Every Friday I'll give you my opinions on which
Jacksonville Jaguars
to play and sit, as well as which of the opposing players might be a good play against the Jags. For more fantasy football advice, check out ESPN.com's
fantasy football
page.
Jaguars
QB Chad Henne:
Henne threw for 241 yards and a touchdown last week, but the bulk of that came in the fourth quarter when the game was decided. That's irrelevant in terms of fantasy football, but it's something to keep in mind whenever playing a Jaguars quarterback. They'll likely be in the situation of needing to throw a lot after falling behind.
Verdict:
Playing Seattle's defense is a bad matchup for any quarterback. Sit him.
RB Maurice Jones-Drew:
The swelling from the left ankle injury he suffered against Oakland kept him out of practice all week. Even if he's cleared to play, just how effective can he be? Can he handle 20 carries? Expect more
Jordan Todman
,
Denard Robinson
and
Justin Forsett
even if Jones-Drew does play.
Verdict:
He's too risky to start.
WR Cecil Shorts:
He has been targeted 25 times in two games and has 11 catches for 133 yards. He is clearly the Jaguars' top weapon in the passing game, but he's going up against what is regarded as the league's top secondary. The corners are big and physical, too.
Verdict:
It's not a good matchup. Only play him if you need a No. 3 or 4 receiver in deeper leagues. Otherwise, sit him.
TE Marcedes Lewis:
It looks like Lewis will be on the field for the first time this season and that's good news for an offense desperate for playmakers. But will he be rusty? And how much of a difference will he really make.
Verdict:
Sit him for another week just to see how he does in his return.
K Josh Scobee:
He has attempted just one field goal and the Jaguars attempted a two-point conversion after their only TD.
Verdict:
Until the offense shows some evidence of being able to consistently move the ball, Scobee needs to stay on the bench.
Defense/special teams:
The Jaguars are last in the NFL in rushing defense. They're facing one of the league's top backs, who has touched the ball 50 times in two games. Still waiting for a big play in the return game.
Verdict:
Sit 'em.
Seahawks
QB Russell Wilson:
Wilson has gotten off to slow starts in each of his first two games, but he is still completing 63.5 percent of his passes and has thrown for 462 yards. He has only tossed two TD passes, though. The Jaguars have given up the second-fewest passing yards in the NFL through the first two weeks, but part of that is because they've given the up the most yards rushing.
Verdict:
Don't start him as your No. 1 quarterback, but he's a viable option for your No. 2 if your league allows you to play two QBs.
RB Marshawn Lynch:
Only three players have carried the ball more than Lynch (45 times). He has not yet busted off a big run, and he's only averaging 3.1 yards per carry. The Jaguars are struggling to stop the run, though, having given up 347 yards in the first two games.
Verdict:
Definitely start him.
WR Doug Baldwin:
Sidney Rice
should be the Seahawks' top receiver with
Percy Harvin
sidelined, but he has been battling knee problems for a while. Baldwin leads the team with eight catches, but seven came in the season opener.
Verdict:
You should have better options than Baldwin on your roster. Play him as a No. 3 receiver if you have to in deeper leagues.
WR Golden Tate:
Tate is healthy and has five catches for 70 yards. How much will the Seahawks throw the ball, though? If they're able to get a big lead and control the ball none of the receiver will get much work.
Verdict:
Same as Baldwin.
TE Zach Miller:
He has five receptions in two games and is a reliable target, especially in the red zone.
Verdict:
He's not a bad play if you missed out on the top 10 tight ends.
K Steven Hauschka:
He's a perfect 4-for-4 on field goal attempts, and he should get plenty of work.
Verdict:
Play him.
Defense/special teams:
The Seahawks lead the NFL in total defense and passing defense, and they're facing a Jaguars team that's last in the NFL in total offense and scoring and is still missing its top receiver.
Verdict:
There isn't a better defense to play this week.
January, 5, 2010
1/05/10
4:44
PM ET
AFC South notes from ESPN Stats & Information's targets report from the end of the regular season:
Andre Johnson was the most-targeted player in the league with 169 passes thrown his direction, 10 more than went to Roddy White. Reggie Wayne was seventh (149).
Johnson was the lone player from the division in the top 10 players targeted on third down -- he caught 21 of the 39 passes aimed at him.
Johnson tied for fifth with 39 fourth-quarter targets.
Only Brandon Marshall (25) was targeted more in the red zone. Johnson, Larry Fitzgerald and Sidney Rice all had 23 balls thrown their way from inside the 20. Wayne was eighth with 19.
Wayne was tied for fifth in times targeted in the red zone in the fourth quarter with seven.
Johnson was tied with Calvin Johnson for second with 51 targets on balls throw 15 yards or more in the air. Vincent Jackson was first with 57. But Andre Johnson's 30.4-yard average on those balls was best of the three.
Kevin Walter was first in catch percentage on balls thrown 15 or more yards downfield (72.2 percent) while Kenny Britt ranked sixth (59.1 percent) and Johnson eighth (56.9).
Dallas Clark was targeted the most among NFL tight ends, edging Tony Gonzalez 131 to 130.
Chris Johnson (70), Maurice Jones-Drew (69) and Joseph Addai (63) rank fifth, sixth, and ninth, respectively, among the most-targeted running backs.
Walter ranked second (minimum 70 targets) with a 74.6 catch percentage, Austin Collie 10th at 67.4, Wayne 11th at 67.1.
Nate Washington, Pierre Garcon and Carolina's Steve Smith shared the 17th-lowest catch percentage (minimum 70 targets) at 51.6 percent.
Washington ranked ninth worst in yards per target (minimum 70 targets) at 6.3.
Johnson was tied for ninth with 53 targets when a defense rushed the passer with five or more defenders. He averaged 15.5 yards on those chances, second highest among the top 10.
December, 21, 2009
12/21/09
1:34
PM ET
A couple notes of interest from our friends at ESPN Stats & Information on the Texans after their
16-13 win over the Rams
.
Matt Schaub threw for 367 yards and a touchdown for his fifth game of at least 350 passing yards this season, which leads the NFL.
Andre Johnson had nine catches for 196 yards. He became just the second player this decade to have at least 195 receiving yards without a receiving touchdown. Sidney Rice did it for Minnesota earlier this season.
And this from Elias:
Johnson came up short of the second 200-yard receiving game of his career. But by gaining 193 yards against the Seahawks last week and 196 Sunday win, Johnson became only the second receiver in NFL history to reach the 190-yard yard mark in consecutive games. The first was Chad Ochocinco in November 2006.
And two more from the Texans:
With 488 receiving yards this month, Johnson has 121 more than the next most productive receiver in that span, Denver's Brandon Marshall. That 488 is more than six teams have over the same period.
Johnson needs 200 yards in the Texans' final two games to get to 1,633 for the season, a total that would break him into the top 10 all-time receiving seasons.