April, 14, 2011
4/14/11
6:15
PM ET
After reading
Annabel Stephan's piece
, I quickly set my DVR to make sure I'll be in position to watch, and potentially rewatch: It's a quarterback combine put together by the folks at Sports Science.
I eat this stuff up and suspect you do too. The show in question is on ESPN at 7 p.m. ET Thursday.
The link provides a nice explanation of how they measured certain elements of quarterbacking, and gives us some highlights for a couple guys we could see land in Tennessee or Jacksonville: Arkansas'
Ryan Mallett
, Nevada's
Colin Kaepernick
and Florida State's
Christian Ponder
.
OK, I don't see Mallett in Jacksonville either.
August, 26, 2010
8/26/10
12:28
PM ET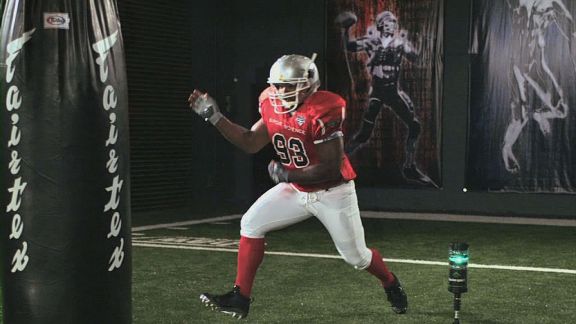 I love Sport Science, and this clip looking at the details of
Dwight Freeney
's spin move is really cool stuff.
They calculate that his spin is faster than a figure skater doing a double axel and that a free hit on the quarterback with a 7-yard lead-up produces 2,800 pounds of force -- the same as simultaneous punches by Mike Tyson AND George Foreman in their primes.
I watched it twice.