AFC South:

Steve Weatherford
July, 28, 2011
7/28/11
11:35
AM ET
There was a presumption by some in Jacksonville that
Adam Podlesh
would be back. Re-signing the punter, some fans said based on team comments, was a mere formality.
Free agent signings are never mere formalities.
And Chicago has agreed to terms with Podlesh on a five-year deal that
Sean Jensen reports
is worth over $10 million.
I don't know if the Jags were in the running. But they put a serious premium on special teams, so this is a bit of a blow because they liked Podlesh.
Who's available?
Well one of their 24 undrafted rookie free agents is Brian Saunders from Virginia Tech.
He put up some nice numbers as a senior, but saw no action in his first three seasons. (Side bonus: He has a degree in horticulture.)
There are
free agents
to sort through as well. Scouts Inc. ranks
Ben Graham
,
Daniel Sepulveda
and
Steve Weatherford
as just a bit better than Podlesh.
Weatherford played five games for the Jaguars in 2008.
June, 24, 2011
6/24/11
10:31
AM ET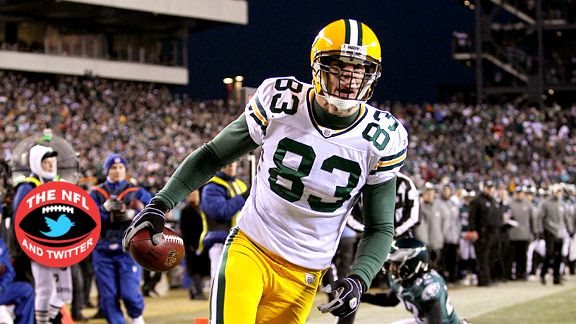 Michael Heiman/Getty ImagesCreative tweeting earns Packers tight end Tom Crabtree the top spot on the latest Twindex.
Want to rise and grind? Want to know how long a flight is delayed out of Atlanta? Want motivational quotes and bible passages?
Me neither.
That's not what I am looking for on Twitter. But I am curious what NFL players are saying and I have made a commitment to sort through it all to give you the highlights from NFL players since the last edition of the NFL Twindex.
Comedy is key during the lockout, but once things are settled we expect far more football talk to be involved here.
It's not all about laughs on Twitter, and Amy Nelson illustrated so well in
this piece
about Brandon Phillips of the Cincinnati Reds.
Check out
tweets I made favorites
. That's the list I then worked with to craft our new poll.
Seeing quality tweets you want to make sure are considered? Point me to them. I'm
@ESPN_AFCSouth
and
@Paul Kuharsky
.
January, 9, 2011
1/09/11
1:55
AM ET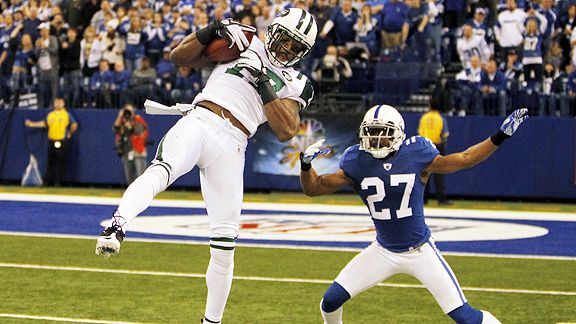 William Perlman/The Star-Ledger/US PresswireThe Colts gave up big plays, including this Braylon Edwards catch to set up the winning field goal.
INDIANAPOLIS -- They trudged to the helmet painted on the turf at midfield, offering congratulations to the team that ended their season.
In time, the Colts might come to consider this pre-Super Bowl playoff exit the least painful and most dismissible of the seven they've endured during a nine-year run of postseason qualification. On Saturday night, of course, they were too close to it to think or speak that way.
They saw a blown opportunity in their
17-16 loss
to the
New York Jets
in the opening round of the NFL playoffs.
So they'll carry regret into the offseason, regret not so much about losing to the Jets, but losing to the Jets like that.
By blowing three leads.
The Colts were up 7-0, 10-7 and 16-14.
By watching the Jets convert five of seven third downs in the second half while they failed to convert two third-and-longs in the fourth quarter that left them settling for field goals.
The first, a third-and-7, produced only a 1-yard run by
Dominic Rhodes
against a heavy defensive-back set.
"They had seven DBs, they had 34, [cornerback Marquice] Cole at defensive end, it was 100 percent pass coverage,"
Peyton Manning
said. "That's a lot of DBs. We just thought they're not going to think we're going to run it. We've got to be able to pick those up."
The second, a third-and-6, was a Manning sprint out to the right and a throw to
Blair White
that looked to be a bit short on the right side. White couldn't corral it as he went to the ground.
By allowing New York to keep the ball with a running-into-the-punter penalty, which resulted in two timeouts burned ahead of schedule and 34 fewer seconds on the clock when the Colts got the ball back.
Taj Smith
was flagged despite trying to hold up Jets punter
Steve Weatherford
once he'd made contact.
"He did a good acting job and I should have played it more conservative, it just was a bad play on my part," Smith said. "… They just said play it more smart and keep my head up."
By allowing a 47-yard kickoff return with 53 seconds remaining that positioned the Jets for a quick drive and a field goal as time expired.
[+] Enlarge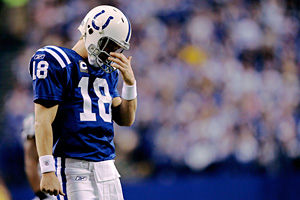 AP Photo/AJ MastThe loss to the Jets was the seventh time in Peyton Manning's 11 trips to the playoffs that the Colts failed to advance beyond their first game.
"It goes from putting a lot of pressure on the offense to putting a lot of pressure on the defense with that field position change," Manning said.
The Colts aren't used to watching that unfold with their offense on the sideline. They're used to Manning and the offense making the other team's offense squirm on the sideline, enduring a sense of helplessness.
"It's just bad execution on our part," left tackle
Charlie Johnson
said. "It's bad because … I want to be careful here. You have to give them credit. They played a great game, but at the same time I feel like the better team didn't win."
It was the seventh exit in the Colts' first game of the playoffs in Manning's 11 trips to the postseason, the sort of context the Colts absolutely hate to have pointed out to them.
"We've been to the playoffs nine consecutive years. I don't think this team has to explain itself to anybody as far as what we are doing in the playoffs," linebacker
Gary Brackett
said. "A team's pinnacle is to get to the playoffs and we've done that consistently."
Said Johnson: "I think it's bogus. I think there are some teams in the league that would love to have the success we've had, regardless of going to Super Bowls or not -- winning so many games over the years, winning 12 or more games however many years in a row, going to the playoffs nine straight years. There are a ton of teams that would take that and be happy with it."
This exit will ultimately deserve a less harsh review than some others because of how deep the injury-riddled Colts had to dig along the way. They ended the game with
Ken Hamlin
at free safety. He signed Dec. 22 and was, at the very best, their fifth option at the position this season.
Coming into the game the question for Rex Ryan was, if his team couldn't get past the Colts now, when might it ever?
Before Manning left the interview podium for the last time in what may be quite a long time, he offered a glimpse into how the 2010 Colts were looking at a potential playoff run, at how things might have been different this time.
"It would have been fun to have kind of gotten on a little run here, there would have been a different feeling," Manning said. "I thought we would have been the underdog in every game. I thought we were the underdog tonight. We would have been the underdog going to Pittsburgh. That's certainly a different feeling.
"Usually in the playoffs we're always kind of usually the favorite to win, expected to win. This would have been a fun little run. This has been a fun little run, these last few weeks, we felt like they've all been playoff games. This was the best team we've played in some time. We certainly had a chance and just came up short."
January, 22, 2010
1/22/10
8:23
AM ET
Houston Texans
The Texans were
denied permission
to interview Atlanta quarterbacks coach Bill Musgrave and Miami receivers coach Karl Dorrell, says John McClain. Such denials are not uncommon.
Three Texans
were among players who went to Capitol Hill, says Alan Burge.
Indianapolis Colts
Jim Caldwell is
never unprepared
, says Phil Richards.
Caldwell
stays true
to his beliefs, says Richards.
The Colts have
a nasty defense
too, says Bob Kravitz.
Jets vs. Colts
still means a lot
to Joe Namath, says Curt Cavin.
If Jerraud Powers can't go, Jacob Lacey is
ready, as usual
, says Chappell.
On the biggest stage of his life, Pierre Garcon is doing
all he can
to help in Haiti, says Cavin.
The Jets
feed off
Rex Ryan's style, says Phillip B. Wilson.
Steve Weatherford is
scrambling for tickets
, says Wilson.
Wilson's
matchup page
.
Counterpunchers have become
sluggers
, says Judy Battista.
Peyton Manning and the Colts are looking to
shed a reputation
as playoff underachievers, says Nancy Gay.
Jarrett Bell looks at Manning's propensity to
clam up
at playoff time. Manning spoke for less than 10 minutes this week. It's not unreasonable to expect at least double that from the league's MVP the week of the AFC title game.
Jim Trotter
breaks down
the game.
John Oehser's thorough
game preview
.
The Jets running game poses
the big challenge
, says Tom James.
Reasons
to love the Colts, reasons to hate them, from Shutdown Corner.
Eighteen things
to watch for in Jets-Colts, from Deshawn Zombie.
The Jets ran well and
still lost
often this season, says Zombie.
Remembering the last Colts-Jets
playoff game
with Big Blue Shoe.
Called on to hold for field goals for the first time, Pat McAfee's been
reliable
, says Larry Hawley.
Jeremiah Johnson would like to see Edgerrin James, who is
an honorary captain
for the game, get the Deuce McAllister treatment and actually be on the roster. I'm against turning former players into mascots as the Saints did with McAlister last week.
Super Bowl III will be
replayed
Saturday night.
Jacksonville Jaguars
There is
no deal in place
yet for assistant coach Joe Cullen, says Vito Stellino.
A continuation of Chris Harris'
conversation with Jack Del Rio
.
A look at
who the Jaguars beat
from Jonathan Loesche.
Tennessee Titans
Kenny Britt's uncle
defends him
for posting bail for an old friend, says Jim Wyatt. People who are jumping to conclusions and wondering if Britt's the next Pacman Jones need to slow way down here. He's done nothing wrong.
Found some
interesting numbers
on Nick Harper in this Aaron Schatz piece on cornerback tackles.
September, 5, 2009
9/05/09
9:38
PM ET
November, 28, 2008
11/28/08
7:49
AM ET
Posted by ESPN.com's Paul Kuharsky
Before we head for the airport and make our way back to Nashville for a belated Thanksgiving, here are your morning headlines from around the division.
Houston Texans
Indianapolis Colts
Jacksonville Jaguars
Tennessee Titans
November, 25, 2008
11/25/08
5:02
PM ET
Posted by ESPN.com's Paul Kuharsky
As expected, the Jaguars made several roster moves Tuesday.
Here's the news release they sent out a little while ago.
JAGUARS MAKE ROSTER MOVES

The Jaguars today made several roster moves including placing second-year punter Adam Podlesh on injured reserve after suffering a knee injury in last Sunday's loss to Minnesota and signed veteran free agent punter Steve Weatherford. The Jaguars also activated tight end George Wrighster and defensive lineman Jeremy Mincey off the Physically Unable to Perform list and waived cornerback Omare Lowe.

The Jaguars waived tight end Chris Brown from the practice squad and replaced his spot with center Tim Mattran, who was originally signed by Minnesota as an undrafted rookie free agent out of Stanford.

Weatherford, 25, played in two games with Kansas City after being claimed off waivers from New Orleans on Oct. 20. The 6-3, 215-pounder played in the first seven games for the Saints this season and the previous two seasons after being signed as an undrafted rookie in 2006 out of Illinois. He has played in 41 career games with the two teams and has 41 punts for 7,732 yards with a 43.4 gross average and 45 punts downed inside the 20-yard line. He will wear jersey No. 6.

Podlesh had played in 11 games this season and had 46 punts for 1,989 yards with a 43.2 gross average and 36.6 net average. The second year pro had played in 27 consecutive games after being selected in the fourth round of the 2007 NFL Draft.

Mincey and Wrighster had spent the first 12 weeks on the PUP list with a wrist and knee injury respectively. Lowe played in five games for the Jaguars after being signed on Sept. 24. The seventh-year veteran recorded three special teams tackles.
AFC SOUTH SCOREBOARD
Thursday, 12/5
Sunday, 12/8