January, 29, 2014
1/29/14
12:00
PM ET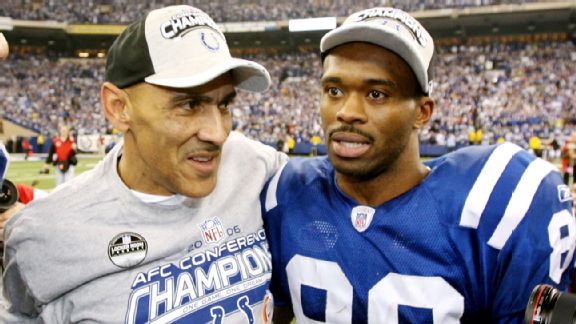 Matthew Emmons/USA TODAY SportsCoach Tony Dungy and wide receiver Marvin Harrison combined for some very memorable Indianapolis Colts teams.
INDIANAPOLIS – The joke about
Marvin Harrison
during his 13-year career with the
Indianapolis Colts
is that he would be in plain sight but he was still hidden because he was so quiet. You didn't know he was around unless he was embarrassing defenses while catching passes from quarterback
Peyton Manning
.
Harrison didn't worry about the extra thing. His focus was getting better on a daily basis and helping the Colts win games.
"He was very quiet away from the field," former Colts general manager Bill Polian said. "Marvin wasn't one of those guys that thrived to be the center of attention. When it was time to play -- practice time or games -- it didn't matter, he was business 100 percent of time. He is one of the all-time best."
Harrison, and former Colts coach Tony Dungy, could be thrust to the forefront Saturday if things go as planned for them.
The Colts receiver and coach are two of the 15 Hall-of-Fame finalist. A finalist must receive 80 percent of the votes.
The statistics scream first-ballot Hall of Famer for Harrison. He's third in NFL history in receptions, fifth in touchdown receptions and seventh in receiving years to go with eight straight 1,000-yard seasons.
"Marvin Harrison had a tremendous impact on my career," Manning said. "My very first football game in the preseason, on the third play of the game, I threw my first pass. I threw him about a 4-yard pass, and he ran 48 yards for a touchdown. I said, 'Boy, this NFL is pretty easy. All you do is throw it to Marvin Harrison and he runs for touchdowns.' That's pretty much what he did throughout the time we played together. He is just an outstanding football player. A great teammate, and he truly helped me out a lot."
Harrison was a perfectionist of his craft. His footwork had to be precise, he tried to catch anything thrown in his direction. He wanted the team's best defensive backs defending him in practice, not a practice squad player who could be released at any moment.
"That was Marvin for you," Polian said. "His unique ability at his size to get open and continue to play for as long as he played is witness to his phenominal athletic ability, great hands and work habit. He's extremely, extremely gifted athlete. Far more than people realize because he's made it look so easy. He was a clutch performer."
Harrison's career, which included going to the playoffs 10 times and winning a Super Bowl, ended in February 2009 when the Colts terminated the final three years of his contract because he didn't want to take a pay cut.
"It was time," Harrison said told the Indianapolis Star in a recent interview. "I had the perfect owner (Jim Irsay), the perfect team, one team my whole career, Dungy leaving, I played my one year in the new stadium (Lucas Oil).''
Dungy wasn't far behind Harrison in leaving the Colts. He stepped down as coach almost two months later.
Dungy, who coached in Tampa Bay and Indianapolis, is in the top seven in wins amongst coaches with at least 100 victories. The Colts won at least 10 games in all seven seasons under Dungy. They won five division titles during that same time span, and Dungy is the first African-American head coach to win a Super Bowl.
"Everybody who makes the finals deserves to be in, but Tony is in a class by himself," Polian said. "His record speaks for itself. He has replaced Wellington Mara as the public conscience of the NFL. "
Manning added, "Coach Dungy's influence on me and our entire team was very strong…I'm indebted to him for his help for me in my career, and of course, our teams there in Indianapolis. I was very honored to play for him for a number of years."
February, 19, 2013
2/19/13
9:59
AM ET
When the Jaguars' new quarterbacks coach, Frank Scelfo, recently talked of how
Blaine Gabbert
would rank in the 2013 draft, some shrugged it off as spin.
But Mike Tanier of Sports on Earth
considers the idea
that Gabbert's age means he could actually be part of this draft class. Instead the Jaguars quarterback heads into 2013 with two seasons of NFL lumps already in his pocket.
"For Scelfo and the Jaguars, this means that a clear-thinking appraisal of the bird in hand should keep the team from rushing too quickly into the bush," Tanier writes. "… [T]here are several quarterbacks older than Gabbert in this draft class: Landry Jones, Tyler Wilson, Collin Klein, Jordan Rodgers and a few others hanging around the fringe of prospect status. When we are appraising a player's 'potential,' shouldn't we at least acknowledge that there are players knocking around the NFL who are the same age or younger, guys who may taken some lumps in the pros, but at least took those lumps in the pros?"
It's a good point. Any team would rather have a quick-impact draft pick quarterback --
Robert Griffin
,
Andrew Luck
,
Russell Wilson
,
Colin Kaepernick
.
But there are guys who take longer and turn out to be pretty good. Gabbert's environment has been closer to
Alex Smith
's than any of those guys. He's 23, and still has time.
To me, Gabbert's arrow is pointing down. But I still urge people to remember it's been only two years, and a ton of quarterbacks were bad in their first two years and wound up good players. Gabbert is not going to be
Steve Young
, but how was
Young's early career
?
Tanier also isn't saying Gabbert's going to be a quality NFL quarterback. He's merely examining the circumstances.
Gabbert is now perceived as a flop who needs his quarterback coach to stand up for him. Wilson will be a lower draft choice (and get less guaranteed money) but is getting high marks in NFL circles for battling through the Arkansas mess and proving that he can throw passes under fire and stand up for himself and teammates during a crisis.

Most observers would consider Wilson a much better prospect than Gabbert right now. Don't lie: If you heard that your team drafted Wilson in the third round, you would be pleased, but if you heard that your team traded a third-round pick for Gabbert, you would howl about trading for a retread. That's despite the fact that both are coming off losing seasons for nightmare teams, and despite the fact that Wilson is actually two months older.
March, 6, 2012
3/06/12
6:02
PM ET
The era is over.
The
Indianapolis Colts
' breakup with
Peyton Manning
is official -- ESPN's Chris Mortensen
reported
that Manning will be released Wednesday -- and it displaces any of the most extreme examples of business ruling sports.
Since 1993, the NFL standard for "it can happen to anyone" has been
Joe Montana
. The
San Francisco 49ers
traded Montana, regarded by many as the greatest quarterback of all time, to the
Kansas City Chiefs
.
But Manning was even more unlikely to finish his career on a second team. He has been cut, not traded, which makes it more extreme. While
Andrew Luck
is regarded as a can't-miss prospect, he's hardly as can't-miss as was
Steve Young
, who was already playing for the 49ers when they moved Montana.
Henceforth, in any conversation about the possibility of a star player who's intertwined with his team and city moving elsewhere, I believe we will say, "If it could happen to Peyton Manning with the Colts, it can happen to anyone."
We have the new, supreme example of business trumping relationships, sentiment and history.
And we have the next big step in the NFL's biggest offseason story: How is Manning's arm strength? Where will Manning land? How will the Colts move on?
Stay tuned for much more.
November, 23, 2011
11/23/11
11:46
AM ET
A switch to a lefty quarterback brings some change, but not as much as a lot of us may think.
That's the conclusion to reach based on the way the
Houston Texans
have talked about
Matt Leinart
stepping into the lineup.
The ball spins differently so receivers will be conscious of that, right tackle
Eric Winston
becomes a blind-side pass protector and while the Texans will stay unpredictable, Leinart will surely be more comfortable rolling and bootlegging to his left.
"You don't change what you do, you change how you call things. So if anybody's got to make an adjustment, I do." coach Gary Kubiak said. "Just the way I set formations or set things that we do. But I've been through this before. In San Francisco, I had a pretty good lefty (in
Steve Young
) and then my backup was a righty, so I've been through this before. But it doesn't change the offense we run or those type of things. It just kind of changes how you set formations."
Quarterback coach Greg Knapp also worked with Young and a righty backup in San Francisco and with lefty
Michael Vick
and righty
Matt Schaub
in Atlanta.
"Keepers maybe you'll go to the left a little more, but you try to keep a balance," Knapp said.
The team will not expect Leinart to handle the volume of plays in a game plan that they would bring into a game for Schaub.
As for the pass catchers, the adjustment is being downplayed. Knapp said it's not a dramatic change.
Said receiver
Kevin Walter
: "It's a little different, it spins a little different. Some of the deep balls, it's a little different catching it. But it's nothing that we're actually dealing with. We've been throwing and catching for the last two years."
Leinart's not concerned about that element of the change at all.
"You throw the ball and catch the ball and I know none of us are worried about that," he said.
December, 13, 2009
12/13/09
9:43
PM ET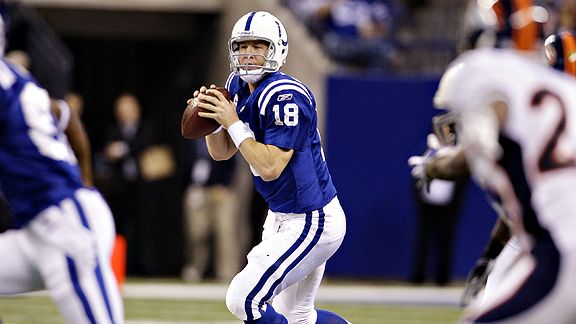 AP Photo/Darron CummingsWill Peyton Manning's chances at a fourth MVP title suffer if the Colts rest him?
INDIANAPOLIS -- His biggest accomplishment is leading his team to a place where he doesn't need to make a major contribution over the next three weeks.
For that distinction,
Drew Brees
,
Brett Favre
,
Chris Johnson
and
Philip Rivers
surely would trade situations with
Peyton Manning
.
But after the
Indianapolis Colts
' 28-16
victory
over the
Denver Broncos
at Lucas Oil Stadium Sunday, we might have seen the last full game of the regular season from Manning.
And if the regular-season final image of Manning depicts him with a dangling earpiece and under a poncho in Buffalo in Week 17 -- helping substitute quarterback
Curtis Painter
cope with the Bills -- how will that affect MVP voters?
Will they reflect upon Manning's accomplishments leading the Colts to a 13-0 start? Will that three-week-old memory have any impact while they're watching, say, Brees cap an undefeated regular season, or Favre carry the Vikings into the playoffs, or Johnson crack 2,000 rushing yards?
When that Associated Press panel submits its MVP votes Jan. 4, could Manning fall victim to omnipresent what-have-you-done-for-me-lately thinking?
"I would say you can't count it against him if he's not out there,"
Dwight Freeney
said. "It's about the team first, nothing else matters. …If it came down to that, it would be a shame."
"The effect that he's had on a team, I don't know how you could match that," said Colts kicker
Matt Stover
, who's played with
Phil Simms
,
Jeff Hostetler
,
Bernie Kosar
,
Vinny Testaverde
and a slew of other quarterbacks in 20 NFL seasons. "What he does in practice, what he's replicated on the field, warrants an MVP to me.
"I have never seen anything like it in my 20 years and that's playing with a lotta, lotta, lotta quarterbacks. To me it's 'What has he done to give his team the best opportunity to win, to get his team to the playoffs?'"
With his play, Manning's helped put the Colts in position to ease up. They are expected to stay true to a long-standing philosophy of resting key starters once playoff position has been secured, a stance honed by former head coach Tony Dungy and expected to be adopted by his successor Jim Caldwell.
No other quarterback has put his team in such a spot so early, so to penalize him for it in any way wouldn't seem fair to me.
Colts executive Bill Polian made his traditional sour face when I asked him if MVP is important. He cares little for things voted on by media members and things he and his team cannot control, at least conversationally. Still, asked to make the case for his quarterback, it came easily.
"If you ask me is it comparable to the seasons that he's won, the answer is yes it is," he said. "Certainly beyond, because of the circumstances, because of the offensive line transition, the offensive line difficulties and the receiver transitions."
Manning has excelled even as the team's projected starters at left tackle and right guard (
Tony Ugoh
and
Mike Pollak
, respectively) were outplayed and replaced by understudies (
Charlie Johnson
and
Kyle DeVan
, respectively). And with Hall of Fame receiver
Marvin Harrison
gone and No. 2 target
Anthony Gonzalez
hurt, Manning's thrown to rookie
Austin Collie
and second-year man
Pierre Garcon
unhesitatingly, helping both become major contributors.
I skipped Manning's news conference after the Broncos game because I knew an MVP question would be fruitless and I'd fare better on this subject in the locker room.
But make no mistake, a fourth MVP would mean a great deal to Manning just as late yards in a blowout win at Tennessee on Oct. 11 meant something to him. Those yards got him over 300 yards for the fifth straight game at the start of the season. The milestone kept him on track to match or surpass the shared record of six, held by
Kurt Warner
and
Steve Young
. (He came up well shy of 300 a week later at St. Louis.)
That doesn't mean Manning is at all selfish or has any priorities out of whack.
I just believe he's acutely aware of the numbers and the history. He takes a great deal of personal pride in getting the first and making the other when he has the chance. None of that makes a second Super Bowl win any less important to him or the team he leads.
A year ago, en route to his third MVP, Manning and the Colts played at Jacksonville in a late-season Thursday night game. The Dec. 18 contest marked the Colts' 15th game. In a 31-24 victory, Manning was a pitcher with no-hitter control -- zipping balls through small windows, lofting them just over defenders' fingertips, throwing them with just the perfect touch.
That 29-for-34 passing for 364 yards and three touchdowns, broadcast nationally on NFL Network, clinched the award for him, I thought.
A week later in a meaningless game against Tennessee he threw early and often, and topped 4,000 yards. He helped get Harrison past Cris Carter into second place for career receptions, and then Manning left the game.
Certainly the Colts have many banged-up guys who need to heal. Some others can get the work they need to stay sharp during practice weeks. But the team's first playoff game isn't until Jan. 16 or 17, more than a month away. A month is too long to expect the engine to idle.

Nobody asked me but… I humbly propose the Colts set Manning loose on the Jaguars again in four days. Kelvin Hayden said even if the team takes its foot off the gas, it doesn't want to drop a game to a loathsome division rival.

Manning will do what he's asked to do. Still, he said he hasn't liked playing a bit and then taking a seat when he's been required to do it in the past. So don't ask him to do it three consecutive weeks while risking the honor that would come with being the league's first four-time MVP.

Let Manning be Manning in North Florida Thursday, with his stable of healthy weapons helping him stake his claim.

If Brees or Favre or Johnson or someone passes him from there as he plays only a couple series against the New York Jets (Week 16) and at Buffalo, so be it. At least the voters will have less time to forget what they should be sure to remember.

November, 19, 2009

11/19/09

7:31

PM ET

Since joining the Texans in 2007,

Matt Schaub

is second in the NFL in yard per attempt at 7.98.

His YPA with the Texans would tie him with Steve Young for fifth-highest in league history, and his 66.6 completion percentage would be the highest among the top 10 in the category.

I asked Schaub what a big number in the category says about a quarterback, and here's his reply:

"I think as an offense it means guys are making plays down the field and they're getting open. Obviously, the offensive line is doing a heck of a job and the backs in protection, and allowing us to get down field and make some plays. It ties 11 guys together that are executing their job at a high level and guys are making plays."

The numbers come from the Texans.

I thought it a little narrow to keep of his statistics from three years as a backup in Atlanta, but he was in a different system with the Falcons that serves to reduce the number. His yards per attempt in the 38 games he played for them was 6.42, and combining from there and Houston his career number is 7.75 -- still quite strong.

October, 11, 2009

10/11/09

11:33

PM ET


Posted by ESPN.com's Paul Kuharsky


NASHVILLE, Tenn. -- To the Colts' delight and the Titans' chagrin, this one came out that way most people expected it would.
Indianapolis is 5-0 following
a 31-9 victory
and stands with the best teams in the league. Tennessee is 0-5 and grouped with the worst.
Despite some early misplays, the Colts continued to roll. The Titans couldn't turn two first turnovers into more than six points. The Titans needed big things off those chances and didn't get them.
Midway through the fourth quarter, with things well in hand, Jeff Fisher finally turned to
Vince Young
in relief of
Kerry Collins
. Young got an ovation before throwing three incompletions.
The team with the league's best current quarterback can hardly remember a time when it had any such concerns.
Peyton Manning
topped 300 yards, becoming the third quarterback in league history to start the season with five consecutive 300-yard games.
Following the Colts' bye they'll head for St. Louis, where Manning will be in position to match
Kurt Warner
and Steve Young's record of six 300-yard games to start a season.
These two teams will see each other the second time this season at Lucas Oil Stadium on Dec. 6, when the Colts will likely be looking forward to prime playoff seeding and the Titans will be looking to merely influence it.
October, 5, 2009
10/05/09
8:06
AM ET

Posted by ESPN.com's Paul Kuharsky
Some AFC South-related stat nuggets from Sunday's games:
Jacksonville wide receiver Torry Holt had three receptions in the Jaguars' 37-17 victory over the Tennessee Titans. Holt, who has 884 career receptions, surpassed wide receiver Keenan McCardell (883) and moved into 10th place on the all-time receptions list.
Rookie head coaches Jim Caldwell of the Indianapolis Colts and Josh McDaniels of the Denver Broncos have led their teams to 4-0 starts. This is only the second time in the Super Bowl era (since 1966) that two rookie head coaches have guided their teams to 4-0 starts in the same season (2000: Al Groh, N.Y. Jets and Mike Martz, St. Louis).
The Texans 29-6 win over Oakland marked a second-best in two categories for the franchise. Houston's 23-point margin of victory was the second-largest in franchise history, behind only a 29-point win over Cincinnati (35-6) on Oct. 26, 2008. The defense allowed the Raiders just 165 total yards of offense on the day, which was the second-fewest yards allowed in franchise history. Houston held Jacksonville to 126 yards on Dec. 26, 2004.
With 353 passing yards in the Colts' 34-17 win over Seattle, Indianapolis quarterback Peyton Manning recorded his fourth consecutive 300-yard passing game. Manning is the third player in NFL history to start a season with four consecutive 300-yard passing games. Only Kurt Warner (2000) and Steve Young (1998) had longer streaks in NFL history (six consecutive games).
The game was Manning's 51st 300-yard game, which pulled him into a tie with Dan Fouts for third most, behind only Dan Marino (63) and Brett Favre (56). Manning's two touchdown passes gave him 342, which tied him with Fran Tarkenton for third most in league history, also behind Favre (469) and Marino (420).
July, 13, 2009
7/13/09
2:42
PM ET
Posted by ESPN.com's Paul Kuharsky
Several of you were upset that I agreed with the strong opinion Jamison Hensley and Jim Wyatt found as they reported stories about Steve McNair's chances for the Hall of Fame are slim.
As I pointed out last week, Doug Farrar crunched McNair's numbers for The Washington Post and concluded his body of work is most similar to those of Phil Simms (not a Hall of Famer), Steve Bartkowski (definitely not a Hall of Famer) and Jim Kelly (a Hall of Famer). That's not the definitive statement on the matter, but it's interesting.
Jack in Memphis, TN wrote: I personally think the "NFL Hall of Fame" needs to be renamed. If someone like McNair doesn't have a very good chance because of lack of statistics or lack of titles then it is the "Hall of Leading Statistics and Championships", not "Fame". McNair was an intensely beloved quarterback and he was just murdered in what will be an infamous happening in the NFL for many years to come. How much more "Fame" can be derived from that?? I can't tell you ANYTHING about 75% of the people in the HOF because they're stories were limited to their time. Steve McNair's story will live in infamy for ages and no one will ever decline to reference McNair because he didn't win a Super Bowl. McNair will be more famous than nearly every single player in the HOF before it's over with.
Paul Kuharsky: I think you are being a little literal with the word fame. It's fame based on football performance, not anything else.
The circumstances of McNair's death shouldn't have -- and won't have-- any bearing on him as a candidate. And to suggest that because he was murdered he is now more famous, and that because he is more famous he is more Hall-worthy, strikes me as a weak argument for his inclusion.
Intensely beloved? Being popular and well-liked is also not something that should get you in the Hall of Fame. Yankees fans intensely love Paul O'Neill, they consider him a huge piece of a wonderful era for the team, but they know he's not a Hall of Famer.

McNair is not a Hall of Famer. He simply was not one of the elite quarterbacks of his generation. If you rank him with Dan Marino, John Elway, Steve Young, Troy Aikman, Brett Favre, Peyton Manning, Tom Brady or even Kurt Warner and Donovan McNabb then I think you are being overly emotional about it. All those guys rank ahead of him.
His toughness and competitiveness and ability to perform in the clutch were all excellent and admirable, and he's a historical figure for several reasons, among them his status as the first African-American quarterback to win the MVP award. All of which, by my calculations and the calculations of many others, means McNair deserves a spot in the Hall of Good.
---
Tee in Greensboro, NC writes: How in the world can you say that McNair is not a HOFer. I never had to think twice about it, I just figured it would be. He was one of the elite quarterbacks his entire career. Almost any team in the league would have taken him over their quarterback while he was in the league. I know he didn't win any Super Bowls but, he was one of the best ever not just for his time but, for all time.
Paul Kuharsky: "Almost any team in the league would have taken him over their quarterback." Except for the teams with Marino, Elway, Young, Aikman, Favre, Peyton Manning, Brady, Warner and McNabb.
That's nine guys I would rank him behind off the top of my head. So you think the 10th best quarterback of his era should be in the Hall? That would put quarterbacks from 31 percent of NFL franchises from the timeframe of McNair's career in Canton. That's way too many. That would be incredibly watered down.

You have to be among the very best at your position to get in. He was a notch below.
---
Randall McKinney of Halls, TN writes: I saw your response to the McNair vs. Aikman comment. It's sad that the WHITE SPORTS MEDIA uplifts so many quarterbacks for the great prowess of the many weapons they have around them. Guys that get open and get separation consistently and in the clutch are INVALUABLE. And this idiotic way of measuring QB's by Super Bowl rings is preposterous. Trent Dilfer, Eli, Doug Williams, Hostetler, Rypien. It's laughable that Troy Aikman is in the HOF. He was probably the worst of the 11 players on the offense.
Paul Kuharsky: What's sad is that you have to make it about race.

Aikman won three Super Bowls. McNair none. That is a huge difference, and I struggle to see any of that as a black and white issue. If it was the other way around, McNair would be a shoo-in and Aikman would be out. The one-shot wonder Super Bowl quarterbacks you list are obviously not Hall of Famers either, and you won't find that I've suggested otherwise anywhere.

I covered all but McNair's rookie season with the Oilers/Titans. Don't you think I'd lean towards giving a guy I saw up close the benefit of the doubt if I thought it was close?

You can't put McNair, or anyone, in the Hall of Fame, based on who they didn't have around them, just as you can't keep Aikman out because of who he had around him. The teams around those quarterbacks were not in their control, but they are a giant part of the story. If that's bad luck, bad timing, bad circumstances, so be it -- they "suffer" or "benefit" from that context. We judge players on what they did, not on what they could have done if they played with Jerry Rice.
UPDATE: I got this when I checked my mailbag Monday evening after this entry had been up a good while, but thought it deserved to be added as a capper:
Matt Howard from New York, NY writes: Just read the mailbag about McNair and the HOF issue. I agree with you - he's probably not HOF bound. I'm a huge McNair fan, but I think people may be confusing the difference between a player who leaves his mark on an organization vs a player who leaves his mark on the game of football. Can the story of the Titans' franchise be told without Steve? No way, and I'd support retiring his je
rsey for that reason. Can the story of the NFL be told without him? Probably so. I'd love to see him in, and I like to think that the "intangibles" do count for something - but the tangibles can't be thrown out. Good stats and no championship are tough to outweigh. Give him a bronze statue at LP field. He never exaggerated his own importance, and it wouldn't honor his legacy for us to start doing so now.