AFC South:

Stock Watch 2010
October, 27, 2010
10/27/10
8:53
AM ET
»
NFC Stock Watch
:
East
|
West
|
North
|
South
»
AFC
:
East
|
West
|
North
|
South
FALLING
1. The Jaguars' run defense:
Jacksonville got gashed by the Chiefs at Arrowhead Stadium and in yielding 236 yards, a 5.6-yard average and three rushing touchdowns, the Jaguars dropped six spots in the league ratings to 25th. On a day when only 13 passes were completed against the Jaguars, 28 of their 65 tackles were credited by game-day statisticians to defensive backs.
2. Colts kickoff coverage:
Pat McAfee
has been good for nearly two kickoff touchbacks a game and consistently puts the ball deep. The team's substitute punter,
Jeremy Kapinos
, punted in 20 games for Green Bay in 2008-09 and one for the Jets in 2007, but doesn't look to be a kickoff guy. Odds are
Adam Vinatieri
kicks off to
Steve Slaton
or
Jacoby Jones
. Vinatieri's short kickoffs were a reason McAfee was so attractive to the Colts in the 2009 draft. The Colts are currently 19th in the league defending kick returns.
3. Titans' tight ends:
Bo Scaife
was played against Philadelphia with a groin injury. But in the team's last seven-plus quarters, when
Kerry Collins
has been the quarterback, Tennessee has seen six connections on 13 passes aimed for the tight end for 32 yards, with a long of 12 and a 2-yard Collins-to-Scaife connection in Jacksonville. More balls to receivers is generally a good thing for the Titans, but
Jared Cook
still not earning chances isn't
RISING
[+] Enlarge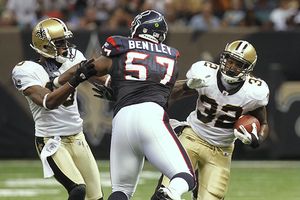 AP Photo/Gerald HerbertKevin Bentley will start at Brian Cushing's strong side linebacker spot.
1. Damian Williams, Titans receiver:
He's jumped
Lavelle Hawkins
, who the Titans spent the offseason hyping, and been a reliable target for Collins the last two weeks. I believe he should remain in the top three even if
Justin Gage
is recovered from a hamstring injury. Williams lost out to
Marc Mariani
in the return jobs competition. But when the Titans drafted him in the third round they said they thought he could develop into an eventual No. 1 and they'd be wise to let him get some chances.
2. Kevin Bentley, Texans linebacker:
Bentley is coming off knee surgery while Xavier Adibi's had a hamstring injury. Perhaps Bentley is just healed up better, but he's gotten the nod over Adibi, at least initially, to take over
Brian Cushing
's strong side linebacker spot. Cushing is moving to middle linebacker for the remainder of the season to replace the injured
DeMeco Ryans
.
3. Jacob Tamme, Colts tight end:
A big opportunity has arrived for Tamme, who's been used infrequently on offense in his three seasons. He's now listed as the starter for the Colts in the spot typically occupied by
Dallas Clark
, who's finished for the season with a wrist injury. Tamme is fast and has good hands, but we don't know how polished he is running routes or finding seams. Odds are we find out Monday night.
October, 20, 2010
10/20/10
1:07
PM ET
»
NFC Stock Watch
:
East
|
West
|
North
|
South
»
AFC
:
East
|
West
|
North
|
South
FALLING
1. Jack Del Rio, Jaguars coach:
His team fell flat on its face on national television, appearing to lack playmakers, creativity and fire. And his timeouts at the end to extend the misery and create a situation where the Titans could add a touchdown didn't make a lot of sense.
2. Pat McAfee, Colts punter:
A public intoxication charge from early Tuesday morning is a blow for a guy who's been an effective punter and kickoff specialist for the Colts since he was drafted in the seventh round in 2008. It's not a large-scale crime, but it draws the wrong kind of attention to a team that prides itself on being squeaky clean. He's a free-spirited, fun guy. I suspect he'll be less so with the public and the press going forward.
3. Veteran Jaguars safeties:
Anthony Smith
and
Gerald Alexander
had five starts between them this season. Now they are both gone. Smith was traded to Green Bay Saturday for a conditional seventh-rounder and Alexander was cut for a second time after the Titans game.
Sean Considine
must be healthy, and we'll see if
Don Carey
and/or
Courtney Greene
prove an upgrade.
RISING
[+] Enlarge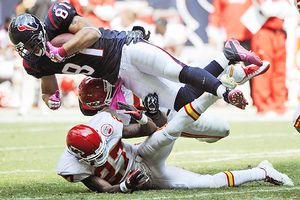 AP Photo/Dave EinselTight end Owen Daniels had some key catches in the Texans' win over the Chiefs last Sunday.
1. Owen Daniels, Texans tight end:
Six games into his return from his third ACL operation, he looks to be running better. He's clearly hungry to prove he's all the way back and worthy of a new contract. He had five catches for 79 yards in the win over the Chiefs, including key 24- and 27-yard catch-and-runs that helped set up one of the fourth-quarter touchdowns.
2. Alterraun Verner, Titans cornerback:
The rookie is playing very solidly as the Titans' second starter. In fact, he's outplaying the team's No. 1 cornerback,
Cortland Finnegan
.
Jason McCourty
edged Verner out for the starting job in the preseason, but once McCourty recovers from a fractured forearm, Jeff Fisher's going to have to find a way to keep Verner in the lineup.
3. Pierre Garcon, Colts receiver:
Drops and some route problems or miscommunications caused some early concerns, as did a hamstring injury that cost him some games. But he was an X factor in Indianapolis' win at Washington, with the 57-yard touchdown early and the one-handed, leaping grab -- a catch-of-the-year candidate for sure. The potential for those sort of big plays is why they like him.
October, 13, 2010
10/13/10
11:39
AM ET
»
NFC Stock Watch
:
East
|
West
|
North
|
South
»
AFC
:
East
|
West
|
North
|
South
FALLING
1. Kareem Jackson, Texans cornerback:
He got muscled by
Hakeem Nicks
on an early touchdown, a tough play for any corner. But Jackson looked to grow increasingly hesitant, getting blocked out of one big-gain screen and failing to stick with Nicks on a big change of direction on a 27-yarder. Ultimately, the Texans looked to minimize his role, though they lack a solid alternative and a hamstring injury to
Sherrick McManis
meant he wound up back with a good share of work.
2. Cortland Finnegan, Titans cornerback:
He has tremendous talent, but isn't playing up to his standards right now and admitted as much on his weekly radio show in Nashville. He gave up too many plays in Dallas and may have let the fines and discussion of whether he's feisty or dirty get in his head some. If he's not playing close to his best, Tennessee's defensive backfield isn't nearly as good as it can be.
3. Texans early special teams:
Two of the team's first three drives started too deep in Houston territory because of penalties against the kickoff return team by
Darryl Sharpton
and
Frank Okam
. And before either of those, when
Darius Reynaud
muffed a
Matt Turk
punt, the Texans could have had possession in the red zone. Instead they watched
Chase Blackburn
recover the ball at the 15-yard line.
Antwaun Molden
and McManis didn't seem to track the play as long as they should have and
Xavier Adibi
lost a race to the loose ball.
RISING
[+] Enlarge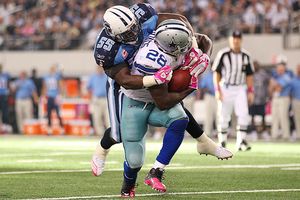 Matthew Emmons/US PresswireStephen Tulloch's career game in Week 5 helped the Titans beat the Cowboys.
1. Stephen Tulloch, Titans middle linebacker:
He was all over the place for the Titans at Cowboys Stadium with a career-high 15 tackles and a game-sealing interception late. He spent the offseason away from the team because he was unhappy about having to play for a restricted tender instead of getting a long-term deal. He's certainly doing fine work building his case for a contract.
2. Antoine Bethea, Colts free safety:
In many ways, he is the glue of the Colts defense. He's playing beside a third-string strong safety and along one corner,
Kelvin Hayden
, who has seemed off his game. I don't know that the Chiefs were ever going to score a touchdown. But Bethea eliminated one opportunity with a big, fumble-causing hit on
Jamaal Charles
with 1:07 left in Colts' territory.
3. Aaron Kampman, Jaguars defensive end:
In the win at Buffalo, Kampman had a tone-setting defensive effort with a team-high 10 tackles, four quarterback pressures, two tackles for losses and 1.5 sacks. The Jaguars are very happy with what they are getting from their big free agent addition, who's leading a young group.
October, 6, 2010
10/06/10
8:54
AM ET
»
NFC Stock Watch
:
East
|
West
|
North
|
South
»
AFC
:
East
|
West
|
North
|
South
FALLING
Chris Johnson and the Titans' run blocking:
All sort of explanations are rolling in, and some in Nashville are even asking for more
Javon Ringer
carries. That's craziness. But Fisher had said the run game isn't operating as it should be and with that being the case the Titans really have issues. The line needs to block better and Johnson needs to be decisive. He
tweeted a pledge
for a big October.



ChrisJohnson28

I wnt 2 let all my fantasy ppl & myfans kno not 2 worry ima have a gr8 oct its tkng a little time 2 adjust 2 the 8 n 9 inthe box #NOPRESSURE
Colts safeties:
Antoine Bethea
is an excellent player. But he's like to be stretched thin with the team's three best options aside from him --
Bob Sanders
,
Melvin Bullitt
and
Jamie Silva
-- all out now. The Colts are hoping for a late-season return from Sanders. In the meantime, their options on the roster are inexperienced
DaJuan Morgan
and rookie
Brandon King
, a converted corner who's had a hamstring issue.
Matt Cassel
may not be able to take advantage of that, but I suspect
Donovan McNabb
and
Matt Schaub
will.
Jamie Winborn, Titans linebacker:
He's been workmanlike and serviceable as a fill-in, but the dynamic
Gerald McRath
returns from his four-game suspension this week. The Titans should plug him directly back into the lineup and hash out what they will do when they decide to use nickel personnel. But Jeff Fisher's already spoken of the expectation of rust on McRath, which might mean Winborn retains a part time role for a bit.
RISING
[+] Enlarge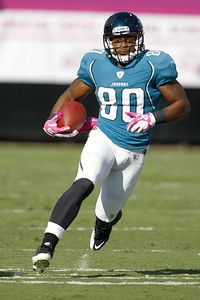 Justin Cooper/Icon SMIJaguars receiver Mike Thomas is averaging 12.2 yards per catch this season.
Mike Thomas, Jaguars receiver:
As I mentioned in Tuesday's High Energy Player of the Week post on
Tiquan Underwood
, I think the Colts' game was indicative of where the Jaguars are heading -- to a shorter passing game that won't ask
David Garrard
to make the sort of throws that failed him in the losses to San Diego and Philadelphia. Thomas had a solid game against Indianapolis and will be a big beneficiary of this alteration.
Troy Nolan, Texans safety:
The second-year safety had two picks in Oakland in his first action on defense, which prompted Gary Kubiak to pledge more playing time for him. I think
Eugene Wilson
qualifies as a weak spot for the defense and even if healthy, the team should stick with Nolan and give him a chance to be part of this young defensive backfield that's trying to grow up quickly together.
Josh Scobee, Jaguars kicker:
He doesn't rank high on the scoring list, but he's extended a great preseason into the regular season and four games in he hasn't even attempted a FG from under 44 yards. He's connected from 45, 44, 48, 51 and 59 for the Jaguars so far this season.
September, 29, 2010
9/29/10
12:19
PM ET
»
NFC Stock Watch
:
East
|
West
|
North
|
South
»
AFC
:
East
|
West
|
North
|
South
FALLING
1. David Garrard:
A bad game and maybe he gets skipped a week. A game as bad as his against Philadelphia and he's really sinking. Granted, his protection wasn't good. But he can probably do more against the pressure that resulted in six sacks. He simply has to throw for more than 105 yards. Will
Trent Edwards
ultimately put pressure on Garrard?
2. Eugene Wilson:
In the loss to the Cowboys, he dropped a pick-6 in a game where the Texans desperately needed a big play from the defense. Wilson also didn't seem to be of great help to the young corners. He might not have had responsibility to help
Kareem Jackson
on the short
Roy E. Williams
catch that went for a 63-yard touchdown. Still, if he's so gimpy he can't pursue better than he did, he should sit and they should have a look at
Troy Nolan
.
3. Titans' interior offensive line:
Against the Giants, center
Eugene Amano
and right guard
Jake Scott
didn't seem to recover well from the line's poor game against Pittsburgh. The Titans don't need
Kevin Mawae
back, but jelling and communicating might still be taking some time for this gang. Scott got called for three penalties worth 20 yards.
RISING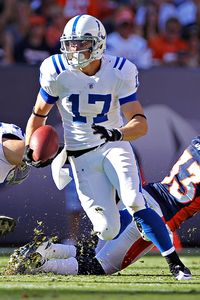 Doug Pensinger/Getty ImagesAustin Collie leads the NFL in receiving yards and receptions.
1. Austin Collie:
The guy had a superstar game in Denver with 12 catches for 171 yards and two touchdowns, showing a psychic connection with
Peyton Manning
. Some evaluators thought coming into the season that Collie had approached his ceiling last season based on his age (25 in November, not 16 as I initially said) and role. But he's proven he can be a top option for Manning and the offense.
2. Will Witherspoon:
Keith Bulluck
played for the Giants against the Titans. But given a choice between Bulluck and the player the Titans signed to replace him, Witherspoon seems the clear choice to me right now. He's a defensive spark for Tennessee at the linebacker level, and he's the guy who tipped Eli Manning's left-handed pass into the end zone to set
Jason McCourty's
interception in motion.
3. Jeff Linkenbach:
An undrafted Colts' rookie offensive tackle, he made his first start in Denver and did about
as well
as could be expected given the circumstances. Does he fill in for
Charlie Johnson
beyond that game? We'll get our first hint on Wednesday when we find out if Johnson (foot) can return to practice. Perhaps Linkenbach did well enough that the Colts try to allow Johnson to recuperate?
September, 22, 2010
9/22/10
11:19
AM ET
»
NFC Stock Watch
:
East
|
West
|
North
|
South
»
AFC
:
East
|
West
|
North
|
South
FALLING
1. Titans offense:
That was a pitiful display against Pittsburgh. And it wasn't just the poor quarterback play. Or the seven turnovers. Jeff Fisher admitted the game plan included too much.
Nate Washington
wasn't sharp on routes. A top offensive line got pushed around. Etc., etc., etc.
2. Vince Young and David Garrard:
A week ago they shared a rising slot. In Week 2, they each got pulled in favor of his backup. Their inconsistent play is a big part of the issues their teams have and the Titans and Jaguars cannot endure those type of drop-offs at quarterback.
3. Jaguars rushmen:
Position coach Joe Cullen calls his guys rushmen, and their opening day effort was good. In San Diego,
Philip Rivers
simply had too much time. He was sacked once by
Daryl Smith
and hit once by
Aaron Kampman
. Beyond that things weren't good enough as he threw for 334 yards and three touchdowns, more than enough to offset two picks. The secondary needed to do better on
Antonio Gates
.
RISING
[+] Enlarge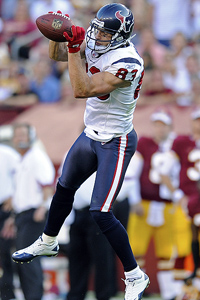 AP Photo/Nick WassKevin Walter has shown he's still a potent part of Houston's offense.
1. Kevin Walter, Houston wide receiver:
Jacoby Jones
is getting his chances and is a big part of the offense, but people who thought he'd displace Walter as the No. 2 can look to Walter's performance in Washington to see why he maintains his standing. For
Matt Schaub
to have a guy he can connect with 11 times on top of a dozen completions to
Andre Johnson
is really something.
2. Colts offensive line:
They may still have banged up guys up front, but they sure did a lot better against the Giants in pass protection and run blocking than they did a week earlier in Houston. Props too, to
Brody Eldridge
, as mentioned
here
.
3. David Jones, Jaguars cornerback:
Acquired in a trade with Cincinnati on Sept. 4 for
Reggie Nelson
, he played 24 snaps on opening day, then replaced
Derek Cox
in the starting lineup in San Diego. Against the Chargers he played 54 of the team's 61 defensive snaps and snatched an interception in the end zone off the hands of
Antonio Gates
. He's still learning, but is a smart guy who looks like he can maintain a prominent role.
September, 15, 2010
9/15/10
10:33
AM ET
»
NFC Stock Watch
:
East
|
West
|
North
|
South
»
AFC
:
East
|
West
|
North
|
South
FALLING
The Colts defensive front:
This was a disorganized and ineffective group, giving up 8.3 yards a carry to Foster after halftime in Houston. The Colts have recovered from or survived bad run defense before. But with the backs they face the rest of the year, they'll have to fare far better.
Jim Caldwell's decisions on when to punt:
Since
Adam Vinatieri
doesn't have a booming leg means long-range field goals aren't going to be an option. But when Caldwell calls for punts from the Houston 38-yard line in the first half and the Houston 34 in the second half and winds up with touchbacks both times, the Colts net 18 and 14 yards in field position.
Justin Tryon
botched chances to down both. But the risk/reward made terrible trade-offs possible and the Colts got them.
Indianapolis receivers:
Pierre Garcon
had two drops.
Anthony Gonzalez
caught a ball while his heel was on the sideline stripe.
Austin Collie
fumbled, though it was the result of a heck of a hit. For the Colts' offense to max out, it needs mistake-free precision. Those three receivers threw off the pass offense's rhythm.
[+] Enlarge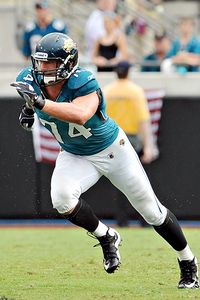 AP Photo/Stephen MortonAaron Kampman had 1.5 sacks in his first game with the Jaguars.
RISING
Arian Foster and Vonta Leach:
Let's not forget the fullback when we point to Foster's phenomenal opening-day performance. A good share of the time, Leach was leading the way and making impressive collisions.
Aaron Kampman and Owen Daniels:
Two guys who suffered torn ACLs in the middle of 2009 played in their season openers. Kampman had nine tackles, 1.5 sacks and six quarterback hits. Daniels had just one nine-yard catch, but was part of an outstanding blocking effort and played more than expected.
David Garrard and Vince Young:
Two quarterbacks under bright spotlights got off to excellent starts, making good decisions, good throws and producing efficiently in opening-day wins. The Jaguars and Titans, respectively, have to be quite pleased heading into Week 2. Tougher defenses await.