AFC South:

Stock Watch AFC
December, 8, 2010
12/08/10
12:52
PM ET
»
NFC Stock Watch
:
East
|
West
|
North
|
South
»
AFC
:
East
|
West
|
North
|
South
FALLING
1. Peyton Manning, Colts quarterback:
Virtually everyone's expecting a bounce-back Thursday night. But his three-game stretch with 11 interceptions, including four returned for touchdowns, has been horrid. Despite what he's saying, he's clearly pressing with no run game and so many inexperienced targets. He and the Colts should be a little more willing to just punt.
2. The Titans' run game:
Tennessee's not pushing anyone around anymore and while
Chris Johnson
hasn't gotten sufficient carries, he looks tentative. Success usually comes before swagger develops -- and the Titans have lost both in a department in which they were dominant a year ago. Interior line play by
Leroy Harris
,
Eugene Amano
and
Jake Scott
has been a particular concern.
3. Houston's chances to improve on last year:
They aren't just falling, they're gone. It'll take a four-game winning streak just to match last season's disappointing 9-7 and that would have to include wins over Baltimore and Jacksonville. Changes are ahead. The next month will probably determine just how big they are.
RISING
[+] Enlarge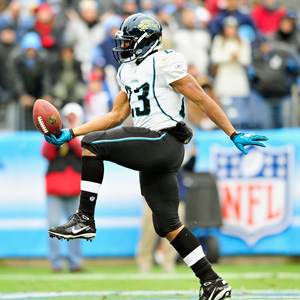 Grant Halverson/Getty ImagesRashad Jennings has emerged as a potent complement to Maurice Jones-Drew for the Jaguars.
1. Rashad Jennings, Jaguars running back:
Maurice Jones-Drew
is on fire, but the supplementary work from Jennings has been quite good as well. He's got 17 carries for 97 yards and two touchdowns in Jacksonville's last two games. He qualifies as a player who's helped turn the Jaguars into a first-place team.
2. Amobi Okoye, Texans defensive tackle:
In his last two games, a guy who's often gone too long without making noise has emerged. Against the Titans and Eagles, Okoye has been more disruptive, barging into the backfield and influencing quarterbacks. He also has 26 tackles this season, the most for a Houston defensive lineman.
3. Greg Jones, Jaguars fullback:
Not to harp on the Jaguars' run game, but as lead blocker for Jones-Drew and Jennings he's been helping set the physical tone that's given Jacksonville the most substantial identity of any team in the AFC South. He also took a short pass against Tennessee 11 yards up the right sideline, bowling over and embarrassing multiple defenders.
December, 1, 2010
12/01/10
12:45
PM ET
»
NFC Stock Watch
:
East
|
West
|
North
|
South
»
AFC
:
East
|
West
|
North
|
South
FALLING
Odds of Titans getting a third-down stop:
The Texans converted half of their 18 third downs, which led to nearly 40 minutes of possession against Tennessee on Sunday. In their last five games, the Titans have allowed conversions 55 percent of the time, an enormous number. Jeff Fisher's teams are usually able to respond to a point of emphasis. The Titans are failing at that here in a big way.
The Jaguars' ability to handle blitzes in big situations:
Playing with two backup tackles in a tough road game against a quality front, the Jaguars fared pretty well. But as I documented
here
, in their last chance to beat the Giants they fell apart and got burned badly by a pass rush that included one or two defensive backs.
The Colts' offensive line shuffling:
There is a long list of elements to what's been wrong with the Colts' offense in recent weeks. But there was no time for anything deep to develop for
Peyton Manning
who appears to be getting rid of the ball in record time and no matter who's taking the carries they can't run effectively.
Kyle DeVan
displaced
Jamey Richard
a while back and
Jeff Linkenbach
's been ahead of
Mike Pollak
at right guard for three weeks. Those changes don't seem to have improved things up front in the run or pass game.
RISING
[+] Enlarge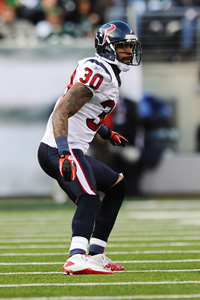 AP Photo/David DrapkinCB Jason Allen lined up across from Randy Moss, and the wideout caught just three passes last Sunday.
Jason Allen, Texans cornerback:
We won't pretend that he was a magic solution for the secondary. But the Titans hardly went after the recent waiver claim, who played ahead of
Kareem Jackson
and lined up across from an underutilized and ineffective
Randy Moss
. That Allen played a lot in a shutout can give the secondary a feeling that things have changed.
The Jaguars' offense on third down:
The Jaguars were 10 for 16 on third down against the Giants, a remarkable feat that could and probably should mean you win a game. They'll look to build on that Sunday in Nashville against a defense that's struggling terribly to get off the field on third down. (See the falling entry on the Titans' above.)
The Titans' intention to get the ball to Moss:
Why bring him in if you have no intention to use him at what he does best? Sure he's going to draw double-teams. But if Minnesota and New England looked away from him based on the coverage, he wouldn't have the best reception-per-touchdown number (6.2) in league history among players with at least 500 catches. If you throw a deep pick on third-and-long, it's the same as a punt.
October, 6, 2010
10/06/10
8:54
AM ET
»
NFC Stock Watch
:
East
|
West
|
North
|
South
»
AFC
:
East
|
West
|
North
|
South
FALLING
Chris Johnson and the Titans' run blocking:
All sort of explanations are rolling in, and some in Nashville are even asking for more
Javon Ringer
carries. That's craziness. But Fisher had said the run game isn't operating as it should be and with that being the case the Titans really have issues. The line needs to block better and Johnson needs to be decisive. He
tweeted a pledge
for a big October.



ChrisJohnson28

I wnt 2 let all my fantasy ppl & myfans kno not 2 worry ima have a gr8 oct its tkng a little time 2 adjust 2 the 8 n 9 inthe box #NOPRESSURE
Colts safeties:
Antoine Bethea
is an excellent player. But he's like to be stretched thin with the team's three best options aside from him --
Bob Sanders
,
Melvin Bullitt
and
Jamie Silva
-- all out now. The Colts are hoping for a late-season return from Sanders. In the meantime, their options on the roster are inexperienced
DaJuan Morgan
and rookie
Brandon King
, a converted corner who's had a hamstring issue.
Matt Cassel
may not be able to take advantage of that, but I suspect
Donovan McNabb
and
Matt Schaub
will.
Jamie Winborn, Titans linebacker:
He's been workmanlike and serviceable as a fill-in, but the dynamic
Gerald McRath
returns from his four-game suspension this week. The Titans should plug him directly back into the lineup and hash out what they will do when they decide to use nickel personnel. But Jeff Fisher's already spoken of the expectation of rust on McRath, which might mean Winborn retains a part time role for a bit.
RISING
[+] Enlarge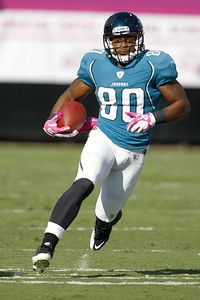 Justin Cooper/Icon SMIJaguars receiver Mike Thomas is averaging 12.2 yards per catch this season.
Mike Thomas, Jaguars receiver:
As I mentioned in Tuesday's High Energy Player of the Week post on
Tiquan Underwood
, I think the Colts' game was indicative of where the Jaguars are heading -- to a shorter passing game that won't ask
David Garrard
to make the sort of throws that failed him in the losses to San Diego and Philadelphia. Thomas had a solid game against Indianapolis and will be a big beneficiary of this alteration.
Troy Nolan, Texans safety:
The second-year safety had two picks in Oakland in his first action on defense, which prompted Gary Kubiak to pledge more playing time for him. I think
Eugene Wilson
qualifies as a weak spot for the defense and even if healthy, the team should stick with Nolan and give him a chance to be part of this young defensive backfield that's trying to grow up quickly together.
Josh Scobee, Jaguars kicker:
He doesn't rank high on the scoring list, but he's extended a great preseason into the regular season and four games in he hasn't even attempted a FG from under 44 yards. He's connected from 45, 44, 48, 51 and 59 for the Jaguars so far this season.
May, 13, 2010
5/13/10
1:01
PM ET
»
NFC Stock Watch
:
East
|
West
|
North
|
South
»
AFC
:
East
|
West
|
North
|
South
Falling
Brian Cushing, LB, Texans:

A four-game suspension made for an awful week for the Houston linebacker.
For the first four games of 2010 -- vs. Indianapolis, at Washington, vs. Dallas and at Oakland -- he won't be with the team. His absence will put a big damper on the hopes for a hot start against the team that owns the AFC South and the team that has such a large following in Texas and well beyond.
Here are the likely candidates to fill in for Cushing while he is out:
Xavier Adibi
,
Kevin Bentley
and newly signed
Danny Clark
.
In a season when the Texans face what rates as the toughest schedule in the league based on last year's records, they've got a giant challenge. And how will Cushing be when he gets back for a game against the Giants Oct. 10?
Rising
Titans helping Nashville recover:

In the wake of the serious flooding in Nashville, the Titans proved themselves central characters in the drama. Waters in LP Field helped draw some national attention to an under-covered natural disaster.
At a Saturday blood drive hosted by Elise Reinfeldt, daughter of the Titans' GM, Secretary of the Department of Homeland Security Janet Napolitano stopped by with Tennessee governor Phil Bredesen and Nashville mayor Karl Dean.
Players, coaches and employees have been among the countless volunteers helping out those in need. And Wednesday, the team had an organized get-together working on
four houses
on a West Nashville street.
May, 6, 2010
5/06/10
1:00
PM ET
»
NFC Stock Watch
:
East
|
West
|
North
|
South
»
AFC
:
East
|
West
|
North
|
South
Falling

Alvin Pearman, RB, Titans and Mark Jones, WR, Titans
: Pearman didn't have much standing heading into the offseason. The backup running back, who ended the season as the Titans' kick and punt returner, lost major standing with the draft and undrafted rookie signings.
Third-round pick
Damian Williams
is expected to be the leader in the return games, which need a reliable player with some big-play potential after a miserable year where successful fair catches were often an accomplishment.
And while
LenDale White
was dealt away, Pearman ranks fifth at the position behind
Chris Johnson
,
Javon Ringer
,
LeGarrette Blount
and
Stafon Johnson
.
Jones ranks even further down the receivers list. He can make the team only if he absolutely lights it up as a returner while others underachieve. It's a scenario I don't see panning out.
Rising

Antoine Bethea, S, Colts
: It's not a big deal yet or a big surprise. But Bill Polian told the Indianapolis Star's Mike Chappell that the Colts
have talked
to Bethea, a restricted free agent, about a long-term deal.
The steady, poised Bethea probably doesn't get enough credit for being the settling force in the secondary, but he's a key cog in the Colts' defense. That they're acknowledging interest in locking him up long term seems like a good sign to me, as I think he's a guy they've got to hold onto.
He had a team-high four picks and beat out middle linebacker
Gary Brackett
for the team's tackle lead with 120.
April, 29, 2010
4/29/10
1:01
PM ET
»
NFC Stock Watch
:
East
|
West
|
North
|
South
»
AFC
:
East
|
West
|
North
|
South
Falling

Gijon Robinson, Colts tight end
: Short yardage rushing has been an issue for the Colts, and while they didn't spend a lot on the offensive line -- just fourth-rounder on Tennessee guard
Jacques McClendon
-- they did look to upgrade their blocking tight end.
Fifth-rounder
Brody Eldridge
out of Oklahoma is a stronger point-of-attack blocker than Robinson and could make a big difference for
Joseph Addai
or
Donald Brown
on plays aimed to get around the corner. Robinson's blown block that resulted in a
Peyton Manning
sack late in a 2008 season playoff loss at San Diego still stings.
Eldridge could prove a big help to incumbent tackles
Charlie Johnson
and
Ryan Diem
or whoever replaces them, and his ability to help against pass rushers won't make things any harder on Manning either.
Rising

Eugene Wilson, Texans free safety
: The Texans feel better about Wilson, who was on IR with a foot injury for the last six games last year, than I do. Paired with the physical
Bernard Pollard
, Wilson needs to prove he can be a consistent and rangy free safety, and show better ball skills as he looks to set a tone for a group of young corners.
With nine draft picks, the Texans steered clear of selecting a safety, hitting cornerback in the first and fifth rounds. The Texans apparently are content with what they've got to cover the deep middle of the field against the likes of Peyton Manning (twice),
Donovan McNabb
,
Tony Romo
,
Eli Manning
and
Philip Rivers
.
The alternative at this point is
Dominique Barber
and perhaps
Troy Nolan
, who missed his rookie year with hand injury.
April, 15, 2010
4/15/10
1:00
PM ET
»
NFC Stock Watch
:
East
|
West
|
North
|
South
»
AFC
:
East
|
West
|
North
|
South
Falling

Jaguars' ticket situation
: Yes, they should have a boost after the draft, out of OTAs and minicamp and again as the season approaches. The community pushes being made are a strong effort, but being honest the response so far rates as steady but underwhelming. The Jaguars still
need to sell
roughly 12,000 tickets a game to get to the point where they won't have home games blacked out. It seems like an awfully tall order.
Rising

The value of the Jaguars' pick at No. 10
: My sense is the league sees the Jaguars as a prime trading partner. Perhaps you'll want to move up for a big-name skill player like
C.J. Spiller
or
Jimmy Clausen
, or rangy safety
Earl Thomas
. Maybe you'll want to get in position for a top offensive tackle. Jacksonville's phone number is the one you may be calling. Gene Smith would like to move back and gain additional picks as the team is minus its second-rounder. Jacksonville is confident it can still get an impact guy later in the first round.
April, 8, 2010
4/08/10
1:00
PM ET
By
Scouts Inc.'s Matt Williamson
| ESPN.com
»
NFC Stock Watch
:
East
|
West
|
North
|
South
»
AFC
:
East
|
West
|
North
|
South
Falling

Kris Brown, PK, Houston Texans
: The Texans signed
Neil Rackers
to a two-year contract worth $4.1 million on Monday. That doesn't bode well for Brown's future in Houston. Despite injuries, Rackers missed only one field goal last season. Brown was inconsistent at all levels last year and missed too many clutch kicks.
Brown has 12 years experience in the league and could be declining at this stage of his career, but it isn't a sure thing that he will be on the outs either, as a competition in training camp could occur between these two veterans.
Rising

Reggie Hayward, DE, Jacksonville Jaguars
: This isn't a real glamorous nomination for this week's honor, but the Jaguars did decide to bring Hayward back even though he is now 30 years old and is coming off a broken leg that resulted in him missing almost the entire 2009 season.
Newly signed
Aaron Kampman
should start on the right side and
Derrick Harvey
on the left, but Hayward is well liked by teammates and did notch 27.5 sacks over a three-year stretch from 2003 to 2005. Still, he is more of a base end at this point. He has the size to play the run and should provide good depth while also contributing in Jacksonville's defensive end rotation. Although this is good news for Hayward, it certainly doesn't preclude the Jaguars from further addressing the position in the draft.
April, 1, 2010
4/01/10
1:00
PM ET
»
NFC Stock Watch
:
East
|
West
|
North
|
South
»
AFC
:
East
|
West
|
North
|
South
Falling

Nick Harper, former Titans cornerback:
His name's not surfaced in any sort of free-agent talks around the league. No one thought he'd resurface with the Titans, and that's been guaranteed with the addition of free agents
Rod Hood
and
Tye Hill
. Harper, underrated in his first two seasons with the Titans, slipped in his third and will be 36 in September. Will he find a team that wants experienced depth?
Rising

Jacques Reeves, Texans cornerback:
Consistency has been the question. But with the offseason conditioning program under way, he's got a chance with
Dunta Robinson
gone to make a play for a big role. Odds are a rookie corner from high in the draft will be part of things at the end of the month. But good work from Reeves now and through the summer can potentially keep him at the head of the line opposite second-year man
Glover Quin
.
March, 25, 2010
3/25/10
1:03
PM ET
»
NFC Stock Watch
:
East
|
West
|
North
|
South
»
AFC
:
East
|
West
|
North
|
South
Falling

Texans' chances at exposure
: Houston's hopes at being the featured team in HBO's "Hard Knocks" didn't pan out as the league and network chose the follow the Jets. And although a highly anticipated Thanksgiving night game is still a possibility for the Texans, the matchup wasn't revealed at the owners meeting as many expected it would be. The wait continues.
Rising

Jeff Fisher, Titans coach
: The co-chairman of the influential competition committee backed the overtime change for the postseason and was part of a successful campaign that won over enough owners to easily pass the reform. The detail-oriented Fisher is built for such scenarios, reasoning out why a proposal is good for the league and playing a part in swaying important people who may be teetering.
March, 18, 2010
3/18/10
1:01
PM ET
»
NFC Stock Watch
:
East
|
West
|
North
|
South
»
AFC
:
East
|
West
|
North
|
South
Falling

Small offensive linemen in Indianapolis:
The Colts have added guard
Andy Alleman
and tackle
Adam Terry
, two players who weren't tendered as restricted free agents by their teams. The bulking up on the line is probably not complete, and that means shuffling and potential benching of guys who don't run-block as well as the Colts would like. Things look particularly grim for
Mike Pollak
and
Tony Ugoh
, second-round picks who weren't starting and now see newcomers with more size arriving.
Rising

Jason Babin, DE, Titans/Eagles:
No, he's never been consistently productive. But here he is with a one-year, $1 million offer sheet from the Titans, awaiting word on whether Philadelphia will match. If it doesn't, he gets to work with one of the league's better defensive line coaches, and Jim Washburn helped turn
Kyle Vanden Bosch
,
Tony Brown
and
Dave Ball
from reclamation projects into productive players. This is likely the last chance for the journeyman, and it's got to feel good to be wanted.
March, 11, 2010
3/11/10
1:01
PM ET
»
NFC Stock Watch
:
East
|
West
|
North
|
South
»
AFC
:
East
|
West
|
North
|
South
Falling

Chris White, RG, Texans:
White played eight games as the starting right tackle for Houston last season as the Texans tried to recover from the early loss of their two starting guards. The Texans gave up 25 sacks of
Matt Schaub
and had major trouble running the ball, and upgrading the interior line has been a priority. Thus the arrival of free-agent guard
Wade Smith
, who's getting $3 million a year for four years in a new free-agent deal. One would expect that cash is intended to go into the pocket of a starter. However it sorts out, White will be moving down the depth chart.
Rising

Aaron Kampman, DE, Jaguars:
After a tough year with Green Bay's switch to a 3-4 and a blown-out knee, Kampman still qualified as an attractive pass-rusher. In Jacksonville, he landed with a team desperate for both sacks and defensive leadership. He's got a prime chance to re-establish himself and make a real impact for a team that had major pass-rush deficiencies last year, and he was alluring enough that a fiscally conservative team dished out $11 million guaranteed to secure his services. He's a guy who can have a ripple effect on effort and work ethic.