April, 10, 2013
4/10/13
9:51
AM ET
Reading the coverage ...
Houston Texans

The Texans offered Mohamed Massaquoi
a contract
before he decided on Jacksonville, says Tania Ganguli of the Houston Chronicle.
Matt Schaub on what went wrong down the stretch for the Texans: "We lost our consistency level that we had maintained for the better part of the season, just our ability on first down to be successful and put ourselves in manageable situations, make our third downs manageable. We had some penalties; we had some turnovers that hurt us. When you have those things and you're in a lot of long-yardage third-down situations, that's hard to convert." From
Texans Radio
.
Indianapolis Colts

Player-by-player
cash and salary-cap numbers for the Colts from Mike Chappell of the Indianapolis Star.
The
seventh-worst
Colts draft pick was corner Don Anderson and the
eighth-best
was left tackle Tarik Glenn, says Phillip B. Wilson.
Based on draft history, what the Colts
can expect
at each of their slots, from Nate Dunlevy of Colts Authority.
Jacksonville Jaguars

"There are
two we really like
," GM David Caldwell told NFL 32 (via Rotoworld) of prospects for the No. 2 overall pick. "And then there are three to four we're still looking through."
"If you don't absolutely love (Geno Smith) -- meaning, you'll be devastated, disappointed and disconsolate if he's not waiting for you at the beginning of Round 2 -- then you
don't take him
at No. 2. You don't take any player that high if you don't want him that much," writes John Oehser of Jaguars.com.
A
seven-round
Jaguars mock draft from Matthew Fairburn of Big Cat Country.
Tennessee Titans

Fans can vote at
the team's Facebook page
on the patch the Titans will wear to commemorate their 15th anniversary.
Considering how
defensive rosters
under Gregg Williams have been constructed in the past, with Tom Gower of Total Titans.
October, 27, 2011
10/27/11
12:05
PM ET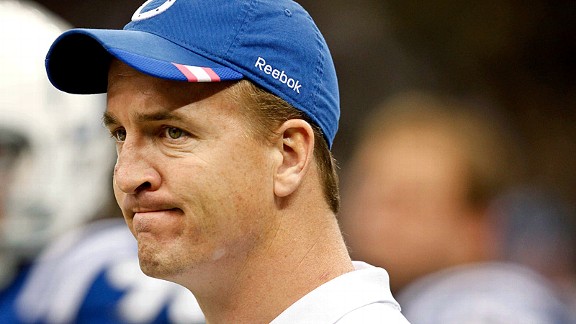 Derick E. Hingle/US PresswireThe Colts were clearly ill-prepared for life without star quarterback Peyton Manning.
It's ugly in Indianapolis.
At 0-7, the Colts are talking about sticking together, improving and giving themselves a chance to win.
But as they prepare for a trip to Nashville for a Sunday meeting with the Titans at LP Field, they are a severely broken team. Where they
would be
with
Peyton Manning
is an interesting hypothetical question, but we're dealing with realities. And those realities are the sort that will test the franchise's stitching -- seamwork that might not hold together when this is all over.
Who's at fault? Everyone's got a hand in it, but let's look at the Colts from a couple of angles.
A big cover-up:
It's not a secret that Manning has helped cover up a lot of flaws and allowed the franchise to under-address certain areas.
The Colts during the Manning era have never been much concerned with size, always valuing speed and instincts more. They've never worried about stocking special teams with any veteran backups, in part because they spend their money on stars or adding a high-quality return man. They've settled for being below average running the ball. And they've won despite a general inability to stop the run.
Without their four-time MVP running the offense, all those things are magnified in ways they've never been before.
It shouldn't be a surprise. They're built to have Manning at the controls, and he's been there all the time from the very beginning in 1998 until opening day this season.
There are maybe two teams and markets in the league that would not trade for what the Colts have done since 1999. Twelve consecutive playoff seasons followed by one complete dud? Where do I sign up for that?
[+] Enlarge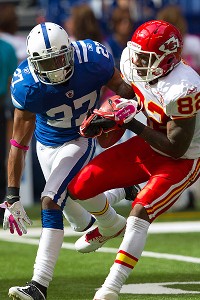 Michael Hickey/US PresswirePersonnel decisions by the Colts put cornerback Jacob Lacey, 27, in a prominent role in a secondary that has struggled this season.
Construct questions:
That said, regardless of a serious neck surgery to the star quarterback, what exactly was the plan in the secondary? Is an evaluation that leaves
Jacob Lacey
,
Terrence Johnson
,
Kevin Thomas
and
Chris Rucker
as cornerbacks Nos. 2 through 5 good enough? Absolutely not.
The Colts get credit for adding a couple of outside veterans this season -- linebacker
Ernie Sims
, and defensive ends
Jamaal Anderson
and
Tyler Brayton
. But the drafting has dropped off.
Set aside the most recent class, as it's too early to judge.
The Colts drafted 41 players from 2005 through 2010. I count one star, safety
Antoine Bethea
, and two guys who can become stars, linebacker
Pat Angerer
and receiver
Austin Collie
(if he's working with Manning). Running back
Joseph Addai
is a good fit who does more than people think. And receiver
Pierre Garcon
and cornerback
Jerraud Powers
have been pretty solid starters.
Sure, the Colts drafted higher in the five years before. Still, those classes produced five guys who rank among the best players of their generation at their positions: tight end
Dallas Clark
, defensive ends
Dwight Freeney
and
Robert Mathis
, safety
Bob Sanders
, and receiver
Reggie Wayne
. The next tier provided steady starters on the offensive line (
Jake Scott
,
Ryan Diem
) and at linebacker (
David Thornton
).
That list is more than a third of a starting team, a big-time core. As those guys age or disappear, I'm not seeing a core in waiting.
Colts president-turned-vice chairman Bill Polian said recently on his radio show that they needed to have done better recently, particularly at defensive tackle and cornerback.
And there is a domino effect to the problem. Find Tarik Glenn's ultimate replacement at left tackle in 2007, and you don't need to use your top pick in 2011 on
Anthony Castonzo
. Hit on
Donald Brown
in the first round in 2009, and
Delone Carter
might not be necessary in the fourth round in 2011.
The Polians:
Bill Polian has been pulling back and yielding responsibility to his son, GM Chris Polian. (Chris politely declined to be interviewed for this story.)
We don't yet have much tape on Chris Polian, so to speak. Bill Polian is a good talent evaluator who has had success in three NFL stops and has done well to build a team with which Manning has won. But Bill Polian also has overseen those recent draft drop-offs.
His strong-willed personality is part of what has made him good at his job, and his big-picture assessment of important league issues is as intelligent as anyone's. He's got clout and influence that extend beyond Indianapolis.
Stylistically, he's a stubborn and demanding boss. There are indications from within that, without the steady stream of personnel hits he provided earlier in his tenure, some inside the building are tiring of the way things are run.
Bill Polian recently talked about how
Curtis Painter
's play vindicates the team for having faith in him, but failed to mention that faith was so strong that the team signed
Kerry Collins
to a $4 million contract shortly before the season started and handed him the starting job.
I suspect Bill Polian has the backing of owner Jim Irsay for as long as he wants it. That would ensure safety for Chris Polian, too.
Bill Polian made the Manning-over-Ryan Leaf call in 1998. Because of the way Leaf busted, people forget that was a coin flip at the time, that Leaf was regarded as a big-time prospect just as much as Manning was. Polian called it correctly, built a team that's been to two Super Bowls and won one, got a new stadium built, and greatly enhanced the value of Irsay's franchise.
Cryptic messages:
Further complicating things is Irsay, who clearly gets a kick out of being the center of NFL attention in the Twitter-verse but has undermined some of his people with it.
He announced
the team added Collins while coach Jim Caldwell was conducting his daily news conference. It did Caldwell no favors, as he appeared completely out of the loop.
Most recently, following the 62-7 loss in New Orleans on Sunday night, Irsay provided this gem:
"Titanic collapse, apologies 2 all ColtsNation...problems identifiable;solutions in progress but complex in nature/ better days will rise again"
A day later, he added:
"Just because you perceive problems on the horizon,and you possess solutions..doesn't mean they are avoidable and implementation is instant"
Solutions in progress, but complex in nature. That sounds to me like what would be written in big silver letters on the lobby wall of a consulting company on a TV show. Or a clever, but far-too-long name for a band.
It also sounds like change is going to come.

Caldwell
Coaching questions:
While Bill Polian recently said that adding Jim Tressel to the staff as a replay consultant was
Caldwell's idea
, it's a weird-looking move that's made some of us wonder whether a bigger role awaits the former Ohio State coach.
Caldwell does a nice job managing personalities, looking at things philosophically and staying on message. I believe he's a good teacher, and his patient, quiet style is generally healthy for a team with a good share of veteran stars.
But he has blind spots, too, and is hardly a strategy master. There are bound to be significant changes at the conclusion of what's sure to be a dreadful season, and he'll be at the front of the line.
If he does the best job we can remember at holding a terrible, ineffective team together, is that enough? I'd guess not.
Injuries:
This team gets hurt too much. There is a huge element of bad luck to it, of course. But is there something bigger at work as well?
Last season as quality players went down, Manning helped some role players such as tight end
Jacob Tamme
and receiver
Blair White
emerge. This season, guys such as linebacker
Gary Brackett
and safety
Melvin Bullitt
were lost for the season early, and there's been a revolving door on the offensive line because of injuries.
The Colts are constantly testing their depth and shuffling the back end of their roster. There is only so much shuffling a depth chart can handle.
I believe they need to attempt some change that might have a positive effect on their overall health -- whether it be adopting new training philosophies, altering how they evaluate prospects or changing personnel philosophies.
It's easy to ask them to figure out why they tend to suffer so many injuries, and it's hard to find an answer. But some sort of shift is due, even as we know it comes with no guarantee of better health.
When the current approach is failing, it's OK to try something else. It's not admitting some sort of failure; it's merely part of a necessary process of evaluating and revising operations.
Suck for Luck:
Given a chance to draft Stanford quarterback Andrew Luck, I think the Colts would. Bill Polian can give Chris Polian the guy expected to be the NFL's next great quarterback, and Chris Polian's legacy would be built on a fantastic cornerstone.
But there is no losing on purpose to get in position for Luck. You think Wayne or Mathis is interested in such a master plan?
Said veteran center and team tone-setter
Jeff Saturday
: "I'll steal a Robert Mathis quote: 'I ain't sucking for anybody.'"
April, 13, 2011
4/13/11
2:40
PM ET
The National Football Post's Joe Fortenbaugh has a nice piece reviewing AFC South
draft trends
.
Here's a nugget on each team with a thought from me:
Fortenbaugh:
"Since 2001, the Colts have drafted only three offensive tackles. To put that in perspective, take note that over the last 10 years the team has spent the same amount of selections on kickers and punters (3)."
[+] Enlarge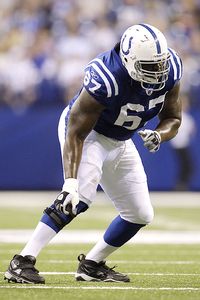 AP Photo/Darron CummingsThe Colts spent a 2007 second-round pick on Tony Ugoh but cut him last season.
Kuharsky:
It's significant and it's time to make a substantial investment. But when a team has a left tackle who plays for nine years and goes to three Pro Bowls (
Tarik Glenn
) and gets steady play from its right tackle for eight years (though
Ryan Diem
slipped last season) there isn't cause for huge expenditures at the spot. They failed in a second-round attempt (
Tony Ugoh
in 2007) to replace Glenn.
Fortenbaugh:
"Since 2001, the Jaguars have drafted nine defensive ends, but only two (
Derrick Harvey
,
Quentin Groves
) have been selected within the top 100 picks."
Kuharsky:
Jaguars GM Gene Smith worked to offset that by bringing in free agent
Aaron Kampman
last offseason. And now it appears quite possible Smith will spend the 16th overall pick on a defensive end to complete the makeover of the line that included their top four picks from 2010.
Fortenbaugh:
"Since Gary Kubiak took over as head coach in 2006, the Texans have drafted exactly 19 offensive players and 19 defensive players."
Kuharsky:
It's nice to populate the roster in a balanced fashion. But if Houston does as it should and looks to fill a load of defensive holes in this draft, these numbers will tip to the defensive side.
Fortenbaugh:
"Since 2005, the Titans have selected an average of 2.0 wide receivers per draft. Tennessee has landed at least one wideout in each of the past six drafts and has selected as many as three wide receivers two times in the last six years."
Kuharsky:
The all-star receiver roster of those past six drafts:
Courtney Roby
,
Brandon Jones
,
Roydell Williams
,
Jonathan Orr
,
Paul Williams
,
Chris Davis
, Joel Filani,
Lavelle Hawkins
,
Kenny Britt
,
Dominique Edison
, Damien Williams and
Marc Mariani
. The lone Pro Bowl appearance was Mariani last year -- as a return man.
April, 12, 2011
4/12/11
2:39
PM ET
Virtually every prognosticator is giving the
Indianapolis Colts
a first-round offensive tackle, and Boston College's
Anthony Castonzo
, Colorado's
Nate Solder
and Mississippi State's
Derek Sherrod
could all be nice fits.
Much has been made of vice chairman Bill Polian's comment during the 2010 season about how
Rodger Saffold
, a tackle the Colts passed on who went on to play quite well for St. Louis, could have helped for Indianapolis.
But Polian said that comment got misshapen as it was repeated.
[+] Enlarge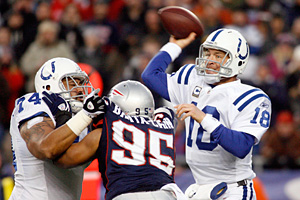 Stew Milne/US PresswireColts tackle Charlie Johnson played hurt for most of the 2010 season.
"What I said was, if I'd know we were going to suffer all the injuries we had on the offensive line, we might have looked at things differently in terms of the draft," he said. "Because when you are drafting as low as we were, there isn't a lot of difference between the players. I said, 'You know, you could make the argument that we should have taken Rodger Saffold instead of the player that we took.'
"That's what I said. It's been construed very differently. What I meant was, if foresight were 20-20, we probably would have taken an offensive tackle. But it isn't and that's the point. This is an inexact business."
(I thought the use of "the player" as opposed to "Jerry Hughes" was both Parcellian and a little odd.)
The Colts certainly had banged up people playing on the line all year, but by my count there look to have been just five starts missed to injury through the regular season and playoff loss. The injuries were far more severe elsewhere in terms of lost games.
Indianapolis has spent 12 picks on offensive linemen since realignment in 2002. Only one, guard
Jake Scott
from 2004's fifth-round, qualified as an outright hit. He moved to Tennessee as a free agent in 2008 and helped pave the road for
Chris Johnson
's 2,000-yard season in 2009 before dropping off last season.
The franchise hasn't used a first-round pick on a lineman since 1997, when
Tarik Glenn
was the choice. That was the year before Polian joined the franchise.
Only two of the Colts' dozen offensive line picks since 2002 have been higher than fourth-round selections. They traded up to take
Tony Ugoh
in the second round in 2007 and he wound up busting. They took
Mike Pollak
in 2008 and he was an OK starter at right guard in 2010 based on the team's concerns at other spots.
The presumption is offensive line is viewed as an issue in-house and that to maximize the chances for the
Peyton Manning
-led Colts to claim another Super Bowl, they need to offer him better protection and be able to block better for a tough yard from a running back.
But going in that direction would mean at least a minor philosophy change for Polian when it comes to draft emphasis at the position.
I don't know if we should jump there considering Polian's assessment of the Colts' line play in 2010. The team started seven different offensive linemen with left tackle
Charlie Johnson
playing banged up all season and
Kyle DeVan
pushing
Jamey Richard
out of the left guard slot.
"Now I thought our offensive line, given all that happened with injuries, did very well," Polian said. "As it turns out, Jeff Linkenbach came in as a collegiate free agent and ended the season as a starter and did quite well. So those things work themselves out."
Linkenbach started one game at left tackle, three games at right guard and the playoff loss to the Jets at right tackle.
Here we can connect Mel Kiper's recent piece ranking the "vulnerability scale" of the NFL's 12 best teams. Kiper ranks the Colts at moderately to extremely vulnerable for a big fall.
"Seemingly every win after September was a close battle and Manning was the difference. Injuries killed the Colts in 2010, but even with Manning upright, they couldn't run the ball, they were barely hanging on defensively and even now there are a number of personnel needs. The offensive line and defensive interior need help, and the team didn't get hurt in a spot I thought could have hurt it most in an injury situation -- the pass rush, if either Dwight Freeney or Robert Mathis was out. Indianapolis could easily prove me wrong, as Manning alone seems like spackle enough for a whole roster. But this team felt like it was on the edge all of 2010."
March, 8, 2011
3/08/11
4:48
PM ET
In honor of the news that running back
Tiki Barber
, who last played in 2006 for the
New York Giants
, is coming out of retirement, I searched for guys from the recent past of the AFC South we'd most like to see return to action.
[+] Enlarge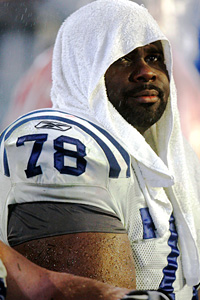 AP Photo/Amy SancettaWould you like to see former Indianapolis Colts offensive tackle Tarik Glenn back in the NFL this season?
But the fact of the matter is few players leave the league without being asked to do so. There isn't a lengthy list of return candidates to comb through.
If you could freeze a guy from the recent past when he stopped playing and have him back today, who would you want?
Indianapolis Colts
left tackle
Tarik Glenn
is the one clear choice to me in such a hypothetical scenario.
Like Barber, Glenn retired after the 2006 season. The Colts anticipated one more year out of their left tackle and his departure forced
Tony Ugoh
into action ahead of schedule. Ugoh eventually busted, and
Charlie Johnson
, not a natural at the spot, has done the best he can holding the spot down the last few years.
Glenn was the team's No. 1 pick, 19th overall, in 1997 out of Cal. He had a reasonably long career but Indianapolis would certainly have taken more, especially considering the failures at replacing him. He was 31 and coming off a Super Bowl win when he called it quits. Five seasons later, if he was fit and rested, he could probably still help.
Anyone else you'd like to have back?
September, 13, 2010
9/13/10
11:28
AM ET
The mailbag is filling up with notes from panicked Colts fans.
The gist of their questions: Isn't it time for the Colts to make a move to get one of the disgruntled offensive linemen out there:
Marcus McNeill
or
Logan Mankins
?
Sure, if the Colts found them a system fit, adding either would give a big boost to the offensive line.
But it's uncharacteristic for the Colts to go outside looking for help. Those guys would be costly, and making a move would amount to a concession that Indy underestimated its offensive line issues.
[+] Enlarge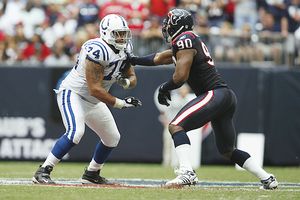 Aaron M. Sprecher/Icon SMIColts tackle Charlie Johnson, shown here last season working against Mario Williams, might be better off moving inside and playing guard.
That's the confusing part of this.
Bill Polian was quick to say the offensive line was a primary issue in the Super Bowl loss to New Orleans.
But the Colts did little to fix it. Left guard
Ryan Lilja
was released. Two street free agents,
Adam Terry
and
Andy Alleman
, didn't stick. Only one of eight draft picks was spent on an offensive lineman, and
Jacques McClendon
was not active in Houston.
The Colts couldn't do major free-agent shopping because the CBA limited the top teams' ability to do so.
Still, with the head honcho saying it was a concern, it sure seems like the Colts could have done more on the line to ensure better protection and better run blocking.
On a bad foot,
Charlie Johnson
put forth a courageous effort against
Mario Williams
. But Johnson's not cast as a left tackle by a lot of personnel folks. If Indy had a franchise left tackle, Johnson would likely be better as a guard. Polian missed on
Tony Ugoh
in 2007. The guy they hoped to be the heir to
Tarik Glenn
was waived/injured and is now on IR.
Putting
Peyton Manning
at risk is a dangerous game. He was face down on the turf, an official checking on him after one hit. He bounced up. But will he always? He absorbed two sacks, eight additional hits and stuff that didn't register in the stat book.
The guys the Colts do have will play better. Manning can continue to get the ball out quickly and make pressure less of an issue.
Joseph Addai
can make the most of what's there. Not every team has a Williams-like threat to mess things up.
In Sunday's loss, the Colts didn't choose to go with two tight ends very often, leaving Johnson mostly on his own. Put tight end
Brody Eldridge
in to help the way I imagined and you're taking one target out of the arsenal. Maybe the Colts do that more if they find it necessary. The choice at Reliant Stadium was to throw it more quickly with more options running routes.
I don't expect Polian to be making calls about McNeill or Mankins Monday.
Polian talked before camp about throwing all the linemen in a pot and seeing who came out as the best group. Injuries to
Jeff Saturday
, Johnson and others made that system more difficult and there was no time to build continuity with the five who started against the Texans.
Still, today, I can understand why Colts' faithful are wondering today why there wasn't more in that pot.
August, 11, 2009
8/11/09
7:19
PM ET
Posted by ESPN.com's Paul Kuharsky
TERRE HAUTE, Ind. -- Some quick thoughts after an afternoon with the Colts...
Tone-setter: Players and coaches have to like the even-keeled message from owner Jim Irsay, who spoke to reporters during practice. Here's a link to the news story I wrote off of what he said.
Expectations remain high for a guy who'd like his franchise to stretch out its extended period of success and to earn mention with a team like the 49ers. To get in the same sentence, he knows the Peyton Manning-era Colts will have to win more than one Super Bowl.
Bizarre weather day: It poured as the 3:30 p.m. practice was getting underway, and pea-sized hail later accompanied thunder. By the time things ended, the sun was shining and it was pretty warm.
"We got lightning, rain, hail, thunder and sunshine," center Jeff Saturday said. "God played jokes on us today."
Throws and catches: Peyton Manning threw a couple picks, but some of his throws in red zone periods were, as you might expect, ridiculously precise. Reggie Wayne caught one of them working against Dante Hughes in David Tyree fashion, securing the ball left handed against the side of his helmet before he stepped out the side of the end zone.
I'll get deeper on Pierre Garcon while I am here, but for starters let's say he looks to be gliding and is running and carrying himself with discernable confidence.
The other side of Ugoh: With Charlie Johnson installed at left tackle and Tony Ugoh's demotion to backup swing tackle, I wanted to revisit what the Colts gave up to go get Ugoh in the 2007 draft. Indy traded its 2008 No. 1 pick and a 2007 fourth rounder to San Francisco for the 42nd pick, with which it selected Ugoh.
Tarik Glenn later surprised the team by retiring, pushing Ugoh up the depth chart and into the starting lineup a year earlier than they would have liked.
San Francisco took safety Dashon Goldson out of Washington with the 126th pick in 2007 and North Carolina defensive tackle Kentwan Balmer with the 29th overall pick in 2008. Goldson
has played in 19 games with two starts and has 36 tackles, according to NFL.com. Balmer played in 16 games as a rookie, starting none and recording just seven tackles. San Francisco doesn't have a 2009 depth chart up on its web site yet.
July, 16, 2009
7/16/09
12:33
PM ET
| | |
| --- | --- |
| | |
| | John Rivera/Icon SMI |
| | The jury is still out on Colts left tackle Tony Ugoh. |
Posted by ESPN.com's Paul Kuharsky
When I spent time with the Indianapolis Colts during their minicamp, one name was at the top of my list to investigate: Tony Ugoh.
I'd heard middling-to-bad reviews for the left tackle as I worked my way around the division in 2008. I came to view him as a question mark.
Drafting UConn running back Donald Brown will affect the Colts' ground game, as will an overall healthier offensive line. Battling a right knee issue last season, Ugoh was part of the injury brigade. But he was also on the bench for a while even when the team deemed him well enough to play. Better, more consistent play from Ugoh might prove to be a key to Indianapolis' season.
As I asked the Colts about him, much of what they said struck me as if we were chatting inside a courtroom, not a locker room.
And so, I present to you, the case against Ugoh, and the case for him.
June, 29, 2009
6/29/09
12:57
PM ET
Posted by ESPN.com's Paul Kuharsky
Nothing beats a list, especially an NFL list in June or July.
Aaron Schatz of Football Outsiders hooked recently with the 25 most overrated and the 25 most underrated players of the decade.
He gives a taste of the list here.
I'm allowed to look specifically at AFC South issues from the two ESPN.com posts, which are available to Insiders only. Unsurprisingly, the division had a bigger contingent of underrated than overrated.
5. Adam Vinatieri: Yes, he hit two Super Bowl-winning field goals, but the main reason Vinatieri has the most clutch field goals of any kicker in recent history is that nobody else comes close in clutch field goal attempts. Since 1995, he's had 30 chances to tie or win a game in the final two minutes or overtime. Jason Elam is the only other kicker with more than 22 chances, and by the way, Elam hit a higher percentage (89 percent vs. Vinatieri's 80 percent) from a longer average distance (38.7 yards vs. Vinatieri's 34.3). Vinatieri is perfect on clutch kicks in the playoffs, but so is the only other kicker with at least three playoff attempts (David Akers). Research has shown that the field goal percentages of kickers are virtually random from year to year, and Vinatieri is no different, going from 74 percent to 94 percent to 80 percent to 89 percent to 79 percent in five seasons (2003-2007). Kickoff ability is markedly consistent, though, and Vinatieri has never been impressive there.
8. Keith Bulluck: Bulluck is one stable anchor in a Tennessee defense that has had up and down performances because of salary cap constraints. Year after year, Bulluck has led his team among outside linebackers in highest percentage of defensive plays, with numbers similar to inside linebackers on other teams. He might be underrated because he rarely rushes the passer. Aaron Curry, this is your future.

14. Torry Holt: Everybody knows he's good, and he has made seven Pro Bowls. But at no time this decade did conventional wisdom hold that Holt was the best wide receiver in football, and for some reason nobody includes him in the conversation, even though he leads all receivers in catches and yards this decade and is fourth in total receiving value (by DYAR).

19. Brad Meester: This second-round draft pick went straight into the starting lineup in 2000, and has been a consistent lineman for some excellent Jacksonville running games. He has never made the Pro Bowl.

21. Gary Brackett: This undrafted free agent from Rutgers turned out to be the perfect middle linebacker for the Tampa-2 defense. Indianapolis finished 13th or lower in defensive DVOA every single season from 1994 through 2004, but has been in the top 10 three times since Brackett entered the starting lineup in 2005. He's still waiting to make his first trip to Hawaii.

23. Tarik Glenn: Glenn held down left tackle for the best offense of the decade, but didn't make the Pro Bowl until 2004. Even though he made three Pro Bowls, nobody ever included him in the discussion of "best left tackle in football."
May, 7, 2009
5/07/09
7:12
AM ET
Posted by ESPN.com's Paul Kuharsky
Houston Texans
Indianapolis Colts
Jacksonville Jaguars
Tennessee Titans
March, 30, 2009
3/30/09
11:21
AM ET
Posted by ESPN.com's Paul Kuharsky
The charitable foundation of the National Football League awarded $1 million in grants to support 89 charitable player foundations, as part of the inaugural NFL Charities Week.
"Our players know that the legacy they leave in the community is as important as any on-field achievements," said NFL Commissioner Roger Goodell, president of the NFL Charities board of directors. "We are proud to support their foundations and applaud their efforts to make their communities healthy, happy, and safe."
NFL Charities has awarded more than $10 million to player foundations in recent years. Here are foundations connected to the AFC South that were among those receiving awards:
Jacksonville offensive tackle Jordan Black: Suburban Missionaries Inc
Indianapolis linebacker Gary Brackett: Gary Brackett's IMPACT Foundation
Retired Indianapolis offensive tackle Tarik Glenn: DREAM Alive, Inc.
Indianapolis cornerback Marlin Jackson: Marlin Jackson Fight for Life Foundation
Indianapolis quarterback Peyton Manning: PeyBack Foundation
Retired Houston Oilers quarterback Gifford Nielsen: Won Heart Foundation
February, 17, 2009
2/17/09
12:40
PM ET
Posted by ESPN.com's Paul Kuharsky
Six active players from the AFC South will participate this offseason in NFL business management and entrepreneurial program workshops at some of the top business schools in the country.
The program is part of an ongoing NFL-NFLPA initiative to assist players in preparing for their post-playing careers. Since the program's 2005 inception, 407 players have participated in sessions at the four business schools.
The programs run from four to eight days, with the longer ones split into two pieces.
Houston guard Scott Jackson and Indianapolis defensive lineman and special team ace Darrell Reid will soon go to Harvard for a program with an emphasis on entrepreneurial opportunities and business management. During the break between the two sessions, players develop a business plan that they discuss with faculty members when they return to campus.
Indianapolis guard Ryan Diem and Jacksonville running back Alvin Pearman will be part of the program at the Kellogg School of Management at Northwestern University where the focus will be on developing and selling a brand and evaluating franchise opportunities.
Tennessee linebacker and special teamer Josh Stamer will go to the Stanford Graduate School of Business in March for a program that seeks to broaden a player's understanding of how to evaluate business opportunities in general and in the sports industry specifically.
And Jacksonville guard Maurice Williams will make two visits to the Wharton School of the University of Pennsylvania for a program that will hit on financial analysis, entrepreneurship, real estate development, stock market investing, negotiation skills, risk management, and community reinvestment. Retired Indianapolis offensive tackle Tarik Glenn will also participate it the Wharton program.
October, 27, 2008
10/27/08
2:52
PM ET
Posted by ESPN.com's Paul Kuharsky
NASHVILLE, TENN. -- Tarik Glenn clearly doesn't want to talk badly of his replacement. The former Colts left tackle retired before the 2007 season, forcing rookie Tony Ugoh into the lineup a year earlier than planned.
By virtually all accounts, Ugoh did well. But this year a groin injury sidelined him after the first two games. While he has been deemed healthy, he's not reclaimed his starting job. Is the groin still an issue? Has Ugoh been demoted?
The team hasn't offered any explanation.
This week there has been speculation that the Colts will move Charlie Johnson to left guard, replacing rookie Jamie Richard, to help the team deal with Titans terrorizing defensive tackle Albert Haynesworth. That would mean Ugoh would be back.
Glenn, who was at a Monday Night Football Chalk Talk luncheon this afternoon at Ruth's Chris near Vanderbilt, said he has no idea what's up with Ugoh but that thinks the team will stick with Johnson at left tackle.
"I think they are going with Charlie, I don't know what the deal is with Tony," he said. "I think they are going to go with Charlie. I think they like what Charlie has given their offense just with consistency and durability. He provides some veteran-ish experience, he played in the Super Bowl for a great amount of time and played very well. Right now, that's what this team needs, especially up front is just some people who've been there before just to get this ball rolling."
Glenn said he has been focused on his four kids. He's done some radio and TV for the team, has been studying for the GMATS as he considers business school and has been working with inner city youth.
He said he is still dealing with being retired, calling it a struggle.
A couple other thoughts from Glenn on the Colts offensive line.
"It wouldn't surprise me if they fared pretty well because Howard Mudd's units normally can step up to big challenges. But it's going to be difficult, because the Titans are pretty solid at every defensive line position. Protecting the quarterback and establishing the running game are going to be hard for the Colts this week."

"It difficult for them to jell as a unit, especially in away games, communicating on the road with crowd noise -- those things develop with time, they just don't automatically come. It's easy to replace one guy, but when you have two or three different positions that you are trying to fill in with newer guys, it makes it difficult."