AFC South:

Tebow destinations
March, 21, 2012
3/21/12
9:46
PM ET
Adam Schefter reports that before the Broncos finalized the trade of
Tim Tebow
to the Jets, they allowed Tebow to
share his preference
between the Jets and Jaguars.
If it had gone another way, I'd have a different stance.
But that Tebow picked the Jets did the Jaguars a great, two-part service.
1) They aren't saddled with a guy at least a share of the organization does not believe can play.

2) They'll always be able to say they wanted him and he picked someone else.
The Jets now employ a huge proponent of Wildcat formations in offensive coordinator Tony Sparano, and the Jets surely will use Tebow in such situations from game to game depending on the defenses New York sees and the success its base offense has.
The Jaguars won't be forced to employ such things, which are not the favored approach of general manager Gene Smith or coach Mike Mularkey and his staff. (I applaud those who frown upon gimmicks. It's just a default setting I have.)
Look,
Blaine Gabbert
was terrible as a rookie. But one season is far too soon to label a quarterback with his arm a complete bust. The Jaguars think the new coaching staff will improve his play a great deal.
If that happens, they will look smart. If that doesn't happen, well, they'll be in a tough spot. That spot could have been even tougher had Tebow been in the mix with an organization that didn't fully believe in him.
Tebow was Josh McDaniels' guy, which is why he was a first-round pick in Denver. Tebow wasn't John Elway's guy or John Fox's guy, which is why the Broncos dealt him at the first opportunity.
Tebow was not Gene Smith's guy or Mike Mularkey's guy.
Which is surely a big reason why, if he had a say, he chose to go be Rex Ryan's guy and Sparano's guy.
March, 21, 2012
3/21/12
9:38
PM ET
Statement from Jaguars owner Shad Khan:
"Earlier this week I asked Gene Smith and his staff to explore the potential of acquiring
Tim Tebow
. I think we have a duty to consider all avenues of improving the Jaguars on and off the field, especially given the unique circumstances involving the player. I appreciate the high level of due diligence Gene and his staff dedicated to this matter, even as late as this evening, and I am very satisfied with the outcome. Our commitment to developing
Blaine Gabbert
was, and still is, central to our goal of returning the Jaguars to elite status in the NFL. We're looking ahead with zero regrets."
March, 21, 2012
3/21/12
1:41
PM ET
He's a hometown hero and he played for the nearby Gators in college, where he was part of two national championships and won the Heisman Trophy.
I understand the reason so many predicted
Tim Tebow
would land in Jacksonville, but he's now a New York Jet, and that's a good thing for the Jaguars.
Please, please, please, even in hindsight, can we cease the exaggerations about the effect that Tebow would have had on the tarps at EverBank Stadium?
[+] Enlarge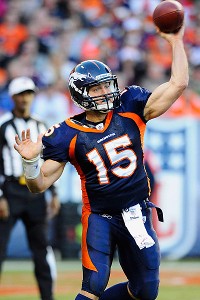 Ron Chenoy/US PresswireIt's unlikely that adding Tim Tebow to the roster would have brought in an extra 10,000 or more fans to EverBank Stadium.
The Jaguars didn't have an easy time selling all the seats they needed to get blackouts lifted last season, coming down to the wire and relying on corporate help. They would have had to sell those seats first.
Then we were talking about roughly 10,000 additional seats.
The single biggest failure in the thinking for the city of Jacksonville as it gutted and rebuilt the Gator Bowl into an NFL stadium in order to land the Jaguars was to make it big. That was to accommodate the annual Georgia-Florida football game. The "World's Largest Cocktail Party" draws well from two big college fan bases. They use all their seats and add some for that.
But even with tarps, EverBank Field holds 67,164. That's more than Soldier Field.
No matter who's on their roster, is it reasonable for the small-market Jaguars, with their minimal history, to expect to fill a stadium bigger than the one the Bears have in Chicago?
Tebow is certainly popular in Jacksonville.
But did we really think they were going to have a tarp-lifting ceremony if they traded for him? His presence was going to sell 10,000 tickets?
We realize that not everyone who lives in Florida is a Florida fan, right? A share of those people are Miami and Florida State devotees. A share are relocated Northerners without any college devotion.
I don't think Tebow would have helped sell anything close to 10,000 tickets, and none of the people I talked to in North Florida thought so either.
So let's relax with that exaggeration.
And let's remember that a tarp-lifting ceremony would have come with the very real possibility of a Tebow failure leading to a quieter, tarp-replacement ceremony.
That second event would have been as much a franchise killer as anything.
A few more thoughts on Tebow and Jacksonville, even in light of it being a dead issue:
1) If Tebow landed in Jacksonville, it would have been a force by owner Shad Khan and against the will of general manager Gene Smith and coach Mike Mularkey.
He wouldn't have come in as the starter, he'd have come in as a third-stringer who could have run some special packages.
2) If the Jaguars wanted to make a splash, they should have gone out and gotten defensive end
Mario Williams
or receiver
Vincent Jackson
. You know, guys who would play right from the start and address major positions of need.
3) Mularkey's first term as a head coach in Buffalo ended, in part, because he wound up without the control he had been told he would have.
It would have been terrible if mere months after he was hired in Jacksonville Khan made him feel the same way again.
4) They're not going to be giving up on
Blaine Gabbert
yet.
March, 20, 2012
3/20/12
5:27
PM ET
Adam Schefter reports that teams interested in acquiring
Tim Tebow
include Green Bay, Miami, the Jets and, wait for it, Jacksonville.
Things have gone silent at Jaguars headquarters from what I can tell and from what I have read.
Perhaps that means management and coaches are preparing for a force-feeding from their new owner, Shahid Khan.
I am convinced that if Tebow ends up in Jacksonville, it won't be because general manager Gene Smith wants him or because Mike Mularkey and his staff want him.
Blaine Gabbert
is the starter;
Chad Henne
will be the backup.
If, as a third-stringer, Tebow wound up playing, Mularkey is creative enough that he'd design a package centering on what Tebow does well. Maybe he would use him as a special package changeup.
Would there be a mad rush to the box office upon the addition of Tebow? I suppose, although I am not positive tarps would immediately be taken down. (And I always stress that even with the tarps, EverBank Field is bigger than Soldier Field. Should the Jaguars be outdrawing the Bears?)
Would there also be a great degree of resentment among legitimate Jaguars die-hards that Khan starts off by meddling? I think for sure.
And the second group of fans is more important than the first.
The people who would come out to see "The Tebow Gimmick" will go away when it doesn't work. And I simply don't believe it will work long term. (Is there a worse scenario than putting tarps back up?)
Adding Tebow certainly could give Smith and Mularkey something to commiserate about -- their boss.
Unity counts for something, right?