AFC South:

Terrence Knighton
September, 8, 2011
9/08/11
10:07
AM ET
Reading the coverage…
Houston Texans
There is
no answer yet
on Arian Foster, says John McClain.
Kerry Collins is getting ready to
fill in
for Peyton Manning and face the Texans, writes McClain.
Indianapolis Colts
The Colts face a tough challenge in Houston's
new 3-4
and some new personnel, says Mike Chappell.
Austin Collie is hoping for another
hot start
, says Phil Richards.
Jacksonville Jaguars
David Garrard said he has no one to blame for what happened but
himself
, writes Tania Ganguli.
Here's more in a
Q & A
.
Gene Smith explained the timing with the luncheon and
took responsibility
for it, says Vito Stellino.
Professional public relations people say the Jaguars
botched their handling
of Garrard, writes Adam Kealoha Causey .
Wayne Weaver is making sure the opener
isn't blacked out
, says Gene Frenette.
Terrence Knighton wants
the defense
to help Luke McCown, says Ganguli.
Tennessee Titans
Peyton Manning's injury
opens up
the AFC South, writes John Glennon.
Per Jim Wyatt: Mike Munchak's
message
for the Jaguars is simple: "We're going to show up."
December, 12, 2010
12/12/10
4:45
PM ET
Thoughts on the Jacksonville Jaguars'
win against
the
Oakland Raiders
at EverBank Field.


What it means:
The Jaguars improved to 8-5 and will win the AFC South with a win at Indianapolis next week if Houston loses to Baltimore on Monday night. The Jags are assured of a better record than last season's 7-9.
What I liked:
Jacksonville had plenty of chances to give up in this one, but kept pushing and took a 28-24 lead with 3:44 remaining in the third quarter. When the Raiders tied it at 31-31, the Jaguars easily retook the lead, with a 65-yard kick return by
Deji Karim
and a 30-yard touchdown run by
Maurice Jones-Drew
. The Jaguars missed some tackles and allowed some big plays, but continued to rebound and recover. That sort of resiliency is becoming more and more of a consistent characteristic.
What I didn't like:
The personal foul call against Jacksonville for a hit to the quarterback's helmet early in the fourth quarter. I thought it was against
William Middleton
. The official game book says it was against
Terrance Knighton
. It undid a 16-yard fumble recovery touchdown return for Knighton, and who doesn't love to see an enormous defensive tackle rumble into the end zone? While
Jason Campbell
got decked and hurt, I don't know that there was a hit to his helmet.
Breaking out:
While Jones-Drew churned out 101 yards on 23 carries, backup running back
Rashad Jennings
continued to provide an excellent changeup out of the backfield. He looked especially fresh as he went 109 yards with five carries -- taking one third-and-4 touch 74 yards for a touchdown.
What's next:
The Jaguars play in Indianapolis Sunday and can win their first division title since 1999, three years before realignment with a win. If they win at Lucas Oil Stadium, the worst they can finish is 9-7 and the best the Colts will be able to finish is 9-7. But Jacksonville will have swept the season series with Indy, thus winning the tiebreaker for the crown. The Jags also need one other ingredient: One more loss for Houston.
September, 29, 2010
9/29/10
3:47
PM ET
Sifting through my morning reading, I was struck by this piece of Andrew Hofheimer's
blog entry
:
"You find football players where you find football players, but small school guys' bodies are not as NFL ready. Reviewing the last two drafts, here are players we picked from small schools: Terrance Knighton (Temple), Derek Cox (William & Mary), [Jarett] Dillard (Rice), Zach Miller (Nebraska-Omaha), and Rashad Jennings (Liberty) from 2009; D'Anthony Smith (Louisiana Tech), Larry Hart (Central Arkansas), Austen Lane (Murray State), Deji Karim (Southern Illinois), and Scotty McGee (James Madison) from 2010. That's 10 guys drafted from small schools."

"Knighton has had weight issues. Cox has a foot injury that has hindered his performance. [Jarett] Dillard broke a leg last year, placing him on IR, and has developed a stress fracture in his other foot this year, placing him on IR. Zach Miller has had foot problems that have kept him out of much of offseason practice. Rashad Jennings has stayed healthy, but remember he was at Pitt before he transferred to Liberty to be with his family. D'Anthony Smith is on IR with a ruptured Achilles tendon. Larry Hart has remained healthy, but was a power lifter in college and presumably has more weight training than the other draftees. Austen Lane has had leg issues and is yet to play in the regular season. Deji Karim hurt his hand and is yet to play in the regular season. Scotty McGee hurt his foot and is on IR."
Interesting, I thought. But I also suspect Hofheimer isn't a doctor or a medical researcher.
So I took the proposition to ESPN's resident medical expert Stephania Bell, who read it and offered this reasoned response.
"My immediate gut response is no, zero credence.

"Then I have to back up and say, in order to make an argument, you'd have to do a proper retrospective analysis that would hold up to scientific (statistical) scrutiny. If you could show me through that method, that there is a higher proportion of small school guys who get injured, OK. But then I still don't know that I buy the rationale (bodies not NFL ready). Just because there's as statistical relationship doesn't equate to cause and effect.

"That's my academic argument -- and while not feasible to conduct such a study in the immediate sense, I think if people want to throw these sorts of ideas out there, while I think they're absolutely interesting to consider (and perhaps worth looking into), there needs to be some sort of scientific basis for really making a coherent argument."

"That's my two cents. On top of that, for every injury and guy named here, I can match it with a similar (or worse) injury to a guy from a big-time school.

"One only has to look at the oft-injured in their short careers Percy Harvin (Florida), Reggie Bush (USC), Beanie Wells (Ohio State), etc, etc....

"One more thing: perhaps the percentage of small school guys in the NFL is so much less that there's bound to be more injuries per capita, if you will."
September, 19, 2010
9/19/10
4:05
PM ET
The
Jacksonville Jaguars
haven't just scaled back Derek Cox's responsibilities in Week 2. Jack Del Rio has benched the second-year corner.
Cox was expected to be a
cornerstone guy
in Year 2, along with defensive tackle Terrence Knighton. But the Cox's poor play in the season opener got him benched for the second half in last week's win over Denver.
In San Diego, Cox is inactive and
David Jones
is in the starting lineup. Injured safety
Anthony Smith
is out, with Courtney Green in his spot.
Meanwhile in Washington, the Texans won't face defensive tackle
Albert Haynesworth
, who is inactive.
Texans defensive tackle,
Amobi Okoye
, is active.
January, 6, 2010
1/06/10
2:32
PM ET
»
NFC Wrap-ups
:
East
|
West
|
North
|
South
»
AFC
:
East
|
West
|
North
|
South
»
Clayton
:
Video
|
AFC grades
...
NFC
»
More
:
Fantasy MVPs
|
FB Outsiders

|
Awards

A team-by-team analysis of the division. The arrow indicates which direction each team is trending.

Houston Texans
Final Power Ranking:
14
Biggest surprise:
Despite losing tight end
Owen Daniels
to injury along the way, quarterback
Matt Schaub
and
Andre Johnson
connected consistently, even as defenses keyed on minimizing the receiver. Johnson led the league in receiving with 1,569 yards -- 221 yards more than No. 2
Wes Welker
. Schaub answered questions about his durability by starting all 16 games, earning a $10 million option bonus to trigger the remainder of his contract in the process.

Biggest disappointment:
The inability of
Kris Brown
to hit clutch kicks and running back
Chris Brown
to convert clutch chances. In back-to-back November losses to Indianapolis and Tennessee, the kicker had chances to force overtime and missed on each occasion. The running back was miscast as a short-yardage answer, and his ineffectiveness hurt the Texans at the end of losses to Jacksonville and Arizona.
Biggest need:
The Texans have issues in the secondary, where free safety and cornerback need to be upgraded. But this is an offensive team and, even when running back
Steve Slaton
was healthy and running behind a healthy starting line, it didn't run well enough to complement the pass attack. The Texans need a big back who can gain a tough yard.
Team MVP:
Johnson. He consistently produced despite extra defensive attention, putting his combination of size and speed to the best use yet.
Contract issues pending:
Three key members of the Texans -- Daniels, middle linebacker
DeMeco Ryans
and strong safety
Bernard Pollard
-- will lose chances at unrestricted free agency if there is no new CBA. In that case, they would be restricted free agents. They won't be happy playing for one-year tenders and the Texans need to find a way to smooth things out with them.
---

Indianapolis Colts
Final Power Ranking:
1
Biggest surprise:
Rookie cornerbacks
Jerraud Powers
and
Jacob Lacey
were supposed to be role players. But injuries in the secondary meant they were each starters for the majority of the season. Both did very well doing what the Colts asked of them. Overall, the secondary got little from three of four projected starters, with only free safety
Antoine Bethea
a consistent presence. But the Colts defense played very well anyway, giving up few big plays when
Randy Moss
wasn't involved.

Biggest disappointment:
Passing on a chance to try to carry a perfect regular season into the playoffs was a biggie. Team brass was clearly put off, and surprised, by the volume and depth of the media and fan backlash after the Colts pulled starters and handed the Jets a game that dropped the Colts to 14-1. To suggest records for wins in a decade and consecutive regular season wins were more historic than a perfect 19-0 season sure seemed silly during the spin control period.
Biggest need:
Offensive linemen.
Charlie Johnson
did admirable work after he was promoted to replace the disappointing
Tony Ugoh
at left tackle and
Kyle DeVan
was a more physical right guard after replacing another underachiever,
Mike Pollak
. With legendary line coach Howard Mudd set to retire, the Colts need to restock and provide more options for his successor, Pete Metzlaars.
Team MVP:
Peyton Manning
is expected to win NFL MVP, so it would be hard to look anywhere else. He was exceptionally accurate and was a big reason young receivers developed and old targets produced. And it seemed like he led his team to a fourth-quarter comeback weekly.
Next men up:
Anthony Gonzalez
was expected to be the team's No. 2 receiver behind
Reggie Wayne
. But he went down with a serious knee injury in the season opener and never made it back. Rookie
Austin Collie
and
Pierre Garcon
were effective targets for Manning when opponents worked hard to blanket Wayne and forced the Colts to go elsewhere.
---

Jacksonville Jaguars
Final Power Ranking:
23
Biggest surprise:
They called it a retooling instead of a rebuilding, but after major roster turnover the Jaguars were 6-4 and 7-5 and very much in the thick of a hunt for an AFC playoff berth. They got quality experience for four high draft picks who started a lot of games -- offensive tackles
Eugene Monroe
and
Eben Britton
, cornerback
Derek Cox
and defensive tackle
Terrance Knighton
.

Biggest disappointment:
David Garrard
was sacked 42 times and hit way too much. The Jaguars failed badly in two West Coast trips, losing in Seattle and San Francisco, and closed with a four-game losing streak. Losses to Indianapolis and at New England were understandable, but defeats at home to Miami and at Cleveland in the season finale with an 8-8 record on the line were a lot harder to accept.
Biggest need:
Though the team traded up for
Derrick Harvey
and took a second defensive end,
Quentin Groves
, with their first two picks just two years ago, it's in desperate need of pass rush help. The team had just 14 sacks. Quarterbacks often had all day to throw and managed a 96.0 passer rating, 28 touchdowns and just 15 interceptions against Jacksonville.
Team MVP:
Running back
Maurice Jones-Drew
fared very well in his first season as the team's feature back and is the franchise's lone Pro Bowler. He ran for 1,391 yards and 15 touchdowns behind an inconsistent line.
Mighty have fallen:
Free safety
Reggie Nelson
, the team's top pick in 2007, could be on his way out. He was consistently burned in coverage and failed to finish tackles. The team tried him at cornerback when injuries thinned out that position and he fared no better. By season's end, he earned himself a spot on the bench.
---

Tennessee Titans
Final Power Ranking:
16
Biggest surprise:
Chris Johnson
showed himself to be an electrifying playmaker in his first season. But when he said in training camp before his rookie campaign he would run for 2,000 yards, people scoffed. Improbably, on a non-winning team, Johnson ran for a league-leading 2,006 yards, becoming just the sixth member of the 2,000-yard club. He topped 100 yards rushing in each of his final 11 games and scored on seven rushing plays of 20 yards or more.

Biggest disappointment:
After a 13-3 regular season that was the NFL's best in 2008, the 2009 team played terribly early and dug itself an 0-6 hole. While it did well climbing out and finishing 8-8, that miserable start cost the Titans a chance at a return to the playoffs. The slow start featured a slew of drops by the receivers, horrific pass coverage, and return game nightmares. The turnaround began after team owner Bud Adams called for Jeff Fisher to replace
Kerry Collins
with
Vince Young
at quarterback.
Biggest need:
Defensive playmakers. The Titans got old and less effective at several spots. Defensive end
Jevon Kearse
and cornerback
Nick Harper
won't be back. The team is likely ready to move on from veteran linebackers
Keith Bulluck
and
David Thornton
as well. Free safety
Michael Griffin
took a huge step backwards and defensive tackle
Jason Jones
couldn't fight through a shoulder injury. The Titans will look to add veterans and draft picks to rebuild.
Team MVP:
Johnson should be the NFL's offensive player of the year. Without him, who knows what the Titans would have done down the stretch. Getting him to 2,000 yards was a unifying team goal. Johnson even impressed his teammates by backing up the bold 2,000-yard prediction.
Back from the dead:
While he didn't finish especially strong, Young did a lot of good work in 10 games after he was reinserted as the starter. He deserves credit for maturing. His decision making has improved. He's set himself up to be the Titans starter in 2010 after changing the opinion of many of his critics, some of whom reside inside team headquarters.
December, 23, 2009
12/23/09
3:03
PM ET
»
NFC Draft Rewind
:
East
|
West
|
North
|
South
»
AFC
:
East
|
West
|
North
|
South
»
Draft class lists
:
Indianapolis
|
Jacksonville
|
Houston
|
Tennessee
Houston Texans

Cushing
Best get:
Not everyone was sold on
Brian Cushing
coming out of USC, often because of his injury history at USC. He missed most of camp hurt and has missed a lot of practices, but none of it has gotten in the way of his being an impact player every Sunday. The Texans need more defenders and more players in his mold. He's a legitimate defensive player of the year candidate.
Worst unaddressed spot:
The Texans had plenty of reason to expect they had a feature back in
Steve Slaton
, but completely misread their situation after that. Interior line injuries and a second-year slump for Slaton have made a second back even more important, and
Chris Brown
,
Ryan Moats
and
Arian Foster
all have proved incapable of handling the pressures of the work. A second running back ranks as one of the team's highest priorities in free agency or the 2010 draft.
Still uninvolved:
Tight end
James Casey
came in as a versatile fifth-rounder who was going to be a unique weapon for head coach Gary Kubiak and offensive coordinator Kyle Shanahan to tinker with. He's got six catches for 64 yards in 11 games. He needs to have more of an impact, given that the Texans lost top-flight tight end
Owen Daniels
to a season-ending knee injury.
Indianapolis Colts

Brown
Still to be determined:
First-rounder
Donald Brown
has shown he will be a good NFL player. But he's missed five games with injuries, including the last three. He's more capable than
Joseph Addai
of breaking off a big run. The question: Does Brown understand that looking for the big gain isn't worth risking a play resulting in second-and-12. If Brown is healthy, he could see a lot of touches in the last two games. The Colts are 14-0 with just 59 carries, 263 yards and two TDs from their top pick. (They haven't gotten much out of second-round defensive tackle
Fili Moala
, either.)
A perfect fit:
Fourth-round receiver
Austin Collie
, not Minnesota's
Percy Harvin
, leads all rookie receivers in catches. Collie's nabbed 53 passes for 567 yards and seven touchdowns. He's a perfect fit for the Colts' system, and adopted the necessary work ethic to win over and work with
Peyton Manning
. Whether
Anthony Gonzalez
re-emerges for the post season push or not, Collie's crucial to it.
Best special teams addition:
The Colts had eight touchbacks in 2008. With rookie punter
Pat McAfee
taking over kickoffs from
Adam Vinatieri
, they have 18 with two games remaining. Better kickoffs are a big factor in coverage improvements under new special teams coach Ray Rychleski. McAfee's also got a net punting average of 38.0 yards, less than a yard off former Colts' veteran
Hunter Smith's
number from last season.
Jacksonville Jaguars

Monroe
Long-term solutions:
Eugene Monroe
and
Eben Britton
were the top two picks and have played the bulk of the season at left and right tackle, respectively. They have not been consistent, but the team loves their skill sets and upside. And early work means they'll get to the levels the team projected when spending such high picks on them sooner rather than later.
Eighth-rounders:
First-year general manager Gene Smith needed additions beyond his draft class and found a couple: Cornerback
William Middleton
out of Furman and linebacker
Russell Allen
from San Diego State are undrafted free agents who made the team and have been contributors. In the nationally televised Week 15 Thursday night loss to the Colts, Allen led the team with 12 tackles. Smith is down a second and seventh rounder in 2010 because of trades, and he hopes to hit on some undrafteds again, and annually.
Three is key:
Smith did great work in the third round, landing two small school players who've established themselves as productive starters with upside. Cornerback
Derek Cox
from William & Mary has not been intimidated by anything or anyone. Defensive tackle
Terrance Knighton
from Temple has been a stout and reliable run stopper.
Tennessee Titans

Britt
Biggest breakthrough:
Since 1998, the Titans have spent draft picks in the top three rounds on
Kevin Dyson
,
Tyrone Calico
,
Courtney Roby
,
Brandon Jones
and
Paul Williams
. Dyson was involved in two of the franchise's biggest plays in 1999 and did OK otherwise, but none of them solved the team's long-standing woes at receiver. First-rounder
Kenny Britt
is a great combination of size, power and speed who goes and gets the ball. Britt seems like he can be a consistently productive weapon.
Disappearing act:
The Titans gave away a second-rounder to draft tight end
Jared Cook
in the third, and in camp he seemed like a great addition. Then he suffered an ankle injury, faded and never really re-emerged. Long-term he's still very compelling. But the Titans sure could have used a jolt from him during their 0-6 start.
An heir:
Gerald McRath
seems comfortable and been effective as an outside linebacker when needed. He will start the rest of the way and, after bulking up in the offseason, stands to inherit the spot of either
David Thornton
(breaking down) or
Keith Bulluck
(free agent who tore an ACL in Week 15) next year. If both veterans are gone (a likely scenario), the second replacement needs to be a free agent or a draft pick.
December, 10, 2009
12/10/09
5:10
PM ET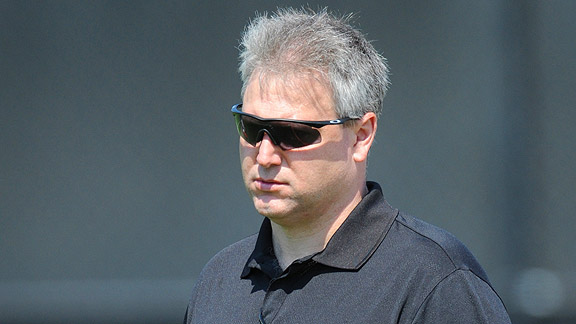 Al Messerschmidt/Getty ImagesFirst-year general manager Gene Smith appears to have the 7-5 Jaguars on the right track.
Gene Smith is straightforward, simple and a little uncomfortable when he's the focus. He's no jokester pulling punch lines out of his pocket.
Those are qualities that make him seem like a perfect fit for his job. Twelve games into his first season as GM of the
Jacksonville Jaguars
, he works quietly, anonymous to most NFL fans. That's just fine with him.
With his team surprisingly in control of one of the AFC's final playoff spots as it prepares to host Miami Sunday and Indianapolis next Thursday night, he's been more popular this week, carving out more time to talk to people like me.
His first draft class has made as big a contribution as any in the league and includes a third-round defensive tackle from Temple,
Terrance Knighton
, and a third-round cornerback from William & Mary,
Derek Cox
. Coming from those non-powerhouse schools, both picks raised eyebrows when their names were called in April. Both have been effective and look to be long-term building blocks.
Some of Smith's personnel peers say he deserves applause for his willingness to go with them.
"You've got to identify what your needs are, really look at the players and not worry about what everybody else says and I think that's what they did," one AFC personnel man said. "You'd prefer not to have to make those decisions your first or second year, you'd like that to come further down the road. But sometimes you don't have a choice. I think he gets a lot of credit for stepping forward and doing what he thought was the right thing."
Unless things come apart for the 7-5 Jaguars in spectacular fashion from here, I believe Smith has done enough of the right things that he ought to be seriously considered for any executive of the year awards.
In a wide-ranging conversation Thursday afternoon, we covered a lot of ground.
Here is my attempt to plug you into all of it.
August, 23, 2009
8/23/09
10:55
AM ET
Posted by ESPN.com's Paul Kuharsky
Think you have better questions or conversation starters than these? Show us. Hit the mailbag here.
Josh in NY writes: This is a continuation of our debate from the chat! Knighton/Ellison/Landri are all definitely serviceable next to Big John, and Rob Meier has proven to be a guy who can come off the bench and put pressure on the QB over the course of his career. Brian Williams is certainly serviceable at corner, he was the same corner we had in 2007, and we now have Cox in the mix for added depth. Nelson is a legitimate concern at safety, as he seems to not have the mental makeup for the position. Holt alone makes this team's receivers better than the combo of Matt Jones and Reggie Williams, you aren't honestly calling those two a legitimate tandem, are you?
Paul Kuharsky: I agree with your assessment here for the most part.
My point is, Terrance Knighton, Derek Cox, Mike Walker, the young receivers, Atiyyah Ellison -- they are all unproven. For the Jags to make a big jump, they need all those guys to produce. What are the odds a half dozen unproven players all produce consistently for the first time at the same time?

Torry Holt should be a great addition, but beyond him what have any of the wideouts done?

Wouldn't you agree that personnel-wise, they rank fourth in the division?
---
Franklin in Houston writes: I can't understand how you classify Nick Harper as underrated. I view him as a declining CB that is able to stay on the field using smarts as opposed to physical tools. I think he's aptly rated. What frustrates many Titans' fans is games like last year's playoff loss where he got blazed by Derrick Mason. Roughly same size and age, but Mason blew by him for huge gains leading to a TD and setting up the FG. He is arguably my biggest concern on defense. Your thoughts?
Paul Kuharsky: I think corners are going to get balls completed on them, especially when they play opposite Cortland Finnegan, and somehow the expectations for Harper have gotten crazy. People think it's a disaster when a 15-yard pass goes to his side. I think he does pretty much exactly what they ask, and is also a real factor against the run. He's the best second corner the Titans have had since Denard Walker and because Titans fans are looking for a weak spot or have to punch a hole in someone, he seems to me to be over-targeted for criticism.
---
Kevin Fitzpatrick in Pittsburgh writes: I just read the chat and you say don't jump to conclusions or make assumptions cause teams haven't even played a regular season game, Yet you say the jaguar LB's have regressed. If you base that off the practices you've seen then why is that any different then when someone asks you if the 4th rounder from Indy is better then Britt?
Paul Kuharsky: To clarify, I think they regressed last year. I didn't see the linebackers making a lot of plays, and in conversations with Clint Ingram and Justin Durant they pretty much agreed about their performances in 2008.
Making judgments on draft picks two games into the preseason -- beyond Player A looks good and Player B is lost -- is ridiculous. Though two or three preseason games we're going to declare Austin Collie better than Kenny Britt? They weren't drafted for the same jobs, for starters, so it's not exactly apples to apples.
---
Rob Bradley writes via Facebook: If you can afford it and love the Jags and the NFL, buy tickets. If you can't afford it or don't care, don't buy tickets. Don't worry about what the media says, and don't worry about making silly excuses for the city.
Paul Kuharsky: I agree.
---
Aaron Hurley from parts unknown writes: What is going on with the Patrick Ramsey-Vince Young competition? Ramsey has played very little in preseason games - and hasn't done anything notable in the time that he has had - and I haven't read any suggestions that he is standing out in practice. Will Ramsey get to start a preseason game, or at least get time with the first stringers? And will the Titans carry 3 QBs this year? Thanks.
Paul Kuharsky: Young's second game helped his cause, his third game, not so much. Ramsey won't start a game, but he will play some with the twos. I suspect they keep three, calling VY the backup but probably having more faith in Ramsey if Kerry Collins goes down. There is a long time to go still to sort things out, however.
August, 22, 2009
8/22/09
6:14
PM ET
Posted by ESPN.com's Paul Kuharsky
Fans in Jacksonville that don't buy a ticket to the Jaguars' game against Tampa Bay Saturday night won't have a chance to see it on TV until the NFL Network rebroadcasts the Tampa telecast at 7 a.m. Sunday morning.
Here are three issues I wonder about as Jacksonville heads into its second preseason game:
1. The quarterback: We've got David Garrard against Byron Leftwich here, but at this time two years ago they were teammates fighting for a job. Garrard won it, but the shock was that the Jaguars then released Leftwich, who collected a Super Bowl ring as Ben Roethlisberger's backup in Pittsburgh last year. It wouldn't be a good scenario for the Jags if Leftwich, battling to be the Buccaneers' starter, plays well and Garrard doesn't. It would be nice to be able to sense some chemistry between Garrard and a couple of his targets.
2. Pass protection and run blocking: The offensive line is supposed to be revitalized, but it didn't fare well in its first chance. The Dolphins put pressure on the quarterbacks and knocked down a couple passes while limiting the Jacksonville run game. Don't expect a heavy dose of Maurice Jones-Drew and Rashad Jennings is out. But Greg Jones and Chauncey Washington need to fare better, and it starts with their blocking.
3. Pass rush push: Tampa Bay's offensive line didn't fare very well against the Titans defensive line last week. Can the Jaguars' candidates for rotations spots in the defensive tackle mix -- Atiyyah Ellison, Terrance Knighton, Derek Landri -- make some noise and gain some footing that will earn them playing time with John Henderson, a certain starter, and Rob Meier, a certain member of the rotation?