February, 20, 2010
2/20/10
3:47
PM ET
NASHVILLE, Tenn. --
Frank Wycheck
and
Kevin Dyson
, both Nashvillians after football, have answered question about the Music City Miracle for more than 10 years now.
But the guy who got the play started,
Lorenzo Neal
, has always been a missing piece here.
Until today.
At "SPORTSFEST," an event hosted by 104.5 The Zone (the radio station I do some work for on Wycheck's show), the three took the stage together and discussed the play for an hour. And Neal's take was what an excited crowd wanted most to hear about.
Dyson said he was sick of taking calls from people looking for Neal, and was the first of the three to note how "the other eight guys on the field did their job to make the thing work." It was a nice nod to guys like
Terry Killens
,
Greg Favors
and
Perry Phenix
, who were all eventually mentioned.
Here's Neal on fielding the kick. The lighting wasn't great and my hand wasn't steady, but I thought Titans fans would like to see this snippet even so:
A few other notes:
Neal was heartfelt talking about his feelings concerning the impact of the play and how it still brings people together. He was the star of the show, and fairly so. He was an immensely popular player in 1999 and 2000 when he was with the Titans. Wycheck joked about how many people attended just in hopes of landing "the third autograph" on their memorabilia.
Wycheck talked about how the Titans never kicked the ball to Neal when they practiced the tricky kickoff return.
Dyson said he had no idea what all the fuss was about after the play in terms of Wycheck's lateral. The way he moved to get the ball he thought it was clear cut. Only when he got home and saw replays did he realize how close it was.
January, 8, 2010
1/08/10
12:56
PM ET
A year ago, a bit confused about which anniversary it was, I wrote something about the meaning of the Music City Miracle.
When I realized it was the ninth anniversary, not the 10th, I stashed it. An easy post in a year, I told myself. Just working ahead. (Yes, I have trouble counting sometimes.)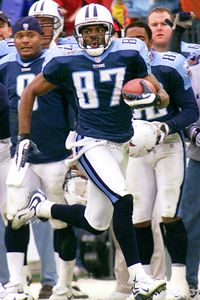 AP Photo/Wade PayneFriday marks the 10-year anniversary of Kevin Dyson's touchdown and the Music City Miracle.
Then a few months ago it disappeared when my hard drive fizzled. (Yes, I know, I now have Mozy.)
I can't reconstruct the magic for you, the second version of a lost file is never as the first good for me.
But here's the gist:
Two years ago I spent a significant amount of time piecing together a book pitch, and I'm realizing now as I start to look for it that it also disappeared with that hard drive. I did email myself a copy, so thankfully it lives on for posterity.
"Makings of a Miracle: How one historic, game-winning play transformed a team and tied together a town" didn't really take off. The one publisher I had look at the proposal, which was good, and a sample chapter, which didn't match the quality, passed.
And as other things -- like a certain job at ESPN.com came about -- I didn't pursue it further.
Part of the reason, too, was that as I researched things to write the proposal, and I looked back on the 1999 Titans and the Music City Miracle, I concluded that a big piece of my premise was probably off.
The play was an incredible thing for everyone involved and everyone who was invested in that team.
It was transformative for the franchise, and it did tie together a town.
It would have been very interesting for that audience, and perhaps to one extending beyond, to learn how exactly it came together and played out, and how it impacted the lives of those involved in it.
But it didn't hardly turn into the Immaculate Reception or Christian Laettner-to-Grant Hill, or Bobby Thompson off Ralph Branca.
And it didn't have to.
While people here still talk of where they were when it unfolded and how they reacted, it wasn't a necessary ingredient for a place to become a "legit" NFL city.
While it certainly served as an accelerant, Nashville would be just fine without it. Ten years later, I am not sure I really believe that much would have changed had it not happened.
That said, it's hard to imagine I'll ever be in such close proximity to a sports moment that tops it. I was at the 10-yard line as Kevin Dyson slowed and entered the end zone, sharing my disbelief with an entire city and most of a state.
Book or not, we'll always have that.
So cheers today to Lorenzo Neal, who fielded Steve Christie's kickoff and handed it back to Frank Wycheck, to Wycheck who threw the lateral, to Dyson who caught it and took it 75-yards for an incomprehensible last-minute touchdown that pushed the Titans into the divisional round of the playoffs. Here's to Perry Phenix, Greg Favors and Terry Killens, who led the blocking caravan. Here's to Alan Lowry, the assistant who drew up the play, and Jeff Fisher, who had his team ready to run it.
You're all officially old.