AFC South:

The Blind Side
November, 19, 2009
11/19/09
1:06
PM ET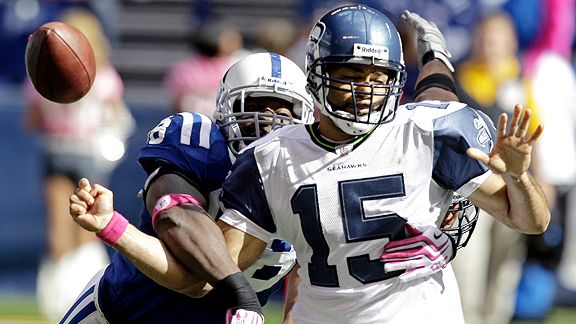 AP Photo/Darron CummingsColts defensive end Robert Mathis is known for rushing the passer, but opposing linemen know he's dangerous against the run, too.
He spins. He swipes. He swats. He sacks.
Although Houston's
Mario Williams
(6-foot-6, 295 pounds) might be the prototypical defensive end whom personnel men crave, Indianapolis'
Robert Mathis
(6-2, 245 pounds) qualifies as a self-made man who torments tackles and quarterbacks just as much as Williams, and, right now, maybe more.
Typically playing opposite
Dwight Freeney
, Mathis has gone from a situational pass-rusher to a complete player who regularly runs plays down all over the field.
He's the top tackler on the Colts' defensive line, he's got 8.5 sacks to go with Freeney's 9.5. Mathis leads his counterpart in quarterback pressures -- as doled out by coaches as they review film -- 19 to 16.
The two are relentless, but Freeney was a first-round pick. Mathis, a fifth-rounder out of Alabama A&M in 2003, is a far more often overlooked player despite a Pro Bowl appearance last year.
Go ahead, typecast him. He doesn't care.
"You can look at me however you want to look at me," Mathis said matter of factly. "I do the same things that 6-6, 300-pound linemen do. It doesn't bother me at all."
While fringe fans still might not afford him his proper respect, offensive linemen certainly do.
"He's such a different kind of defensive end I think than you'll ever see," Houston right tackle
Eric Winston
said. "I think they say he's 6-2 but there is absolutely no way he's that tall. I think he's a little stronger than what he looks like and probably what people give him credit for.
"And obviously you know how fast he is. His spin move is just as good as Freeney's and he's a real problem sometimes to handle off the edge, especially when you get down in a game and you have to pass block. … If you think you're just going to run over him, you're wrong. He can stand up against double-teams. He can hold his own. Obviously his game is pass-rushing, but he knows how to fit the run just as well as anyone else."
As Mathis began to make his mark in the league, he wore an awkward label: pass-rush specialist. It was a means to dismiss him as a part-time player for some.
But if you're going to have a player who's got one specialty, what else would you choose? And if you're a player with one specialty, what else would you choose? Bump-and-run man-to-man corner, perhaps, but a good one has a full-time role doing it.
Pass-rush specialist trumps short-yardage back, or deep threat or run-stuffer, doesn't it? It certainly gets a guy paid more.
Mathis has grown to be more and does just fine against the run.