May, 29, 2014
May 29
7:15
PM ET
INDIANAPOLIS -- Thursday was Day 3 of the
Indianapolis Colts
' organized team activities. It was also the first day that the media had access to the players.
Here's a quick roll call of players who didn't take part: Receiver
T.Y. Hilton
, running backs
Ahmad Bradshaw
and
Vick Ballard
, fullback
Stanley Havili
, linebacker
Cam Johnson
, guard
Donald Thomas
, tight end
Erik Swoope
and offensive lineman
Thomas Austin
.
Those players are likely dealing with some kind of injury.
Receivers
Reggie Wayne
and
Donte Moncrief
and safety
LaRon Landry
weren't in attendance Thursday.
Wayne isn't scheduled to take part in OTAs because he's still working his way back from the torn ACL. Moncrief is in Los Angeles at the NFLPA's Rookie Premiere event. Landry is absent because he prefers to work out on his own in the offseason. He did the same thing last offseason.
It's not mandatory for players to attend the OTAs, but it's a little surprising Landry decided not attend. You obviously don't have to worry about him being in shape because he lives in the weight room during the offseason and during the season. It's more about developing continuity at safety with
Delano Howell
, the frontrunner for the starting spot. There's a significant difference going from
Antoine Bethea
, a proven veteran, to Howell, who has limited starting experience. And it's not like Landry had an impressive first season with the Colts.
But again, OTAs aren't mandatory for the players. It would just be good if Landry attended as the Colts try to improve a defense that finished 2oth overall last season.
March, 25, 2014
Mar 25
7:30
AM ET
ORLANDO, Fla. -- Nine
Indianapolis Colts
players received
performance-based incentives for more than $100,000
each during the 2013 season. Linebacker
Jerrell Freeman
and offensive line
Hugh Thornton
both earned more than $218,000.
The incentives are based off playing time and a player's base salary. Veteran backup quarterback
Matt Hasselbeck
received only $827.05 out of the $3.46 million which teams are allotted. The money usually benefits minimum-salaried free-agent signings and players on their first NFL contracts who end up playing a lot.
Here's a breakdown of the top-10 performance bonuses on the Colts.
LB Jerrell Freeman $248,772.35
OL Hugh Thornton $218,167.75
WR
T.Y. Hilton
$162,808.35
FB Stanley Havili $132,945.28
TE Jack Doyle $128,223.40
DE Ricardo Mathews $118,490.40
LB Cam Johnson $109,230.89
WR Griff Whalen $101,056.36
LB Kelvin Sheppard $100,435.98
LB Mario Harvey $92,307.29
Here's a breakdown of the bottom-10 performance bonuses on the roster.
WR
Reggie Wayne
$6,651.65
TE Dwayne Allen $5,711.86
C Khaled Holmes $4,695.54
TE Justice Cunningham $3,913.60
OL Donald Thomas $3,384.86
K Adam Vinatieri $2,738.82
RB Robert Hughes $2,618.30
RB Kerwynn Williams $2,494.16
OL Thomas Austin $1,816.86
QB Matt Hasselbeck $827.05
December, 24, 2013
12/24/13
6:00
PM ET
INDIANAPOLIS -- If the early struggles to protect quarterback
Andrew Luck
weren't problem enough, the injuries along the offensive line in recent weeks gave the
Indianapolis Colts
every excuse to fall apart up front.
Seven different starting lineups along the line, including five in the past five games, have forced coach Chuck Pagano to be creative in his tinkering with the line.
The Colts had only six healthy offensive linemen before they brought center
Thomas Austin
up from the practice squad the day before their game against the
Kansas City Chiefs
last weekend. Austin was released on Tuesday.
[+] Enlarge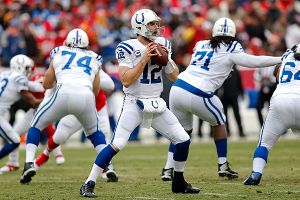 AP Photo/Ed ZurgaAndrew Luck is, at last, enjoying a good deal of protection from his offensive line.
But despite all the mixing and matching of interchangeable players, the Colts are in the midst of their best offensive-line play of the season.
Luck has been just sacked twice in the past three games and the Colts have rushed for at least 135 yards in each of the past two games.
"I think the more adversity you face sometimes, it tends to bring you together," Pagano said. "The players have found a way to put the pieces together week-in and week-out and it doesn't really matter who's up and who's down and who's available and who's playing where. They all know they all have position flexibility and know what to do. Those guys all prepare as starters and they've done a great job. And they have played well the last couple weeks, especially protecting Andrew."
The improved play comes after the Colts gave up 22 sacks through the first nine games. They've given up a total of nine since then, with five occurring against Tennessee on Dec. 1.
The only stability has been at tackle, where
Anthony Castonzo
and
Gosder Cherilus
have started every game on the left and right, respectively.
The interior three of the line – the weakest part of the group – is the one that has undergone the constant changes.
Jeff Linkenbach
replaced the struggling
Mike McGlynn
at right guard against Tennessee on Dec. 1. McGlynn was back starting at guard the following week because Linkenbach got injured. Then McGlynn had to start at center against Houston on Dec. 15 because
Samson Satele
went down with an injury.
Are you still with me?
Xavier Nixon
, a tackle during his college career at Florida, started at left guard against the Chiefs last weekend. His pull-block helped open a hole for
Donald Brown
on his 51-yard touchdown run that featured some poor tackling by the Chiefs.
Castonzo, the protector on Luck's back side, limited Chiefs linebacker
Tamba Hali
, who has 11 sacks this season, to only two tackles and no sacks in the game.
"There's been so much change that you really have to get back to your fundamentals because you don't know who is going to play next to you, so it comes down to everybody doing their own fundamentals properly," Castonzo said. "It might be just the refocus on fundamentals that's allowed us to play well."
The Colts could be getting close to having a healthy line (minus
Donald Thomas
, who is out for the season). Thornton, Linkenbach and
Joe Reitz
could return to practice later this week.
"Chuck and [general manager] Ryan [Grigson] brought the right guys in here," Cherilus said. "The new guys come in and they listen to the vets and when your number is called they show up and perform. They've been doing that. You want to finish the season with your starting lineup. But we're talking about football, change is going to come, you're going to have to make yourself available to be a part of it."
September, 1, 2013
9/01/13
5:20
PM ET
INDIANAPOLIS – The
Indianapolis Colts
rounded out their practice squad and claimed a player off waivers Sunday.

The Colts claimed tight end
Jack Doyle
, an Indianapolis native and undrafted rookie out of Western Kentucky, off waivers from Tennessee. The team also released rookie running back
Kerwynn Williams
.
The Colts have injury concerns at tight end, as
Dwayne Allen
and
Coby Fleener
, their top two players at the position, both missed at least half of the preseason. Allen didn't play in the preseason because of a foot injury. Fleener first dealt with a concussion and now is working his way back from a sprained knee. The Colts hope Fleener and Allen will be ready for the season opener against Oakland on Sept. 8.
Keeping four running backs turned out to be too much for the Colts, which is why Williams was released. The rookie handled the majority of the kickoff-return duties in the preseason. He averaged 21.5 yards a return in the preseason, and he rushed for 92 yards in the finale at Cincinnati last week.
Barring any changes,
David Reed
, whom the Colts acquired from Baltimore on Aug. 21, likely will be the team's kickoff returner. He led the league in 2010 with almost a 30-yard return average. Reed, however, suffered a concussion against Cincinnati last week.
The Colts signed linebacker Daniel Adongo, center
Thomas Austin
, quarterback Chandler Harnish, tight end
Dominique Jones
, linebacker Josh McNary and cornerback Sheldon Price to the practice squad.
August, 31, 2013
8/31/13
6:50
PM ET
Most significant move
: Defensive lineman
Fili Moala
didn't play in the preseason because was he was still rehabbing a knee injury from late 2012, but that didn't stop him from making the roster. Keeping Moala put an end to fellow defensive lineman
Drake Nevis
' time with the Colts. Fullback
Dominique Jones
was cut, leaving the Colts with only one fullback on the roster,
Stanley Havili
.

A feel-good story
: Linebacker
Caesar Rayford
kept hearing from NFL teams over the years that they liked what they saw out of him on video while he played in the Arena Football League. Rayford, however, never got an invite to a training camp from any of those teams. That changed this year when the Colts, led by general manager Ryan Grigson's willingness to search anywhere for talent, invited Rayford to camp. Rayford didn't disappoint, either. He had a team-high five sacks during the preseason. Rayford now has a spot on the 53-man roster. The 27-year-old rookie's best bet to get on the field will likely be on special teams. He'll take it after getting looked over for so many years while he played in the Canadian and Arena Football League.
What's next
: Grigson and his staff aren't going to sit tight. They'll continue to monitor which players -- especially offensive linemen and possibly fullback -- around the league were released, and don't be surprised if the roster the Colts take into their season opener against Oakland on Sept. 8 is completely different than the current one. The Colts will likely add quarterback
Chandler Harnish
and linebacker
Daniel Adongo
to the practice squad if both players clear waivers. Adongo didn't play in the preseason, but the Colts are intrigued by the former rugby player. Harnish was on the practice squad last season.
Colts cuts
: LB: Daniel Adongo,
Josh McNary
,
Monte Simmons
,
Shawn Loiseau
. DB:
Larry Asante
,
Marshay Green
,
Sheldon Price
,
Daxton Swanson
. OL:
Thomas Austin
,
Ben Ijalana
,
Bradley Sowell
,
Lee Ziemba
,
Emmett Cleary
. DL:
Lawrence Guy
,
Drake Nevis
,
Martin Tevaseu
. QB: Chandler Harnish. FB:
Robert Hughes
. TE: Dominique Jones. WR:
Jeremy Kelley
,
Jabin Sambrano
,
Lanear Sampson
July, 28, 2012
7/28/12
10:31
AM ET
Reading the coverage…
Houston Texans

Talk about how he's getting old serves as
motivation
for Andre Johnson, says John McClain of the Houston Chronicle. (What's with that Miami Heat hat?)
Contract uncertainty
won't distract
Connor Barwin or Duane Brown, says Dale Robertson of the Chronicle.
The Texans exude
a quiet confidence
, says Randy Harvey of the Houston Chronicle.
As guard Thomas Austin has a hamstring injury, the Texans
brought back
Kasey Studdard, says McClain.
Indianapolis Colts

Chuck Pagano's been part of 10 NFL training camps, but this one is the first to have
his fingerprints
all over it, says Mike Chappell of the Indianapolis Star.
Where have all the former Colts
landed
? Phil Wilson of the Star provides a run down. Forty of them, who presumably would like to be on an NFL team, are currently out of the league. Forty! Tells you a bit about the talent level on the recent roster.
The Colts would be
a great trade partner
with Pittsburgh for receiver Mike Wallace, and Indy offensive coordinator Bruce Arians knows Wallace well. But could they afford him? Brad Wells of Stampede Blue considers it all. I don't know if the Colts would court a guy who's causing a contract fuss.
Jacksonville Jaguars

Maurice Jones-Drew may be prepared to hold out
beyond training camp
, says Steve Wyche of NFL.com.
As Clint Session deals with
post concussion symptoms
, the Jaguars are uncertain about the linebacker's future, says Vito Stellino of the Florida Times-Union.
Russell Allen, who would replace Session, says
nothing's changed
, writes John Oehser of the team web site.
Mike Mularkey saw
more mistakes
in Day 1 of training camp than he would have liked, says Oehser.
Jaguars fans will be allowed to
bring food
into the stadium writes Drew Dixon of the T-U. Smart move by the team. Next up: Be at the forefront of a move to lower pries inside the stadium.
Aaron Ross has
a great attitude
, says Luke Sims of Black & Teal.
Tennessee Titans

Penn Stater Mike Munchak
empathizes with the victims
of the Jerry Sandusky scandal, says John Glennon. This notebook also includes details of Matt Hasselbeck's boring vacation, Kendall Wright's stalemate and reserve center Jon Cooper's retirement.
A pre-camp prediction of
the final 53-man roster
from Tom Gower of Total Titans. One guy Gower mentions as having a chance, Cooper, has left the team.
January, 1, 2012
1/01/12
8:28
PM ET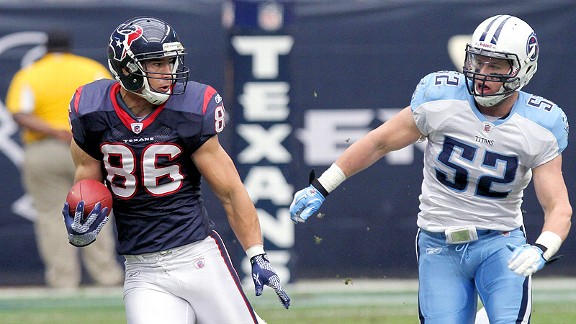 Thomas B. Shea/Getty ImagesVersatile James Casey, left, and the Texans showed off their depth Sunday against the Titans.
HOUSTON -- The Texans sought to restore order and momentum in their season finale, while avoiding any more of the injury misfortune that's beset them all season long.
Despite suffering a
23-22
loss to the
Tennessee Titans
at Reliant Stadium, the team seemed to achieve those goals and is now ready to turn to its first postseason. As the No. 3 seed, the Texans will host the
Cincinnati Bengals
.
"Nobody's disappointed," said receiver
Andre Johnson
, who estimated he played 15 snaps as he worked back from a hamstring injury. "Of course we wanted to win the game. We didn't come out on top, but there is next week. Some teams don't have next week. We have next week."
"Those first couple drives, we kind of had that swagger back a little bit," said quarterback
T.J. Yates,
who
left the game
with a bruise of his non-throwing shoulder in the first quarter. "Everybody was aggressive, flying around, very talkative on the sideline. It felt like we were back to normal out there."
A postseason appearance is definitely not normal for the Texans. Houston has an NFL playoff game for the first time since 1993.
Here are some things we learned along the way on Week 17's game between the division's two best teams:
Texans fullback James Casey remains a weapon:
He's not your standard fullback. The converted tight end started the Texans' first five games, then missed a couple with a chest injury and never got back ahead of the more traditional
Lawrence Vickers
.
But Casey's really more of a pass-catcher than a blocker by nature, and the Titans did poorly in figuring out how to stop him from getting free for seven receptions on seven targets for a team-high 91 yards.
Casey helped get the Texans in range for one of Neil Rackers' field goals with a brilliant catch, keeping the ball in the air with a left-handed tip before diving to collect it.
"We were lining up in different formations with different personnel, and as a defense it's kind of hard to understand exactly what we're going to do," Casey said. "Because we're not just doing base things. We're motioning all over the place. They don't know if I'm fullback or tight end. It's tough sometimes for them to set their blitzes or their coverage. Hopefully you can get guys out of spots, out of gaps in the run game and out of their zones in the pass game and try to take advantage of that."
Next week, with Johnson playing full time and
Owen Daniels
and
Arian Foster
back in the lineup, odds are Casey qualifies as only the fourth- or fifth-best receiving option when he's on the field.
"James has some crazy hands," Johnson said. "He's probably the guy I've seen make the most one-handed catches. His hands are very, very good, I think he has the best hands on this team. I don't know who has the best in the league, but I think he's right up there."
The Texans are quite deep:
Typically a team that scratches key starters like Foster, Daniels and cornerback
Johnathan Joseph
for a game that doesn't have great meaning, is willing to yield some. Especially if it doesn't jump out to a lead.
And the Texans have proven all season they have quality depth, as they've replaced defensive end
Mario Williams
, quarterbacks
Matt Schaub
and
Matt Leinart
, punter
Brett Hartmann
and linebacker Daryl Sharpton, and played stretches without Johnson, safety
Danieal Manning
and guard
Mike Brisiel
.
Sunday as they rested some guys and pulled others early, they called on even more depth.
Beyond Casey, the Texans got solid contributions from a lot of role players like receiver
Bryant Johnson
, running back
Derrick Ward
and linebackers
Tim Dobbins
and
Bryan Braman,
along with quarterback
Jake Delhomme
.
"It says we have quality players all across this locker room," Foster said. "We have guys that can play."
Said Titans receiver
Nate Washington
: "This is a new Texans team that they take pride in. Even their backups come in there and they are playing hard. They're going to make plays. We have to find a better way to close out those games."
One piece of depth they were missing: a center behind
Chris Myers
who could make a quality shotgun snap in the clutch. The Texans could have won it with a 2-point conversion at the end, but guard
Thomas Austin
put the shotgun snap over Delhomme's head at the end of the game. Kubiak said Austin had snapped enough that it shouldn't have been an issue.
Kubiak understands a "meaningless" game:
He's never been a playoff head coach before, but he's been part of a lot of good teams. That's why he didn't hesitate after Bryant Johnson's 5-yard touchdown reception with 14 second left to keep his offense on the field for a 2-point try.
Even after Joel Dreessen's false start, Kubiak stuck with it.
He wanted a win, sure, but he wanted overtime even less.
It was a smart call and the right call, even if Tennessee defensive end
Derrick Morgan
didn't agree.
"I understand they want to get the game over with, but after they false started and they still went for 2, I was like, 'Wow,'" he said. "That's a slap in the face. But they botched the snap, so whatever."
December, 4, 2011
12/04/11
11:53
AM ET
HOUSTON -- The Texans' defense won't get any major help from injuries today.
Atlanta running back
Michael Turner
and receiver
Julio Jones
, who both came into the game as questionable, will play Sunday at Reliant Stadium.
Houston will need to slow both and have a solid defensive effort to maximize the chances for rookie quarterback
T.J. Yates
to guide the Texans to their sixth consecutive win.
Turner is a load, and sure tackling with quick-arriving support will be a necessity.
The Falcons are without two of their top four cornerbacks in
Brent Grimes
and
Kelvin Hayden
, which could mean increased opportunity for Yates to connect with
Andre Johnson
.
Dominique Franks
will start at left corner for Grimes.
The full inactives lists:
Texans
Falcons
CB Brent Grimes
CB Kelvin Hayden
October, 16, 2011
10/16/11
2:59
PM ET
BALTIMORE -- The Texans will stick with their veteran returners and look to fullback
Lawrence Vickers
this afternoon against the Ravens.
They signed returner Trindon Holliday this week and Gary Kubiak indicated Holliday would take punt returns off
Jacoby Jones
' plate and reduce
Danieal Manning
's workload by taking over kickoff returns. But Holliday is inactive, so the Texans are unwilling or not ready to go forward with that idea.
James Casey
suffered a pectoral injury in last week's loss to Oakland and was not expected to play. Casey is a tight end-turned-fullback with great pass-catching skills. Vickers is more of a traditional fullback. He dropped a sure touchdown pass last week.
TEXANS
QB T.J. Yates
WR Trindon Holliday
FB James Casey
RAVENS
October, 2, 2011
10/02/11
11:48
AM ET
HOUSTON --
Kareem Jackson
is out with a knee injury for the Texans' game against the Steelers, replaced in the starting lineup at left cornerback by
Jason Allen
.
Jackson struggled through his rookie year but held on to his starting spot through the preseason despite a strong challenge from Allen.
The Texans' secondary was picked apart in second half by
Drew Brees
last week in New Orleans in a loss to the Saints. Jackson was not good, but plenty of other defenders were victimized as well.
Allen will line up across from speedy receiver
Mike Wallace
, and should get significant safety help.
The banged up Steelers are down four starters -- defensive end
Brett Keisel
, left cornerback
Bryant McFadden
, left tackle
Jonathan Scott
and right guard
Doug Legursky
are all out.
The Texans' defensive front will be attacking an offensive line with two subs -- left tackle
Trai Essex
and right guard
Ramon Foster
.
The complete list of inactives:
Texans
Steelers
September, 25, 2011
9/25/11
11:53
AM ET
September, 5, 2011
9/05/11
4:27
PM ET
The Texans have added guard
Thomas Austin
and punter Brett Hartmann to their 53-man roster, cutting outside linebacker
Jesse Nading
.
They've also put together their initial practice squad.