AFC South:

Thomas Dimitroff
October, 23, 2013
10/23/13
10:30
AM ET
JACKSONVILLE, Fla. -- Some leftover soundbites from a recent conversation with Jacksonville Jaguars general manager Dave Caldwell on his team-building philosophy:
How would you describe what you are trying to build in Jacksonville with the Jaguars?

Dave Caldwell:
Shad Khan is very passionate about this team and this city. When I interviewed here, he gave me the opportunity to interview other places before he offered me the job. His thought was "I want you to want to be here, and I want you to be part of the
Jacksonville Jaguars
and the community here. I think if you go explore other opportunities, you're going to realize that." He was right. My heart was here. Same with Coach [Gus} Bradley. He had the opportunity to stay in Seattle. There were a couple other jobs he could have gone for, or waited another year, but he wanted to be a part of the Jacksonville Jaguars. He wanted to be here with Shad, [president] Mark Lamping, myself, and the team we have here. We want people who want to be here. That's our mindset. I think we're slowly getting it to a point where people are going to want to come here. With our head coach and our coaching staff, I'd be hard-pressed to find a better situation. Conversely, when people leave here, we want it to be a difficult decision for them, kind of like it was for me when I left Atlanta. That was difficult, but it was difficult for the right reasons. Same thing, I want to treat our guys like Thomas [Dimitroff] treated me and if it's a great opportunity, let's get you that job. Let's get coordinators head-coaching jobs, but let's make it difficult because this is a great spot.
Why is Gus Bradley the right coach to lead the Jaguars, and for you as a co-builder of this franchise?
[+] Enlarge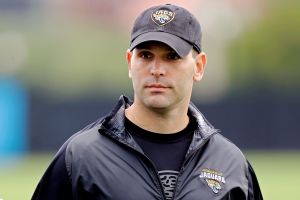 AP Photo/John Raoux"We've made the commitment to build [the Jaguars] through the draft. Thats part of the reason I took this job," GM Dave Caldwell said.
DC
: The biggest thing is that he cares. Not just about being successful, but he cares about his people, he cares about his assistant coaches, he cares about his players. Not just from a professional standpoint, but from a personal standpoint. He is extremely genuine. When he speaks to you, or he speaks to a player, he's not concerned about anything else going around. He's not looking for his next conversation. He makes you feel like you're the most important person at that time. I think that's very important, when he's talking to players, or coaches, whoever that might be, he has their full attention and they have his full attention. You saw that really quickly in the interview -- he is as genuine of a person as I've been around. He's highly passionate. Highly competitive. He was willing to take a chance. When I said we're going to build this through the draft, and play young guys early on, he was all for it. Throughout the interview process, our philosophies just aligned very quickly. Same with Shad. When Shad interviewed me, it was about continuous improvement. I said "that's what I'm looking for." When I interviewed Gus, it was about getting better. Shad's belief, all the way through, was about continuous improvement. The three of us were on the same page with that. That's how we felt we needed to get better. That process was really good. I think it's worked out well.
What have you focused on when it comes to hiring people around Gus and in scouting?
DC
: I am a first-time general manager and Gus a first-time head coach, so there was a thought of "let's use this as an opportunity to give other people their first opportunity."
Marcus Pollard
was a guy who we said, "let's give him an opportunity" knowing he was going to have to grow into his role and become an expert in that role. A lot of our coaches -- Jedd Fisch, first-time offensive coordinator, Mike Mallory, first-time special-teams coordinator. [Assistant special-teams coach] Matt Smiley, we brought from college. [Quality control coach] Tony Sorrentino, we brought from college. We have a lot of youth. We have a lot of energy. Coach Bradley wanted great teachers, passion, and guys who were excited about being here. That was the biggest thing for us. That's kind of what we did throughout the entire organization. Kyle O'Brien, college director. I felt like that if I was given my first opportunity, I could pay it back to people where it was important for them. That's kind of how we approached this from a building and culture standpoint, and it's been good. I love coming in here on daily basis with the camaraderie we have here.
How would you describe your approach of building the roster?
DC
: We've made the commitment to build this through the draft. That's part of the reason I took this job. Everybody says "I want to build through the draft, I want to build through the draft" but only a select number of them actually commit to it. I firmly believe in doing it. I know we're going to go through some adversity doing that, but in the long-term, you'll see success through it. Obviously, we have to pick the right players. I feel like that's the way to do it, and I felt like this was a market we could do that. The owner is committed to doing it. The head coach is committed to doing it. That's what we're going to do. I'm not very patient, so sometimes I tell Shad and Gus, "remind me how we're going to do this." We're convicted in our beliefs in doing it. I think it can work here. One thing about Jacksonville, they're passionate. The perception that maybe the nation has is not accurate, these fans are passionate. They love their Jaguars. It's a very similar feel to growing up in Buffalo. That city loves their football team. They live and die with them. I feel very similar to the fans here, and the passion that the fans here have.
October, 11, 2013
10/11/13
9:00
AM ET
JACKSONVILLE, Fla. -- In a week when arguably the NFL's best team faces the league's worst, a gap that has made the
Denver Broncos
a record-tying 28-point favorite over the
Jacksonville Jaguars
, it's a reminder of the major rebuilding task that Dave Caldwell has signed on to oversee.
It's daunting, but the Jaguars' passionate, grounded general manager hardly looks harried as he arrives in his office on a recent Friday morning, a large Dunkin' Donuts coffee clutched in his right hand. Maybe that's because he's been part of something like this before.
Caldwell was hired as Jaguars general manager in January after spending the previous five seasons with the
Atlanta Falcons
, the first four as director of college scouting, the final year as director of player personnel.
When he first arrived in Atlanta, the Falcons were looking up at the rest of the NFL, the 32nd team in ESPN's Power Rankings and in need of an organizational overhaul after coach Bobby Petrino quit on the team the year before, Hall of Famer Bill Parcells spurned their advances to clean up the mess and franchise quarterback
Michael Vick
was sentenced to 23 months in federal prison for dogfighting activities.
[+] Enlarge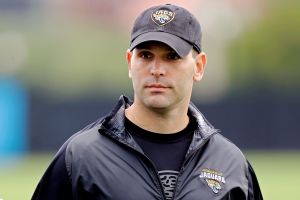 AP Photo/John Raoux"When I came on an interview here, one of the things I noticed was that this building was made for dysfunction," Jaguars general manager Dave Caldwell said.
So the 39-year-old Caldwell, who is the NFL's second-youngest GM, knows what it's like to be looking up at the rest of the NFL. He also experienced firsthand what goes into rising from that lowly standing, and much of what he's brought to Jacksonville is rooted from that experience.
It starts with addressing the culture in the building, which he learned from one of his mentors, Falcons general manager Thomas Dimitroff.
"I came the day after the draft and I remember arriving in Atlanta with a negative perception and how it was such a mess, from everything you read," Caldwell recalled. "But then I get into the building and there was a completely different vibe with everyone there, from the secretaries to the head coach. You could just sense that right away. Thomas is a friend, but it wasn't just about him at that point, it was everybody in the building. You could sense that right away and it just felt right."
Caldwell is determined to create a similar environment in Jacksonville, and while the wins have yet to come on the field -- which is ultimately what will determine if his tenure is a success -- a closer look inside the walls of the team's facility at EverBank Field reveals how parts of Caldwell's vision are already taking shape.
Concrete walls have been demolished. Metal doors which created a dungeon-like feel are now glass and more welcoming. The draft room has been opened up, and offices -- including his own -- have been moved.
"When I came on an interview here, one of the things I noticed was that this building was made for dysfunction. I called it the 'great divide.' You have a hallway that separated the coaching staff with the rest of the building and personnel. It didn't feel like an organization because you had to cross that rubber hallway to get to the coaches, you had metal doors, and everything was so closed in," he said. "Just from a symbolic basis, I felt like it was two sides."
It isn't that way anymore. The improvements aimed at more openness and transparency are still ongoing as part of what Caldwell calls a significant financial commitment from owner Shad Khan, which has included an upgraded training room, dining area for players and the team locker room.
Perhaps the most symbolic change is that Caldwell's office is now next to the upbeat head coach he hired, Gus Bradley. Caldwell said that was Khan's idea, with the hope of promoting better communication between two of the most important people in the organization, and Caldwell was immediately on board because it reflected his own beliefs.
"I learned this from Thomas: The relationship between head coach and general manager is paramount. You have to be on the same page and be co-builders regardless of who has what title," he said, adding that the Jaguars employed the same consultant in their head-coaching search as the Falcons did in 2008.
From his view in Atlanta, Dimitroff sees the obvious parallels between the 2008 Falcons and 2013 Jaguars.
"It was imperative that he and the head coach that he decided on bringing in, along with the owner, that they were very communicative, that they were along the same wavelength and congruent with their team-building philosophies," he said. "And that they had an owner who was very generous and willing to work with them and have the patience to sort of build the team the way they want to build the team.
[+] Enlarge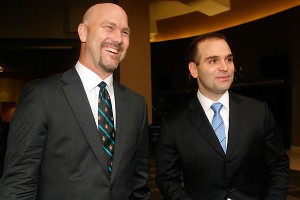 Phil Sears/USA TODAY Sports Jaguars coach Gus Bradley, left, and GM Dave Caldwell, right, now have offices next to each other. "The relationship between head coach and general manager is paramount," Caldwell said.
"Back in 2008, we were coming off a tumultuous season where the entire building -- not only football operations but also the business side -- needed a revamp in many different ways. There needed to be this injection of positivity, trust, passion, levity and direction."
Embarking on their journey together as first-time GM and first-time head coach, Caldwell and Bradley have surrounded themselves with several other first-timers, part of creating a young, vibrant culture. In terms of personnel, Caldwell used the words "athleticism, speed and aggression" when describing the types of players the Jaguars are targeting.
"I want a fast, aggressive football team. Also, a team that is highly, highly competitive, day in and day out, where guys are coming to work knowing that every single day matters, to have that roster where the 53rd guy has as much of a chance of starting as the No. 1 guy on the roster," he said.
As early-season results have shown, there have been some expected growing pains, which have sparked some media-driven talk about a possible winless season. Caldwell, who admittedly isn't the most patient type, isn't wavering on his belief that the best approach is to build the Jaguars through the draft.
That helps explain why he traded left tackle
Eugene Monroe
to the
Baltimore Ravens
earlier this month for fourth- and fifth-round draft choices. Monroe was entering the final year of his contract. The Jaguars drafted left-tackle-of-the-future
Luke Joeckel
No. 2 overall this year, and Caldwell -- who spent 10 seasons with the
Indianapolis Colts
as a scout before his five years in Atlanta -- is thinking big picture. He now has 10 picks in the 2014 draft.
"Everybody says 'I want to build through the draft, I want to build through the draft,' but only a select number of teams actually commit to it. I firmly believe in doing it. I know we're going to go through some adversity doing that, but in the long-term, you'll see success through it," Caldwell said.
"Obviously, we have to pick the right players, but I felt like this was a market we could do that. The owner is committed to doing it. The head coach is committed to doing it. That's what we're going to do and we're convicted in our beliefs in doing it. I think it can work here."
It mostly worked for the Falcons from their low point in 2008, although there is one major difference between the '08 Falcons and 2013 Jaguars. The Falcons drafted their franchise quarterback that first year in selecting
Matt Ryan
No. 3 overall.
Caldwell didn't draft a quarterback this year, but the 2014 draft is expected to be deep at the position. That's obviously the key piece. And whatever he decides at quarterback, it will almost certainly be the most important decision of his tenure. On Thursday night, Caldwell attended the Louisville-Rutgers game, as Louisville's Teddy Bridgewater is one of the nation's top quarterback prospects.
Meanwhile, on Sunday, Caldwell will be in Denver, where his Jaguars are the biggest underdogs the NFL has seen in decades.
He's been down this road before, living it with the 2008 Falcons, which only makes him more steadfast in his belief that better days are ahead.
December, 28, 2012
12/28/12
2:57
PM ET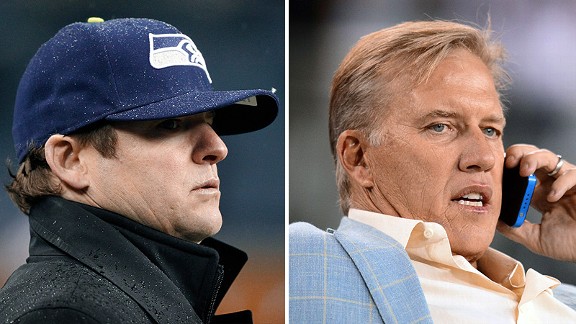 USA TODAY SportsShrewd moves by John Schneider (Seattle), left, and John Elway (Denver) produced playoff teams.
The Colts have legitimate candidates for two of the big awards handed out by the Associated Press: Chuck Pagano/Bruce Arians for coach of the year and
Andrew Luck
for offensive rookie of the year.
AP doesn't name an executive of the year. The Sporting News does, and that's regarded as the primary award in that category. The Colts have a strong candidate there, too, in general manager Ryan Grigson.
Indianapolis is having a wonderful and surprising season. But there are other teams doing good things, too.
At the end of the year, my view tends to broaden.
During the regular season, I focused primarily on the AFC South, of course. But now two teams will see their seasons end. I don't have an AP vote, but I still feel compelled to present the cases for guys in my division who should be considered. I've written about Pagano/Arians and about Luck.
Now it's time to ponder Grigson.
In all, 37 of the Colts' 53 players were not on the team he inherited. Drafting Luck wasn't a tough move. But he hit home runs, too, with third-rounders
Dwayne Allen
and
T.Y. Hilton
, a tight end and receiver, respectively. Fifth-round running back
Vick Ballard
is a solid contributor. Grigson found inside linebacker
Jerrell Freeman
in Canada. As he jettisoned numerous veterans to reboot the franchise, he re-signed
Reggie Wayne
, who's been fantastic, and
Robert Mathis
, who's going to his fifth consecutive Pro Bowl. He got production out of reclamation project
Donnie Avery
, a receiver who was an absolute zero a year ago for division rival Tennessee.
It's a very good résumé.
I surveyed the other seven NFL bloggers at ESPN as well as Bill Polian, Trent Dilfer, Eric Mangini, Jon Gruden, Mike Tirico, Herm Edwards, Trey Wingo, Suzy Kolber, Chris Mortensen, Adam Schefter, John Clayton, Sal Paolantonio, Bill Barnwell, Matt Williamson and Mike Reiss.
Mangini, Wingo, Paolantonio and Schefter were big backers of Grigson.
"He totally overhauled that team in the most difficult of circumstances," Wingo said. "Cut the right players, kept the right players. And look at all the rookies with major contributions."
"Thirty-seven new players, a rookie QB and interim head coach," Mangini said. "I would go with Grigson."
But Grigson finishes a distant third in our poll, with Seattle's John Schneider edging Denver's John Elway for the award.
Schneider had a great draft. His first-round pick was widely panned, but
Bruce Irvin
has eight sacks. Second-rounder
Bobby Wagner
is a legit candidate for defensive rookie of the year as the every-down middle linebacker for the top defense. Third-rounder
Russell Wilson
has been a revelation and could upset Luck and
Robert Griffin III
for offensive rookie of the year. The rest of the draft is filled with contributors.
Schneider has made unconventional and even unpopular moves throughout his three-year tenure.
"He has repeatedly made fools of draft-day critics, however, and that is happening in a big way this year," NFC West blogger Mike Sando wrote in
his division wrap-up
.
Elway found a graceful way to part with the immensely popular
Tim Tebow
while luring
Peyton Manning
to Denver.
Wrote Clayton recently
: "Elway made the single biggest acquisition of the year. The fact that it has worked means he deserves the award."
No offense to Clayton, but that's way too simple a formula for me.
Says AFC West blogger Bill Williamson: "Elway, in his second season in his role, has been more than just a beneficiary of Manning's decision. Nearly every move Elway has made has worked. In two years, Elway has taken the No. 32 defense and added the pieces to make it the No. 3 defense. This team was a mess when the Duke took over. Now, it may be weeks away from Elway's sixth Super Bowl appearance in Denver."
I'd put Elway third. Schneider and Grigson each did a lot more from my vantage point.
I've had a close view of the Colts' transformation from a 2-14 disaster to a 10-5 team heading to the playoffs.
As I broadened that view, however, I leaned on something Sando said as we discussed this: Take away the obvious moves, the moves your mom would know to make -- signing Manning, drafting Luck -- and find out who's the choice.
I voted Schneider, and so did seven others, enough for him to edge Elway.
The total in straight name-your-guy balloting:
Schneider: 8

Elway: 7

Grigson: 4

Thomas Dimitroff, Atlanta: 2

Trent Baalke, San Francisco: 1

Bruce Allen, Washingon: 1
It's been a great deal of fun the last couple days rounding up votes. As I came to my deadline, I felt like an election official waiting on results to come in from the final precincts.
Since we're AFC South HQ, I'll leave Wingo with the final word. I told him he was part of non-winning support for Grigson, who was behind Elway and Schneider.
"I get both of those, truly I do," Wingo said. "But can anyone honestly say they did more with less? Elway was really about one move, a pivotal move for sure, but how hard is it to go after arguably the greatest regular-season QB the league has ever seen?
"Grigson had to be the guy to get
rid
of him, replace him with the right choice, and gut the roster. His decisions to me by
far
are the most significant."
September, 21, 2011
9/21/11
9:23
AM ET
The inevitable has arrived early in Jacksonville, and Jack Del Rio has told
Blaine Gabbert
he
will start
at quarterback for the Jaguars on Sunday in Carolina.
Luke McCown
made it an easier choice than the team had hoped with an awful performance in the Jaguars' loss to the
New York Jets
.
But in the big picture, sooner is better for Gabbert.
I heard Atlanta GM Thomas Dimitroff on
The Dan Patrick Show
yesterday talking about rookie quarterbacks. He suggested the era of high draft picks having to struggle out of the gate is past. Looking at the solid play of
Andy Dalton
and
Cam Newton
so far, one has to wonder if he's right.
"I'm not in any way amazed by rookie quarterbacks in this league," Dimitroff said. "There are some young quarterbacks who continue to impress. I think it's great for team builders to know they can draft a quarterback and play them early."
It seems like more guys are able to step in and play well.
Newton was the top overall pick to Carolina, Gabbert was 10th to Jacksonville and Dalton was 35th to Cincinnati.
Much has to do with what surrounded them. The Jaguars have worked hard to get a foundation set for a new quarterback to have a good framework around him.
Sunday we find out a bit about how strong the foundation is, and we get our first indication about how equipped Gabbert is to play well early. If his defense can fare a lot better than the Panthers' first two opponents have against Newton, that would be a big help, too.
February, 21, 2009
2/21/09
3:00
PM ET
Posted by ESPN.com's Paul Kuharsky
INDIANAPOLIS -- The numbers flying around the scouting combine are baffling, but we shouldn't be surprised.
After Oakland signed cornerback Nnamdi Asomugha to a deal averaging $15 million a year, the scouting combine buzz has been that a free-agent package for Titans defensive tackle Albert Haynesworth could come in the form of a six-year contract technically worth $100 million.
Chicago's Tommie Harris currently ranks as the NFL's highest-priced defensive tackle at roughly $10 million a year. It's a big jump to go from the $7.25 million franchise tag to the top paid player at the position, never mind the top paid player on defense in the league.
And consider this element of the potential leap Haynesworth could make: the franchise number for tackles, which is the average of the 10 highest paid players at the position, ranks last among the five defensive positions.
Franchise numbers on defense:
Franchise player values on defense
Cornerback
$9.95 million
Defensive end
$8.991 million
Linebacker
$8.304 million
Safety
$6.342 million
Defensive tackle
$6.058 million
At the scouting combine, I asked a variety of front-office guys some of these questions: Could a defensive tackle be worthy of being the highest-paid defender? Would a deal that makes him so screw up salary structures? What sort of impact would it have in terms of precedent?
No one really regarded it as a doomsday scenario, which surprised me a bit. I guess everyone has come to terms with the giant contract to the biggest free agent, and learned to simply brace for the next one.
Thirty-one teams may wind up thinking the franchise that backs up a Brinks truck to the Haynesworth residence has gone overboard. But the rest of the league won't be able to wall themselves off from its impact, as they will all feel a ripple effect in time -- and probably not a very long time.
OK, then. Here's a sampling of what some NFL power brokers think about all that. Most talked about a hypothetical defensive tackle rather than Haynesworth specifically.
Thomas Dimitroff, GM, Atlanta: "I think free agency in general throws a lot of things off. When you look at it from a business perspective and you look at our cap, ultimately that's not how we want to personally build. We want to stress the draft. To throw double-digit millions in guaranteed money and a high average-per-year money into a player who is not a part of your system and coming from another situation, that really has me back on my heels a little bit to be honest with you. We would have to do a lot of work when evaluating that. Again, I think there are some fine football players in the draft that you can continue to develop. Ray Hamilton, in my mind, is a top defensive line coach. I think he gets the most out of those guys. Let's let him coach football. Let him coach the young players. That's my position."
Kevin Colbert, director of football operations, Pittsburgh: "I don't think you can ever limit the salary structure to a position. If you feel a player is that good, then you better pay him. People talk about, 'Well, traditionally you don't draft safeties real high,' I think that's been proven wrong as well. If they are great players, it doesn't matter what position they play, they can help your team in some form or fashion. And if they're that great, they're probably going to change the salary structures as well."
Jim Schwartz, coach, Detroit: "I think when you talk about high-priced players anywhere, you talk about people who can impact the game. Maybe not just from a fan standpoint, but from a coaching and a scheme standpoint. Left tackles get paid a lot of money, not because it looks real pretty on TV or in the media, but because of what he does for an offensive coordinator and his protects and things like that. You've got to have ability to impact the game -- corners who can shut down somebody, pass-rushers who can win one-on-ones, those guys impact the game. Running [backs] who can run against eight-man fronts, they impact the game. Quarterbacks impact the game. Hypothetically, if there's a defensive tackle who dominates the game, there's no reason he wouldn't be the highest paid player."
Ted Thompson, GM, Green Bay: "In terms of just a generic position thing, quite frankly, the defensive line position -- I know the defensive end position is a little bit more glorified, more sacks and things -- but defensive tackles, since the onset of free agency, have always made quite a bit of money. They might not have been right at the top in terms of the groupings, but no, that wouldn't be a remarkable surprise."
Scot McCloughan, GM, 49ers: "You know what? It wouldn't surprise me at all. That's the one thing about free agency, and that's the one thing about organizations that have done a good job, they have some cap room, and all of a sudden it gets to the point where they think that one guy can make them be a Super Bowl contender. I think it's proved out especially at the corner position. All it takes is one team to say, 'Listen, we're doing it.' Then it sets the market for the future. It's a scary business. ...
It's going to affect the long term, all of the sudden it set a precedent. Here it is: 'My guy is as good as him.' Or, 'My guy is half as good as him, so I get half the money.' Seriously. You can see it with [Oakland punter Shane] Lechler. What we got there, that sets a precedent -- $4 million a year for a punter. ...
Holy smokes, here we go. You better draft a good one. We've got one locked in [Andy Lee]. But agents are calling. I don't blame them, would you? I've got [a punter] that was in the Pro Bowl two years ago, was an alternate for the Pro Bowl this year a
nd he makes a quarter [of that]. What's wrong with him? Well, he signed the deal.
You can't stop the market from being set, teams are going to set it. But once it's set, you've got to stay in it. If you want to dance with the good-looking girl, this is what you're going to have to pay. It's scary. That's why the draft's so important, you've got to be able to draft those young guys and know they're going to play and maybe not have the All-Pro, but have a good football player next to a good football player and be able to win a lot of games with them."
February, 20, 2009
2/20/09
12:13
PM ET
Posted by ESPN.com's Paul Kuharsky
INDIANAPOLIS -- Strike the Atlanta Falcons from the list of potential Albert Haynesworth suitors.
Terry McCormick asked Falcons GM Thomas Dimitroff about Haynesworth a while ago and got this:
We will continue to grow and get younger, not only in free agency and the draft, depending on what may be available. As for Albert Haynesworth, obviously he's a fantastic football player, but our aim is not to be major players in free agency. It's to get back to focusing on the draft. Last year, we made a lot of moves and a lot of commitment in free agency because we felt we had to kicking our season off and moving toward a rebuild. So this year, we've stepped back and we're really trying to analyze the draft and the availability of the draft.
Who will pursue Haynesworth?
There have been rumblings about Houston, but the Texans are not going to make a play for him.
People in the know in Denver say the Broncos are not likely to court him but I wonder if they still might.
Speculation is the Lions could make a push, but it's unclear how much of that simply comes from putting Haynesworth with new coach Jim Schwartz, who was coordinator in Tennessee. The two have a mutual respect for each other, but don't qualify as particularly tight.
An unknown team is likely to jump out from nowhere as so often happens early in free agency with the big names.
[UPDATE, 12:30 p.m.] Right now the popular thinking is that Tampa Bay will be in pursuit. But a couple of us just asked GM Mark Dominik about it and he was vague and took a long pause before responding:
I would say in our situation we're happy we just signed Ryan Sims back as a defensive tackle for us and he's going to have a good opportunity in camp.
Keep in mind someone with plans to chase Haynesworth starting next Friday isn't going to rush to say so here at the combine. Still, the comments from Dimitroff and Dominik were interesting.
Stayed tuned for a lot more on Haynesworth.