AFC South:

Titans hire Ken Whisenhunt
January, 14, 2014
Jan 14
10:54
PM ET
NASHVILLE, Tenn. -- The Titans are paying Ken Whisenhunt
$1 million more a season
than the
Detroit Lions
offered him.
ESPN's Ed Werder has even more details of why Whisenhunt chose to sign on as Tennessee's new coach.
Part of it was that the team was "overly aggressive'' financially in the words of a source familiar with the negotiations. League sources told Werder the deal is longer than the typical four years and fully guaranteed. Coaching deals are generally guaranteed, so the choice of words suggested this one may include no offsets. That would allow a fired Whisenhunt to work elsewhere and collect his salary from the Titans in addition to getting paid by a new employer.
I have confirmed that is the case and that the coach the Titans recently fired,
Mike Munchak
, does have offset language in his contract.
The Titans will pay Munchak $3 million for 2014. But if he gets the top job in Cleveland or coaches the offensive line for Houston, Tennessee would only be on the hook for the difference between the $3 million and his new salary.
ESPN's John Clayton tells me no offset language like Whisenhunt got in "very rare" in a coach's contract.
More on Whisenhunt per Werder's sources:
As Whisenhunt said at his introductory press conference, he was impressed with general manager Ruston Webster and sees him as a partner in building the team. Whisenhunt is also convinced he will have more influence and control then he ever would have had with the Lions or Browns.
While Whisenhunt was impressed with the Lions roster of players, closer inspection prompted questions about whether he could build a talented and deep team with three players – quarterback
Matthew Stafford
, receiver
Calvin Johnson
and defensive tackle Ndamakung Suh -- commanding such a high percentage of the salary cap.
January, 14, 2014
Jan 14
7:45
PM ET
NASHVILLE, Tenn. -- The
Tennessee Titans
auditorium has never been as full as it was for Ken Whisenhunt's introductory press conference.
He was what a team wants on this day: Cool, comfortable, conversational.
When it was over, the building was filed with renewed hope, just as it is after every coaching hire and introduction in the NFL.
[+] Enlarge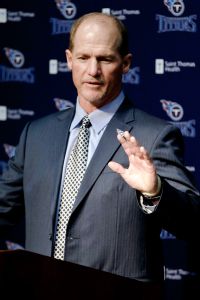 AP Photo/Mark HumphreyNew Titans coach Ken Whisenhunt said he will be evaluating his new players over the coming weeks and months.
It marks an organizational reset, and buys the Titans the same thing for someone like me that it should buy with its fan base.
A clean slate that comes with a fresh start and time to show us who he is, what he will be, how the staff he hires will convey his messages and teach, who he will choose to play and how they will perform for him.
Like a lot of people, I'm anxious to see what he brings.
But while he offered a much more presidential feel in his first press conference than Mike Munchak typically did, Whisenhunt didn't say a great deal.
Most of the questions he got, he'll get again, until he's had time to do the work to have more of an answer.
He deferred on opinions regarding quarterback
Jake Locker
and running back
Chris Johnson
and most specifics regarding what he's inheriting.
"We just got finished with our season two days ago," he said of the
San Diego Chargers
for whom he was offensive coordinator. "It's been a whirlwind. There is a lot of time that goes into that especially when you get into the playoffs. So I really haven't had a chance to study that.
"That's going to be a big thing over the next weeks and months, as far as evaluating out players and how they fit in. The one thing I'll say is, I liked Jake coming out. And one of the things that I think we've done a good job with in the places I've been is putting them in positions to be successful. And that's what our goal is to be here."
I don't fault Whisenhunt for not having a more thorough answer. Ideally, a candidate has had time to study the roster and the tape and can tell a team his vision for important people and pieces.
Whisenhunt was busy with the Chargers' playoff run, though, and he was simultaneously a hot commodity in the coaching market.
The Titans didn't hire him because of his specific plan for Locker or Johnson or anyone.
They hired him because they believe he will craft a plan that maximizes those players and anyone else he inherits, as well as those he helps bring in.
January, 14, 2014
Jan 14
3:03
PM ET
NASHVILLE, Tenn. -- Ken Whisenhunt might like Nashville. He might like the
Tennessee Titans
' roster. And he might have hit it off with Ruston Webster.
But in choosing the Titans over the
Detroit Lions
and becoming Tennessee's new head coach, Whisenhunt got $1 million more in annual salary than what Detroit offered, according to a source familiar with the offers.
Some Titans critics tend to regard the team as cheap. It's not a reasonable stance given they spent big to re-sign
Chris Johnson
in 2011 and they doled out over $100 million in free-agent contracts last year.
This is yet another bit of evidence that the Titans are willing to spend.
January, 14, 2014
Jan 14
7:50
AM ET
NASHVILLE, Tenn. -- Titans president and CEO Tommy Smith said in his one press conference since taking over those posts that he would be around Nashville regularly.
That may still be the case, but since the season ended, he has not been in Nashville once.
He participated in part of Jim Caldwell's interview by phone, per Jim Wyatt of The Tennessean. Presumably he did the same with the others. Cincinnati defensive coordinator Mike Zimmer has a second interview in Houston, where Smith lives and works.
[+] Enlarge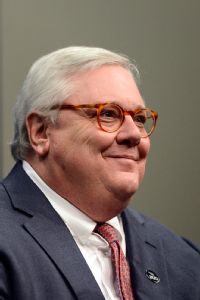 AP Photo/Mark ZaleskiTitans president Tommy Smith is expected at Tuesday's press conference announcing Ken Whisenhunt as the team's new coach.
I have not been able to get confirmation that Whisenhunt has actually met Tommy Smith face-to-face. Which makes me think he hasn't.
That tells me two things: Webster has
even more power than I thought
to run the football operation and Smith may be even more hands off as head of the ownership group than anyone has speculated.
I still don't believe Smith needs to have a big presence
in Nashville
. In fact, I'd still argue it can be good for football people to have 800 miles of space from the owner.
I do wonder, however, what will warrant the promised visits to Nashville from Smith? After all, a press conference announcing the firing of a head coach who was with the franchise for 31 years didn't. And interviews for his replacement didn't.
Webster interviewed Whisenhunt Friday in San Diego, as the Chargers were getting ready for their playoff game in Denver. Smith wasn't there, as he wasn't in Nashville for interviews with Jay Gruden, Jim Caldwell or Mike Zimmer.
I understand Smith's faith in Webster, and respect the team's top executive allowing his top football man to do his job. I understand that a lot can be gleaned from a phone conversation. I think Whisenhunt is probably a good choice.
But hiring an NFL head coach is a huge deal. How can a team president and CEO sign off on such a move without looking the candidate in the eye?
I'm completely open-minded about Smith as the team's top executive. I'm told he will be at the Tuesday press conference with Whisenhunt and Webster.
He should stick around a bit after it's over and talk to employees who won't be visiting with him in Houston anytime soon.
That's about everyone but Webster, Whisenhunt and the team's top executive on non-football matters, Don MacLachlan.
January, 13, 2014
Jan 13
10:01
PM ET
NASHILLE, Tenn. -- During his final two years as head coach of the
Arizona Cardinals
, Ken Whisenhunt's wanted a Pittsburgh style, 2-gapping, 3-4 defense.
He could adjust given his second head-coaching job, with the
Tennessee Titans
. But if we're forecasting scheme, that might be the most likely defense we'll see.
What's that mean regarding potential coordinators on the other side of the ball for Whisenhunt, who played as an NFL tight end and is an offensive coach?
If defensive coordinator Ray Horton is fired by the
Cleveland Browns
, who are still searching for a head coach, he'd likely be a prime candidate to re-join Whisenhunt, for whom he worked with the Cardinals. It was Horton who went from Pittsburgh to Arizona to run that scheme for the Cardinals.
[+] Enlarge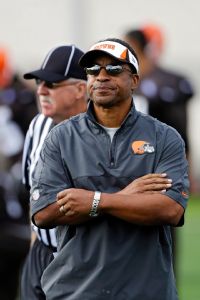 AP Photo/Mark DuncanIf Ray Horton is not retained when the Browns hire a new coach, he could be a prime candidate to join Ken Whisenhunt's staff.
A couple others I think could be defensive coordinator possibilities: Green Bay's inside linebackers coach Winston Moss and Baltimore's secondary coach Teryl Austin, who coached Arizona's secondary for Whisenhunt from 2007-09.
The Packers or Ravens would have to be willing to let them go in order for Whisenhunt to get them.
Steelers linebacker coach Keith Butler is someone Whisenhunt coveted for the role in his first go-round as a head coach. But Pittsburgh wouldn't let Butler go then and it's unlikely it will let him go now.
Gregg Williams was a 4-3 guy coming up with the Oilers/Titans, as head coach in Buffalo, as coordinator in Washington and Jacksonville. He did run some 3-4 in New Orleans, where he coaches a Super Bowl-wining defense.
Williams did well as a senior assistant/defense for Mike Munchak in 2013. His contract recently expired. He seems like an unlikely guy for Whisenhunt to want, but who knows what options the new coach will wind up with?
His two earlier defensive coordinators in Arizona -- Clancy Pendergast in 2007-08 and Billy Davis in 2009-10 -- ran hybrid fronts. But ultimately Whisenhunt landed on Horton and that 3-4.
If Whisenhunt puts the Titans on a course for a 3-4 defense, he'll likely need some time to get them there. In the traditional version of the scheme, linemen generally take on the man across from them and are expected to clog the gap on either side of the blocker depending on how a play develops. The linebackers fill in and make the bulk of the plays.
The Titans' best defensive player,
Jurrell Casey
, is a 4-3 tackle who would surely become a 3-4 end. Big nose tackles who demand a double team are hard to find, though perhaps 328-pound
Sammie Hill
could make the conversion.
The Titans linebackers were very unproductive in 2013 after a good start. None scream out to me that they'd be better standing up and adding some coverage duties, though
Akeem Ayers
was projected by many in that role when he came out of UCLA. I didn't think the Titans had one sufficient middle linebacker, better yet two who could be tackling machines sharing the inside.
Indianapolis coach Chuck Pagano got good results running a hybrid in his first season converting a 4-3 to a 3-4 in 2012, and in his second season the team was better stocked for his preferred front. But he had
Robert Mathis
, a pass-rushing demon at end who's taken well to playing as an outside linebacker.
When he's formally introduced Tuesday, we'll hear from Whisenhunt about his plans for Tennessee's defense.
January, 13, 2014
Jan 13
7:27
PM ET
NASHVILLE, Tenn. -- The Titans have officially announced Ken Whisenhunt as their new coach.
Titans president and CEO Tommy Smith:

"This is a big day for this franchise. Ken is a well-respected coach in this league and I am looking forward to seeing his vision become reality for this team. He has a history of building successful offenses and took Arizona to a Super Bowl as a head coach. We all share a common goal for this team and that is to build a consistent winner. I want to thank Ruston for his hard work in the process and the quality candidates that he brought in for interviews."
Titans General Manager Ruston Webster:
"I have a lot of respect for Ken as a coach and as an offensive mind. The traits that stand out to me when identifying him as our next coach -- he is intelligent, has a track record with quality offenses and head coaching success. I really enjoyed our meeting on Friday night in San Diego and we share similar philosophies about the game. Additionally, we have several mutual colleagues that have spoken highly to me about Ken both as a coach and as a person. I am excited about Ken joining us and the future of the Titans."
January, 13, 2014
Jan 13
6:48
PM ET
NASHVILLE, Tenn. -- We don't know the differences in money or years or power, but it appears at least one hot coaching prospect ranks the
Tennessee Titans
as a superior opportunity to the
Detroit Lions
.

Whisenhunt
Jim Wyatt of The Tennessean
first reported and
ESPN's Adam Schefter and Chris Mortensen have confirmed
that Ken Whisenhunt is the Titans' new coach.
Whisenhunt coached the
Arizona Cardinals
to a 49-53 record from 2007 to 2012 and led them to the NFC championship and a Super Bowl XLIII loss to the
Pittsburgh Steelers
at the end of the 2008 season.
But after
Kurt Warner
retired, the Cardinals were a jumble at the quarterback spot. There were reports of a near mutiny in the Arizona locker room in 2012, when the team went 5-11.
Whisenhunt was fired and the Cardinals replaced him with Bruce Arians, whose team went 10-6 this season.
Whisenhunt was offensive coordinator of the
San Diego Chargers
and did well to help revitalize veteran quarterback
Philip Rivers
while working with rookie head coach Mike McCoy.
Coaches with previous head-coaching experience have been hired for three of the four jobs filled so far in the NFL -- with former Penn State coach Bill O'Brien hired in Houston, former
Chicago Bears
coach Lovie Smith hired in Tampa Bay and now Whisenhunt hired in Tennessee.
The Titans interviewed just four candidates, total. Jay Gruden was hired as head coach in Washington. Cincinnati defensive coordinator Mike Zimmer appears to be a prime candidate in Minnesota. Former Colts coach and current Baltimore offensive coordinator Jim Caldwell could now be the leader in Detroit.
Hiring a guy who's been in charge before makes sense provided he identifies what went wrong the first time and intends to make changes.
Whisenhunt was probably too much of a players' coach with the Cardinals. He reportedly held grudges. He didn't do well to find or develop a quarterback once Warner was done and may need more and better help at that.
If he adjusts in those areas and others he can admit were issues for him, this can be a good hire.
I have no reason to believe he won't adjust and evolve.
But if he doesn't, the Titans could be hiring a guy who went 25-36 as a head coach when Warner was not his quarterback.