AFC South:

Titans-Steelers 091009
September, 11, 2009
9/11/09
3:11
PM ET

Posted by ESPN.com's Paul Kuharsky
ESPN Stats & Information gives us some excellent insight into what did and did not happen for the Titans Thursday night in Pittsburgh, starting out with evidence that the four-man pass rush may not have been as effective as I thought it was.
Pass rush:
A four-man rush helped produce interceptions by both
Cortland Finnegan
(on a Hail Mary at the end of the first half)and
Vincent Fuller
the Titans gave up a whole lot of passing yardage.
Ben Roethlisberger, by type of pass rush

Standard
Added pressure

Comp/Att

27/35

6/8

Pass yards

320

43

TD/INT

1/2

0/0

Sacked

2

2
Kerry Collins
was solid but unspectacular, with one touchdowns and one interception. Our researchers broke down how he did before and after safety
Troy Polamalu
was knocked out of the game with a knee injury.
Kerry Collins, before and after Troy Polamalu injury


Before
After

Yards per attempt

5.7

8.3

TD/INT

0/1

1/0

Rating

53.7

110.2

Versus four-man pass rush:
With Polamalu: 6-for-11, 67 yards, the interception and a 35.0 passer rating.
Without Polamalu: -- 7-for-9, 116 yards, the TD and a 155.8 passer rating.
Out of shotgun:
With Polamalu: 27.8 completion percentage and 72.1 passer rating.
Without Polamalu: 47.1 completion percentage and 130.2 passer rating
Middle and right runs:
Titans running backs
Chris Johnson
and
LenDale White
ran for 80 yards on 16 attempts up the middle and to the right. When running behind or outside left tackle
Michael Roos
, the tandem gained just five yards on seven carries.
Loaded box versus Big Ben:
Of Roethlisberger's 43 pass attempts, 14 came against a loaded box. Roethlisberger struggled when his blockers were outnumbered and excelled when his offensive line had the advantage.
September, 11, 2009
9/11/09
9:14
AM ET

Posted by ESPN.com's Paul Kuharsky
The Titans are still going to face
Albert Haynesworth
questions.
They are probably going to be less willing to field them politely.
Tennessee rushed
Ben Roethlisberger
well, mostly with just its front four defensive linemen. It's how they operated with the massive defensive tackle, it's how they've said they plan to operate without him after he jumped to Washington for a giant free-agent contract.
Against the Steelers, five Tennessee linemen combined for four sacks and eight quarterback hits.
"I think the D-line did a great job of just playing football. They were stopping the run, they were doing a good job getting upfield, getting Ben [Roethlisberger] off the spot," linebacker
Keith Bulluck
said. "I don't think Albert should be talked about around here anymore. Those boys deserved it, they earned it, they held their own."
Defensive tackle
Kevin Vickerson
said the Titans could have rushed better.
"When it came down to it, he had the ball at the end of the game longer than we expected him to, but that's the game, they max protected a lot and did a good job blocking I guess," he said.
As for the whether the defensive line answered the Haynesworth question, he said, "You tell me."
"Albert didn't make the defense," Vickerson said. "He was a part of it. He didn't make it. Like you saw [Thursday night] we can play, I think we showed the world that."
September, 11, 2009
9/11/09
2:46
AM ET
| | |
| --- | --- |
| | |
| | Jason Miller/US Presswire |
| | Vincent Fuller can't watch after Jeff Reed's game-winning field goal Thursday night. |

Posted by ESPN.com's Paul Kuharsky
PITTSBURGH -- For a good share of opening night at Heinz Field, it sure felt like the Tennessee Titans were in control.
The Pittsburgh Steelers barely tried to run the ball. Tennessee's defense was finding its way to
Ben Roethlisberger
. The Titans' offense was effective in spurts and at least gaining position for field goals.
But in a way that felt eerily similar to the Titans' last game, January's
divisional round playoff loss
to the Baltimore Ravens, the scoreboard didn't reflect the feel of the game.
And in the end when the
Titans lost 13-10 in overtime
, it was fair to wonder if finishing against a good team is an issue that held up over eight months.
"This team needs learn how to finish then," linebacker
Keith Bulluck
said. "Maybe that's the missing piece then to get over the hump. The last two games, we were in control, had ourselves in position to win and we didn't come out on top.
"To play great football for that long and not come out on top two games in a row, two pretty big games in a row, it might be something to look at. But that's something for us as a team to adjust as players."
When it was over, after I'd made my way through the locker room and fleshed some things out, it still felt like there was one question lingering for each unit.
Offense
: Scoring is the obvious issue, but the offense gained position for two makeable first-half field goals that could have changed the complexion of the game. We'll cover those situations under special teams.
Quarterback
Kerry Collins
hung in against a super-difficult defense. Running backs
Chris Johnson
and
LenDale White
ran it well enough, combining for a functional 3.4 yards a carry. Receivers made plays, too, with
Kenny Britt
accounting for the game's longest gain when he slipped free for a 57-yard catch on the Titans' touchdown drive.
Justin Gage
scored on a 14-yard throw.
But the upgraded passing game got three catches for 1 yard from former Steeler
Nate Washington
. It saw Britt misplay a deep ball from Collins. Britt could only watch in vain as Pittsburgh safety
Troy Polamalu
made an acrobatic interception.
"I misread the ball when I was coming out. ... I need to make a play on the ball," Britt said. "It was a great catch by him. A rookie mistake. You learn, 'if I can't get it, nobody gets it.'"
Gage, a member of the old guard who stands to be a bigger and more consistent contributor, made some nice plays. But on a third-and-10 from their own 30, the Titans were desperate for a fourth-period conversion just before the two-minute warning. Collins threw for Gage down the middle. The ball was hardly perfect, but Gage got his hands on it. He might have heard safety
Tyrone Carter
-- who replaced an injured Polamalu -- closing in search of a kill shot. The pass skidded away. A completion there could have set the Titans on course to move down the field for a winning field goal in regulation.
"Anytime you get your hands on the ball, there is a play to be made," Gage said. "If I can touch the ball, I can catch it. I just didn't come up with it ... I don't think we showed ourselves to the fullest. I think we showed glimpses of what we can do. We left some plays out there and didn't finish some drives."
Can they make the clutch catch at the game's biggest moment?
Defense:
The pass rush was spectacular at times and finished with four sacks and eight hits against Roethlisberger.
Defensive coordinator Chuck Cecil said the team rushed four, blitzed and faked, mixing things up to be unpredictable.
"When you bring people, he's got answers, so are you willing to live with the answers?" Cecil said of the Steelers' quarterback. "We didn't go one way. We basically tried to play a little bit of both. I thought we were successful for a lot of the game and obviously didn't get it done late in the game or in overtime because you've got to get off the field and we didn't do that."
On Pittsburgh's fourth-quarter drive to tie the game at 10-10 and the overtime march to win it, there were some plays where Roethlisberger threw quickly into spaces that didn't seem to close quickly enough once the ball arrived.
In those two drives, up until to the 22-yard pass to
Mike Wallace
that set up the winning kick, Roethlisberger's passes went like this: 7 yards, 5, 9, 3, 10, 15, 8, incomplete, 11, 8, 8, 11 and incomplete.
"It's kind of like a helter-skelter offense where he pretty much baits you to try to make a play to where they can run a route off of it," said
Chris Hope
, a one-time teammate of Roethlisberger's.
What's the answer to the little stuff?
Special teams:
Place-kicker
Rob Bironas
missed a 37-yard field goal attempt wide right. Later, he saw a 31-yard attempt blocked by
Aaron Smith
.
"I had a field goal blocked and a field goal missed," Titans head coach Jeff Fisher said, offering more when prompted. On the block there was penetration inside, on the miss the snap was low and despite a good hold Bironas was thrown off, Fisher said.
A team that is built for close games and relishes winning that way needs to be more dependable in such situations. It can't afford a 28-yard shanked punt by
Craig Hentrich
in crunch time, either.
Shouldn't a team with five preseason games of work be sharper in those departments?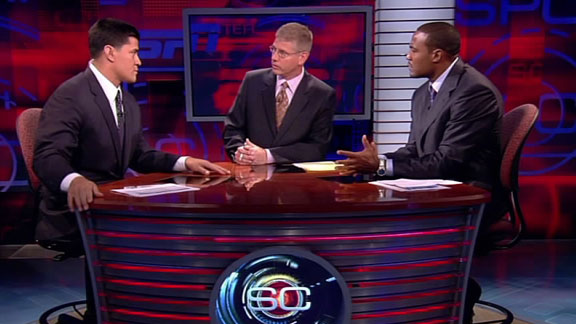 September, 10, 2009
9/10/09
11:51
PM ET

Posted by ESPN.com's Paul Kuharsky
PITTSBURGH -- So much went right for the Titans Thursday night at Heinz Field. Even so, they
dropped the season opener to the Steelers
, 13-10.


Looking back, they've got a lot of things to regret, first among them the kicking game. A missed field goal by
Rob Bironas
and a blocked field goal in the first half might have made the difference. They were lucky a shanked punt by
Craig Hentrich
late in the game didn't.
They didn't win the overtime coin toss either, and when the pass pressure that fizzled late in regulation didn't resurface,
Ben Roethlisberger
did what he often does: played clutch in a game's decisive moments.
He pump-faked and passed the Steelers to an impressive win in a memorable game, capped by
Jeff Reed
's 33-yard field goal.
Jeff Fisher's team was 10-0 last season before losing. This time around they won't deal with any of the perks or pressures of a long, undefeated run at season's start.
When their upcoming opponents watch film of this one, they still get a strong message: The Titans are a tough team that will put up a fight.
And if you don't have a super-courageous quarterback nicknamed "Big Ben," who will stand in the pocket, worry-free waiting for people to come open, you may have a tough time beating them.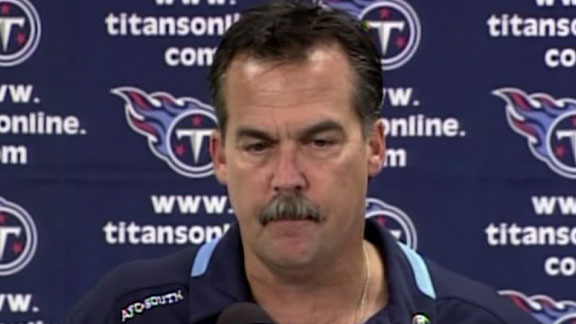 September, 10, 2009
9/10/09
10:55
PM ET

Posted by ESPN.com's Paul Kuharsky
PITTSBURGH --
Bo Scaife
has a knee sprain and the Titans are using
Craig Stevens
in his place.
Stevens is much more of a blocker than a pass-catcher. However, the Titans came into the game without rookie tight end
Jared Cook
, who was an excellent pass-catcher for them through training camp and the preseason. Cook has an ankle injury.
Scaife is on the bench with an ice bag on his left knee and doesn't look like he'll be returning. He had five catches for 48 yards.
He fumbled on the play where he got hurt as
James Harrison
hit him, but the Steelers couldn't turn the takeaway into points.
Alge Crumpler
also gets significant time as a Titans tight end. He had a drop early on.
September, 10, 2009
9/10/09
10:20
PM ET

Posted by ESPN.com's Paul Kuharsky
PITTSBURGH -- A few quick thoughts at the half of what's been a great
7-7 game
.

September, 10, 2009
9/10/09
9:46
PM ET

Posted by ESPN.com's Paul Kuharsky
PITTSBURGH -- In a tight game where the first score could do a lot to the crowd's mood, the Titans have blown the game's best two chances.
Rob Bironas
missed a 37-yard field goal wide right and just had a 31-yarder blocked by
Aaron Smith
in what remains a 0-0 game.
Question on the third-down play just before the block: Didn't
James Farrior
deliver a hit with his helmet to the head of
Justin Gage
, who should have qualified as a defenseless receiver in the back of the end zone?
Gage got his hands on the
Kerry Collins
' pass but it fell incomplete.
September, 10, 2009
9/10/09
9:08
PM ET

Posted by ESPN.com's Paul Kuharsky
PITTSBURGH -- The sacks are still coming.
Jason Jones
knocked the Steelers out of field goal range with his, dropping
Ben Roethlisberger
for a 19-yard loss.
Tony Brown
just ended another drive with a 9-yard sack.
Brown's sack came as part of a big blitz.
Extra rushers or not, the Titans are finding the same sort of pass pressure they did last year when they beat the Steelers in Nashville.
If it keeps coming, Pittsburgh could have issues.
September, 10, 2009
9/10/09
7:16
PM ET

Posted by ESPN.com's Paul Kuharsky
PITTSBURGH -- Receiver
Nate Washington
is active but
Kenny Britt
will start opposite
Justin Gage
for the Titans.
Here are Tennessee's inactives for Thursday night's game:
September, 10, 2009
9/10/09
1:41
PM ET
| | |
| --- | --- |
| | |
| | Rex Brown/Getty Images |
| | Keith Bulluck and Tennessee Titans know that if they win their season-opening contest in Pittsburgh, prognosticators won't be able to ignore the team. |

Posted by ESPN.com's Paul Kuharsky
PITTSBURGH -- There are some downsides to being a small-market team. But the Tennessee Titans learned long ago that there are easier elements to life when you are not under a constant, searing spotlight.
Perhaps they get less attention. Without it, maybe there is less scrutiny, maybe they endure down cycles more easily, maybe they can sneak up on people and offer surprises.
But for how often players chirp about the lack of respect afforded Tennessee's NFL entry, the league certainly didn't disrespect the Titans by putting them in Thursday night's season-opening game against the Super Bowl champs at Heinz Field.
And, given this stage, they can shape the opinion of a national audience all on their own:
Play well and win, and fans and media can't ignore you. Play poorly and lose, and surrender your right to complain about being under the radar for at least a month.
I threw that at several Titans and most agreed with the first part, but not with the second.
"We go out, we win this game, it'd be hard for people to overlook us just because we're the only teams that played, then there are two more days before people start talking about New England and
Tom Brady
and
Peyton Manning
and
Donovan McNabb
and whoever else they are going to talk about,"
Keith Bulluck
said.
"If we lose, we don't surrender the right, because if you lose one and then win however many in a row, knowing how things go in Tennessee we'd be left out anyway. We started off 10-0 last year and we still kind of went, not necessarily overlooked, but kinda sorta 'Is this team for real?' Given the respect it seems that Jeff Fisher gets, you would think people around the league would know what kind of teams he's bringing to the table, you know?"
Like most teams, the Titans like to say they don't pay a lot of attention to what people are saying about them. But two of their biggest leaders acknowledged this week they're conscious of how many prognosticators are looking for Houston to break out and for the Titans to slide in the AFC South.
| | |
| --- | --- |
| | |
| | Leon Halip-US PRESSWIRE |
| | Kyle Vanden Bosch thinks some are overlooking the Titans because of their nonflashy way of playing the game. |
Kevin Mawae
and
Kyle Vanden Bosch
didn't point to ESPN.com's
consensus pick
of Tennessee as second in the division ahead of Houston (with five of 14 of us picking them first ahead of the Colts, too) or to Michael Silver of Yahoo! Sports picking them
to win the Super Bowl
. Instead, they focused on others with different, lesser expectations.
"I think we've been overlooked," said Mawae, who was answering my question, not issuing a complaint. "You come off two playoff appearances and still get ranked third in your division? I think that's kind of overlooking us again. But it is what it is. Everything I've seen they've had us third in our division, as far as all the magazines and stuff. But that's sportswriters."
What's Vanden Bosch seen?
"I don't think anybody is picking us to win our division," he said. "We played well in the division last year and we had the best regular-season record in the NFL. We return almost everybody, we had one big loss [in
Albert Haynesworth
]. I don't understand why, no.
"We've become a really veteran team with some really good players, we've added some weapons. So I don't understand it in that sense. I think for people who are writing up rankings and predicting things, it's not always sexy to pick the team that won by running the ball, controlling the clock, forcing turnovers and not turning the ball over."
Chris Johnson
certainly raised the Titans' sex appeal last season.
And those additions Vanden Bosch referred to -- receivers
Nate Washington
and
Kenny Britt
, and tight end
Jared Cook
-- are dynamic players who can boost the passing attack and make the Titans a more attractive team to those who pay attention more to playmakers than teams with solid line play. (Washington is questionable against the Steelers, and the injured Cook is highly unlikely to play.)
That element can help in the respect department too, though I think many of the Titans have come to mold and shape that theme to suit them, even to rely on it. Motivation should come, I often argue, from those giant weekly paychecks and professional pride, not from some perceived slight.
Mawae tends to agree.
"I think some guys use it to get themselves fired up, other guys use it to create media hype and other guys really believe in it," he said. "Me, it's go out and play a ball game… I don't buy into disrespect and all that. You go out and play football and you earn your respect."
An even if those looking to find surprises in the 2009 season tab Houston to break out and the Titans to slide, Vanden Bosch said he feels like the Titans have gained some traction.
"I don't think we are as under the radar as we've been in the past since I've been here," he said. "There are very few teams we'd probably go into the opener as underdogs against, but this is one of them and we kind of relish that role. It's the opening game and the national media is not around us this week. Obviously the story is with them because they are the defending Super Bowl champs because of the things they did in the postseason last year. And that's fine with us."
Win and get into the conversation about the best AFC teams; lose and disappear at least for a while?
"Yeah, if that happens, if we lose, that puts us right back in our underdog role and regardless of what we do for the next five or six games, nobody's going to talk about us," Vanden Bosch said. "That would be fine, too. I like the way this team is when we're hungry and I hope regardless of what happens, regardless if we have some success, I hope we stay hungry."
Another outspoken player, running back
LenDale White
, won't even allow for the possibility of a loss to the Steelers.
"When we win it, we will be talked about," he said. "I can't think about it any other way."
September, 9, 2009
9/09/09
3:24
AM ET

Posted by ESPN.com's Paul Kuharsky
A year ago, when the Titans signed
Jevon Kearse
to bring the defensive end back to Nashville, his full participation in the offseason program was a big deal.
This time around, they say a lighter offseason during which he recovered from some knee surgery is going to do the trick.
Kearse wasn't wildly productive last season, but he was part of a strong defensive line and had 49 tackles, 3.5 sacks 19 pressures, seven tackles for a loss and 16 starts at left defensive end.
This time around, at least through the preseason, he has looked better.
"I came a long way from last training camp," he said, before turning to a topic that is sure still to raise the rancor of Eagles fans unhappy with how he played after signing a big contract in Philadelphia in 2004. "Last training camp I still had a lot of that stuff in my system from that two-gapping defense I played in Philly. It seems like I finally got it out of my system."
And what about all the talk of the offseason conditioning last year and the lighter pace this offseason?
"I had it both ways and I'd say this year I feel a lot better because I didn't beat myself down going overboard with all the offseason stuff," he said. "I did enough stuff to get in shape and get ready for the season and not set myself back with the knee I had arthroscopically repaired a couple months back."
I suspect Kearse does feel more comfortable in his second year back and that he also knows that the Titans are so deep at end beyond him and
Kyle Vanden Bosch
-- with
Dave Ball
,
Jacob Ford
and
William Hayes
-- that they wouldn't have hesitated to whittle away his opportunity if he wasn't most worthy of it.
Jeff Fisher says he sees a different, and better, player.
"Yeah, I believe that's been the case throughout camp," Fisher said. "We held him out with just some soreness, but he's in good shape. He's done some things this camp that we didn't see from him last year and that probably has to do with it. It took a little bit more time to get familiar with our system."
September, 8, 2009
9/08/09
3:11
PM ET

Posted by ESPN.com's Paul Kuharsky
NASHVILLE. Tenn. -- We won't know until 90 minutes before kickoff Thursday night whether the Titans and Nate Washington were spinning positive this week or whether he can really return from his hamstring injury to help his new team take on his old.
Here's my
news story
on Tuesday's developments.
Washington owns a Super Bowl ring from being part of the Steelers last year, but doesn't wear it, referring to it as more of a trophy because it's so big. While the context is important to him, it certainly won't influence the team's decision about whether, or how much, he plays.
After he answered a lot of post-practice questions, a beat reporter asked him about a note taped up in his locker. It's a small card bearing Mike Tomlin's name printed across the top and dated June 30, 2007.
"Nate,
Where's your head at?
What's your expectation for you?
What are you willing to do?
Experience it!
See you soon.
Mike T."
Washington said he's kept the note handy since he got it and refers to it often because he felt like he's come up short on work ethic at practice and of plays he could make in games.
"It's not about coach Tomlin," he said. "It's written by him, but it's about what it says, what it means to me."
And what if he's able to use some of the wisdom he pulls from it to help beat Tomlin and the Steelers Thursday night?
"I'm going to repeat it back to him," Washington said, smiling.