May, 4, 2010
5/04/10
1:00
PM ET
»
NFC Big Question
:
East
|
West
|
North
|
South
»
AFC
:
East
|
West
|
North
|
South
Does a record-setting running back and arguably the league's most explosive player deserve a giant raise -- even if he's heading into just the third season of a five-year contract?
Chris Johnson
certainly thinks so and has said so.
The Titans running back hasn't been part of the team's offseason workouts this spring and did not join in on the first couple OTA sessions. Johnson said after he topped 2,000 rushing yards in 2009 that he'd stick with working out on his own because it helped produce good results.
[+] Enlarge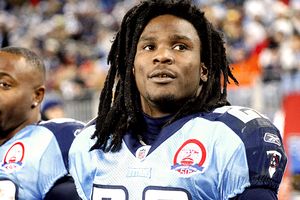 AP Photo/Wade PayneChris Johnson is scheduled to earn a base salary of $550,000 this season.
Clearly, he's making a statement by staying away.
The Titans are limited by a rule that allows for only a 30 percent raise from year to year. That's base salary. It can be circumvented by bonus money, but it would take a huge bonus to make it a fair- market deal. Teams are understandably reluctant to craft a contract with so much guaranteed.
Here's a
recent post
from Andrew Brandt that explains the economics.
Johnson got a $7 million bonus when he signed his original deal as the 24th pick in the 2008 draft. His base salary this season will be $550,000.
I spoke with Johnson's close friend, Jacksonville receiver
Mike Sims-Walker
, about CJ during the Jaguars' recent minicamp. The two grew up together in Orlando. They are training together with Tom Shaw, an expert on speed.
"He's looking pretty good," Sims-Walker said of Johnson. "We work out together three or four times a week. We go on the road [and] we still work out, like for a whole week. We were working out in Vegas and everything. He's still getting his work in."
What's Johnson's mood and how focused is he on the contract?
"I don't think he's mad, but I wouldn't say he's happy," Sims-Walker said. "He's taking his time. He hired an agent and he's letting him handle that. That's what CJ hired him for, that's what he's paying the man for, to make the business decisions that he feels are best with Chris."
One concern from the Titans' side is how Johnson
bounces back
from the heavy workload that got him over 2,000 yards last season.
Sims-Walker says Johnson's already proved what he can do in consecutive seasons with a 1,228-yard effort as a rookie and the 2,006 yards last year.
"How much more does he have to do?" Sims-Walker asked. "We all know this is a production business. You get paid the way you play. ... He well exceeded his contact, we all know. He's probably one of the lowest-paid starting running backs in the league. He's just trying to get paid how he plays."
Sims-Walker overstates one thing there: Other young running backs who are starters drafted in later rounds haven't produced like Johnson, but aren't making more than him. That list includes guys like
Ray Rice
,
Matt Forte
,
Jerome Harrison
,
Steve Slaton
,
Jamaal Charles
,
Ahmad Bradshaw
,
Shonn Greene
and
LeSean McCoy
.
As for the Titans' remaining 12 OTA dates, Sims-Walker said his guess is that Johnson won't make any of them.
But his sense is that Johnson will show up for training camp.
"That's when you get the mandatory fines and all that. I don't know if he's taking it that far," Sims-Walker said. "I think he'll show up. But hopefully he'll get to camp with a [new] contract ...
"They can give him a big signing bonus and still deal with 30 percent. He's worth offensive-player-of-the-year money, that's the award he won, right? At least he should be the highest-paid running back."
April, 24, 2010
4/24/10
4:11
PM ET
NASHVILLE. Tenn. -- Bill Bradley told him not to get fat. Pat Haden said be ready to be treated like the locker room's Supreme Court Justice.
Florida State safety
Myron Rolle
got advice from a couple other Rhodes Scholar athletes before he headed for Oxford, passing on a final year of college football.
After he was drafted in the sixth round at No. 207 by the
Tennessee Titans
, he shared some of the details in a conference call with reporters who follow the Titans.
He did his best to eat well while following a training plan set forth for him by Tom Shaw. And when he joins the Titans for minicamp work next weekend, he'll accept that his new teammates may ask him to be the "absolute arbiter" of any in-house dispute.
As for the idea that skipping a year to be a Rhodes Scholar created some questions about his football commitment, an absolutely ridiculous line of thinking in my eyes, he said:
"I had a lot of options, to go to medical school, to get (another degree) at Oxford, to enter politics now or keep my foundation going strong. There are so many different avenues I can take right now. The fact that I choose football, something that academics and people in the education realm, can't really understand, I think shows my testament. I gave up a lot, I sacrificed a lot in my Rhodes Scholarship experience, to stay in shape, to make sure I was ready for this moment right here."

"When my classmates were frisking at the pubs at 1:30 in the morning or traveling to different parts of the EU, I was working out, training, going to sleep, resting my body and making sure I was ready to compete. I love this game, I love this sport, I want it to be my vocation for the next 10 years."
Does that fire you up? It certainly worked on me.