September, 7, 2012
9/07/12
8:37
AM ET
Reading the coverage …
Perhaps the best ESPN
commercial
ever. A must watch and must share.
Houston Texans

The guy coaching up rookie quarterback Ryan Tannehill is a close friend of Gary Kubiak's -- former Texans assistant Mike Sherman. John McClain of the Houston Chronicle looks at
the friendship
, which dates back to 1992.
How did we get to a place where everyone is questioning Andre Johnson, asks Jerome Solomon of the Chron. "Johnson, 31, might not be an NFL youngster, and he admits the championship 'window is not as big as it used to be,' but he is
hardly on his last legs
."
Arian Foster and Brooks Reed
ended practice early
, says Dale Robertson of the Chron.
Key matchups
for the Texans against the Dolphins, from Houston Diehards.
Indianapolis Colts

Phillip B. Wilson of the Indianapolis Star profiles Chuck Pagano, who is "…an emotional guy with an indefatigable work ethic, a man who
balances football with family
while not losing sight of the importance to respect and connect with people,"
These Colts should remind us of
the 1998 team
with Peyton Manning as a rookie, says Bob Kravitz of the Star.
Guard Mike McGlynn
adds some nastiness
to the Colts' offensive line, says Wilson.
Jacksonville Jaguars

Blaine Gabbert and Christian Ponder, who square off this weekend, struck up a friendship at the draft and
get together to fish and golf
, writes Vito Stellino of the Florida Times-Union.
The Jaguars need Andre Branch to be
a difference-maker
in the mold of Tony Brackens, says Gene Frenette of the T-U.
"Often during staff meetings, [Bob] Bratkowski and the offensive staff would discuss ways to utilize (Maurice) Jones-Drew …
once he showed up
," writes Ryan O'Halloran.
Tennessee Titans

Bill Belichick's plan will seek to make Jake Locker uncomfortable and
confused
, writes Jim Wyatt of The Tennessean. The Patriots coach is 4-2 against quarterbacks making their first start.
Tennessee center Fernando Velasco will be challenged by
two big interior defenders
in Vince Wilfork and Kyle Love, says John Glennon of The Tennessean.
Defensive end Pannel Egboh
almost gave up
, but now he'll play in his first NFL game, says Glennon.
How should New England
attack Tennessee
? Nate Dunlevy of Bleacher Report asks and answers.
How much respect
will the Patriots show Jared Cook in the way they cover the tight end, asks David Boclair of the Nashville City Paper.
June, 29, 2010
6/29/10
11:30
AM ET
Notable Players:
WR
Jimmy Smith
, OT
Tony Boselli
, RB
Fred Taylor
, QB
Mark Brunell
, DE
Tony Brackens
, LB
Kevin Hardy
, S
Donovin Darius
[+] Enlarge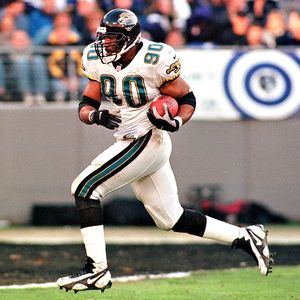 AP Photo/Roberto BoreaTony Brackens made big plays for the 1999 Jaguars, including a team-record 12 sacks.
Analysis:
The Jaguars have only 15 years of history, and choosing their best edition isn't difficult. The 1999 club lost three games all season, all to the
Tennessee Titans
, with the third in the AFC Championship Game in Jacksonville.
Their ace running back was Taylor, who missed six regular-season games because of injury. He returned to turn in two 100-yard rushing games in the postseason.
Jacksonville had seven Pro Bowlers that season. After earning a bye with its 14-2 regular season, it waltzed to a 62-7 win over Miami in its first playoff game.
James Stewart
, who started seven games with Taylor hurt, scored 13 rushing touchdowns and Jimmy Smith pulled in 116 balls for 1,636 yards -- both still franchise records.
Brackens' 12 sacks remain in place as the team's single-season record. The 2009 Jaguars had 14 sacks total.
Most impressive win:
Of the teams the Jaguars beat, only the Dolphins had a winning record. Only Carolina, the Jets, and Baltimore finished 8-8. Can you pick?
Research room:
The 1999 Jaguars are one of four teams since 1999 to win at least 14 regular-season games and not reach the Super Bowl -- along with San Diego in 2006 (14-2), Indianapolis in 2005 (14-2), and Pittsburgh (15-1) in 2004.
Honorable mentions:
2007:
A 11-5 record with an upset playoff win at nemesis Pittsburgh before a loss at eventual AFC Champion New England made for a surprisingly successful year.
1998:
The AFC Central champions wound up 11-5, with a playoff win over New England before a road loss to the Jets.
1996:
In only their second season on the field, the Jaguars got into the playoffs at 9-7 as the fifth seed thanks to tiebreakers with Indianapolis and Kansas City. They pulled upsets at Buffalo and at Denver before losing at New England in the AFC Championship Game.