September, 11, 2013
9/11/13
8:41
PM ET
INDIANAPOLIS -- Jim Irsay could have walked into the locker room at the Colts' facility on the west side of Indianapolis and told his team and coaching staff they need to do a better job protecting quarterback
Andrew Luck
.
But as he did during the preseason when he took his displeasure to Twitter, the Colts' owner wanted to make sure everybody -- all 231,000 of his followers and their retweets -- knows he means business.
[+] Enlarge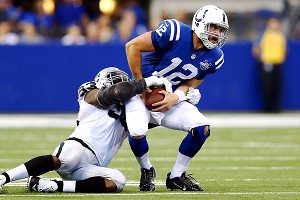 Andy Lyons/Getty ImagesAndrew Luck was sacked four times in the opener, and that has Colts owner Jim Irsay concerned.
I'm sure most of you know by now about Irsay
tweeting that the Colts need to better protect
Luck this weekend against the
Miami Dolphins
.
The Dolphins sacked Cleveland quarterback
Brandon Weeden
six times in their Week 1 victory. Luck was sacked four times against Oakland last week.
The Colts' success this season will hinge on Luck being able to stay on his two feet. The Colts can't afford to have him getting sacked 41 times again this season. If you recall, coach Chuck Pagano said they want to cut his sacks in half. They're already behind schedule.
I liked that Irsay didn't single out the offensive line, because the tight ends and running backs also are responsible for protecting Luck. But running back
Vick Ballard
is one player who can stand up and say he did his job against the Raiders. Ballard was 6-for-6 on blocking assignments.
I went back and watched the film of Luck's four sacks. Not all of the blame could be put on the offensive line.
Here's a breakdown of the sacks:
You can expect the pressure to be even greater on Luck and the Colts on Sunday. Pagano talked about having to know the whereabouts of Dolphins defensive end
Cameron Wake
. Wake had 2.5 sacks against the Browns.
"Pretty much 99.9 percent of the time, he'll be lined up to our offense's right, defensive left," Pagano said. "That's one thing, know where he is. It's a different thing getting him blocked."
Some fans don't like Irsay's approach for calling out his team on Twitter. I like it. He did the same thing after their preseason loss to Buffalo last month.
You can also expect Irsay to continue to challenge his team on Twitter until they play to his standards. They didn't spend all that money in the offseason to continue to allow Luck to take a pounding.
March, 24, 2012
3/24/12
10:43
AM ET
Josh from Jacksonville writes:
What where the Jags thinking going into free agency? At multiple Team Teal rallies Shad Khan said we were "All In" and we were really going to improve through FA and the draft. What happened? I don't think we fixed anything through FA and we still have the same needs going into the draft as we did going into free agency. Fans are frustrated and feel lied to. I'm not saying we should have signed everyone with a big name but we didn't even take a swing at a playmaker. I didn't realize "all in" was
Laurent Robinson
and
Chad Henne
. I'm all out of excuses for Gene Smith.
Paul Kuharsky:
You raise good points, and I think your feelings reflect those of many Jaguars fans. The other key thing here is that free agency will never be this good again under this CBA. It mandates spending, and teams that have to spend will spend to keep their own players. And that means fewer good players make it to free agency.
But consider where you aim your disappointment. Is it Smith, or did Khan not fund a bigger foray in to free agency?
Matt in Indianapolis writes:
What are the Colts going to do at the RB position?
Paul Kuharsky:
I don't know. But if they are a better run-blocking team, I can see
Donald Brown
and
Delone Carter
being a functional combo platter.
LuvYaBlue77 from Camden, Del., writes:
So Paul if you were the Titans GM would you be done in FA? I thought
Tracy Porter
/
Jason Jones
were worth a 1 yr contract. Lastly, where would you look in the draft?
Paul Kuharsky:
Still look for cheap depth, maybe an offensive line candidate. Jones has a knee issue that scared them, and he was free to choose to go. I would have left too, after they couldn't figure out my position. I like Porter, but I like
Alterraun Verner
too. Defensive end remains the top priority. But they could go a lot of different ways at No. 20.
Joey from San Antonio, Texas, writes:
I know he isn't a current AFC South player, but I don't see why certain teams in the division shouldn't target him... So my question is why isn't the market bigger for
Mike Wallace
from the Steelers? He would be a nice target for Andrew Luck in Indy, and Jacksonville could use the help as well. Houston still needs a reliable #2 behind Andre, and as a Titans fan, I certainly wouldn't turn him down either.
Paul Kuharsky:
Wallace isn't an unrestricted free agent, he's a restricted free agent. The Colts can't get him to help Luck, because the compensation for him would be the first-round pick they'll be using to draft Luck. The process for an RFA like Wallace: Sign him to an offer sheet, which will be expensive. If the Steelers don't match, give up your original first round pick as compensation. Other AFC south teams: Jaguars have the seventh pick and might use it for a pass rusher, though they certainly need a receiver. Titans think they are OK at WR and have other needs. Texans have cap restrictions that would make it hard to entice Wallace.
Jeff Oxford from Denver writes:
Hate to say I told you so, but I told you so. I love being right.
Paul Kuharsky:
Hearty congrats!
Now can you please tell me what it is you were right about?
March, 20, 2012
3/20/12
9:31
AM ET
Reading the coverage …
Houston Texans

The Houston Texans are
more likely
to win the Super Bowl than the Broncos with Peyton Manning says Jerome Solomon of the Houston Chronicle.
The Texans
will face
the Manning-led Broncos in 2012 in Denver, says John McClain.
Indianapolis Colts

Manning's choice of the Broncos is
a perfect one
for making a Super Bowl run, says Bob Kravitz of the Indianapolis Star, who covered the John Elway Broncos once upon a time. "I'm happy for him. Thrilled. Overjoyed that Manning, who you hope has something left after all those neck procedures, will get a chance to win some more Super Bowls before his Pro Football Hall of Fame career ends. This is the perfect fit."
The Colts
won't have a chance
to play Manning this season, says Phil Richards of the Star.
The Star
collected reaction
to the Manning move.
Jacksonville Jaguars

The Jaguars
aren't commenting
or offering indications about their interest or lack of it in Tim Tebow. "Their front office did not have interest in Tebow then, and indications are that they still do not have interest in him. So far, Jaguars owner Shahid Khan has taken a hands-off approach with the team's football operations," writes Tania Ganguli of the Florida Times-Union.
Don't add Tebow
just to sell tickets
, advised Gene Frenette. That would be a foolish move, I agree.
Tennessee Titans

"
I absolutely was going to pay him
," Bud Adams told Jim Wyatt of The Tennessean. "And I was going to pay him to be with us until he was ready to be buried. And I was going to take care of him. I was going to spend a lot of money on him. But he didn't want that. He wanted to be somewhere else, and I can't do anything about that."
"As disappointing as the news may be, at least this franchise finally
sat down at the adult table
and tried to pull off a major deal," writes David Climer of The Tennessean. "For all the people that have criticized Bud Adams over the years for being cheap or out of touch, give it a rest. He's the one that insisted the Titans enter the Manning sweepstakes. For all we know, they were a close second."
The team has visits scheduled with center Jeff Saturday, tight end Joel Dreessen, and cornerbacks Tracy Porter and William Gay, says Wyatt.
Manning is
no longer
a great deep-ball thrower, says Nate Dunlevy of Bleacher Report.
December, 11, 2011
12/11/11
4:20
PM ET
NASHVILLE, Tenn. -- Thoughts on the Titans'
22-17
loss to the Saints at LP Field:


What it means:
A largely unfavorable day. The Titans lost while one of the teams they are fighting with for position for a wild-card berth, the Jets, won. The Texans' last-second win in Cincinnati means that Houston clinched the AFC South, but it hurt another wild-card competitor, the Bengals.
What I didn't like:
Penalties were out of control. Mike Munchak's team is supposed to be a disciplined bunch, but special teams and the offensive line were primary culprits. Eight penalties for 54 yards consistently slowed the Titans or helped the Saints. A couple of mistakes will happen, but on this scale it's both unacceptable and unsurvivable. The Saints were sloppy, too, but
Drew Brees
found his moments. And at times, like when he had all day to throw to an open
Marques Colston
at the goal line, a high pass wasn't a problem as the receiver had time and space to go up and get it, then get it in the end zone for a 35-yard score. His follow up touchdown throw to Colston, from 28 yards, fell neatly between
Alterraun Verner
and
Cortland Finnegan
.
What I liked:
Jake Locker
put a good ball on him and banged-up receiver
Nate Washington
made a great play looking it in while
Jabari Greer
flew by a second late for a 40-yard touchdown with 5:58 left in the game that closed it to 22-17. He hit him again right near the end for another 40.
What I didn't like:
The Titans' last two plays from the 5-yard line. The first was well-defended by
Tracy Porter
, but I question throwing to
Marc Mariani
no matter if Washington was out hurt. Locker ran and bought time on the last play, but has to at least try a throw instead of getting sacked.
What I want to know:
What's the trade-off between an aggressive third-and-1 call with a throw into the end zone when you then fail to convert the quarterback sneak on fourth down? We're talking the Titans' second-to-last drive there.
Injury concerns:
Matt Hasselbeck
suffered a left calf injury that knocked him out of the game, though he limped on and hopped off for one play when Locker took a tough shot to the ribs. Linebacker
Akeem Ayers
suffered a shoulder injury and No. 2 running back
Javon Ringer
injured his hand. Neither returned to action after getting hurt. Washington had to be tugged off the field by
Chris Johnson
after his late catch.
What's next:
The Titans head for Indianapolis for their second game against the winless, division-rival Colts.
May, 26, 2011
5/26/11
11:01
AM ET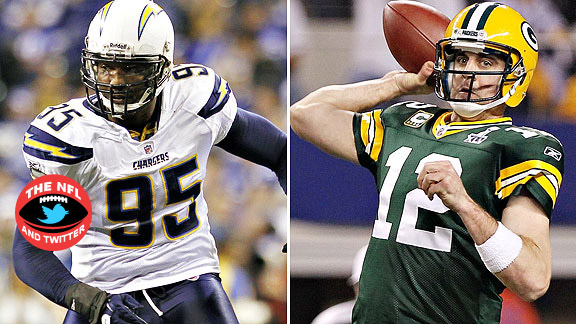 Getty ImagesShaun Phillips, left, and Aaron Rodgers hold the top two spots in the debut of our NFL Twindex.
Welcome to the ESPN.com NFL Twindex. Or Twitterdex. Or Twitter Index. (Shall we vote?) No, we're going Twindex.
This is our periodic look -- I'm thinking twice a month for now, weekly once we're in a season -- at what players and others who work for NFL teams are saying via Twitter. Because I love being subjective and we all love lists, it's a subjective list.
I'm following everyone I can find -- 328 people and growing -- and I hope they'll follow me back. It's difficult to read every tweet every day, so if you see a great one, forward it to me. I'm
@ESPN_AFCSouth
and
@PaulKuharsky
. The Twindex will be built from the best sampling I am able to do while still also fulfilling the obligations of a full-time job.
Each guy who makes the list each week will get a tweet notifying him of his status. We're fluid. If a guy is interesting this week, he may find himself in the top five. Be boring next week and he may disappear, depending on what his competition is doing. Former players, coaches, owners, equipment guys and mascots are eligible, too. Bring it.
What gets you here? Tweets beyond the ordinary.
You're scored down for morning greetings (sorry
@MikeSimsWalker
), birthday wishes, constant song lyrics (sorry
@JimIrsay
), weather updates and dinner reviews (unless, maybe, you are
@PotRoast96
).
You are rewarded for witty observations, clever lines and exchanges, smart life advice, amusing family stories, a great re-tweet or picture and, certainly, high-quality football information or commentary. A good week of tweeting can get you a spot. One outstanding tweet can, too.
As I am a positive guy, this is a positive list. Generally, we want to be a place players want to be. Like in our MVP Watch or the best restaurant in town or in unrestricted free agency after a great season. It's an evolving concept, and whether you're a candidate or a reader, I welcome your input.
Titans cornerback Jason McCourty and his twin brother, Patriots Pro Bowl cornerback Devin McCourty, combined Twitter accounts and have made a big push to let fans see them.
When I told him about this during their recent ESPN car wash, Jason wasn't ashamed to say he wanted
@McCourtyTwins
to get a spot on the initial Index.
"I think guys are so competitive, anything like that with a list and a top spot, guys will get some enjoyment out of it," he said. "Somebody may post, 'Hey, check out so-and-so, he's No. 1 this week on the Twitter poll.' I think it'll probably be a cool idea. I'll check it out.
"Hopefully that gets us to No. 1."
Maybe next week, Jason.
Here's the debut list.
Need to point me to a tweet? Have ideas for the NFL Twindex? Find me
@ESPN_AFCSouth
and
@PaulKuharsky
.
January, 9, 2011
1/09/11
6:06
PM ET
Indianapolis receiver
Reggie Wayne
was fuming after the Colts' playoff loss to the Jets on Saturday night. One of the league's most prolific receivers matched up with
Darrelle Revis
and caught one, 1-yard pass. That was the lone time
Peyton Manning
targeted Wayne.
"It's bull. It's bull, man,"
said Wayne
, per Mike Chappell. "I give everything I've got no matter what. Every day, I give it everything. And . . . one ball, that's all..."
"I shouldn't have even suited up. I should have watched the game like everybody else. I was irrelevant."
You'd want to be upset over his role and the result. You'd like for Manning to have looked to him more. You'd like for offensive coordinator Clyde Christensen to have designed more things to get him looks. And, of course, Wayne is free to do better work against Revis, which prompts Manning to throw to him.
Said Colts coach Jim Caldwell on Sunday: "Reggie was expressing some disappointment obviously in not getting it more. But just in terms of how we do what we normally do, week-in and week-out, plays are called that we think are going to give us an opportunity to convert and gain yardage, and all our quarterback does is read through his progressions and does his normal thing. It's just one of those games."
Last year we went into the Colts' offseason wondering about Wayne's role in Tracy Porter's crucial pick-6 that sealed the Saints' Super Bowl win. Manning shouldn't have made that throw, but Wayne didn't seem to run a crisp route or put up much resistance as Porter jumped it.
This year we go into the Colts' offseason wondering if Wayne, who made a play for a contract extension last season but is signed through 2012, will carry a bad feeling about the end of the season, and if it will play a role in another contract protest.
February, 7, 2010
2/07/10
11:44
PM ET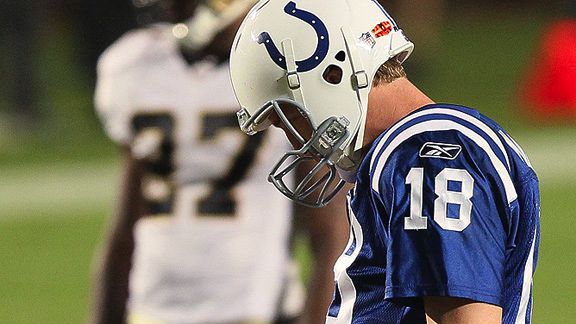 Jed Jacobsohn/Getty ImagesPeyton Manning threw for 333 yards and a score, but also committed the only turnover of the game.
MIAMI -- Cue it again.
All the talk about
Peyton Manning
's failures in the clutch, all the comparisons of the
Indianapolis Colts
to the Atlanta Braves.
Boy, the Colts sure are good in the regular season, but when it comes to collecting rings …
A team that made a season out of fourth-quarter comebacks couldn't find one Sunday night, and when it came to explaining
Tracy Porter
's game-sealing 74-yard interception return with 3:12 left, the Colts didn't have a lot to say.
"Porter made a great play on the ball," Manning said not long after
New Orleans' 31-17 Super Bowl XLIV
was in the books and red and silver confetti littered the Sun Life Stadium floor. "He made a good break on it. And he just made a heck of a play."
"He jumped the route," said
Reggie Wayne
, the intended receiver. "He did a good job jumping the route."
The quarterback and receiver both treaded lightly, not wanting to cast blame about what went wrong on a play Manning said they've run quite a bit. The throw was a bit off, or the route was, or both. And while we want to dissect it precisely, they weren't interested parties.
Brett Favre
threw an interception that hurt the Vikings' shot in the NFC title game in New Orleans. Like Manning, he owns a 1-1 record in the Super Bowl. I expect, though, that while Favre keeps people's attention cast as a rugged gunslinger, Manning will get a new round of holes punched in his résumé for being a cerebral signal-caller with just a .500 playoff record.
A win would have done a lot for those wanting to crown him the best of all time. A loss led to a classification in much more terrestrial terms.
"I don't think it dents him," Saints linebacker
Jonathan Vilma
said. "He's one of the top three quarterbacks in the league right now. Would he like to have that throw back? Of course. But every quarterback would like to have his interceptions back.
"I don't think it really does anything to his legacy. He's still going to be a Hall of Fame quarterback. And if he wins another, he'll probably be the best quarterback to ever play the game."
Indianapolis' Jim Caldwell, the rookie coach who guided an improbably successful season, shared the sentiment.
"I don't think it will have any bearing on his legacy," he said. "Obviously, he's a great player. It never comes down to just one single play in a game. There are a lot of different things that could have happened in that game that could have put us in a different position. He's still a great player, and outstanding performer, a great competitor. And that doesn't diminish it at all."
Even the most confident Saints had to think that Manning could tie the score quickly after
Jeremy Shockey
caught a 2-yard touchdown pass and
Lance Moore
added a two-point conversion to put the Saints up 24-17 with 5:42 on the clock: That's a lot of time for that quarterback and that offense.
Manning and the Colts regularly march the field in less. Their 11-play, 96-yard drive in the first quarter matched the 1985 Bears for the longest touchdown drive in Super Bowl history, and that one took just 4:36.
The way they played in a 14-2 season made them believe they would simply do it again. The worst that could happen was overtime.
With no huddle and out of the shotgun, Manning moved them 39 yards before the fateful third-and-5, which followed a timeout.
Saints defensive coordinator Gregg Williams said Porter trusted the play, knew the rush up the middle wouldn't allow Manning the time to beat him deep, allowing him to make the read and jump the pass.
"I felt that was the route they were going to run," Williams said. "Tracy knew that was the route they were going to run."
And so with a chance to bolster his legacy, Manning and his Colts instead watched
Drew Brees
build his. Instead of joining
Tom Brady
and
Ben Roethlisberger
as multiple Super Bowl winners, Manning was joined by Brees in a club of quarterbacks with one.
Brees posted the second-best completion percentage in Super Bowl history as the Saints' 10-point comeback matched the largest deficit overcome to win the ultimate game.
"Peyton Manning and Drew Brees are two of the best quarterbacks in the National Football League, and the people tonight got their money's worth watching two great warrior quarterbacks play," Williams said. "We were able to come up with a play, but he made plays also.
"We were able to hit him, we were able to hurry him, we were able to move him off his spot. He was still making plays. We made one play right there that was the difference in the ballgame. I'm sure he'd like to have that one back. But I'm happy we made it."
February, 7, 2010
2/07/10
9:55
PM ET
MIAMI – For a good while it all seemed within reach:


The spot in the conversation with the Patriots and Steelers as the premier franchises in the sport.
The boost to
Peyton Manning
's legacy with the coveted second ring.
The Lombardi Trophy for rookie head coach Jim Caldwell.
But a team that mastered the fourth-quarter comeback in the regular season couldn't muster one at Sun Life Stadium. And rather than solidifying its status, it watched another team break through.
With a
31-17 win
, the
New Orleans Saints
are Super Bowl champions, and the Colts have to come to terms with missing out in a game they tried to win for the first time all season.
The game might have given us the first overtime in Super Bowl history, but on a third-and-5 and the Colts trying to drive for the tying score,
Peyton Manning
made a poor throw for
Reggie Wayne
against a blitz. Cornerback
Tracy Porter
jumped it, grabbed it and took it 74 yards for a touchdown.
It was the only turnover of the game, and clinched it for the Saints who got a marvelous performance from
Drew Brees
. He solidified his spot in the conversation of the best quarterbacks in the league right now, and did his part to keep alive the criticism of Manning's big-game prowess.
I'm certain the Colts will graciously offer congratulations. It's a team led by classy people.
Then they will kick themselves for months, probably a calendar year's worth of them. For some, maybe a lot longer than that.
August, 20, 2009
8/20/09
12:18
PM ET
| | |
| --- | --- |
| | |
| | AP Photo/Dave Einsel |
| | The final joint practice held by the Texans and Saints got chippy Friday with several fights breaking out, including one between Jeremy Shockey and DeMeco Ryans. |
Posted by ESPN.com's Paul Kuharsky
HOUSTON -- Wherever I wasn't, there was a fight at Thursday morning's Texans-Saints practice. When I was watching the Texans' offense, the fights were on defense. When I changed up, so did they.
John McClain says the fight total was six and that the highlights were a Jeremy Shockey versus DeMeco Ryans bout and a Vonta Leach-Rod Coleman battle. Another observer told me that Shockey threw at least one punch and that another of the fights was Ryan Moats against Saints fullback Troy Evans. (Here's McClain's story.)
The crowd erupted in response to each fight, and the teams swarmed to defend their guys, with order restored relatively quickly.
Leach said afterward that "we are not going to get pushed around, we are not going to get bullied" and Gary Kubiak said he liked the way guys stood up for teammates, but he likes composure even more.
It made for a more entertaining show for a large crowd that included the football teams from both Houston and Rice.
On to some notes about the football I saw:
Tried to get a read on the rookie defensive backs, but one-on-ones were kind of sloppy and Drew Brees, who rejoined the team after attending to family matters in the wake of his mother's death, seemed rusty, at least early.
Glover Quin lost Lance Moore as the receiver cut hard across the middle on one play. In red zone work he covered Marques Colston well but the throw wasn't anything Colston had a chance to go get. Quin had a very nice pass breakup in the back left corner of the end zone on a throw from Mark Brunell aimed for Rod Harper. Quin also got a nice jam on Devery Henderson and stayed tight on him, but Henderson maintained focus and managed to make the catch despite the coverage. That was all in one-on-ones. Later, in a team period, Brees fit a nice mid-range pass between Quin and Dominique Barber to Colston.
Brice McCain either didn't work a lot in the one-on-one period or I had a hard time finding him in the crowd. I saw one play where he didn't stay particularly close to his receiver. Deltha O'Neal, the veteran who was brought in when injuries mounted, didn't look great to me.
Special-teams periods in the heat can be excruciating, but I noticed one play of note: New Orleans' Adrian Arrington was lined up as a gunner and Quin and Eugene Wilson absolutely handled him, getting their hands on him repeatedly as they prevented him from having any chance to influence the return.
Dan Orlovsky had some uncomfortable moments. I don't think he's Chevy Chase impersonating Gerald Ford, but he might have a degree of clumsiness to him. He fell down back out from under center on one play. On another, backpedalling furiously with two defenders bearing down, he threw an ill-advised dump off over the middle that hit an O-lineman and had no chance at success.
Steve Slaton had some very nice moments. The best one I saw was he pulled in a short pass, and spun off the first defender to gain some extra yards. Will Smith likely would have had a sack on the play, however. Chris Brown looks very good and can be just the sort of complement to Slaton that the team is looking for. Insert your obligatory line about his issues staying healthy here.
Matt Schaub was crisp but had a few bad moments. He threw a bad pick in the red zone intended for David Anderson on the left side that Tracy Porter jumped and would have taken back for a touchdown in a game setting. And for the second day in a row a pump or a pull down turned into a lost ball for an incompletion. There are far worse ways to end a play, but is he having some sort of grip issue?
Kubiak said linebacker Cato June suffered a broken forearm.
The practice started at 8:30 and was short, breaking up at 9:53 by my cell phone clock.