AFC South:

Tramon Williams
June, 29, 2011
6/29/11
11:33
AM ET
Every franchise in the league has regrets over the one that got away.
In the most recent piece of Football Outsider's series of disappointing developments, Brian McIntyre lists the 10 most
disappointing oversights
of the past 25 years.
Colts center
Jeff Saturday
makes the list at No. 6 for the
Baltimore Ravens
:
After the former North Carolina Tar Heel was repeatedly passed over by all 30 teams during the 1998 NFL draft, he signed with the Ravens as an undrafted free agent that April. The Ravens released Saturday in June, and he spent the 1998 season without a team before joining the Colts the next January.

Since becoming a full-time starter in 2000, Saturday has started 170 regular-season games, earning five trips to the Pro Bowl and two All-Pro nods as the center on a line that has blocked for seven 1,000-yard rushers and annually ranked in the top 10 in adjusted sack rate.
Tramon Williams
is also on the list. The cornerback was an undrafted rookie for the
Houston Texans
in 2006, but didn't make the team. Now he's one of the best up-and-coming corners in the league for the Packers, while Houston is trying to sort out a shaky secondary.
Who's the one that got away from the Colts, Jaguars and Titans?
April, 19, 2011
4/19/11
1:00
PM ET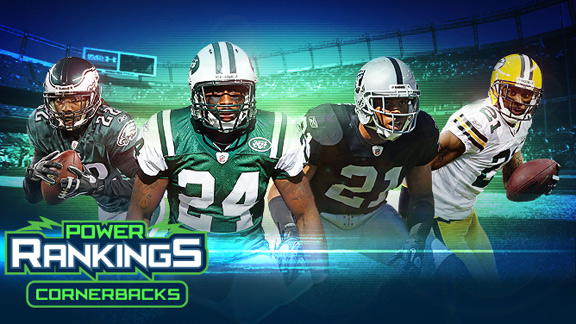 ESPN.com IllustrationDarrelle Revis won a tight race over Nnamdi Asomugha as the NFL's top cornerback.
ESPN.com's NFL writers rank the top 10 cornerbacks in the league today. Next week: Top 10 quarterbacks.
Positional Power Rankings have produced some wild variations in voting. But none has had so many players mentioned as cornerbacks.
Previously, multiple votes had yielded 17 names. Our polling for the top 10 cornerbacks in the NFL touched on 23, a record that might be hard to break.
In another close finish, the Jets'
Darrelle Revis
edged the Raiders'
Nnamdi Asomugha
. The two collected all the first- and second-place votes, but Revis outscored Asomugha 77-75 thanks to five first-place votes.
Overall, veterans ruled the day, with the top five outpointing the rest of the field by a good deal. Revis and Asomugha were followed by three players with a collective 33 seasons of NFL cornerbacking experience: Green Bay's
Charles Woodson
, Philadelphia's
Asante Samuel
and Denver's
Champ Bailey
.
Woodson finished with 58 points, Samuel with 54 and Bailey with 53.
Of the votes for that trio, only two fell outside of the top five. NFC North maestro Kevin Seifert had Woodson sixth, just behind his teammate
Tramon Williams
. And AFC East maven Tim Graham placed Bailey seventh, with New England's
Devin McCourty
(fifth) and Minnesota's
Antoine Winfield
above him.
I had presumed Bailey started to slip in his 12th season in 2010. Then he shut down a red-hot
Dwayne Bowe
and got my attention in a way I remembered when I put him third on my ballot.
Graham's thinking was quite different.
"We're in the offseason, so I've taken into account not only last season's performances, but also how the player projects into 2011 when compiling my positional Power Rankings ballots," he said. "Bailey is going to be 33 years old before the start of next season and is on the downside. He's still great, but for how long?
"Power Rankings shouldn't be career-achievement awards. Devin McCourty was second-team Associated Press All-Pro, a first-team Sporting News All-Pro, voted a Pro Bowl starter by the fans, coaches and players and tied for second in interceptions. He deserved to be ranked ahead of Bailey, who wasn't mentioned for All-Pro and made the Pro Bowl as an injury replacement."
Though Graham had him fifth, McCourty got bottom-of-the-list votes from most of us, who seemed to respect his inaugural campaign but did not want to overscore a player who has been through the league only once. NFC South cruise director Pat Yasinskas left McCourty off his ballot entirely.
"One great season does not make a great career," Yasinskas said. "Let's see him do it again. I'm not saying he's got to do it for 10 or 15 years. I've got a guy in my own back yard,
Ronde Barber
, and a lot of people say he's already put up Hall of Fame numbers. I didn't even put him on the list because I think he's not much more than a very nice player in the system. But you have to be consistently at the top for at least a few years before you get on a top 10 list."
Winfield finished sixth (29 points), Williams seventh (18), McCourty eighth (17), Washington's
DeAngelo Hall
ninth (10) and Tennessee's
Cortland Finnegan
10th (eight).
Williams was the lone player to make the top 10 while not being looked at as his team's No. 1 guy. As much as I liked him, that prevented him from getting one of my votes. Same for Oakland's
Stanford Routt
.
Although Williams and Routt played very well in 2010, their jobs can be made a lot easier by playing with Woodson and Asomugha rather than being asked to be their team's version of those players. The toughest receiver on the opposition isn't usually a factor for Williams or Routt.
John Clayton had Routt sixth and NFC West chart-master Mike Sando had him 10th, which left Routt in 11th place. Clayton set me straight on why Routt was, in fact, deserving.
"Nnamdi has years of not being thrown on," Clayton said. "He's had years in which only 14 or 15 passes were caught against him in a season.
"Routt had a phenomenal year in 2010, which led to his big contract," Clayton said. "The percentage of passes against him that were completed was among the lowest in the league. His job is tougher because he has more passes thrown on him because of Nnamdi."
January, 21, 2011
1/21/11
2:24
PM ET
If and when there is free agency, the Texans need to dip into it to try to solve their issues in the secondary. I think they should throw open the vault and be sure to land either
Nnamdi Asomugha
or
Champ Bailey
.

But as Green Bay prepares to play for the NFC title in Chicago on Sunday, it's a good time to note that the Texans had one of the league's
best young cornerbacks
on their roster in 2006.
The Texans had the foresight to bring
Tramon Williams
in as an undrafted free agent out of Louisiana Tech on May 8, 2006. Unfortunately, their ability to see big things in him ended after training camp and he was released on Sept. 6, 2006.
He was available to everyone in the league for months before the Packers signed him to their practice squad on Nov. 29 for the final five weeks of the season. In 2007 he was a training camp surprise, earning a roster spot. He's played in every game since, with 16 interceptions. In the same span, the Texans don't have a player with more than five interceptions.
Here are the guys who played cornerback for the 2006 Texans:
Dunta Robinson
,
Dexter McCleon
,
Demarcus Faggins
,
Lewis Sanders
,
Kevin Garrett
,
Von Hutchins
and
Dexter Wynn
.
Every team in the league let go of someone it wishes it held on to.
The Texans will be watching their prime example play in the NFC Championship Game, then either the Super Bowl or the Pro Bowl.
AFC SOUTH SCOREBOARD
Thursday, 12/18
Sunday, 12/21