March, 22, 2011
3/22/11
1:06
PM ET
Do I overrate
Dwight Freeney
?
The seven others who cast votes in ESPN.com's balloting for the
pass-rusher Power Rankings
think so.
I ranked the Colts defensive end first in what I thought was an impossible ballot in which I found 17 players worthy of spots and where I might have leaned a little less on total sack numbers than some of my colleagues. A rusher can certainly be consistently disruptive and dictate a blocking scheme without always notching big sack numbers.
My rationale for Freeney over the Dallas Cowboys'
DeMarcus Ware
, who got all the other first-place votes?
Here's what I told NFC North blogger Kevin Seifert, who wrote the main piece on the results.
"I've had coaches and scouts I trust tell me, repeatedly, that Freeney is the best pure pass-rusher in the league. They say he's the guy they'd want if they could have anyone and the most difficult guy to stop because of the way he plots out his game. That's stuck with me and was a big factor for me as I put together my ballot."
Crush me for being a homer if you must -- and I've obviously seen Freeney way, way more than I have seen Ware, so it's inevitable I get slanted there -- but I'll stand by that.
Still, on a different day with Ware highlights running on my computer screen, I could certainly have made things unanimous.
Here's my entire ballot:
Dwight Freeney
DeMarcus Ware
I was miserable about leaving off
Julius Peppers
,
Osi Umenyiora
,
Trent Cole
,
James Harrison
,
Terrell Suggs
,
Cameron Wake
and
Elvis Dumervil
.
If I re-voted right now, I could second-guess myself as much as you and do a lot of shuffling.
As for AFC South guys -- I absolutely believe Mathis is worthy of a spot here. He's a terror. I may have scored Williams too high based on all the potential he has and the attention he draws. Others have that and more production.
Peppers was my toughest call. I'm big on constant effort from my pass-rushers and I am not sure he gives it.
I also agree with NFC West blogger Mike Sando that the proliferation of 3-4s complicates things, because we sifted through so many players. This year's
Houston Texans
will be the first 3-4 defense I ever cover, and I am sure my judgment of outside 'backers will evolve because of it.
That 4-3 bias didn't hurt Hali, but I'm sorry if Matthews, Woodley, Harrison, Suggs, Wake and Dumervil suffered for it.
November, 7, 2010
11/07/10
11:01
PM ET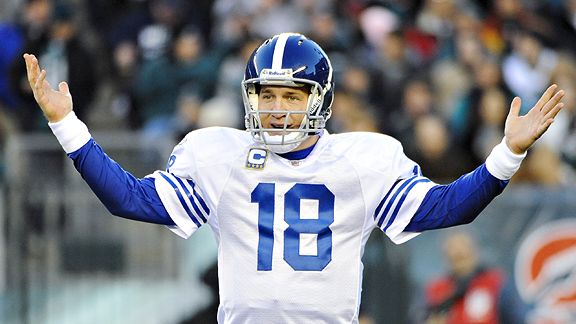 Howard Smith/US PresswirePeyton Manning was unable to rally an injury-riddled Colts team past the Eagles.
PHILADELPHIA -- It's not the
Indianapolis Colts
' way to say it, but it's true.
Thin them out to where they are missing 10 of their top 26 players, send them on the road against a quality team, put them on a short week with that opponent coming off a bye and even for a
Peyton Manning
-led team there comes a breaking point.
Sunday it arrived at Lincoln Financial Field,
a 26-24 loss
to the
Philadelphia Eagles
halting a three-game Indianapolis winning streak and leaving the Colts deadlocked with Tennessee at 5-3 atop the AFC South.
For as poorly as the Colts played, that they even had a chance to try to get
Adam Vinatieri
in position for a field goal to win it was kind of ridiculous.
"We had the wind with us and you've got to love Vinatieri in those chances, so I am disappointed we didn't give him a shot," Manning said. "But execution, Philly did a better job than us all night."
The wind, some drops, steady pressure that produced three sacks and a largely punchless running game didn't help his cause. But Manning was off too, throwing interceptions early and late to
Asante Samuel
and hitting on only 31 of 52 passes for 294 yards, a touchdown and a 65.7 passer rating.
"I need to play better," he said.
Of particular concern to Indianapolis were the first four of six second-half possessions, on which the Colts earned three first downs and Manning connected on just three of 11 passes for 31 yards.
"Right there in the third quarter, we were backed up, we were kind of working against the wind," Jim Caldwell said. "So we were punting into the wind and just could not punt ourselves out of it with a great flip of the field in terms of special teams, nor could we move ourselves out of that situation. ... That period of time where we just couldn't get the field flipped was tough."
The Colts pieced together a nice 16-play, 85 yard drive to get to Javarris James' second touchdown and narrow the gap to 2-points with 1:50 left.
But extract it from the second half and they moved just 49 yards.
"The second half it sure was tough to get anything going," Manning said. "There were a couple three-and-outs and not many first downs. We got something going late, but it just wasn't consistent enough I didn't think."
Even on the touchdown drive, it was a Philadelphia penalty that extended things, converting a fourth-and-18 for the Colts. Disagree with the rule as most of the 69,144 in attendance did, but the enforcement on Trent Cole's hand to Manning's helmet and the unnecessary roughness attached to it was correct.
As well as the Eagles played in many areas, Andy Reid will have plenty to review with them as they dissect 14 penalties worth 125 yards and six first downs.
The Colts and Manning got their chance to set up Vinatieri with no timeouts left, 40 seconds on the clock and possession at their own 26-yard line.
Michael Vick
was on the verge of a head-to-head win over Manning, but knew it was hardly a done deal at that point.
"Every time he's out on the field, you think he's going to score a touchdown," Vick said. "And that's just how precise he is, that's how smart he is, that's the type of player that he's become and that's how hard he's worked throughout his career.
"So the only thing I could tell myself was, just try to match him, keep him off the field."
The end result rendered another Manning milestone impossible to celebrate. It was his 200th consecutive start, which put him in the exclusive company of
Brett Favre
and made him the first quarterback in league history to start the first 200 games of his career.
No. 201 will hardly start a friendlier stretch of schedule, though the 2-5 Bengals at Lucas Oil Stadium rate as a bit of a reprieve before a trip to New England.
They had a bye on Oct. 24, but at the end of this one, the Colts seemed worn down. There wasn't a healthy scratch among their eight inactive players Sunday and now
Austin Collie
is in question
again, too. With reserves who were expected to play supplemental roles now carrying inflated workloads and coming off a bruiser of a game, the Colts have been stretched.
The league will expect them to bounce back. I will too.
But for a day, the Colts and their quarterback looked pretty human.