February, 17, 2012
2/17/12
12:09
PM ET
Early thoughts on some key Colts scheduled to become
unrestricted free agents
come March 13.
Thanks to Mac's Football Blog, where you can find complete team-by-team lists that include exclusive right and restricted free agents.

QB Kerry Collins
– He may not have filed paperwork, but he's retired.
QB Dan Orlovsky
– Showed enough to be on a roster in the league as a third quarterback in a crowded situation or a backup somewhere with a sure-fire starter.
WR Pierre Garcon
– He's inconsistent, but this team needs a speed receiver for Andrew Luck and it's better to keep the one they've been developing than going searching.
WR Anthony Gonzalez
– Was completely in the doghouse at the end and could not get on the field. Probably needs to sign for a season, in Indy or elsewhere, and prove he can be healthy and contribute.
WR Reggie Wayne
– Has said he'd stay and be honored to be part of a rebuild, but they'd have to be fair. Other teams will court him and somebody will pay him better than the Colts would if they pursued him, I suspect.
TE Jacob Tamme
– Was quite a good receiving option for
Peyton Manning
in 2010, but how much of that was Manning? I think Tamme is a valuable piece they should want back and can certainly afford.
OT Ryan Diem
– Did well to serve as a veteran example for a young line and was flexible, playing some guard. But his time is going to be up.
OG Mike Pollak
– Has played a lot and not gotten a lot better. They got new tackles last year; it's time for a new guard or two.
OC Jeff Saturday
– If Manning is gone, it would make sense to turn the page with Saturday, too. Reportedly the Colts and at least one other team would like him in their front offices.
DE Robert Mathis
– Will be a commodity, for sure. Never mind his age. He can help you rush the passer for the next three years. Colts should want to keep him, but will they pay what he costs?
LB Philip Wheeler
– If the Colts are getting bigger on defense, they'll probably move on here. He's consistently failed to get in or stay in the lineup for extended stretches in a defense for which he's better suited.
Other UFAs:
December, 22, 2011
12/22/11
7:34
PM ET
INDIANAPOLIS -- Greetings from Lucas Oil Stadium on what might be
a sentimental night
for Colts fans.
Johnson
Daniels
Two notes from the inactive lists and starting lineups from Texans-Colts:
Texans tight end Owen Daniels, who's been slowed with a knee injury and did not practice Tuesday, is dressed and in the starting lineup for Houston.
Colts defensive tackle Antonio Johnson, who's not injured, will not start. Tyler Brayton is in the starting lineup in his place.
The full inactive lists:
Houston
Indianapolis
November, 3, 2011
11/03/11
1:43
PM ET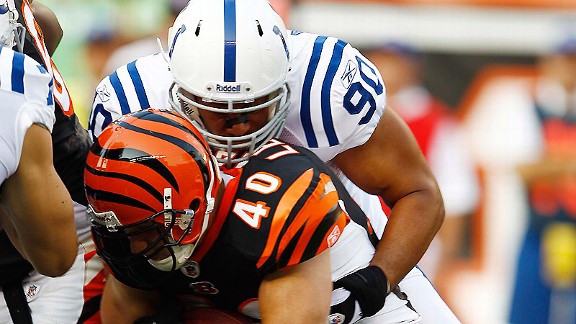 Frank Victores/US PresswireJamaal Anderson has become a steady run-stopper for the Colts this season, collecting 13 tackles.
When a defensive lineman is drafted in the top 10 and isn't an influential pass-rusher, he's often labeled a bust.
Atlanta spent the eighth overall pick on
Jamaal Anderson
in 2007 and he started 60 games for the Falcons over four years. Four-and-a-half sacks later, he was considered a failure and sent packing.
But when the setting and expectations change, so can a player. With the
Indianapolis Colts
, Anderson has not been a disappointing first-rounder who doesn't rush well enough. He has been a versatile run-stopper who has helped improve the front and taken a bit off the plate of
Robert Mathis
. Sometimes Anderson kicks inside as a tackle in nickel situations.
There is nothing to rave about on an 0-8 team, but Anderson is doing enough to rehabilitate his career and position himself for another contract with the Colts or someone else after the season.
"One of my downfalls was my lack of ability to rush the passer, so I thought what better than to come in under two great pass-rushers like
Dwight Freeney
and Robert Mathis?" Anderson said. "I've learned a lot from these guys and even though the season isn't going like we want it to go, I feel like I am getting better week by week."
A guy with a first-round pedigree usually gets a thorough look after he becomes available. The 2011 Colts didn't view him like the 2008 Falcons did. And because of some of his physical qualities he will be attractive to some team after this season, a team that could get the sort of reward the Falcons wanted.
"I like Anderson," said Matt Williamson of Scouts Inc. "He can be a big base defensive end for the Colts in short-yardage situations or on run downs, but also can move inside to defensive tackle and give them the athletic ability they want from that position.
"Everyone considered Anderson a bust with Atlanta because he wasn't a big sack guy. But he always played the run real well. If he would have been a second-round pick, everyone would consider him a solid football player. He was a good pickup for the Colts. In fact, their defensive line in general is pretty strong."
Anderson sounds like a person who has things in perspective. He still recalls a conversation he had early in his NFL career with
Michael Strahan
.
"At the defensive end position, you might see a guy who has a huge impact his first year, but it's highly unlikely it happens," Anderson said. "My second year I met Michael Strahan in California. He said he remembered watching me on TV playing in college [at Arkansas] and the first thing he said was, 'This guy looks exactly like me.'
"I took that as an honor, a guy like that saying he saw the same qualities. I remember him talking about his first few years in the league and how he had no idea what he was doing out there, how he couldn't get the type of production he wanted. But he got about into his fourth year and that's when he somewhat skyrocketed."
Could a similar course be ahead for Anderson?
[+] Enlarge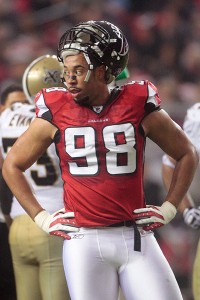 AP Photo/Dave MartinAfter being drafted eighth overall in 2007, Jamaal Anderson struggled to meet expectations during four seasons in Atlanta.
I don't think he's anticipating becoming a sack master. But he is only 25. He chose the Colts because he wanted to work with Freeney and Mathis and under respected defensive line coach John Teerlinck. And he believes he can be a productive player with developing upside no matter what others may think.
"It definitely stings," he said of being regarded as a bust. "It's not a label you like to have on your name. I remember my first couple years, it was definitely frustrating for me. I was hurt by it, that's the easiest way to say it. But you have to be able to find your role and you have to be able to come into yourself.
"When Atlanta let me go I had plenty of phone calls from other teams who obviously saw something in me. I don't look at myself as a bust, I look at myself as a player that's getting better game by game and year by year and I am going to continue to do that."
He'd like to remain with the Colts beyond this season. He loves that Teerlinck is still working with him as a pass-rusher and said it's beyond weird to have joined such a good franchise and now be part of a winless team.
Anderson, defensive end
Tyler Brayton
(another run-stopper) and linebacker
Ernie Sims
were the sort of veteran free-agent additions Indianapolis doesn't usually make. Vice chairman Bill Polian said during the preseason that a market flooded with more free agents than usual after a lockout and a new CBA created a unique situation that left such players available.
He's not thinking about it now, but Anderson said he'd certainly like a chance to remain with the Colts in 2012.
With
Peyton Manning
back, big free-agent issues sorted out and the Colts given time to fix a terrible secondary, I'd like to see what Anderson could offer to a better version of the team.
October, 30, 2011
10/30/11
11:26
AM ET
ESPN Stats & Information can now delve into playtime percentages, a great feature we will use often.
My initial reaction to the available info was merely to ask for the numbers on some key situational guys and some stars from each of our teams. Keep in mind some are influenced by time missed because of injuries.
Here's the percentage of their team's snaps on offense or defense they've played.
Houston Texans:
CB
Kareem Jackson
74.4, CB
Jason Allen
52.8, WR
Kevin Walter
66.8, WR
Jacoby Jones
71.5, DT
Shaun Cody
35.9, DT
Earl Mitchell
25.6.
Indianapolis Colts:
TE
Dallas Clark
86.9, TE
Brody Eldridge
41.3, WR
Austin Collie
59.2, CB
Jacob Lacey
75.3, DE
Dwight Freeney
63.1, DE
Robert Mathis
64.3, DE
Jamaal Anderson
, 38.3, DE
Tyler Brayton
45.6, S
David Caldwell
44.1, S
Joe Lefeged
38.1.
Jacksonville Jaguars:
LB
Clint Session
42.3, FB
Greg Jones
40.3, RB
Maurice Jones-Drew
, 71.9, CB
Drew Coleman
53.0, DE
John Chick
25.3.
Tennessee Titans:
DE
Derrick Morgan
57.7, LB
Will Witherspoon
83.8, DT
Karl Klug
50.7, DT
Jurrell Casey
56.1, TE
Craig Stevens
33.6. TE
Jared Cook
62.1, RB
Chris Johnson
70.7.
October, 27, 2011
10/27/11
12:05
PM ET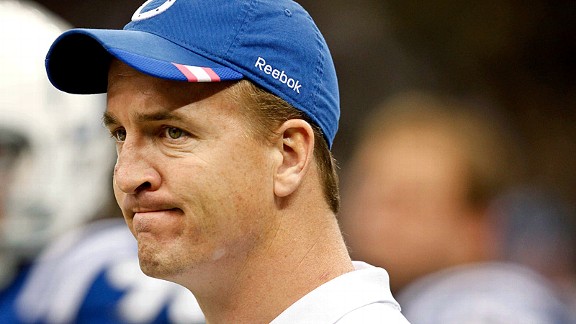 Derick E. Hingle/US PresswireThe Colts were clearly ill-prepared for life without star quarterback Peyton Manning.
It's ugly in Indianapolis.
At 0-7, the Colts are talking about sticking together, improving and giving themselves a chance to win.
But as they prepare for a trip to Nashville for a Sunday meeting with the Titans at LP Field, they are a severely broken team. Where they
would be
with
Peyton Manning
is an interesting hypothetical question, but we're dealing with realities. And those realities are the sort that will test the franchise's stitching -- seamwork that might not hold together when this is all over.
Who's at fault? Everyone's got a hand in it, but let's look at the Colts from a couple of angles.
A big cover-up:
It's not a secret that Manning has helped cover up a lot of flaws and allowed the franchise to under-address certain areas.
The Colts during the Manning era have never been much concerned with size, always valuing speed and instincts more. They've never worried about stocking special teams with any veteran backups, in part because they spend their money on stars or adding a high-quality return man. They've settled for being below average running the ball. And they've won despite a general inability to stop the run.
Without their four-time MVP running the offense, all those things are magnified in ways they've never been before.
It shouldn't be a surprise. They're built to have Manning at the controls, and he's been there all the time from the very beginning in 1998 until opening day this season.
There are maybe two teams and markets in the league that would not trade for what the Colts have done since 1999. Twelve consecutive playoff seasons followed by one complete dud? Where do I sign up for that?
[+] Enlarge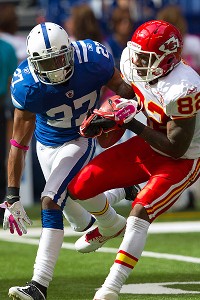 Michael Hickey/US PresswirePersonnel decisions by the Colts put cornerback Jacob Lacey, 27, in a prominent role in a secondary that has struggled this season.
Construct questions:
That said, regardless of a serious neck surgery to the star quarterback, what exactly was the plan in the secondary? Is an evaluation that leaves
Jacob Lacey
,
Terrence Johnson
,
Kevin Thomas
and
Chris Rucker
as cornerbacks Nos. 2 through 5 good enough? Absolutely not.
The Colts get credit for adding a couple of outside veterans this season -- linebacker
Ernie Sims
, and defensive ends
Jamaal Anderson
and
Tyler Brayton
. But the drafting has dropped off.
Set aside the most recent class, as it's too early to judge.
The Colts drafted 41 players from 2005 through 2010. I count one star, safety
Antoine Bethea
, and two guys who can become stars, linebacker
Pat Angerer
and receiver
Austin Collie
(if he's working with Manning). Running back
Joseph Addai
is a good fit who does more than people think. And receiver
Pierre Garcon
and cornerback
Jerraud Powers
have been pretty solid starters.
Sure, the Colts drafted higher in the five years before. Still, those classes produced five guys who rank among the best players of their generation at their positions: tight end
Dallas Clark
, defensive ends
Dwight Freeney
and
Robert Mathis
, safety
Bob Sanders
, and receiver
Reggie Wayne
. The next tier provided steady starters on the offensive line (
Jake Scott
,
Ryan Diem
) and at linebacker (
David Thornton
).
That list is more than a third of a starting team, a big-time core. As those guys age or disappear, I'm not seeing a core in waiting.
Colts president-turned-vice chairman Bill Polian said recently on his radio show that they needed to have done better recently, particularly at defensive tackle and cornerback.
And there is a domino effect to the problem. Find Tarik Glenn's ultimate replacement at left tackle in 2007, and you don't need to use your top pick in 2011 on
Anthony Castonzo
. Hit on
Donald Brown
in the first round in 2009, and
Delone Carter
might not be necessary in the fourth round in 2011.
The Polians:
Bill Polian has been pulling back and yielding responsibility to his son, GM Chris Polian. (Chris politely declined to be interviewed for this story.)
We don't yet have much tape on Chris Polian, so to speak. Bill Polian is a good talent evaluator who has had success in three NFL stops and has done well to build a team with which Manning has won. But Bill Polian also has overseen those recent draft drop-offs.
His strong-willed personality is part of what has made him good at his job, and his big-picture assessment of important league issues is as intelligent as anyone's. He's got clout and influence that extend beyond Indianapolis.
Stylistically, he's a stubborn and demanding boss. There are indications from within that, without the steady stream of personnel hits he provided earlier in his tenure, some inside the building are tiring of the way things are run.
Bill Polian recently talked about how
Curtis Painter
's play vindicates the team for having faith in him, but failed to mention that faith was so strong that the team signed
Kerry Collins
to a $4 million contract shortly before the season started and handed him the starting job.
I suspect Bill Polian has the backing of owner Jim Irsay for as long as he wants it. That would ensure safety for Chris Polian, too.
Bill Polian made the Manning-over-Ryan Leaf call in 1998. Because of the way Leaf busted, people forget that was a coin flip at the time, that Leaf was regarded as a big-time prospect just as much as Manning was. Polian called it correctly, built a team that's been to two Super Bowls and won one, got a new stadium built, and greatly enhanced the value of Irsay's franchise.
Cryptic messages:
Further complicating things is Irsay, who clearly gets a kick out of being the center of NFL attention in the Twitter-verse but has undermined some of his people with it.
He announced
the team added Collins while coach Jim Caldwell was conducting his daily news conference. It did Caldwell no favors, as he appeared completely out of the loop.
Most recently, following the 62-7 loss in New Orleans on Sunday night, Irsay provided this gem:
"Titanic collapse, apologies 2 all ColtsNation...problems identifiable;solutions in progress but complex in nature/ better days will rise again"
A day later, he added:
"Just because you perceive problems on the horizon,and you possess solutions..doesn't mean they are avoidable and implementation is instant"
Solutions in progress, but complex in nature. That sounds to me like what would be written in big silver letters on the lobby wall of a consulting company on a TV show. Or a clever, but far-too-long name for a band.
It also sounds like change is going to come.

Caldwell
Coaching questions:
While Bill Polian recently said that adding Jim Tressel to the staff as a replay consultant was
Caldwell's idea
, it's a weird-looking move that's made some of us wonder whether a bigger role awaits the former Ohio State coach.
Caldwell does a nice job managing personalities, looking at things philosophically and staying on message. I believe he's a good teacher, and his patient, quiet style is generally healthy for a team with a good share of veteran stars.
But he has blind spots, too, and is hardly a strategy master. There are bound to be significant changes at the conclusion of what's sure to be a dreadful season, and he'll be at the front of the line.
If he does the best job we can remember at holding a terrible, ineffective team together, is that enough? I'd guess not.
Injuries:
This team gets hurt too much. There is a huge element of bad luck to it, of course. But is there something bigger at work as well?
Last season as quality players went down, Manning helped some role players such as tight end
Jacob Tamme
and receiver
Blair White
emerge. This season, guys such as linebacker
Gary Brackett
and safety
Melvin Bullitt
were lost for the season early, and there's been a revolving door on the offensive line because of injuries.
The Colts are constantly testing their depth and shuffling the back end of their roster. There is only so much shuffling a depth chart can handle.
I believe they need to attempt some change that might have a positive effect on their overall health -- whether it be adopting new training philosophies, altering how they evaluate prospects or changing personnel philosophies.
It's easy to ask them to figure out why they tend to suffer so many injuries, and it's hard to find an answer. But some sort of shift is due, even as we know it comes with no guarantee of better health.
When the current approach is failing, it's OK to try something else. It's not admitting some sort of failure; it's merely part of a necessary process of evaluating and revising operations.
Suck for Luck:
Given a chance to draft Stanford quarterback Andrew Luck, I think the Colts would. Bill Polian can give Chris Polian the guy expected to be the NFL's next great quarterback, and Chris Polian's legacy would be built on a fantastic cornerstone.
But there is no losing on purpose to get in position for Luck. You think Wayne or Mathis is interested in such a master plan?
Said veteran center and team tone-setter
Jeff Saturday
: "I'll steal a Robert Mathis quote: 'I ain't sucking for anybody.'"
September, 8, 2011
9/08/11
6:40
PM ET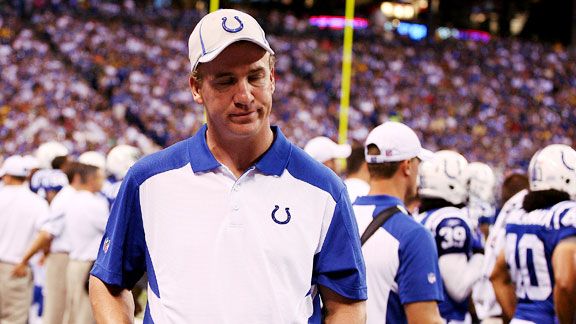 Brian Spurlock/US PresswireWhat are the biggest issues facing the Colts in the absence of star quarterback Peyton Manning?
Ten questions worth pondering about the Colts without
Peyton Manning
:
1. Who's under the most pressure?
The obvious answer is
Kerry Collins
, but if the expectations are unreasonable for the 39-year-old quarterback, that's not on him. He can still be effective, but consistency is an issue and he tends to start games slowly. That's a problem for the Colts, who are built to jump to leads and let defensive ends
Dwight Freeney
and
Robert Mathis
pursue quarterbacks who are trying to throw to catch up. Those successful two-minute drills that Manning has run at the end of a half or a game won't happen as often with Collins.
2. What will we learn about Colts head coach Jim Caldwell and offensive coordinator Clyde Christensen?
Jokes about Manning coaching the team tend to be over the top. But he certainly makes more pre-snap decisions on the field than any other quarterback in the league. Even if Collins winds up making some of those reads and determinations, Caldwell and Christensen must show they can plan effectively for him in a way they weren't always responsible for with Manning at the controls.
3. Is the line ready to play better?
A lot of people not that familiar with how the Colts play look at the sack numbers (16 allowed in 2010) and judge Indianapolis to be one of the league's best pass-protecting offensive lines. It's not. The Colts spent their top two draft picks on offensive linemen
Anthony Castonzo
and
Ben Ijalana
. Castonzo is slated to start at left tackle, and left guard
Joe Reitz
has not played in an NFL regular-season game.
Ryan Diem
appears to be moving from right tackle to right guard as Jeff Linkenbach, undrafted last year, takes Diem's long-time spot. Collectively, the group must offer Collins reliable protection and block more effectively for a running game that must do more.
4. How does Collins handle blitzes and pass pressure?
[+] Enlarge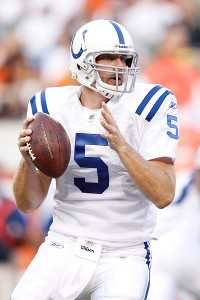 Joe Robbins/Getty ImagesColts quarterback Kerry Collins has issues with consistency and starting slow.
Teams typically paid for blitzing Manning, but defenses will certainly try to do more to get to Collins. He didn't move well when he was younger, and it's certainly not a big piece of his game now. He's not afraid to throw it away and live for another day. And former Titans head coach Jeff Fisher, who coached Collins the past five years in Tennessee and game-planned against the Colts twice a year from 2002 through 2010, said Indianapolis
will be equipped
to counter extra blitz pressure with screens to
Joseph Addai
.
5. Who has a chance to shine?
Even if Manning were around, I expected the Colts to try to get the ball to rookie running back
Delone Carter
in short-yardage and goal-line situations. He's different than fellow running backs Addai and
Donald Brown
and seems like a player who can find a tough yard even when things don't get blocked as they should. That offensive line can get a lot of attention if it plays well. And
Brody Eldridge
, more of a blocking tight end, could see more time if the Colts feel like they must sacrifice three-wide sets for additional protection or run-game help.
6. Can the defense help more?
As we mentioned, it's a team built to pass rush against an offense that must throw. The Colts have not been a good run-stopping team and the defense didn't fare well at it in the preseason. Indianapolis is slated to face a bunch of top-level backs. We could see two veteran additions at end,
Jamaal Anderson
and
Tyler Brayton
, get chances to contribute on run downs and help keep Freeney and Mathis fresher to rush. Rookie tackle
Drake Nevis
can help too. Overall, the philosophy of limiting big plays and making teams move it a little at a time has worked well enough. It's not like they can make a dramatic change in it now.
7. What about special teams?
It's been a neglected area for much of the Manning era. The offense is good at driving the ball down the field and doesn't often get a good return to set up field position. While Manning makes big dollars, so do the team's other stars: Freeney, Mathis,
Reggie Wayne
,
Dallas Clark
,
Gary Brackett
and
Antoine Bethea
. Dedicating a lot of pay to that core means the team doesn't have a lot of veteran backups, and veteran backups make up the backbone of good special teams units. This also is an area where things can't really be changed because they are dictated by personnel.
8. What if Collins goes down?
Curtis Painter
, a sixth-round draft pick from Purdue in 2009, is the third quarterback. The team is very defensive about him, but it's an organization that works very hard to defend draft picks. But the fact is, in his limited regular-season action and in the preseason, Painter has been ineffective. If the Colts lost their backup quarterback and had to turn to Painter, they'd be in giant trouble. I can't see Indianapolis going after another veteran now.
David Garrard
, released by the Jaguars this week, should find a job better than what the Colts might have to offer. I don't see Indy being interested in him anyway.
9. Will the offense slow down?
As experienced and as wily as Collins may be, it's difficult to imagine him being able to play at Manning's pace, snapping the ball to catch defenses with too many men on the field or flapping his arms while changing, or pretending to change, what's about to unfold. The Colts, however, benefit from locking defenses into personnel groupings. If Indy doesn't huddle or take the time to substitute, the opponent can't either. Whether they can, or want to try to, maintain that as an advantage remains to be seen. If they huddle more, they allow defenses to adjust more, too.
10. If the season is a total bomb, would they want Stanford QB Andrew Luck in the draft?
The deal Manning just signed is for five years. But if Indianapolis vice chairman Bill Polian had a chance at a guy who's regarded as the best college quarterback to come out since, perhaps, Manning, I don't see how the Colts wouldn't take him and let him learn under Manning. But a four-year wait for Luck to play couldn't happen either, and the Colts would have to craft a long-term plan.
September, 3, 2011
9/03/11
6:41
PM ET
Check
here
for a complete list of the Indianapolis Colts' roster moves.

Surprise moves:
Tommie Harris
seemed to play well enough to stick, but the former first-round defensive tackle apparently wanted to be treated like the team's top defensive linemen and the team didn't like the attitude. Defensive end
John Chick
had solid games but couldn't get past
Jerry Hughes
. Undrafted rookie tight end
Mike McNeill
made it, as did four others who were not April selections: running backs
Darren Evans
and
Chad Spann
, linebacker
Adrian Moten
and safety
Joe Lefeged
.
No-brainers:
Veteran additions on defense made good impressions in the preseason and are sticking around -- ends
Jamaal Anderson
and
Tyler Brayton
and linebacker
Ernie Sims
.
Anthony Gonzalez
may be injury prone, but none of the other options at receiver is a better player.
What's next:
They've got only four defensive tackles in
Fili Moala
,
Antonio Johnson
,
Eric Foster
and
Drake Nevis
. It could be a spot where they look to add or upgrade on Foster. Offensive linemen
Mike Pollak
and
Jamey Richard
will have to prove they deserved to stick ahead of
Kyle DeVan
.
August, 29, 2011
8/29/11
9:31
AM ET
Reading the coverage …
Peyton Manning's health could have
a bearing
on Gary Kubiak and Jack Del Rio says Len Pasquarelli.
Houston Texans
The Texans have
avoided
serious injuries, says John McClain.
Mario Williams
was a factor
in San Francisco despite no stats, says John McClain.
Says McClain: "I believe this season is going to be another wild ride, but I think they'll
win tough games
at the end rather than blow them like last season."
The Texans' offensive line is
underrated
, say Aaron Schatz in this Insider piece.
Alan Burge rewatched the game with an
eye on Williams
.
Indianapolis Colts
The Colts' veteran additions -- Ernie Sims, Jamaal Anderson, Tommie Harris and Tyler Brayton -- are getting
good reviews
, says Phil Richards.
Stampede Blue puts together
a 53-man roster
without Donald Brown, Jerry Hughes, Anthony Gonzalez, Mike Pollak and Curtis Painter. You can make a case against all of them, but I can't see the Colts lopping off so many young, drafted guys.
Considering
defenders on the bubble
with Brett Mock.
Jacksonville Jaguars
The Jaguars hope the return of
several veterans
puts the team back on a good track, says Vito Stellino.
Rod Issac's been
working at safety
and his status will shake out this week, says John Oehser.
Tennessee Titans
Mike Munchak listens to input, then
owns his decisions
, writes David Boclair.
The Titans
are ready
to get Kenny Britt going, says Jim Wyatt.
The passing game had
timing issues
, says John Glennon.
Tennessee
will be thin
at defensive end for the preseason finale, says Glennon.