September, 18, 2013
9/18/13
4:45
PM ET
INDIANAPOLIS -- Health wasn't supposed to be a problem for the
Indianapolis Colts
. Their biggest issue was how they would protect quarterback
Andrew Luck
.
But both are now problems for the Colts less than three weeks into the regular season.
Starting running back
Vick Ballard
, the team's best blocker at the position, went down with a season-ending knee injury on Sept. 13. That was followed by starting guard
Donald Thomas
having his season end with a torn quad against the
Miami Dolphins
on Sunday. And when you think it couldn't get any worse, coach Chuck Pagano, who seemed bothered by the latest development, announced that starting tight end
Dwayne Allen
would require season-ending hip surgery.
Three starters -- all responsible for helping protect the franchise -- done for the season because of injuries in less than a week.
"Like Donald, like anybody we've lost at this point, it makes you sick," Pagano said. "Injuries are part of this game. We all understand that, we know that."
Allen injured his hip when he collided with Oakland safety
Tyvon Branch
while attempting to catch a pass across the middle of the field in the Sept. 8 game against Oakland.
Allen originally thought the injury wasn't severe, but concern grew when Pagano classified him as day-to-day during his Monday news conference.
"We were all hoping it would be something with time and with rest and he would come around," Pagano said. "He's a tough, tough, tough kid, and playing through the foot injury, the sprain. Once we got (the hip) evaluated, what the doctors saw in there and what needed to be done, for the long term, the big picture (surgery is) the right thing to do."
Allen told ESPN.com on Sept. 5
he considered himself one of the best tight ends
in the league because of his ability to catch and block. That responsibility now falls on the shoulders of
Coby Fleener
, with
Dominique Jones
and
Jack Doyle
backing him up. Fleener is known for his catching -- when he's not having mental lapses -- but the reason Allen moved ahead of him on the depth chart last season is because of his blocking skills.
As I pointed out in
Wednesday's "QB Watch
," Luck is on pace to be sacked 56 times this season. He was sacked four times against Oakland and three times against Miami.
"We're very confident," Pagano said when asked about Fleener's increased role. "We all saw why we took Coby where we took him, what he can do last week. He played an excellent football game, not only in the pass game, he blocked well. He'll continue to do that. He knows his role. It's obviously going to expand now."
Offensive coordinator Pep Hamilton has constantly talked about having a balanced offense, but he may have to tinker with that philosophy and let Luck pass the ball more with three-receiver sets.
That, of course, depends on whether Luck has enough time to get the ball off.
"You have to almost be a little bit, not cold-blooded, but like that really stinks and we have to move on as a team now," Luck said. "I think those guys understand that. The guys who are going to fill in for them understand that, and it's going to be a collective unit on offense to stay on track."
September, 11, 2013
9/11/13
8:41
PM ET
INDIANAPOLIS -- Jim Irsay could have walked into the locker room at the Colts' facility on the west side of Indianapolis and told his team and coaching staff they need to do a better job protecting quarterback
Andrew Luck
.
But as he did during the preseason when he took his displeasure to Twitter, the Colts' owner wanted to make sure everybody -- all 231,000 of his followers and their retweets -- knows he means business.
[+] Enlarge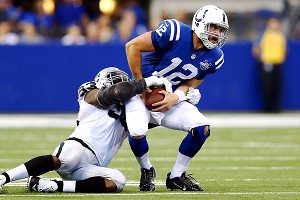 Andy Lyons/Getty ImagesAndrew Luck was sacked four times in the opener, and that has Colts owner Jim Irsay concerned.
I'm sure most of you know by now about Irsay
tweeting that the Colts need to better protect
Luck this weekend against the
Miami Dolphins
.
The Dolphins sacked Cleveland quarterback
Brandon Weeden
six times in their Week 1 victory. Luck was sacked four times against Oakland last week.
The Colts' success this season will hinge on Luck being able to stay on his two feet. The Colts can't afford to have him getting sacked 41 times again this season. If you recall, coach Chuck Pagano said they want to cut his sacks in half. They're already behind schedule.
I liked that Irsay didn't single out the offensive line, because the tight ends and running backs also are responsible for protecting Luck. But running back
Vick Ballard
is one player who can stand up and say he did his job against the Raiders. Ballard was 6-for-6 on blocking assignments.
I went back and watched the film of Luck's four sacks. Not all of the blame could be put on the offensive line.
Here's a breakdown of the sacks:
You can expect the pressure to be even greater on Luck and the Colts on Sunday. Pagano talked about having to know the whereabouts of Dolphins defensive end
Cameron Wake
. Wake had 2.5 sacks against the Browns.
"Pretty much 99.9 percent of the time, he'll be lined up to our offense's right, defensive left," Pagano said. "That's one thing, know where he is. It's a different thing getting him blocked."
Some fans don't like Irsay's approach for calling out his team on Twitter. I like it. He did the same thing after their preseason loss to Buffalo last month.
You can also expect Irsay to continue to challenge his team on Twitter until they play to his standards. They didn't spend all that money in the offseason to continue to allow Luck to take a pounding.
September, 6, 2013
9/06/13
12:00
PM ET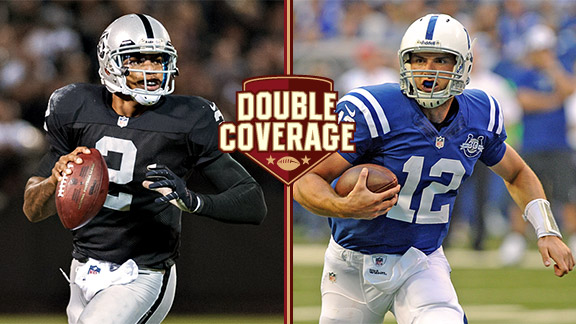 USA TODAY SportsTerrelle Pryor will lead a rebuilding team while Andrew Luck and the Colts will try to build on last season's success.
The
Indianapolis Colts
surprised the league by finishing with an 11-5 record and making the playoffs behind rookie quarterback
Andrew Luck
. The
Oakland Raiders
struggled with a 4-12 record. They're expected to have problems again this season as the rebuilding project continues for the Raiders. The teams open the season facing each other on Sunday at Lucas Oil Stadium.
Mike Wells:
So much was made about who the Raiders would start at quarterback earlier this week. It looks like it'll be
Terrelle Pryor
. Does he give Oakland the best chance to win, and if so, what makes him so dangerous as a quarterback?
Paul Gutierrez:
It appears as though it will be TP2 Time for the Raiders in the opener. And really, it should be. Now, that's not necessarily an endorsement, but with this team, at this moment, Pryor does at least represent some semblance of hope, what with his skill set. His ability to run should keep the Colts' front seven honest and they won't be able to simply pin their ears back and rush, like they could
Matt Flynn
. I believe Flynn is probably a better NFL quarterback at this stage, but with the deficiencies around Oakland's pocket -- leaky line, inconsistent receivers, injury-prone running back -- Pryor gives the Raiders a better chance. And being that this is a quarterback-driven league, how has Luck dealt with stepping into those huge shoes left by
Peyton Manning
, and how can Luck avoid the sophomore jinx?
Wells:
I'm sure you probably watched Luck one or two times out there in the Bay Area while he was at Stanford, so you know his work ethic should never be questioned, and his demeanor doesn't allow him to get caught up with the hype. The offensive weapons the Colts put around Luck will make it difficult for him to struggle.
Reggie Wayne
,
T.Y. Hilton
and Oakland's favorite former receiver
Darrius Heyward-Bey
at receiver;
Coby Fleener
and
Dwayne Allen
at tight end to go with the duo of
Ahmad Bradshaw
and
Vick Ballard
at running back. So the words "sophomore slump" and "Andrew Luck" shouldn't be on anybody's mind. Of course that's if the offensive line does its job and blocks. A lot is being made of Pryor's ability to be creative with his feet, but what about
Darren McFadden
-- isn't he the real threat with running the ball, especially with the Colts being near the bottom of the league in rush defense last season?
Gutierrez:
No doubt, especially in a perfect world for the Raiders' offense. If all is working right, and opposing defenses have to at least respect the quarterback's ability to take off, they can't key on the quarterback. And that sets up the play-action pass. But for the Raiders to have any success offensively this season, it all starts and ends with a guy who has yet to play more than 13 games in a season.
Yeah, Run DMC had been more Limp DMC of late, but when he's right, he's nice. Two years ago, he was playing like a league MVP candidate. Then came the Lisfranc injury that ended his campaign after just six-plus games. And last year, in perhaps the greatest failing of the Raiders' new regime's plans, they changed the offense on McFadden from a power scheme to the zone-blocking philosophy. McFadden's average yards per carry went from a career-high 5.4 yards to 3.3 yards. McFadden is also entering a contract year so yeah, he has something to prove as the Raiders return to the power running game. Speaking of something to prove, you mentioned him earlier: The artist formerly known as DHB around these parts left a lot to be desired after four nondescript seasons in Oakland. Hey, it wasn't his fault he was drafted so high. How has he adapted to a change of scenery, and how strong is his desire to prove something to the Raiders after they cut him this spring?
Wells:
I thought Heyward-Bey would come to Indy with a chip on his shoulder because, well, he did play for the Raiders, where more bad than good comes out of that organization. But Heyward-Bey has only good things to say about the Raiders. He blames himself for a lot of his struggles during his four years in Oakland. He also knows he needs to produce to get rid of that "bust" label. As you know, Heyward-Bey has an incredible work ethic.
The biggest difference here is that he now has a mentor. Wayne is the perfect veteran to guide him. The future Hall of Famer's professional demeanor is exactly what Heyward-Bey needs. The other thing is, Heyward-Bey doesn't have the pressure of being the No. 1 receiver. Wayne isn't slowing down any time soon, and the Colts have so many other offensive weapons, as I mentioned earlier, that Heyward-Bey can just let the game come to him. Fans will likely see a number of those weapons because the Raiders don't have much of a defense. Will nine new starters help them from giving up almost 28 points a game again this season?
Gutierrez:
That's the plan. At least, that's the hope for the Raiders. Yeah, they have nine new starters on defense, with the only two returning starters being defensive end
Lamarr Houston
, who is moving from the left side to the more pass rush-specific right side, and strong safety
Tyvon Branch
, who endured an injury-plagued season for the first time in his career. Of course, a million times of course, the Raiders kept their defense vanilla in the preseason ... and not just for what coach Dennis Allen would term "competitive reasons." In fact, Sunday will be only the first time the Raiders will field their entire starting defense at the same time. Injuries wreaked havoc in exhibition games.
There was a glimmer of hope, though, with the run-stuffing play of defensive tackle
Pat Sims
in the exhibition finale. And if
Nick Roach
, who will wear the green dot on his helmet, can rally the defense from his middle linebacker position, the Raiders' defense should be better this season. Emphasis on "could." Can the Raiders -- with virtually an entire new defense and defensive coordinator Jason Tarver, who schemed daily against Luck at Stanford -- be a detriment to the Colts? Or are they simply of the mindset that they have to worry only about themselves?
Wells:
The only way the Raiders will be able to rattle Luck is if the offensive line doesn't do its job and allows its quarterback to take a pounding all game long. And even then, that may not be enough to beat the Colts. Let's not forget, Luck was sacked 41 times and hit more than 100 times last season. That didn't stop him from setting a rookie record for passing yards, attempts and 300-yard games. So I don't think the Raiders will be to do much against Luck & Co. on Sunday afternoon.
March, 5, 2012
3/05/12
6:51
PM ET
How the 21 franchise tags from around the NFL affect the teams of the AFC South.
Houston Texans

Salary cap limitations likely mean the Texans are not active in free agency. The market may have shifted on a guy like
Reggie Wayne
, who could have been attractive with
Dwayne Bowe
,
DeSean Jackson
and
Wes Welker
out of the unrestricted free agent picture.
More significantly, the price defensive end/outside linebacker
Mario Williams
will be able to attract if he gets to free agency is likely up. The Colts tagged
Robert Mathis
, the Lions tagged
Cliff Avril
and the Cardinals tagged
Calais Campbell
, and they were the next-best pass-rushers for needy teams to target.
Indianapolis Colts

Those three receivers -- Bowe, Jackson and Welker -- disappearing from the market mean that two Colts unrestricted free agents to-be probably fare a bit better.
Pierre Garcon
has speed and youth to sell and Wayne has veteran wiles and reliability.
The Colts could make another charge at signing Garcon before March 13th, but he may be determined to see what free agency can bring him.
I don't think they will have much money to spend on free agents, but the offensive line and defensive tackles pools -- their biggest positions of need beyond receiver -- are unchanged.
Jacksonville Jaguars

No one needs a big-time, team-leading wide receiver more than the Jaguars do. I don't believe they would have been players for Jackson or Welker. But Bowe could have been a guy they were interested in.
Whether or not they will be players for Williams, plan B should have been Mathis. The hit to the potential defensive end market hurts as a big-time pass-rusher is the big defensive need. Cornerback could still be OK with Tennessee's
Cortland Finnegan
, Kansas City's
Brandon Carr
and San Francisco's
Carlos Rogers
on track to reach free agency.
Tennessee Titans

That San Francisco tagged
Dashon Goldson
and Oakland franchised
Tyvon Branch
severely thinned the safety market, which helped prompt Tennessee to tag
Michael Griffin
. I would have loved to have seen their approach is the two guys from the West Coast were heading for unrestricted free agency.
Jim Wyatt of The Tennessean reported that Mathis would have been a target and general manager Ruston Webster had said a special, pass-rushing defensive end was one position for which the team might have been willing to overpay. He didn't say overpay by a gigantic degree, however. With a bid for Williams unlikely, who's the next best rusher now?
February, 29, 2012
2/29/12
1:24
PM ET
The money isn't mine. I'm not certain about what you can afford and what the market will pay when free agency opens on March 13. I'm not positive about your plans and schemes.
But I've got a good sense of your team. We've looked at
the free-agent list
.
And here's what I'd try to do with your major issues:

1) Let cornerback
Cortland Finnegan
go. He's a good player, not a great one. The Titans will miss his feistiness more than his production, and you don't pay huge dollars for feistiness. He's not in the ranks of corners worth in the neighborhood of $10 million annually. Let
Alterraun Verner
join
Jason McCourty
in the starting lineup. Let
Ryan Mouton
,
Chris Hawkins
,
Tommie Campbell
and a draft pick and/or a mid-range veteran vie for the nickel role. (Mouton would play inside, in other scenarios Verner would move inside.)
2) Let safety
Michael Griffin
go. He can be a good player, but is far too inconsistent. He's at his best when those around him are playing well. But at the price he'll have now, he should be a guy who sets the tone, not a guy who needs it set for him. Look closely at free agents safeties like
Tyvon Branch
from Oakland,
Dashon Goldson
from San Francisco and
Dwight Lowery
from Jacksonville.
3) Pursue Colts defensive end
Robert Mathis
if he gets to free agency. He's got a super motor and, while he just turned 31, I'd bet he can play three more good years. Structure a deal so you can get out after two if you have to and look to him to set the tone for your other primary rushers,
Derrick Morgan
and a draft pick.
4) Sign Philadelphia guard
Evan Mathis
to replace
Jake Scott
. Mathis is older than Baltimore's
Ben Grubbs
, but will also be less expensive. In seven seasons with Carolina, Miami, Cincinnati and Philadelphia he's played in 73 games with 37 starts. Matt Williamson of Scouts Inc. says he's a great fit for Tennessee.
5) Re-sign safety
Jordan Babineaux
. This appears to be just about done. A rule regarding Babineaux's previous contract prevents the team from completing a new deal before the start of the new league year. But they could have a deal ready to go on March 13.
6) Offer
Jason Jones
a contract based on moving him back to defensive tackle, admitting he's better and more productive inside than out. (They've said they still see him as an end, and they aren't in sync with me on this one at all.)
AFC SOUTH SCOREBOARD
Sunday, 10/19
Monday, 10/20