July, 24, 2013
7/24/13
12:06
PM ET
Chris Johnson
loves to race.
The
Tennessee Titans
running back has long talked about his desire to run a 40-yard dash against Usain Bolt.
Instead of the Olympic gold medalist, he and
Devin Hester
landed
slots racing against a cheetah
for a television special set to air in November. (If Johnson won, something I'm guessing would be highly improbable if the cheetah was motivated, I imagine it'd be awfully hard for the running back not to talk about it before the show airs in November.)
I spoke with Liz Georges, communications coordinator for the
Cheetah Conservation Fund
, about the odds of Johnson and Hester in a race against a cheetah, even one in which a protective barrier might make it so the cheetah didn't know he was running against "competition."
Here is our chat:
Kuharsky:
First, your initial thoughts on reading a story like that?
Georges:
I think it's always interesting when somebody wants to try to outrun a cheetah. (Laughter.) Cheetahs are, of course, the fastest land animal and they can reach 40 miles an hour in less than three strides and reach speeds of up to 70 miles an hour at their fastest.
Kuharsky:
Can you see any scenario where the cheetah doesn't win?
Georges:
(More laughter.) Well, they've clocked Usain Bolt at roughly 23 miles an hour at his fastest. So I am not sure that there is really any way that the cheetah doesn't win this race.
Kuharsky:
How much money? Like all the money that you have?
Georges:
(More laughter still.) I'm not a betting person usually. But in this case, I'd say a pretty hefty sum.
Kuharsky:
Have you seen or heard of such a race before?
Georges:
In terms of physically racing the cheetah in real time against a person, I've not seen it done. But it's very common with cheetahs in captivity scenarios where they are given the opportunity to run and chase the lure, partly for their exercise and to demonstrate their speed for visitors so that people get an understanding for why the cheetah is so important and why the fact that the cheetah is the most threatened of the big cats is such a serious issue.
Kuharsky:
Is a cheetah automatically motivated to run in a circumstance like this?
Georges:
Typically the cats do. You'll typically see a rag on a pulley system, the rag shoots off and the cat wants to chase it. Most of the cats we've worked with learn how to chase the lure pretty quickly. It feeds into their natural instincts. Many of them seem to take great pleasure in it.
Kuharsky:
A guy crossing the Grand Canyon on the high wire was a huge Twitter event that got people watching. What kind of TV event do you anticipate this being? And what sort of benefit do you see for cheetahs and to an organization like yours?
Georges:
I think anything that highlights how special and amazing the cheetah is as a species is great for the cheetah. The cheetah is threatened; there are only 10,000 of them left in the wild. If we don't act soon, we could lose the cheetah from this planet in less than 20 years. So anything that highlights the speed and the grace and the importance of this animal is good news for us. Obviously it's being done because it's an interesting thought -- could a man beat a cheetah?
I like to say a cheetah can actually accelerate faster than a Ferrari. Any comparison like this is always sort of interesting to the human imagination. So that's another reason why I think this is so great. The cheetah is an iconic species.
Every school kid learns about the cheetah and everybody is fascinated with the fact that this beautiful animal can run so fast. If we can't save the cheetah with all of that interest and all of that iconic nature to it, then what hope do other species have that are as threatened if not more so?
August, 9, 2012
8/09/12
10:04
AM ET
Haven't done one of these in some time. Here's an edition of "Reading the coverage" featuring only non-mainstream media…
Houston Texans
J.J. Watt is
working the swelling out
of his elbow and strengthening the muscles around it, per Battle Red Blog.
Indianapolis Colts
The Colts' preseason opener
sold out
and will be televised Sunday, says Stew Blake of Battle Red Blog.
This is
the fastest
Colts team we've seen in some time, says Everything Colts. I'd say it's true at receiver. But as the Colts emphasize getting bigger, they won't be as fast in some spots.
Jacksonville Jaguars
The Jaguars should play Justin Blackmon
in the slot
, says Alfie Crow of Big Cat Country.
Considering expectations
and how to gauge the progress of Blaine Gabbert, from Zain Gowani of Black & Teal.
Tennessee Titans
Chris Johnson talking about his speed compared to Usain Bolt's is
nothing new
, says Jimmy Morris of Music City Miracles.
An assessment of the Titans'
guards
from Andrew Strickert of Total Titans.
July, 17, 2010
7/17/10
10:47
AM ET
John Davidson from Boston writes:
Paul, what are the Colts chances of getting an inside pass rush this year? Thanks.
Paul Kuharsky:
It should be better --
Daniel Muir
,
Antonio Johnson
and
Eric Foster
are improving and
Fili Moala
should start to contribute. But they are content and fine with the edge guys doing the bulk of the pressuring and sacking as they've invested far more into
Dwight Freeney
,
Robert Mathis
and
Jerry Hughes
. Inside guys doing dirty work on inside runs and getting some push on pass plays will often be enough.
---
Ben from Katy, Texas, writes:
Paul, we know you love
Chris Johnson
and all but he is not the fastest player in AFC South. That would be
Trindon Holliday
. Your boy is fast and had one good run at the combine but Holliday has world class speed. Either way, it's questionable.
Paul Kuharsky:
Yeah, one good day at the combine.
And a handful of mile-long TD runs with no one closing on him.
And more than 2,000 yards.
I'd take my chances with Johnson against Holliday, who's unquestionably fast. I'd take my chances with Johnson, quite frankly, against anyone in the league right now.
Holliday isn't the only one with a track background. As I mentioned in
this post from the Seattle game
, Johnson finished second in a Florida state high school final to Walter Dix in the 100-meter dash, and Dix finished third behind Usain Bolt in the Beijing Olympics.
And if we were only lining up guys who've shown they can play, Holliday wouldn't even qualify yet. He has to learn how to field punts and passes if he's going to stick.
---
Will from Nashville writes:
For future off season columns, you think you could do articles of athletes who do good things for the community that most people don't hear about? Just an idea - I would rather read about that than watch VY try to beat up someone at the strip club.
Paul Kuharsky:
If I went that direction, the blog would be filled with nothing but charity appearances and foundation news.
Here's my general line of thinking on this topic -- guys should be doing good stuff, just as you and I should be.
It's not generally news that's worthy of comment if you or I or John Doe from the Texans does something we're expected to do. We're all counting on that from each other.
If you do the opposite and get yourself arrested, that's news- and commentary-worthy.
All the oil rigs in the gulf were operating effectively and we weren't reading about them. It was the one that failed to do what was expected of it that was the news, right?
Also, you can typically find such news on most team websites.
---
Ben Fruehman from Indianapolis writes:
Earlier this offseason it was reported that Coach Caldwell indicated he might use four-wide receiver sets given the depth and talent at the position. Keeping
Dallas Clark
in the lineup basically makes it a 5WR set. Do you think the Colts have the offensive line to block for that kind of set even with Peyton's quick release? How long is that going to work before team's start taking the Rex Ryan approach and throwing the kitchen sink at us? I love the idea, but giving the O-line no support makes me nervous, too. Thoughts?
Paul Kuharsky:
Caldwell wasn't talking base formation. He was talking once in a while. They can do it once in a while and Manning will have one of them open short to get it out quick if he needs to. He has that no matter how many receivers are on the field. Throw the kitchen sink at Manning, the ball is out before anyone can get to him. He usually welcomes it.
---
Chris in Miami writes:
With the Jaguars improvement last season, do they have the potential to make a playoff appearance? I feel their problem was finishing games.
Paul Kuharsky:
Not only would the Jaguars have to get significantly better to get there, but they'd need at least two teams in front of them to get significantly worse. I think it's a lot to ask to happen all at once. Put them in the AFC West or the NFC West, they'd be contending for a Wild Card from second place. IN the AFC South, they can make big strides and still wind up third or even fourth.
---
Peter in Nashville writes:
I read the Football Outsiders article about top prospects. I was a little surprised to see
Jacob Ford
. I saw that you made
a post about it
, but you mainly relayed the information as opposed to giving your take on the matter. I was curious to hear what you thought about Jacob Ford. It seems like
William Hayes
and
Derrick Morgan
will be the main ends with Ford, Ball, and Babin rotating in. Do you see Ford making an impact?
Paul Kuharsky:
I think Ford can be very good and very productive. My questions about him concern his durability. At least four guys should see significant action at end.
January, 8, 2010
1/08/10
8:41
AM ET
The AFC South shows well in the
standings for the decade
.
Houston Texans
Joel Dreessen
wanted desperately to go to the playoffs, says John La Porte.
Indianapolis Colts
The Colts plan on using Matt Stover
in the playoffs
, not Adam Vinatieri, says Phil Richards.
What the Colts
will watch
in the first round of the playoffs, from John Oehser.
Assessing
the playoff field
with Pete Prisco.
The Colts are in three of Don Banks'
top potential matchups
for the Super Bowl.
A
Q&A
with Jim Caldwell at the team's Web site.
Phillip B. Wilson chats with
Clint Session
. I wrote about the linebacker Thursday, which you can find
here
.
Jacksonville Jaguars
Talk of a Jaguars' move shows the league's
greed is insatiable
, says Mark Woods.
The division needs some
playoff wins
to carry the best-division banner says Vic Ketchman.
Pondering
the 2014 Jaguars
, with Big Cat Country.
Big Cat Country looks over
early mock drafts
.
Tennessee Titans
Kenny Britt expects to do
a lot more
, says Gary Estwick.
Jim Wyatt expects Nate Washington to make
a lot of progress
next year.
Usain Bolt would kick Chris Johnson to
the slow lane
, says David Climer.
A
defensive overhaul
is an offseason priority, says Terry McCormick.
One-time Titan Jarrett Payton will play
arena ball
in Chicago.
January, 3, 2010
1/03/10
11:41
PM ET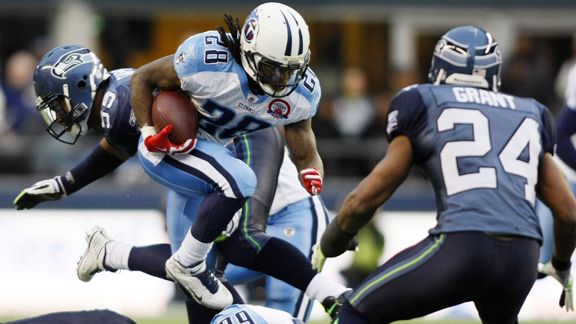 AP Photo/John FroschauerChris Johnson becomes the sixth player in NFL history to go over 2,000 yards rushing.
SEATTLE -- The packaging wasn't what he wanted.
How great would it have been to go over 2,000 rushing yards on the season with a 62-yard touchdown sprint?
It got called back on a debatable holding call and
Chris Johnson
had to join an exclusive club weaving together smaller runs, with nothing longer than 12 yards, during a
17-13
win over the Seahawks.
The hosts managed to prevent the big play, keeping Johnson away from Eric Dickerson's all-time record, but allowed him to become the sixth running back to reach the magical number.
It took 36 carries, seven more than he's ever had before, for him to get to 134 rushing yards and a season total of 2,006. That is the fifth-best ever, ahead of O.J. Simpson's 2,003 in 1973.
He was already talking about targeting Dickerson's 1984 record 2,105 yards next year, a season
Vince Young
said won't end until the Super Bowl.
"I didn't get the record (this) year, so that's what's next for me," Johnson said. "That would be my goal coming into next year. That would be something I can work hard for."
Based in the Bible Belt, Johnson has spent his second season converting a lot of football people. He's got swagger. He's got a sense of humor. And, having talked about 2,000 yards back in training camp, he's got the right to predict the outlandish without drawing raised eyebrows and scoffs.
Johnson thinks he can beat Usain Bolt over 40 yards, because Bolt's best work in the 100 comes after that. Go ahead and laugh. That's what everyone did when he talked 2,000 back in July or August.
(A bit of context: Johnson finished second in a Florida state high school final to Walter Dix in the 100-meter dash, and Dix finished third behind Bolt in the Beijing Olympics. And again, we're talking 40 not 100.)
"He set a goal and people kind of laughed it off," Titans tight end
Alge Crumpler
said. "And every week as we got closer and closer people realized it was attainable. I'm proud of him."
Johnson just ran for 2,000 yards for an 8-8 team, a team that started 0-6 and trailed by enough often enough that running plays on offensive coordinator Mike Heimerdinger's play sheet should have been crumpled up and tossed in a sideline garbage can.
The club he joined, for reference: Dickerson,
Jamal Lewis
,
Barry Sanders
,
Terrell Davis
and Simpson.
Now, with your permission, I will meander a bit rather than take the straight line Johnson prefers.
Called back
Just before he got to 2,000, Johnson had one of his signature breakaway runs -- darting through the line, he left the people chasing him looking like they were in slow motion as he went those 62 yards.
But fullback
Ahmard Hall
was called for a hold of linebacker
David Hawthorne
.
Referee Ed Hochuli said he had no question about throwing the flag.
"The ruling was that he hooked him with both arms at the point of attack, and pulled away from where the ball carried ran right by him," Hochuli told a pool reporter.
But Hawthorne said while he was happy for the flag, he didn't know it involved him until a couple reporters surrounded him when the locker room opened.
"You just told me," he said.
Hall was surprised by the call and said it's a block he makes all the time.
Tennessee's veteran center
Kevin Mawae
talked with Hochuli about it and the ref said he wouldn't have called it unless it was legit.
"My opinion now, not talking bad about the referee because I don't want to get fined, but unless it's just so blatant and a takedown, you've got to just let the guy go," Mawae said. "We're on the cusp of breaking an all-time record and to have it take away like that is just disappointing."
It's hard to know what unfolds from there if the 62-yard run stood. Take away the six yards Johnson was credited with on that play, the eight additional yards he gained on that drive and figure he would have had at least 48 more than he finished with. That gets him within 51 yards of Dickerson and puts him third all-time.
And if Dickerson was in range at the end, Mawae said Jeff Fisher would have allowed for more carries at the end of the game instead of instructing Vince Young to kneel down twice to run out the clock.
A young face of the league
By all accounts including mine, Johnson's a good guy. If you're scared off by gold teeth or dreads or less than perfect grammar, you're missing out on friendly and funny.
Peyton Manning's not vacating any major endorsement slots anytime soon, but should Johnson be near the front of the line of the next wave of marketable NFL stars?
"I feel I should," he said from behind a podium under Qwest Field, a sparkling cross hanging over a sharp purple, silver and white tie loose at the collar under a gray vest. "I don't know if any back has done it in two years. That's what any guy wants to plays any sport. They want to be the next Michael Jordan, Kobe Bryant or whoever you want to name. They want to be that guy."
His name doesn't sing. But Crumpler said he doesn't see an Average Joe moniker slowing down the running back.
"If you can get a Chad Johnson that level of attention, you can get it for Chris Johnson," Crumpler said.
Said Hall: "With the braids and everything, a lot of people try to stereotype him. He's a good guy. He's a great guy. He doesn't get in trouble. He's never been in trouble. He definitely should be up there with the rest of the guys as a face of the league, according to his accomplishments."
A special line on a resume
Mawae has played in 241 games in 16 seasons and been named to seven Pro Bowl teams.
The big hole in his career is the Super Bowl, and he still expects to get to one.
At this point, though, where does being part of the line that blocked for one of just six 2,000 yards back in history rank for him? What slot on his NFL resume should it occupy?
"This would probably have to be No. 1 right now," he said. "No. 2 is winning the rushing title in 2003 (with the Jets and
Curtis Martin
)."
Johnson doesn't know that yet, and I'm certain he will be flattered by it. As the Titans go through a Monday meeting and take exit physicals, Mawae said he expects there will be a moment he will let the running back know how he feels about what he did.
Others will too.
While they have several alternates that will likely get to the game, Johnson's the only Pro Bowler now. He once promised cars to his linemen if he got to 2,000, then quickly backed off. But premium gifts have been purchased and will be presented Monday.
And he's inviting them all to join him at the Pro Bowl, though he's unsure how many will accept and be with him in Miami.
The next big number
Hold 2,106, Johnson's yardage, up against $560,000, his scheduled base salary for next year, and even the staunchest opponent of contract renegotiation might allow agent Joel Segal to broach the topic.
Johnson's also slated for $800,000 in 2011 and his base should jump from $960,000 to $2.5 million in 2012 because of an escalator.
The 24th pick in the 2008 draft is outperforming his five-year, $12 million deal, with $7 million guaranteed, but that's what the Titans get for being smart enough to draft him.
Running backs have short life spans, Segal knows. If Johnson waits for his sixth year to get what he's worth, odds are he won't be worth it any more. Still it's awfully early for any renegotiation.
"We've talked about that, about the money situation," Hall said. "I think he and his agent will handle that well, but I don't think the team will want to risk anything with CJ. I think he's the best running back in the league right now as far as production goes.
"I think both sides will handle it well and get something done, because you definitely don't want to break up this chemistry that's going on with CJ. …He's outplayed the contract and I think he deserves more money."
General manager Mike Reinfeldt said the Titans haven't even begun to ponder such things.
"He's had a very special year," Reinfeldt said. "But it's also very rare that going into the third year people redo a deal."
November, 4, 2009
11/04/09
1:00
PM ET
»
NFC
:
D. Jackson
(PHI) |
S. Jackson
(STL) |
P. Harvin
(MIN) |
D. Williams
(CAR)
»
AFC
:
R. Brown
(MIA) |
D. Sproles
(SD) |
J. Cribbs
(CLE) |
C. Johnson
(TEN)
Posted by ESPN.com's Paul Kuharsky
A look at the players opposing teams hate to see with the ball in their hands in the open field.
Chris Johnson
wants to race Usain Bolt and he's not kidding around when he says he thinks he'd beat the 100-meter Olympic gold medalist.
| | |
| --- | --- |
| | |
| | Don McPeak/US Presswire |
| | Titans running back Chris Johnson has nine plays of 30 yards or longer this season. |
In the AFC South, Texans receiver
Andre Johnson
, Colts receiver
Reggie Wayne
and Jaguars running back
Maurice Jones-Drew
are all feared skill guys, opponents don't want running with the ball in their hands. But no one ranks as a bigger threat than Johnson, the Titans' second-year running back who may be the league's fastest player.
He leads the NFL in rushing yards (824) and is among the top-50 rushers in the league. His 6.9-yard average is tops among backs with at least 40 carries. He leads the AFC in yards from scrimmage with 961 -- an average of 7 yards a touch.
"I don't think any team has got too many guys that can catch him," Patriots coach Bill Belichick said before New England crushed Tennessee 59-0. "He's absolutely a threat to go all the way anytime he's got the ball. Just look at the Houston game. We're talking about big time here now. This is as good as we've seen and as good as I've seen in quite a while.
"This Chris Johnson, go to the Houston game, he can go 90 yards on a draw play, third-and-10, third-and-20. He just takes it to the house. You can't give this guy any space at all. ... He's a terrific back. He's got speed. He's got quickness. He makes people miss. He breaks a lot of tackles. He's as good a back as I've seen in a long time."
Johnson absorbs his share of no gains or carries for a loss, but they are part of the trade-off for his home-run potential. The Titans have 12 plays of 30 yards or longer this season. Nine them are from Johnson -- runs of 91, 89, 57, 52, 48, 40, 32, and 30 yards and a 69-yard catch. Those have produced five of the Titans' 12 touchdowns.
Many a team finishes with the Titans and laments a failure to tackle Johnson when they had a chance. Jacksonville safety
Brian Russell
was a victim Sunday when the Titans got their first win. Johnson bounced off Russell en route to the end zone.
"Their guy, he's got some juice," Jaguars coach
Jack
D
el Rio
said. "We know that. You've got to keep him hemmed in, you've got to tackle him. You have to get population to the ball."